Coffee Cabinet Organization Tips + Free Printables
Happy Monday! I thought it was only fitting today to talk about coffee cabinet organization ideas. A few weeks back I turned a dead cabinet space into a coffee station and it has been a absolute dream to have in our home. Our family are big coffee drinkers and since I got my Keurig for Christmas (yes I know I was super late to the game!), I have even been enjoying have a small cup of coffee in the afternoon. All the items that make up our little coffee addiction was getting out of control in our pantry, I decided this over stuffed, not used cabinet needed a major makeover. Pretty bad right? I am almost embarrassed to show you what it used to look like.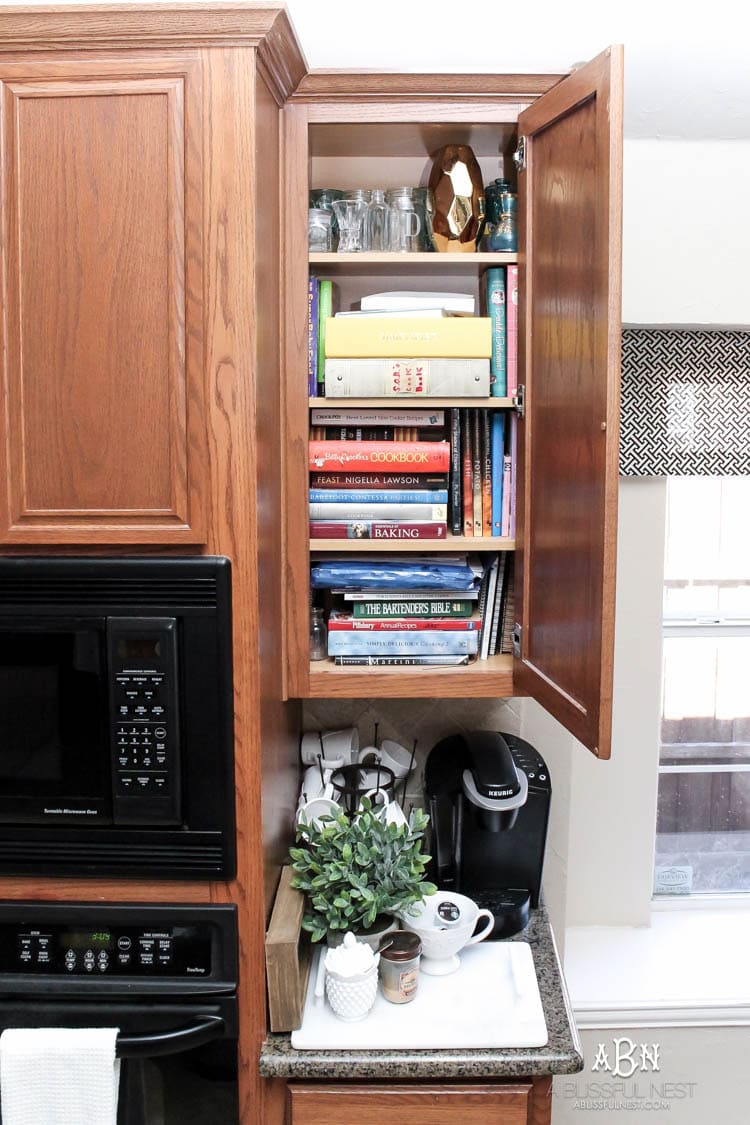 And here is what it looks like now. Much better isn't it?!!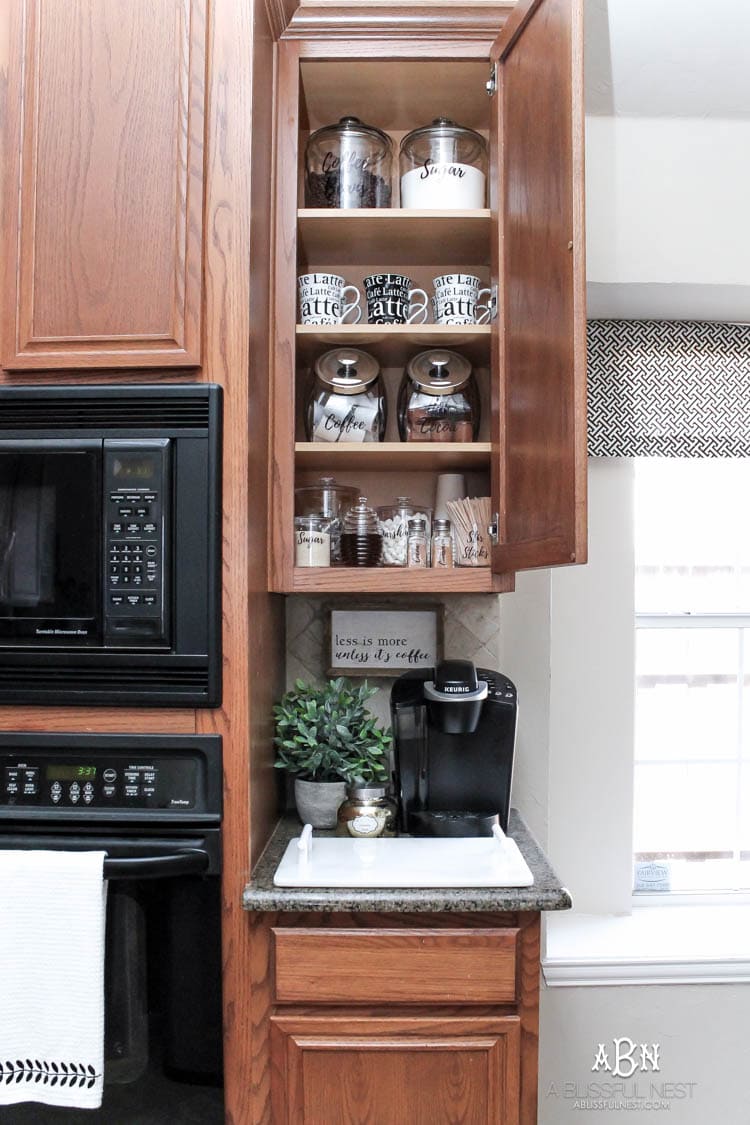 THIS POST CONTAINS SOME AFFILIATE LINKS
Maybe you have a cabinet like this you can redo?? Grab my tips below and my full shopping guide to make your dream coffee cabinet.


Coffee Cabinet Organization Tips:
1. Decide what you need to go into the cabinet.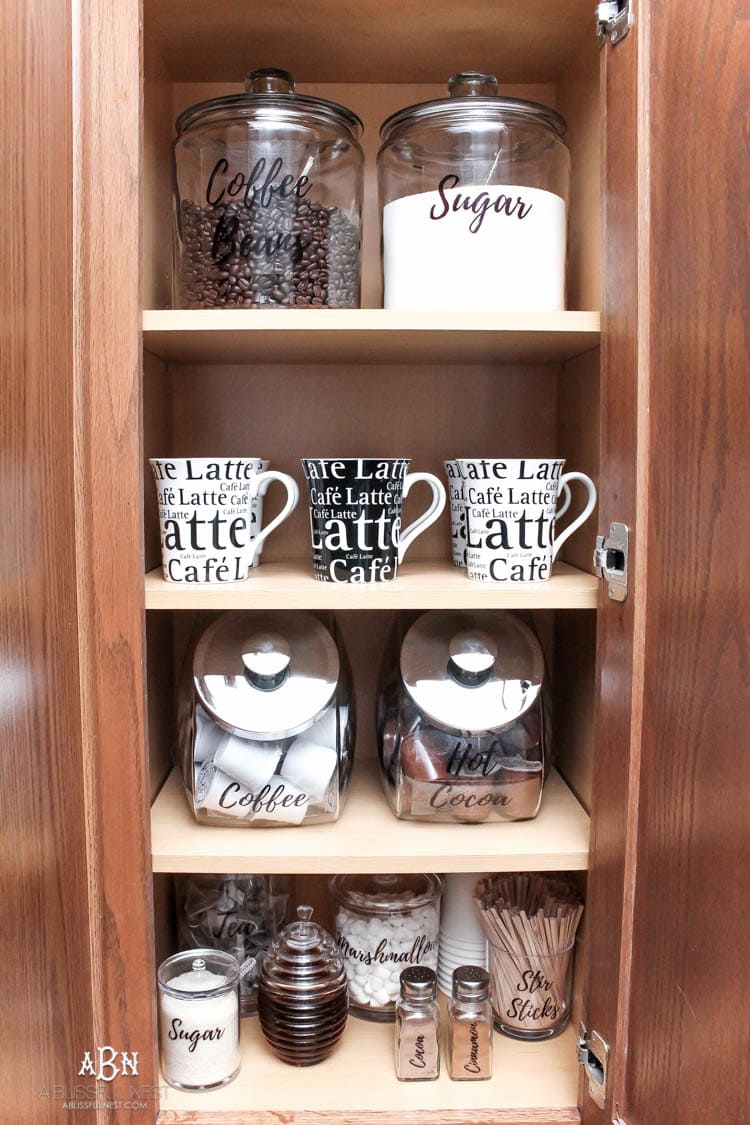 I wanted our cabinet to not only hold coffee items but things to make hot cocoa and tea. I split the ingredients I would want into these 3 categories and made a list of what I would need. Here is what my general lists looked like.
Coffee Bar Contents:
coffee pods
coffee beans
sugar
cinnamon
coffee mugs
to-go coffee cups
stir sticks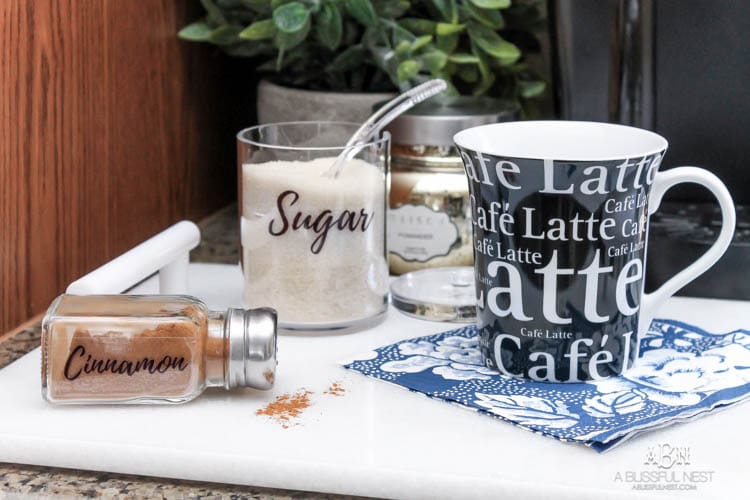 Hot Cocoa Contents:
hot cocoa pods
cocoa powder
marshmallows
Tea Contents: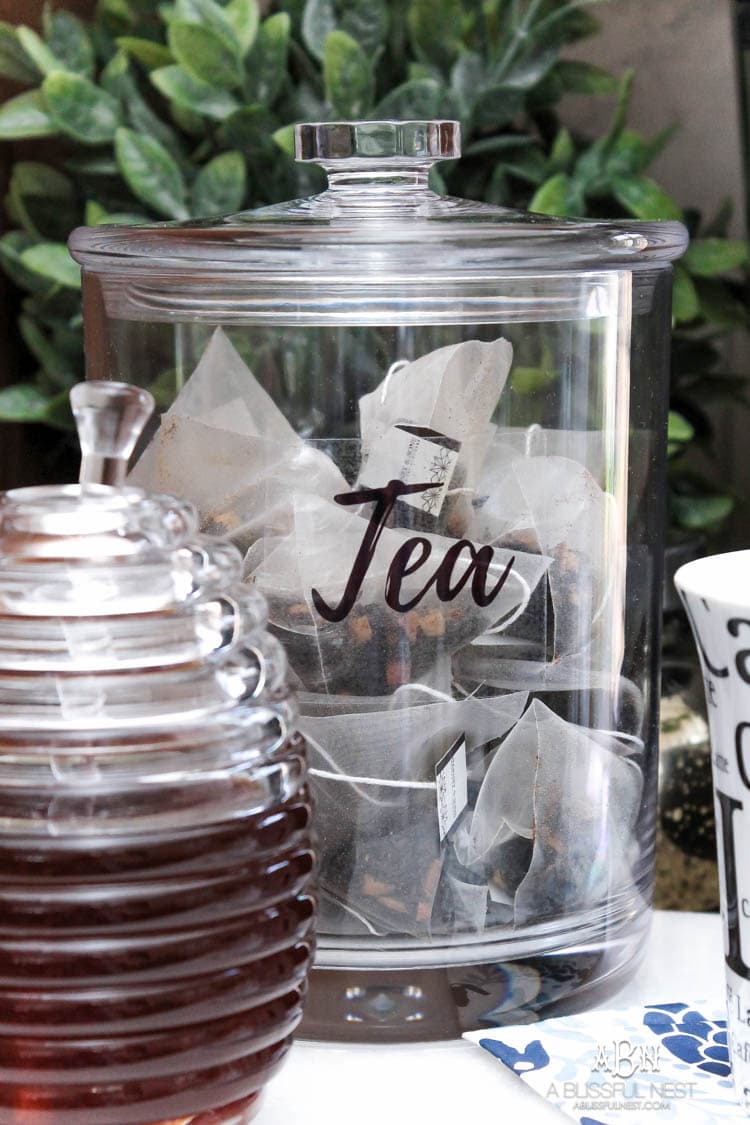 2. Pick out the perfect sized containers.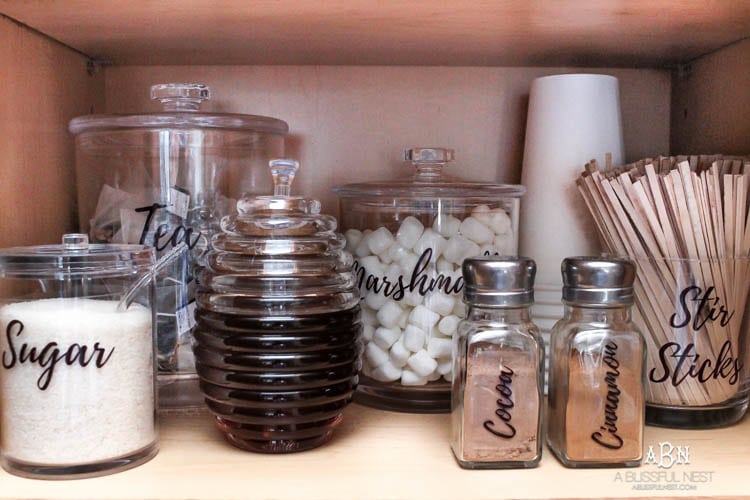 This will depend on the space you have to dedicate to these items. I turned in a cabinet that was not being utilized very good. I ended up have a tall but narrow space. So I decided on some containers that were small in scale and could hold my essentials. I choose a few larger ones to hold our coffee pods in bulk and back stock of our coffee beans and sugar. I found great affordable containers for the small condiments that were the perfect size for the space.
Here is a list of the exact items I selected for our coffee cabinet.
3. Stock it!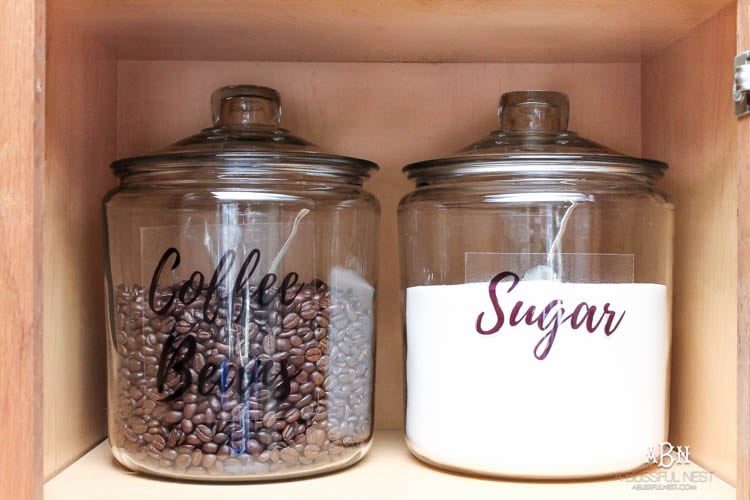 Once you have your containers picked out, then you can buy all your items. I picked up the majority of it from the grocery store but even Amazon is a great source for easy online buying in bulk.
4. Label it!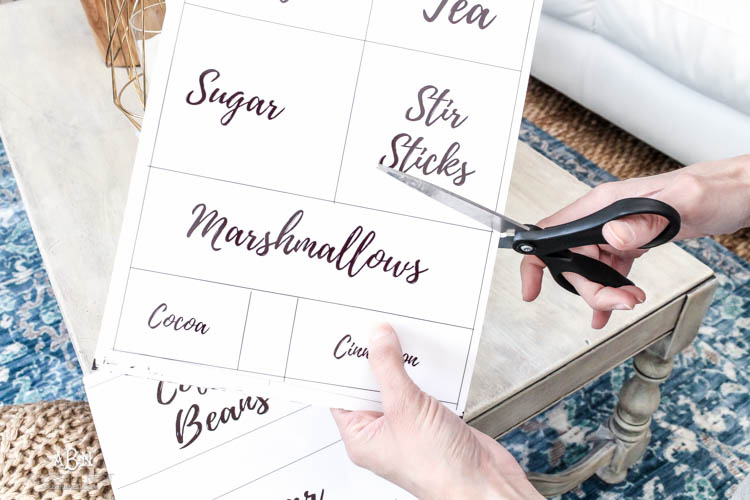 Here comes the fun part! Or maybe that is just the type-A personality coming out in me! I love to label things and create handmade tags. I think they are a fun personalized way to add some organization to your space.
2. I chose THIS clear adhesive paper to print them on.
A few tips on printing on paper like this:
Let dry for at least 20 minutes before you cut out your labels. If not they may smear.
In your printer settings choose glossy or adhesive paper settings.
The paper does come with print setting suggestions but after years of printing my own paper decor, I have found selecting the closets print options on your print settings is always the way to go.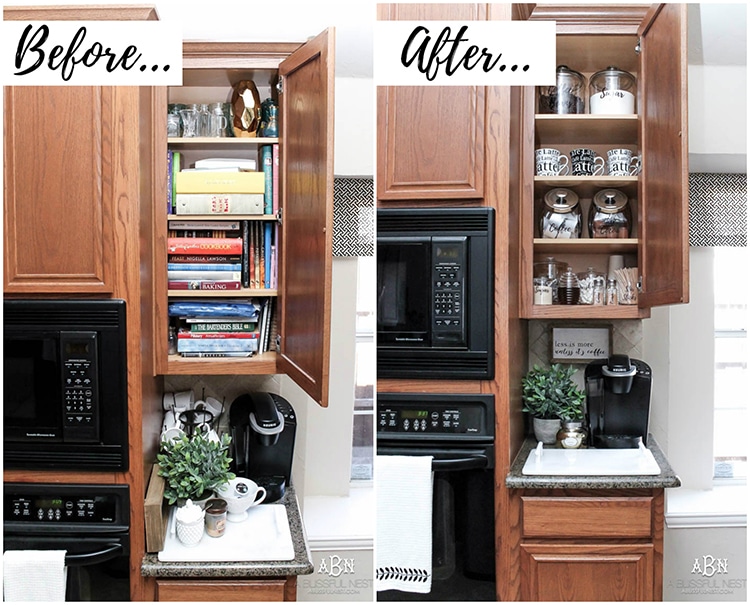 Are you ready to turn a dead cabinet space into a coffee station? Trust me, your friends will love it when they come over for some girl time. It really feels a little luxurious to have so many options to make your drink in the morning. . . . and in the afternoon too! I love a good cup of coffee in the afternoon. Enjoy friends and hope you loved these coffee cabinet organization ideas.
Want more ideas on how to stock the perfect coffee bar area? Grab this shopping guide HERE!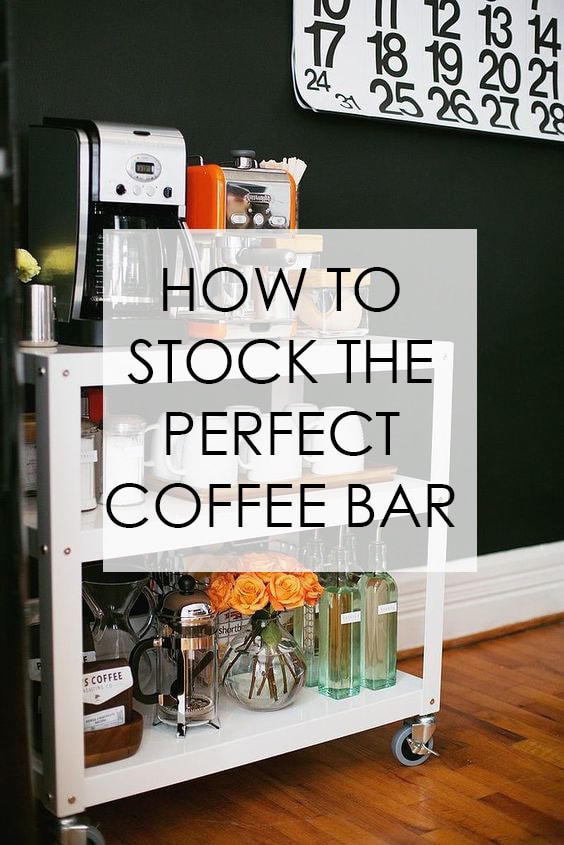 Shop items for your coffee station: