These modern coffee bar ideas not only will show you how to decorate your own but will also inspire you to think out of the box when creating your coffee station.
Coffee is more than just a beverage, it's a way of life for many people. A coffee bar is an essential part of your daily routine and it needs to match your home decor's aesthetic.
Coffee bar ideas have come a long way from a simple coffee maker on a counter. They now encompass so much more since people have become their own baristas at home with more complicated drinks.
From the coffee machine to the decor to decorate this small vignette, there are a lot of modern touches you can incorporate to elevate your coffee station.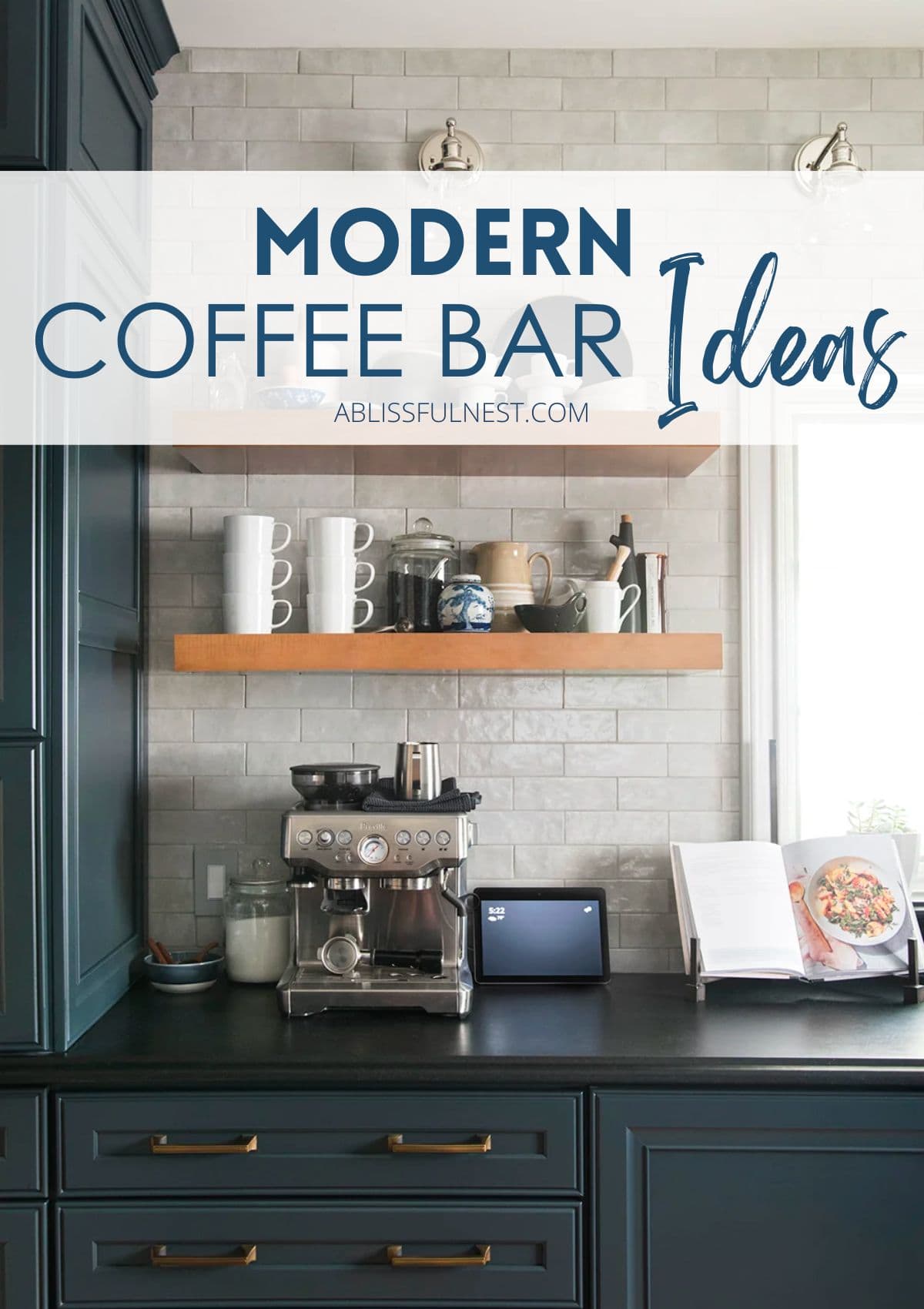 Having a coffee bar in your home is such a great luxury to have. Not only will you use it a lot if you love coffee but it will help you save money on all those trips you won't be taking to Starbucks!
Let me help you decide what pieces you need to make the ultimate modern coffee bar for your home and give you some ideas on how to set it all up.
This site contains affiliate links. Please read our disclosure policy. As an Amazon Associate, I earn from qualifying purchases.
What Makes A Great Coffee Bar
A great coffee bar is more than just a place to get your caffeine fix; it's an experience.
The foundation of any great coffee bar is, of course, excellent coffee. Use high-quality beans and ensure they are freshly roasted and brewed to perfection.
Invest in good brewing equipment that suits your taste. This might include a coffee maker, grinder, pour-over set, French press, or espresso machine, depending on what you love to drink.
Keep your coffee station organized. Use containers or jars to store coffee beans, sugar, and other essentials. Having everything in its place makes the process smoother and more enjoyable.
Have a variety of sweeteners, creamers, and flavorings to cater to different tastes. This could include sugar, honey, flavored syrups, and dairy or non-dairy creamers.
Whether it's a small corner in your kitchen or a dedicated home office setup, these elements can help you create a great coffee station that is perfect what you like to make.
More Coffee Bar Ideas + Inspiration
The 3 Key Elements Of A Coffee Bar
There are 3 key elements to a coffee bar that every home coffee station needs to have.
Quality brewing equipment

: The quality of the supplies is crucial. This includes having high-quality coffee beans, a good grinder, and a reliable coffee maker or brewing equipment.

Organization

: Keep everything you need for your coffee readily accessible and neatly organized. Having containers or jars for your coffee beans, sugar, creamers, and other essentials makes the brewing process efficient and enjoyable. Consider the space you have and arrange your supplies in a way that's easy to navigate.

Placement

: Placing the coffee station in a convenient spot can streamline your morning routine. Having the station in or near the kitchen can help you start your day seamlessly without much hassle. Choosing the right spot ensures efficient use of space. Whether it's a dedicated coffee bar cart, a countertop setup, or a small table in a comfortable nook, it should make it easy to use.
It's not just about the practicality of making coffee but also about how it fits into your lifestyle and the overall feel of your home.
Modern Decor To Use To Decorate A Coffee Bar
You may be wondering what decor will make your coffee station look modern and blend seamlessly with the rest of your home. Pulling your design together and keeping it functional at the same time is key.
I have collected some items that can help you do this and will look great in just about any spot you decide to place a coffee bar.

How To Make A Coffee Bar Look Modern
You can easily make your coffee bar look modern with a few key elements. Use these tips to elevate your coffee bar decor and keep it functional so making coffee and your specialty drinks is quick and easy!
Minimalistic Design: Opt for clean lines and minimalistic designs for your station. This might mean choosing a sleek, simple coffee maker, uncluttered countertops, and streamlined storage solutions.
Neutral Color Palette: Modern aesthetics often incorporate neutral color schemes. Choose colors like whites, greys, or blacks for the station itself. You can add a pop of color with accessories or accent pieces if desired.
Tech Integration: If you're into smart home devices, consider integrating your coffee station with technology. This could be a smart coffee maker or a voice-activated system for brewing your coffee.
Geometric Shapes and Patterns: Introduce geometric patterns or shapes in the decor or accessories. This could be in the form of wall art, a runner, or even the design of your coffee mugs.
Modern Art and Decor: Incorporate modern art or decor that complements the coffee station. This could be abstract art, minimalist accent decor, or any contemporary pieces that add personality to the space.
Modern coffee bar ideas have evolved over the last few years. From minimalist designs to innovative brewing methods, these coffee bars offer more than just caffeine fixes.
With the growing demand for specialty coffees, coffee lovers can enjoy a cup of coffee with a side of trendy aesthetics in their home.
With so many benefits, it's no wonder why modern coffee bars are becoming so popular in homes. So, elevate your coffee game and create the ultimate coffee station for your home!