Dark Kitchen Cabinet Colors
When it comes to kitchen design, cabinets are one of the most important choices you will make.
And in recent years, dark kitchen cabinet colors have been growing in popularity thanks to their sleek, modern look.
Not only do they provide a stunning and sophisticated look, but they also serve as a practical choice for busy households.
Whether you're remodeling your kitchen or building a new one, kitchen cabinet colors can completely change the look of your space.
But before you dive in and paint your cabinets a deep shade of charcoal, there are a few things to consider.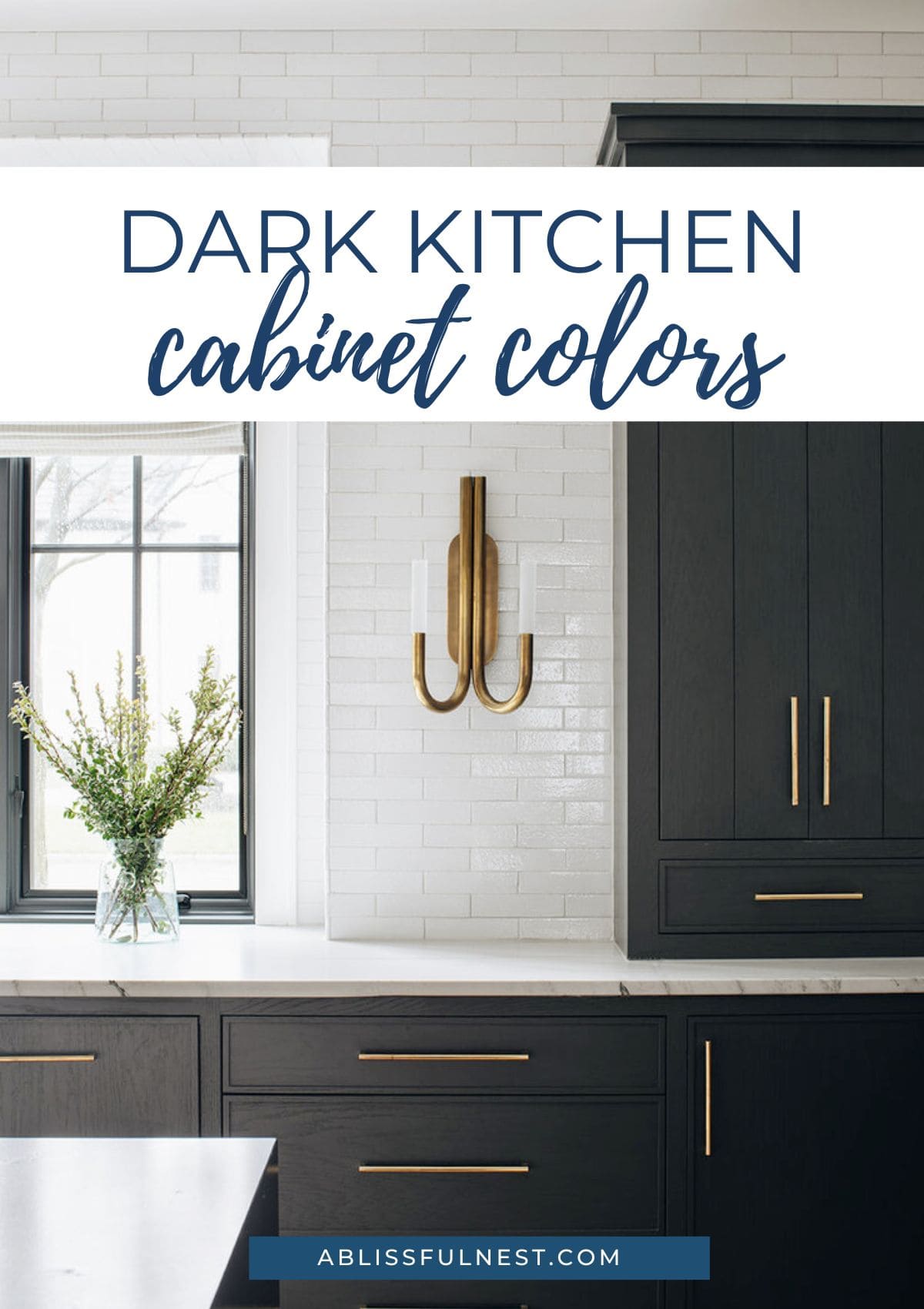 Let's take a look at the style and trendiness of dark kitchen cabinets, the importance of choosing the right countertop and flooring colors to pair with them, and how to select lighting to make your kitchen feel inviting and functional.
Also, I've got some inspiration on how to decorate with dark kitchen cabinets and the best paint colors to match the look you're going for.
So if you're considering dark kitchen cabinets for your home renovation, I've got everything you need to know to pick the right color and have an amazing kitchen design.
This site contains affiliate links. Please read our disclosure policy. As an Amazon Associate, I earn from qualifying purchases.
Are Dark Kitchen Cabinets in Style
Dark kitchen cabinet colors are definitely in style right now, adding a touch of sophistication and class to any kitchen.
Whether you're going for a sleek, modern look or a traditional feel, dark cabinets can provide the perfect backdrop to show off your style.
Plus, they're versatile enough to work with a variety of other colors and finishes, from stainless steel appliances to bright, bold backsplashes.
So if you're looking to upgrade your kitchen and add some serious style points, consider dark kitchen cabinet colors as your starting point.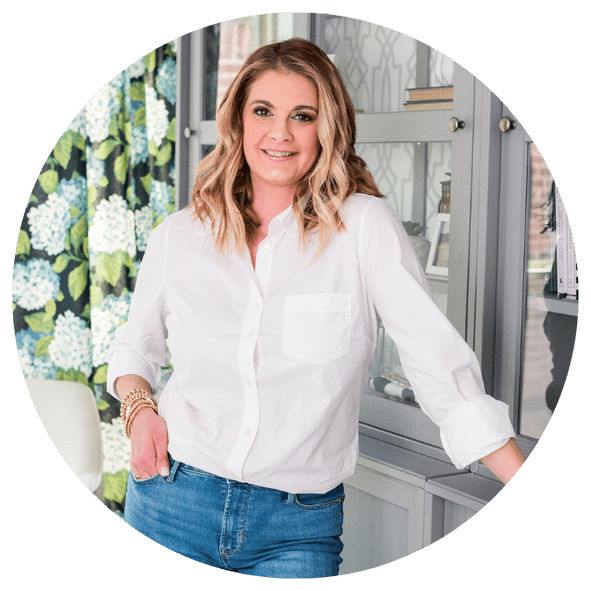 Should Countertops Be Lighter Or Darker Than Cabinets
When you have dark cabinets in your kitchen, lighter countertops create a strong contrast with the dark color, making the cabinets stand out. This can result in a dramatic and bold look.
Light countertops can reflect more light in the kitchen, making the space feel more open and brighter.
Light countertops can also be versatile and pair well with darker cabinet colors, offering flexibility in your kitchen's overall design.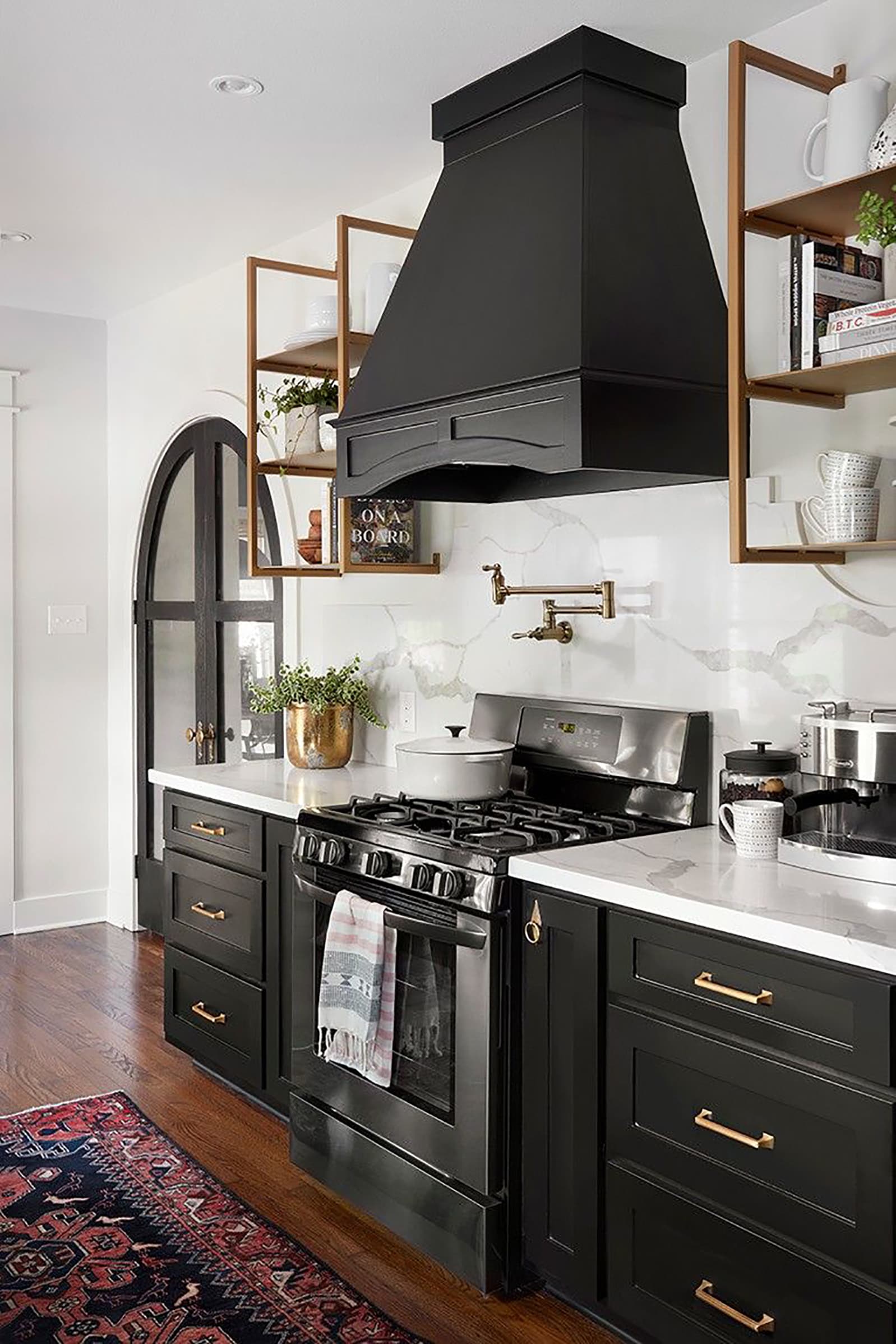 What Color Flooring Should You Use For Dark Kitchen Cabinet Colors
When you have dark kitchen cabinet colors, selecting the right flooring color is crucial to creating a balanced and visually appealing space.
Light-colored flooring, such as light wood tones (oak, maple, or birch) can create a gorgeous contrast with dark cabinets. This combination can help balance the overall look of the kitchen, making it feel more spacious and preventing it from feeling too heavy or overwhelming.
Warm-toned flooring, like medium to dark wood finishes with reddish or golden undertones, can complement dark cabinets beautifully too.
Remember to consider your kitchen's lighting, the overall color palette, and the style you want to achieve when selecting the flooring color.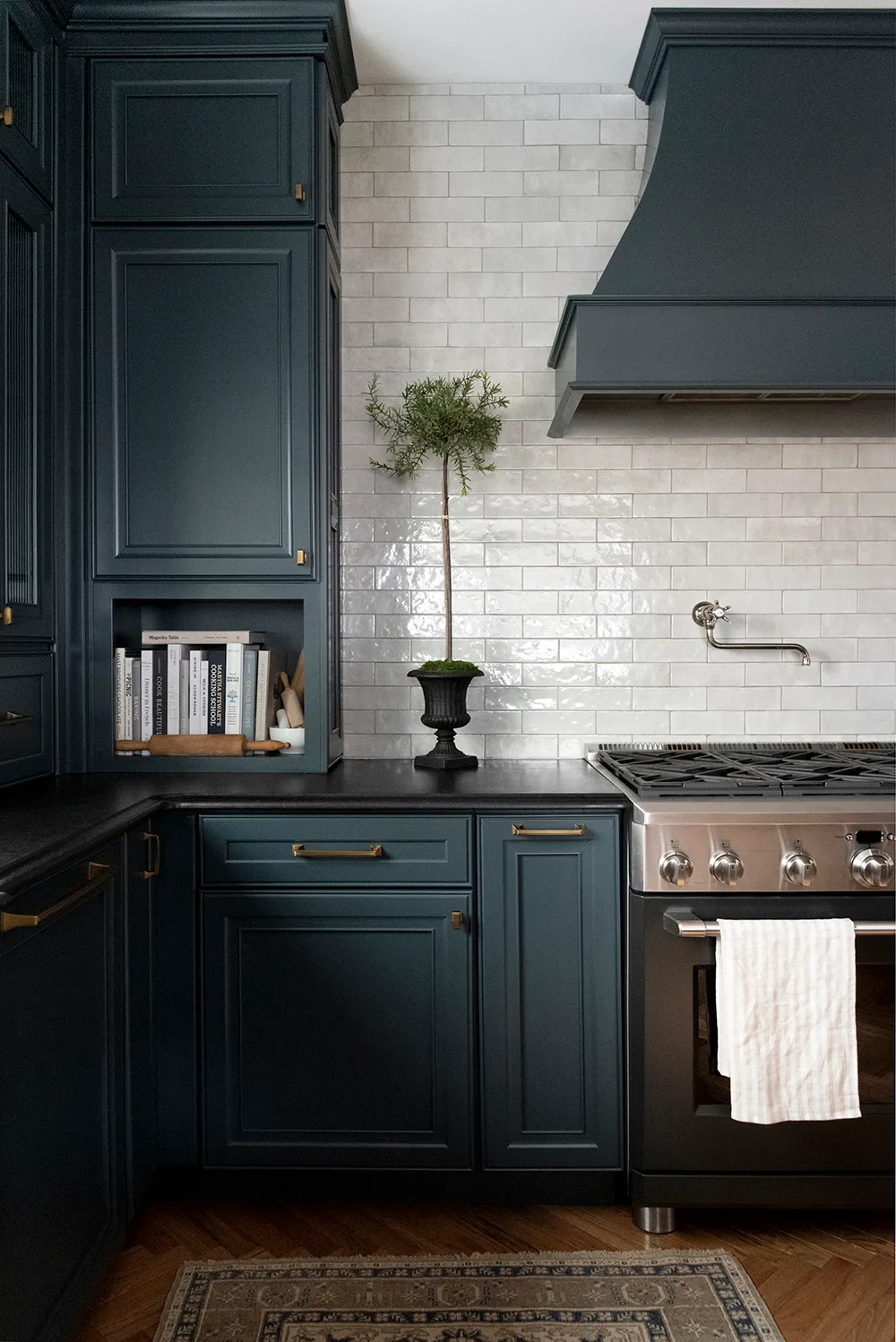 How To Select Lighting For Dark Kitchen Cabinets
Dark cabinets can make the kitchen feel cozier and more intimate, but they can also absorb light, so proper lighting is important.
A great way to do this is with layered lighting. Use a combination of different types of lighting to achieve a layered effect. This includes ambient lighting, task lighting, and accent lighting.
Installing under-cabinet lighting is especially important in dark kitchens as it helps illuminate the countertop workspaces and adds a warm, inviting glow.
Pendant lights can serve both functional and decorative purposes. They can be used above islands or dining areas to provide task lighting and add a stylish element to the kitchen.
Recessed or can lights in the ceiling can provide general ambient lighting. Position them strategically to evenly distribute light throughout the kitchen. Dimmer switches can be installed for recessed lights to adjust the lighting intensity based on the desired mood and activity.
Decor To Decorate With Dark Kitchen Cabinets
You may be thinking about how you should decorate a dark kitchen so your decor pieces don't feel lost with the saturated color and blend seamlessly with the overall design.
A lot of that is personal preference but one of my tried and true tips is to use neutral decor pieces. I shopped a few for you to easily add to your kitchen design no matter what style you are going for.
Tap Photos To Shop

Best Paint Colors For Dark Kitchen Cabinets
Black

: Black cabinets create a strong contrast when paired with other elements in the kitchen, such as countertops, backsplashes, or wall colors. They add high contrast to the space with other lighter colored design elements.

Navy Blue

: Navy blue exudes sophistication and elegance, giving your kitchen a refined and upscale appearance. It can adapt to different design trends and can create a warm and inviting atmosphere.

Charcoal Gray

: Charcoal gray serves as an excellent neutral base for kitchen design. It pairs well with a variety of materials, including stainless steel, natural wood, and stone. Charcoal gray cabinets can serve as a dramatic focal point in the kitchen, drawing attention and making a statement without overwhelming the space.

Dark Green

: Dark green cabinets make a bold and distinctive statement in the kitchen. Dark green is associated with nature and the outdoors. Using this color in your kitchen can create a sense of connection to the natural world and add a touch of tranquility.
Dark kitchen cabinet colors are undoubtedly in style and have become increasingly popular in recent years.
Not only do they add a sleek and modern touch to any kitchen, but they are also versatile and can be paired with a variety of countertop materials and flooring options.
Overall, dark kitchen cabinets can provide a bold and beautiful statement in any modern kitchen.
With the right countertops, flooring, lighting, decor, and paint color, you can elevate your kitchen design to new heights of sophistication.