Best Green Kitchen Cabinet Colors
Green kitchen cabinet colors are quickly becoming a popular choice for people looking for a unique and refreshing approach to their kitchen design.
Whether you're going for a traditional, rustic, or contemporary look in your kitchen, green cabinets can add just the right touch of elegance and sophistication.
Not only does green add a pop of color, but it also creates a calming and inviting atmosphere and can make a bold and dramatic statement depending on the depth of shade you pick.
But with so many shades and design styles to choose from, it can be overwhelming to figure out where to start.
If you're planning to remodel your kitchen or just looking to give it a fresh new look, choosing the right kitchen cabinet colors can make all the difference.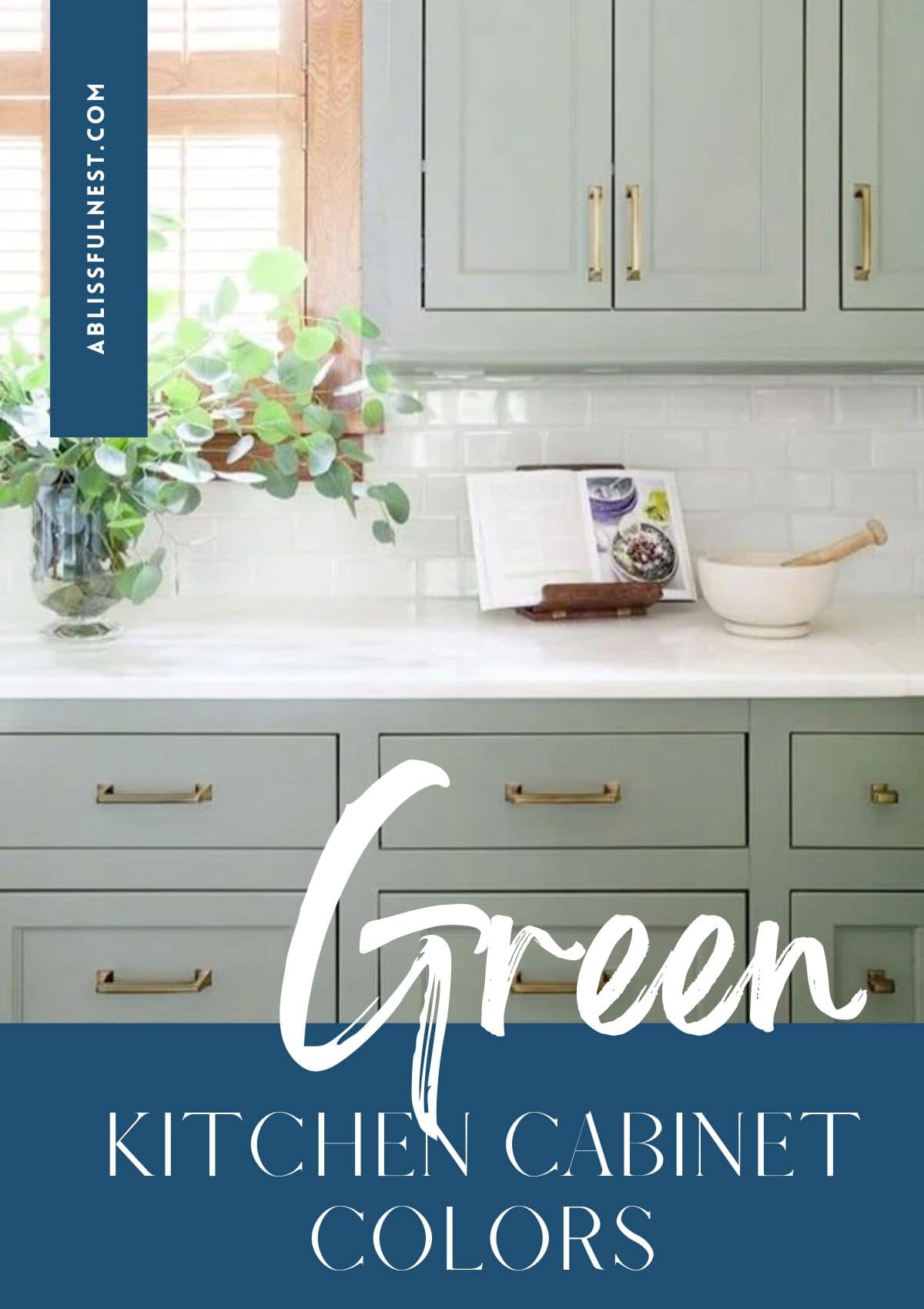 Green kitchen cabinets come in a wide range of shades, from soft pastels like mint and sage to deep, rich tones like emerald and forest green.
This versatility allows you to choose a shade that suits your personal style and complements your kitchen's overall design.
But there are some key factors in selecting the right one for your home, so let me guide you through them.
This site contains affiliate links. Please read our disclosure policy. As an Amazon Associate, I earn from qualifying purchases.
What Design Styles Work With Green Kitchen Cabinet Colors
Green kitchen cabinet colors are versatile and can work well with a variety of design styles.
Green cabinets can bring a touch of classic elegance to a traditional kitchen. Shades like forest green or deep olive can work particularly well in this style, especially when paired with classic hardware and decorative details.
Green cabinets can enhance the cozy and inviting atmosphere of a farmhouse kitchen. Soft, muted greens like sage or mint can create a rustic and charming look when combined with farmhouse sinks, open shelving, and vintage-inspired accessories.
Lighter shades of green, like seafoam or aqua, can work well in cottage or coastal kitchens. These colors evoke a beachy, relaxed vibe and pair beautifully with white or light-colored countertops and beadboard paneling.
Mid-century modern kitchens often feature bold and vibrant colors. Pair it with vintage-inspired appliances and furniture for an authentic mid-century look.
Green cabinets can add a touch of nature to a rustic kitchen. Earthy green tones, combined with natural wood elements and stone countertops, can create a warm and inviting rustic ambiance.
What Color Hardware To Use With Green Cabinets
When choosing hardware for green kitchen cabinets, you have several options depending on the look and style you want to go for.
Brass hardware, whether polished or in an antique finish, can provide a beautiful contrast with green cabinets. The warm, golden tones of brass complement various shades of green, from soft pastels to deep emeralds.
Brushed nickel hardware offers a sleek and modern appearance. Its silver-toned finish can create a contemporary look when paired with green cabinets, especially in kitchens with a cool color palette.
Black hardware can create a striking contrast with green cabinets, adding a touch of drama and sophistication. This combination works well in both modern and traditional kitchen designs.
When choosing hardware, consider the overall style of your kitchen and the specific shade of green in your cabinets.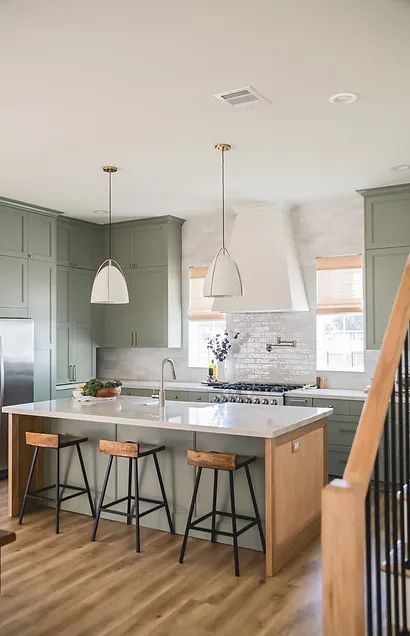 What Color Flooring To Use With Green Kitchen Cabinets
The choice of flooring color can significantly impact the kitchen's aesthetics.
Natural wood flooring, in warm tones like oak, hickory, or walnut, can add warmth and coziness to your kitchen. This pairing works particularly well with earthy or muted green cabinet shades and creates a rustic or transitional vibe.
Dark brown or espresso-colored flooring can add depth and contrast to your kitchen. This combination works well with deep green cabinet shades like forest or emerald green, creating a dramatic and luxurious ambiance.
Slate or dark stone flooring can complement green cabinets, especially if you want to achieve an earthy or industrial look. The dark, textured surface can create a striking contrast with lighter green cabinet shades.
Remember to consider the lighting conditions in your kitchen when choosing flooring. Darker flooring can absorb light and make the space feel cozier, while lighter flooring can reflect light and make the room appear more spacious.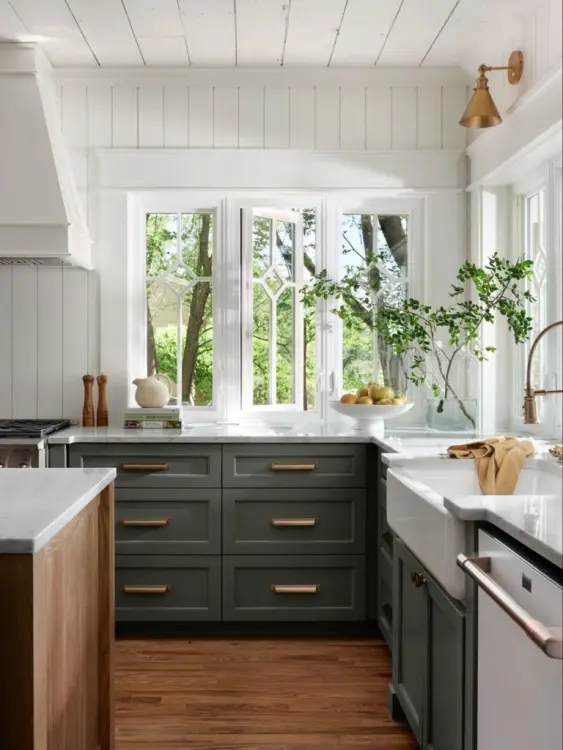 How To Decorate With Green Kitchen Cabinets
When decorating a green kitchen you can go with neutral decor to really make the green kitchen cabinet color stand out, or you can add accessories with a splash of color to play off of them for a more dramatic look.
Whether you want more punches of color or soft accents, it is a personal preference. I shopped for a few pieces that can easily work with dark or light green kitchen cabinet colors to make it easy for you to pull your kitchen design together.
Tap Photos To Shop

Don't Forget To Order Paint Samples!
No matter what a photo looks like or description, every paint color will look different in your own space. It is so important to test a paint color before you commit to it.

That's why I love buying these peel & stick samples.
It makes it so easy & affordable to test colors!

Best Green Kitchen Cabinet Colors
Here are some popular green kitchen cabinet colors that are stunning and full of lots of design style.
It's a good idea to test paint samples or view cabinet samples in your kitchen to ensure the color looks the way you envision it in your space.
Green Kitchen Cabinet Colors & Ideas
Green kitchen cabinet colors are a great way to add a fresh and organic touch to your kitchen design.
Whether you prefer a traditional or modern style, green cabinets can fit seamlessly into any design aesthetic.
With the right hardware, flooring, and decorative accents, you can create a cohesive look that you will love.
I hope this guide has given you the courage to pick the perfect green hue for your own kitchen!