Natural Wood Kitchen Cabinet Colors
This post may contain affiliate links. Please read our disclosure policy.
Wood kitchen cabinet colors have become a popular choice recently for homeowners looking for a classic and authentic feel in their kitchens.
Along with their timeless charm, natural wood kitchen cabinets offer a wide range of benefits including durability, versatility, and a range of design styles that fit various home decor preferences.
Kitchen cabinet colors have come a long way and a return to an all wood kitchen is nostalgic, warm, and inviting.
When it comes to choosing the right wood for your kitchen cabinets, color is an essential factor to consider.
Natural wood comes in a wide range of colors, from light to dark, with unique grain patterns that add depth and texture to the cabinets.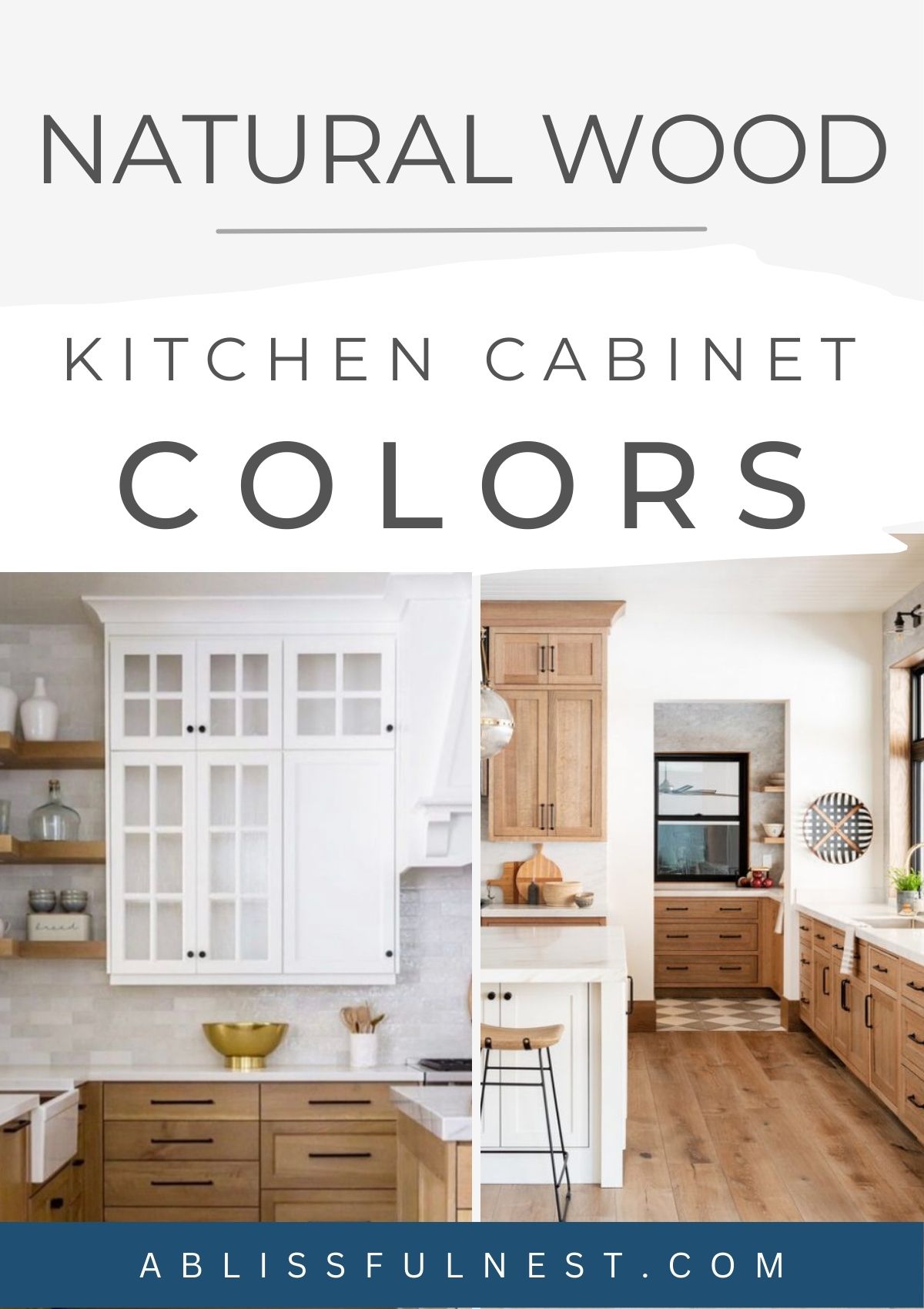 If you're considering going for wood cabinets in your kitchen, then I've got all the information you need to make the best choices including design styles, wood options, cleaning processes, countertops, and flooring options to complement your look.
I'll also go over how to decorate with wood kitchen cabinets to create a warm, inviting, and functional space in your home.
So let's get started!
What Design Styles Work With Wood Kitchen Cabinets
First off, wood is a versatile material that can work with a range of aesthetics.
For a traditional look, consider going with darker wood and classic details like molding and hardware.
If you're after a more modern vibe, lighter woods with sleek, simple lines will do the trick.
Rustic farmhouse kitchen? Opt for distressed or weathered wood and pair it with vintage accents.
Whatever your style, just make sure you let those gorgeous wood cabinets shine!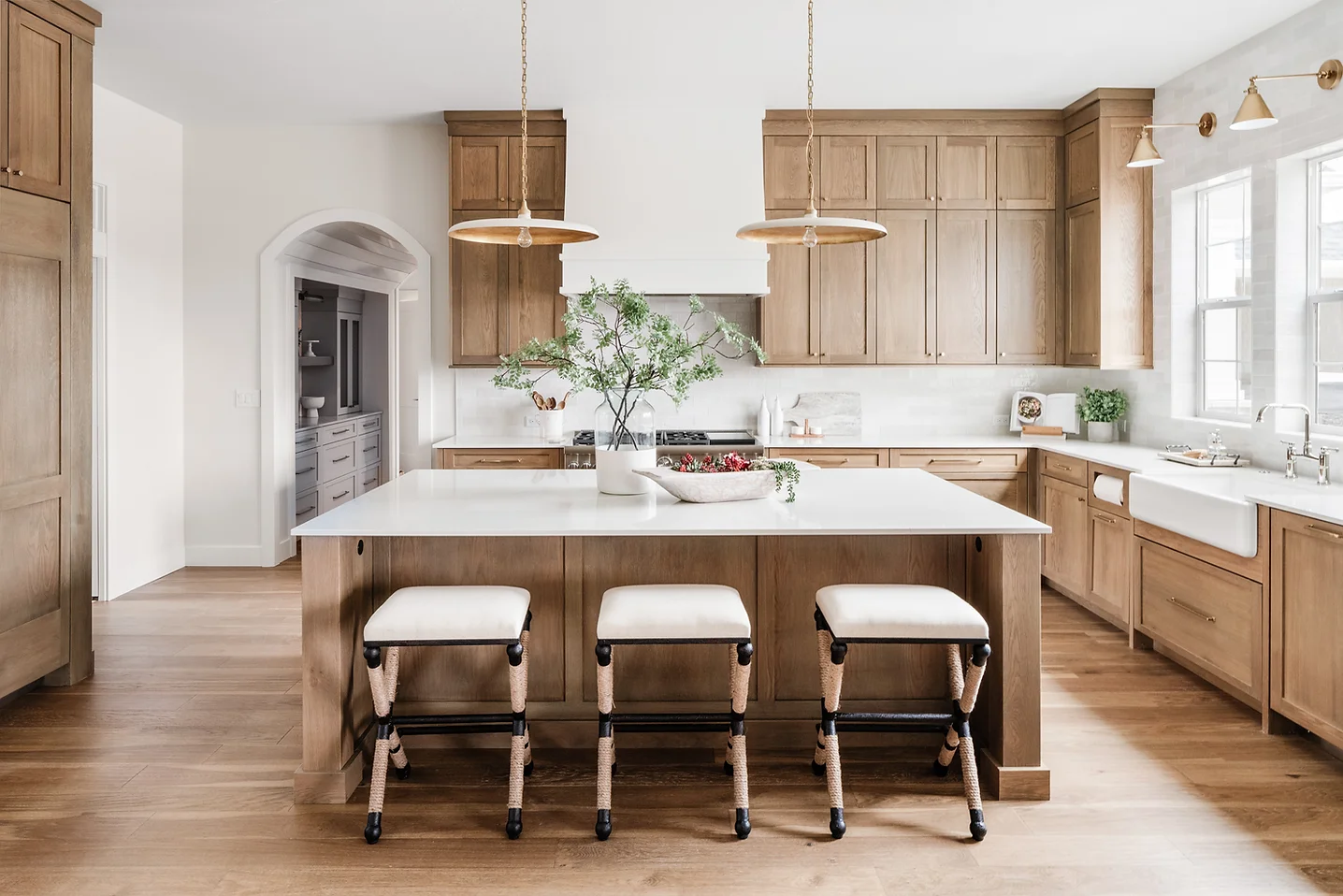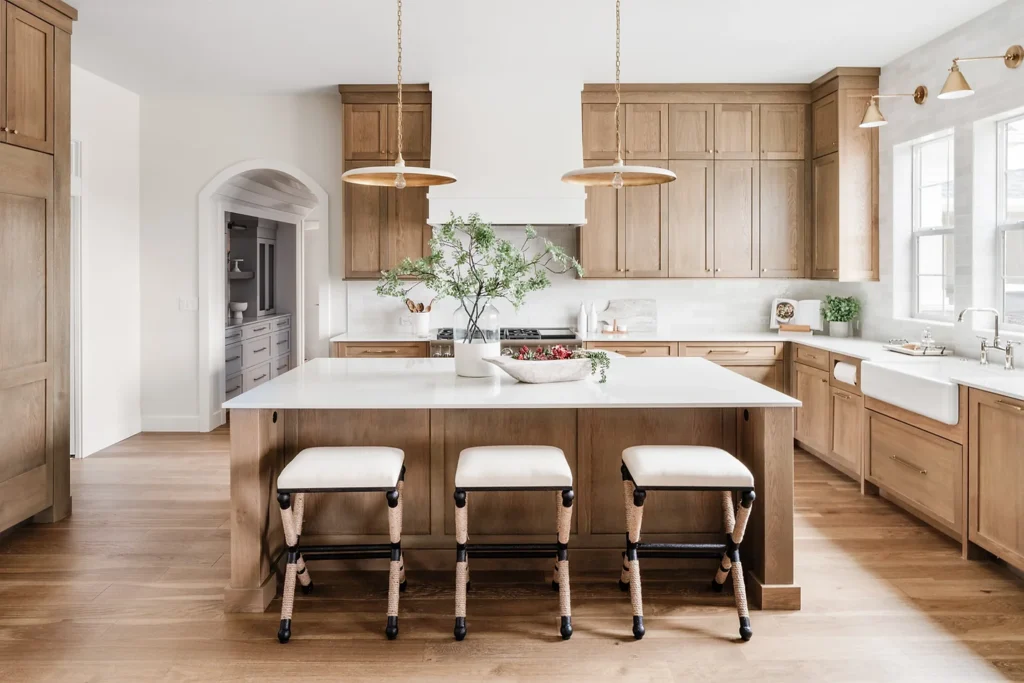 Benefits of Wood Kitchen Cabinets
When it comes to picking out your kitchen cabinets, there's a lot to consider.
You want something that's going to look great and perform well too. That's why wood kitchen cabinets may be the perfect choice for your home.
Not only do they add a natural, warm touch to your kitchen, but they're also incredibly durable and long-lasting.
With proper care, these cabinets can last for years and stand up to daily wear and tear.
Plus, they're a great investment in your home, as they can boost your property value and make your space more appealing to potential buyers down the road.
So, if you're looking for a timeless, stylish, and practical choice for your kitchen, you can't go wrong with wood cabinets.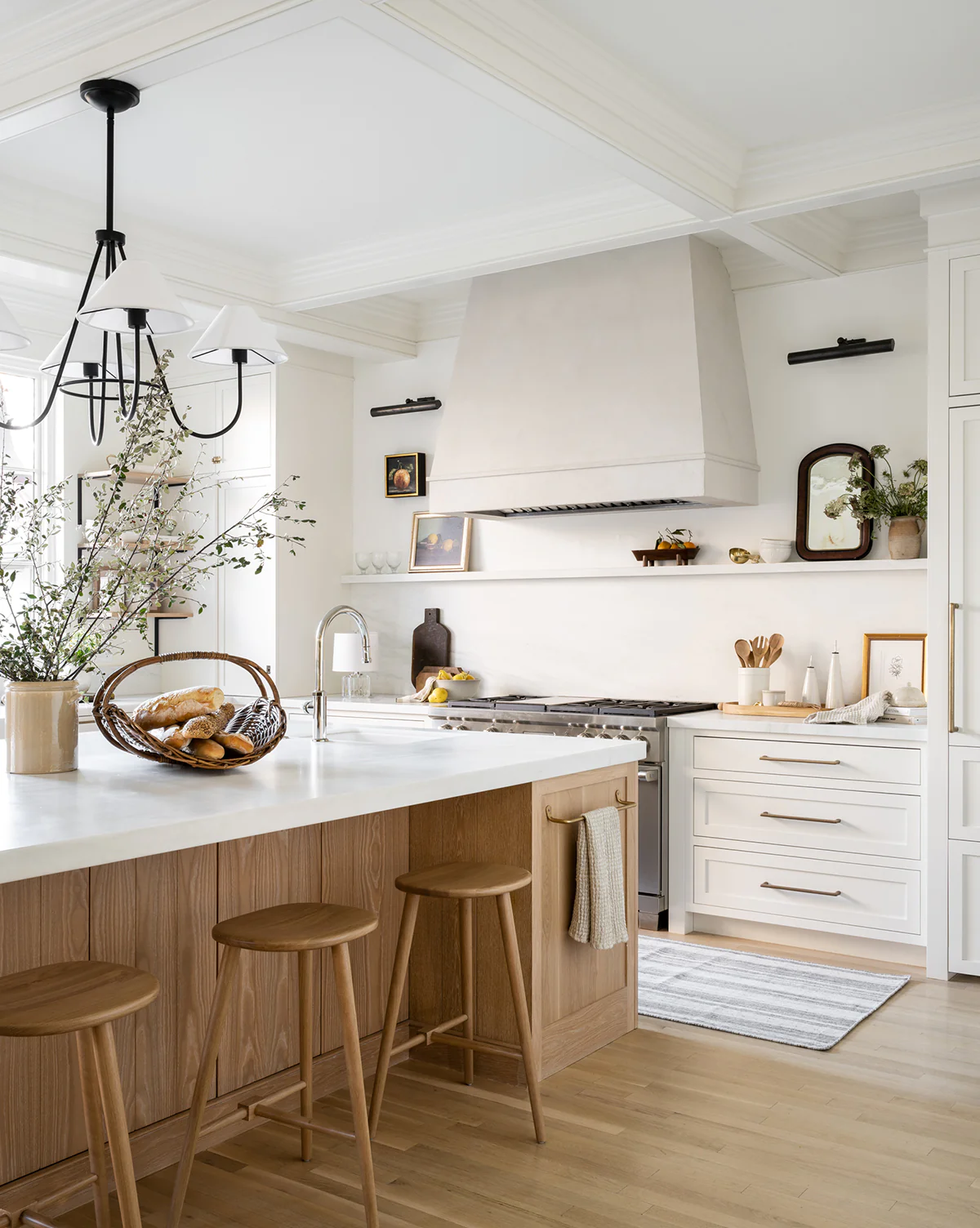 How To Clean Wood Cabinetry
Cleaning your cabinets doesn't have to be a chore!
Avoid using any harsh chemicals or abrasive scrubbers, as these can damage the finish of your cabinets.
Instead, opt for a mild cleaner like a mixture of warm water and dish soap.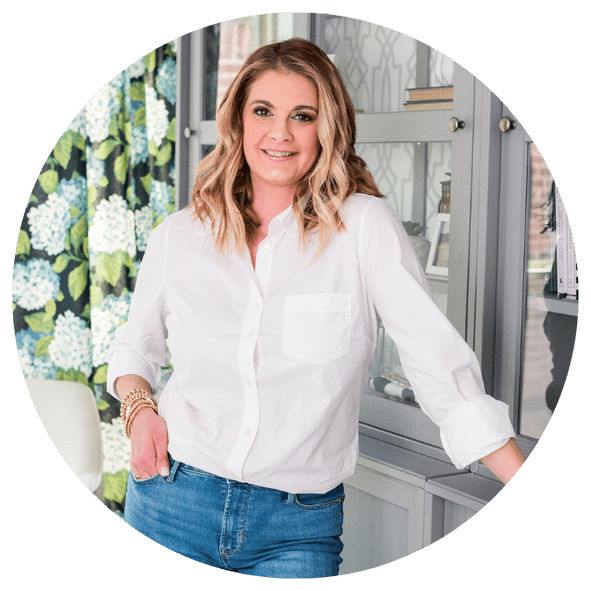 Simply apply the solution with a soft cloth, working in the direction of the wood grain, and then wipe away any excess moisture with a dry cloth. For tough stains or grime buildup, try adding a small amount of vinegar to the solution.
And remember to always test any new cleaner on a small, inconspicuous area before using it on the entire cabinet to avoid any unwanted reactions.
Wood Options For Natural Wood Cabinetry
When it comes to natural wood cabinetry, there are a variety of wood options to choose from. Each type of wood has its own unique characteristics and properties that affect the final look and durability of the cabinets.
Maple
If you're looking for a wood that's both durable and visually appealing, maple wood might just be the perfect choice for your kitchen cabinets.
Not only is it one of the strongest hardwoods available, but it also has a beautiful grain pattern that adds warmth and depth to any kitchen design.
Unlike some other woods, maple takes stain extremely well, so you can achieve any look you want, from a natural wood finish to a darker, more dramatic tone.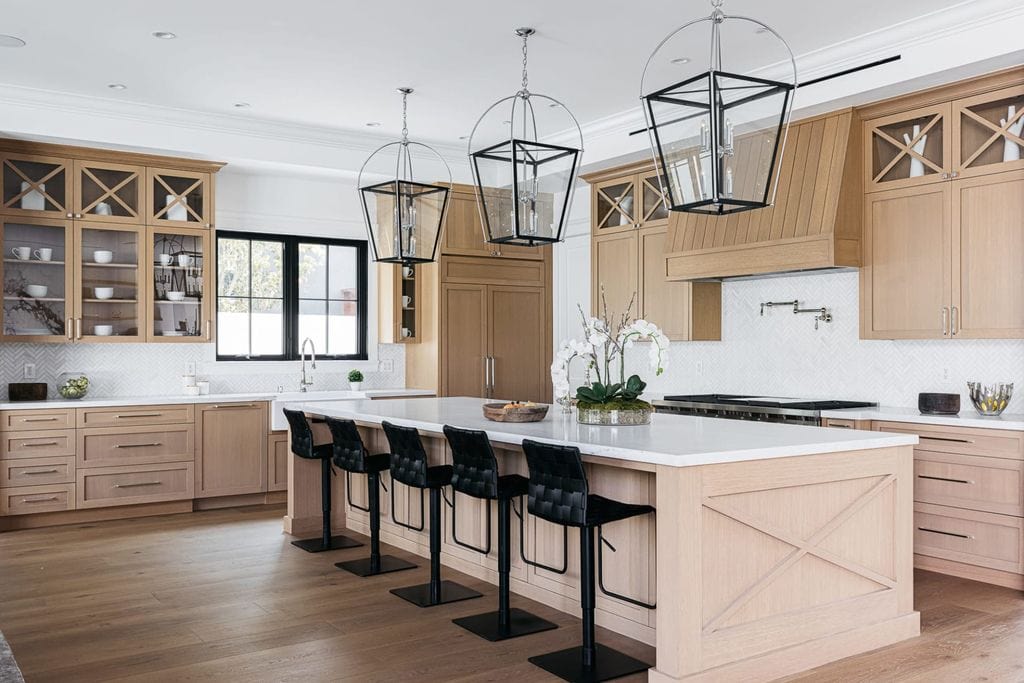 White Oak
White oak wood is versatile and can be easily stained or painted to match any kitchen style or decor.
It can also be paired with a variety of countertop materials, from granite to quartz to wood.
White Oak is a dense hardwood that is known for its strength and durability.
It is less prone to scratches and dents than other types of wood, making it a great choice for kitchen cabinets that see a lot of use.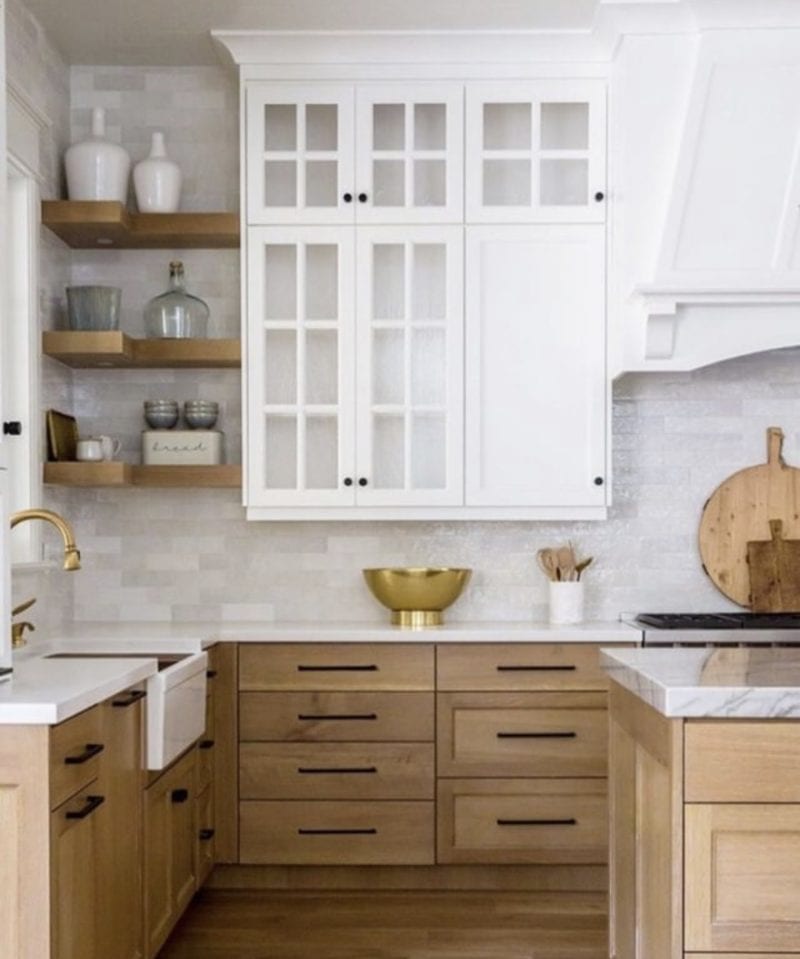 Walnut
Walnut wood has a rich, deep brown color with unique grain patterns that create a luxurious and sophisticated look in any kitchen.
Walnut wood is known for its dimensional stability, which means it is less likely to warp, shrink or expand due to changes in humidity or temperature.
This makes it a practical choice for kitchen cabinets that will be exposed to varying conditions.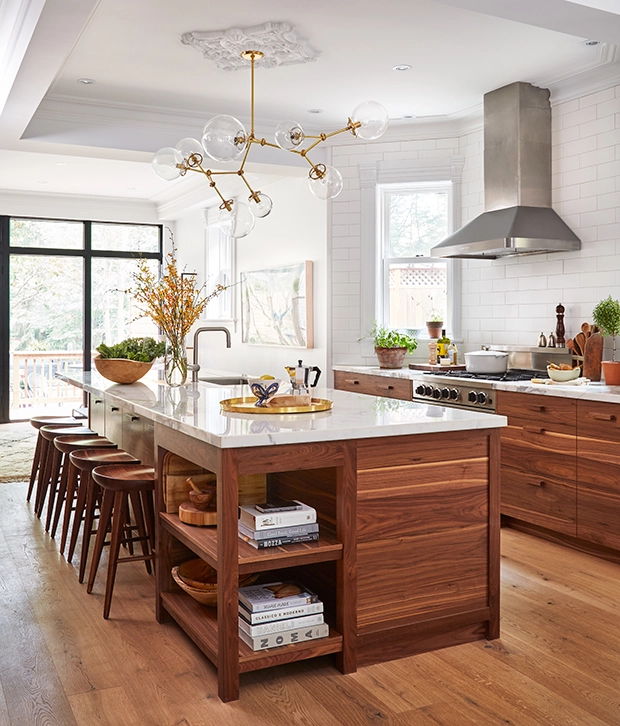 With so many options to choose from, it's important to consider the look and feel you're going for and the level of durability you need in your cabinets.
Best Countertops For Wood Kitchen Cabinets
There's granite, marble, concrete, quartz, laminate… the list goes on.
But, which ones pair best with wood kitchen cabinets? Well, there's good news! You have a lot of options that will elevate the look and feel of your kitchen.
Granite and quartz countertops are popular choices because they are both durable and easy to maintain.
Marble is a more luxurious option and will give your cabinets even more of an elegant touch. There are special treatments you can do to marble that will also help it with staining and longevity.
The key is finding the right balance of colors, textures, and durability to create a cohesive and functional space.
Whatever your style, just make sure you let those gorgeous wood cabinets shine!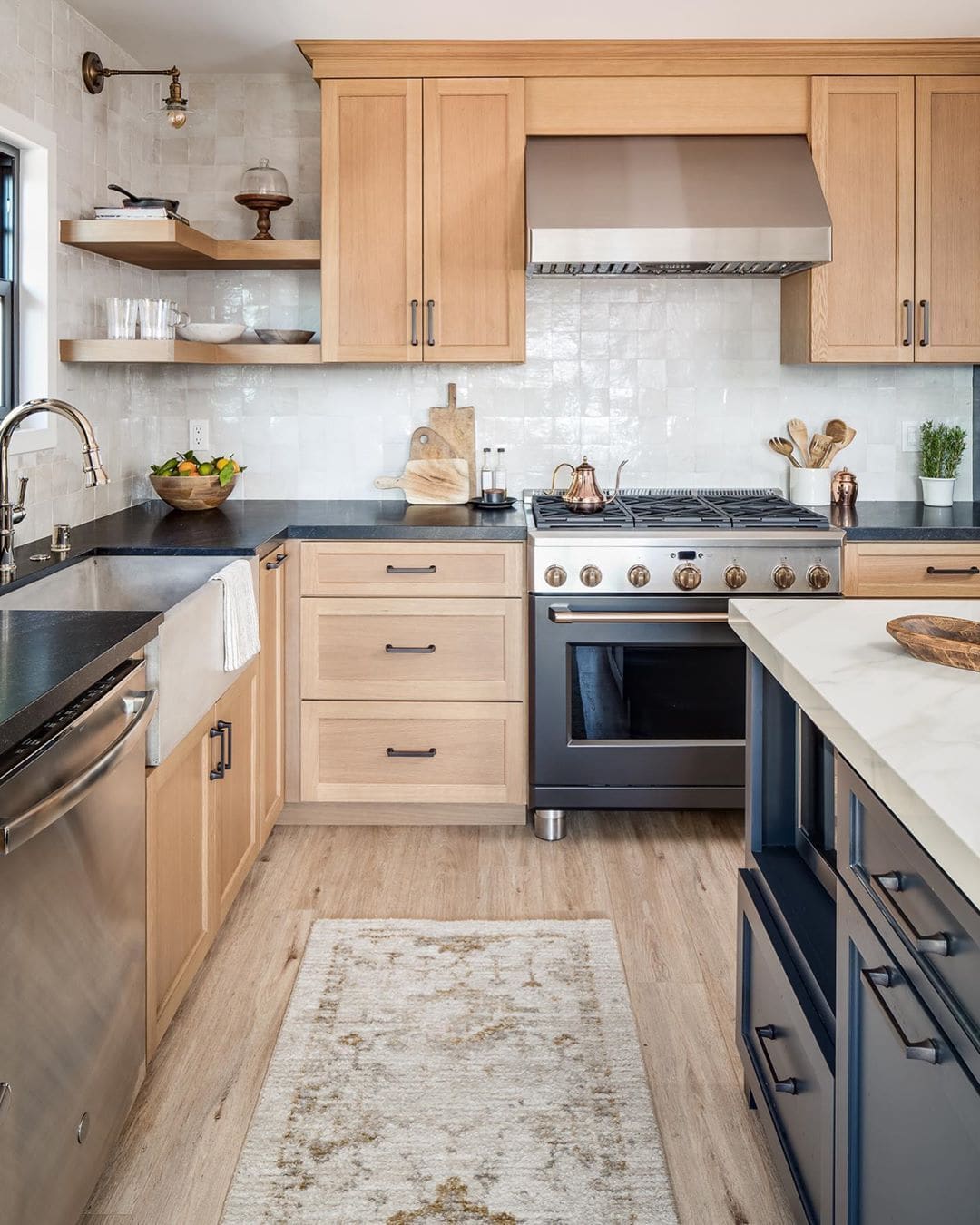 What Flooring To Use With Natural Wood Cabinetry
Choosing the right flooring to match your natural wood cabinetry can be a daunting task.
You want to make sure that the two don't clash, but instead, complement each other beautifully. One fantastic option is to go for hardwood flooring that is lighter than your cabinetry.
This subtle contrast creates an elegant and timeless look.
Another popular choice is to go for a slate or stone floor that can add a bit of texture to your kitchen while also providing a sturdy and durable surface.
Keep in mind that your kitchen sees daily traffic, so opt for materials that can withstand your busy lifestyle.
Whatever you choose, the key is to strike a balance that enhances your overall aesthetic, and with a little research and creativity, you're sure to find the perfect flooring to suit your natural wood cabinetry.
How To Decorate With Wood Kitchen Cabinets
Decorating with wood cabinets can be challenging, but with the right approach, it can create a beautiful, inviting space that feels cozy and comfortable. Here are some tips for decorating with wood kitchen cabinets:
Choose complementary colors

: When decorating with wood cabinets, it's important to choose complementary colors that will accentuate the natural beauty of the wood. Soft blues, greens, and grays work well with light wood cabinets, while darker cabinets can be complemented with warm, earthy tones like burnt orange or rust.

Play with textures

: Incorporating different textures into your kitchen decor can create visual interest and balance out the natural grain patterns of the wood. Textured tile backsplashes, woven baskets, and patterned rugs can add depth and dimension to the space.

Add plants and greenery

: Bringing in natural elements like plants and greenery can enhance the organic feel of wood cabinets. Potted herbs or succulents on windowsills, hanging planters, or a large potted plant in the corner of the room can add freshness and vitality to the space.

Use natural materials

: Adding natural materials like stone, brick, or metal can complement the warmth of wood cabinets and create a rustic or industrial feel. A stone countertop or a brick backsplash can add texture and depth, while metal hardware can create a sleek, modern look.

Keep it simple

: With wood cabinets, less is often more. Avoid cluttering the space with too many decorative items or accessories, as this can detract from the natural beauty of the wood. Instead, choose a few key pieces that will complement the cabinets and create a cohesive look.
Tap Photos To Shop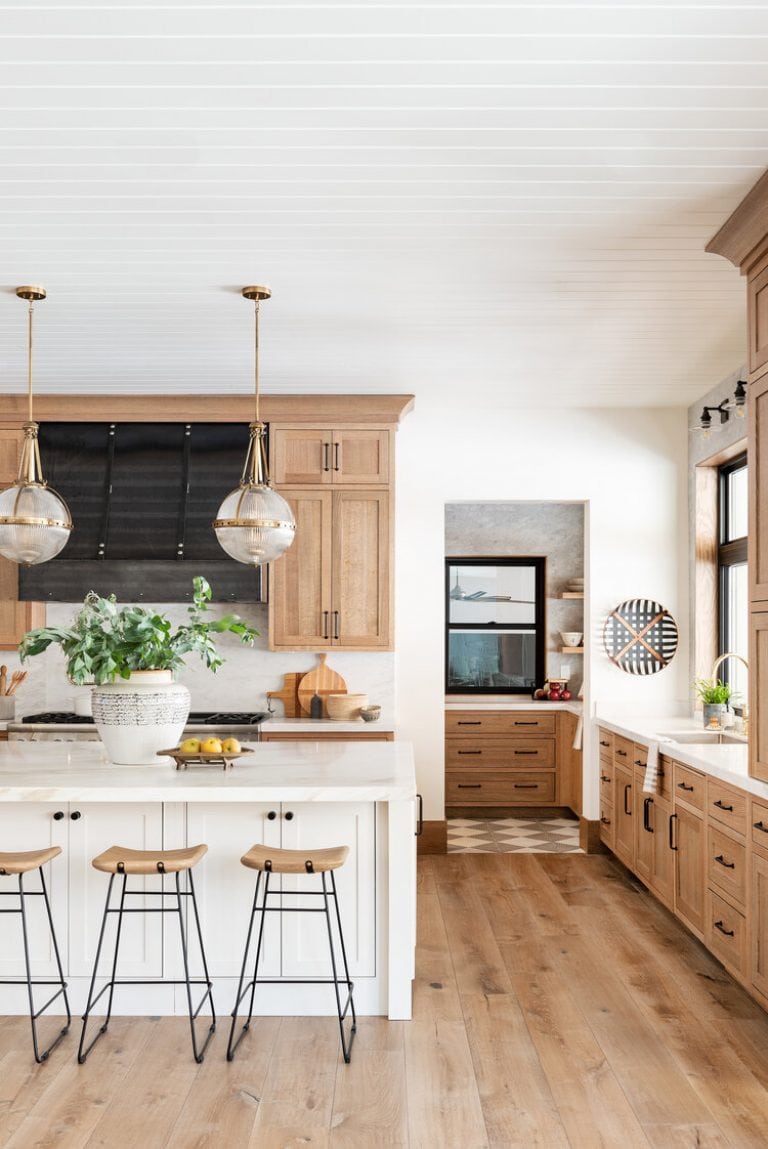 Natural wood kitchen cabinet colors have become an increasingly popular choice again for many homeowners.
With their versatility in design styles and the natural beauty they exude, wood cabinetry is a worthwhile investment for any home.
Not only do they offer benefits such as durability and longevity, but they can also increase the overall value of your home.
Maintaining your wood cabinets is also easy with regular cleaning and care.
When it comes to pairing wood cabinets with other elements in your kitchen, opt for countertops and flooring that offer a complementary tone or contrast that will elevate the design.
Decorating with wood cabinetry can be done through small accents or bold statement pieces, depending on your personal style.
With the options available for wood species and finishes, finding the perfect wood kitchen cabinets for your home has never been easier.