Rustic Kitchen Cabinet Colors
Are you looking to bring the charm and beauty of country living into your home? If so, rustic kitchen cabinet colors might just be the perfect complement to your decor.
A rustic kitchen embodies simplicity, warmth, and natural appeal while offering a cozy ambiance that is hard to resist.
If you're considering giving your kitchen a rustic-style makeover, one of the most important aspects to consider is kitchen cabinet colors.
Whether you live in the city or the country, the timeless beauty of a rustic kitchen is a popular choice, especially with the farmhouse decor trend.
But just what is it that makes a kitchen look rustic? And which colors are best suited for a rustic kitchen cabinet?
There's something about the natural warmth and character of rustic wood that makes a house a home.
But, with so many different colors and finishes to choose from, it can be challenging to decide what will suit your style and home the best.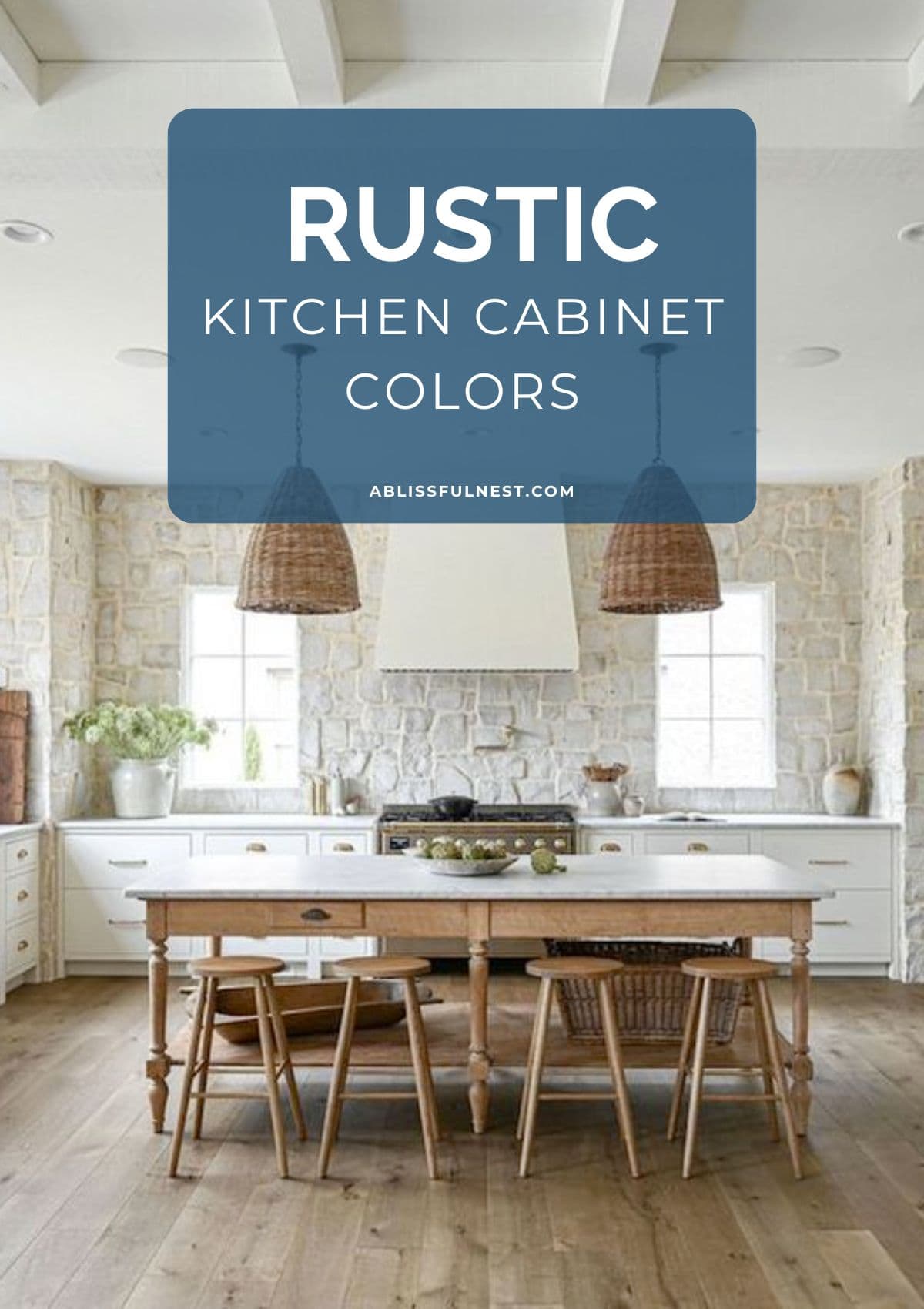 The rustic kitchen look embodies so many elements from not only the kitchen cabinets themselves but also lighting, flooring, countertops, and hardware.
Use this guide to not only select the perfect shade for your rustic kitchen design but also how to decorate it and select hardscape finishes to compliment it.
This site contains affiliate links. Please read our disclosure policy. As an Amazon Associate, I earn from qualifying purchases.
What Makes A Kitchen Look Rustic
A rustic kitchen is characterized by its warm and cozy atmosphere, often evoking a sense of nostalgia and simplicity.
Rustic kitchens often feature natural materials like wood, stone, and brick. Exposed wooden beams, a farmhouse sink, and stone countertops or backsplashes contribute to the rustic aesthetic.
Furniture and cabinetry with distressed or weathered finishes add to the rustic charm. This can include cabinets with a worn paint or stain, giving them an aged appearance.
Maximize natural light with large windows or French doors to create a bright and airy space that highlights the natural materials and colors.
Many rustic kitchens are part of an open floor plan, connecting the kitchen with the dining and living areas to create a welcoming, communal space.
Mixing and matching these elements can help you create a kitchen that exudes a charming rustic style while reflecting your personal taste and preferences.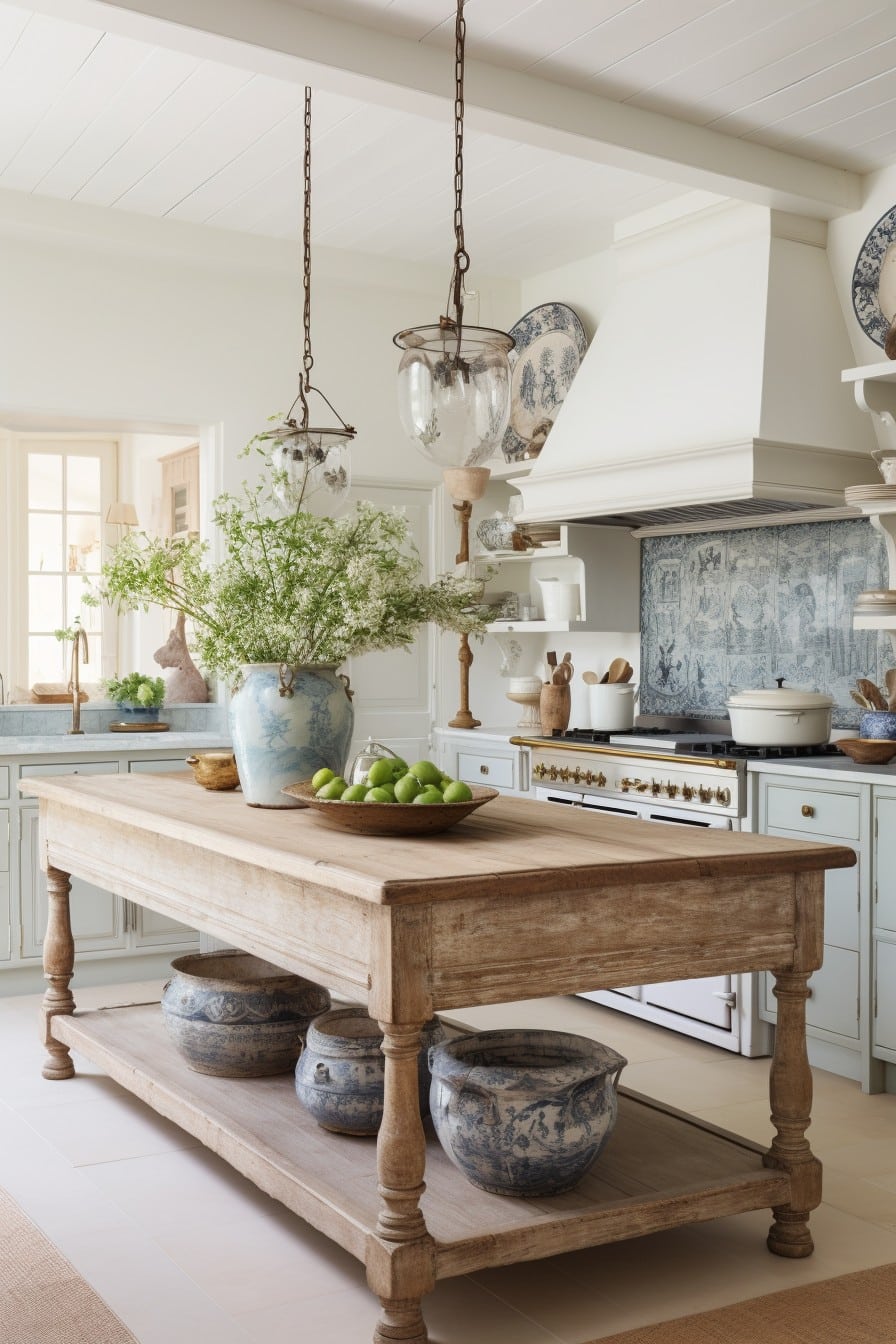 How to Decorate with Rustic Kitchen Cabinet Colors
Decorating a rustic kitchen involves choosing furnishings, accessories, and design elements that enhance the warm, cozy, and nostalgic atmosphere associated with rustic style.
Decorate with rustic accessories like woven baskets, wooden crates, antique scales, and Mason jars for storage. Hang vintage kitchen tools on the wall for added character.
Incorporate rustic furniture pieces like a farmhouse dining table and chairs or a wooden breakfast nook bench. Furniture with distressed finishes can add character.
Here are a few of my favorite pieces to easily incorporate into your rustic kitchen style.
Tap Photos To Shop

Best Colors For Rustic Kitchen Cabinets
Rustic kitchens tend to use earthy and warm color palettes. Here are the best shades to use to create a rustic kitchen aesthetic.
Warm Neutral Tones: Rustic kitchens often feature warm, earthy, and neutral colors. Shades of beige, cream, and soft gray are excellent choices for creating a timeless rustic look. These colors work well to complement natural wood accents.
Deep Earthy Browns: Deep brown cabinet colors, such as chocolate or espresso, can create a warm and inviting atmosphere in your rustic kitchen. Pair them with lighter countertops and backsplashes to balance the look.
Sage Green: Sage green cabinets provide a fresh and earthy feel to your rustic kitchen. This color complements well with wood accents and can evoke a farmhouse or countryside vibe.
Soft Gray-Blue: Soft gray-blue shades can evoke a coastal or cottage-inspired rustic feel. This color pairs nicely with natural wood and can create a serene ambiance.
When selecting a cabinet color for your rustic kitchen, consider the overall color scheme of the room, including wall colors, countertops, backsplashes, and flooring. The goal is to create a harmonious and inviting space that reflects the rustic style and your personal taste.
What Flooring Goes Well With Rustic Kitchen Cabinet Colors
There are some beautiful options for flooring when it comes to creating a rustic feel for a kitchen. Selecting your cabinet colors first is key and then you can select the flooring color/material.
If you want a truly rustic and eco-friendly option, consider reclaimed wood flooring. It often features weathered and worn textures that blend seamlessly with rustic cabinetry.
Hardwood floors are a classic choice for rustic kitchens. Opt for warm wood tones, such as oak, hickory, or pine, to create a harmonious look with your cabinets. Distressed or hand-scraped finishes can add character.
Stone flooring, such as slate, travertine, or limestone, can work well with rustic cabinetry. These materials bring a touch of nature indoors and provide a durable and rustic look.
For a truly rustic and unique look, consider brick flooring. It offers a rustic charm and pairs well with both light and dark cabinet colors.
When choosing flooring, consider factors like durability, maintenance, and how well it suits your lifestyle.
Rustic kitchen cabinet colors can bring warmth and charm to any home.
The key to achieving a rustic look is to incorporate natural elements such as wood, stone, and metal into the space. These elements can be found in the kitchen cabinets as well as in the decor.
Some of the best colors for achieving a rustic feel include earthy tones such as browns, grays, and greens.
When it comes to flooring, options such as hardwood and natural stone can complement the rustic style perfectly.
Whether you are renovating your kitchen or simply looking for ways to update it, consider adding some rustic touches to bring warmth and character to your home.