Simple DIY Fall Centerpiece Idea
This post may contain affiliate links. Please read our disclosure policy.
This post is sponsored by Hobby Lobby.
Fall is just about here and the kids are about back in school! I love the change of the seasons and fall is definitely one of my favorites. I typically change the centerpiece of my table with each of the seasons and this year I teamed up with Hobby Lobby to create this Simple DIY Fall Centerpiece Idea. I love having faux florals in my home to help me decorate with. I do NOT have a green thumb so I rely on faux florals a lot. I have found Hobby Lobby to have the best out there. They are so real looking and they have such a wide variety. So at this time every year I like to make a few arrangements for different areas of my home. Over the years I have gotten a rhythm down with how I like to fill a vase with faux florals and today I'm spilling my secrets! With just a few essential items from Hobby Lobby, you can create a table decor piece to last through the season just like mine
Simple DIY Fall Centerpiece Idea:
Materials Needed:
Vase/Jar – Mine is a blue and white ginger jar from Hobby Lobby
Fall florals + autumn accents (ie: pumpkins, gourds, etc.)
Wire edge burlap ribbon
Wire cutters
Scissors
Fall blanket scarf
Candles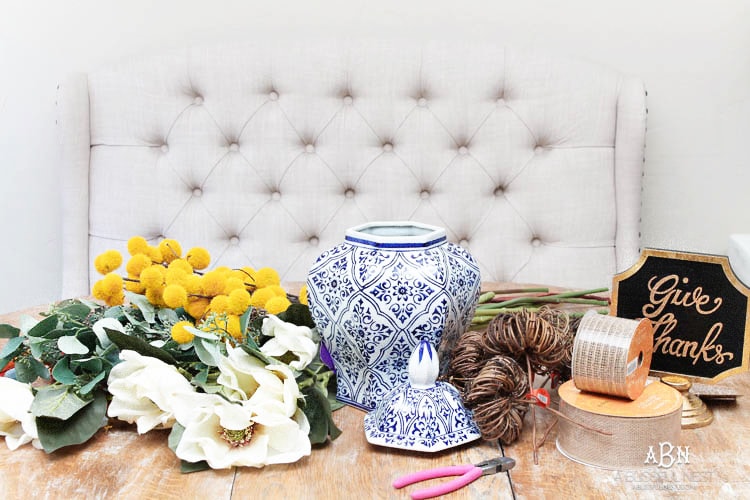 Tip: When selecting your vase filler materials, choose them in the following order: First – neutral base element, Second – Greenery, Third – 1-2 color pop element, Fourth – seasonal pop.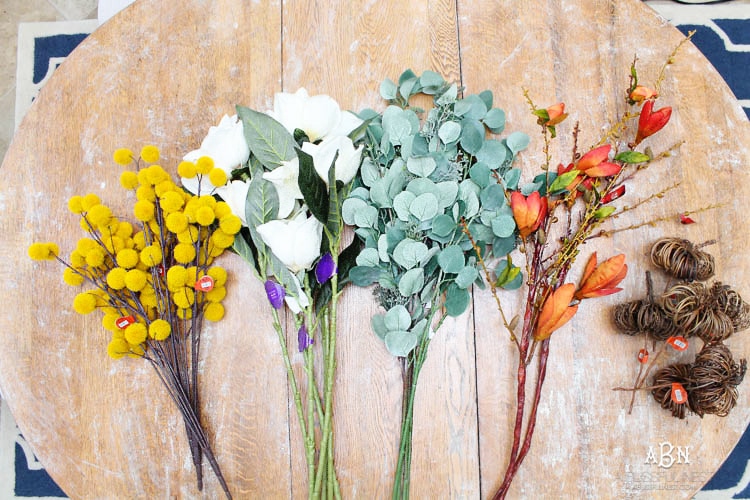 Directions:
Step 1: Start with your floral element. I chose a neutral white magnolia flower for my base element. Measure where it needs to be cut.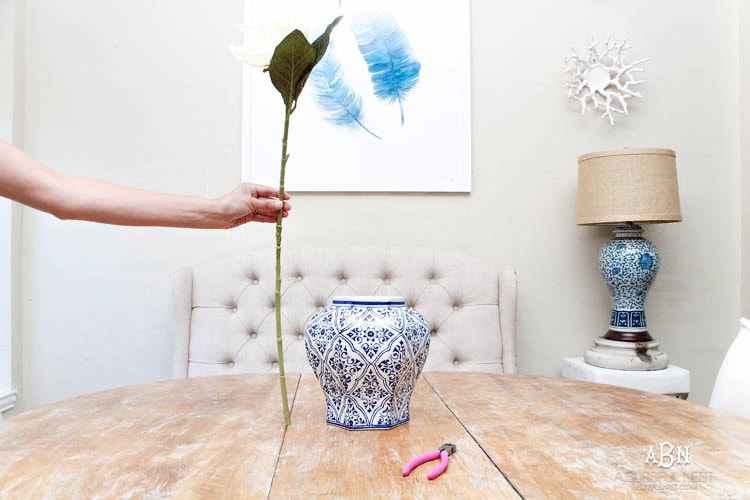 Using wire cutters, cut the stem of the faux flower.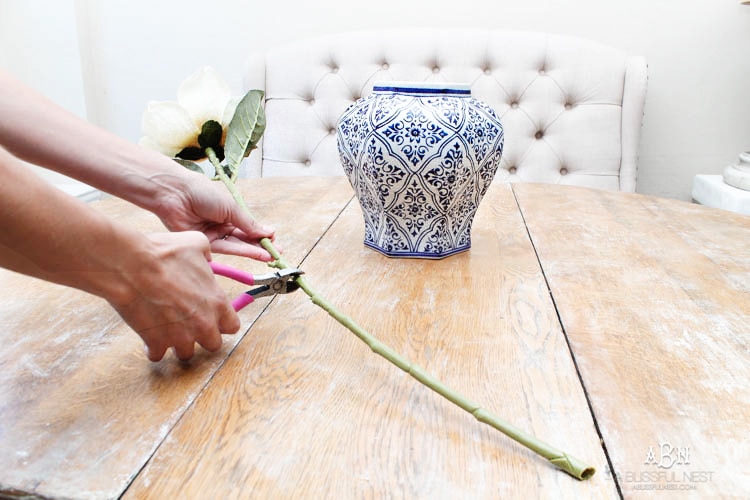 Repeat until you have enough to fill the base of the vase. I used 5 stems.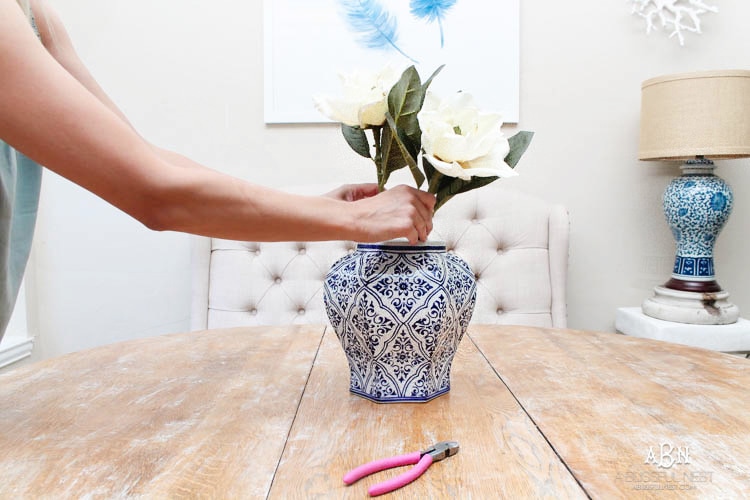 Step 2: Using your greenery element, follow step one.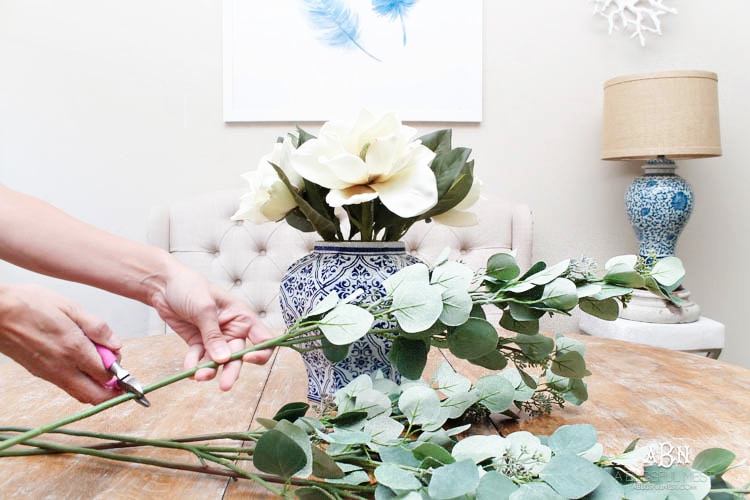 Place around the edges and then 1 stem in the center.

Step 3: Cute stems after measuring for the correct height and fill into vessel. Spread them out sporadically for a more whimsical look.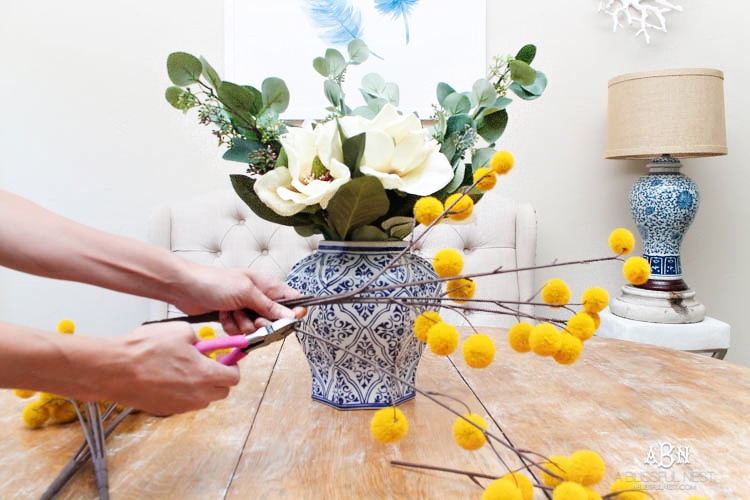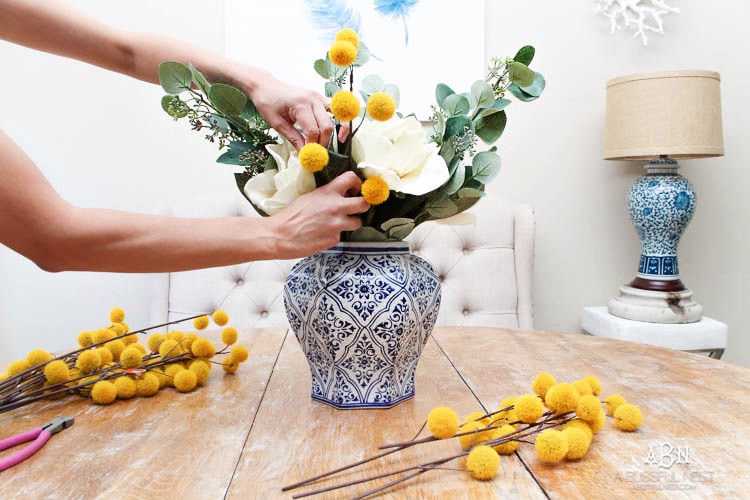 Step 4: Fluff flowers and cut to height the second color pop stems.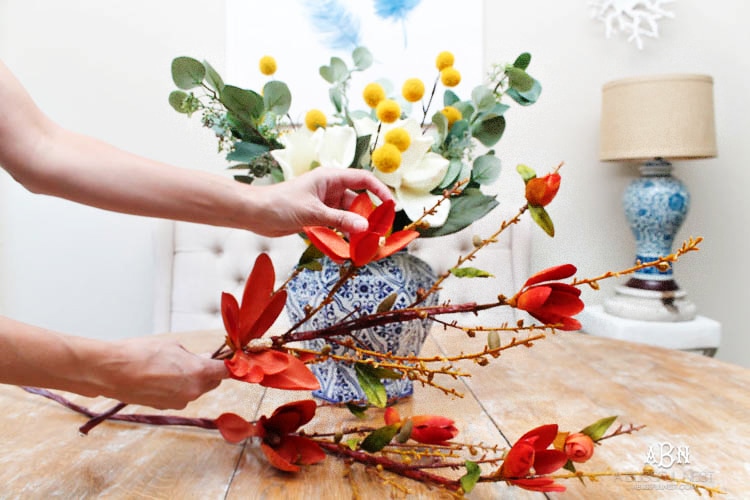 I like to place this one in the center and spread the branches on the stem to look like they are coming around the other floral stems.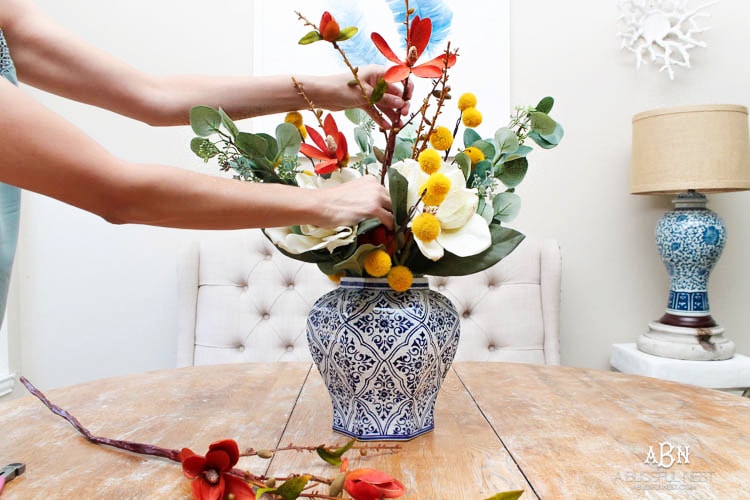 Step 5: Take seasonal stems and place around the perimeter to fill in any gaps.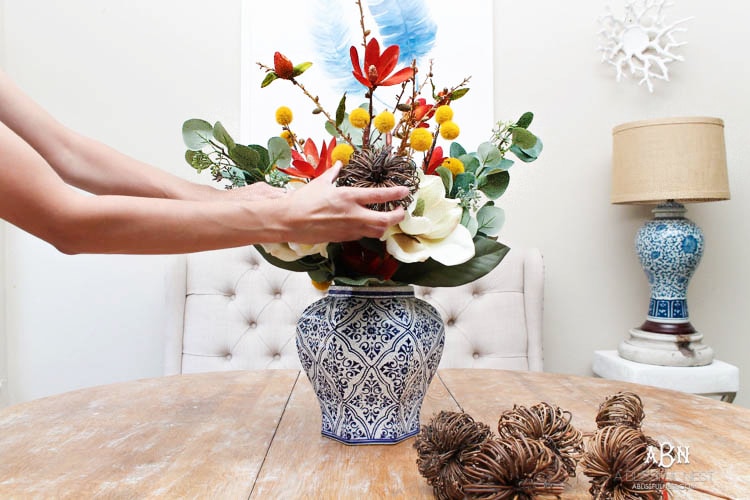 Step 6: Cut burlap ribbon about 3″.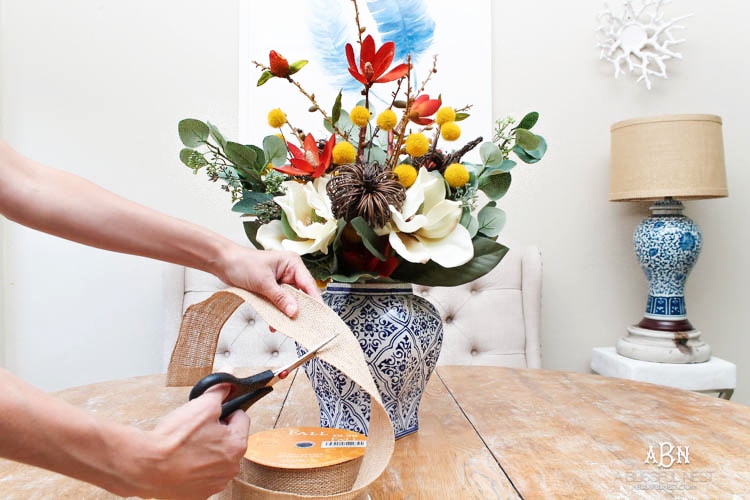 Fold ends to meet and twist together.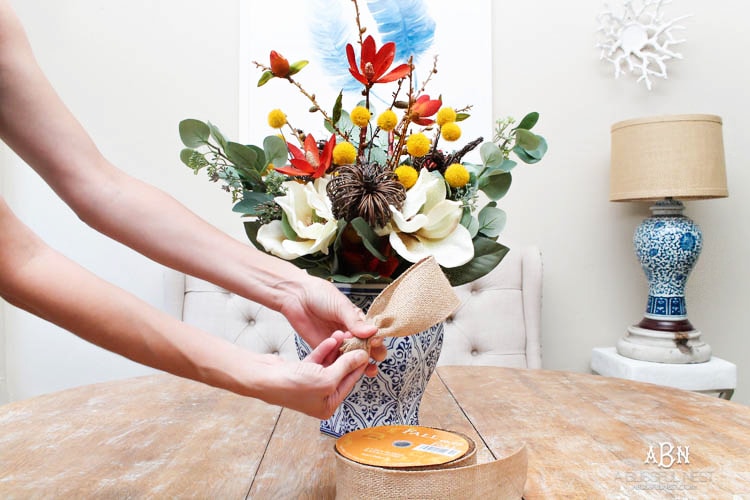 Tuck into any gaps in your arrangement to make it look like the ribbon is popping out of the arrangement. I used approximately 5 ribbons.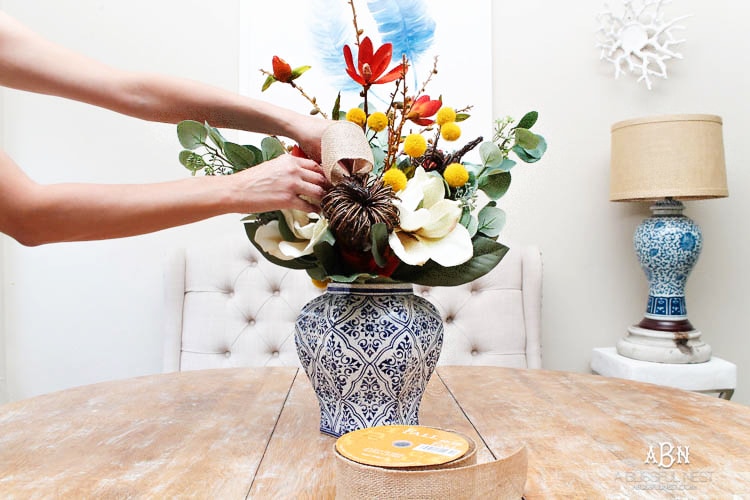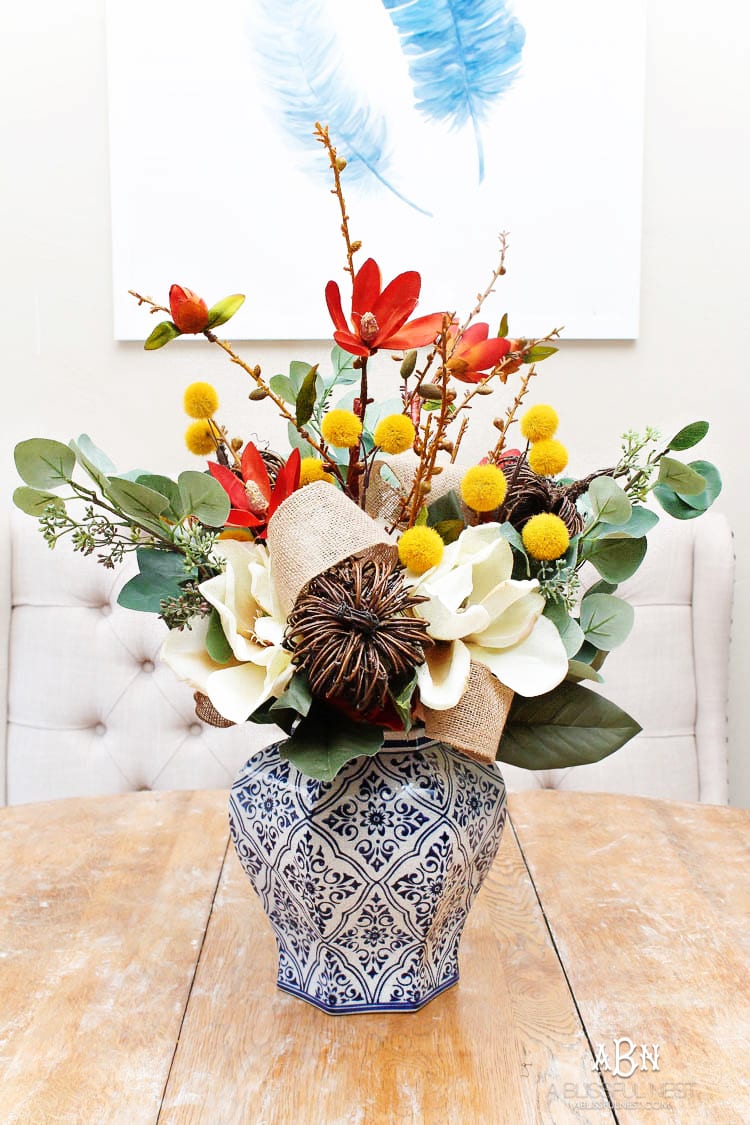 Your arrangement should be full and whimsical looking. I love that it looks like wildflowers that were picked and placed in a vase!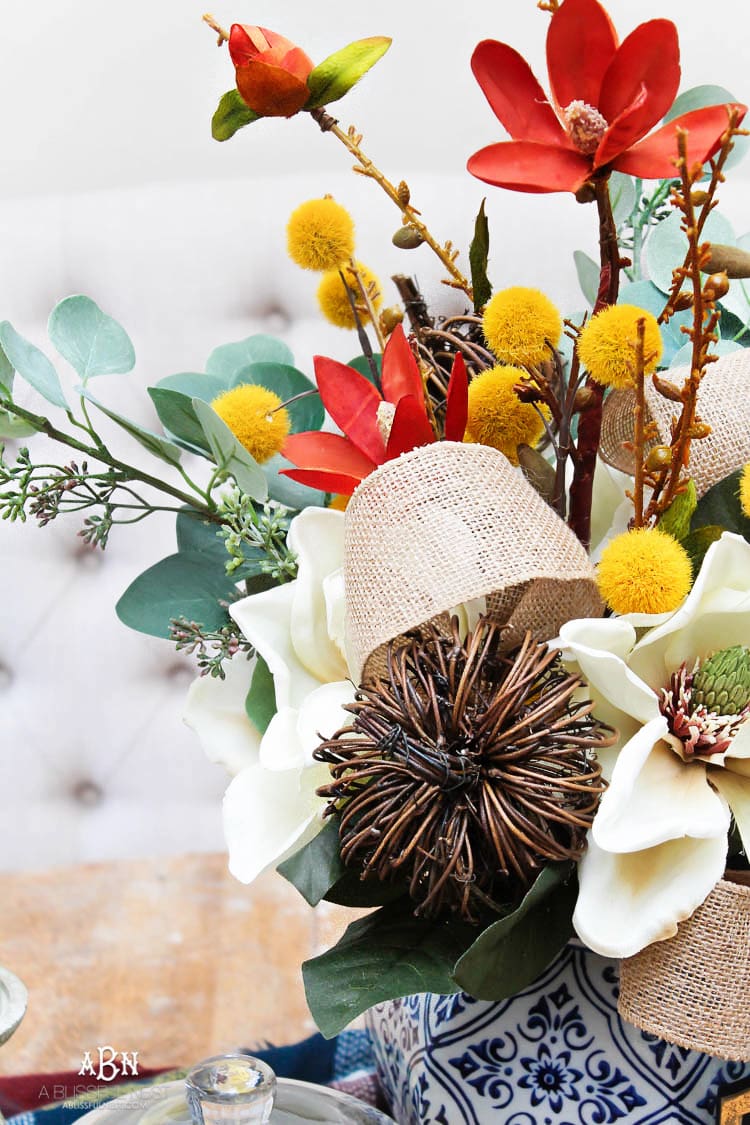 These yellow faux billy balls are so pretty with the brilliant orange flowers.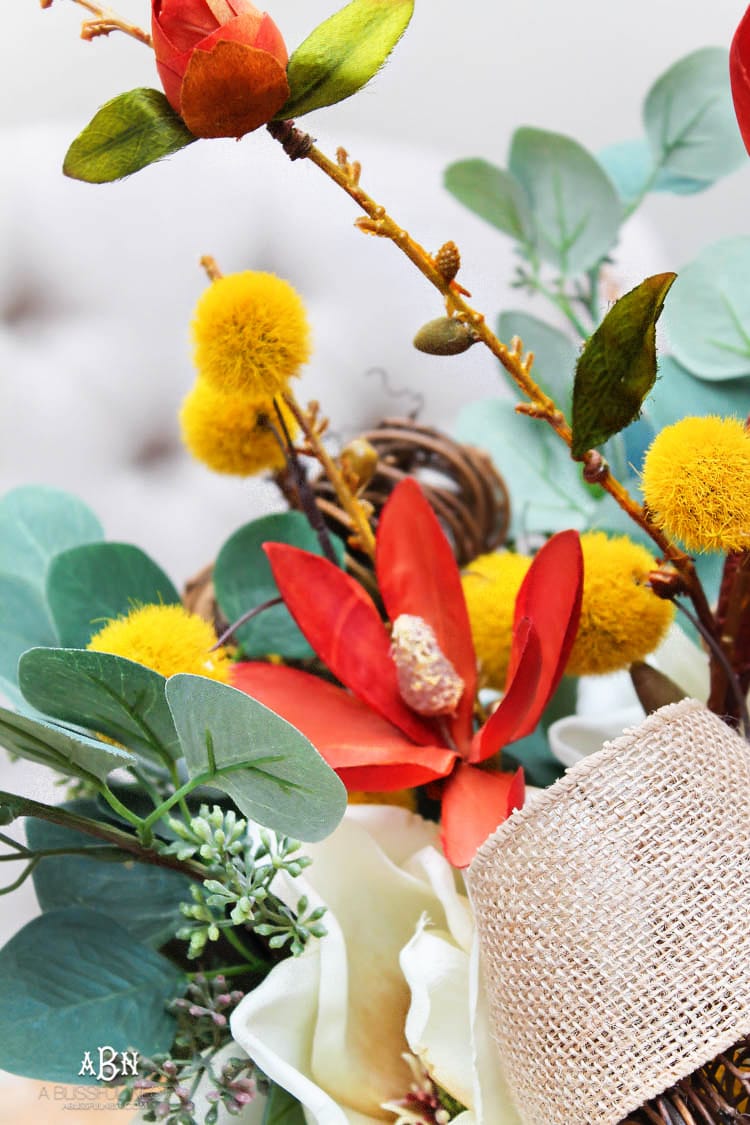 And I think magnolia flowers are always timeless. You just can't go wrong with them.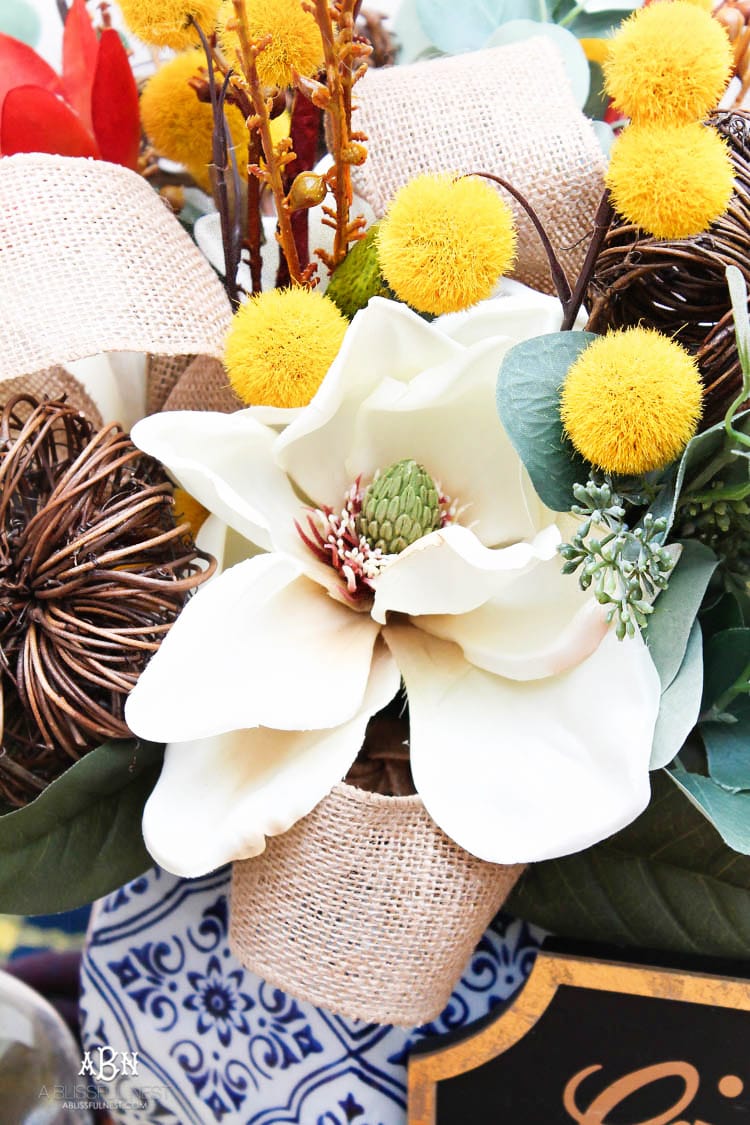 Step 7: Decorate your table! I laid a fall blanket scarf from Hobby Lobby down and fluffed it up a bit to look full.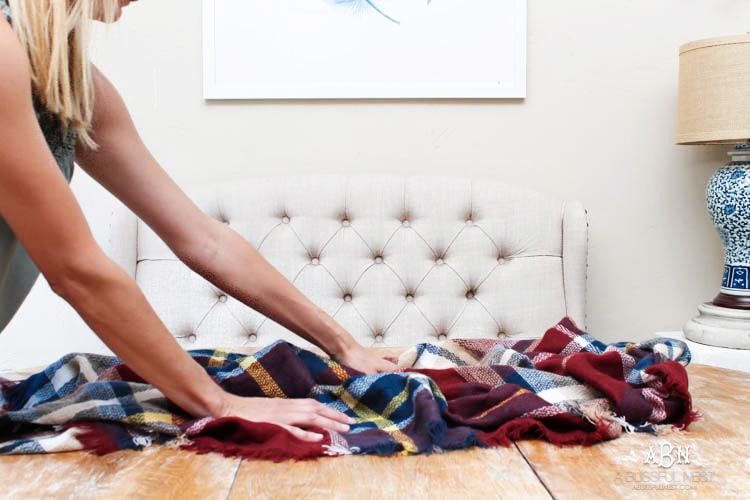 I then used cute seasonal decor from Hobby Lobby to fill in the top of the blanket scarf and decorate around my arrangement. I fell in love with these cute "Give Thanks" signs! I used lemons and candles to fill in the rest of my decor. When it gets closer to Halloween, I will switch out my lemons for white mini boo pumpkins. Those are my favorite!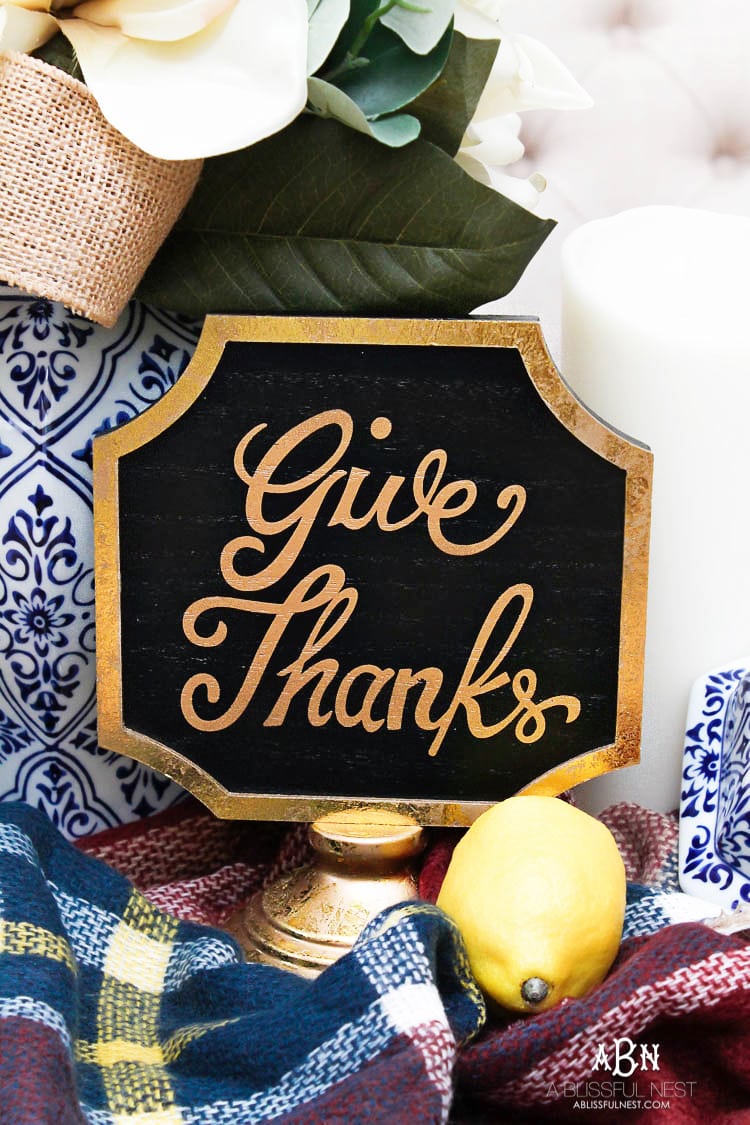 Step 8: You are done!
This is the perfect arrangement for my breakfast room for fall with some key pieces from Hobby Lobby. I love that this was affordable and easy to create.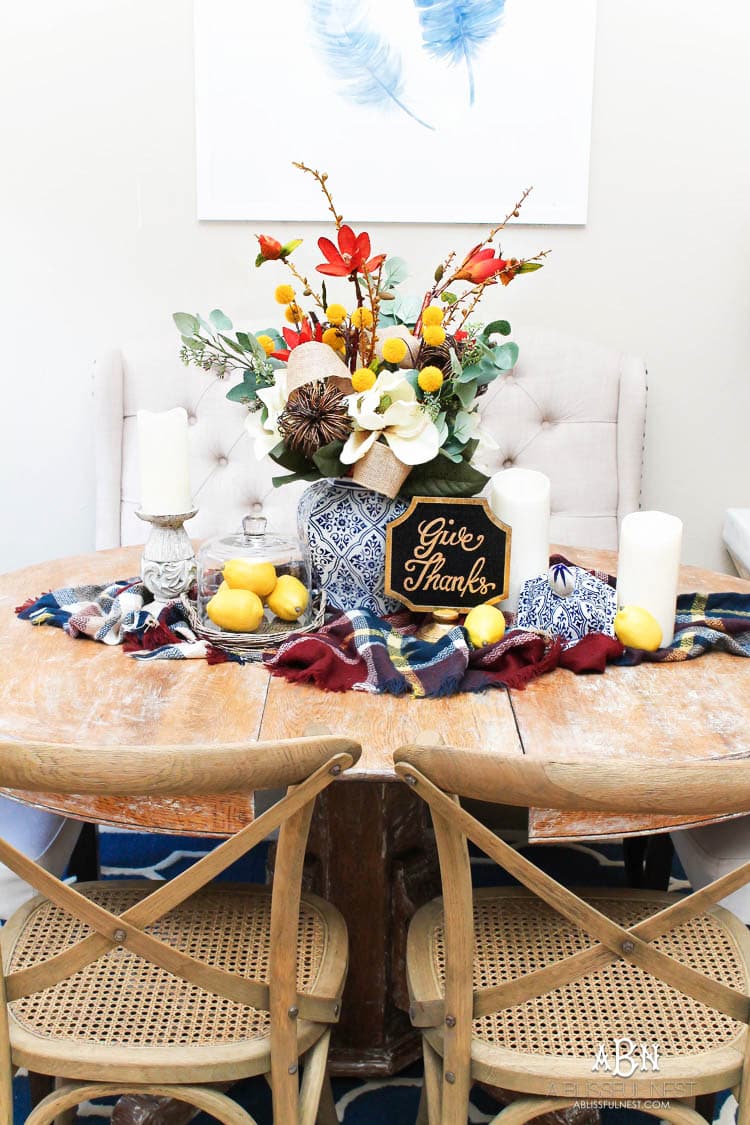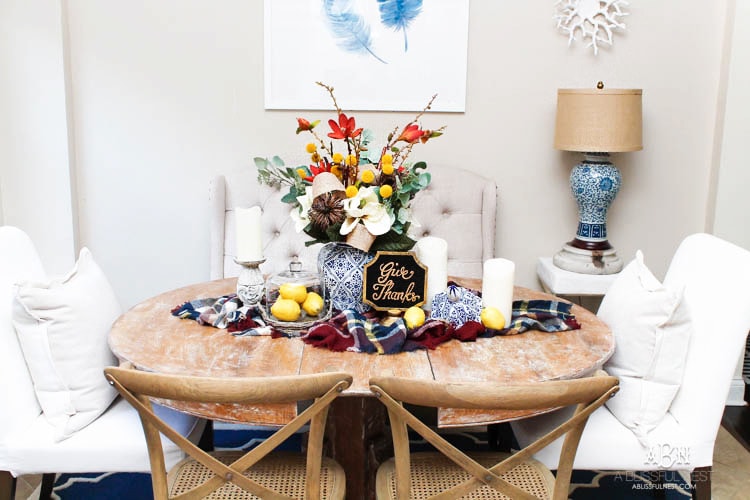 With some beautiful season items and faux florals from Hobby Lobby you can create this simple DIY Fall Centerpiece idea too!
Don't forget to use your coupon! Grab this coupon and get 40% off!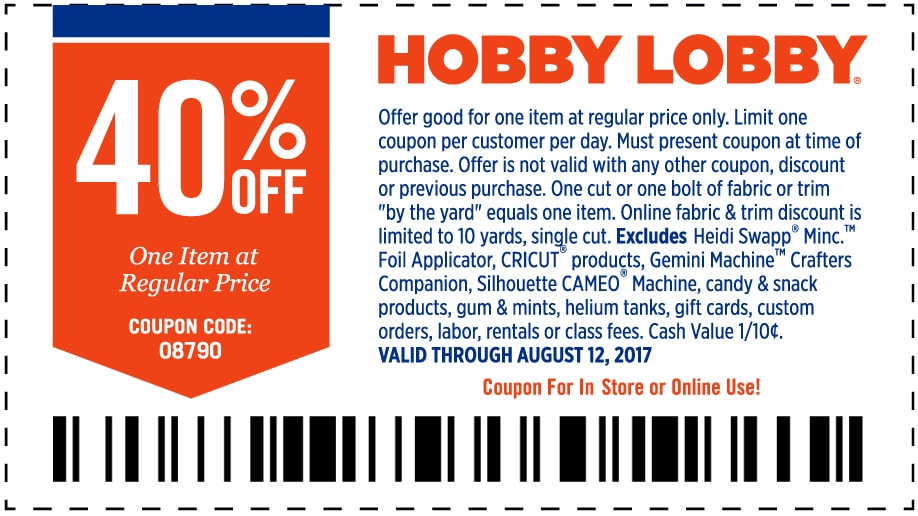 This is a sponsored conversation written by me on behalf of Hobby Lobby. The opinions and text are all mine.