How To Layer A Bed For Summer
This post may contain affiliate links. Please read our disclosure policy.
Summer is a time for fun in the sun, but when it's time to rest and recharge, you need a comfortable bed to sleep in which is why you need to know how to layer a bed for summer.
Layering your bed with the right materials can make a big difference in how cool and comfortable you feel while you sleep.
Whether you prefer light, airy sheets or a bit more coverage, there are several options for creating a bed that's perfect for the summer months.
There are many different ways on how to layer a bed but I bet there are a few things you have not thought of before that might be life-changing for you!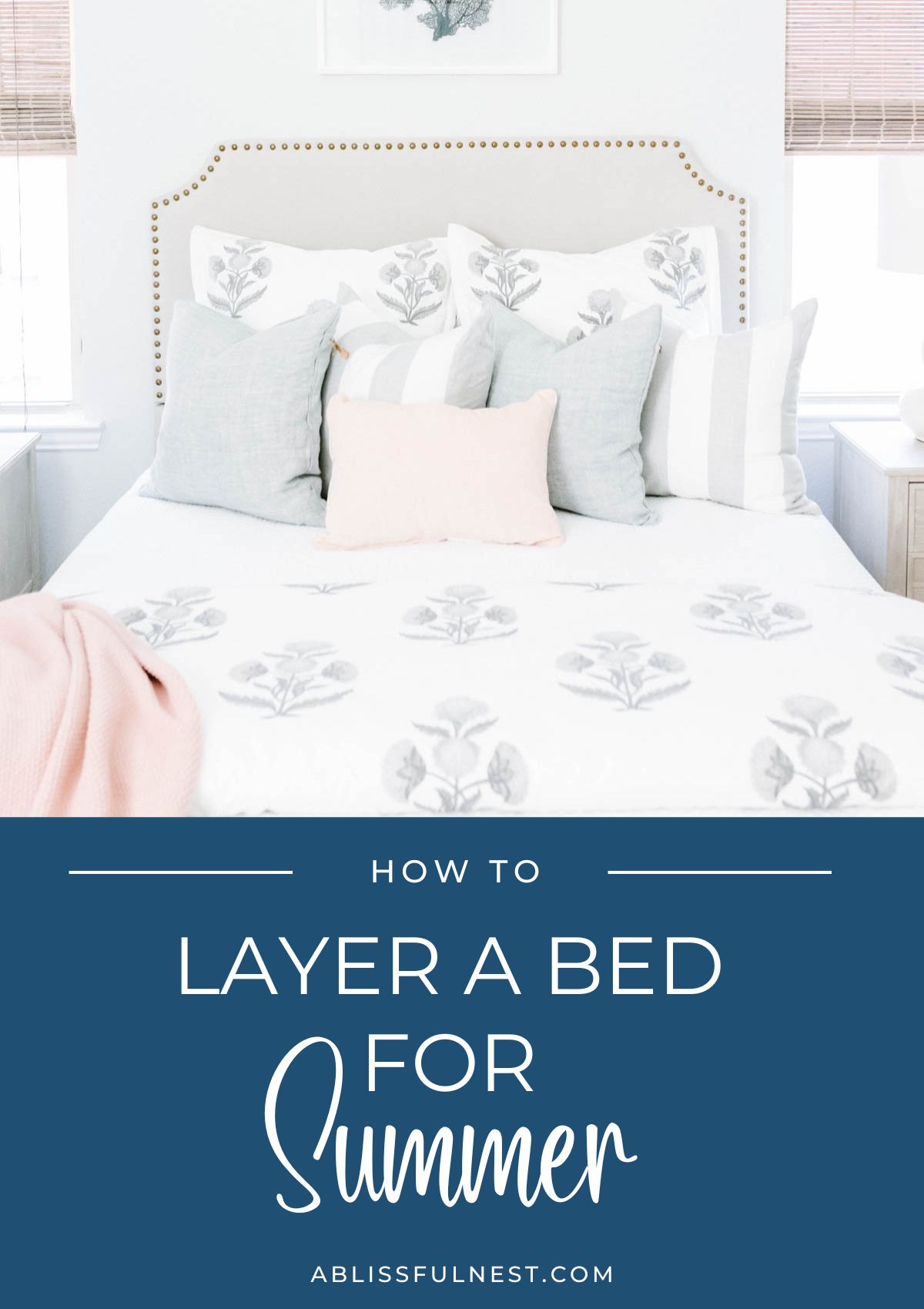 One of the best ways to create a relaxing and rejuvenating rest while surviving the heat is by layering your bed.
This is a simple yet effective way to create a comfortable sleep environment. Allowing you to sleep well and wake up refreshed.
I'll share some tips on how to layer a bed for summer, so you can get the best possible rest during the hottest time of the year!
How To Make Your Bed More Comfortable And Cool
One easy way to achieve this is by investing in high-quality bedding.
Look for sheets made from soft and breathable fabric like cotton or linen, and consider getting a mattress topper to add extra cushioning and support.
Another tip is to switch to a lighter comforter or duvet in the summer months to avoid overheating.
And don't forget about pillows and a throw blanket- try out different types and densities to find the perfect combination for your sleeping needs.
With these simple changes, you'll be well on your way to enjoying a restful and refreshing night's sleep.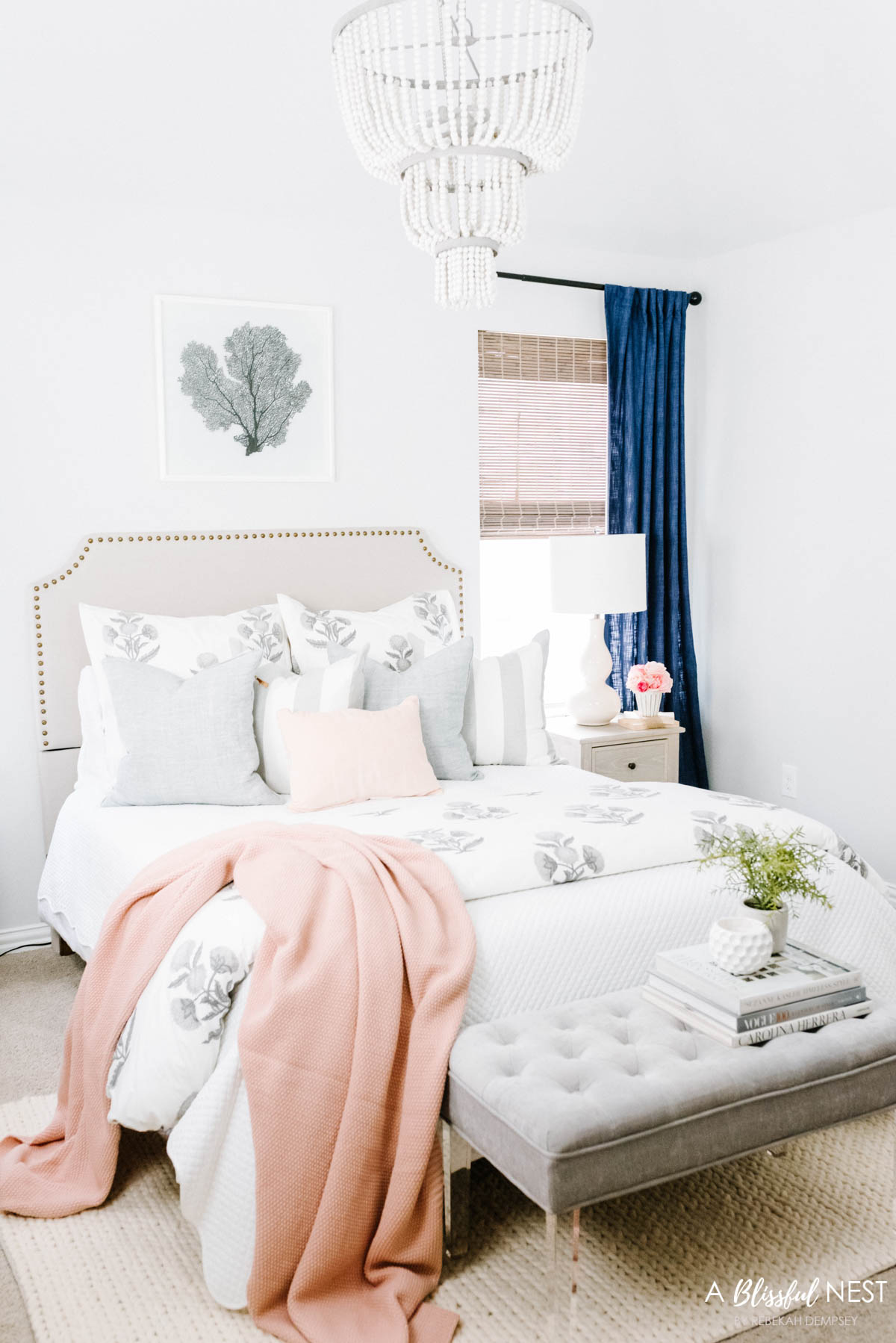 What Type Of Bedding Is Best For Hot Summer Months
When it comes to bedding for summer, the best options are lightweight and breathable materials that help keep you cool and comfortable.
Some great lightweight materials are cotton or linen which are breathable and will allow air to circulate.
These fabrics not only keep you cool, but they also absorb moisture, keeping you dry throughout the night and help regulate your body temperature to keep you cool and comfortable throughout the night.
Avoid heavy comforters or synthetic fabrics that trap heat and make you feel uncomfortable.
By using these tips, you can create a comfortable and cool sleeping environment that will help you get the restful sleep you need to feel your best.
Basic Bedding Guide
Use my bedding guide to learn what pieces you need to have year-round for your bed!
Favorite Summer Bedding Pieces To Use
Here are a few pieces that I own and/or have recommended to clients that love them. These pieces could easily transition from one season to the next.

How To Layer A Bed For Summer
Layering a bed for summer requires a balance of comfort and lightness to help you stay cool during hot weather. Here is my step-by-step guide to achieving the best bedding arrangement for sleeping.
Start With A Lightweight Sheet
Choose a breathable, lightweight sheet made from cotton or linen. These materials will help keep you cool by wicking away moisture from your body.
Also, sheets with a high thread count can feel heavy and trap heat, which is not ideal for warmer weather.
Instead, opt for sheets with a lower thread count (around 200-400) as they will be more lightweight and breathable.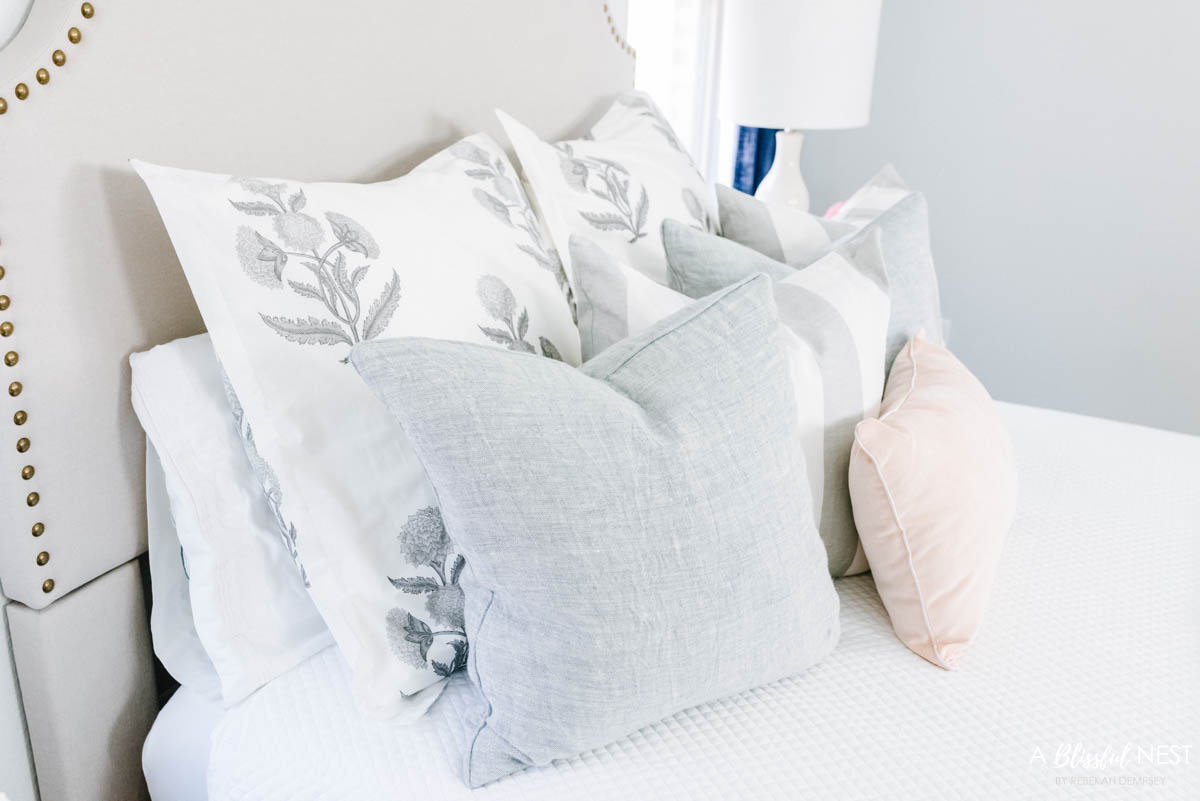 Add A Lightweight Blanket
If you still need some warmth, consider using a lightweight blanket made of a natural material, like cotton.
Avoid heavy blankets made of wool or synthetic fibers, as they can trap heat and make you feel too warm.
Instead, look for lightweight blankets made of natural materials like cotton, linen, or bamboo.
These materials are highly breathable and will help keep you cool while providing just the right amount of warmth.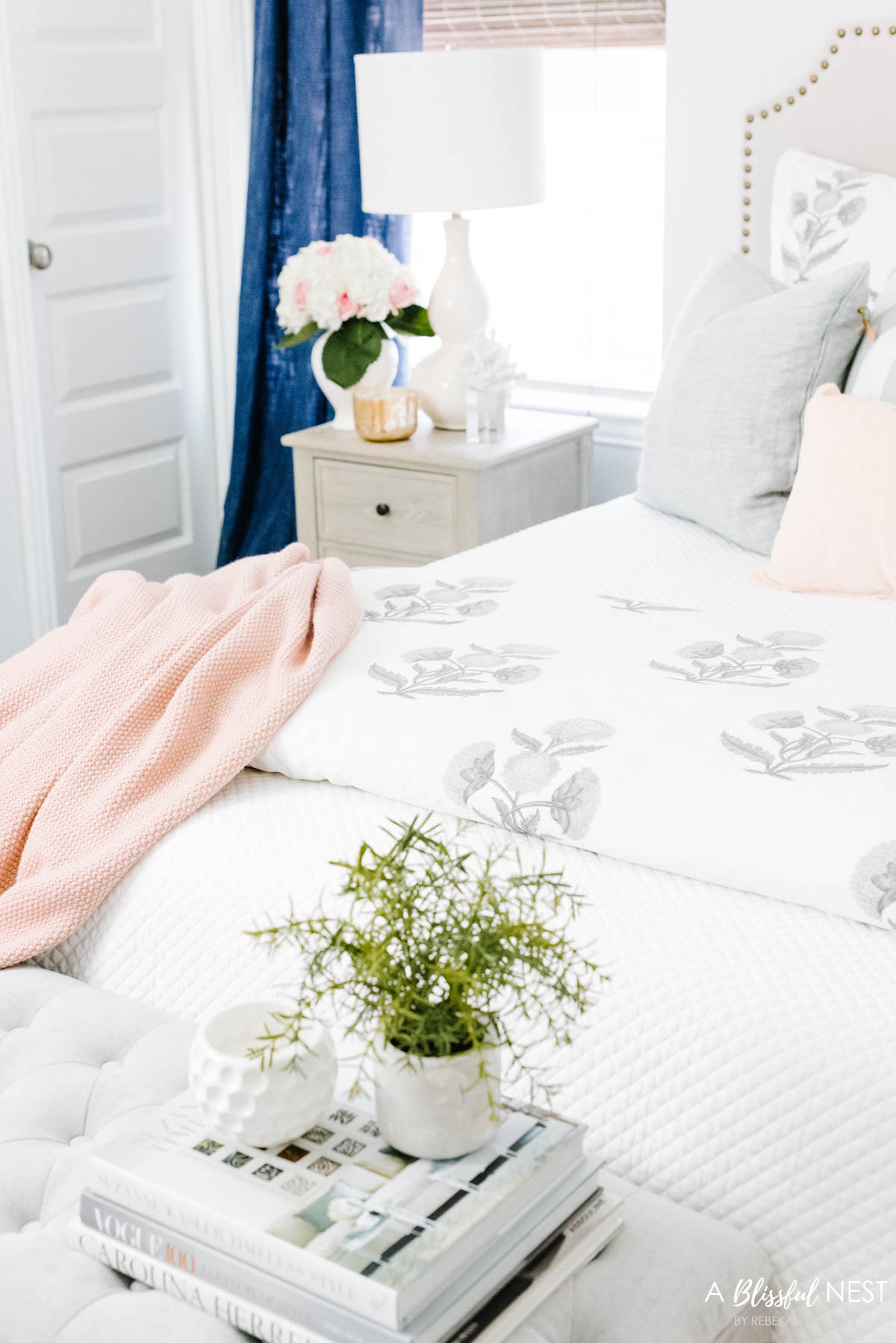 Include A Lightweight Quilt Or Coverlet
A lightweight quilt or coverlet made of cotton or linen is a great option for adding texture and interest to your bedding while also providing an extra layer of warmth on cooler summer nights.
Another benefit of using a quilt or coverlet is that it can easily be layered with a lightweight sheet or blanket for added warmth and comfort.
Simply fold the quilt or coverlet at the foot of the bed during warmer nights, and pull it up over your legs when you need a bit of extra warmth.
Use A Summer Duvet
A duvet is another popular option for bedding in the summer, and there are certain criteria that make it a summer duvet.
Typically they are made of lightweight materials such as cotton, bamboo, or silk. These are all light and breathable materials.
Also, they make duvet fills specifically for cooling. Generally, they are lighter weight and made from material specifically made to regulate body temperature.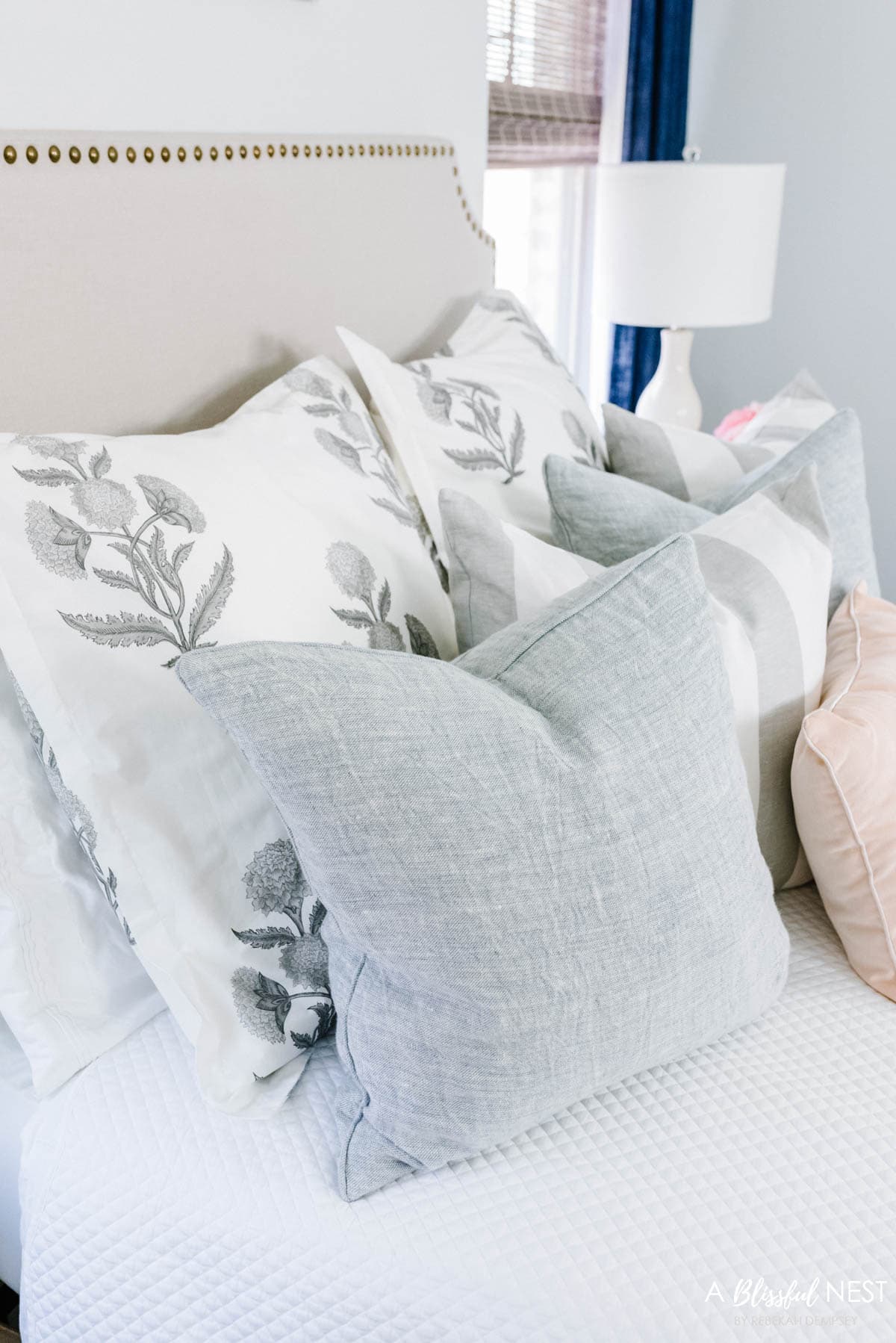 Layer With Pillows
Add more or take away pillows from the warmer months depending on what you like to sleep with.
Choose lightweight pillows made of natural materials such as cotton or down.
Add throw pillows to coordinate with your summer duvet to tie your design together!
Finish With A Lightweight Throw
A lightweight throw in a soft, breathable material like cotton or linen is a great final touch to add a bit of style and warmth to your summer bedding.
Drape at the end of your bed for easy access when you are sleeping.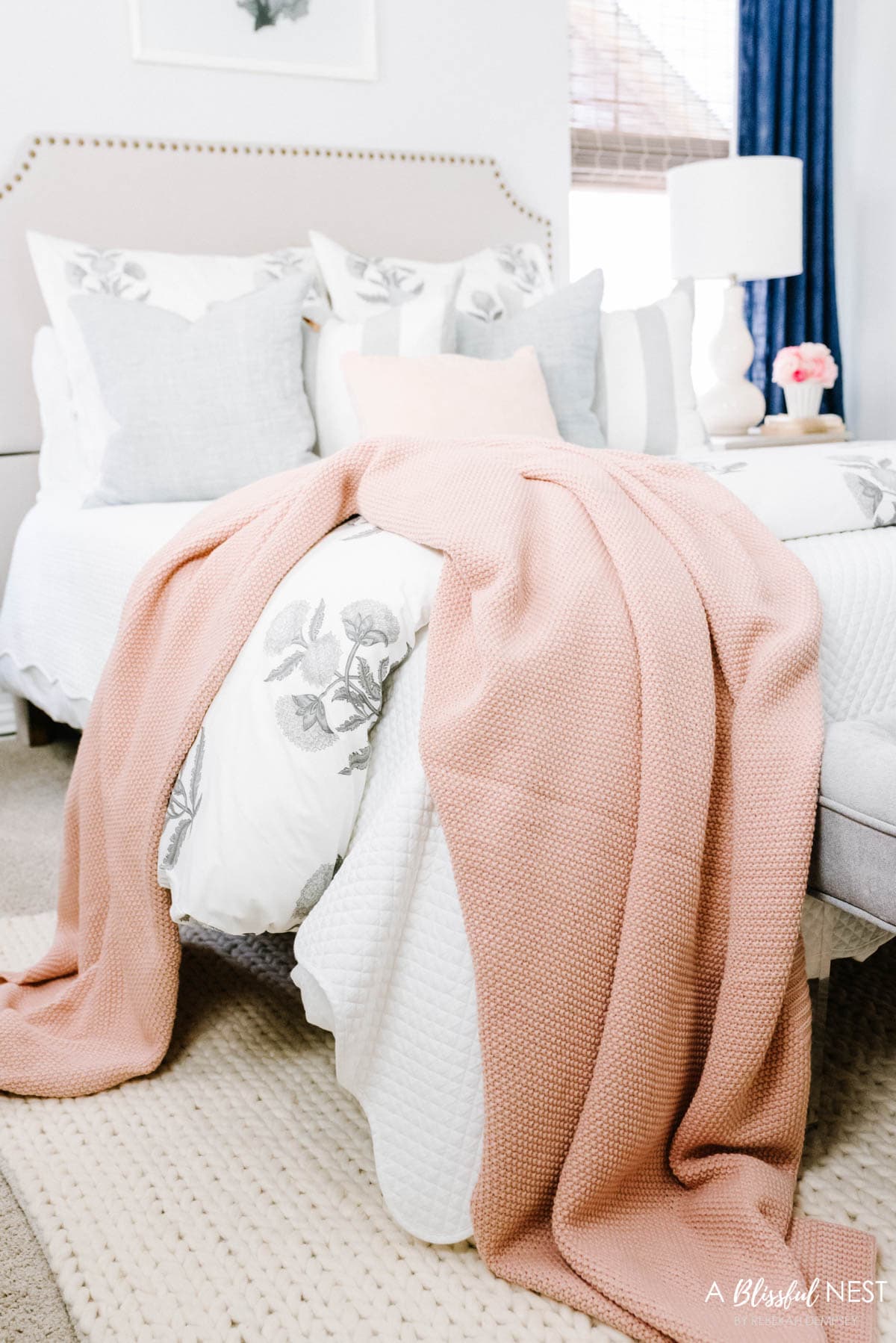 A few simple steps to achieve the perfect layered bed for summer.
It's all about finding the right balance of lightweight fabrics and cozy textures to ensure a comfortable and stylish sleeping space.
By layering your bed with the right materials, you can stay cool and cozy all summer long.
More Bedroom Design Ideas + Inspiration
*Photography by Audrie Dollins