Stylish Spring Pillow Must-Haves
This post may contain affiliate links. Please read our disclosure policy.
Sharing my favorite beautiful and affordable options for spring pillow must-haves for your home! Love all these patterns and mixing and matching them to be unique and colorful additions to any room in your home.
There is nothing like updating your home as spring rolls around with new throw pillows! New pillows are hands down the easiest way to brighten up your living room, patio, guest room and really has that effect on your whole house.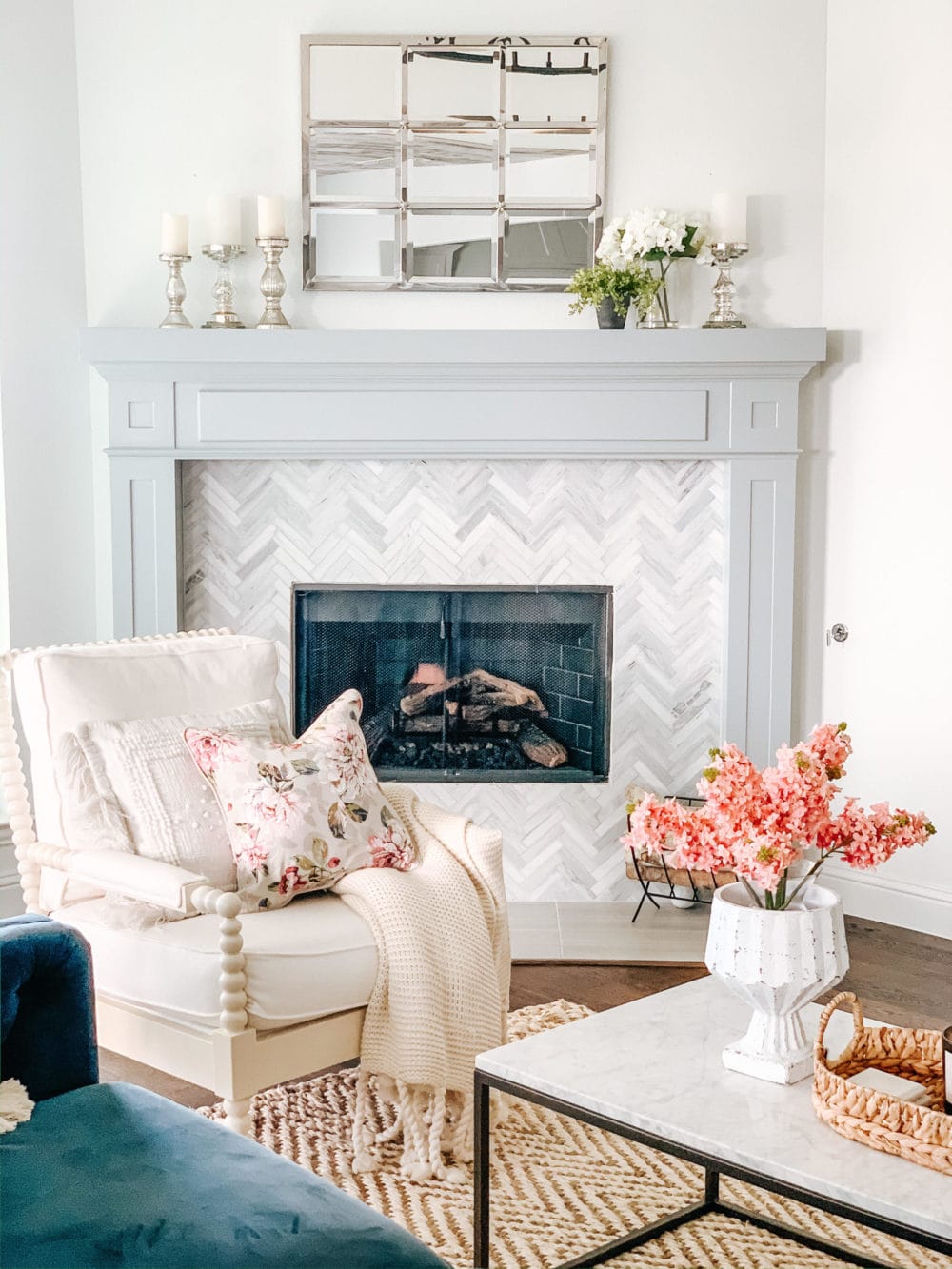 Whether you're looking for a new neutral throw to use year-round or a bright and colorful pillow to spruce things up with, there's something here for everyone no matter what your style is! A lot of these spring pillows are trendy but also classic enough to use year after year. I know you'll love these pillows as much as I do! Happy shopping!
This post contains some affiliate links for your convenience. Click here to read my full disclosure policy.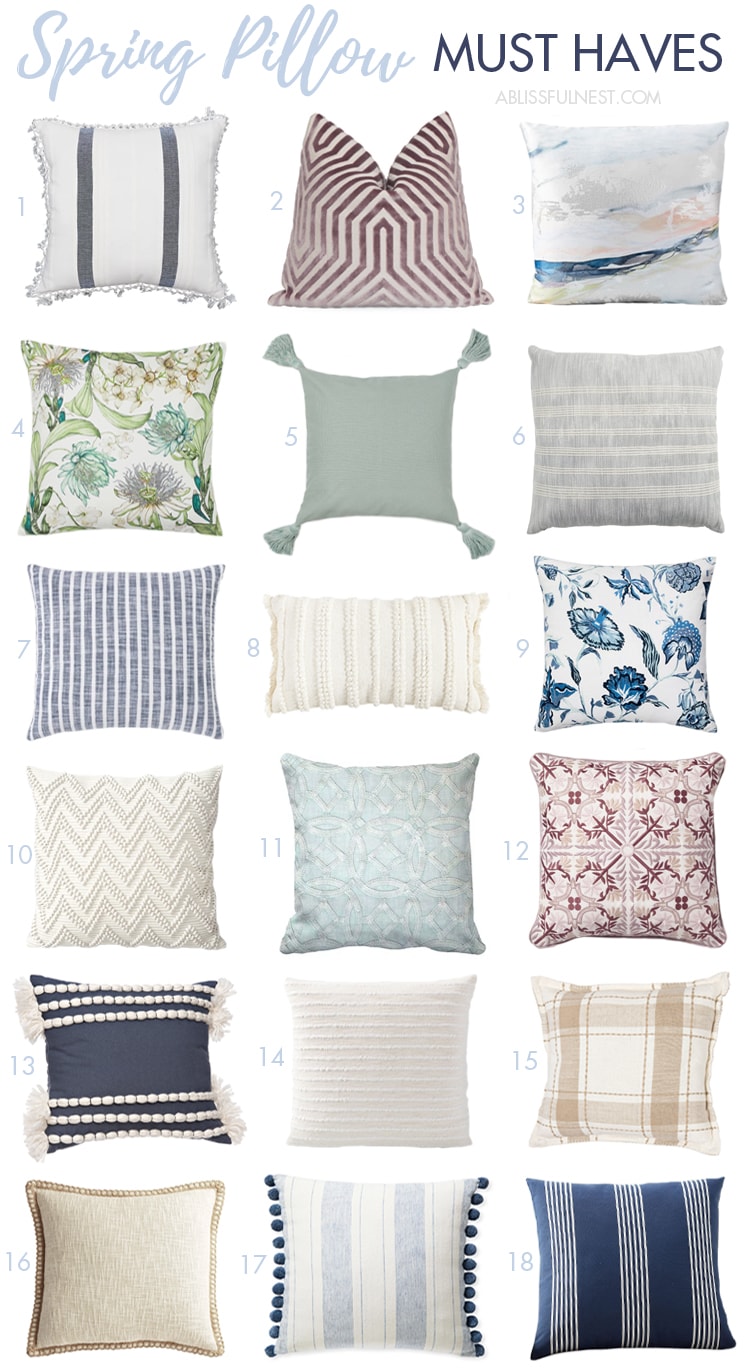 1 | 2 | 3 | 4 | 5 | 6 | 7 | 8 | 9 | 10 | 11 | 12 | 13 | 14 | 15 | 16 | 17 | 18
Stylish Spring Pillow Must-Haves:
1. Navy Striped Fringe Throw Pillow: this is a throw pillow you could use almost year-round – it's so pretty and I just love how much the fringe detail adds to it!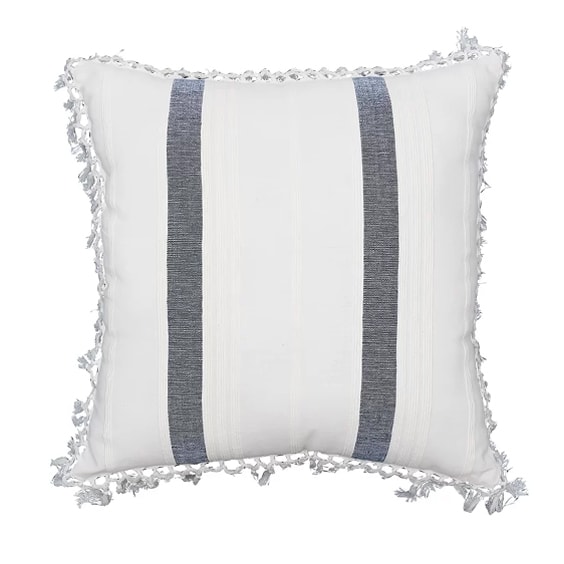 NAVY STRIPED FRINGE THROW PILLOW
2. Lilac Velvet Striped Pillow Cover: one of the most luxurious looking pillow covers I have ever seen! This shade of lilac is something I'm incorporating into my spring setup and I just love this one. It's one you'll have and can use for a long time as well.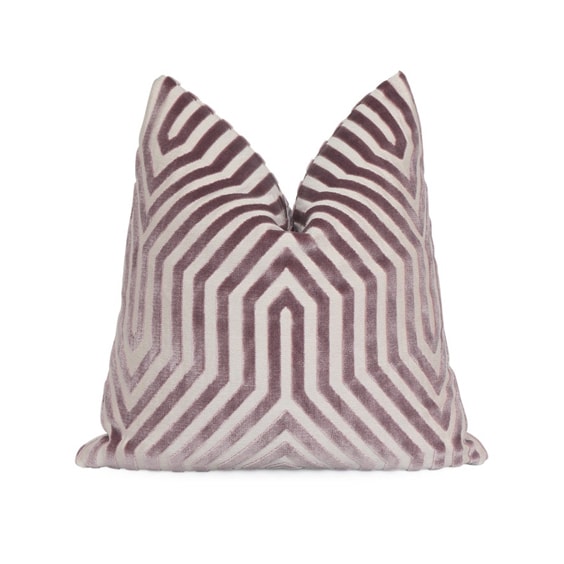 LILAC VELVET STRIPED PILLOW COVER
3. Pastel Abstract Pillow Cover: this is like a piece of artwork for your couch! It's SO incredibly different, super springy and would look beautiful in any living room.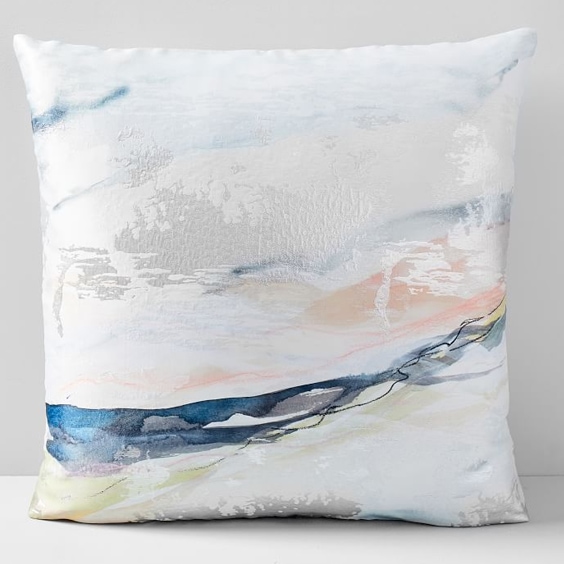 4. Floral Pillow Cover: this is the color scheme I am going for this spring, and the pattern and colors in this pillow represent exactly what I was looking for! You won't believe it, but this one is under $15.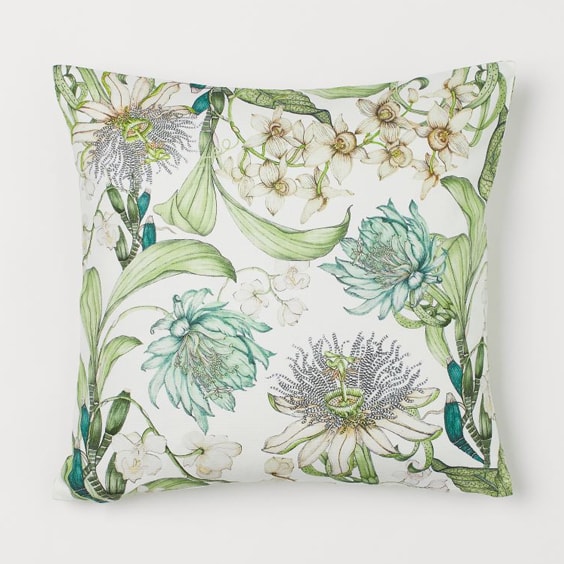 5. Light Green Tassel Pillow Cover: for $12.99, you could get a bunch of these and really fill the room with pillows! Sometimes pillow covers are just THE way to go, and that's definitely the case with this simplistic cover. I love the shade of green – such a pretty pastel. It comes in two other colors as well that you could mix and match with.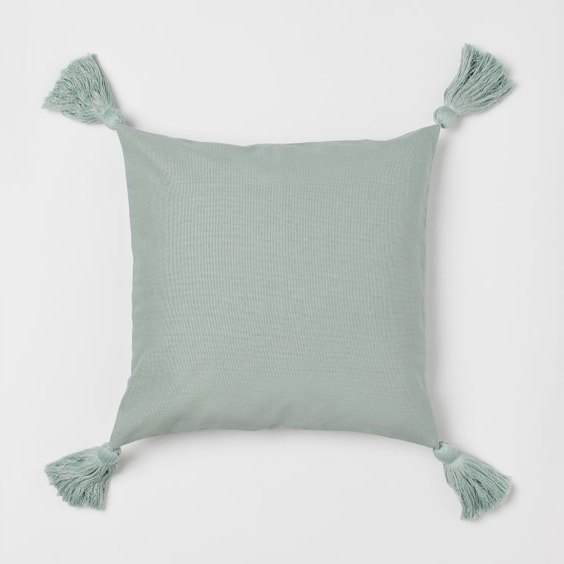 LIGHT GREEN TASSEL PILLOW COVER
6. Embroidered Stripe Accent Pillow: this is a great, understated pillow that adds texture and color to your space!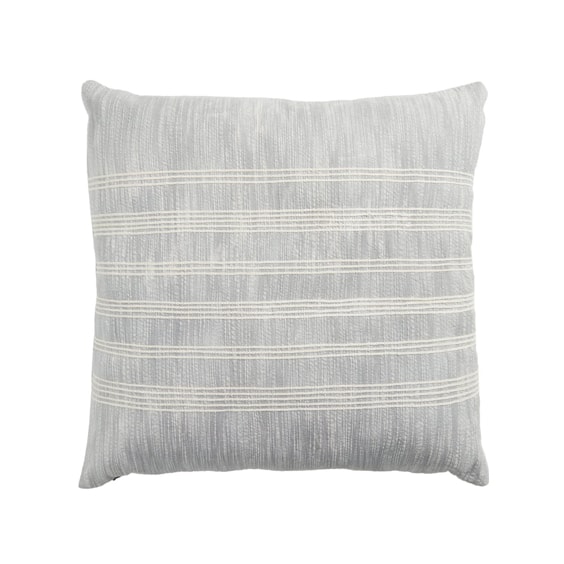 EMBROIDERED STRIPE ACCENT PILLOW
7. Woven Navy Striped Pillow: under $20 and just so pretty! It's almost a washed navy which is so different than your typical striped pillow.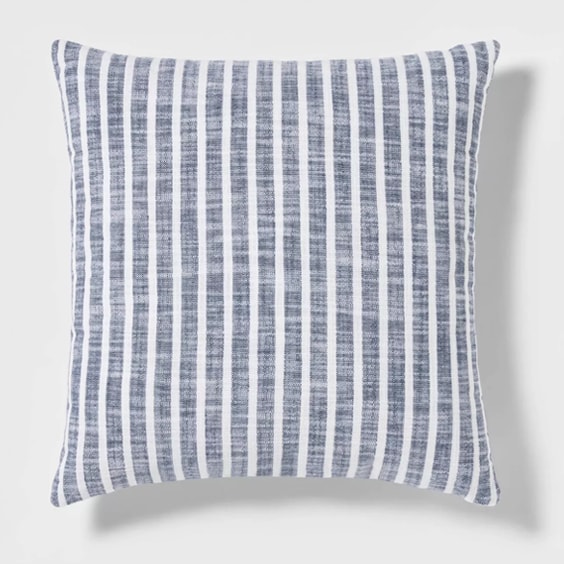 8. Textured Stripe Lumbar Pillow: lumbar pillows like this one are great to add into the bunch to give some dimension to the look. This one is super simple but adds texture and a pop of white that would look great alone or mixed with some bright colors.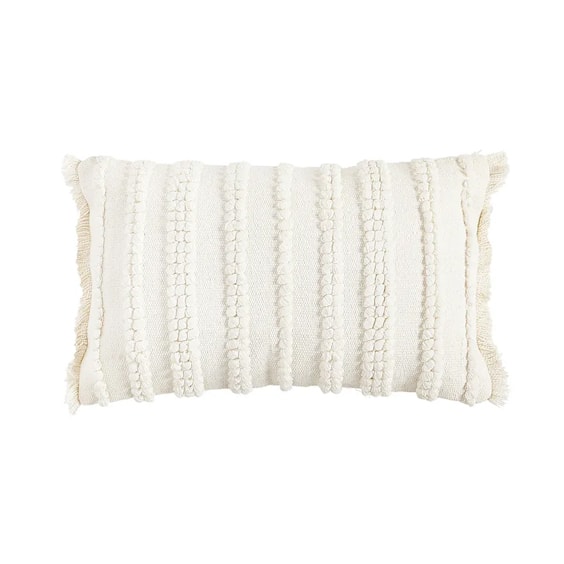 9. Blue Floral Throw Pillow: this pillow screams spring to me and the floral print is one of the prettier I've seen! The print looks super high-end and it's such a fun way to add some spring florals and beautiful blues into your home.
10. Textured Woven Throw Pillow: a super simple but beautiful, under $25 throw pillow! The best part about this throw is that you can use it indoors or outdoors. So simple and perfect!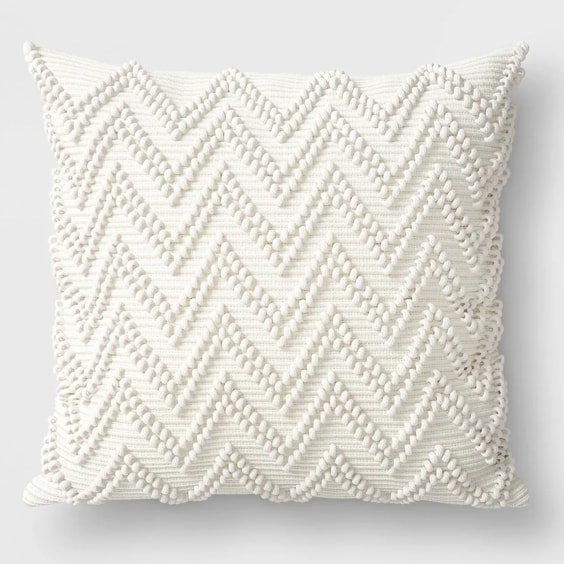 11. Washed Blue Square Medallion Pillow: another super pretty, under $20 option with a subtle pattern that still makes a statement. It also comes in a pretty shade of coral!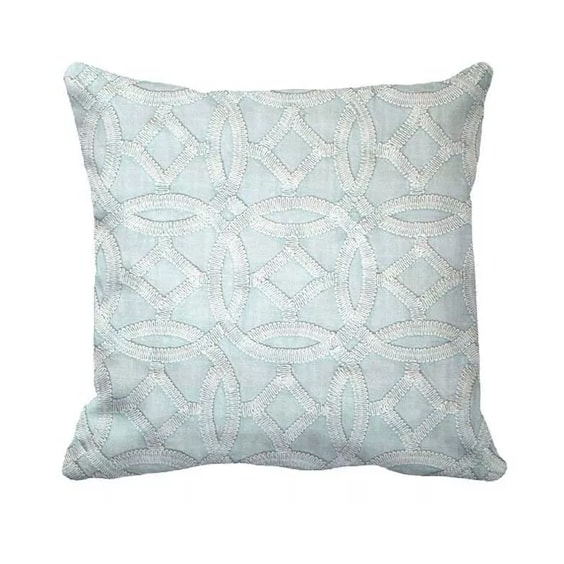 12. Embroidered Throw Pillow: this pillow is under $40 and the embroidery is just so beautiful! It's pretty understated but still is bold enough to pair with other patterned pillows.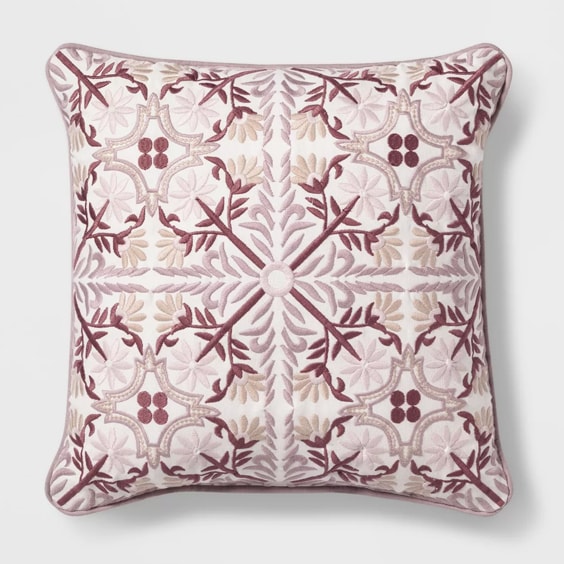 BLUE BASKETWEAVE EMBROIDERED PILLOW
13. Navy & White Tassel Pillow: talk about a statement pillow! This is under $20 and the perfect piece to add to your couch. I think it'd look so pretty mixed with other simple pillows or even other printed pillows.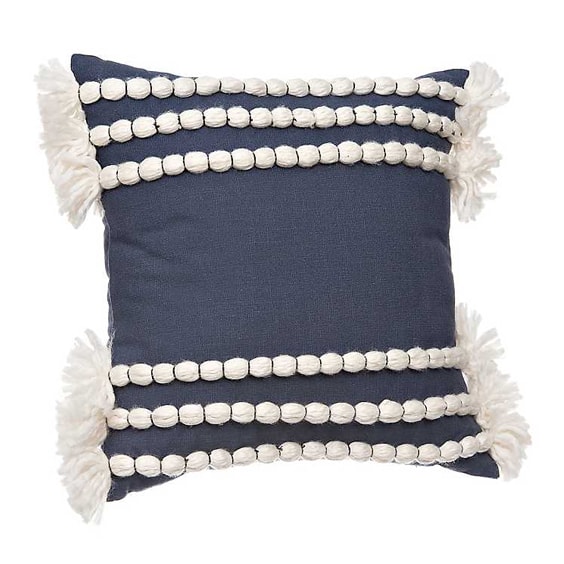 14. White Corded Pillow Cover: another simplistic, textured pillow cover that will go with any style! This is a great pillow for your couch or even in your bedroom or a guest room.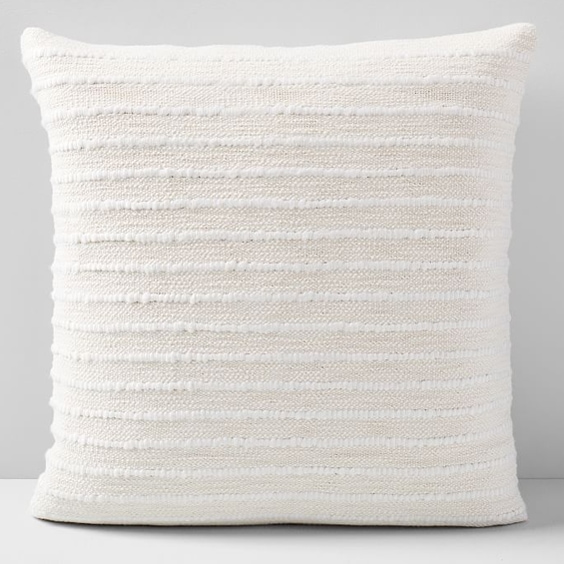 15. Natural Stitched Gingham Pillow: now this is something different to add to your pillow lineup!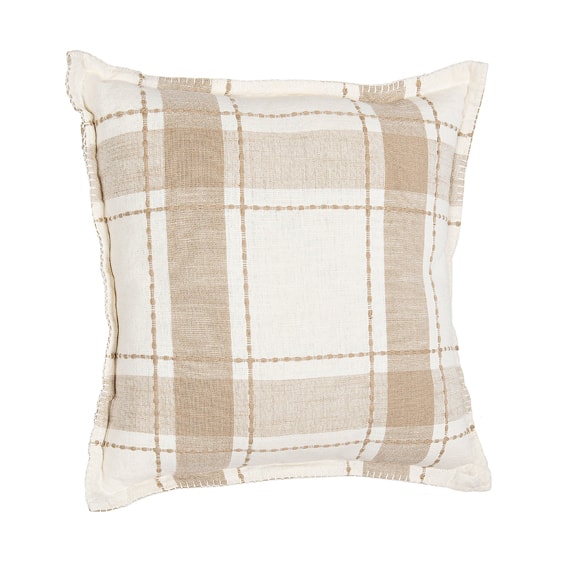 NATURAL STITCHED GINGHAM PILLOW
16. Jute-Trimmed Ivory Pillow: this is one of my favorite pillows and has been for a while now. It's simple but springy/summery, and adds a lot of character to a mix of pillows.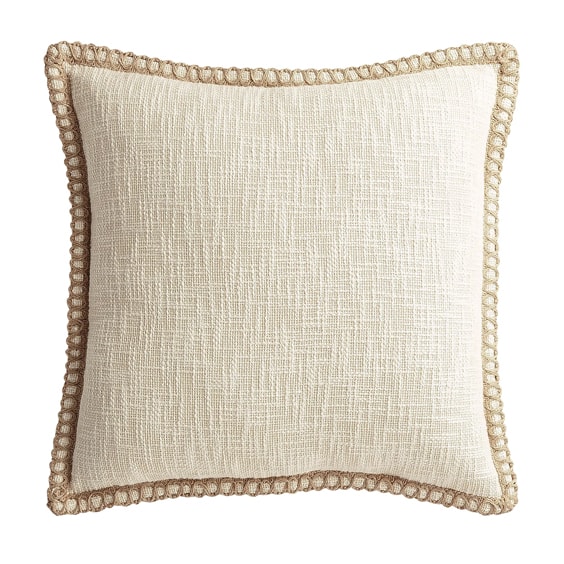 17. Blue Striped Pom Pom Pillow Cover: the prettiest, linen pillow with the most fun pom pom detailing! Isn't this just so cute? It comes in a couple of sizes and colors to choose from as well.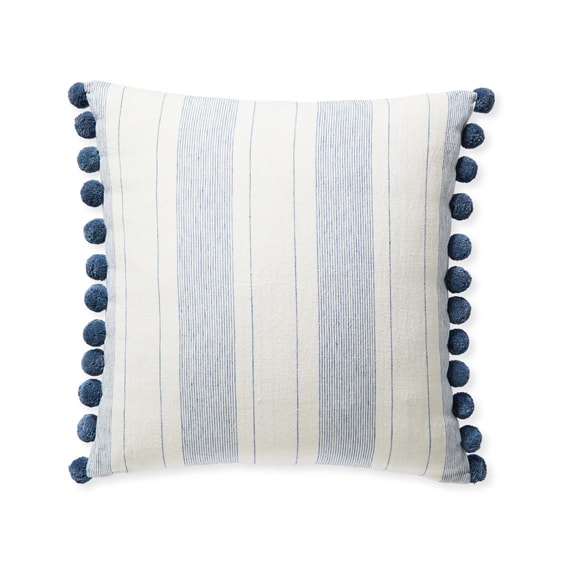 BLUE STRIPED POM POM PILLOW COVER
18. Blue Striped Pillow Cover: not only is this pillow cover reversible, it's also a great piece to help elevate the look you're going for! It comes in two sizes and another color too.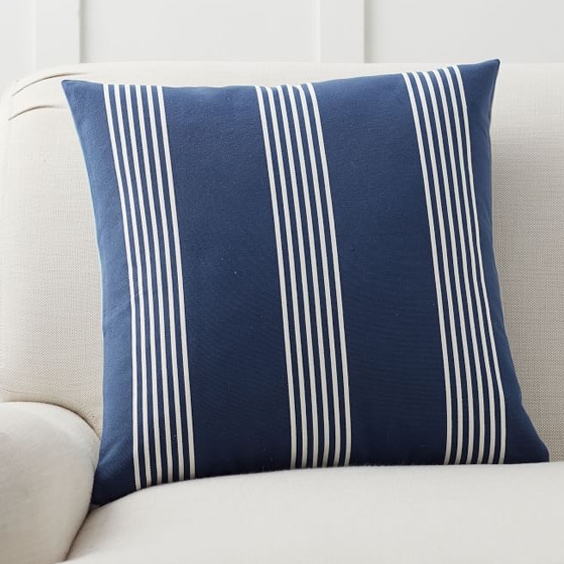 If you're looking for some new spring pillows to spruce things up and brighten your home, I hope this guide helped you pick your next pillow combo!