Essential Spring Cleaning Tips + The Beauty of Carpet
This post may contain affiliate links. Please read our disclosure policy.
This post is sponsored by The Carpet & Rug Institute, but all opinions are my own.
I have been truly saddened by what is going on with pandemic and how it has affected so many. I know as a mother to a child with an immunodeficiency, this has been an exceptionally scary time. We have been social distancing for weeks now and with Stay-At-Home orders in place, we have really hunkered down in our home. That is why I have found nesting in my home even more important these days and creating a safe and comfortable haven for my family.
You may remember a couple of weeks ago I shared the design plans for our bonus space upstairs that we use as a second family room and game room. Last week I shared the reveal and you can get caught up with that post here. It has wall-to-wall carpet and is a cozy space right at the top of the stairs. I think of it as the second heartbeat room of our home because we spend so much time up here.
So I decided to tackle this space with some essential spring cleaning before the makeover and partnered with The Carpet & Rug Institute to show how I pulled this room together with decor and a cozy foundation of carpeting.
First, it started with some purging of furniture and accessories that were not functional and overall just did not fit. I kept the sofa, chair, and ottoman because they are good neutral pieces and still in good condition. You won't believe this but the nailhead sofa and chair were finds from Craigslist when we moved to Texas 7 years ago.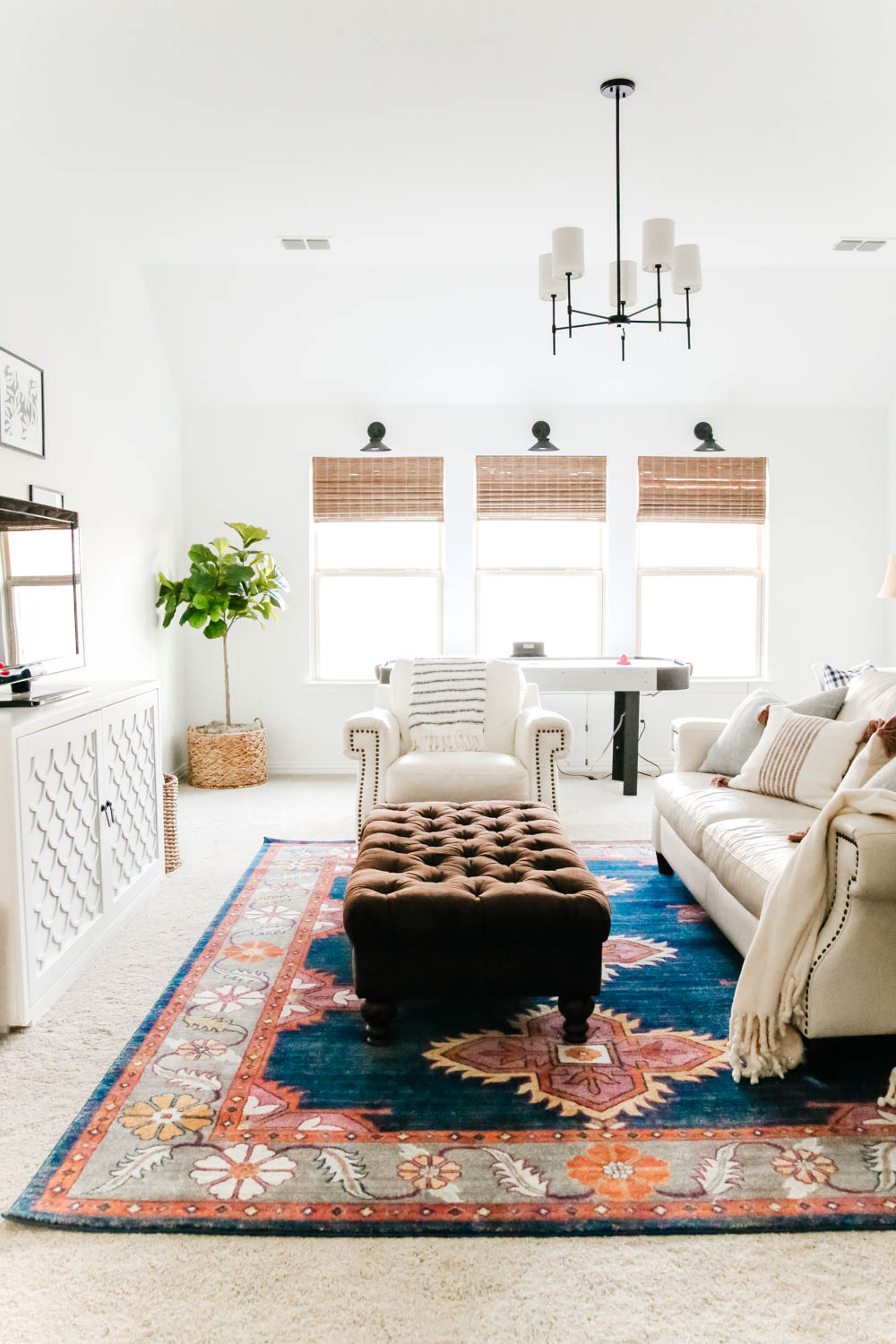 We cleaned everything else out of the room and either donated it or sold it. I love to have a clean slate when decorating a room and have fresh carpeting and crisp white walls as a starting point. It makes it so much easier on my eyes to envision what potential the room has.
Carpet provides beauty and style to any room
When we selected our carpet when we were building our home, I went for a neutral beige color I thought would go with any design. It adds a warm tone and makes the room feel cozy. I love that with carpet patterns and colors, a room can totally be transformed.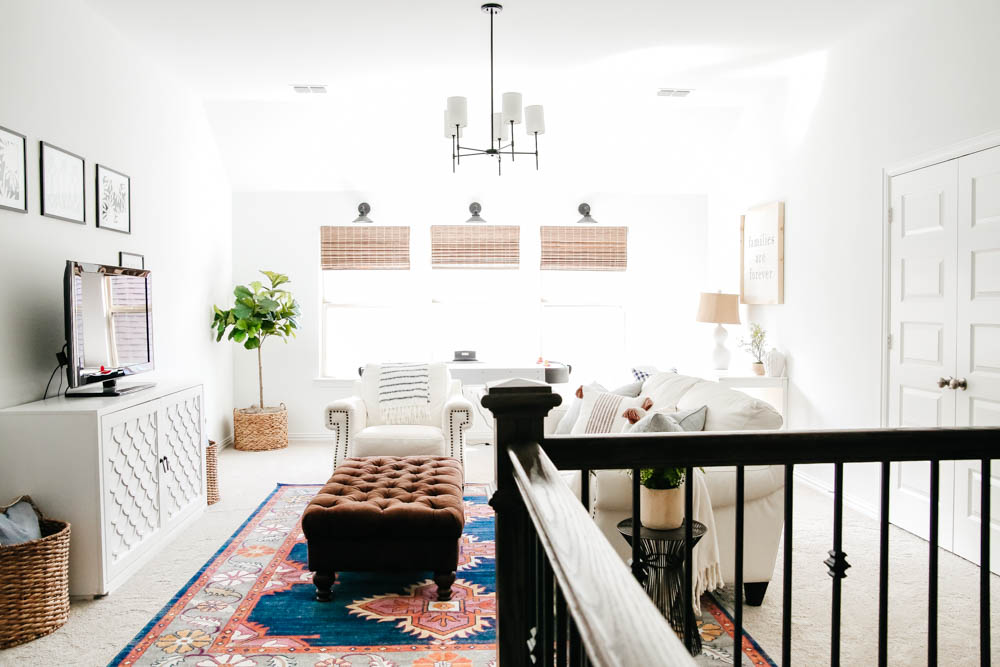 Carpet provides warmth and comfort
There is nothing like sinking your feet into soft plush carpeting especially in the colder weather. I love how comfortable and cushy it makes any room feel and especially in rooms like this where there is a lot of activity.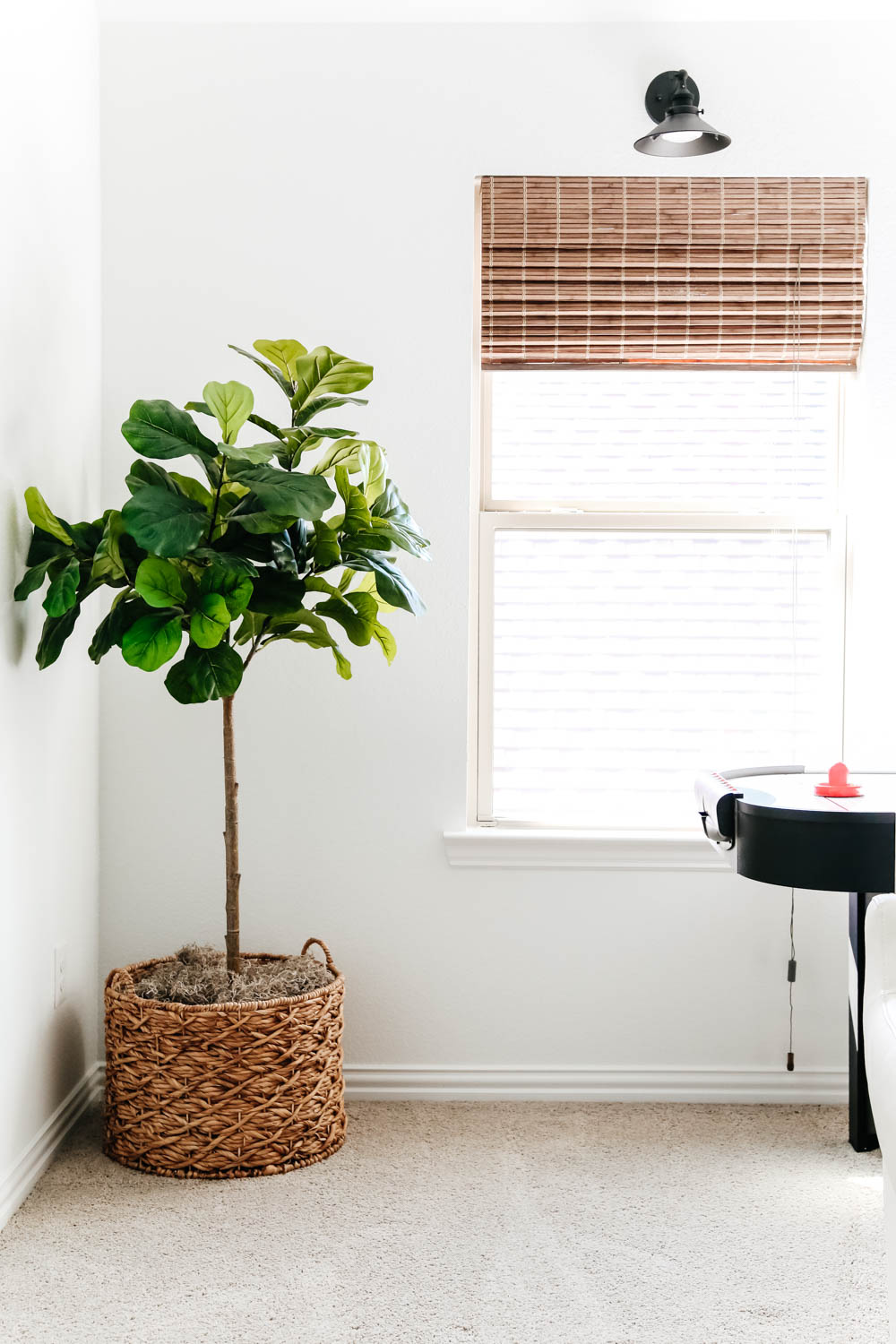 Carpet helps with noise reduction
We decided to add an air hockey table to our newly cleaned out game room and it is perfect for quality family time. We love playing it and it definitely helps with keeping Lauren off of tech stuff. But it does add a lot of noise to the house that I was able to conquer with carpeting.
Not only do I love the look of the carpet in this space but it is functional too. Because it can get pretty loud and crazy up here with some serious air hockey games (LOL!), our carpet helps with noise reduction and helps absorb the sound.
This really helps when I am downstairs and the sound travels down there. It really can be amplified on the lower level so our carpeting is a great buffer.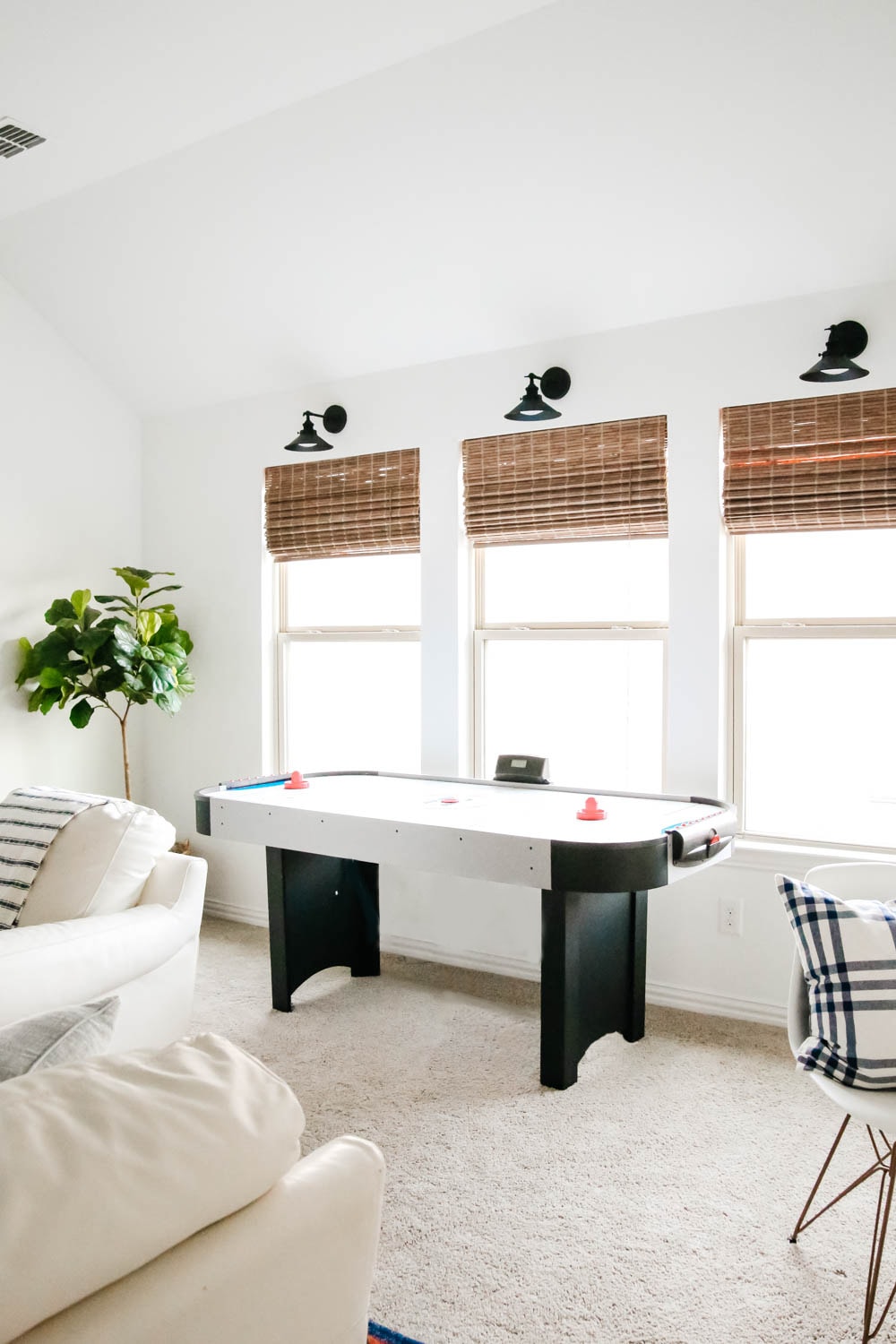 Carpet helps with indoor air quality
By improving indoor air quality, carpet supports healthier space for living, working and learning for everyone. New carpet is the lowest VOC-emitting flooring choice available. It acts as a passive air filter, trapping dust, pollen, and particles and then removing them from the air.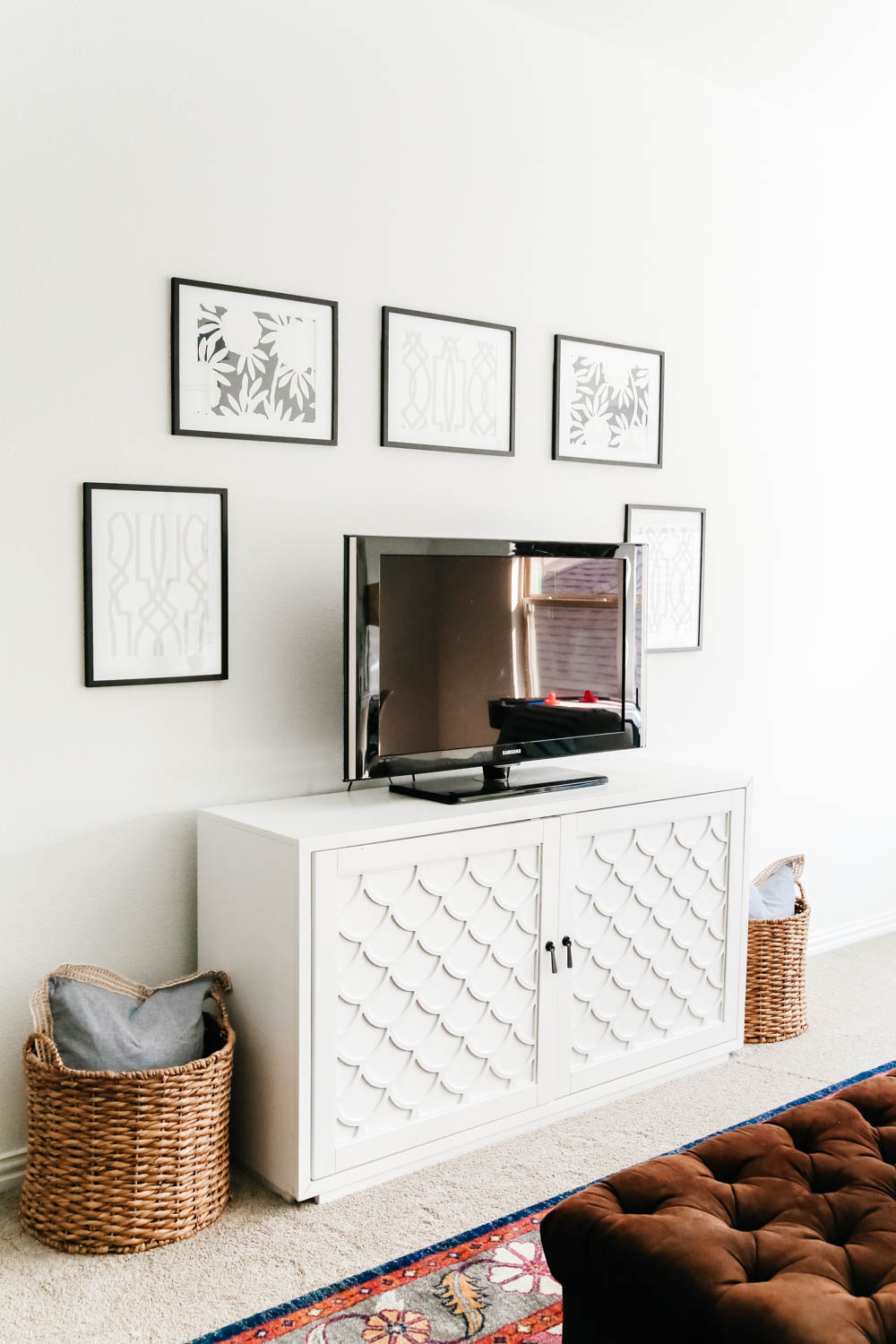 We are so happy with our new bonus room space and all the amazing time we are able to cherish as a family during this difficult time.
THIS IS A SPONSORED POST. A BLISSFUL NEST HAS RECEIVED PAYMENT, TRADE, AND/OR PRODUCTS FROM THE CARPET & RUG INSTITUTE IN EXCHANGE FOR PROMOTING. HOWEVER, ALL OPINIONS STATED ARE OUR OWN.
Follow along to get more of my tips on home decor, DIY and lifestyle on the following: