Summer Living Room Home Tour 2021
Sharing a fresh summer living room home tour with soothing blue, white, and green colors. Includes affordable home decor finds like pillows, trays, faux florals, candles, and more.
I know we are in mid-July and you probably already have your home decorated for the summer months. I have been super behind on decorating for the seasons and honestly, it has felt nice to enjoy the slower decor process.
This has been a busier summer than 2020 and though we've had more going on, it has been nice to enjoy a less hectic schedule. I am sure you feel the same!
This site contains affiliate links. Please read our disclosure policy. As an Amazon Associate, I earn from qualifying purchases.
Summer Living Room Details:
This year I choose a subtle color palette of blues, greens, and whites with lots of textured pieces. Keeping things looking clean and not cluttered with more white space so the eye has spots to rest as it moves around the spaces.
I actually had many of these pieces already on hand and just mixed and matched what I already owned but there are a few key pieces that you can still snag and would transition into other seasons beautifully.
This post contains some affiliate links for your convenience. Click here to read my full disclosure policy.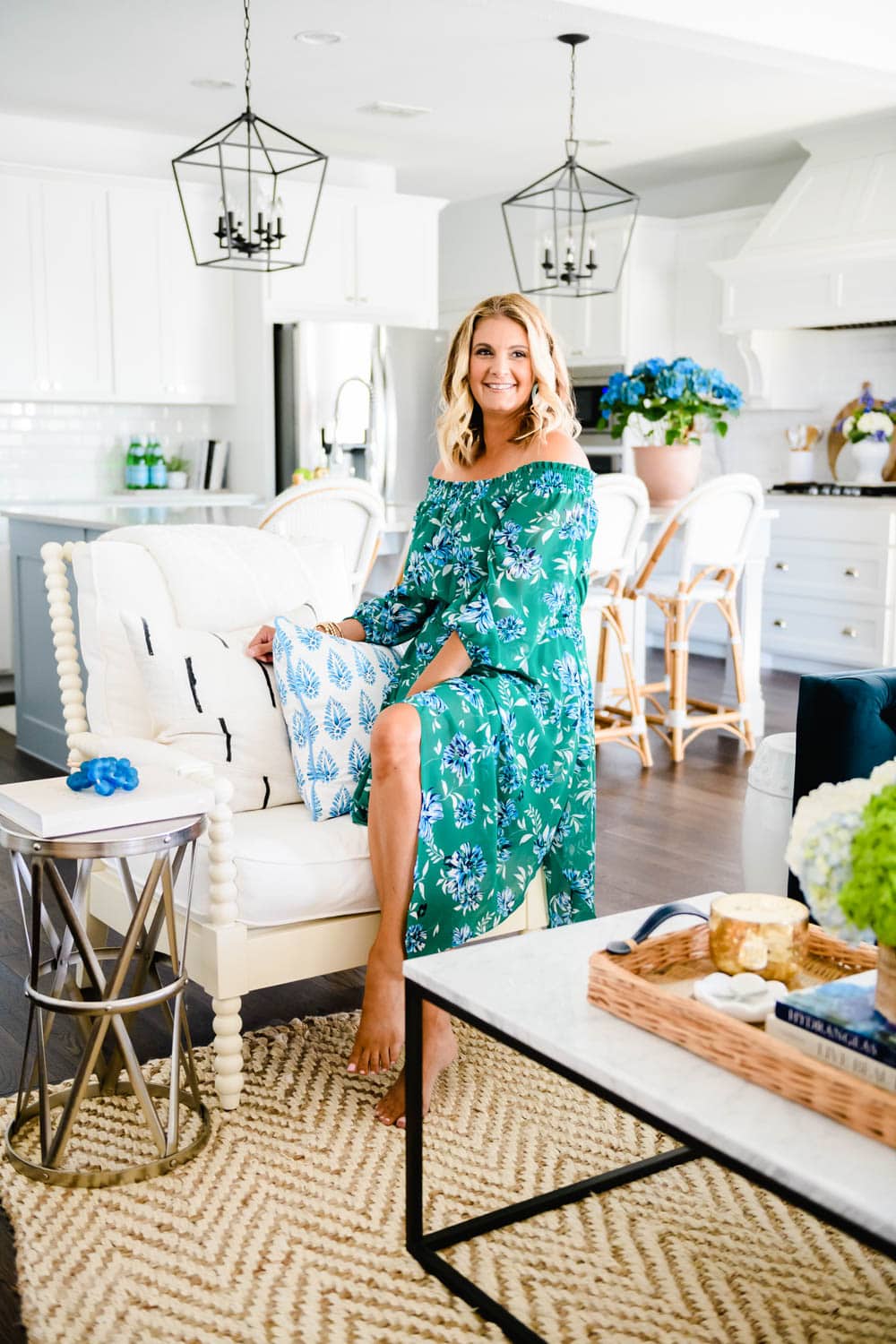 Focus on potted plants and flowers for the season
When I think of creating a cozy environment for summer, I think of soft textured pillows, lightweight blankets, summer flowers and potted plants. Really focusing more on bringing the colors and feel of the outdoors in (without the heat!).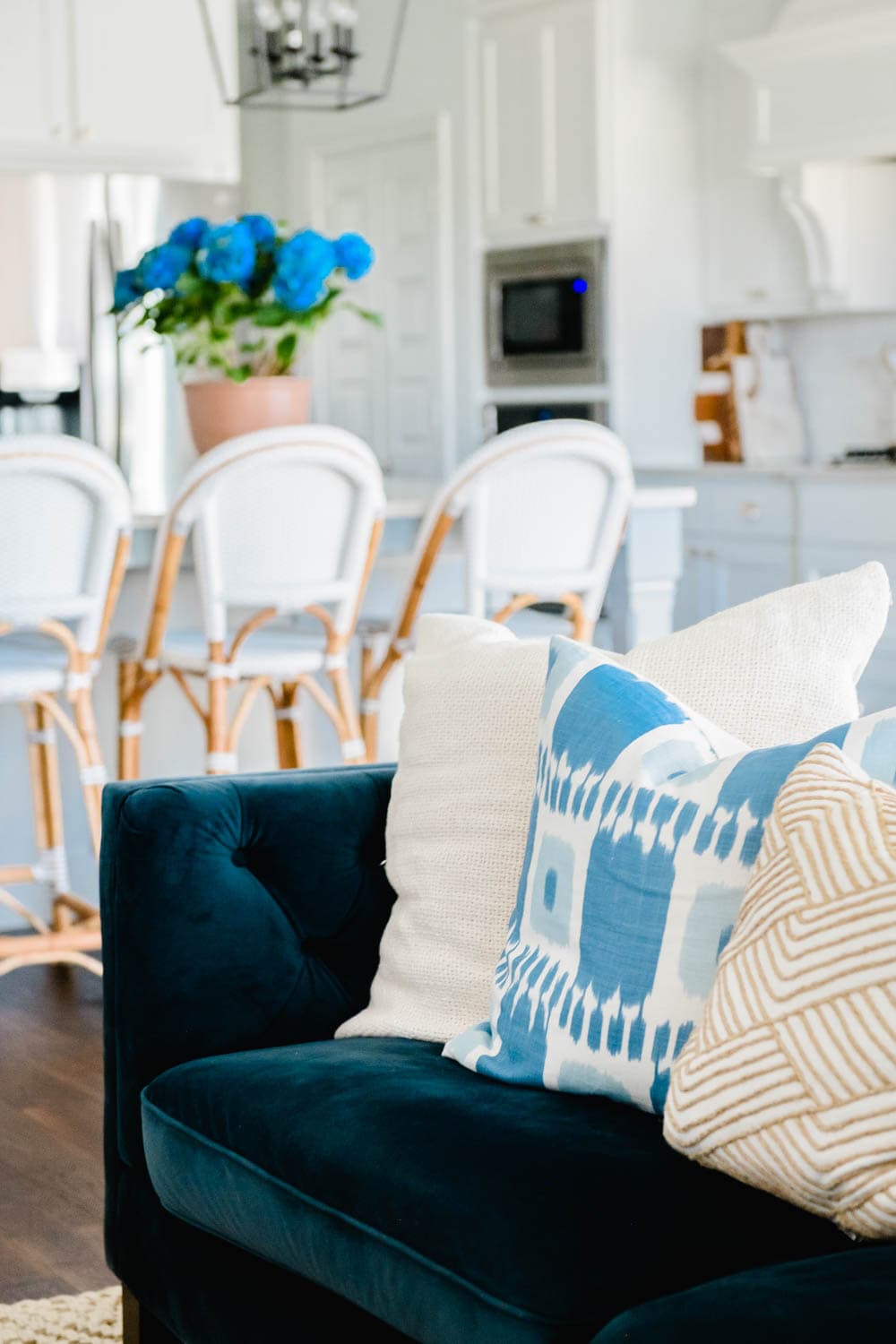 I love to layer my pillows and usually always start with a large patterned pillow sometimes with multi colors to ground my color palette. This time I started with these gorgeous pillows with shades of blue and white. These pillows pull the colors in from the drapes in the dining room and still add a light and airy feel.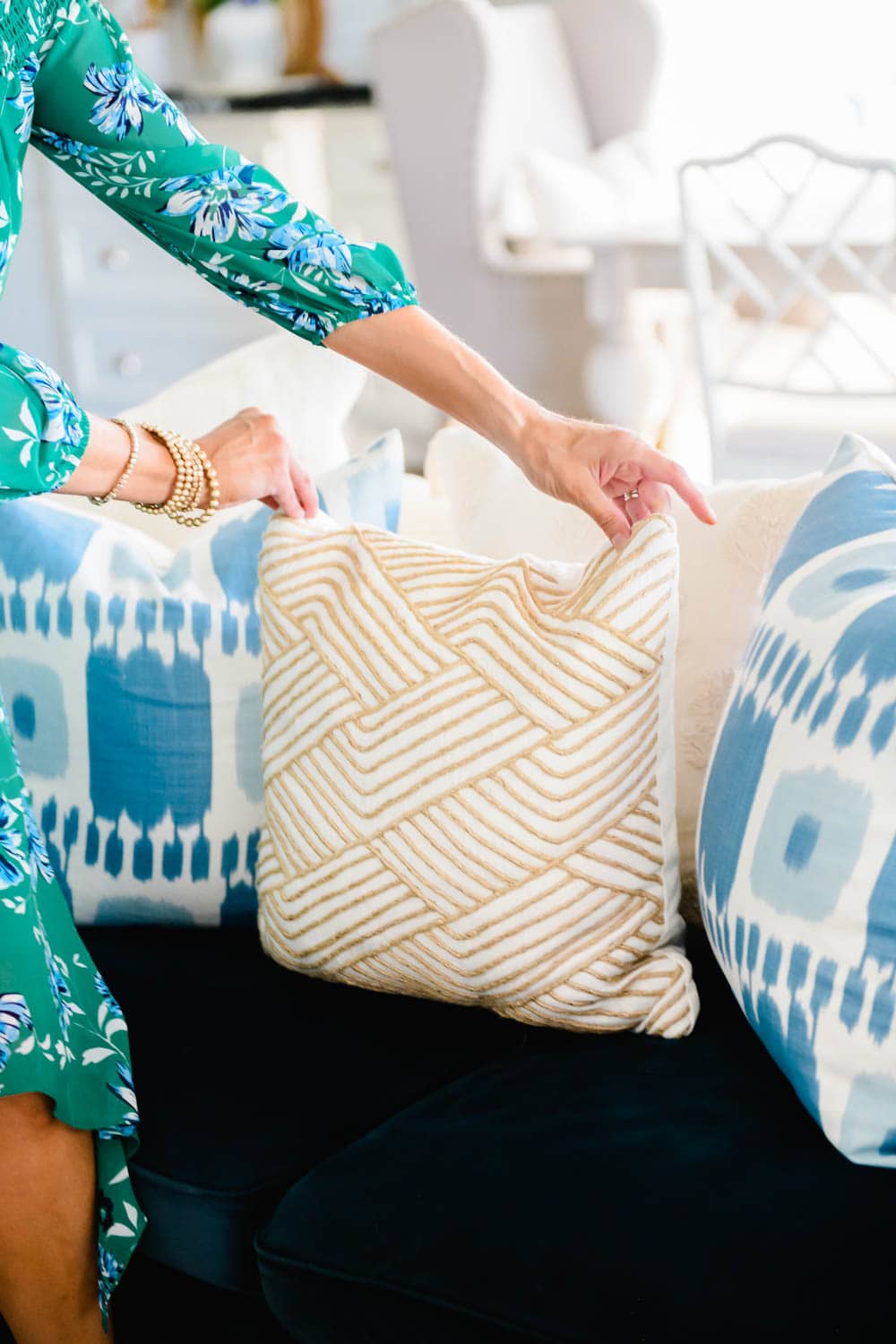 Create layers with pillows
I mixed them with this textured jute pillow (similar style) and these textured linen pillows. I love the linen pillows and have them in 3 colors. They are staple ones I have had for years and worth every penny,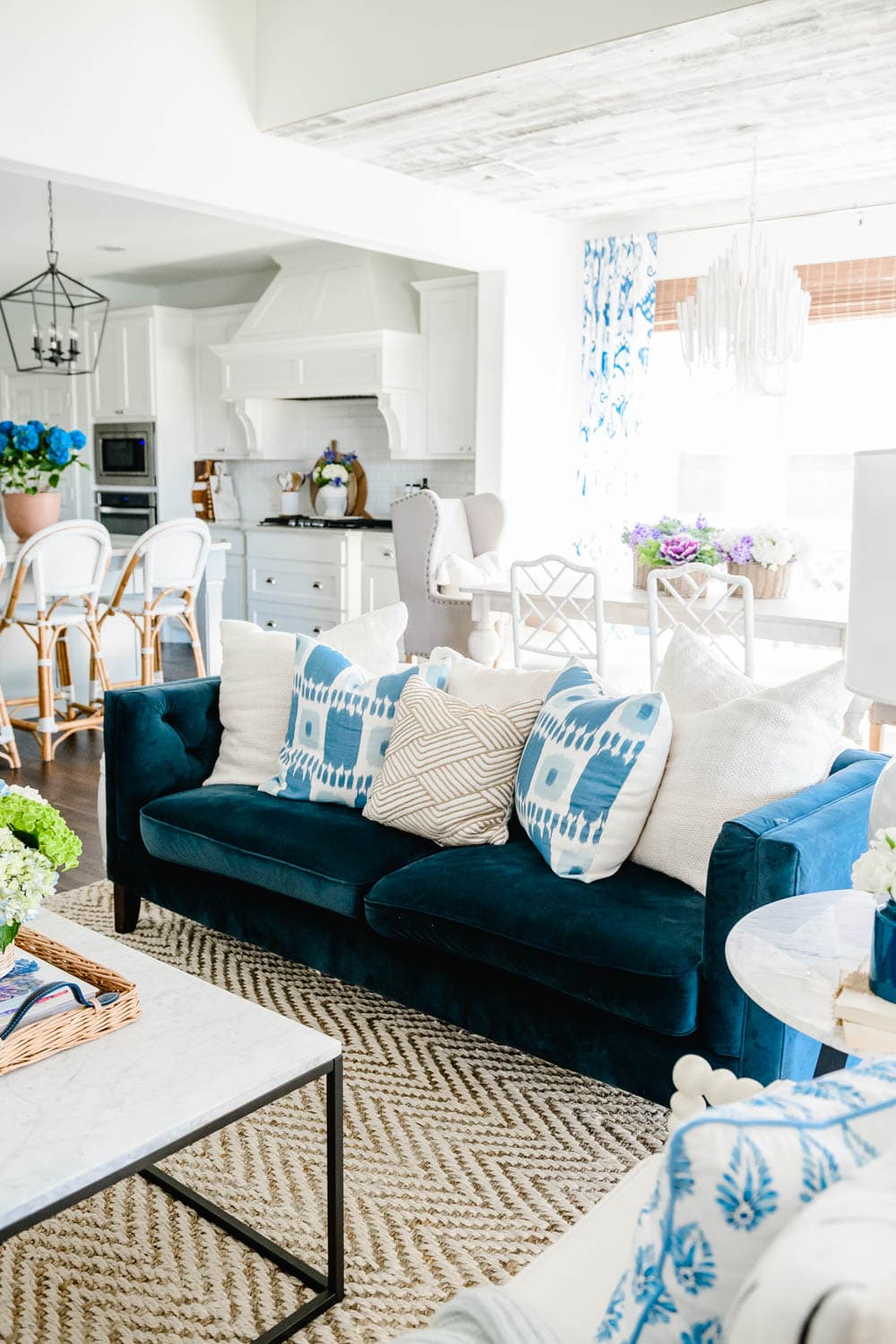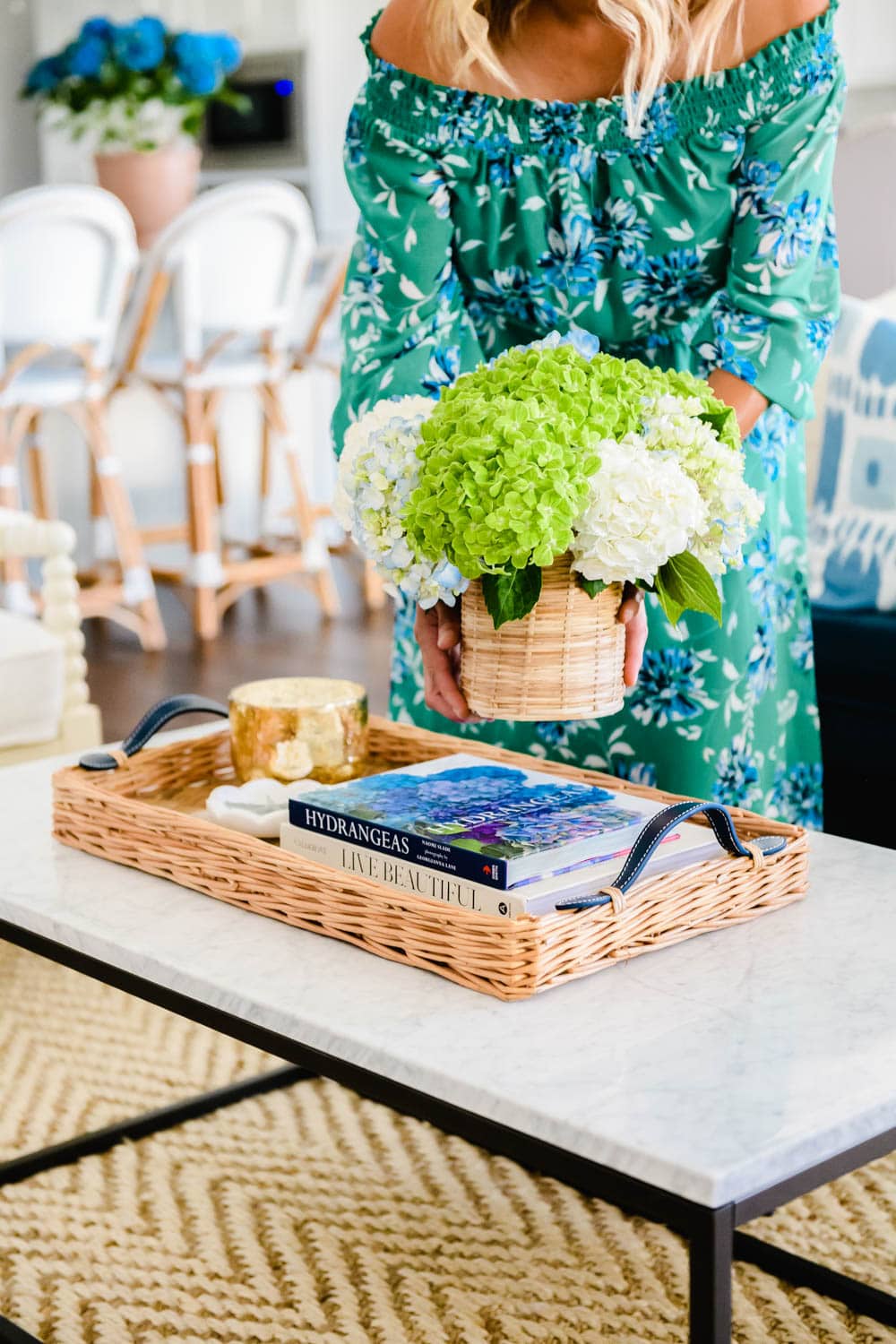 Select pieces in natural materials like jute and rattan
One of my newest purchases is this gorgeous rattan tray. I love the glass insert, making it easy to stack anything inside, as well as the navy blue leather handles. It comes in multiple sizes and is from my new favorite shop.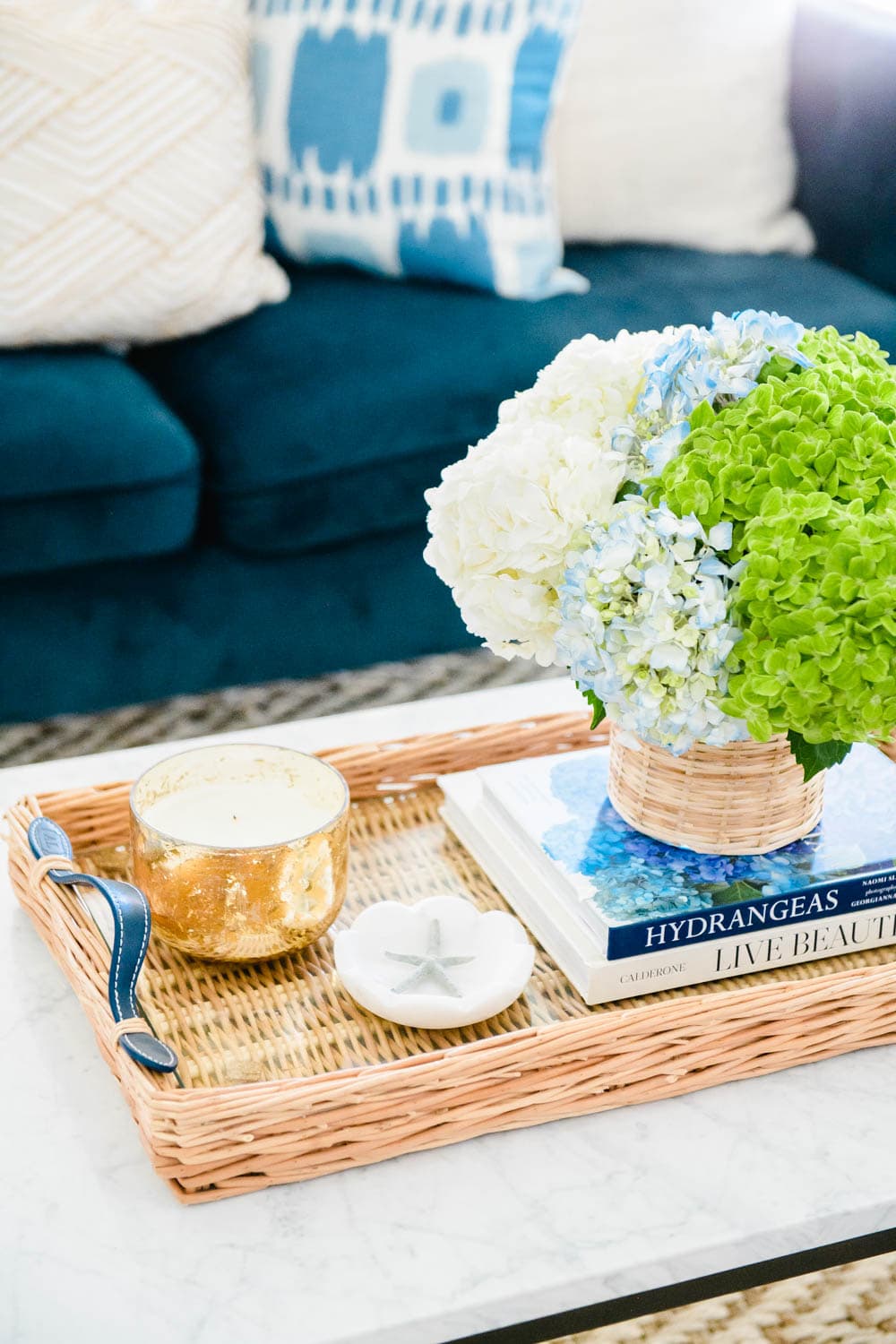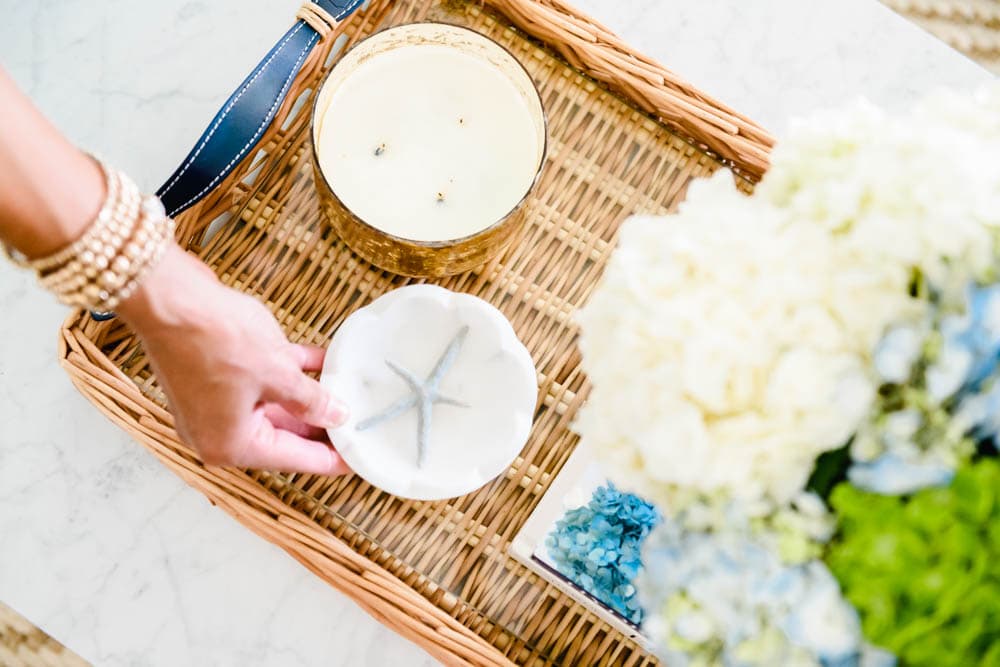 I added a matching rattan hurricane that I used for some beautiful hydrangeas I grabbed at the grocery store and placed a scalloped marble trinket tray, some coffee table books, and a gold candle. Simple decor elements that all reflect the summer season.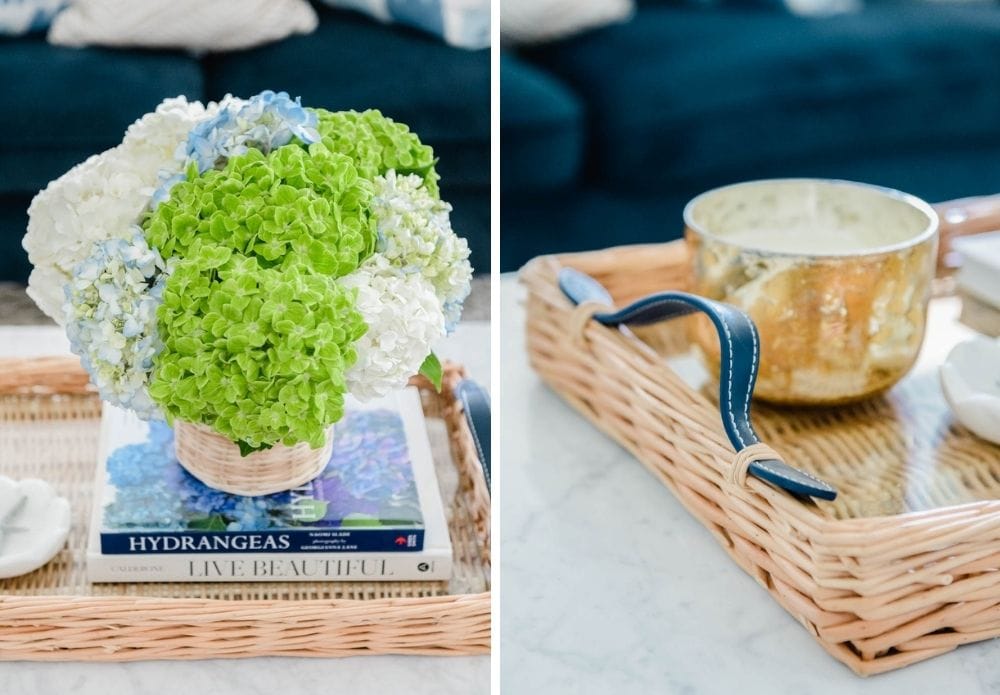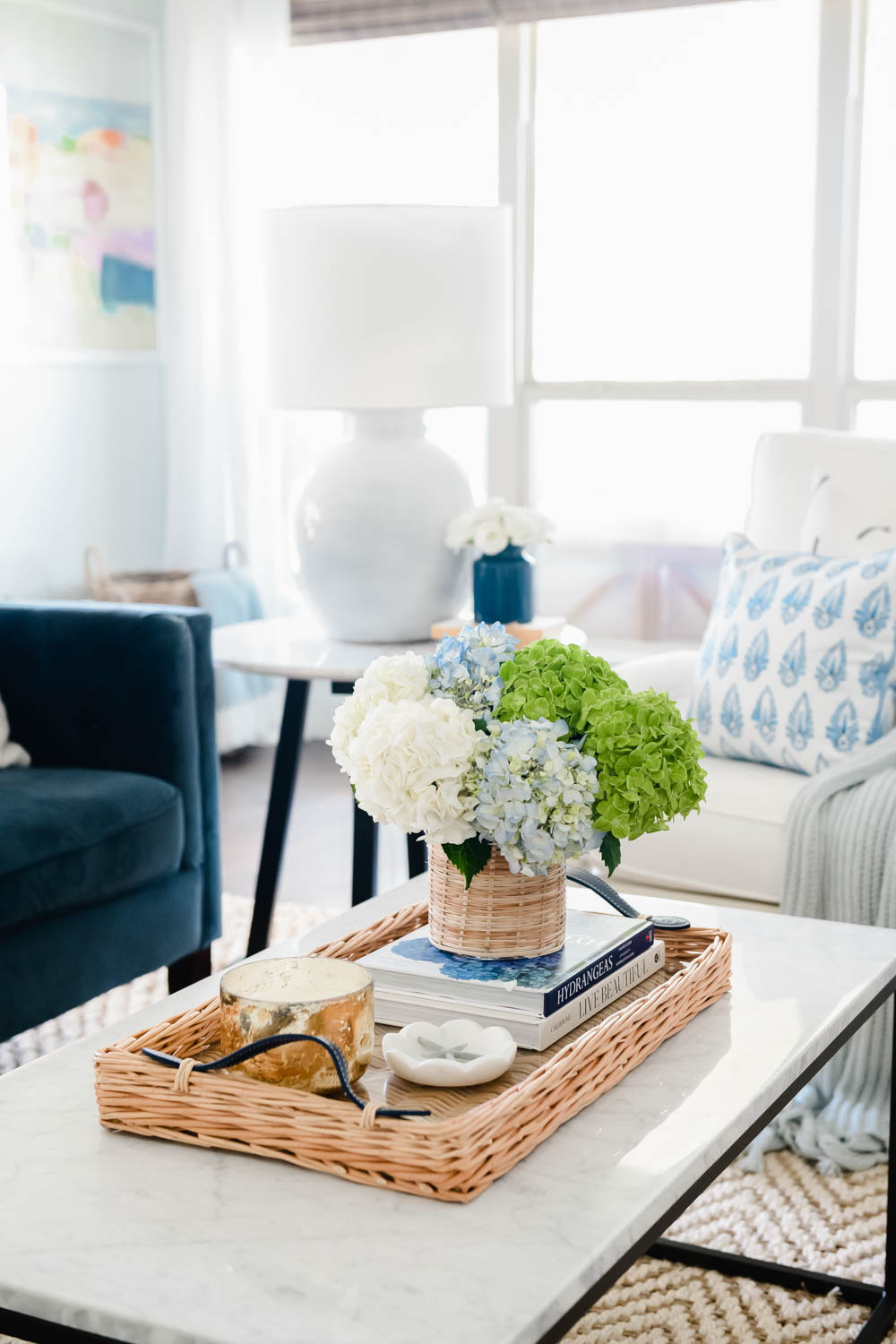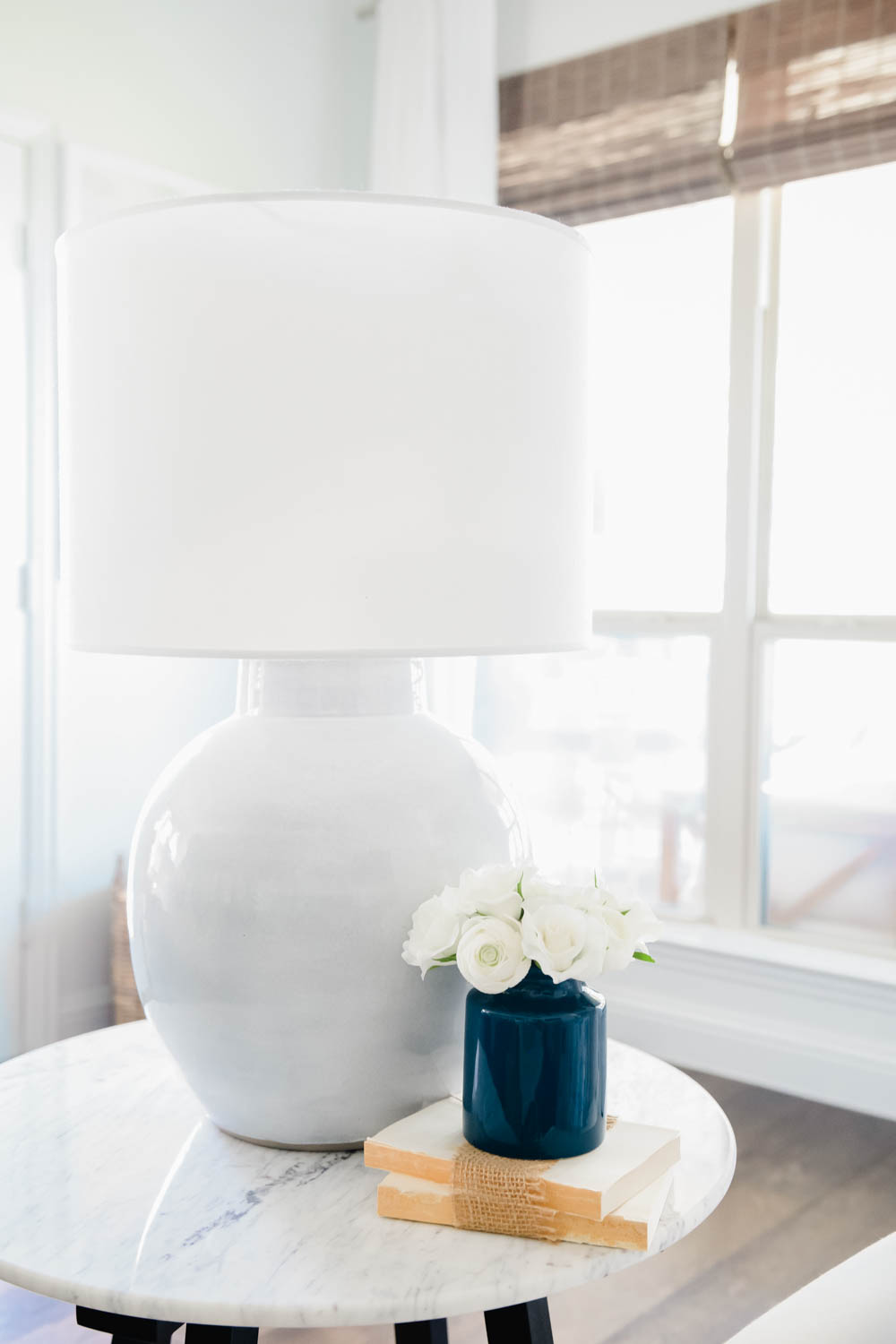 I opted for other simple summer decor in shades of blue to accent the space like this small navy vase filled with some faux real-to-the-touch flowers on top of some vintage books wrapped in some burlap. These are all very neutral elements that can go in any space.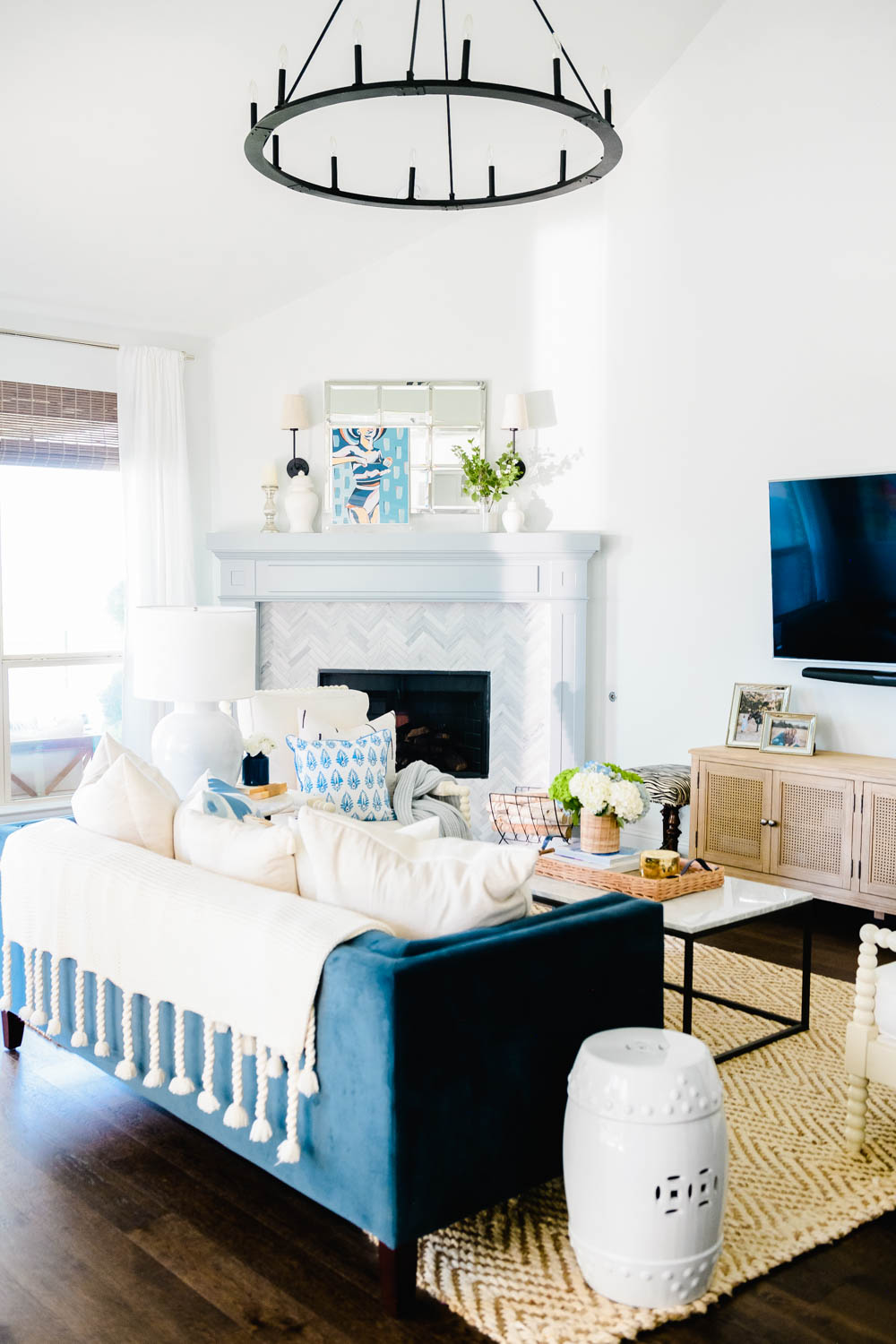 Add artwork in summer colors
I got this beach artwork in the spring and placed it up on the mantle for safekeeping until I decided where I wanted it to go and ended up loving it here. I love the colors in it and this artist has become one of my favorites.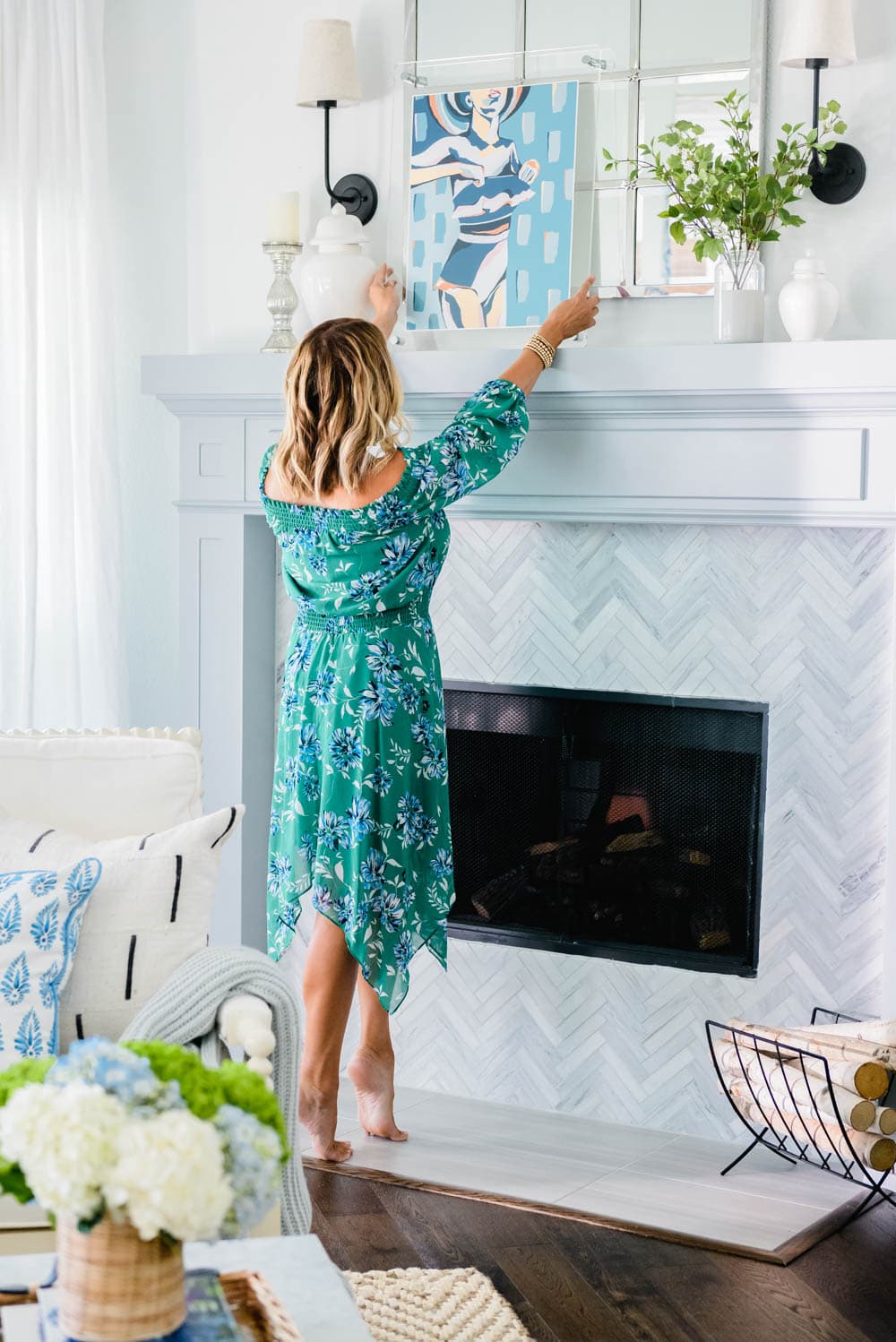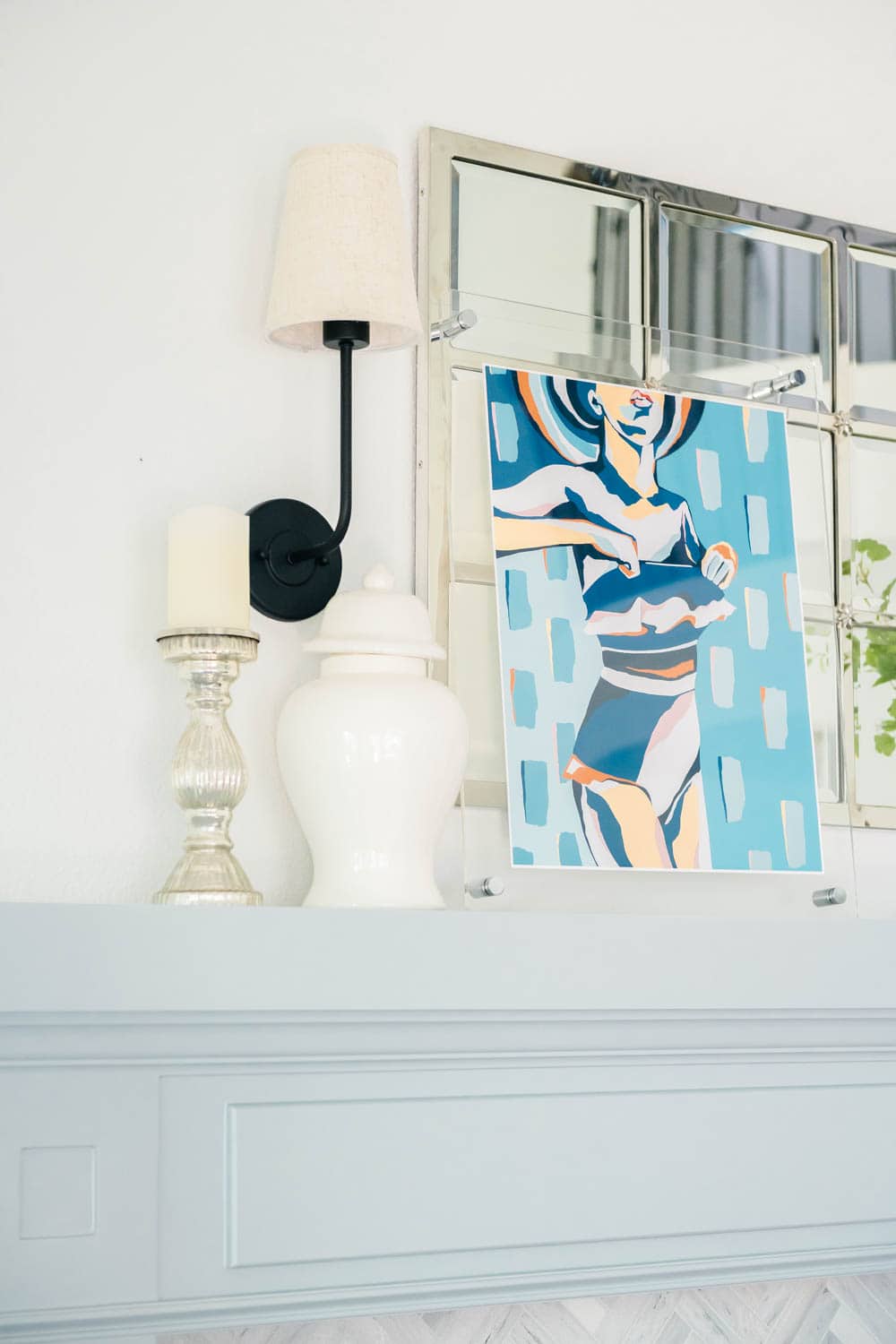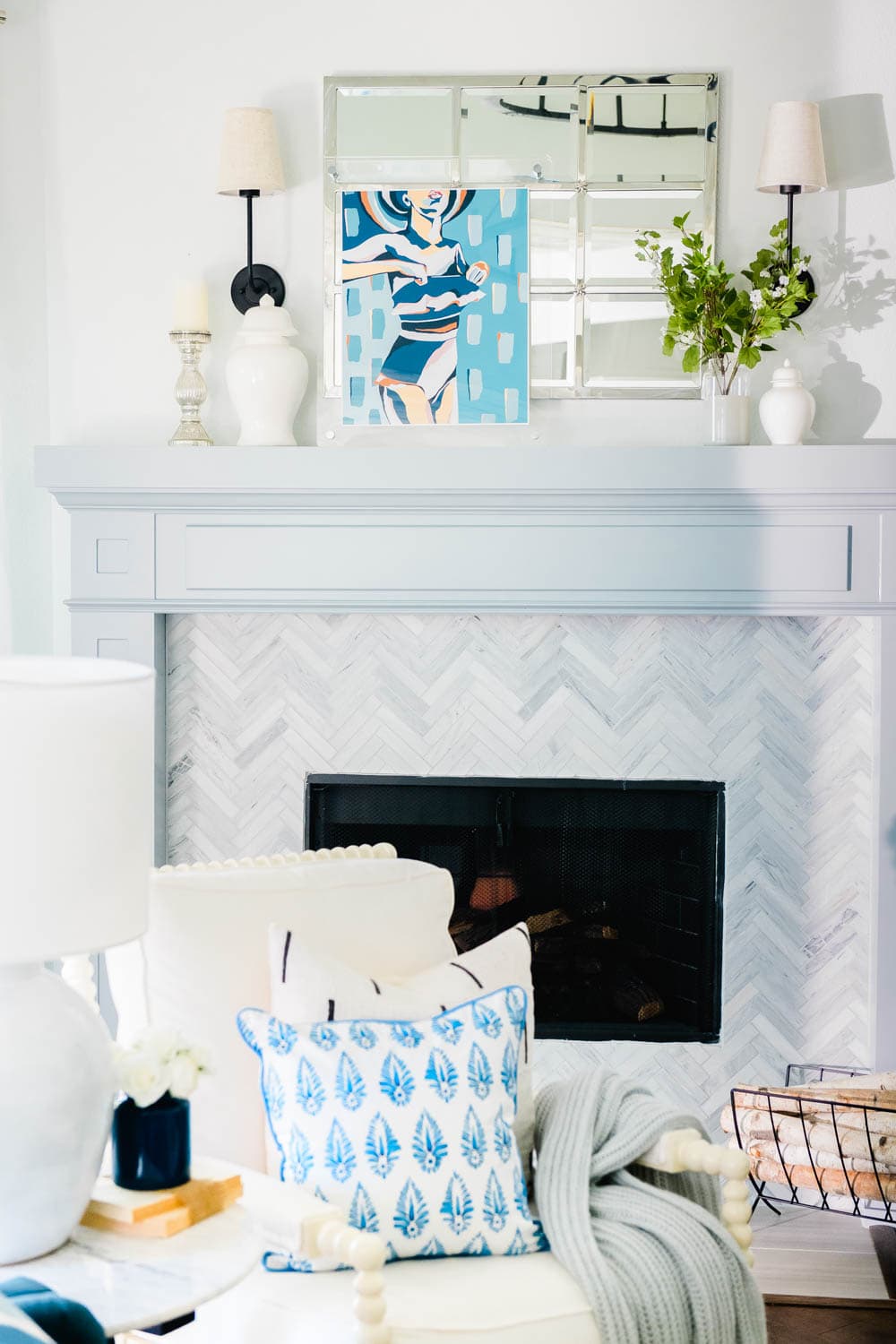 My friend Sarah talked about these affordable ikat pillows last year and I finally snagged them. I love the bright colors and they look perfect with my artwork. I just used some pillow fills I already had and placed them on my white spindle chairs.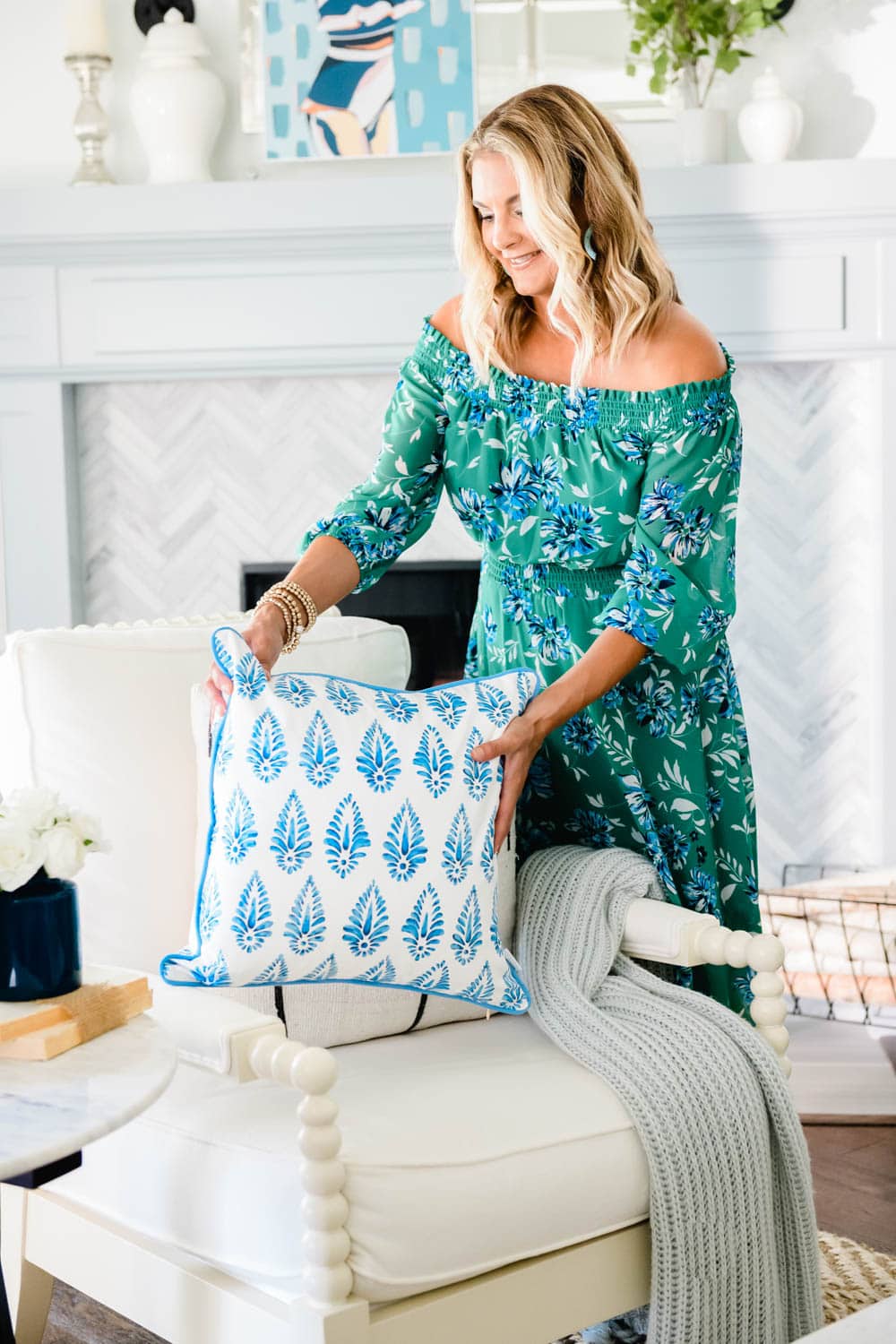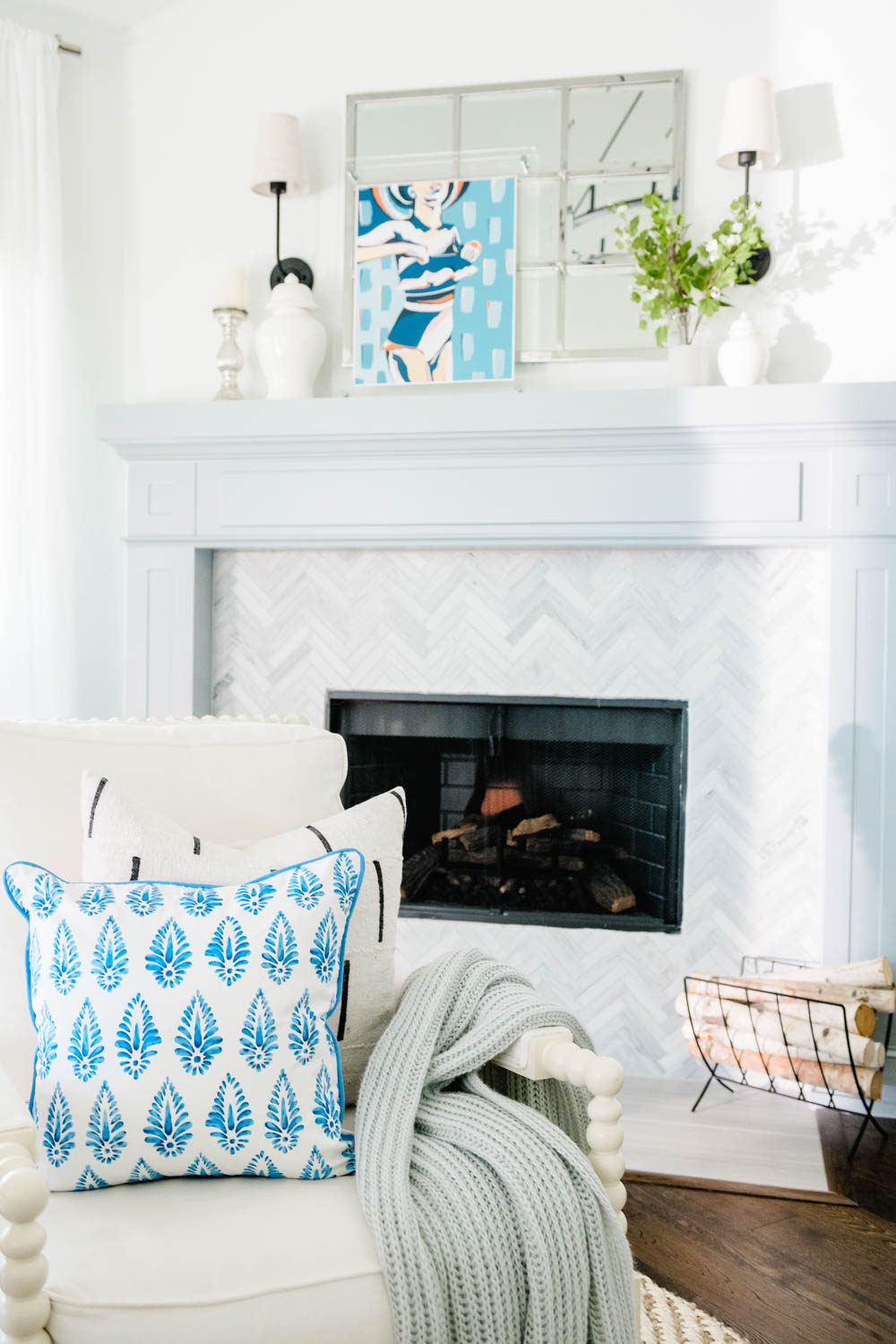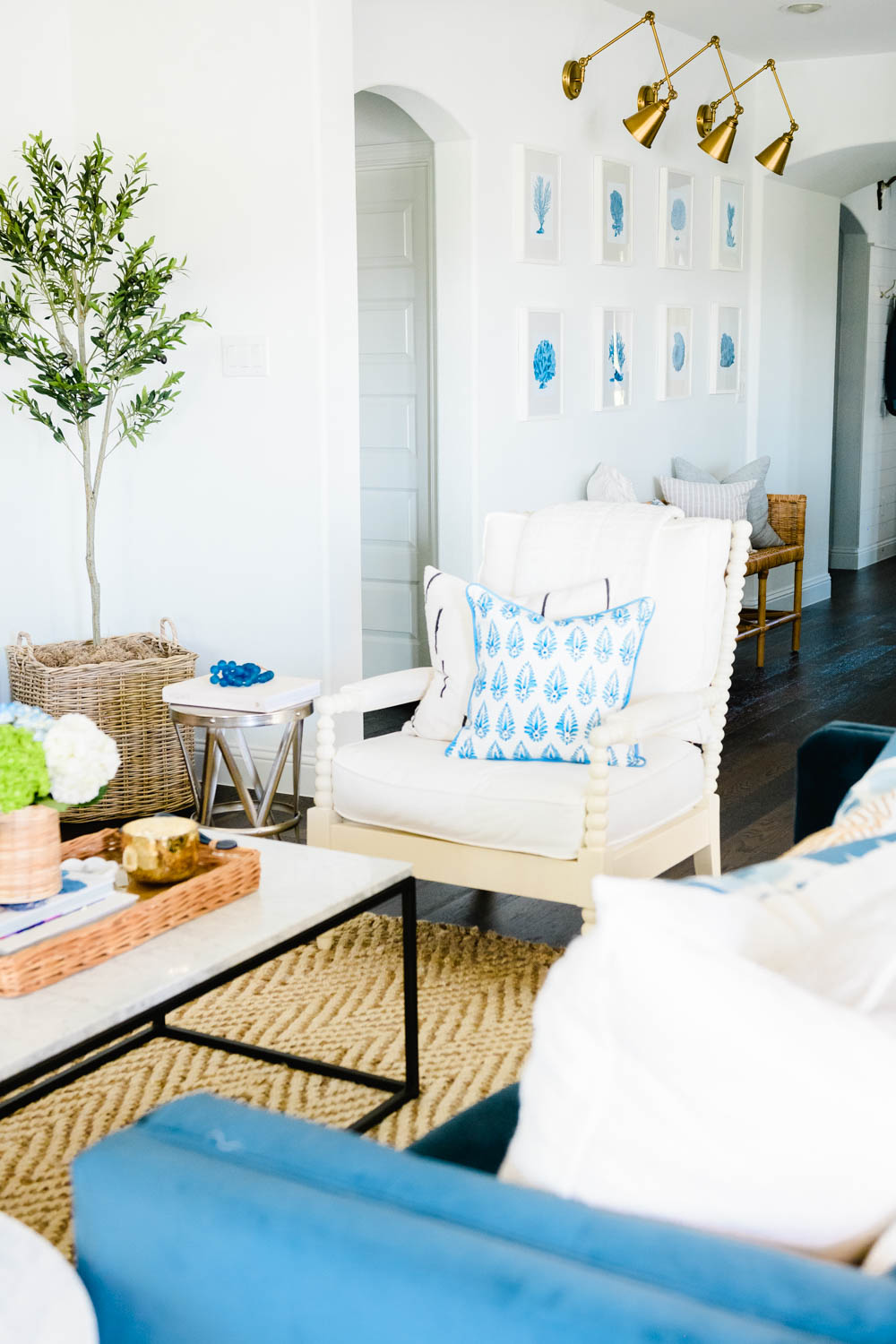 My little metal side table is still going strong! I have had this thing for almost 8 years now. I have been looking for something to replace it since the top is starting to show some wear and tear. But for now, I put one of my decor books on top with some navy blue sea glass beads.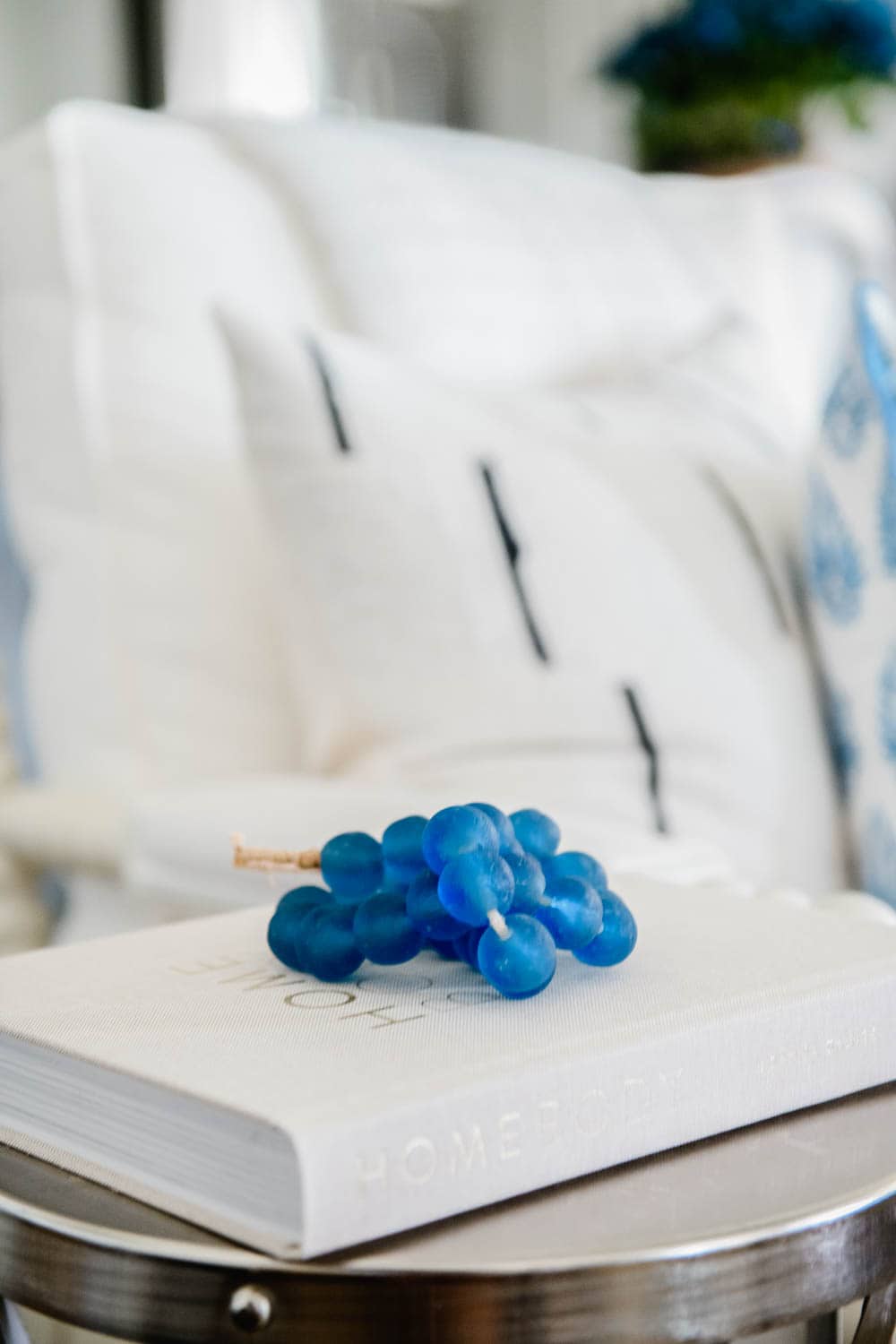 And that's it my friends! Next week I will be sharing my summer kitchen details and talking about how to freshen it up for the season.
Shop my summer decor
Scroll to shop all my summer decor pieces.

More summer home decor posts you will love:
You can check out past summer home tours here:
*Photography by Audrie Dollins
Follow along to get more of my tips on home decor, DIY, and lifestyle on the following: