How to Make a Summer Hamburger Charcuterie Board
Nothing reminds me more of summer than a nice juicy HAMBURGER piled with all of your favorite condiments! If you are serving your own family or a crowd, a charcuterie board is a great way to display your burger, buns, and all the fixings!
This classic hamburger charcuterie board is a great way to serve up some good old cheeseburgers! This Hamburger Board can be personalized to anyone you plan to serve it to. You can add bold flavors of grilled onions and bbq sauce to the board or keep it classic and simple. This board is exhilarating, fresh, and adventitious!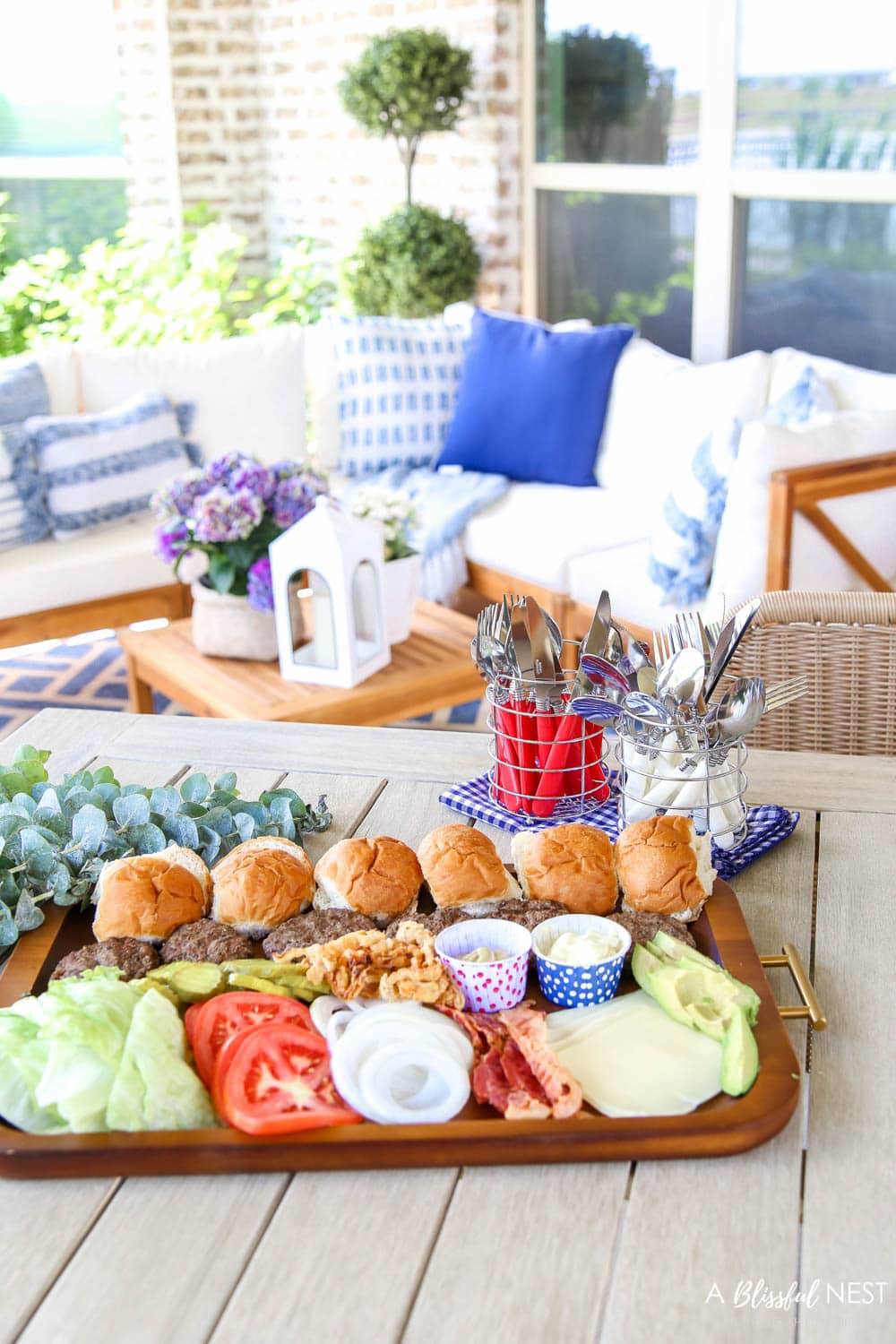 This post contains some affiliate links for your convenience. Click here to read my full disclosure policy.
Tips to The Best Hamburger Charcuterie Board:
Pulling together a charcuterie board for the summer, there are so many options; fruit, brunch, steak, cheese…and the list goes on. But now, a Hamburger Charcuterie board, this really makes me think about those hot summer night grill-outs! Your guests and family can make a burger and come back for seconds to create a whole new creation of flavors.
What are the best serving boards to use?
This board will be full of food and containers for condiments, I used this beautiful wood rectangular board with gold handles. This board is sturdy and strong to withstand piling all of the amazing ingredients onto.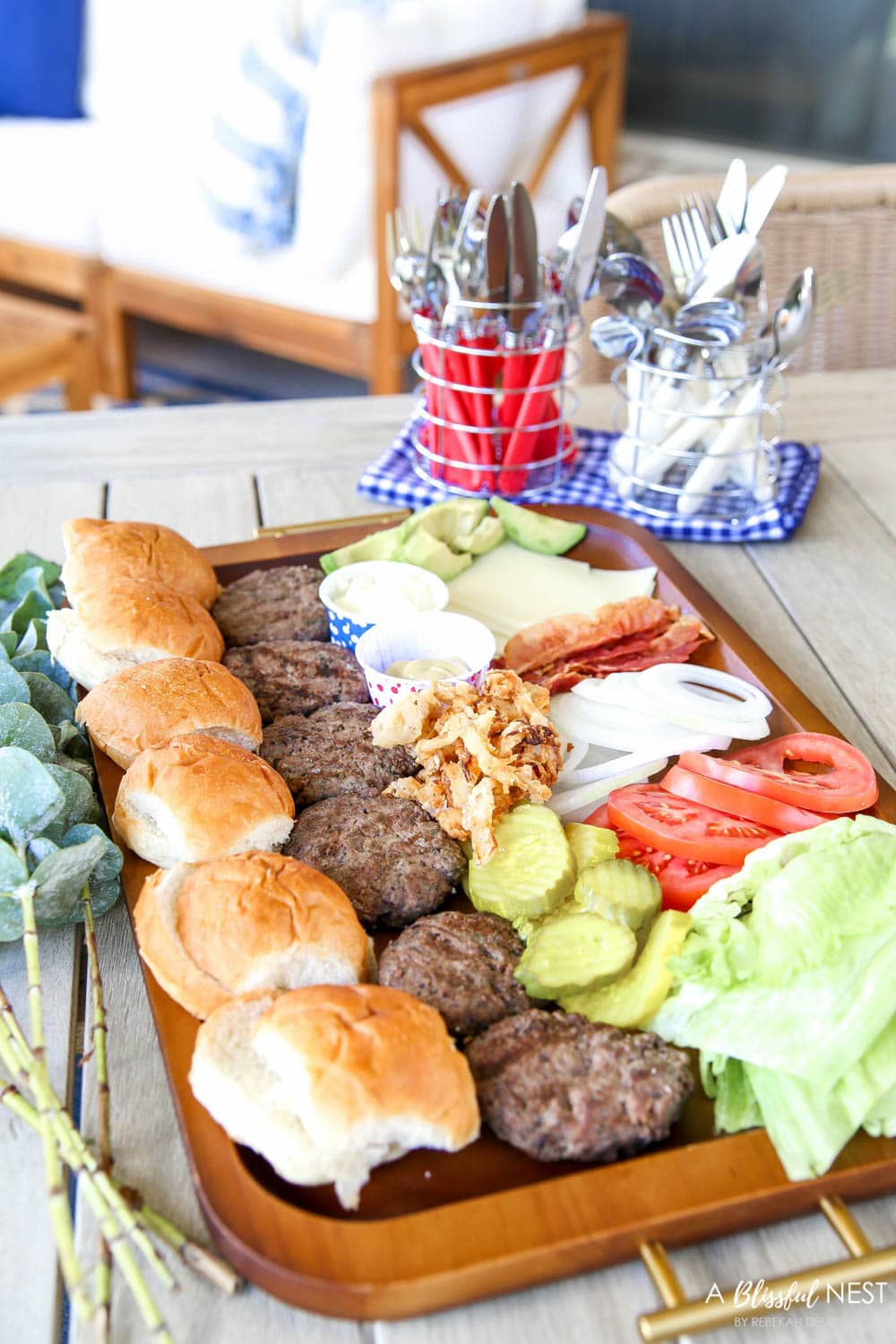 How to keep your food hot.
When you are putting your board together, you will want to place the hot items on the board last, in order to keep those items HOT Begin with your buns, place them on the outer edge of your bard, Next add the condiments to small fun containers; you can place them on the inside of the board. Have all of your toppings cut up beforehand and place them alongside the buns. Add your cheeses next, I used three different types of cheese and layered the cheeses to create a pattern with the colors. And lastly, place the HOT burger patties on the board, and serve with your favorite beverage.
What else can you serve with your hamburger board?
You might be thinking about what to serve alongside your beautiful hamburger board? I have a few ideas! You can serve a bowl of beautiful mustard potato salad, this will add color to your table! Also, a tray of fries or tater tots always pairs well with burgers and you can add a dipping sauce to accompany the fries. Beautifully cut watermelon, strawberries, and a veggie tray are always great to serve with burgers. Drink options with burgers are limitless; a nice fruit punch for everyone, a good old fashion sweet tea, and of course some refreshing adult beverages!
Summer Hamburger Board:
Ingredients:
Burger
Buns
Cheese
Toppings

– Lettuce, Tomatoes, Pickles, Onions, Avocados, Bacon

Condiments – Ketchup, Mustard, Mayo
How to make a hamburger charcuterie board:
Let's get started pulling the board together, I will walk you through just how simple it can be.
Step 1: Layout hamburger buns
For the buns, there are so many options! You can grab your regular ole white bread bun or a specialty bun. For this particular board, I went with Mrs. Baird Buns. When your burger patties are near finished cooking spray with olive oil or spread with butter and place on the cooler side of the grill to get nice grill lines on your buns.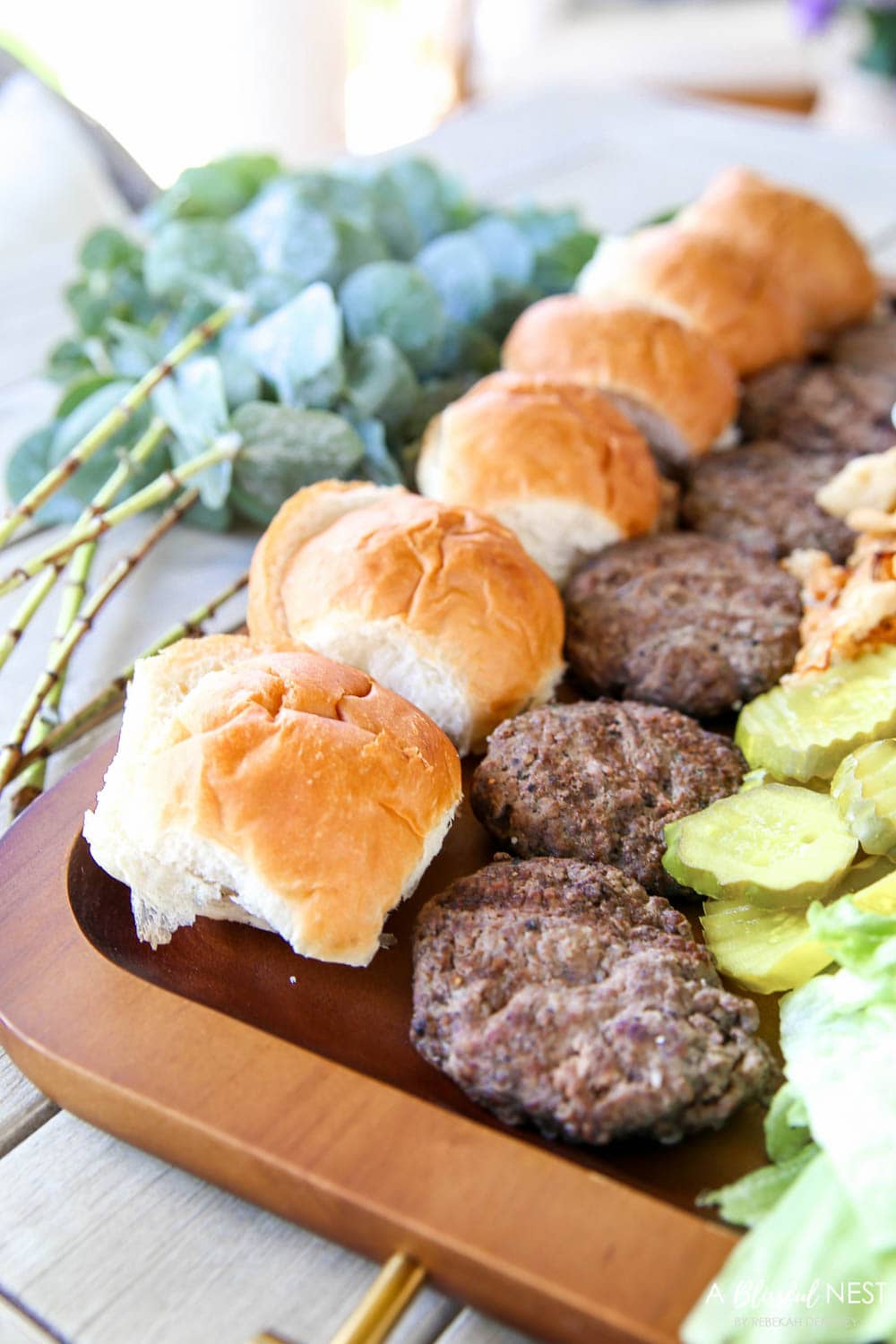 Step 2: Select cheeses and add to board
I choose to use American cheese, baby swiss, and provolone for this board, but again the cheese options are limitless! Arrange your cheese on your board in a colorful arrangement of the cheeses, so they will stand out!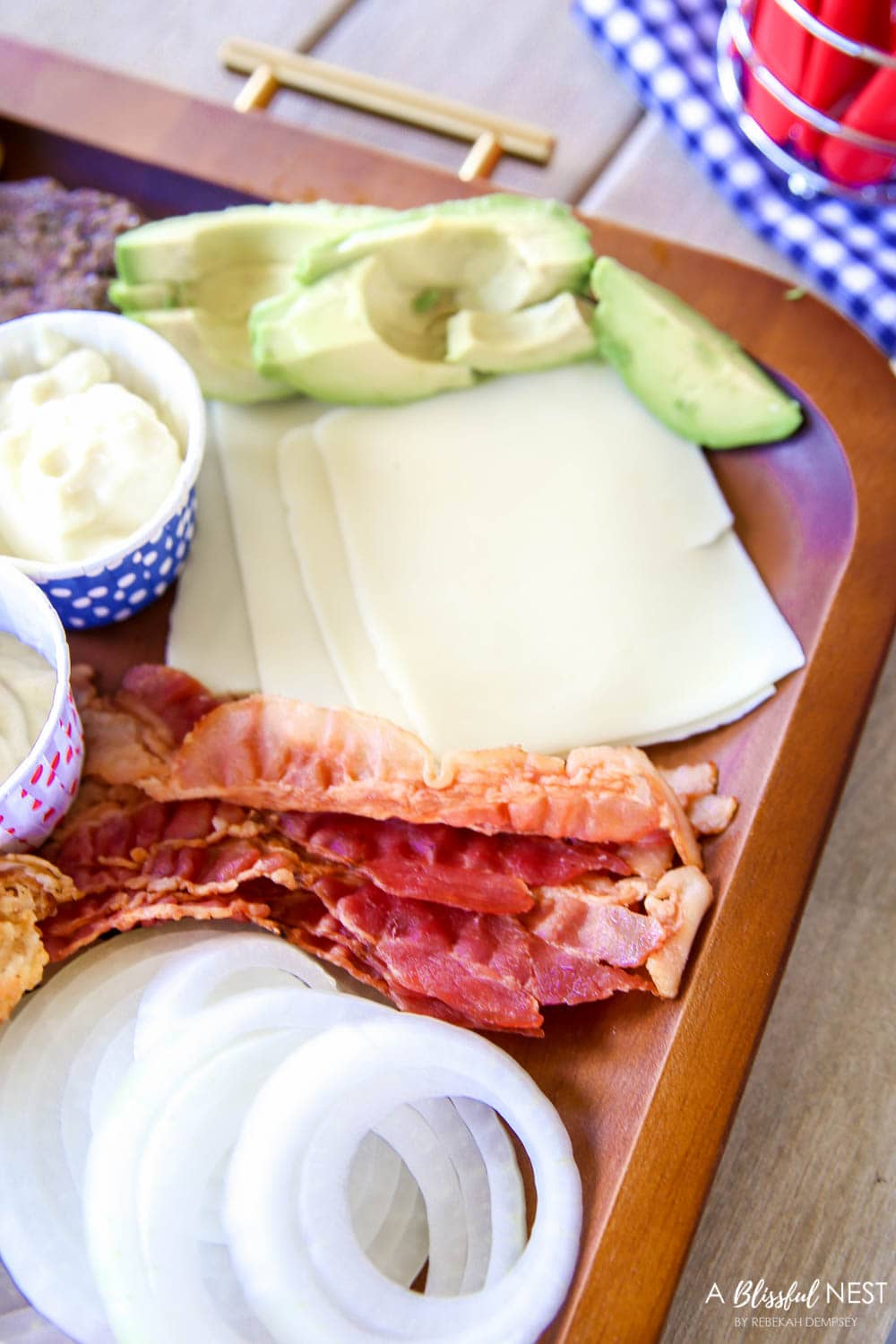 Step 3: Select toppings
Toppings really pull the board and the burger together, I added iceberg lettuce, beefeater tomatoes, dill pickles, thinly sliced red onion, bacon, AND fried onions, to give it a little more crunch! These items can be used as filler items on your board too!!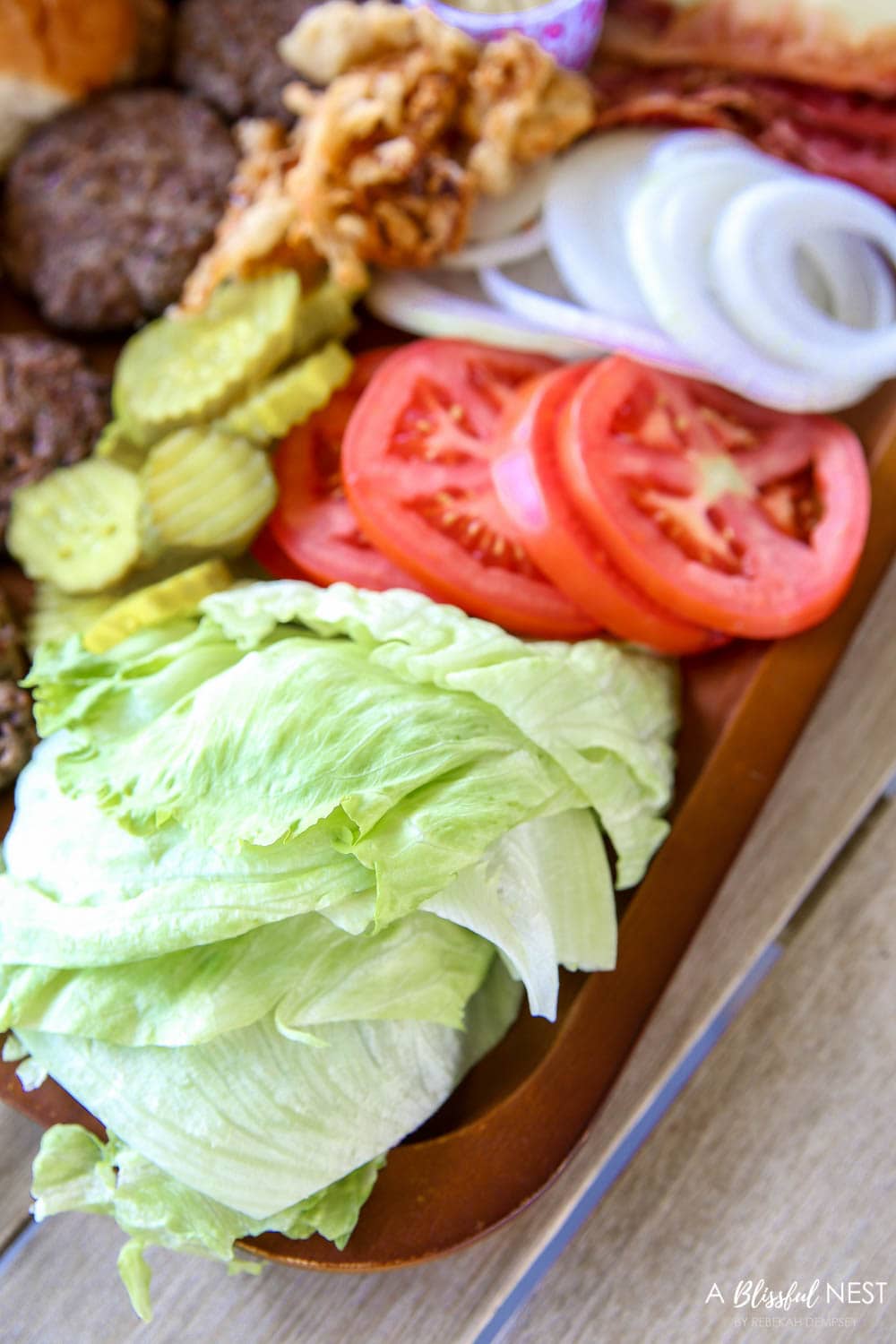 Step 4: Add condiments
I kept it pretty simple and only used mayo, ketchup, and mustard. But you could use Dijon mustard along with yellow mustard, spicy ketchup, and regular ketchup, and mayonnaise as well as a flavored mayonnaise to give your board a little variety. I added them to these cute little paper cups for a little extra flair.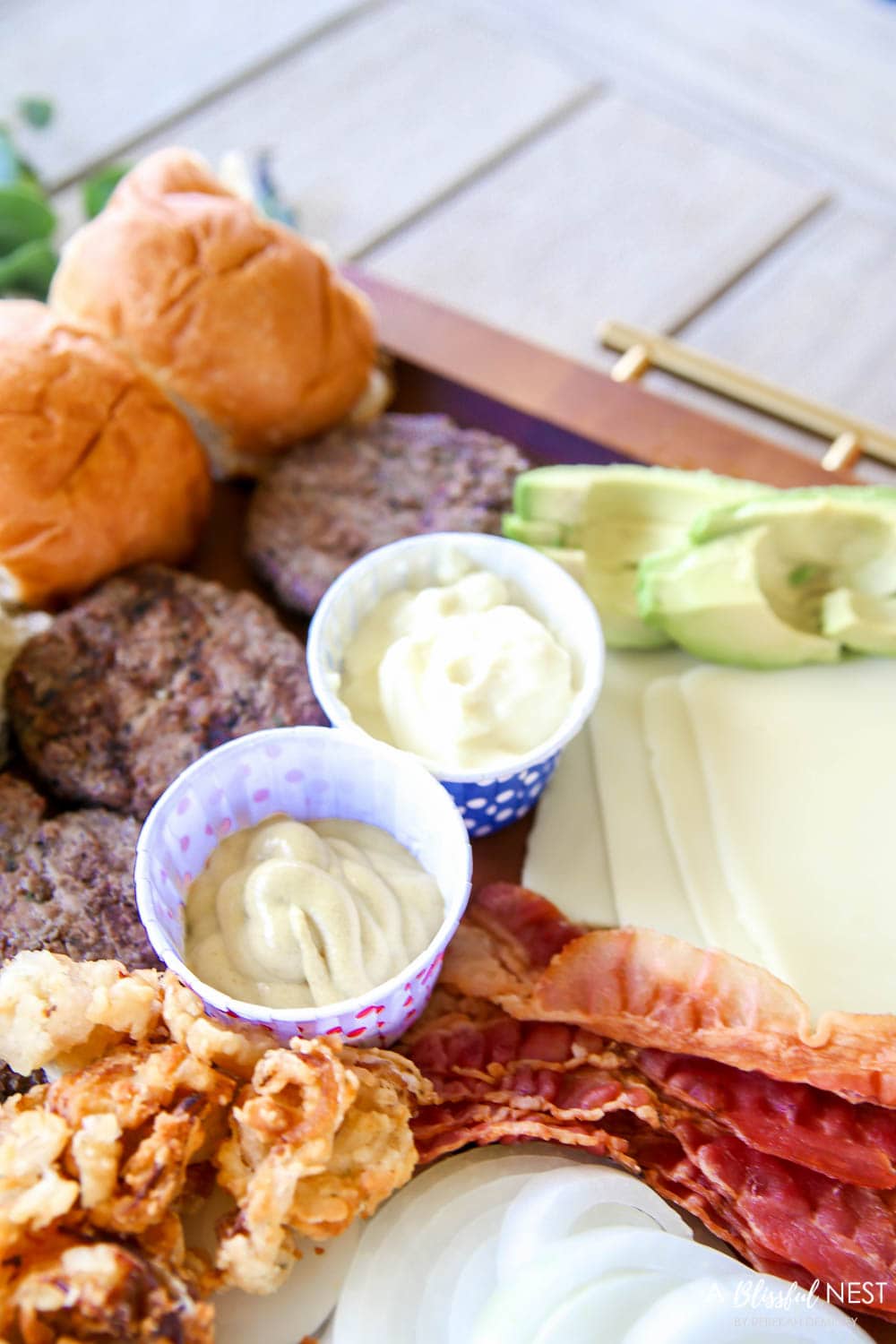 Step 5: Grill your burger patties
For your burger patties, I used 90/10 ground beef seasoned with salt and pepper. I made my patties, all about 1/4 pound each, then I put them in my freezer for about 20 mins. Putting them in the freezer will keep the burgers from cooking too quickly and ensure they are not too well done. Just a fun little cooking tip! I like to make my burgers last so they are nice and hot. Once they are cooked, I add to the board near the buns and that's it!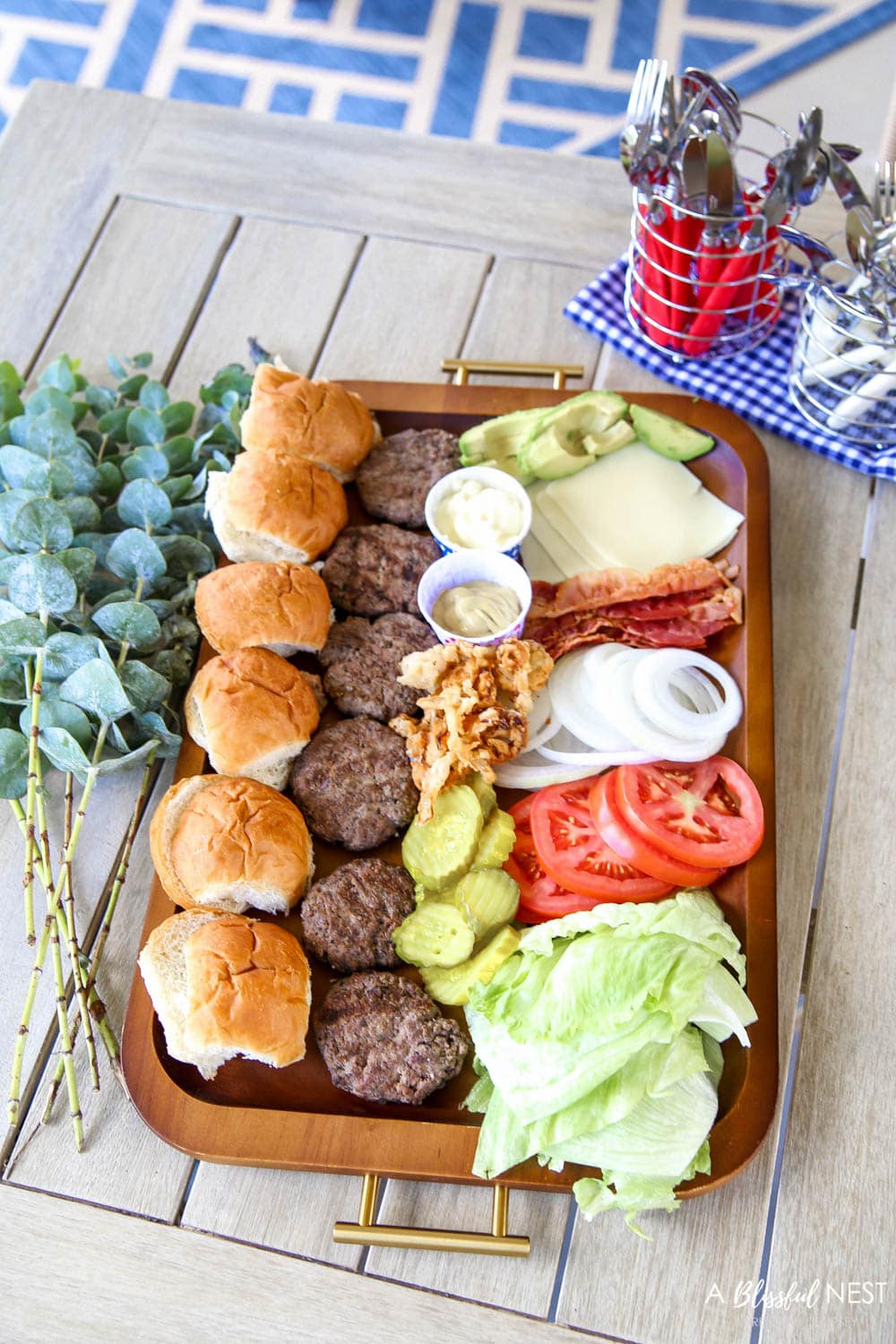 Other favorite ingredients for hamburger boards:
If you want to take your burger board to the next level here are a few other ingredients you could consider adding to your board. Jalapenos, a variety of delicious pickles instead of just dill pickles, Tobasco sauce, buffalo sauce, these few ingredients will add spicy bold flavors. Sauteed mushrooms, onions, and peppers are always a crowd-pleaser. Blue cheese crumbles are a great tangy cheese for burgers. So apart from the basic toppings and additions to burgers the options are genuinely boundless!
More Charcuterie Board Ideas + Inspiration
Get even more ideas on charcuterie boards with these other posts. Just click on their titles to go right to the posts.
Pin our image below to save this post for later!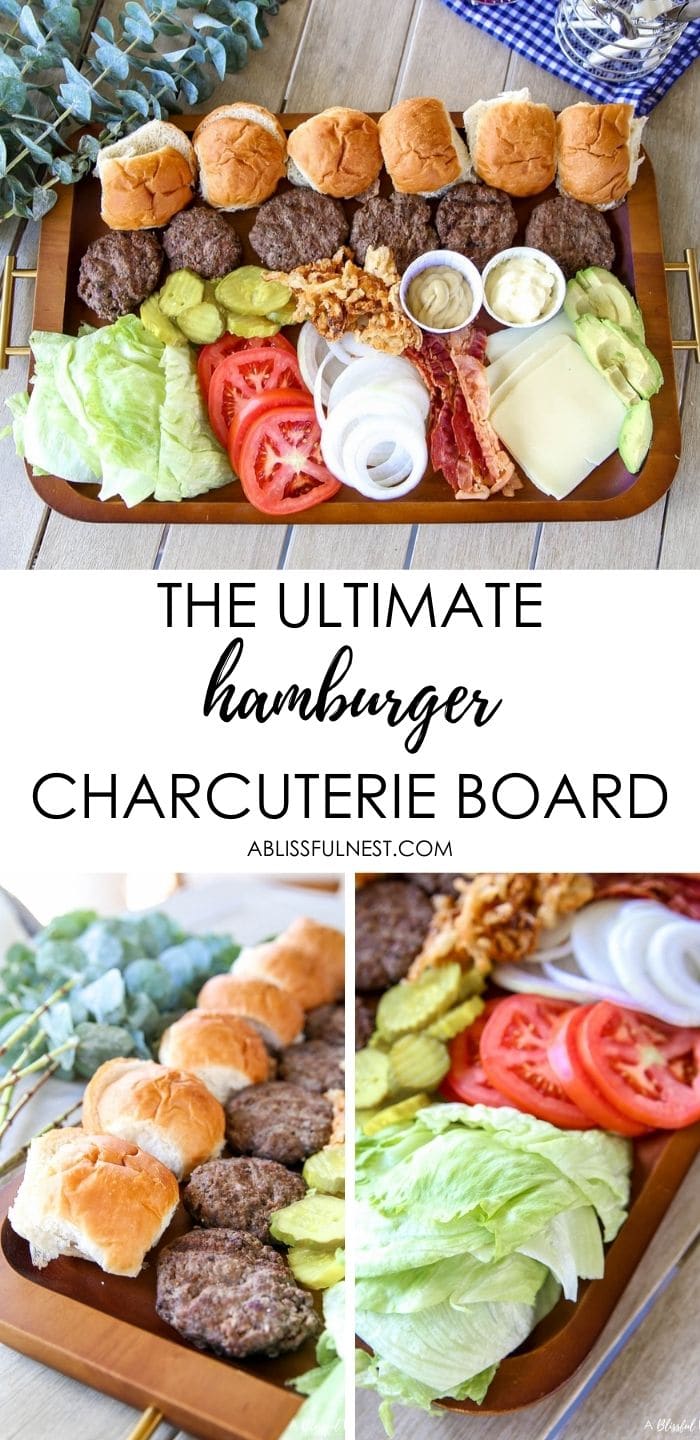 Follow along to get more of my tips on home decor, DIY, and lifestyle on the following: