Amazon Spring Home Decor Under $100
This post may contain affiliate links. Please read our disclosure policy.
Sharing Amazon spring decor to help you refresh your home for the season affordably with finds under $100. Great transition pieces to work from spring to summer for your home.
Have you begun to think about decorating for spring yet? I am so excited that it's just around the corner!
I've been starting to add in new pieces here and there and have been doing lots of browsing for what I want to add to my home for the new season. I found a TON of really beautiful new home decor finds on Amazon and they are all under $100!
Just scroll down to shop all of the new Amazon home decor finds I've been eyeing!
This post contains some affiliate links for your convenience. Click here to read my full disclosure policy.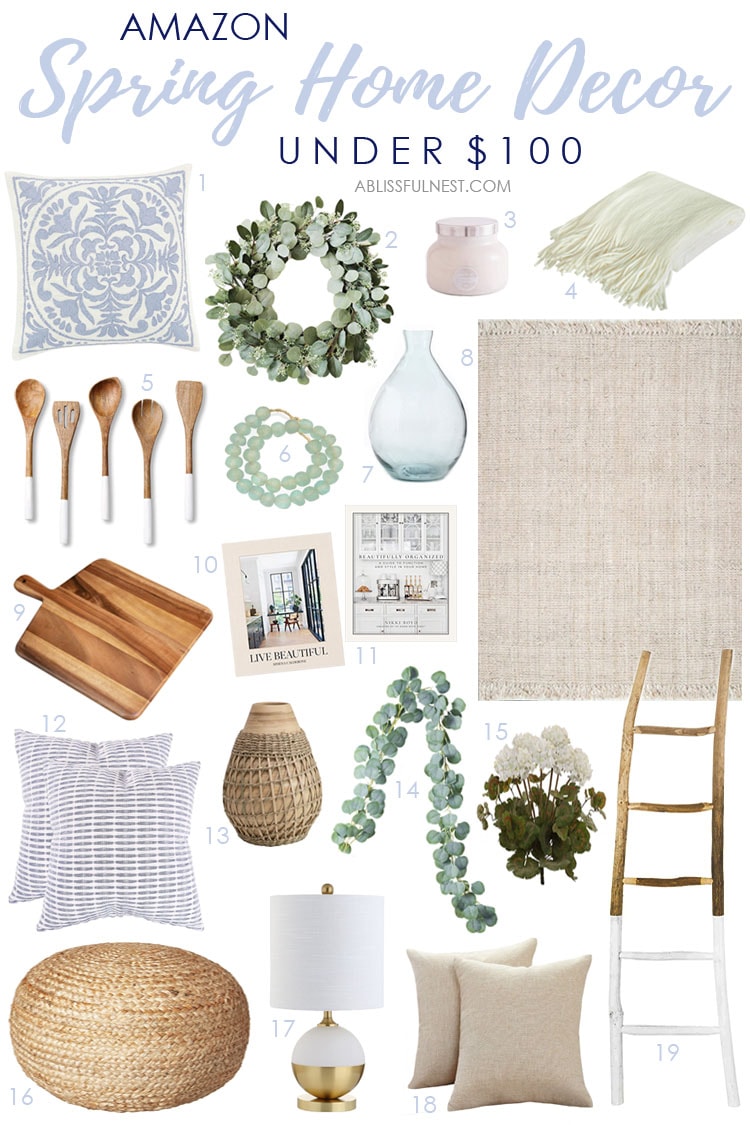 1 | 2 | 3 | 4 | 5 | 6 | 7 | 8 | 9 | 10 | 11 | 12 | 13 | 14 | 15 | 16 | 17 | 18 | 19
Amazon Spring Home Decor Under $100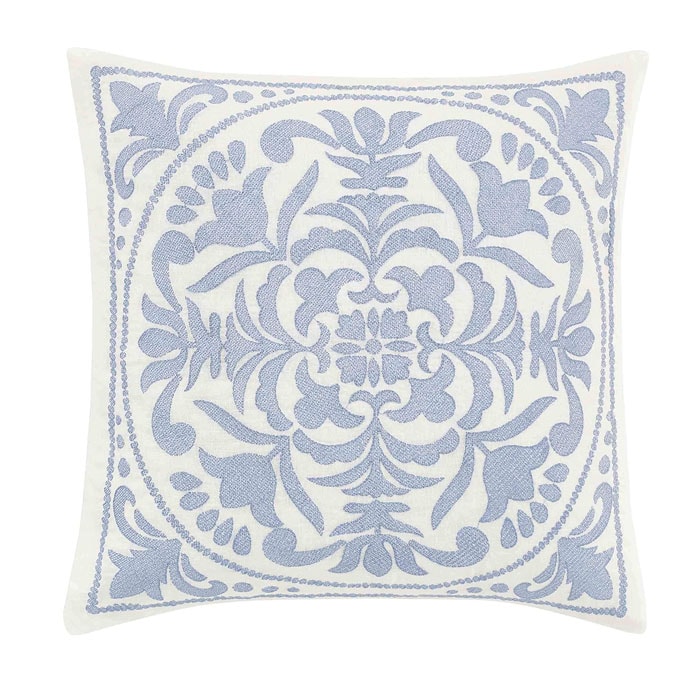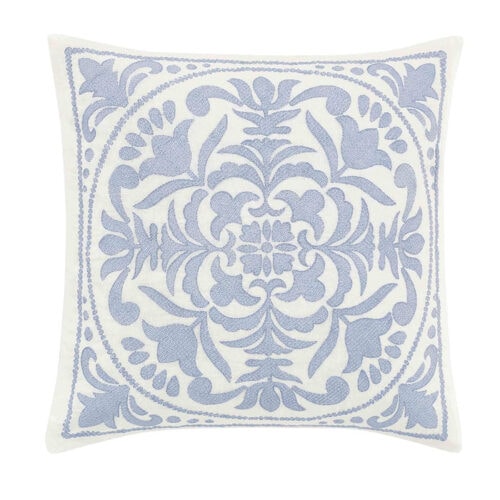 1. Blue Floral Throw Pillow: I love this throw pillow! It caught my eye the second I saw it. It's such a stunning color and I LOVE the pattern.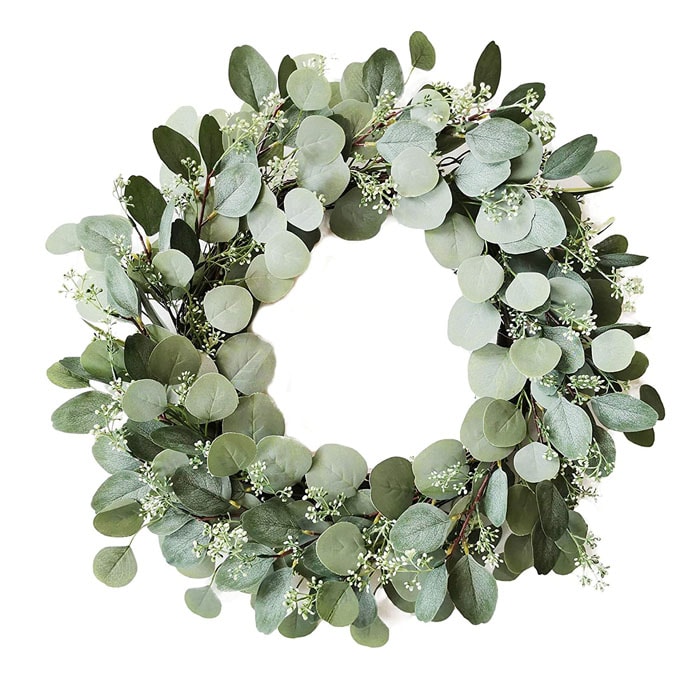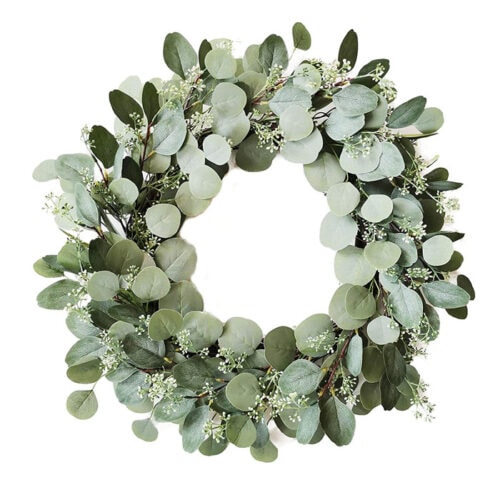 2. Artificial Eucalyptus Wreath: I'm always looking for artificial wreaths that look realistic, or in the very least look well-made. This one looks so pretty and it's a perfect pop of color that's still neutral enough to add to any home.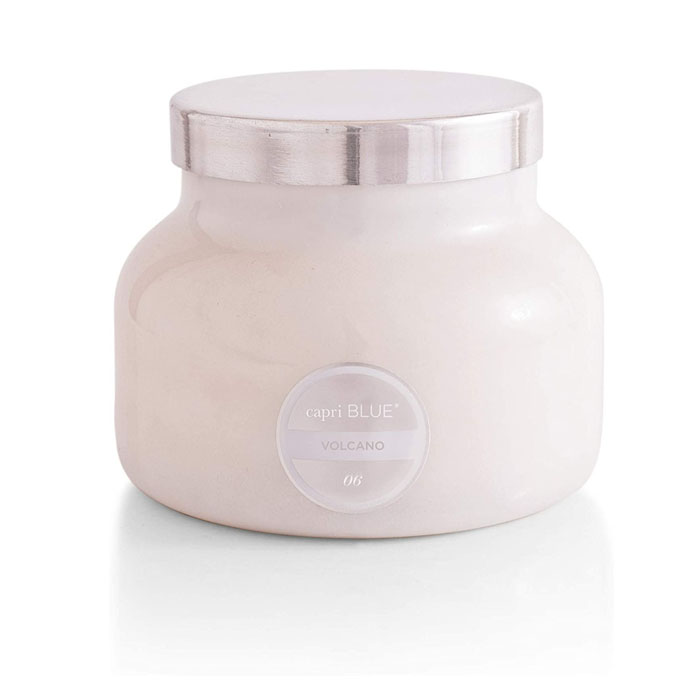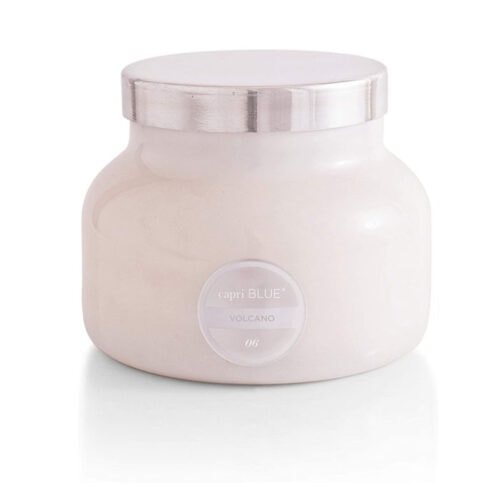 3. Capri Blue Candle: this is one of THE best scented candles ever. EVER! It's beautiful year round and great for your living room, kitchen, anywhere in your home.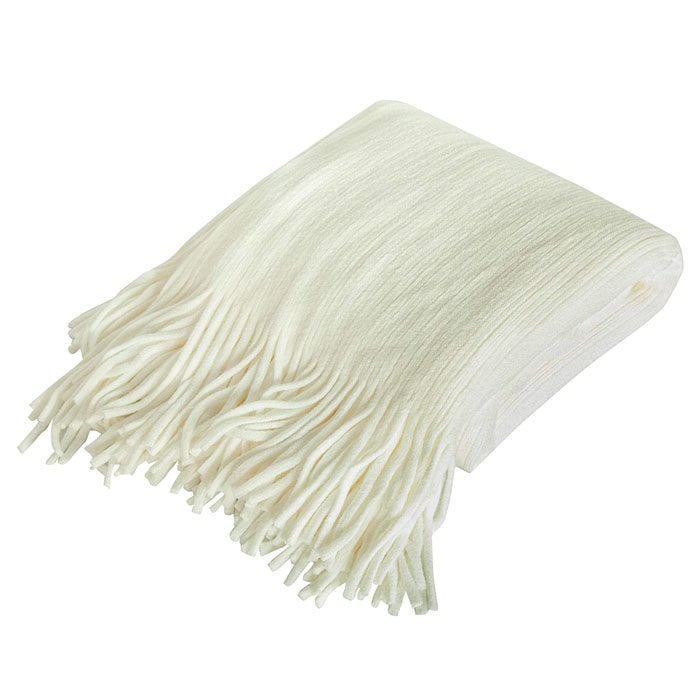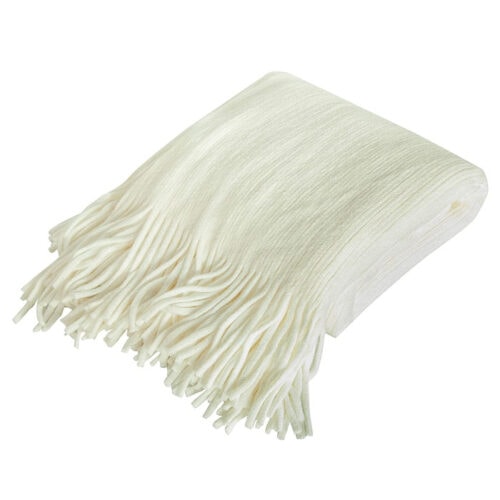 4. White Knitted Throw Blanket: as we get closer to spring, I love to switch out decor even down to the throw blankets I have in my living room. This white knitted throw is a lighter weight so it's perfect for the warmer seasons but still is cozy! It comes in a ton of colors and is under $20.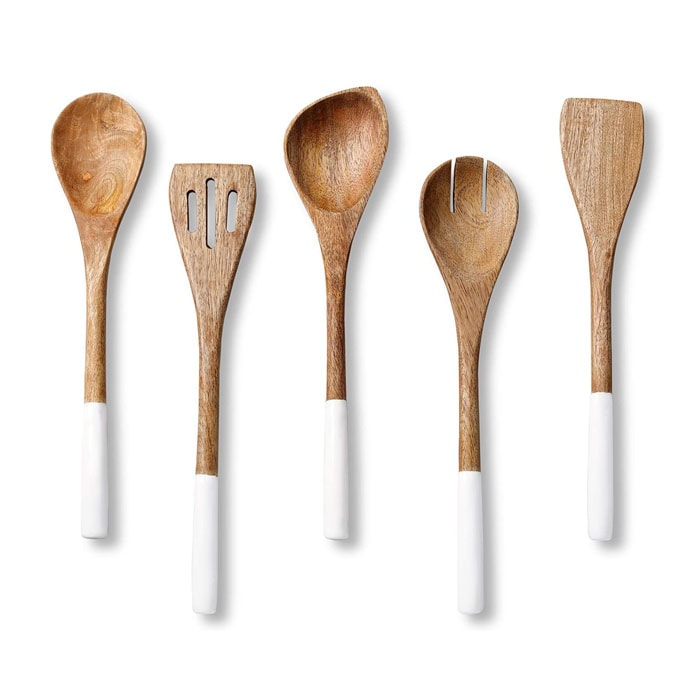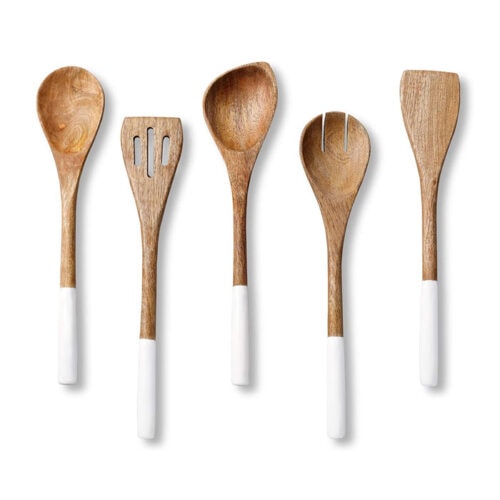 5. Wood & White Dipped Kitchen Utensil Set: I have been eyeing this set and think I need to add them to my kitchen! This set of 5 utensils is under $30 and I just love the look of them.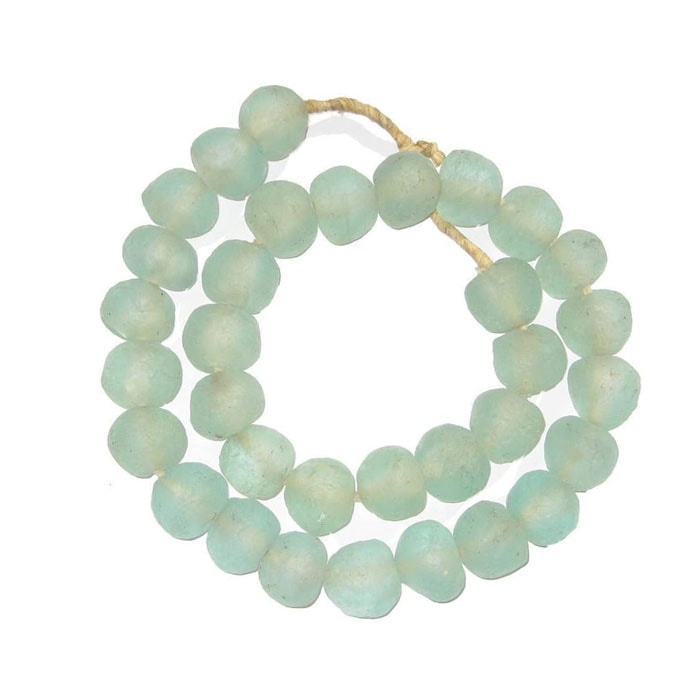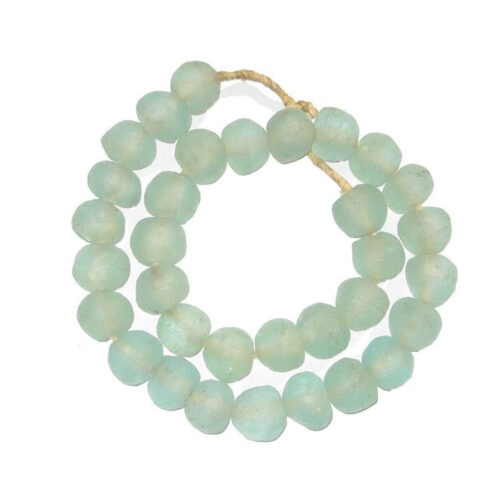 6. Clear Aqua Recycled Glass Beads: wait until you see how many colors these glass beads come in! There are SO many pretty ones. They'll look beautiful draped over a stack of books on your coffee table, in a decorative bowl, etc. Love them!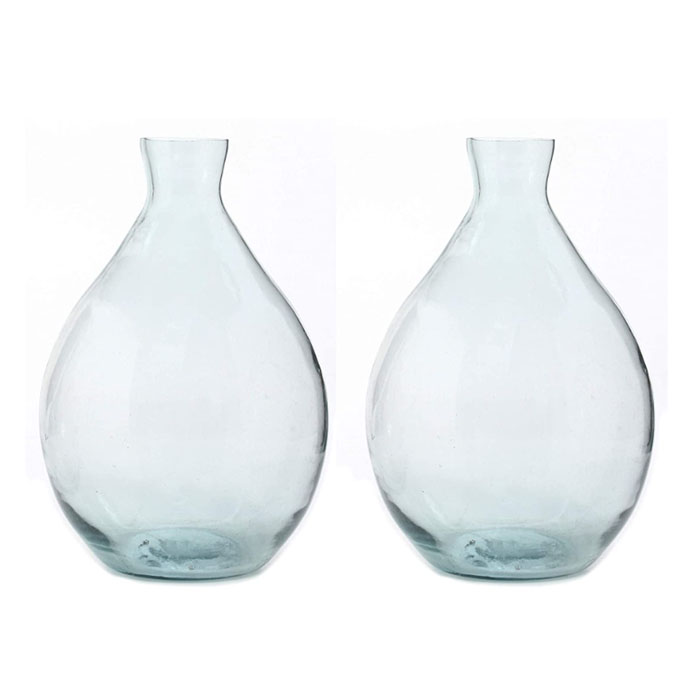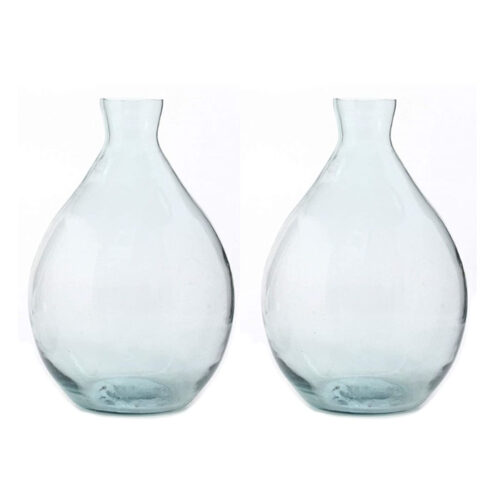 7. Blue Clear Glass Vase: these are SO pretty! They come in a set of two and are a beautiful addition to your spring decor.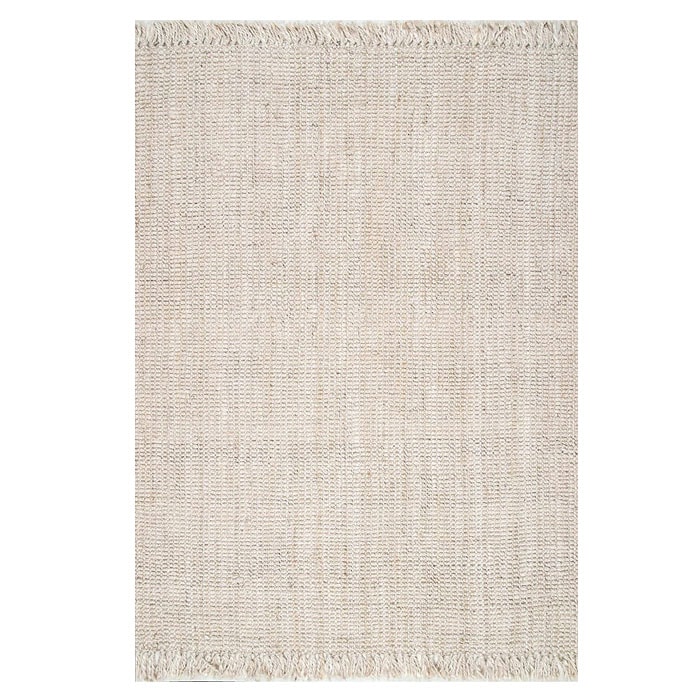 8. Hand Woven Chunky Natural Jute Area Rug: I love this area rug and especially for the spring and summer time! It's such a fun piece and it comes in a few colors.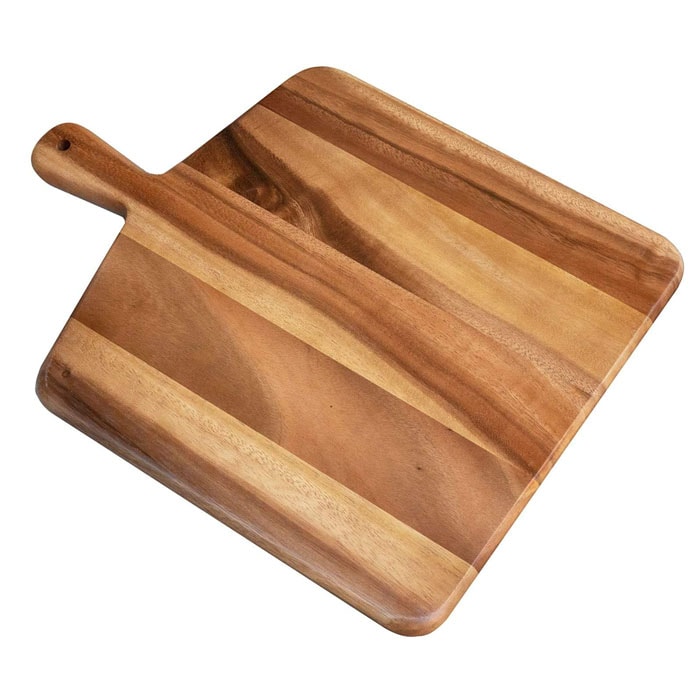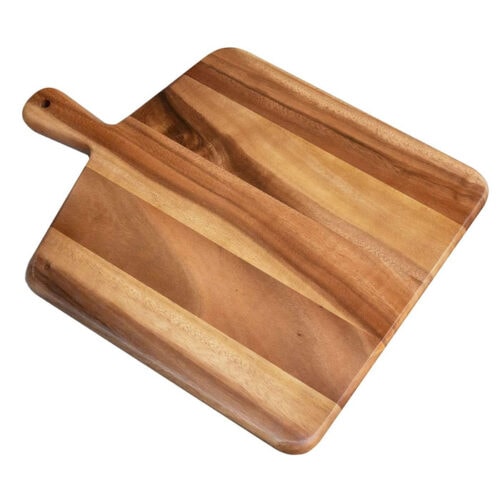 9. Acacia Serving Board: I love stacking these serving and cutting boards and this is a gorgeous one! They can be pretty pricey and this one is under $40.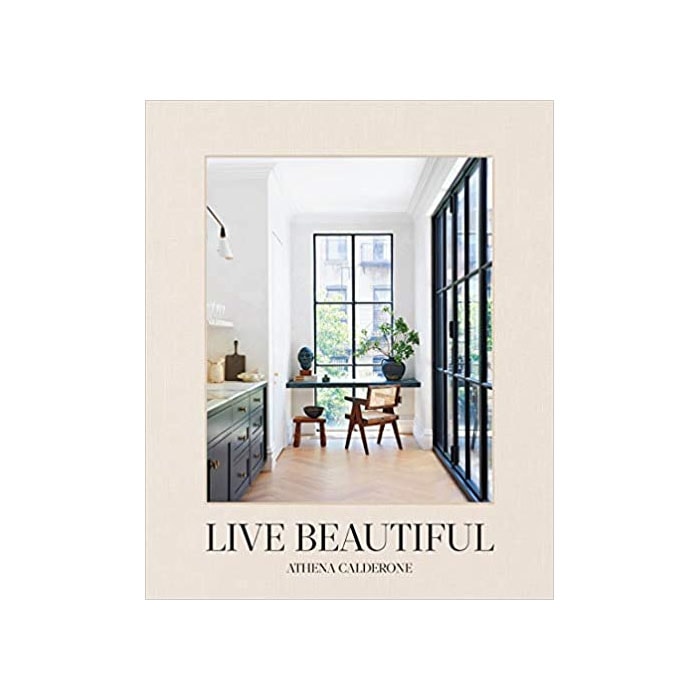 10. Live Beautiful Coffee Table Book: I love adding to my coffee table book collection! LOL. This is a really beautiful book inside and out and if you love looking at interiors as much as I do, you will love this one!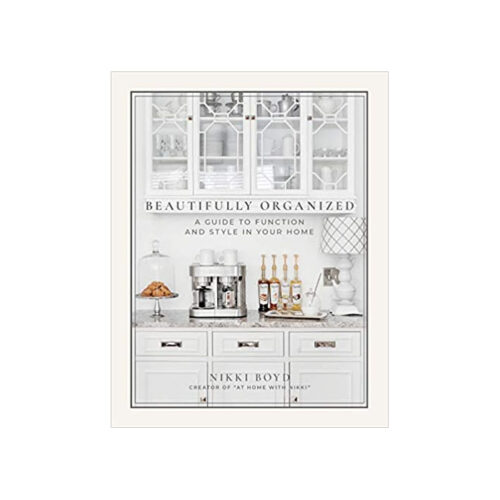 11. Beautifully Organized Coffee Table Book: here's another really beautiful coffee table book! It's on sale for under $20 and aside from just looking beautiful, it's really useful in helping to decorate your home!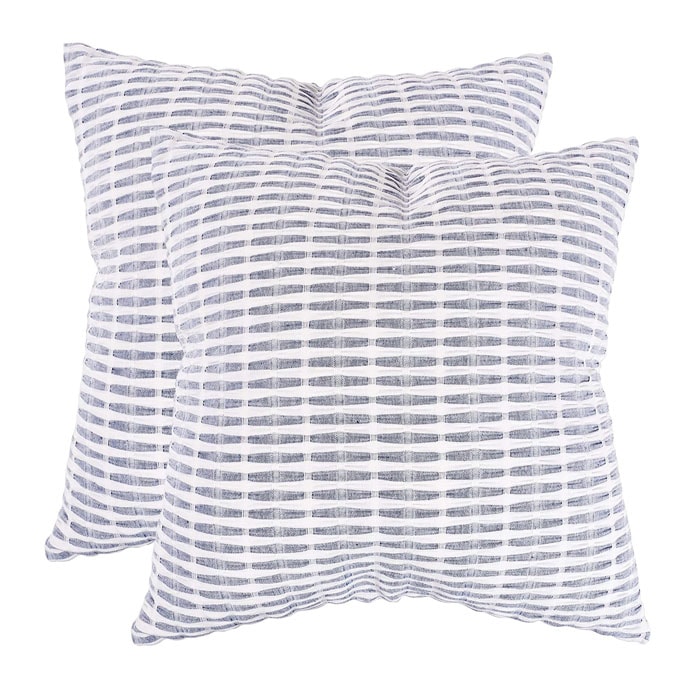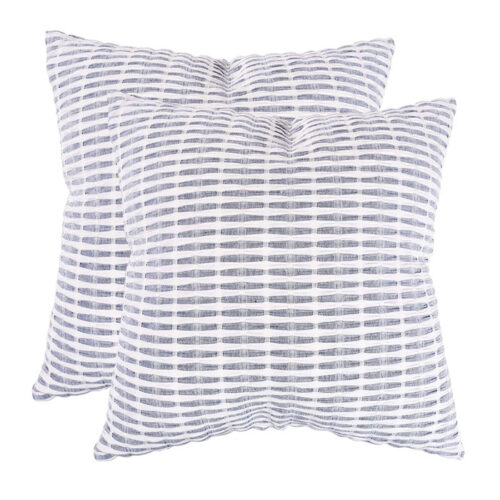 12. Navy Pleated Throw Pillow Covers: this set of two pillow covers comes in a bunch of colors and three different sizes. I love them for spring and they are under $20 for the set!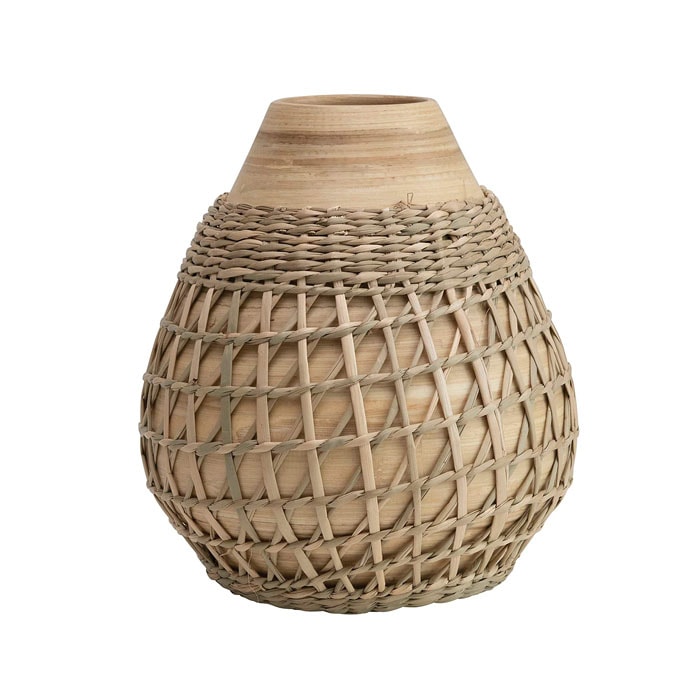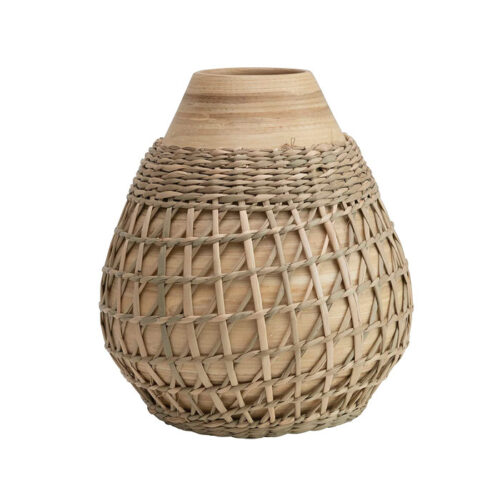 13. Bamboo & Seagrass Woven Vase: how fun is this vase?! It is SO different and beautiful. I love the shape and love all of the possibilities for it – fill it with flowers or just display it on a shelf. You can't go wrong!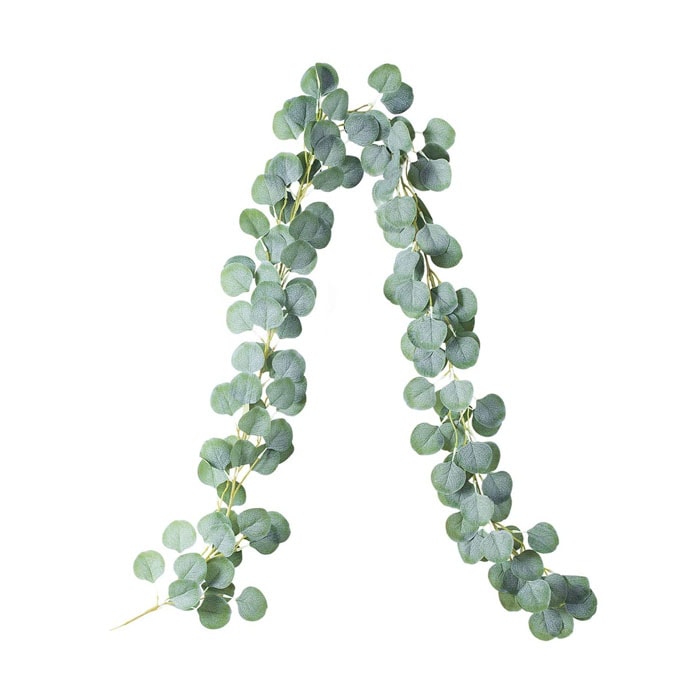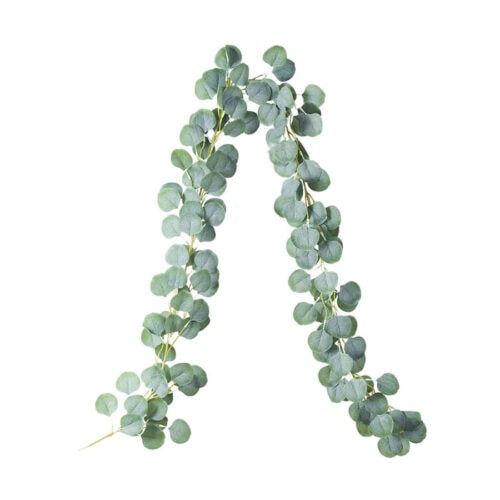 14. Artificial Eucalyptus Garland: you can probably tell if you have been around for a while that I love eucalyptus… This faux eucalyptus garland is SO pretty and guess what? It's under $10! It has over 2,000 5-star reviews and I could think of so many really pretty uses for displaying a few of these in your home – part of a tablescape, on your mantle, living room table – it's a great piece to have!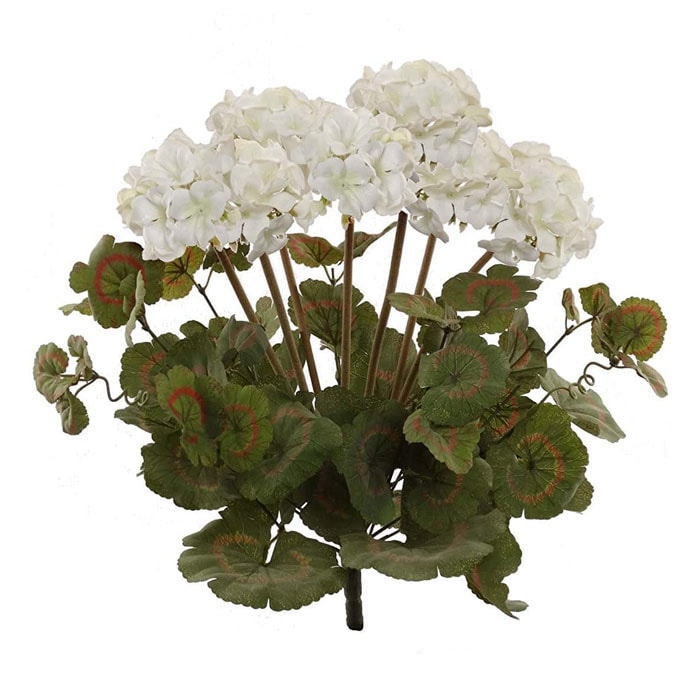 15. White Artificial Geranium Stems: I love a good faux floral look, and these white geranium stems are sooo beautiful. They'd be pretty in a vase on their own or with some other matching stems! Perfect for spring.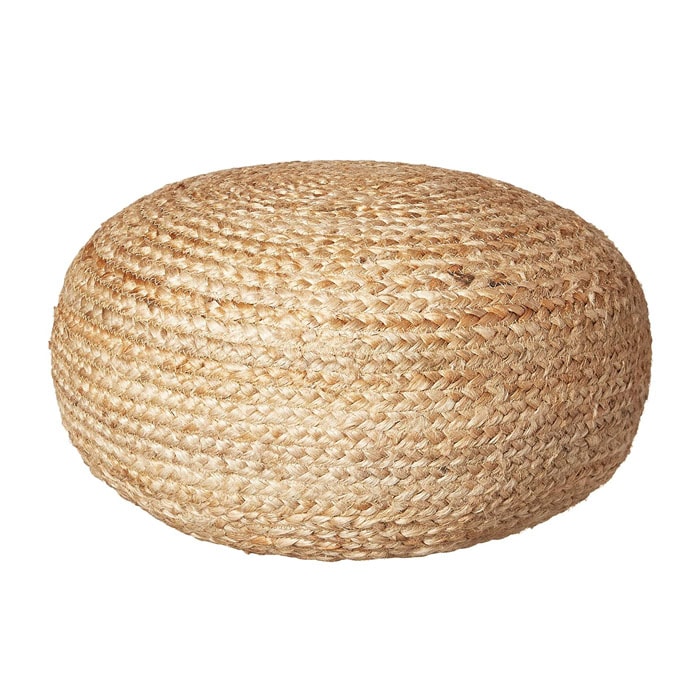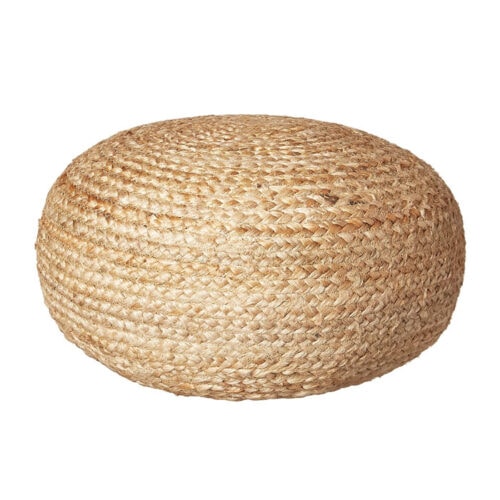 16. Natural Jute Pouf: adding a simple and neutral pouf like this to your decor is a really easy way to add texture and coziness into your space – it adds seating or could even be used as an accent table. It's normally $79 but it's on sale right now!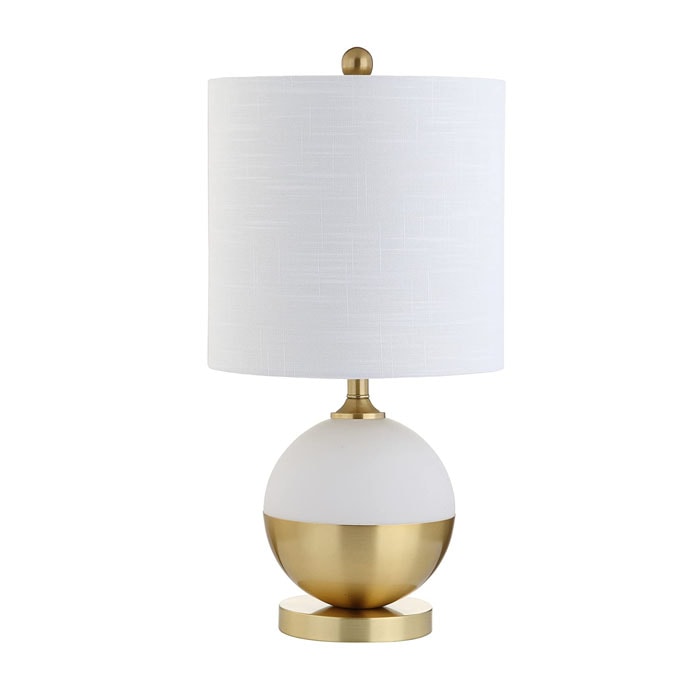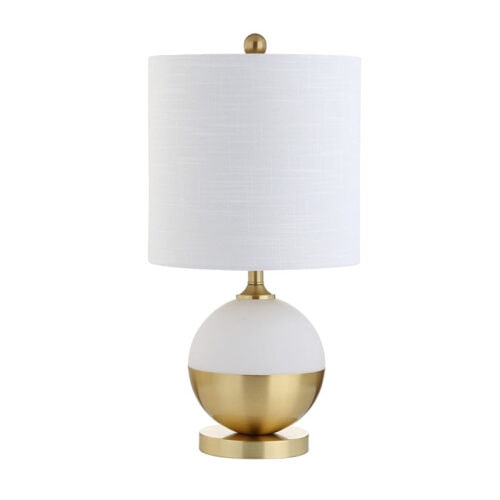 17. White & Gold Table Lamp: isn't this lamp so pretty? I love that it's really simple with just a hint of glam in the dipped gold look. It looks like it was super expensive yet somehow it's under $50!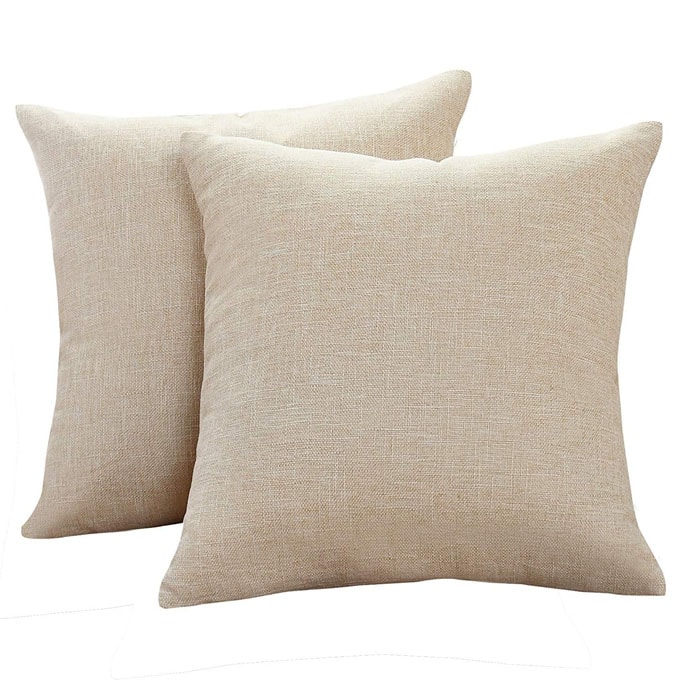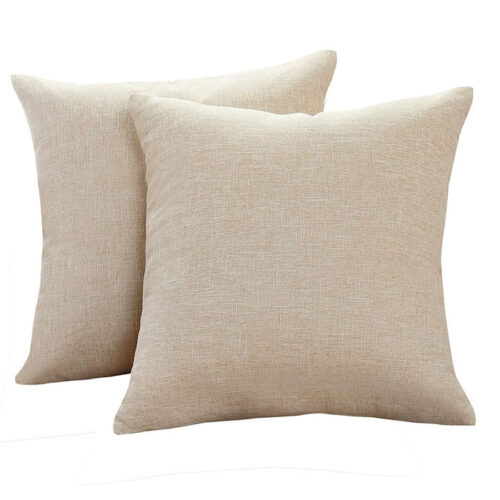 18. Beige Linen Throw Pillow Covers: these are super simple and neutral and perfect to add to an already busy pillow palette! They come in a bunch of color options too.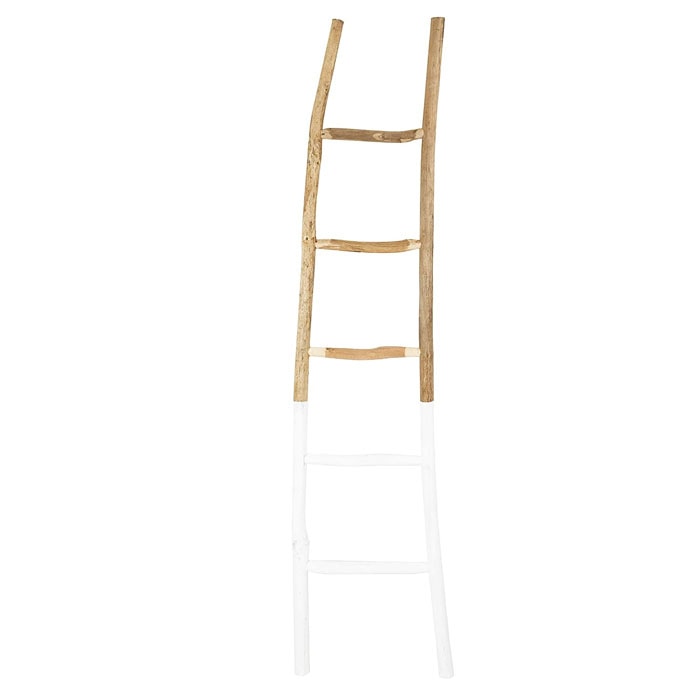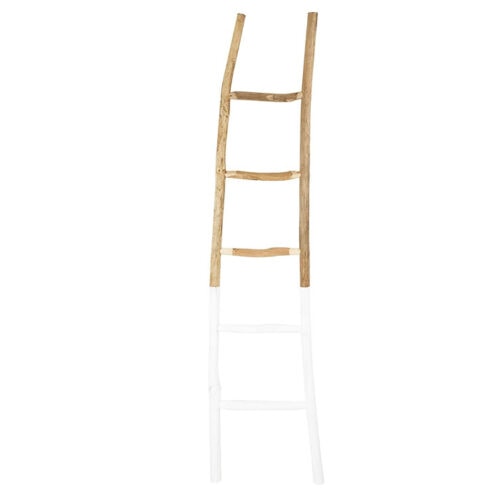 19. Wood & White Dipped Decorative Ladder: this decorative ladder has so many possibilities for your home and I love the idea of using it to display AND store throw blankets. The dipped white look gives it such a fun, more modern twist.
We hope these spring decor finds get you excited for warmer and brighter days ahead, and help you to spruce up your home for the upcoming season!
Follow along to get more of my tips on home decor, DIY, and lifestyle on the following: