This is a sponsored post by Maison Blanche.
This bookcase is just one of those pieces that is a chameleon in our home. It is ALWAYS changing. The back story on it is that back in college I needed a bookcase in my tiny little room and my husband (my boyfriend at the time) offered to make me one with his grandfather who was a master at woodmaking. It was gorgeous and I loved it. But when they made it they never finished it. Skip a few years later (and into married life), I was really into that Pottery Barn espresso look. Do you remember when everything was that color? It's kind of like how everything is white now. Well, I had my refinisher at that time take it and stain it this rich gorgeous brown color. Now skip to present time, and it feels dark, drab and boring. I use it to house our curated items from our travels and in that dark color they just die away on the shelfs. That's when my favorite chalk furniture paint steps in from Maison Blanche!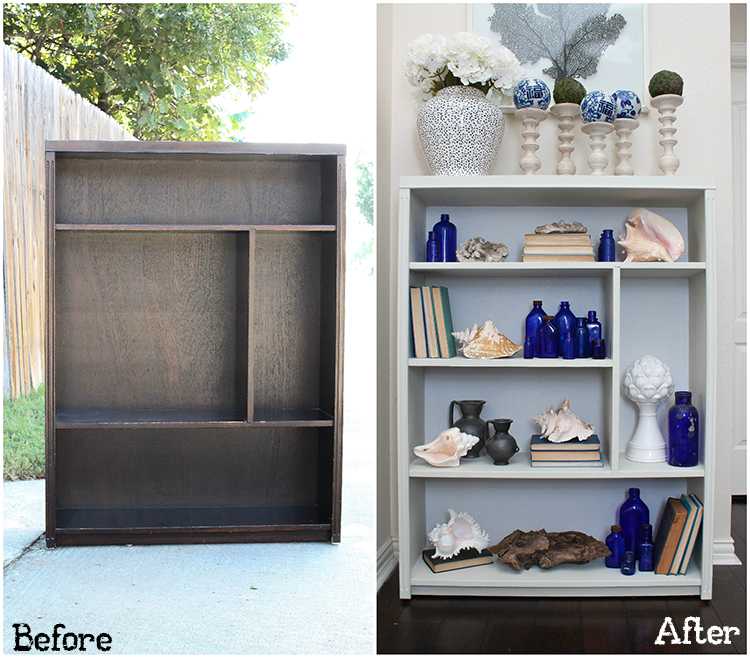 That's a big change isn't it?! Okay so time for the details on how I made the big transformation.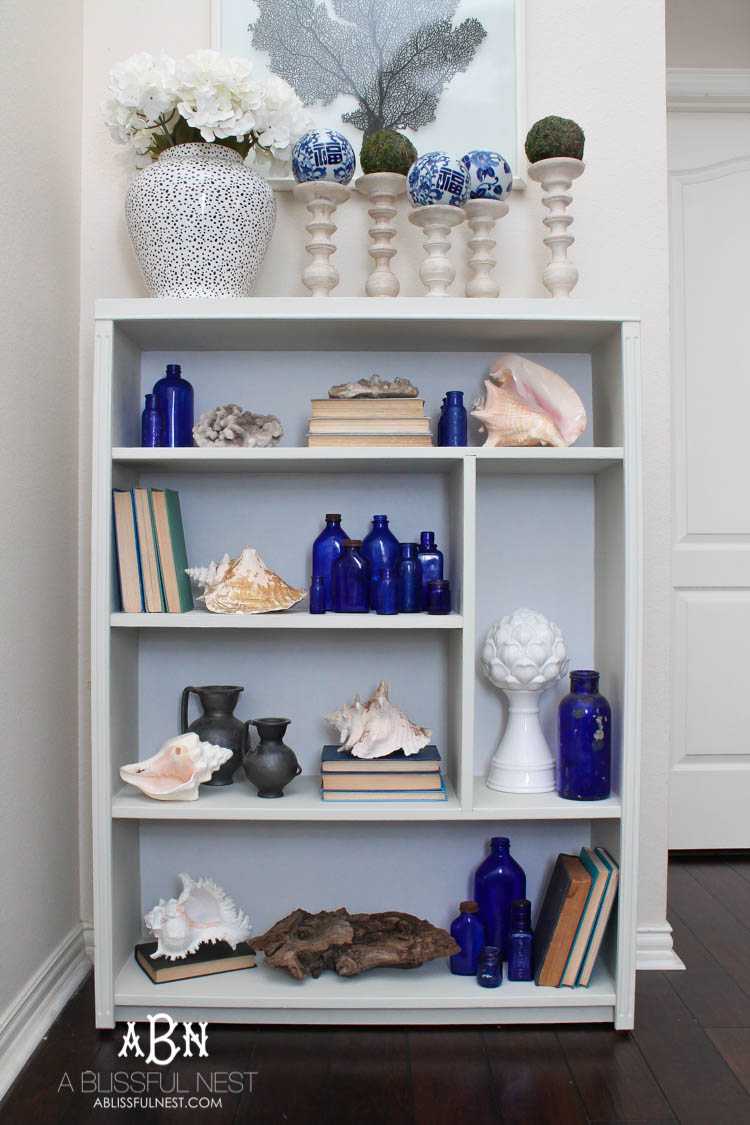 THIS POST CONTAINS SOME AFFILIATE LINKS
How to Update a Boring Bookcase:
Materials: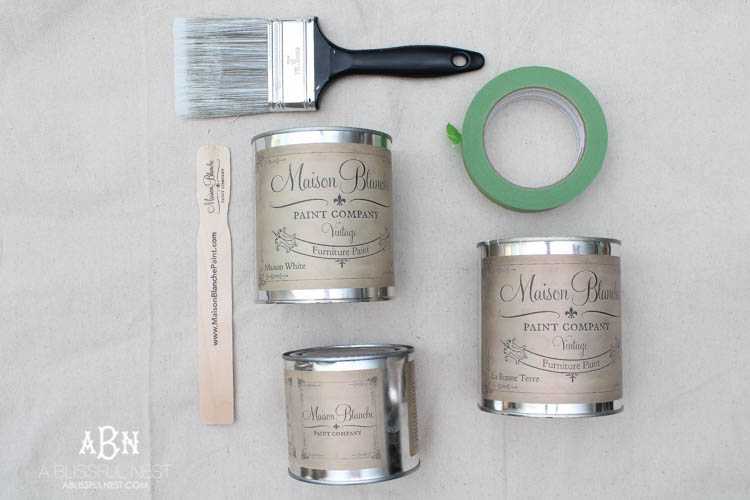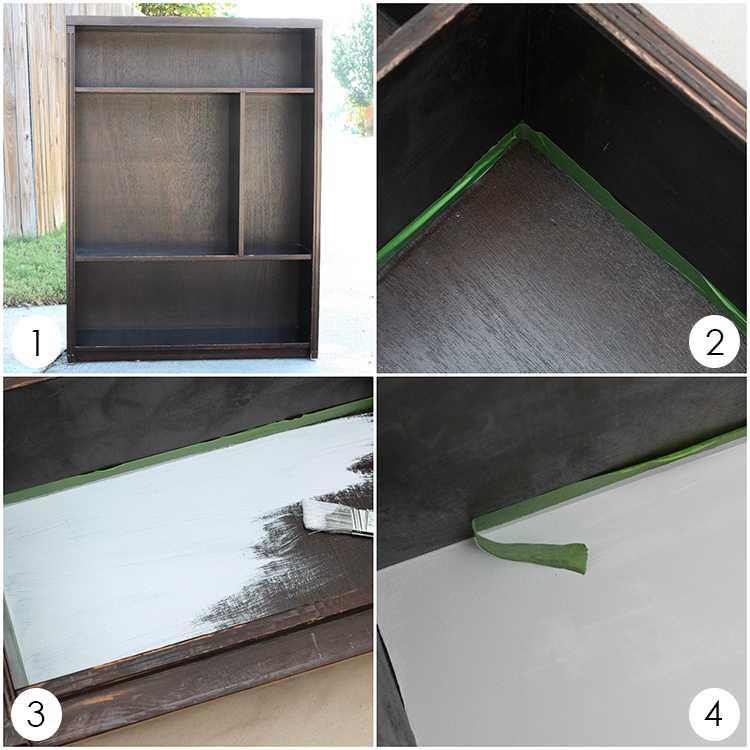 Directions:
Step 1: Lightly sand your bookcase. I love this sander and use this grit sandpaper for it. It is such a light sander and so easy to use. Sand in the direction of the grain and in wide circular motions.
Step 2: Using the Frogtape, tape off the inside edges of the back of the bookcase.
Step 3: Using the Maison White color from the vintage furniture paint collection from Maison Blanche, paint the inside back of the bookcase. Let dry for 20-30 minutes. Apply additional coats as needed. I applied 3 coats.
Step 4: Using the La Bonne Terre color from Maison Blanche, paint the rest of the bookcase. Let dry for 20-30 minutes before applying additional coats. I applied 3 coats.
Step 5: Use the dry rag and apply the clear coat wax. Dab the rag in the can and rub into the bookcase in long broad strokes. Make sure no excess wax build up in the corners.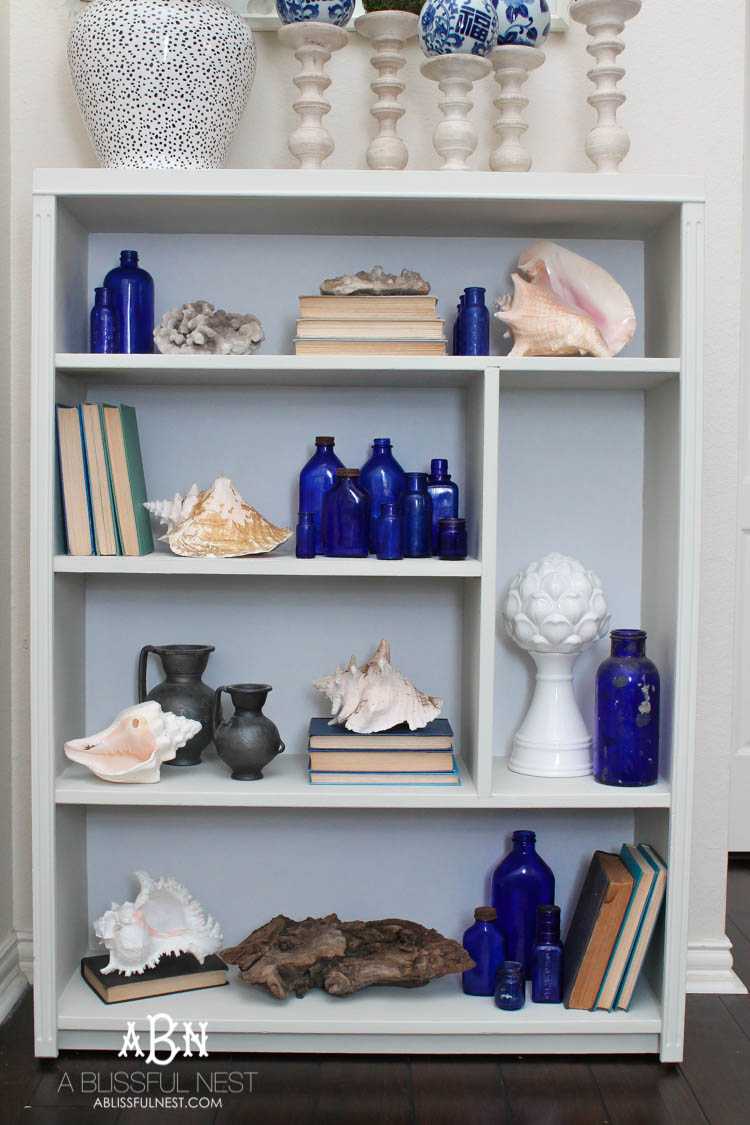 I really love how smooth and creamy this paint goes right on. It is so pretty!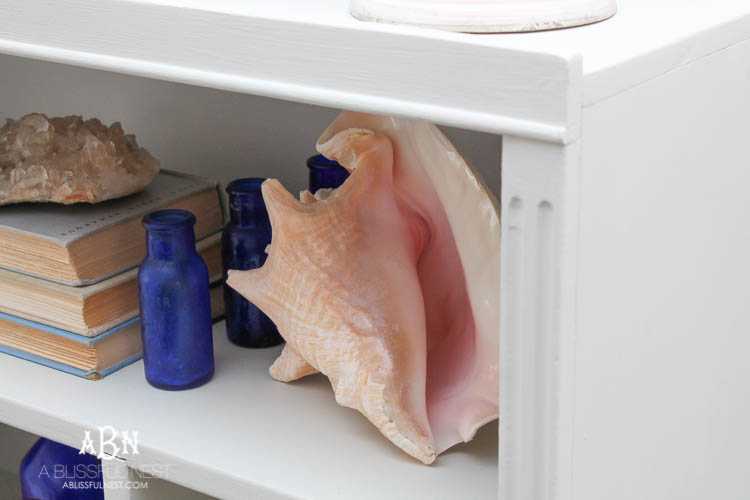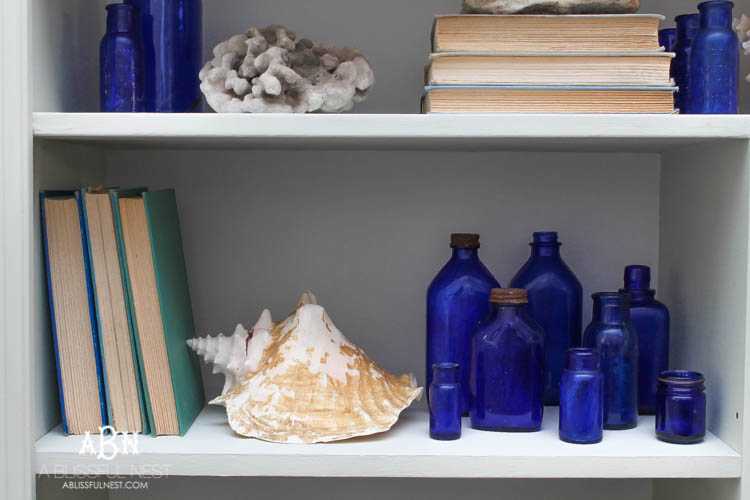 And now my blue cobalt bottles shine on the shelves.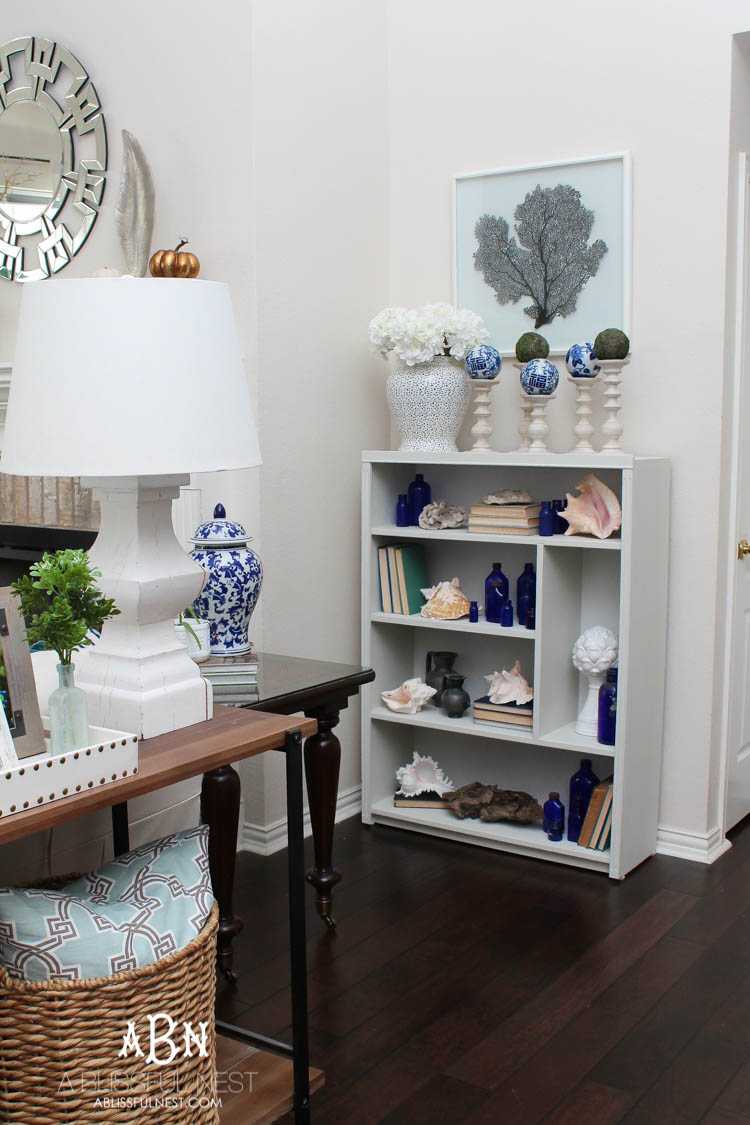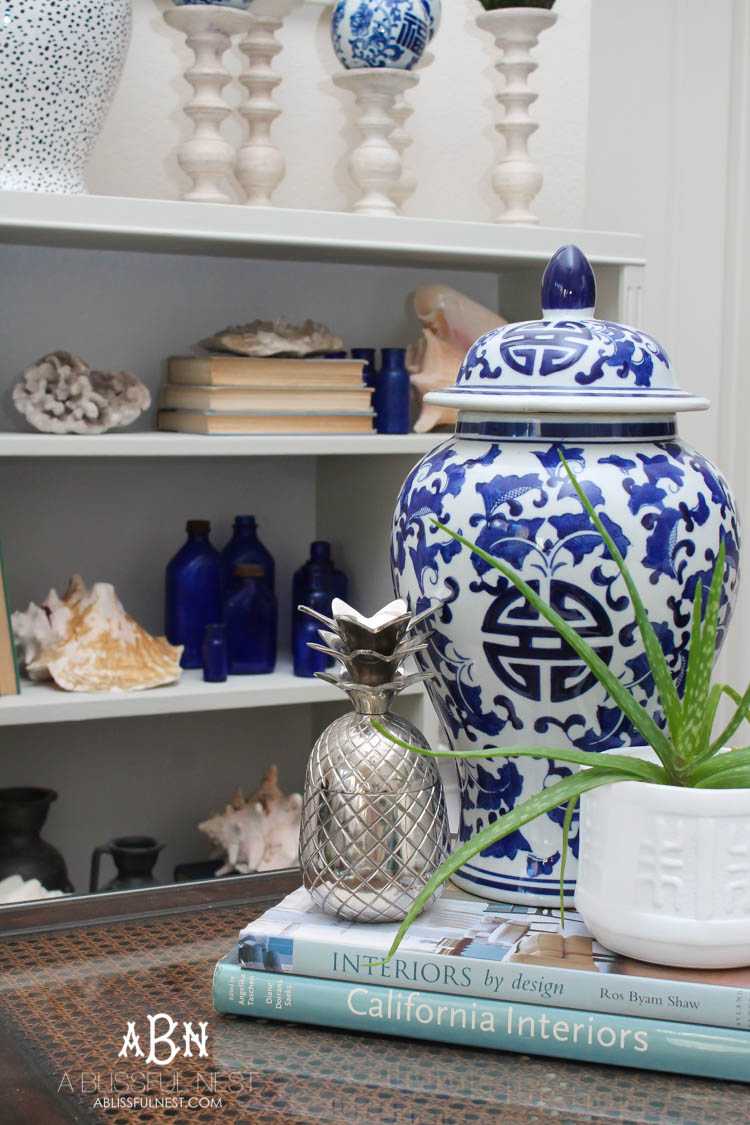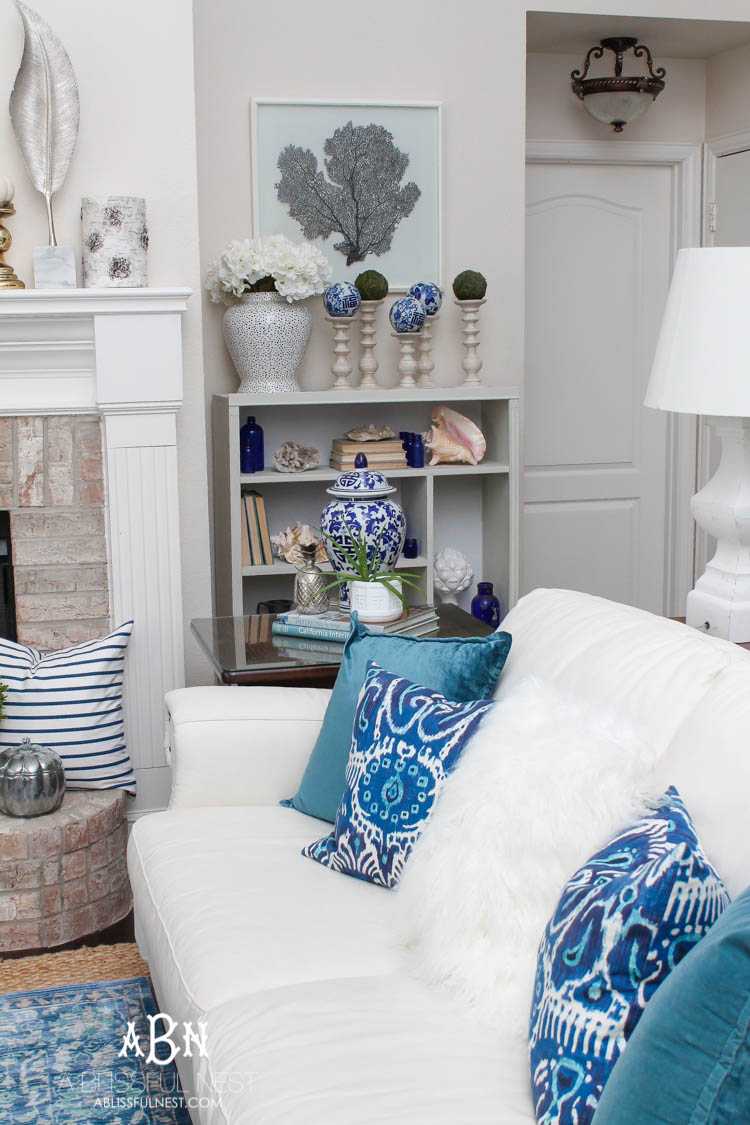 It is definitely not a eye sore in that corner over there! I hope you enjoyed this bookcase makeover and got some ideas to transform a piece you have that you can't throw away.
Check out the other amazing projects from this month's paint makeovers from Maison Blanche. They are amazing!
Refresh Restyle | Hymns & Verses | The Golden Sycamore | The Woodgrain Cottage | Liz Marie Blog | Southern Hospitality
Need to bookmark this post for later?
Pin Our Image:

THIS IS A SPONSORED POST. A BLISSFUL NEST HAS RECEIVED PAYMENT, TRADE, AND/OR PRODUCTS FROM MAISON BLANCHE IN EXCHANGE FOR PROMOTING. HOWEVER, ALL OPINIONS STATED ARE OUR OWN.