Casual Summer Dresses to Snag
This post may contain affiliate links. Please read our disclosure policy.
Sharing a collection of women's casual summer dresses for the season from short to maxi length and in popular patterns and colors. Affordable price range and online ordering make it easy to shop for these staples for the summer.
As I've been planning the decor changes to my home for summer, this is the time I tend to purge my closet as well. I pull many of the pieces from last summer out that I know I won't wear and make a donation pile.
You know how it is when you purge and then realize you have nothing to wear afterward. Ugh! So with Memorial Day sales and summer trends hitting the market, I love to look for some cute summer dresses I can add to my closet.
So I thought I would share my finds with you and the ones I am picking from. Many are affordable options and you can snag them by shopping online rather than going to a store. I am still not venturing into stores so primarily shopping online has become my norm.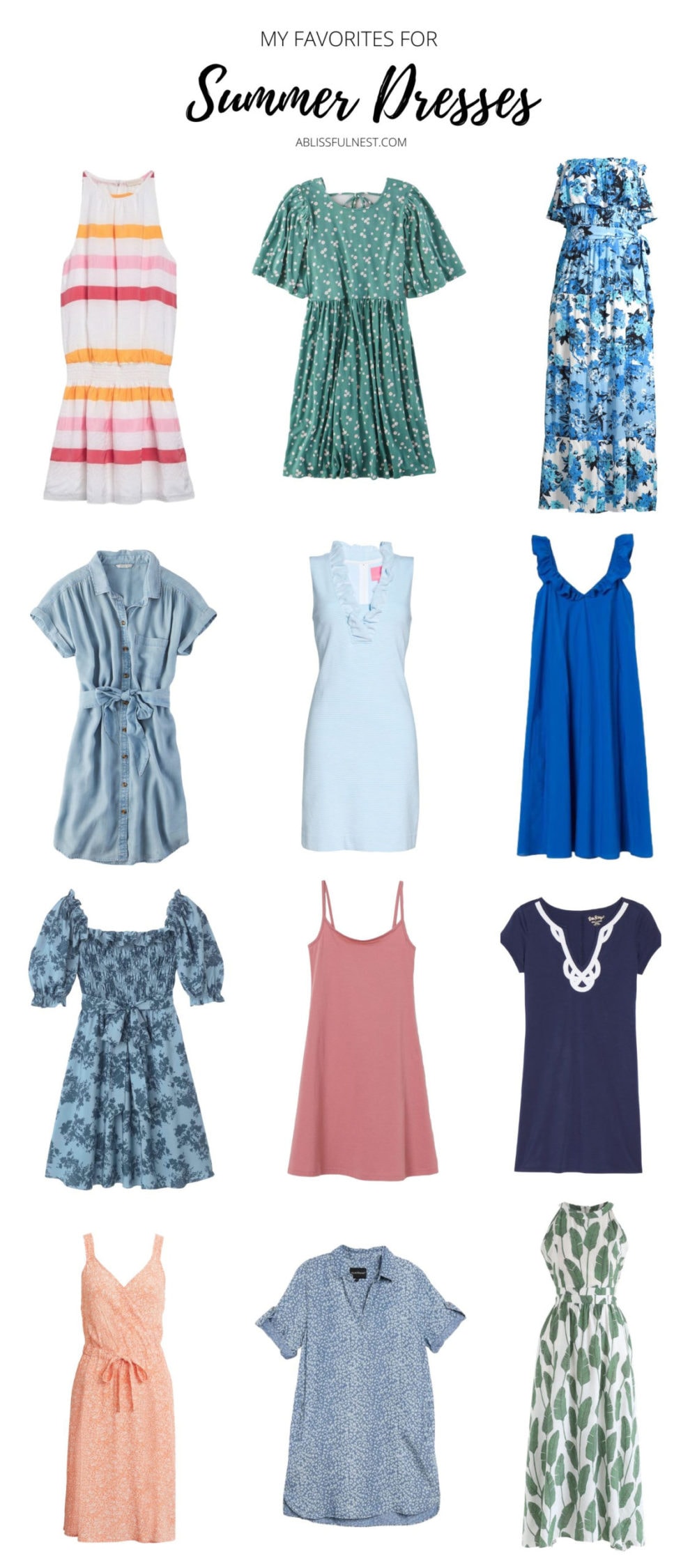 ALL SOURCES FOR THESE SUMMER DRESSES CAN BE FOUND BELOW
This post contains some affiliate links for your convenience. Click here to read my full disclosure policy.
Color + Shades + Patterns I Look For In:
As you can see I still love my blues and denim. They are staple colors I have in my closet year-round. I do tend to love the lighter shades though for spring and summer.
I also love to mix in some shades of pink and green too during the summer. They feel bright and fresh and I love the infused pop of color.
Stripes will always be my go-to pattern and this year I found some beautiful dresses in florals and leaf patterns.
My Favorite Places to Shop for Summer Dresses:
Of course, I have some favorite stores I always look at when shopping for dresses and honestly I shop at these places for every season. I bet you do too but just in case here is my list. Maybe there are some stores you did not think to look at.
The Best Casual Summer Dresses for The Season:
Okay, so now that I shared my strategy for summer dress shopping and where I go to get them, here are my very favorites cute summer dresses for the season.

Follow along to get more of my tips on home decor, DIY and lifestyle on the following: