On My Skout's Honor – How to Blissfully Live With Pets
This post may contain affiliate links. Please read our disclosure policy.
This is a sponsored post written by me on behalf of Skout's Honor. All opinions are 100% mine.
Many of you have asked me in the past how in the world I have white furniture with pets and kids. Partly it is because I have raised my daughter to take care of the things in her surroundings and we trained our animals to not jump up on the furniture. But sometimes living blissfully with these two rascals is not easy. Clearly you can see even they don't always get along! So today I've teamed up with one of my favorite new brands, Skout's Honor to bring you a few pointers on living with animals blissfully.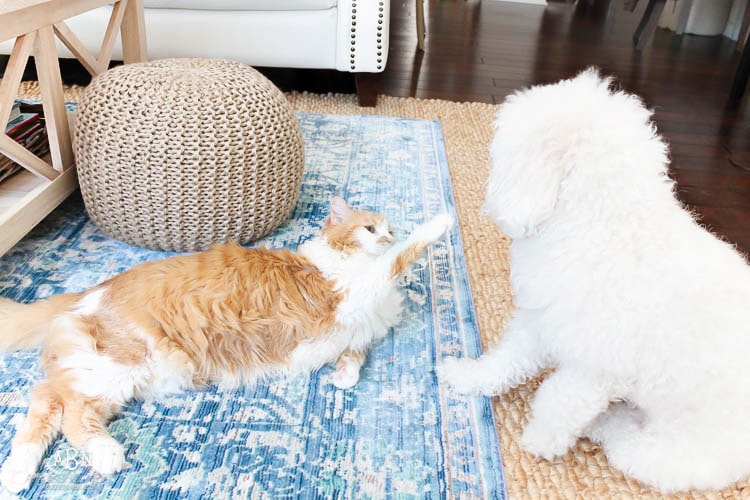 Tips to Live With Pets:
Tip 1: Be prepared.
Both of my fur babies are getting up there in age. Inevitably that means there are accidents and I have to be armed and ready to deal with it when it happens. I personally do not feel taking up all the rugs and "animal proofing" my home is how I want to live.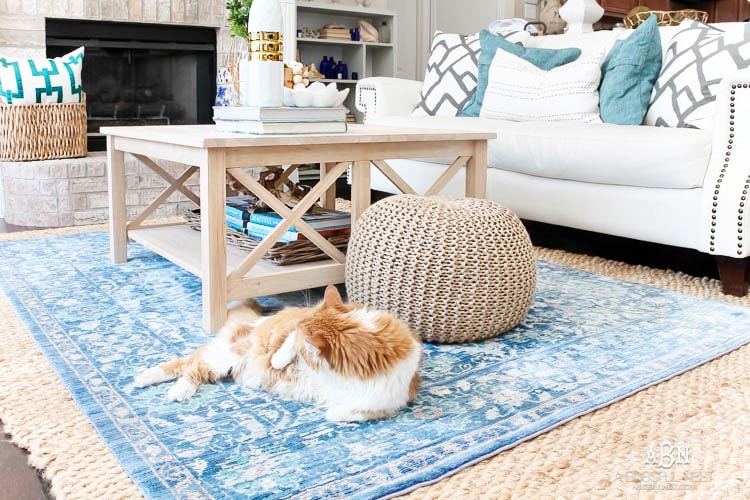 After careful research, I found Skout's Honor, a company thats products are effective, green and passionate about giving back. I love that they make a line dedicated to cats and a line for dogs. For dogs, they have the Stain & Odor Remover which I even love to use on Lauren's pants for stains that are hard to get out (ie: grass stain) and the Odor Eliminator to keep your home smelling fresh. I also love the cat line which includes the Urine & Odor Destroyer and the Litter Box Deodorizer. Having these bottles on hand for each of my little guys is my first step in being prepared.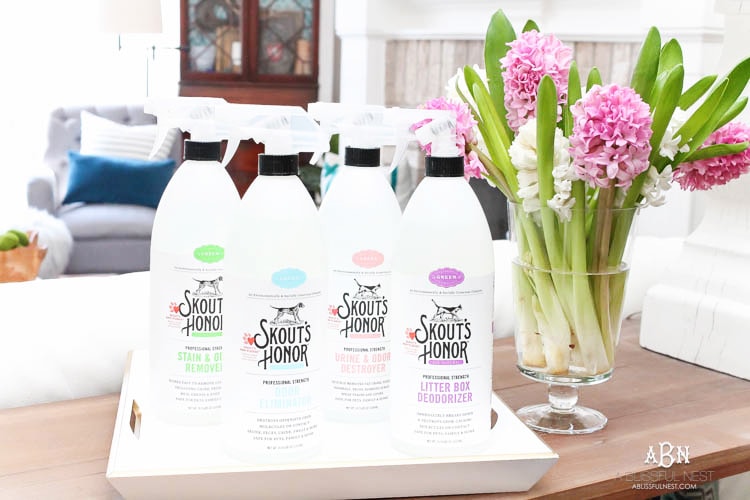 Tip 2: Take action quickly.
When there is a accident, I act quickly. The best thing to do is catch it right after it happens so stains don't sink in. I really love that the Odor Eliminator actually has a molecular component that eliminates it and destroys it rather than masking it. The worst is to think you cleaned something up but you didn't and I really would freak out if my beautiful blue rug got ruined.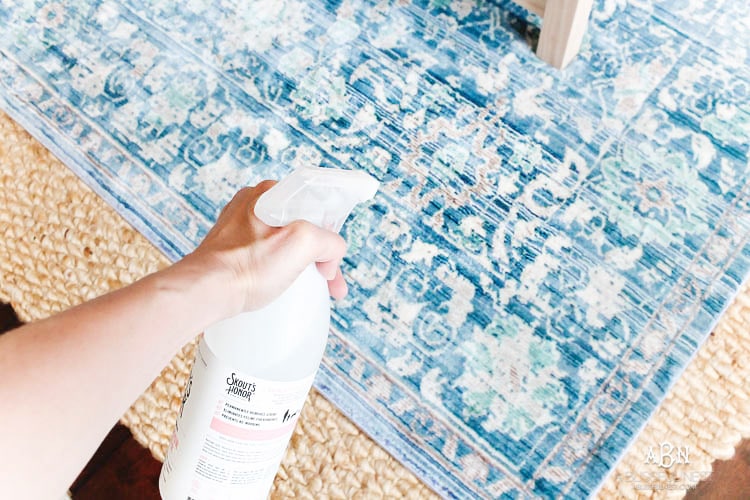 When you use harsh chemical products in your home you have to be careful your pets don't get into them but with Skout's products, they are non-toxic and plant-derived so my little furry guys are just fine hanging out where I've just cleaned.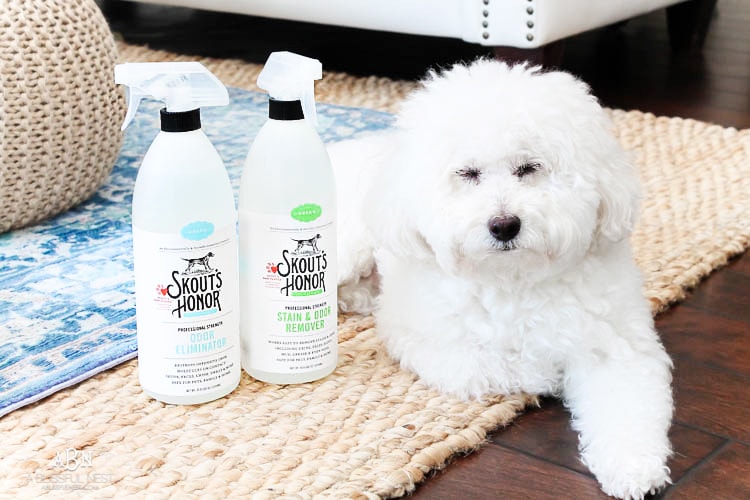 Tip 3: Educate on your methods
Well this one is a good one. You can't be everywhere at once, that's for sure! I have taught my husband and Lauren exactly what to do when something happens so if I am not there it is taken care of right away. They know what each of the products do and know which one to grab depending on what has happened.
I think my favorite thing is that I use these products for things other than just the animals as I mentioned above. When Lauren comes home with tough grass stains on her pants or someone (definitely not me!) spills coffee on my table cloth, I grab the Stain & Odor Remover bottle.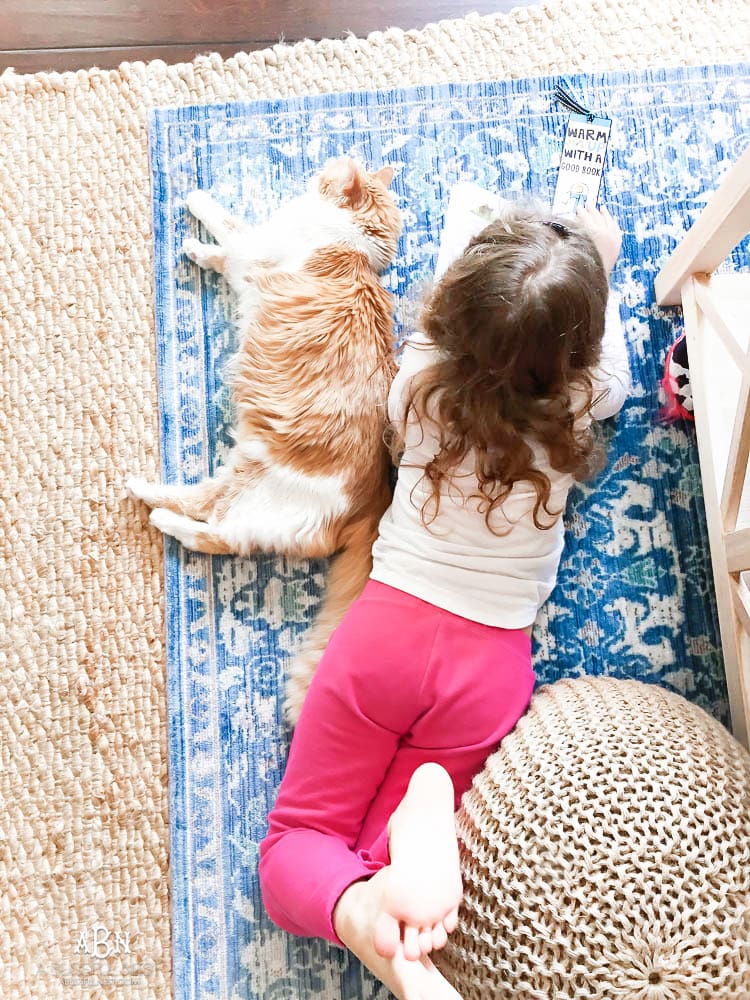 I also have to tell you about the big heart this amazing company has. They create the Skout's Paw Pledge, which they donate a day's worth of food to a shelter animal with every product sold. I can not tell you what this means to me being such a big animal lover that I am contributing using their products and I love that this company is paying it forward.
So I hope you love these tips on how to live with pets in your home and please friends don't be afraid to have nice furniture and rugs. You've got Skout's Honor behind you!
THIS IS A SPONSORED POST. A BLISSFUL NEST HAS RECEIVED PAYMENT, TRADE, AND/OR PRODUCTS FROM SKOUT'S HONOR IN EXCHANGE FOR PROMOTING. HOWEVER, ALL OPINIONS STATED ARE OUR OWN.