How to Decorate for Halloween in Your Home with Essential Halloween Party Decor
This post is sponsored by World Market, but all opinions are my own.
With Halloween fast approaching it is time to get your home decorated with a spooky vibe and make it feel warm and inviting for the season. I love adding in touches of Halloween decor to the fall decor I already have in my home. It is easy to do with a few key essential items from one of my favorite stores, World Market. I love to shop the World Market store in North Plano and you can check to see where the closet one is to you HERE. They have everything from pillows to food and are literally a one stop shop for all things for your home which you know I love. So today I want to share the items you need to get at your local World Market to create a fun Halloween themed look in your home and even be party ready for your guests.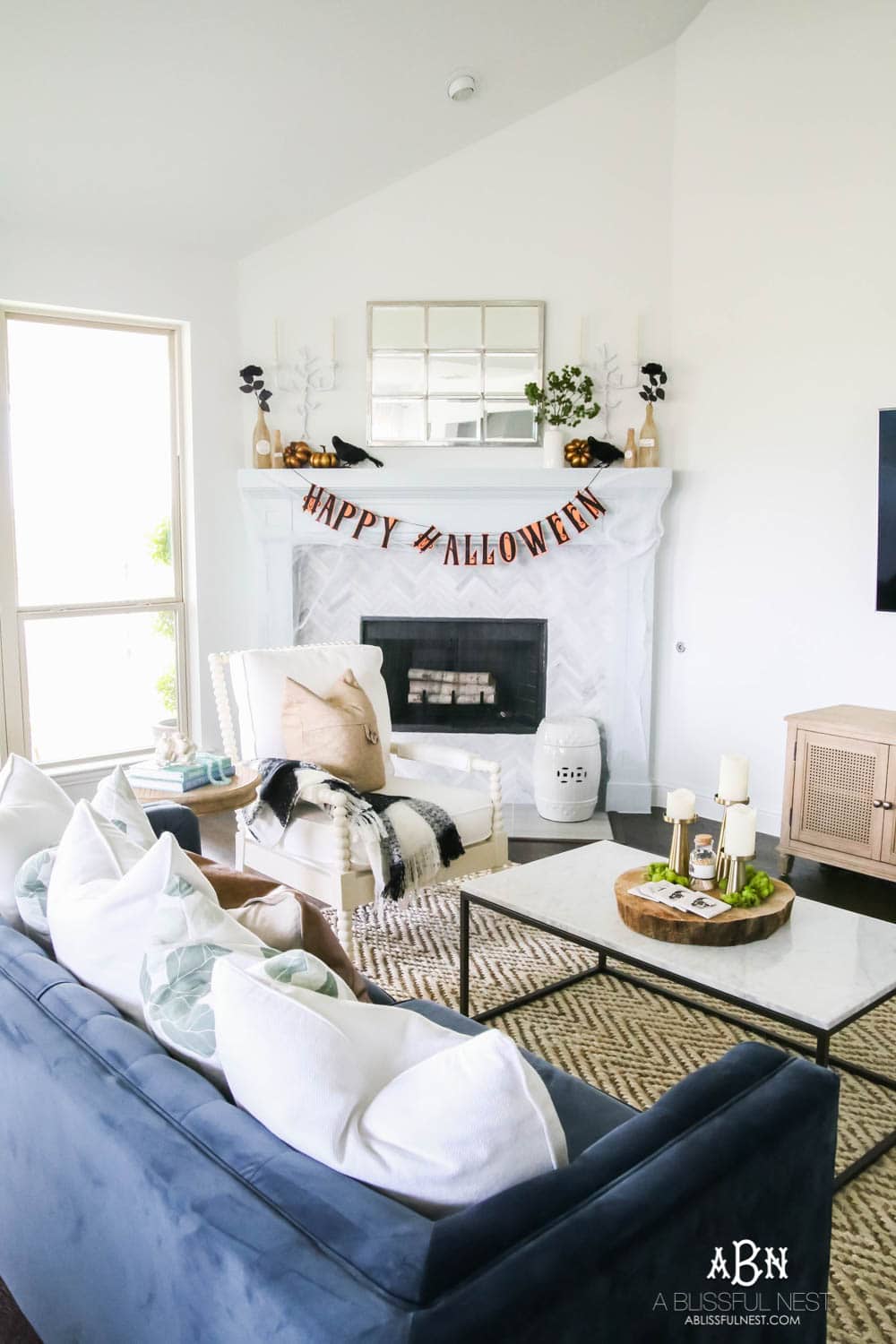 This post contains some affiliate links for your convenience. Click here to read my full disclosure policy.
This site contains affiliate links. Please read our disclosure policy. As an Amazon Associate, I earn from qualifying purchases.
How to Decorate for Halloween in Your Home:
1. Have a focal point for your Halloween decor for a bold look.
Set the stage with 1-3 focal points in your room for your Halloween decor. A great place to start is with your fireplace mantle. I chose this classic Halloween banner and added in some DIY aged potion bottles I made with some pumpkins and black stemmed roses from World Market. I layered in some cob webs once the other items had been placed for a more eerie look. At night when the candles are lit it certainly makes for a classic spooky display.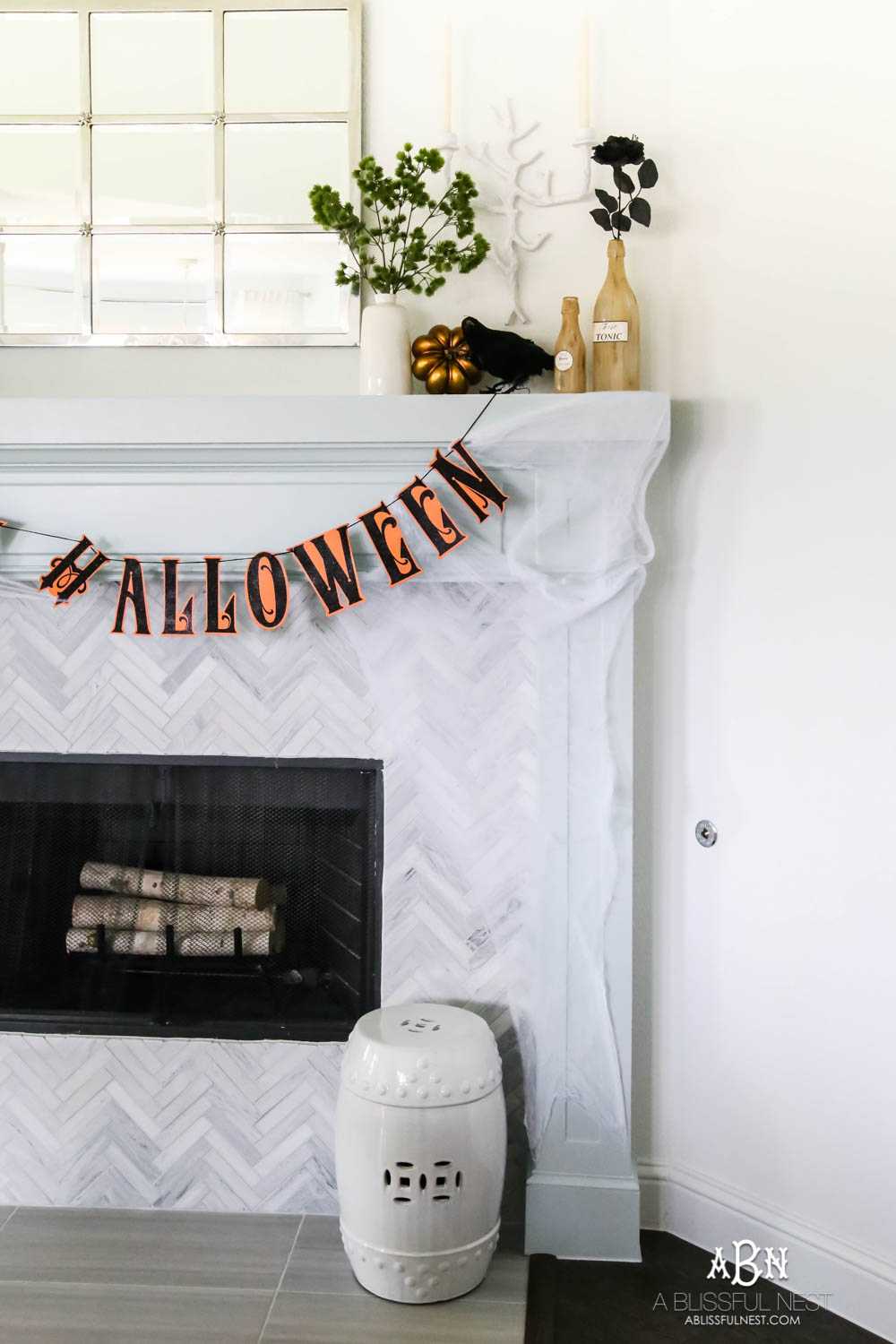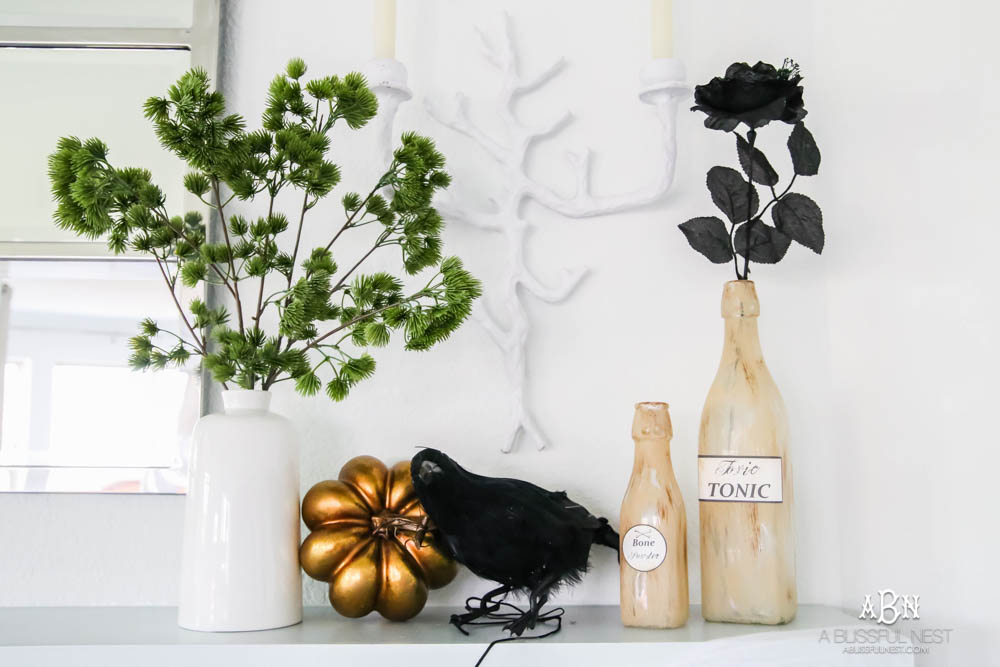 I used these gorgeous gold candle sticks from World Market for the center of the coffee table. I used a slice of wood to ground the decor on the table. I love that these candle sticks can be used well past the Halloween season and at any time of year. I love to purchase items that I can use no matter the time of year and can transition with my home decor like these pieces.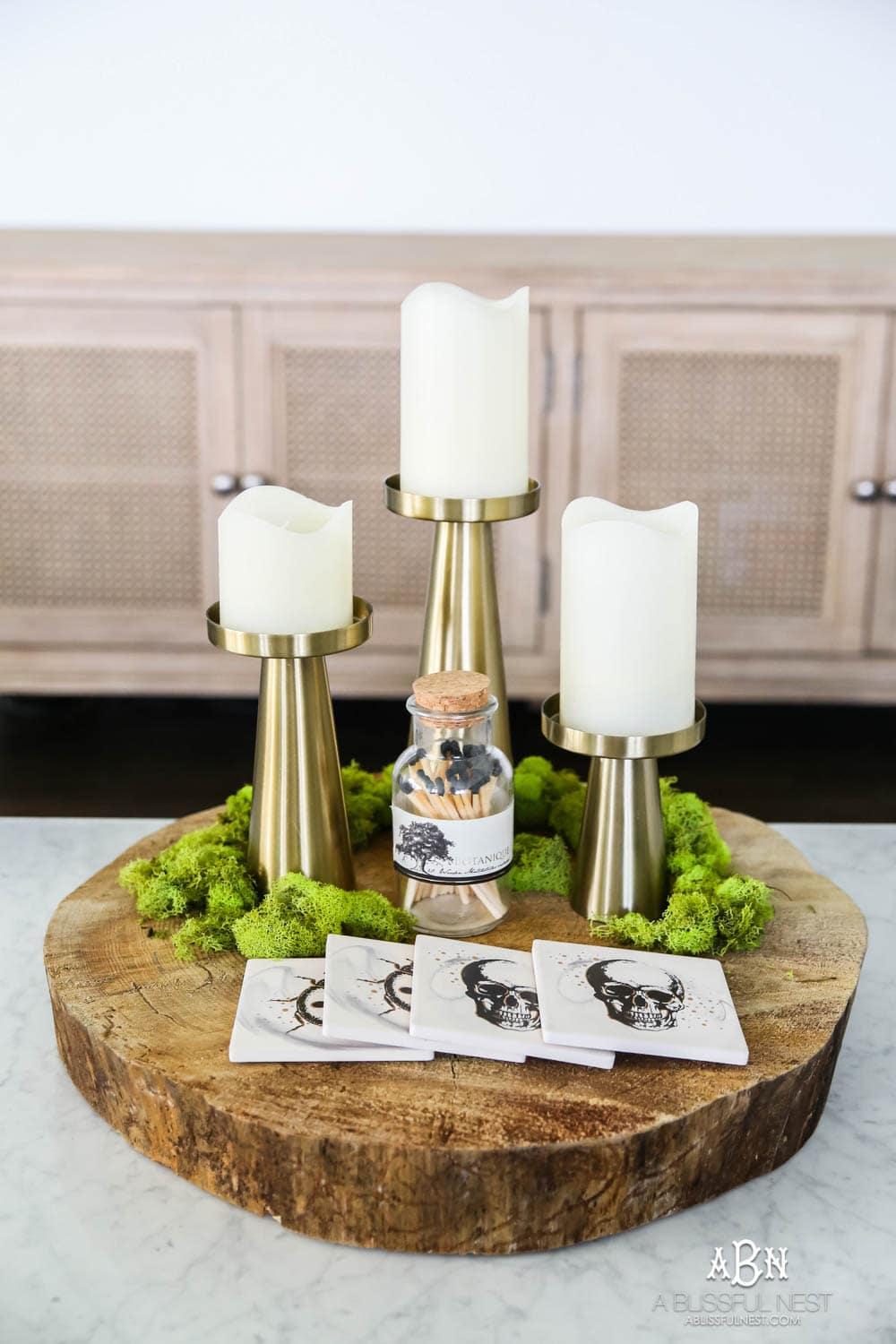 Add in some moss around the base of the candles and these skull and beetle coasters for drinks for when you have guests. I love the earthy woodsy feel it lends to the decor.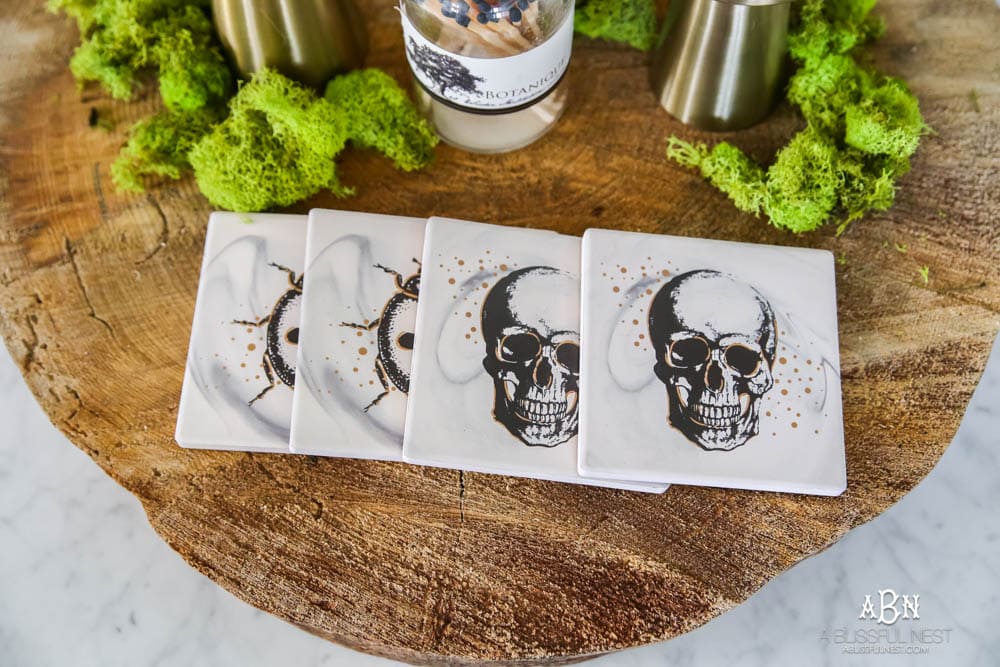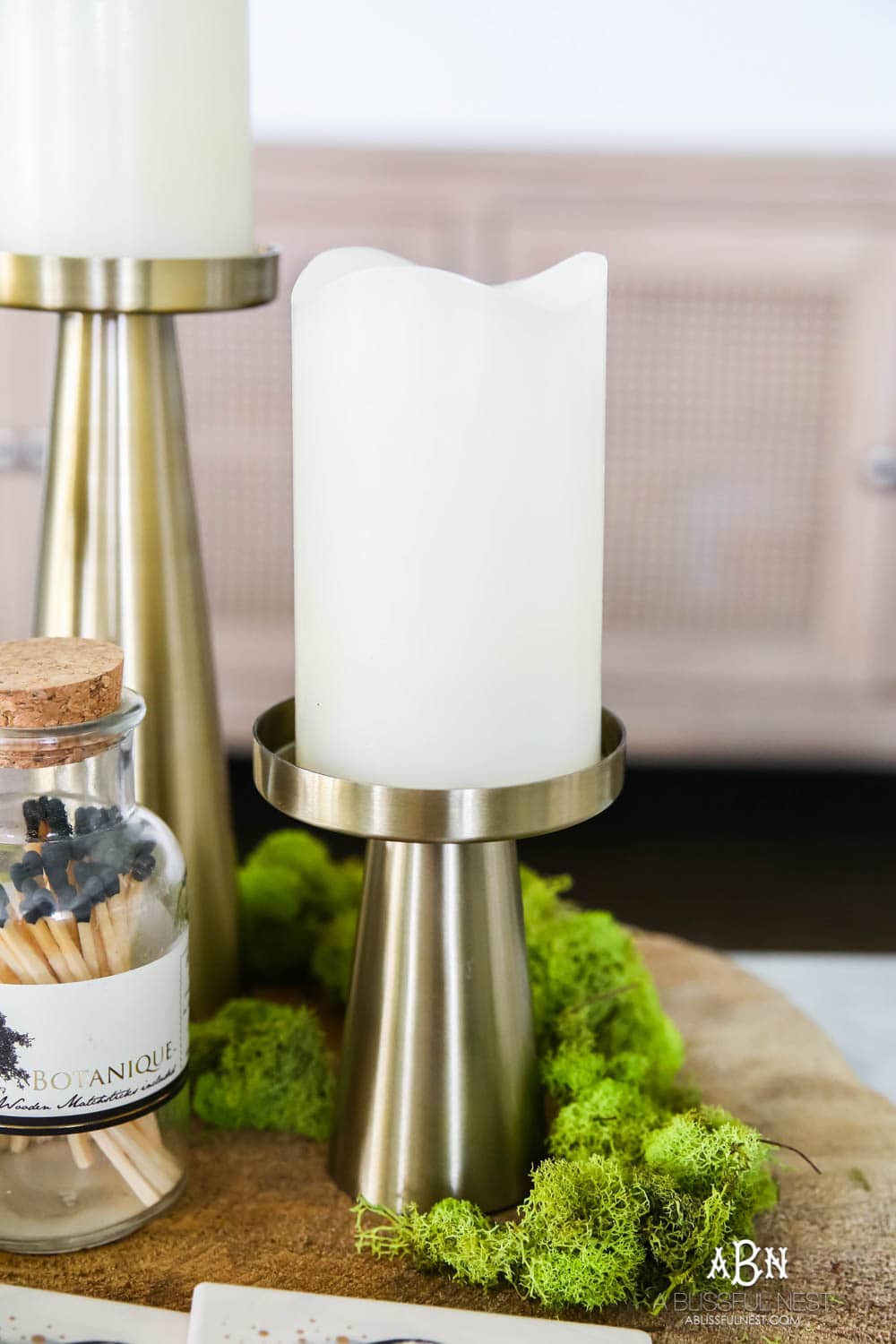 2. Set the mood with lighting and Halloween themed decor.
The next step in creating a spooky Halloween look in your home is to focus on the lighting and the accent decor placed in your room. You will need lots of candles and candle holders to spread them out sporadically through your room. I have the gold candle sticks on the coffee table but also added a couple of these gorgeous black candelabras onto a bar cart, in the kitchen and on the table. I swear these might just be my favorite pieces this year!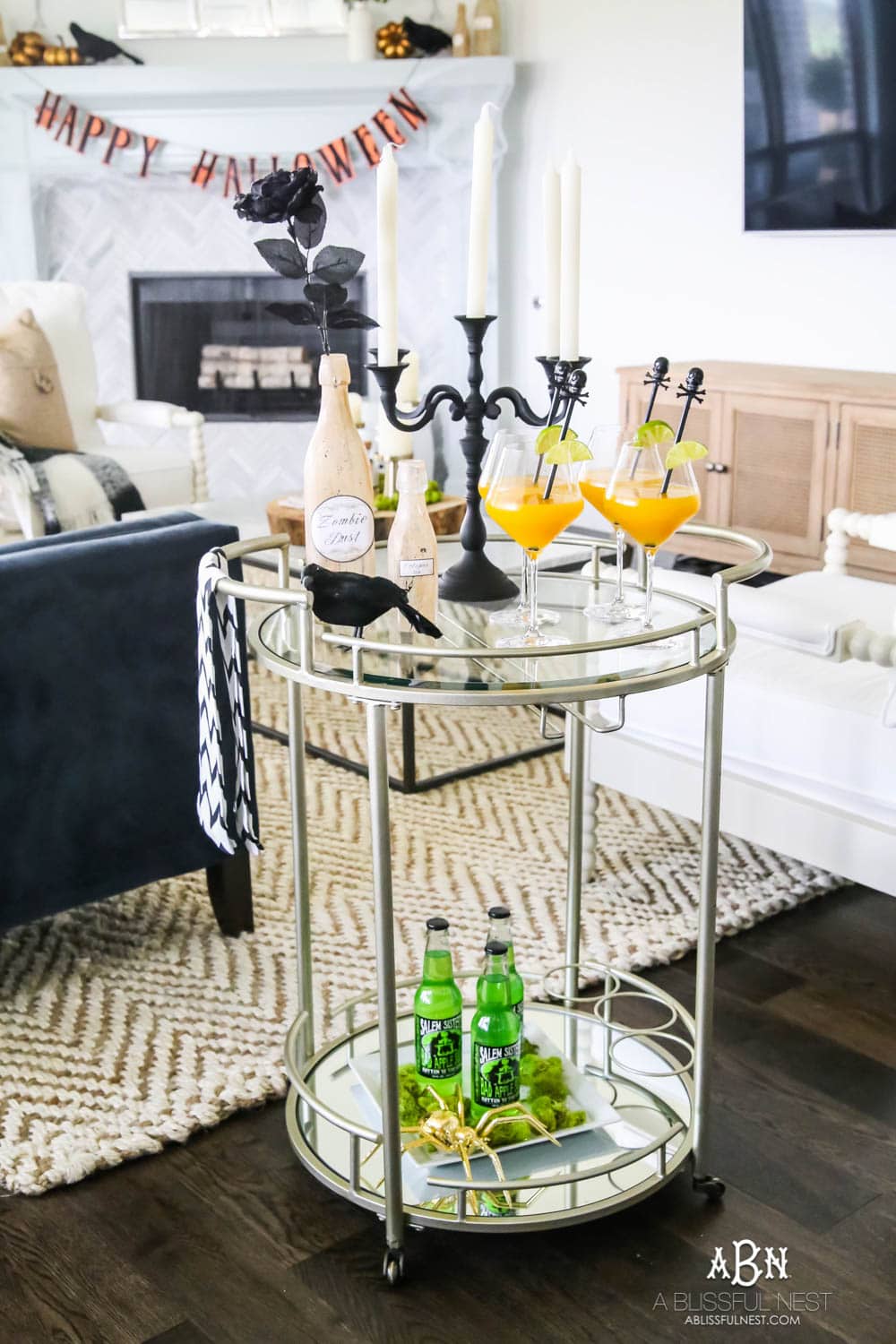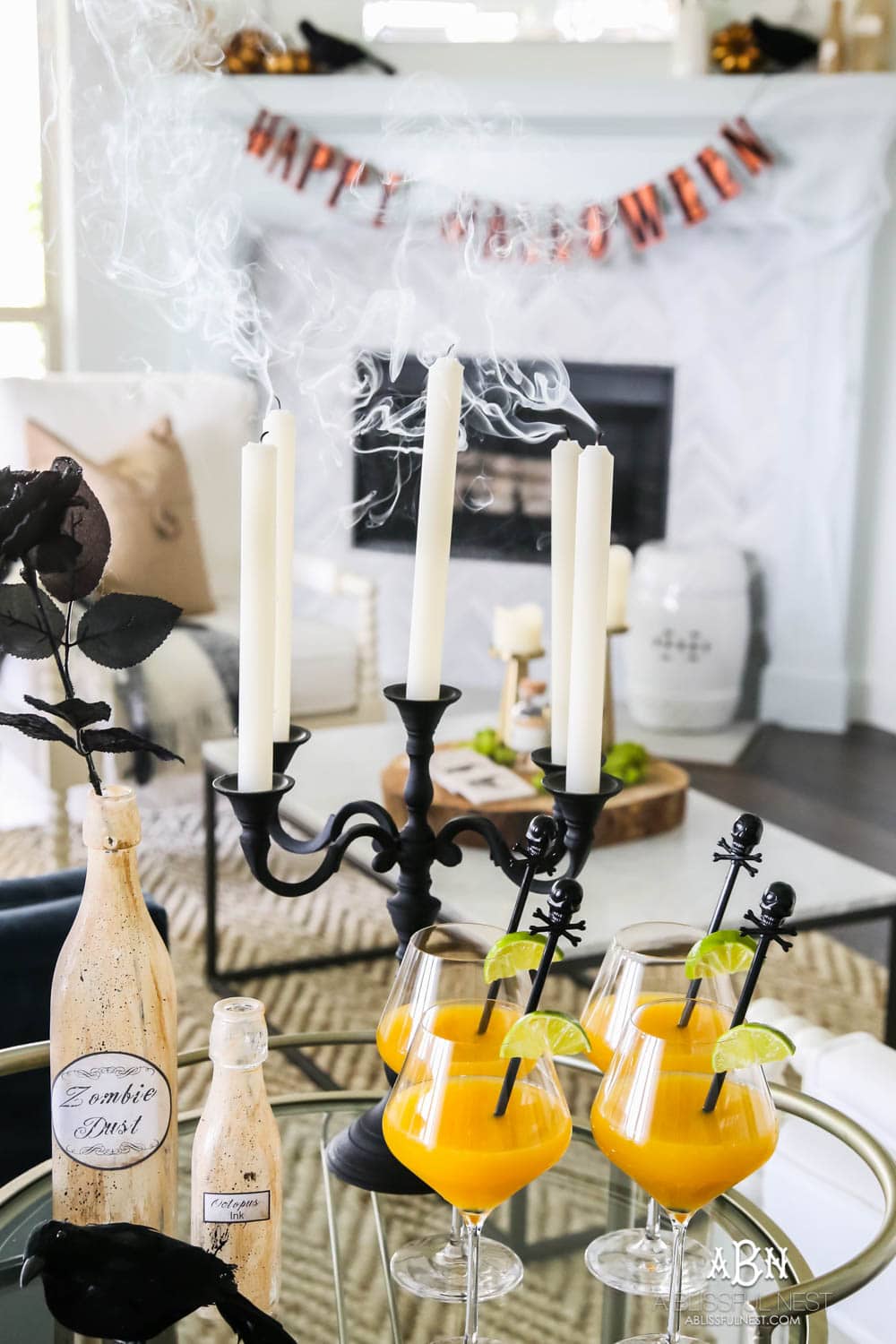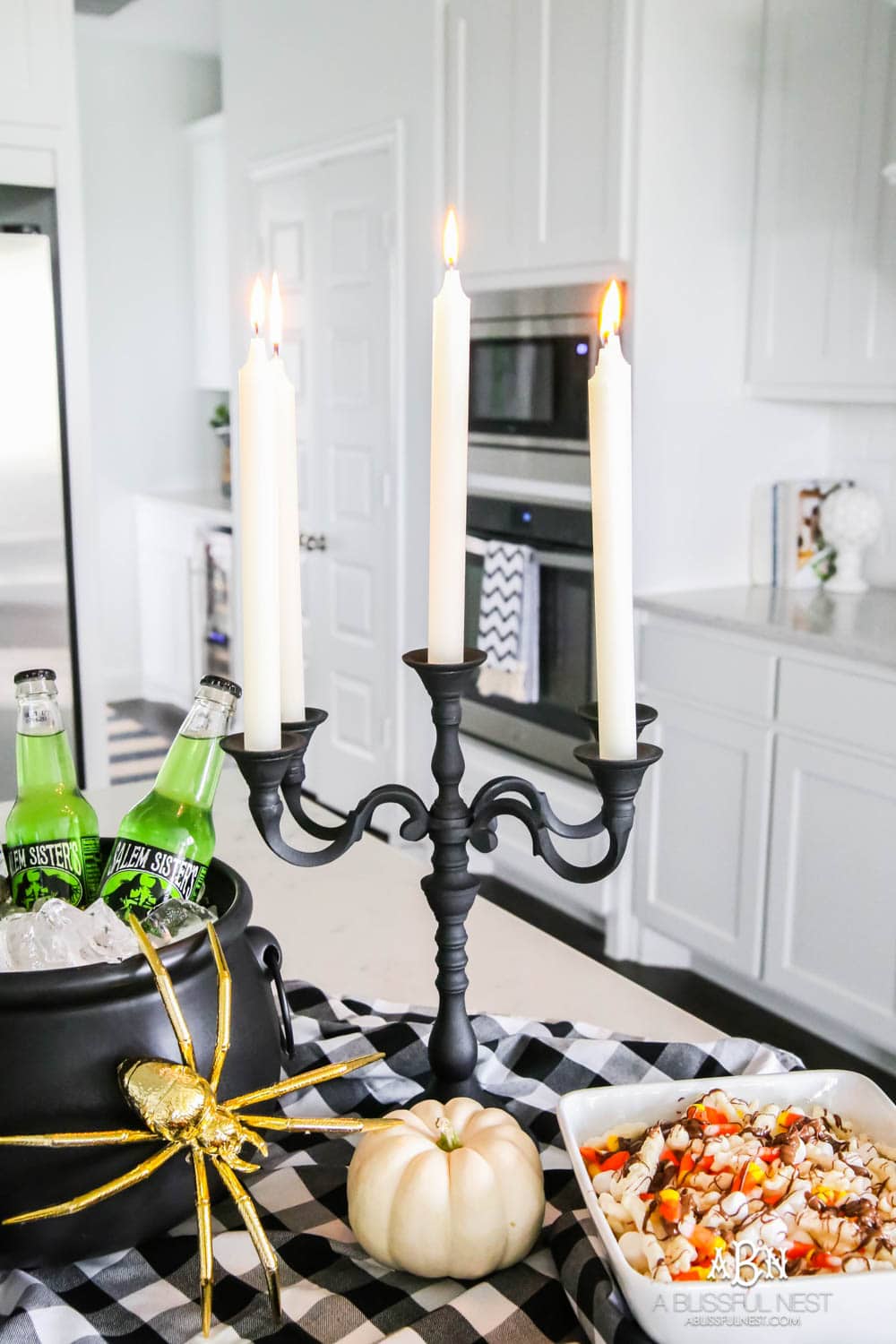 3. Create a fun DIY element to personalize your decor.
These DIY aged potion bottles were so fun to make using these bormioli and rocco swing bottles and these large square glass bottles from World Market! I love to make a little DIY element to my seasonal decor every year. I am sharing the full tutorial and these free printable bottle labels over on the World Market blog today HERE so make sure to pop over and go get all the details! This would even be a great craft to do with your kids. Mine loved to do the splatter part of it.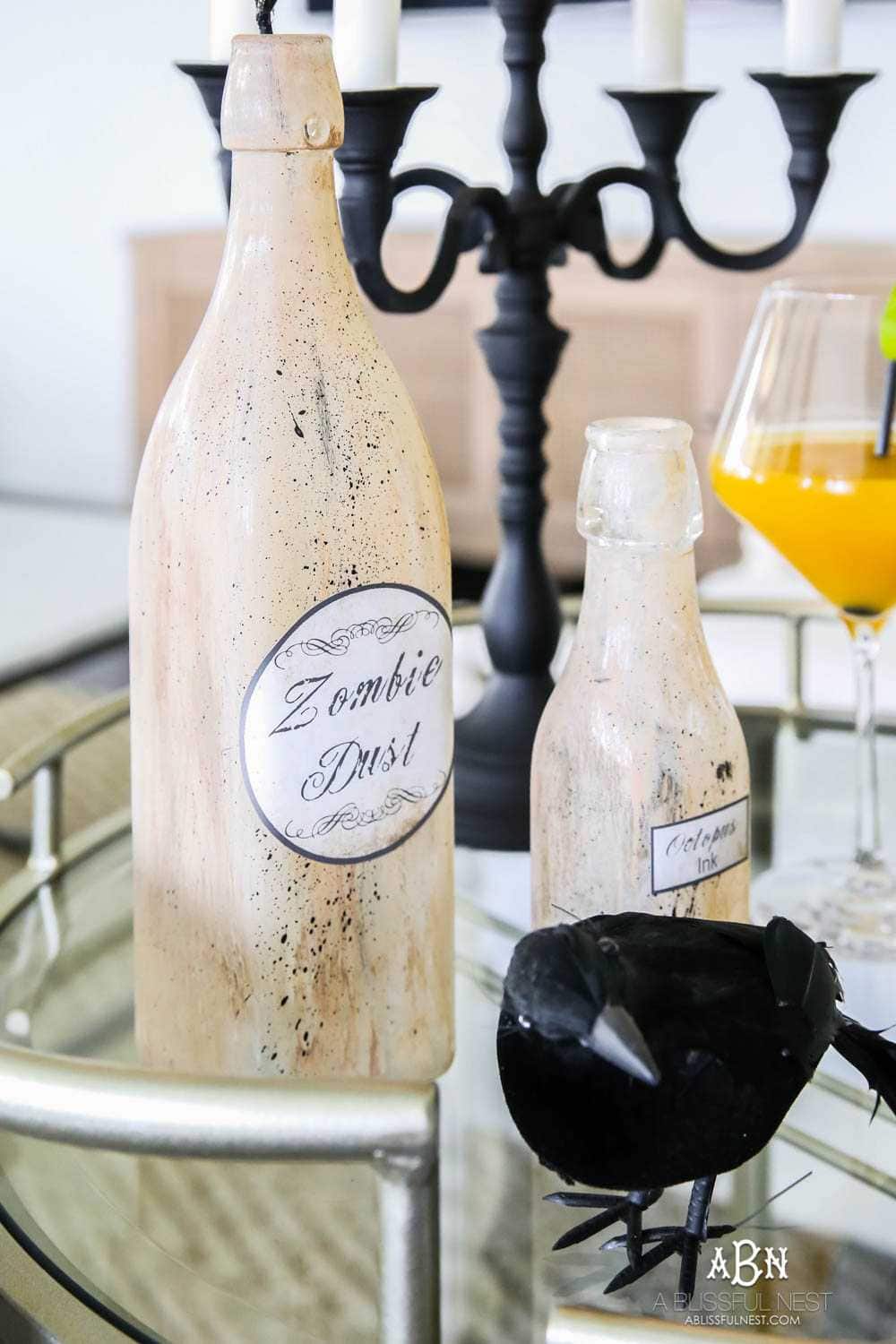 I placed these bottles on the mantle, on the bar cart and on our table as the centerpiece and just popped these beautiful sparkly black roses from World Market into them. It gives that old worn look but with a little glam. Clustered together, they make for a striking display.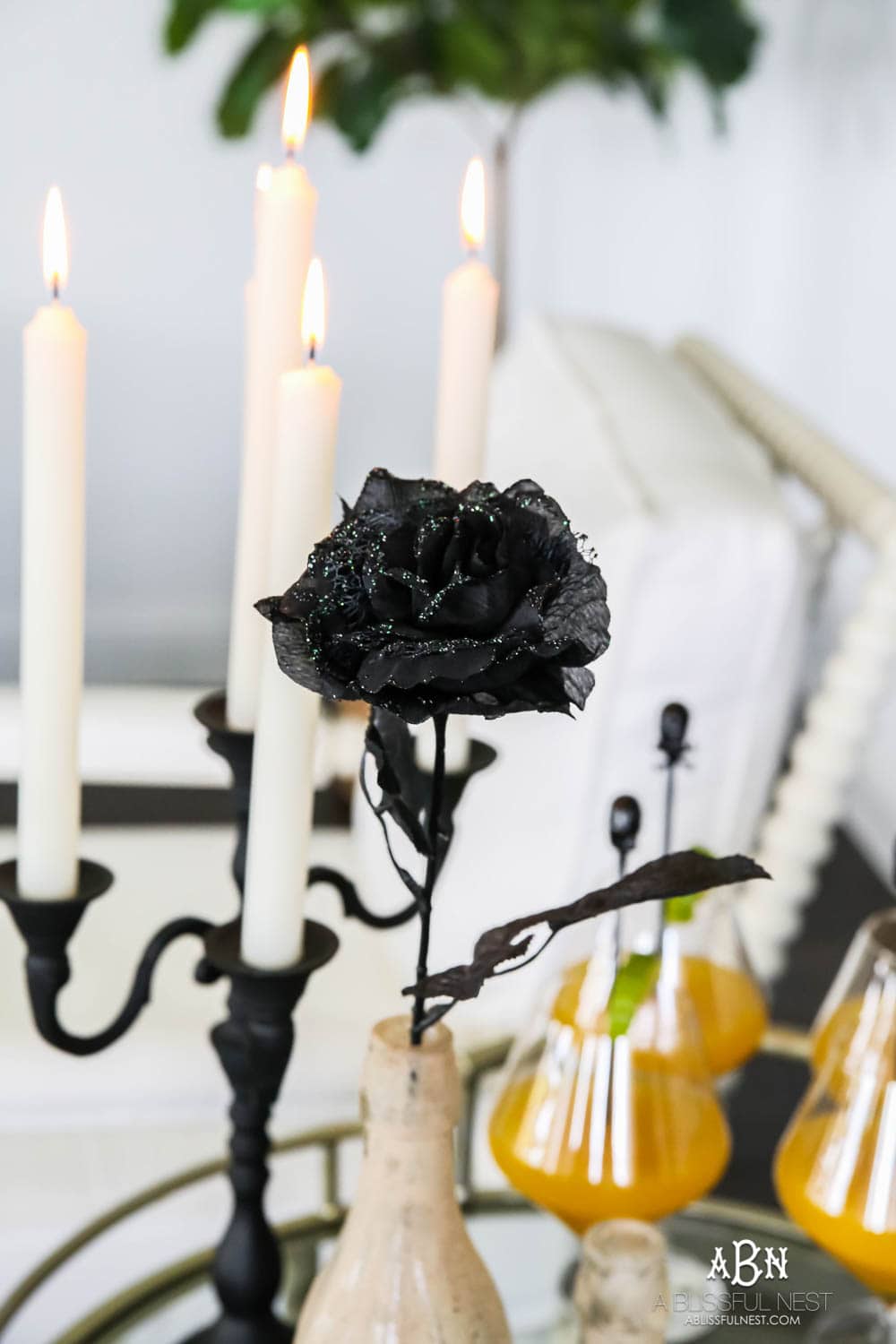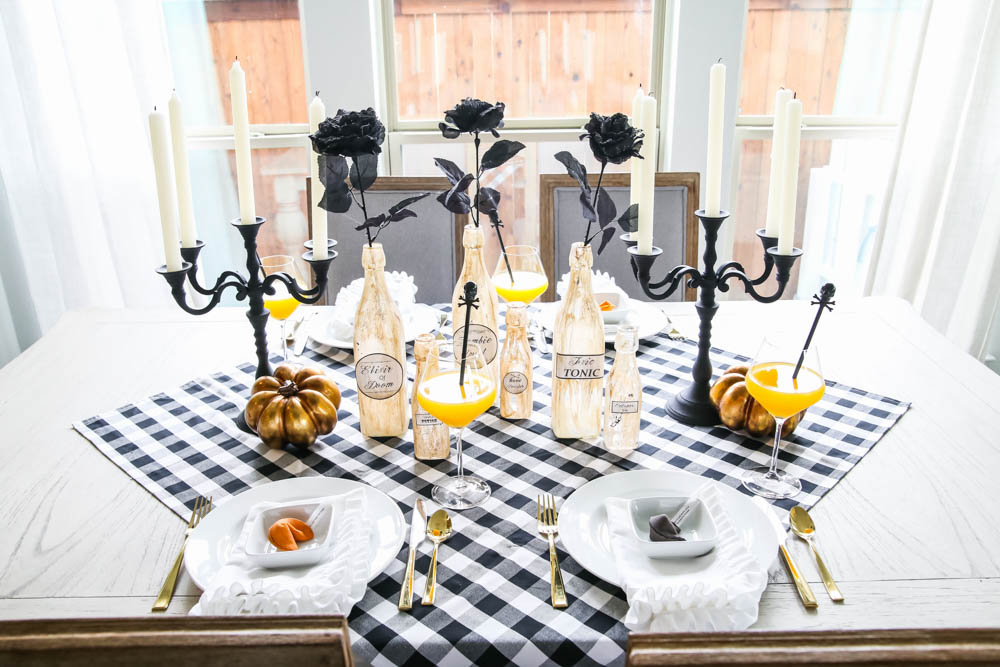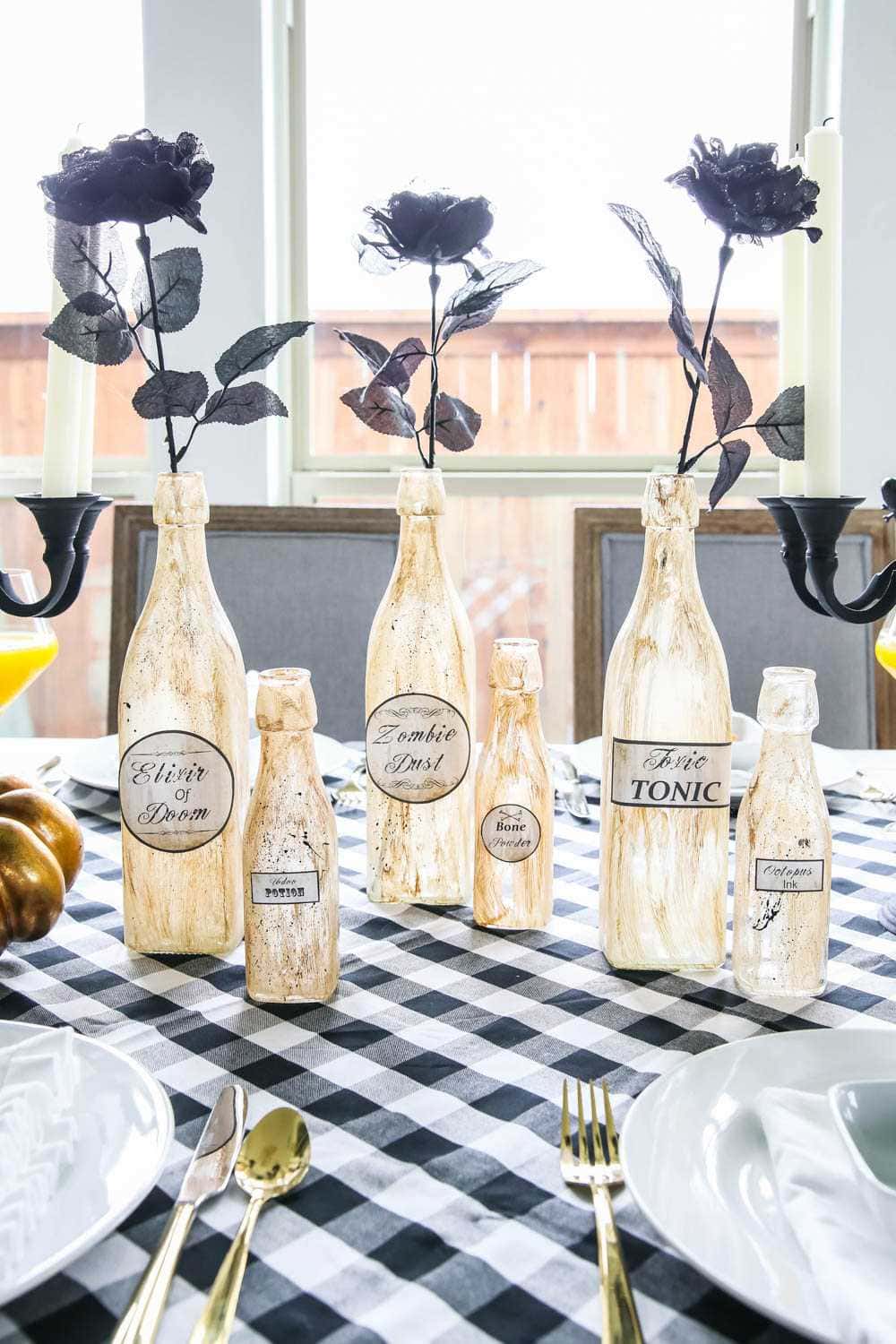 4. Add a classic pattern like stripes or a gingham pattern that will add a pop to your creepy Halloween decor.
I always add a patterned fabric to my decor if not in pillows then in some fabric thrown on a table as a runner. I just like to have some visual interest that grounds my displays like here in my kitchen with this fun gingham pattern. I also added it to my table centerpiece to make the decor flow from one room into the next. Especially since I have an open concept home this really ties the spaces together.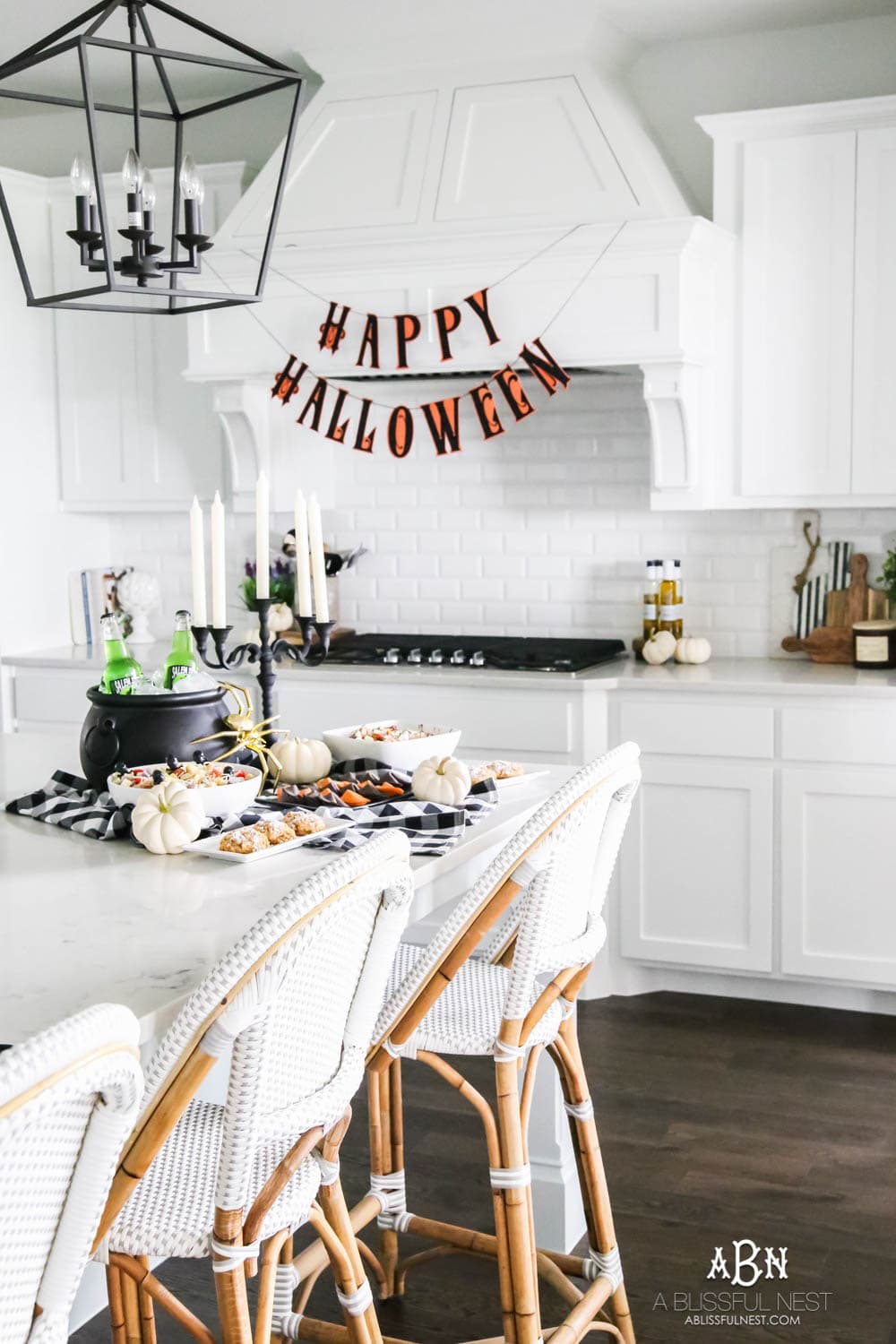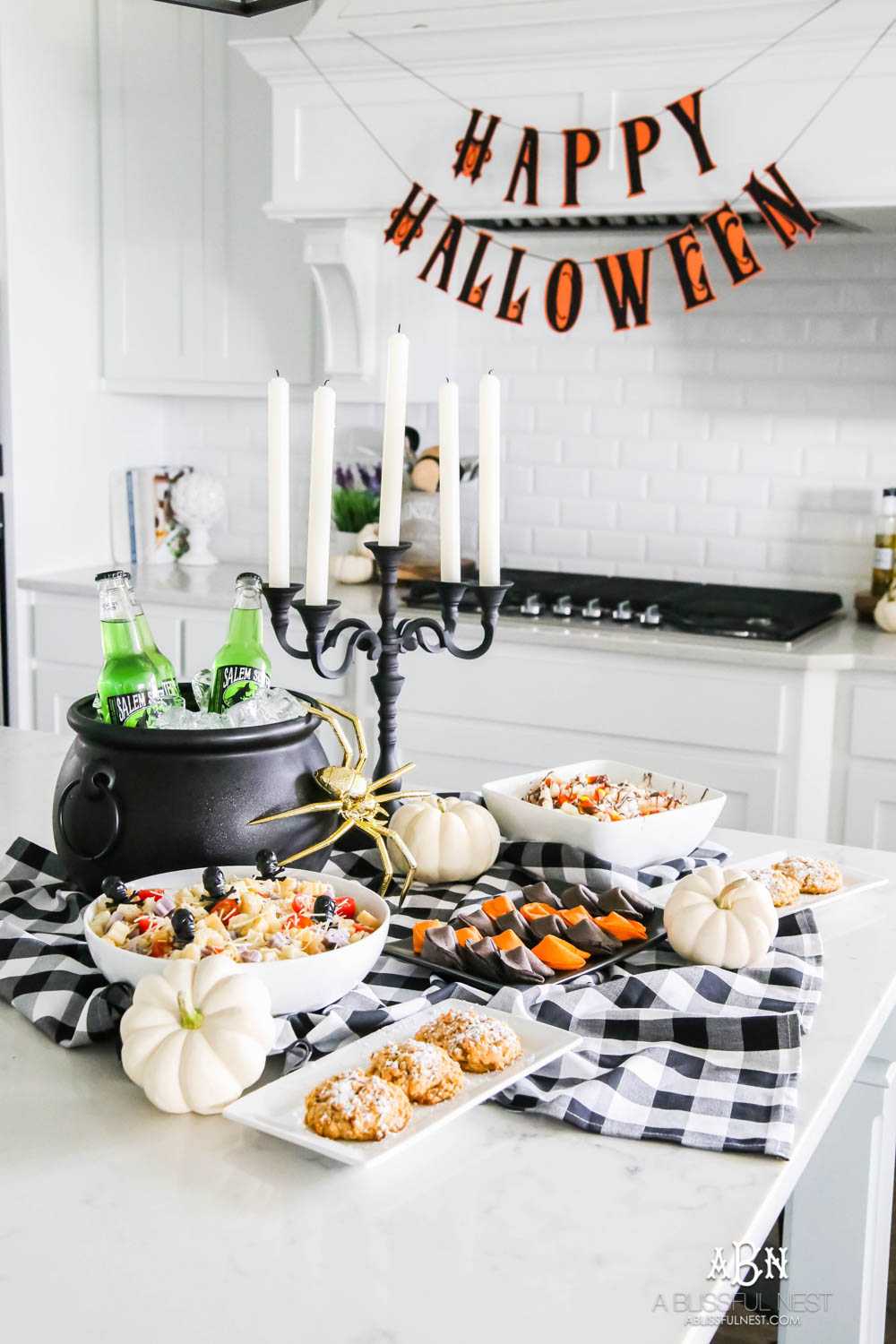 5. Make fun and festive Halloween recipes that isn't just desserts for your guests to enjoy.
Yes it is fun to have themed desserts but just think how much more fun it is to create easy Halloween Recipes that are perfect side dishes with a spooky flare! Here are a few ideas for you so you can have some dishes that your guests will love to munch on. Set a buffet of Halloween dishes so they can have all the food in one place to grab from.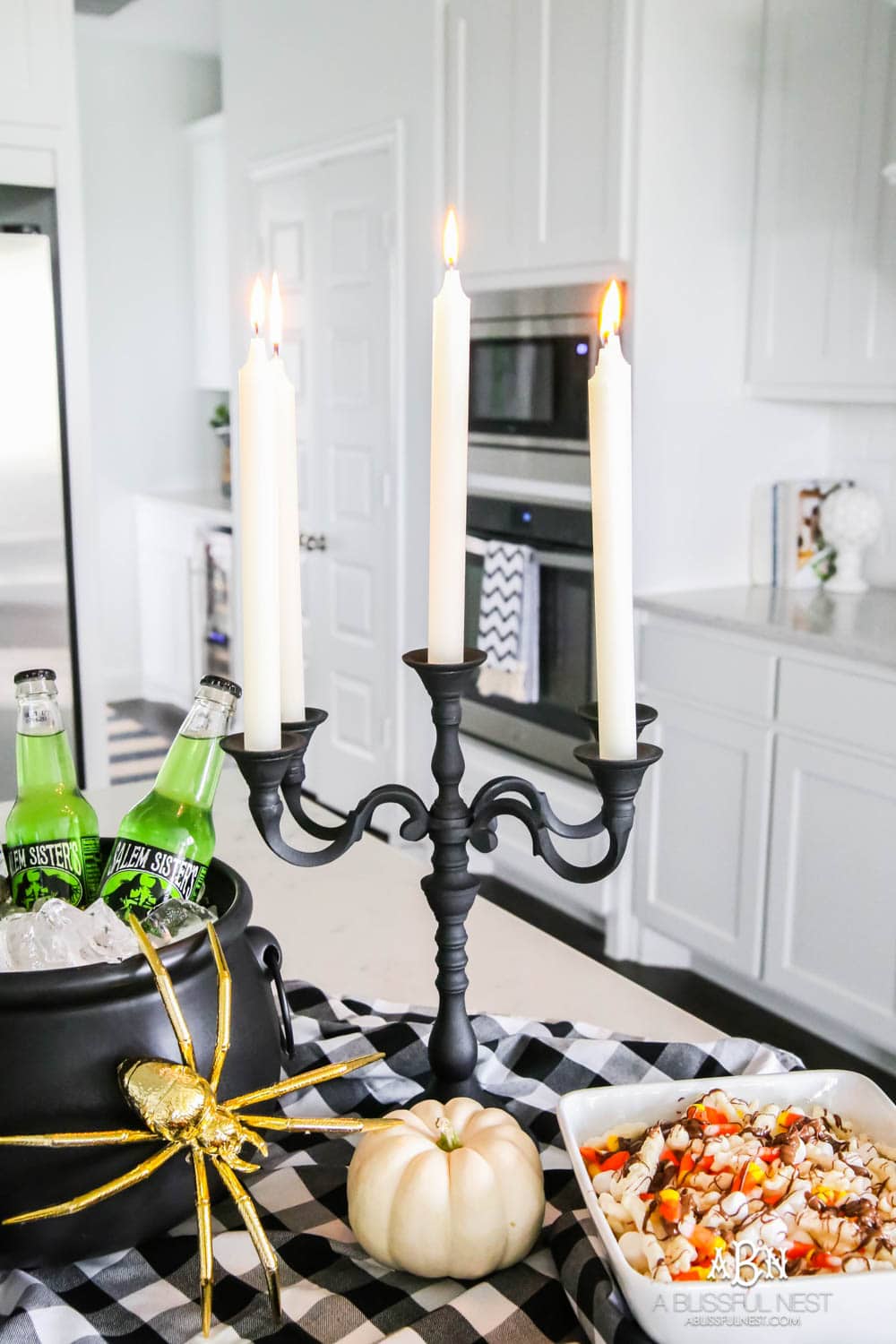 Then have a caldron filled with ice and display these yummy bad apple sodas chilled and ready to drink. I am in love with this black caldron from World Market because it is ceramic and heavy. It keeps your beverages cold and is the perfect piece to have in your entry on Halloween night to hold all your candy.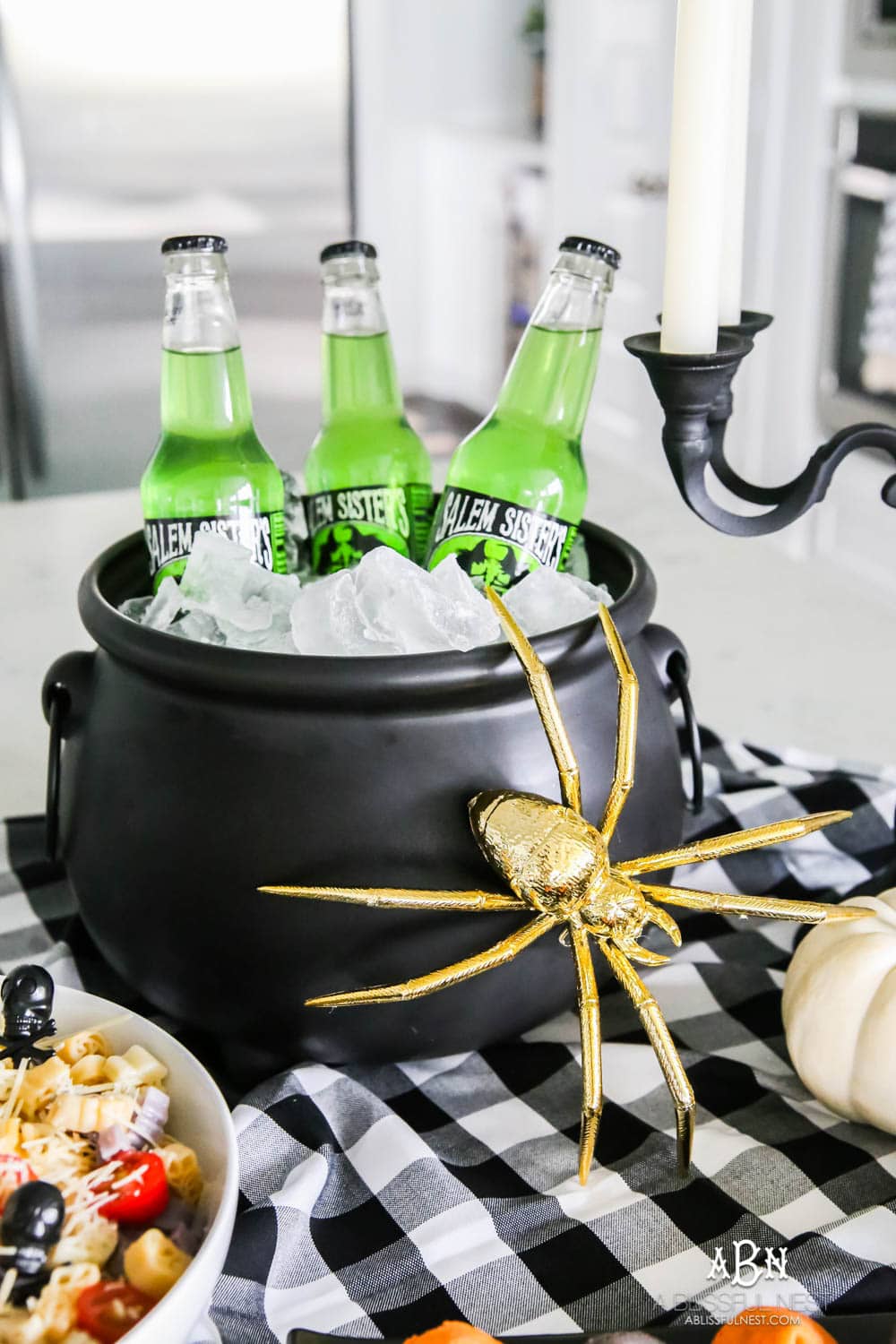 I also added some of these sodas to the bottom of our bar cart on a little white platter with some moss. So cute and easy to access if we needed more of them.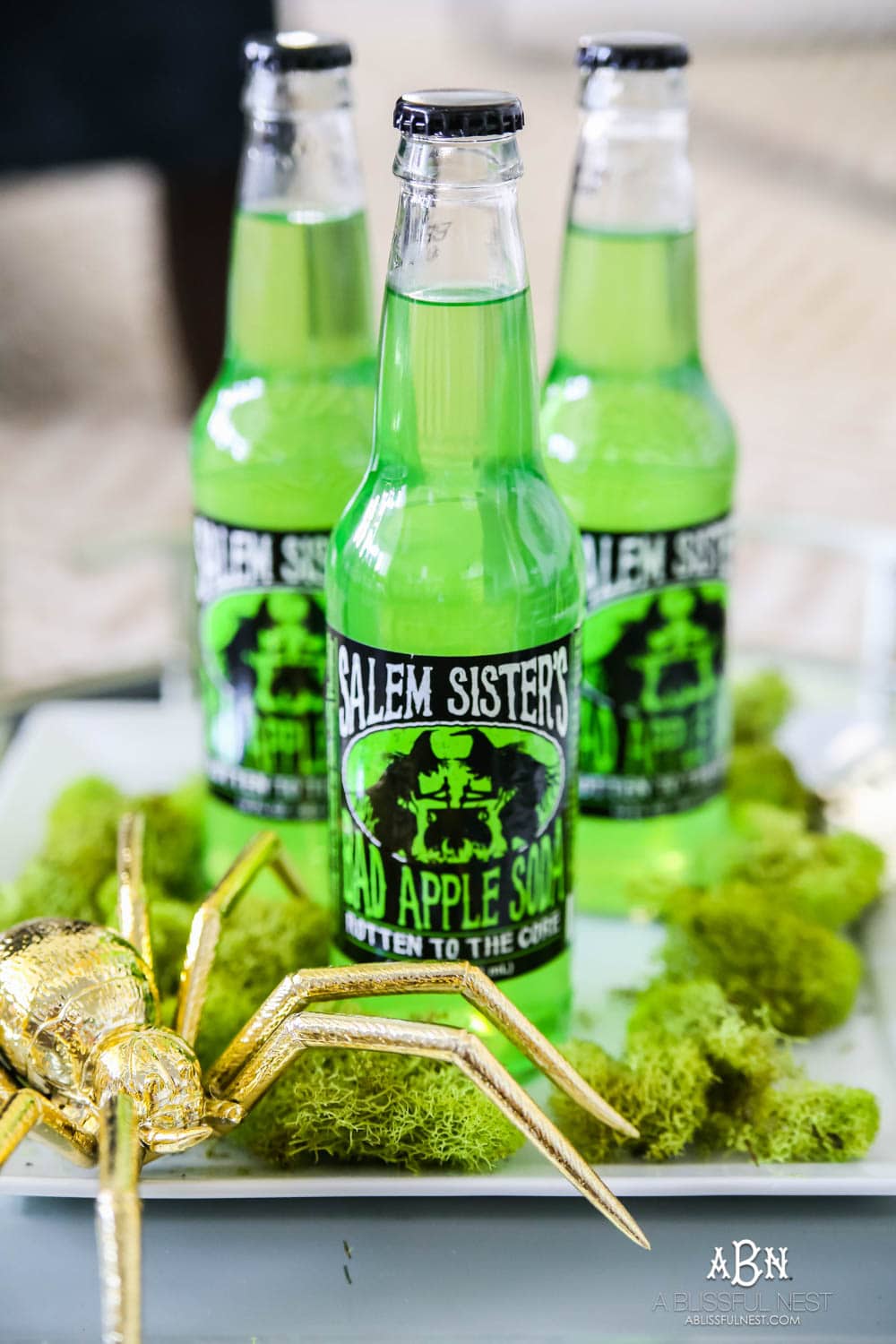 My favorite dish to create is this Gruesome Pumpkin Pasta. So easy to make with this darling Halloween pasta from World Market, some diced tomatoes, parmesan cheese, salt and pepper and then of course decorated with these skull and bones cocktail picks. I just cut the ends to make them a little shorter and popped them into the pasta. It looks like a little graveyard.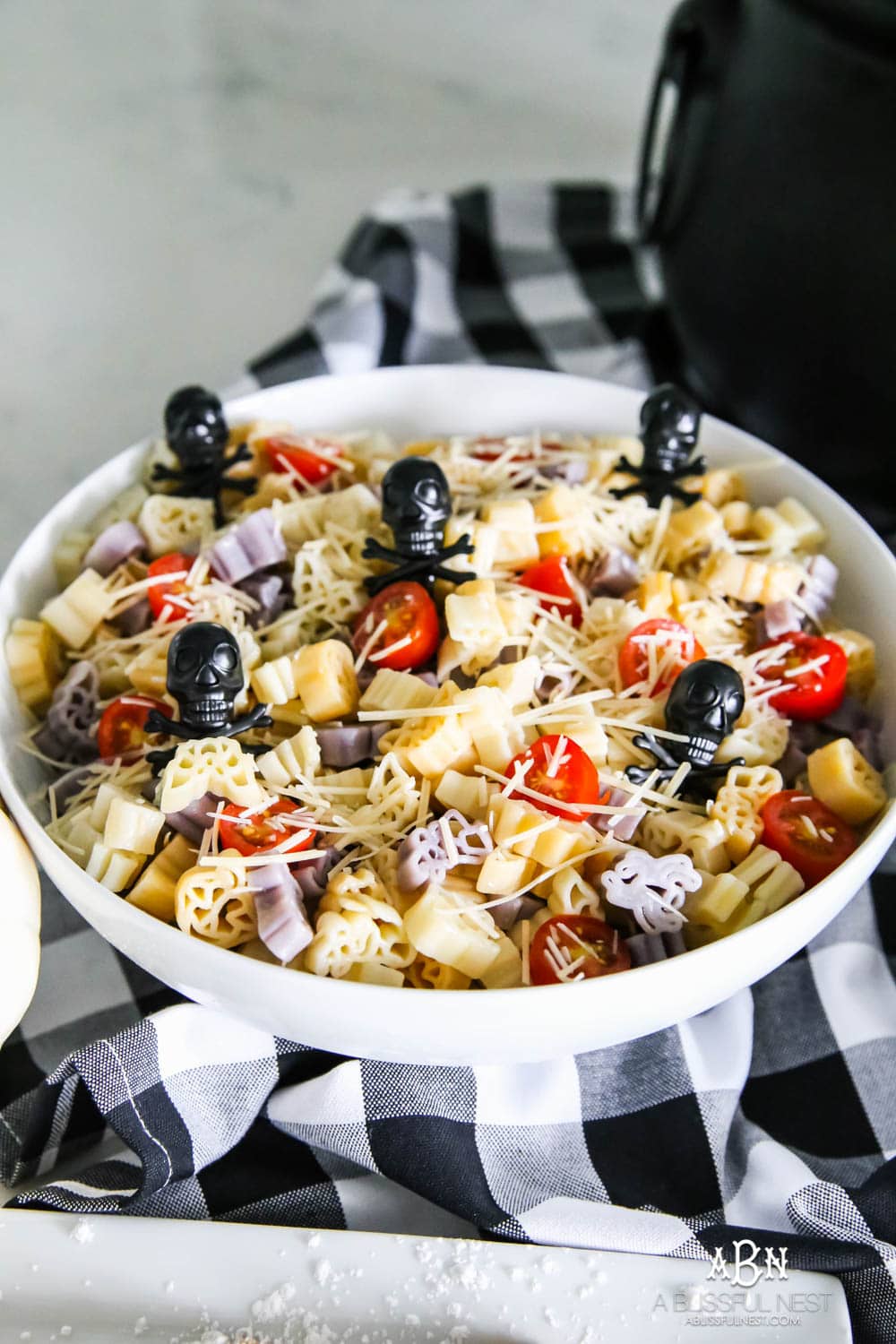 I used the picks also for our drinks and I love being able to use things in more than one spot in my decor. I could even see these being used tied to napkins for a place setting.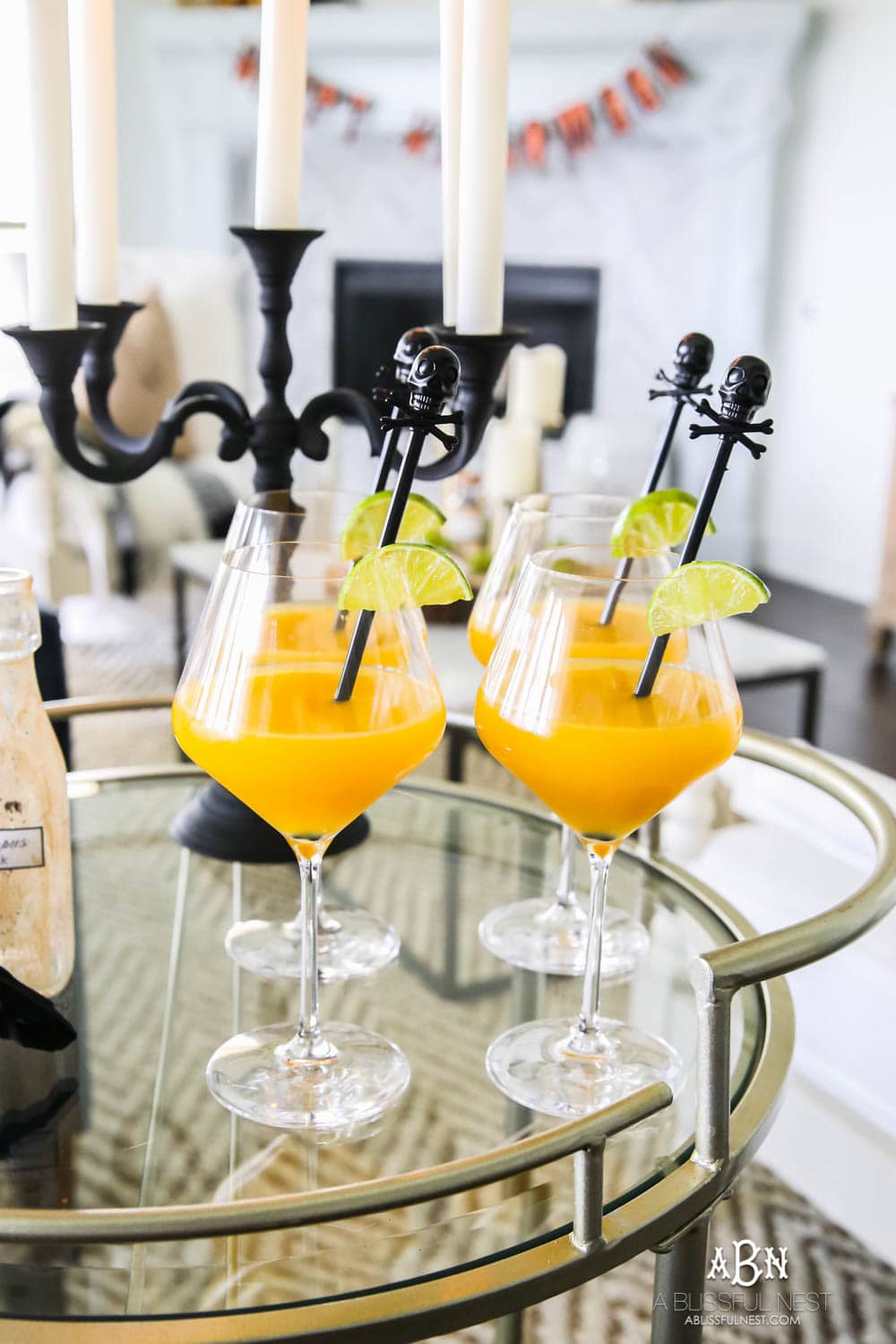 Okay and you have to make this crowd pleaser Monster Munch snack. World Market has the cutest skeleton bones white cheddar cheese crunches to use. Mix in some candy corns and m&m's then drizzle over the top some melted chocolate. I'm telling you the kids will go nuts for this one!
I also made these pumpkin spice scones that come in a ready made mix at World Market. They are so delicious and served warm out of the oven is the best.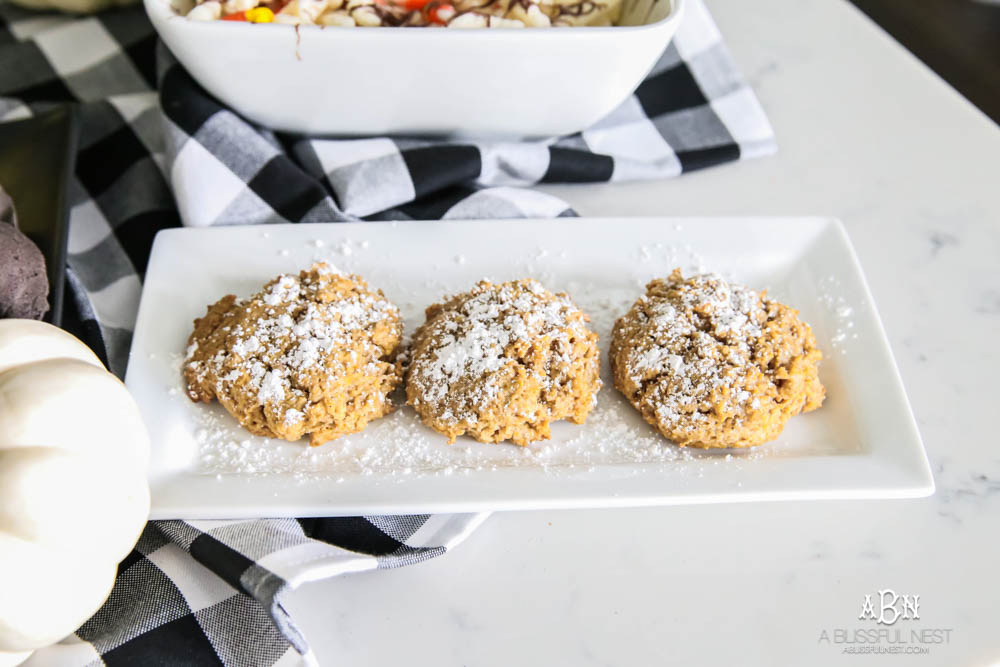 These Halloween inspired fortune cookies from World Market are too cute! I added them to a platter and then also as part of our table setting at each person's spot. It is fun to go around and here everyone read their spooky fortunes!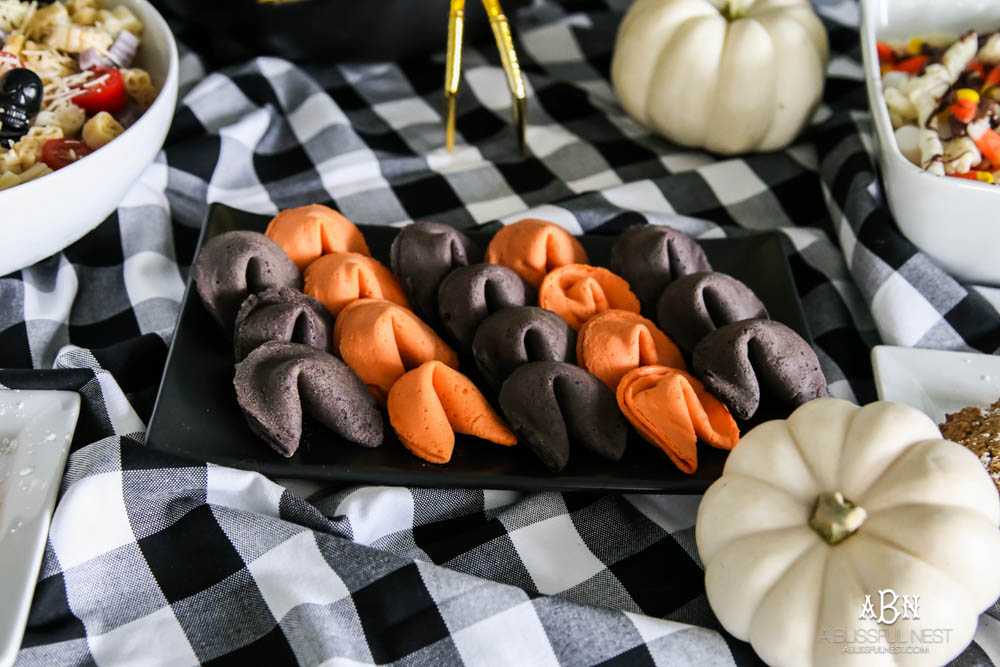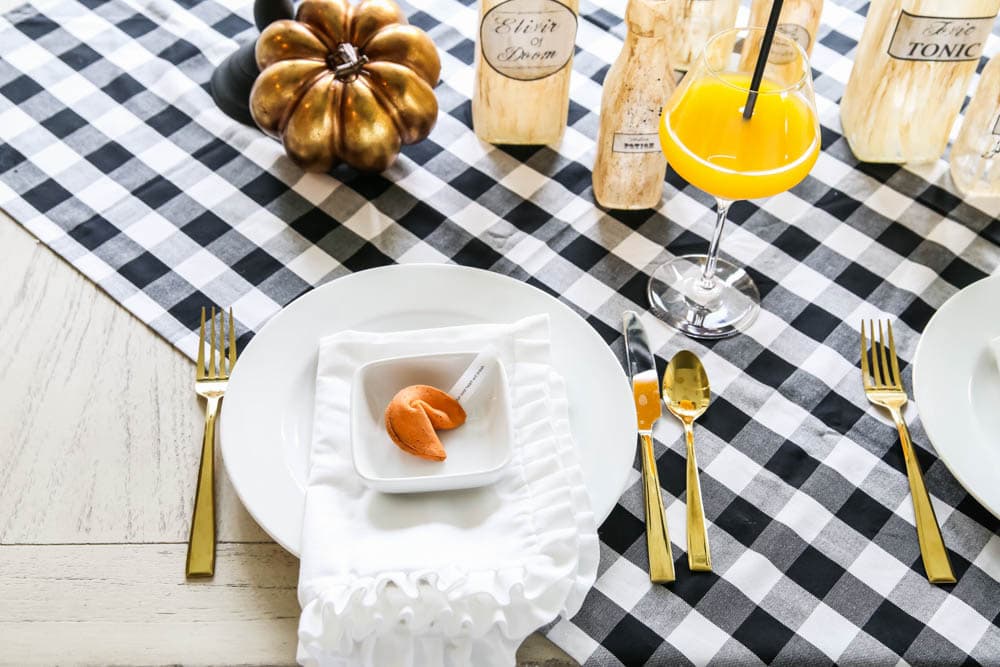 So now you are all set for making your home warm and inviting with Halloween flare and hosting a Halloween party your guest will love! World Market has got you covered and use my shopping list below to grab all the items I used.
You can follow World Market on Facebook, Instagram, Pinterest and Twitter.


THIS IS A SPONSORED POST. A BLISSFUL NEST HAS RECEIVED PAYMENT, TRADE, AND/OR PRODUCTS FROM WORLD MARKET IN EXCHANGE FOR PROMOTING. HOWEVER, ALL OPINIONS STATED ARE OUR OWN.