And just like that Mother's Day is next week and I've got the BEST Mother's Day gift guide ideas for you! Wow time is flying this year. So I am making it easy and fast for you to shop gifts for those special ladies in your life (and let's be honest, for you too!). I broke them out into 3 categories – under $50, under $100 and over $100 so you can shop them by your budget for everyone. There are so many goodies in here and some really great buys. A few already may or may have not popped into my cart already!
THIS POST CONTAINS SOME AFFILIATE LINKS
This site contains affiliate links. Please read our disclosure policy. As an Amazon Associate, I earn from qualifying purchases.
Mother's Day Gift Guide – Under $50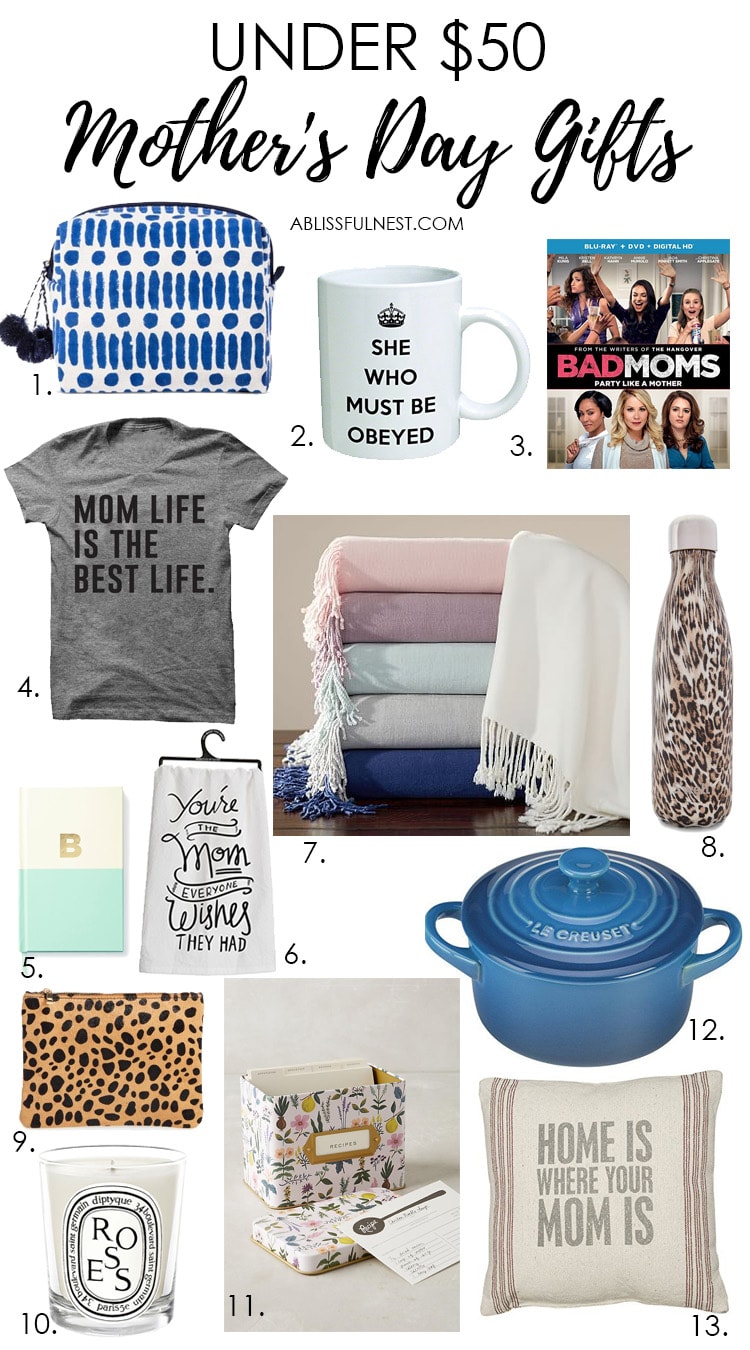 1 | 2 | 3 | 4 | 5 | 6 | 7 | 8 | 9 | 10 | 11 | 12 | 13
ONE – I think blue and white is classic and I love this modern batik print with pom poms!
TWO – Truer words were never spoken right ladies?!
THREE – THE funniest movie I've seen in a long time and the perfect gift for your mom friends, sister in-law and yourself!
FOUR – I LOVE this saying and it is so true. Mom life IS the best life!
FIVE – This is such a gorgeous color blocked journal with gold foil monogram! Plus every lady needs some Kate Spade in their life and it is only $16!
SIX – This is such a sweet little dish towel and would be so cute with some baking utensils wrapped up in it.
SEVEN – I love the colors this gorgeous lightweight throw blanket comes in from Pottery Barn AND you can have it monogrammed!
EIGHT – Every girl needs some leopard and this ThermaS'well® bottle keeps everything super cold.
NINE – These are the most popular clutches right now and I finally found one under $50!!
TEN – These candles smell soooooo good and I love using them as containers for my makeup brushes or as mini vases with flowers in them once they have burned out.
ELEVEN – Rifle Paper Co. makes the prettiest botanical  prints and I love this one on this recipe box. So pretty for your kitchen!
TWELVE – Le Creuset is amazing! This is a great size for small pot meals. I love that you cook in these and then throw the lid on and pop it in the fridge to store.
THIRTEEN – I love this little farmhouse pillow with sweet saying. I could see this on the sofa or in a entry thrown on a chair. The perfect farmhouse accent!


********************************************
Mother's Day Gift Guide – Under $100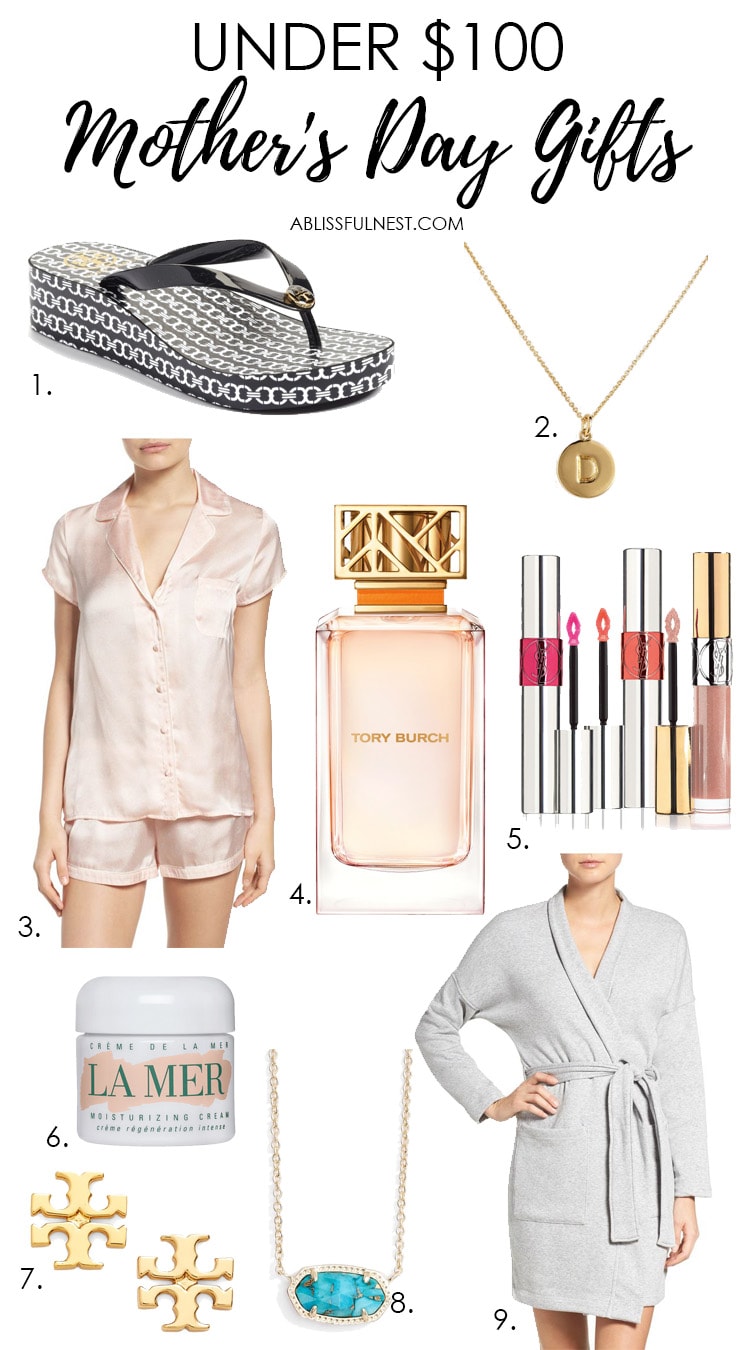 1 | 2 | 3 | 4 | 5 | 6 | 7 | 8 | 9
ONE – Tory Burch sandals are so comfortable and I love all the unique patterns! I love that these ones have a bit of a platform with them too.
TWO – Isn't this monogram Kate Spade necklace so cute?!!! I would love to have one with my initial and my daughter's on it.
THREE – I love these silky pj's in my favorite color crush of the season . . . .blush!
FOUR – Tory Burch has a new fragrance (at least new to me since I just smelled it recently) and it has a citrus touch to it that I love!
FIVE – This is such a deal on these 3 gorgeous shades of Yves St. Laurent lipsticks! You can mix and match to get the perfect shade or use them individually. Love these!!
SIX – This moisturizing cream is the cream of all creams friends. It is AMAZing!! It leaves your skin so soft and feels like you just had a facial.
SEVEN – These Tory Burch earrings are simple and classic and really a good every day pair of earrings.
EIGHT – Give me Kendra Scott any day! I love these new stone that has flecks of gold in it!
NINE – Oh my heavens this is such a soft robe by Ugg. This one feels like pure luxury on.


********************************************
Mother's Day Gift Guide – Over $100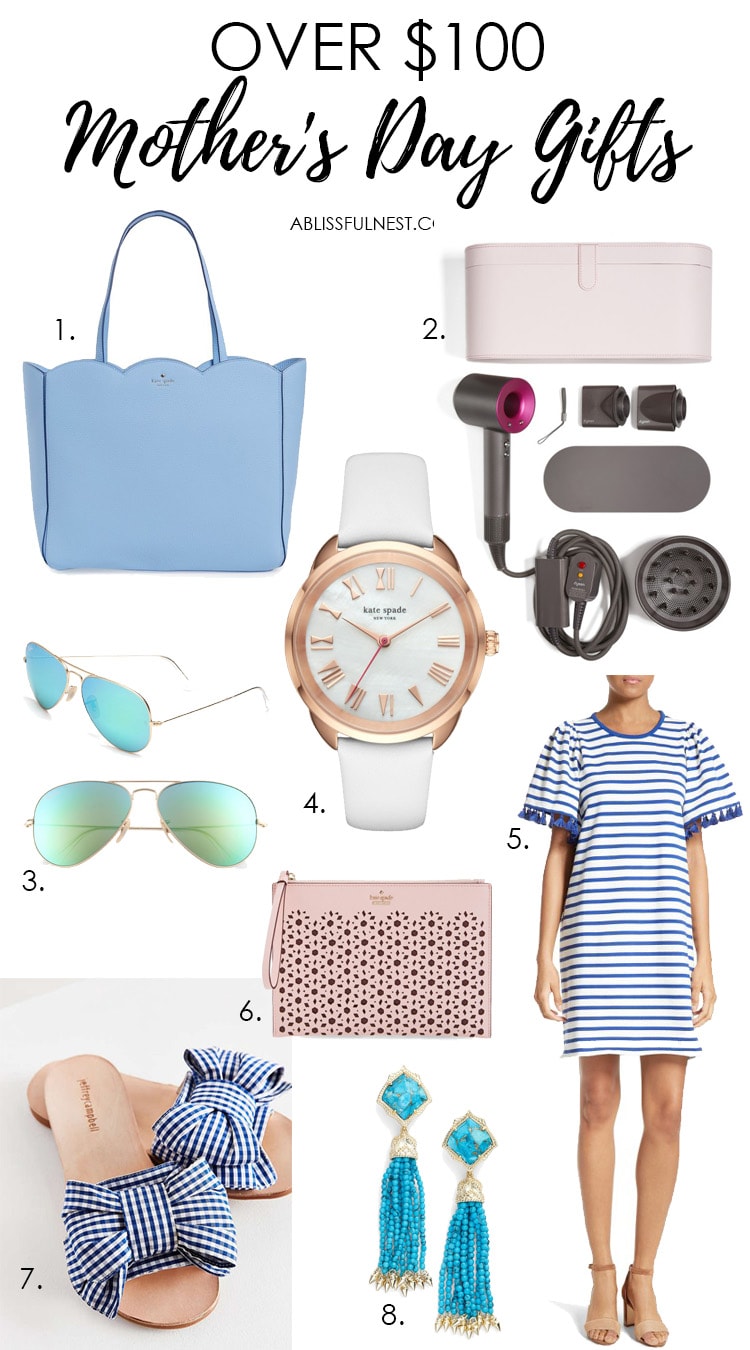 ONE – If you are going to buy a handbag then this powder blue color with the scallops is just everything! Kate Spade just has such a classic look to her bags.
TWO – Holy hairdryer! This is the mother of all hairdryers friends. It measures air temperature 20 times each second to ensure the temperature is under control and helps prevent extreme heat damage to protect natural shine.
THREE – I love this lightweight aviator style sunglasses and they come in 10 colors. This color is my favorite though!
FOUR – This is the perfect everyday watch by Kate Spade. I love the white band and gold accents!
FIVE – Blue and white + tassels! Yes please! I would live in this all summer!
SIX – I am loving the laser cut look lately on accessories and this is a gorgeous clutch with this pattern.
SEVEN – Be still my blue and white loving heart on these shoes! Bows + gingham = perfection!
EIGHT – These gorgeous tassel earrings by Kendra Scott match that necklace up above. Seriously crushing on this color with the gold flecks.


I hope I gave you some great ideas for some Mother's Day gifts and you all have a blessed day with the special ladies in your life!