Nutcracker Christmas Table Setting Idea
This post may contain affiliate links. Please read our disclosure policy.
This is a sponsored post written by me on behalf of Hobby Lobby. All opinions are 100% mine.
Sharing a beautiful nutcracker Christmas table setting created with layers of holiday decor from Hobby Lobby. A guide to follow to select the perfect pieces for a holiday table inspired by beloved nutcrackers!
It's time to start thinking about your Christmas table and I've got the cutest idea for you that I know you will love!
We are obsessed with nutcracker Christmas decorations in my home and so I thought it would be fun to use them for Christmas centerpieces for tables. I have them placed in various spots in our home and purchased a few extra ones this year from Hobby Lobby.
Hobby Lobby had so many nutcrackers to choose from I don't know how I didn't walk away with more of them! They are so fantastic and all their Christmas decor is currently up to 70% off making it a no-brainer to stock up on these fun little guys!
Their holiday decor is literally right as you walk in and it is organized by table decor, Christmas tree decor and ornaments, faux Christmas trees, and so so much more.
I love how things are paired together in their isles not only by how you will use them but in collections of color schemes. Making it truly a breeze to layer and build on whatever design you are trying to create.
Okay so let me show you my Christmas table ideas to help you get prepared for enjoying this special time with your family!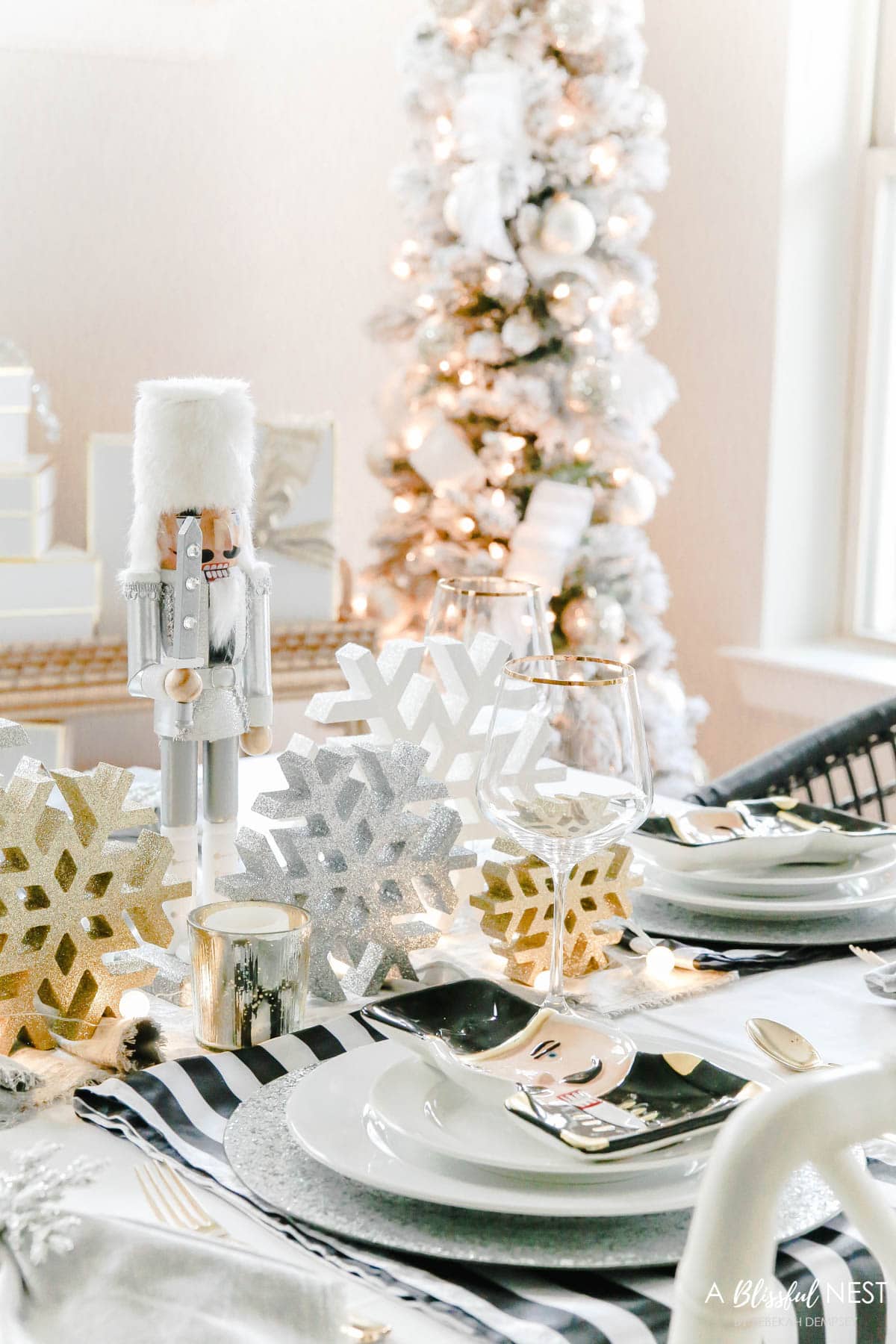 How Can I Make My Table Look Good At Christmas
There are so many ways to elevate your Christmas table to make it look good. But I put a quick guide together to help organize you for decorating your dining table for Christmas.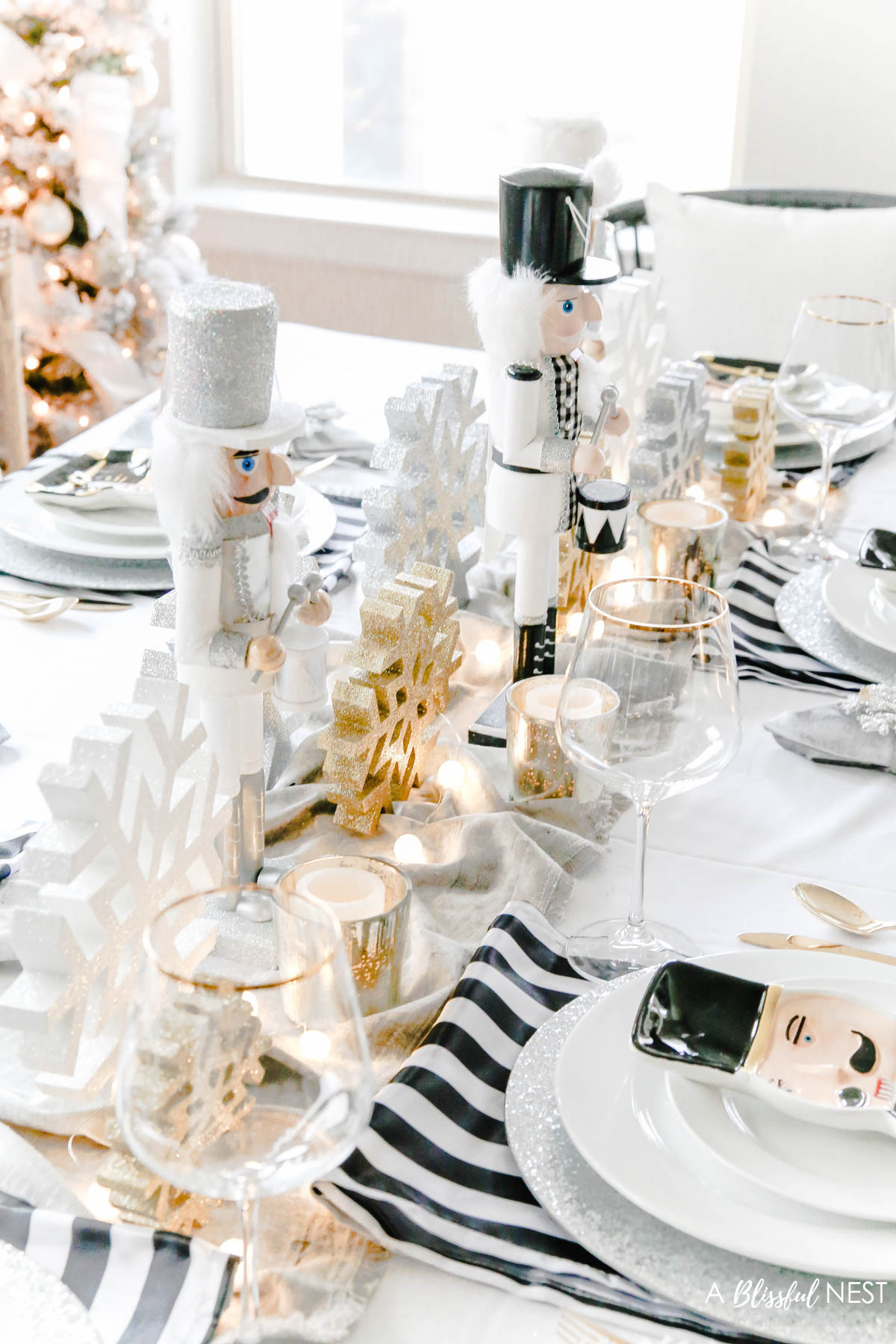 Focus on the center of the table
Start with decor that adds a wow factor to the center of your table. Add unexpected touches like these beautiful nutcrackers.
Decorating the center of the table will dictate the direction the rest of your table decor and theme will look like.
Layer in decor elements
One of my best tips is to layer in decor elements. The more you layer, the more unique your table will look.
You can do this with the center of the table but don't forget to do this at each place setting too.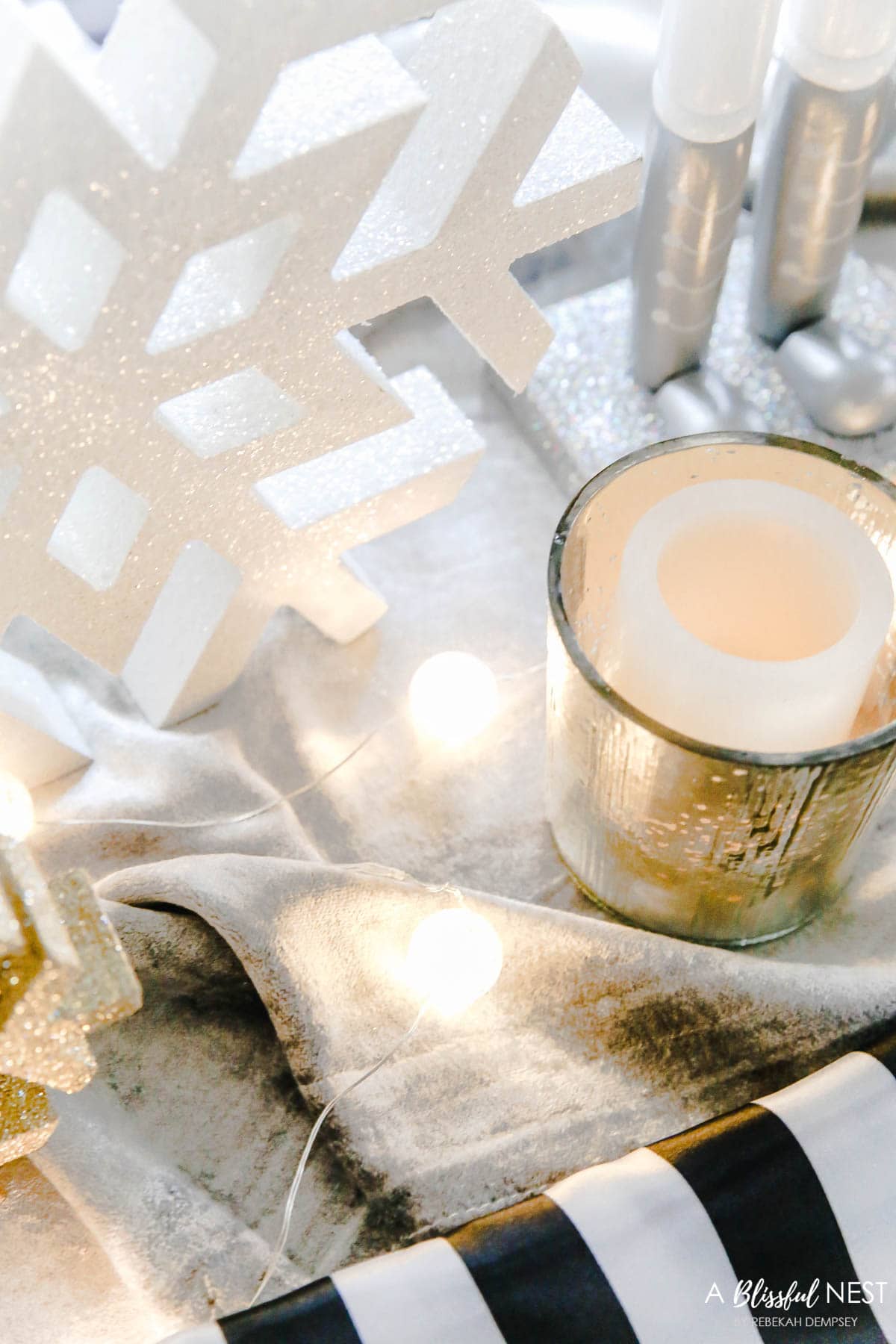 Add a small strand of lights
Another one of my favorite Christmas table decor ideas is to add in a small strand of lights. This really sets a beautiful ambiance to your decor.
What Are 3 Essential Items Need To Set A Table
Every table setting should include these three basic items. I am sure you have them in your cabinets, but for the holidays use pieces that are a little nicer and specifically for more formal dinners.
I tend to use pieces that were passed down to me from my family, gifted to us from our wedding, or that over the years I have invested in to use for these special occasions.
Beautiful Chargers – These will set your place set apart from the other decor on the table and can add a pop of color, pattern, or texture to your place setting.
Gorgeous Drinkware – These will add a touch of glam to your table decor. Use fine crystal or pieces that have a decorative accent to them like a gold rim.
Luxe Flatware – These pieces can be beautiful sterling passed down from generation to generation or collected flatware you have found that is heavier and more substantial feeling than your everyday set.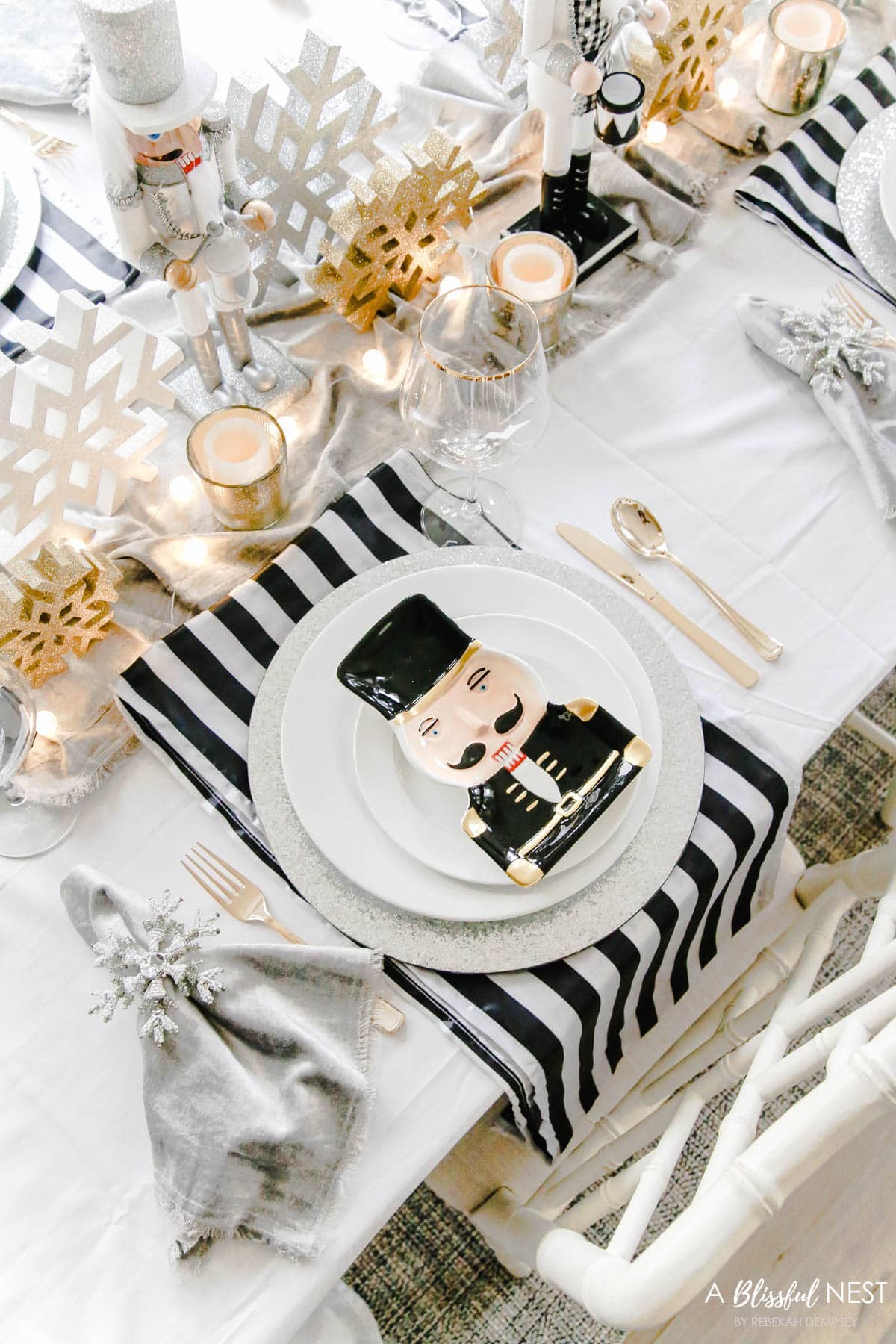 How To Set Up A Nutcracker Christmas Table
Use my step-by-step guide below and source list to build the perfect nutcracker Christmas table setting!
Lay tablecloth
Use a plain white tablecloth for the base of your holiday tablescape.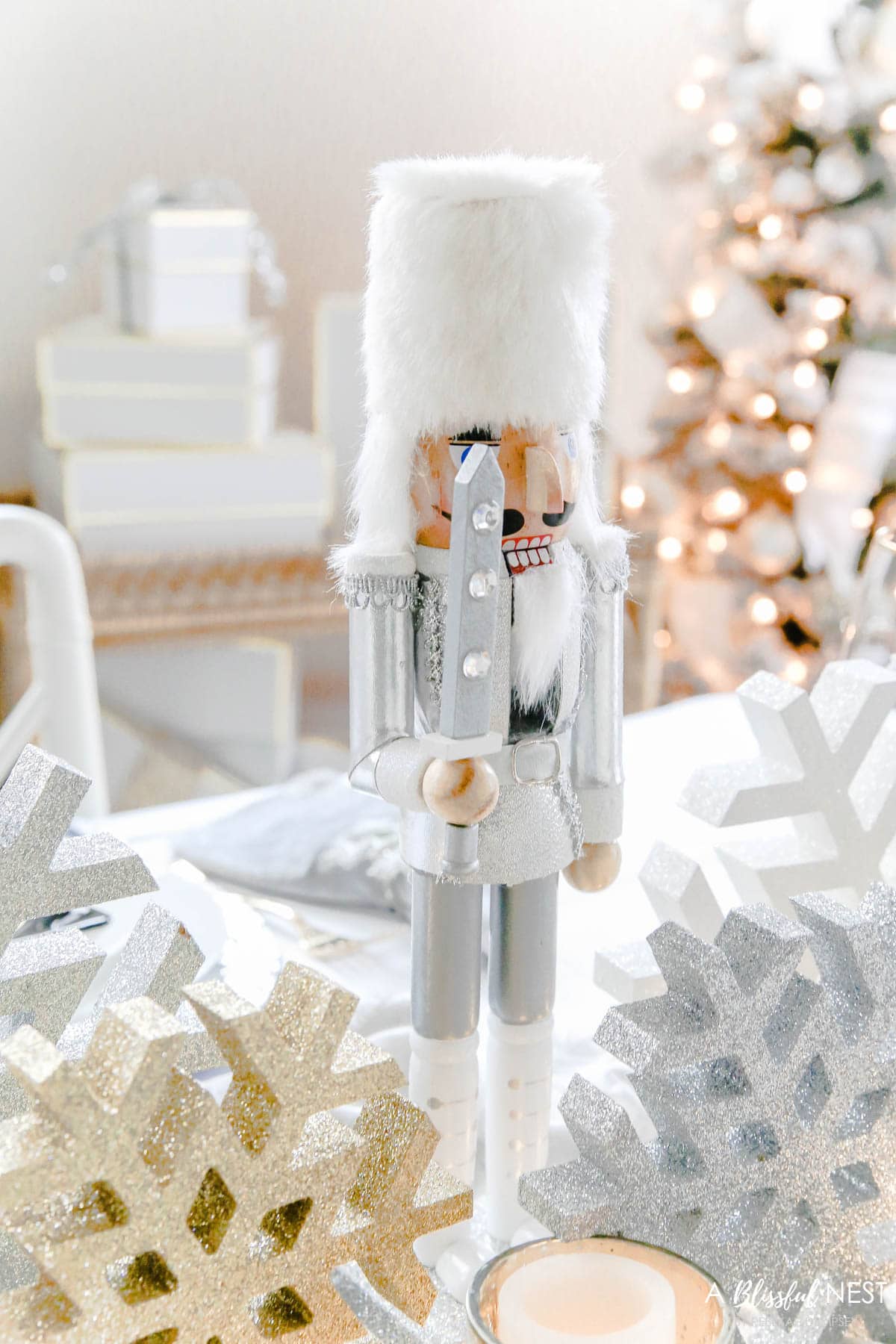 Create the centerpiece
Lay the table runner down the center. I used a beautiful rich looking grey velvet table runner and crunched it up to create a ripple effect.
Then I added the nutcrackers. I used three large varying nutcrackers in silver, white, and black. I placed them evenly down the center of the table runner.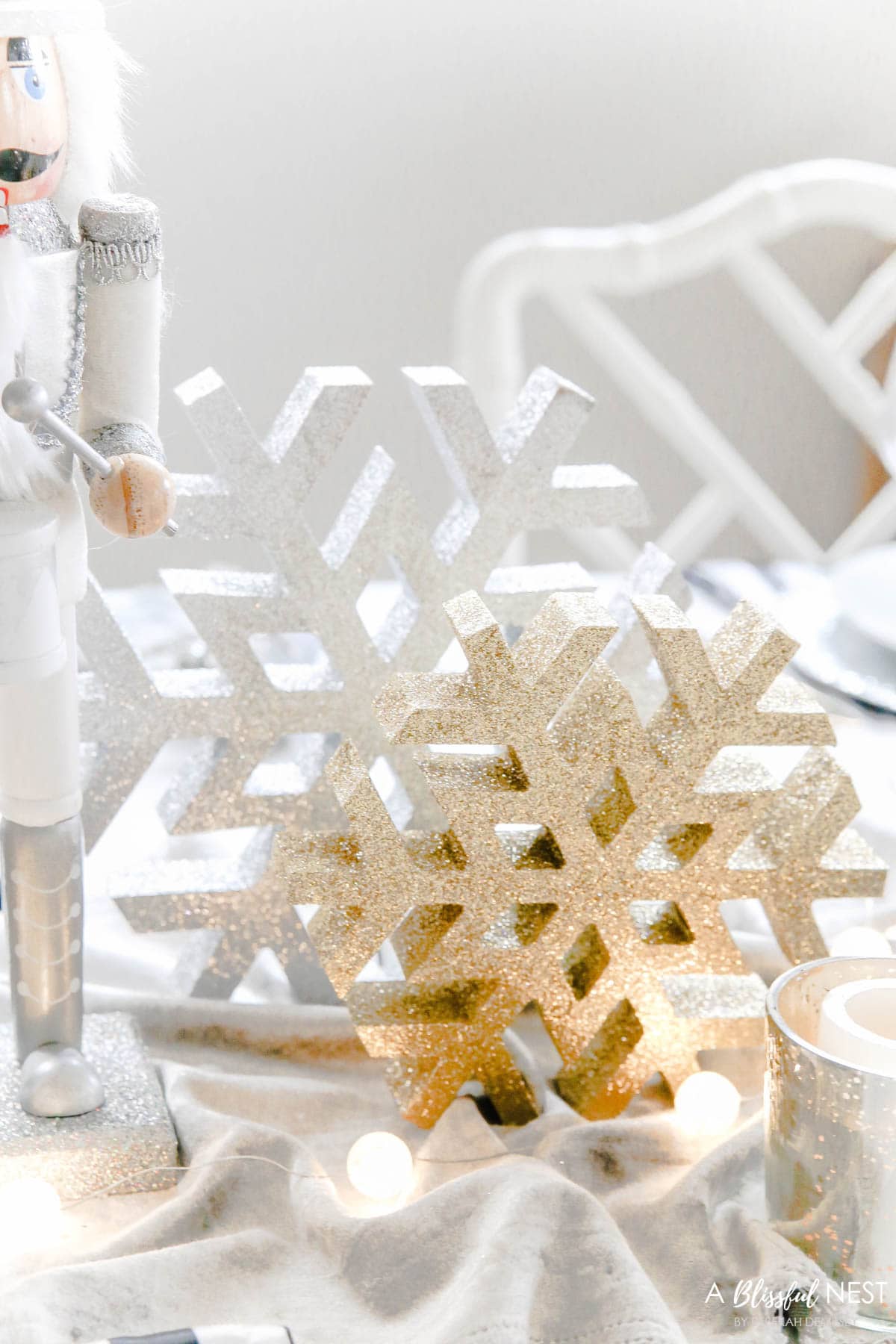 I then added these wooden glitter snowflakes in varying sizes in silver, white, and gold. They easily stand up on their own so no need to secure them.
Stagger them for a skewed look so you can see each snowflake and place them in between each nutcracker.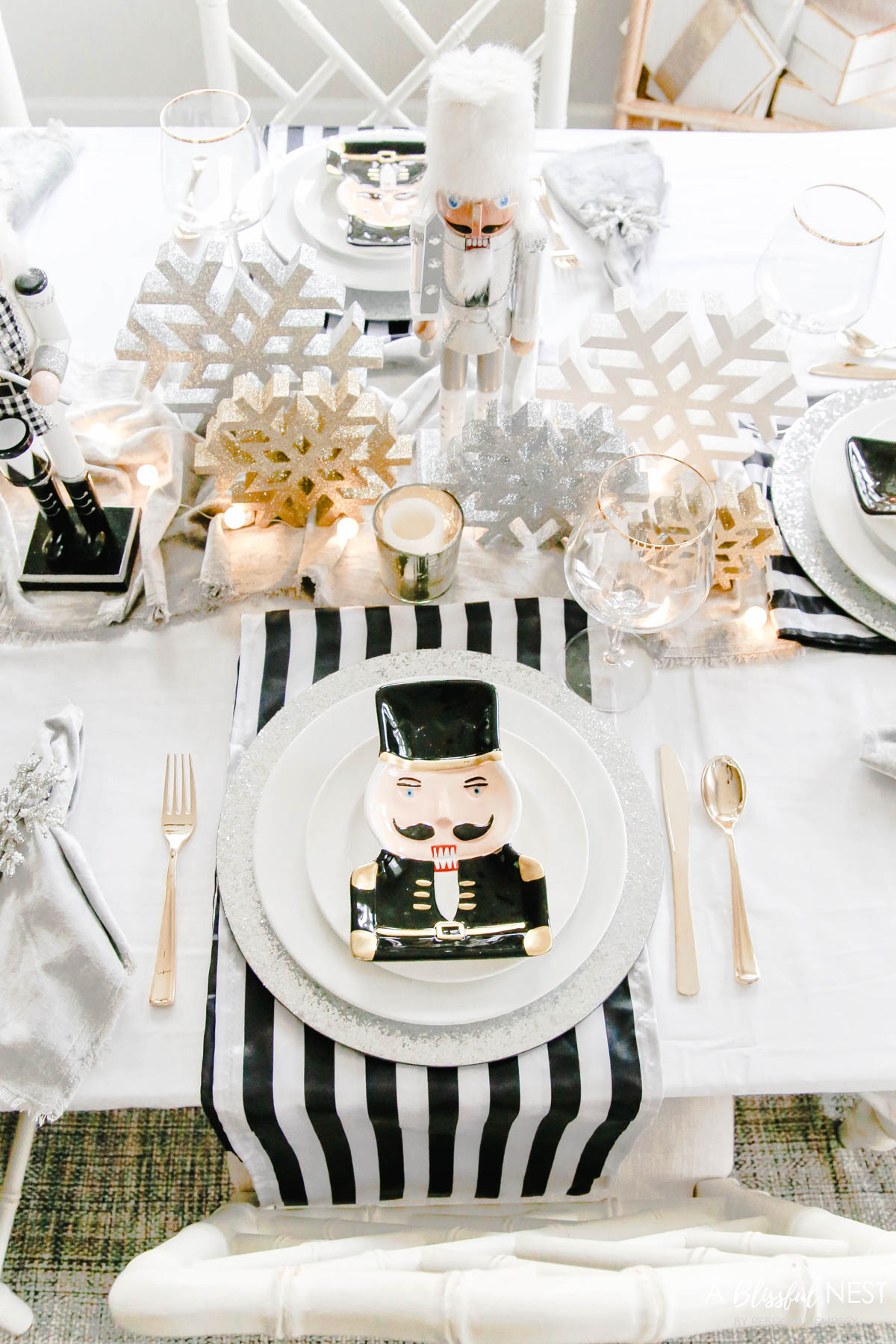 Layer chargers, dinner plates, side dishes, and nutcracker plate
Next, create the place settings.
I used these amazing silver glitter chargers from Hobby Lobby as the base piece under some black and white stripe fabric. Hobby Lobby has an amazing fabric department so let your creative juices go when looking for unusual patterns and colors for your tables!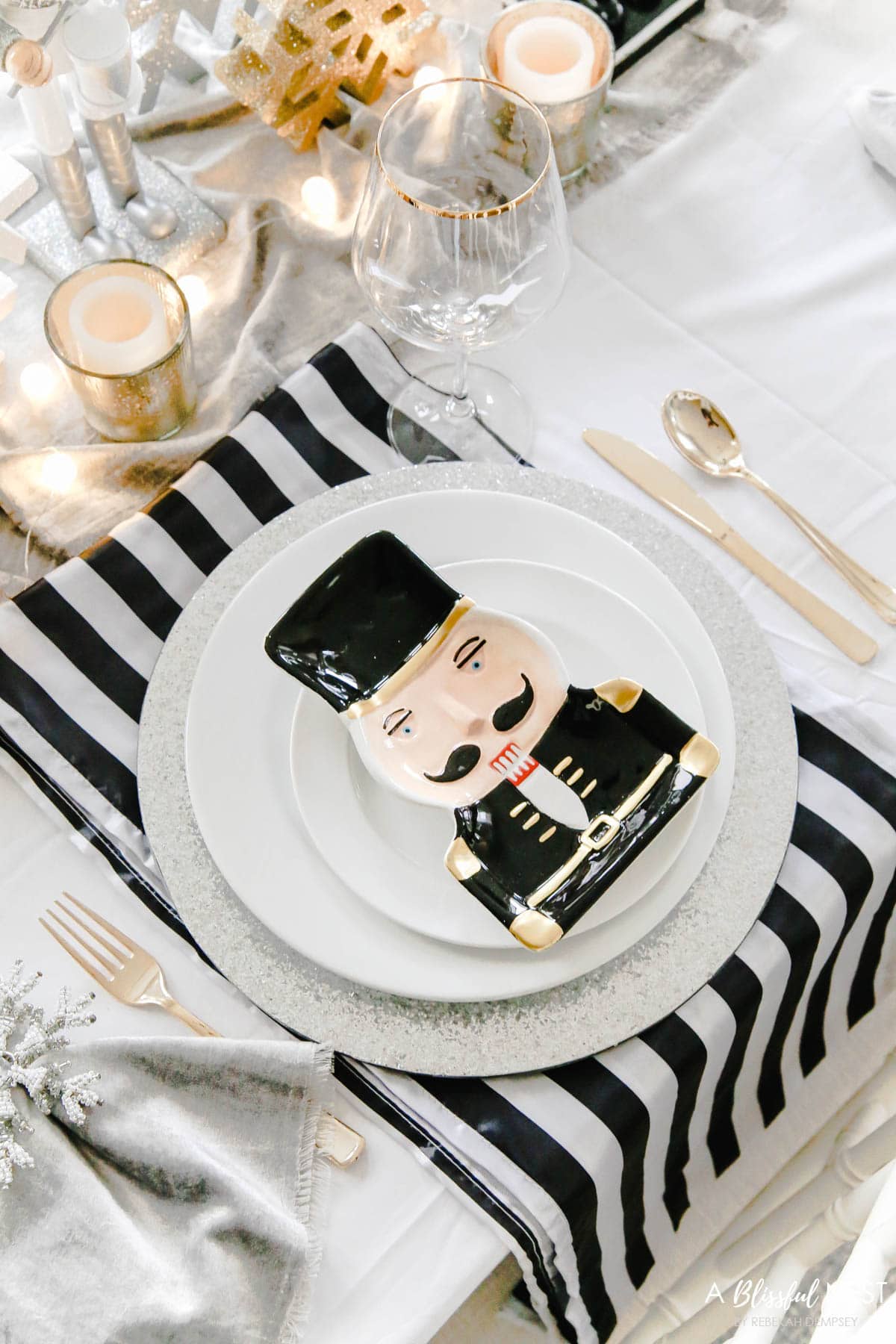 I then placed simple white dinner plates and side dishes on top of the chargers and topped them off with these amazing nutcracker plates I found. The black accents of the nutcracker plates really pulls through the stripe fabric to complete the look.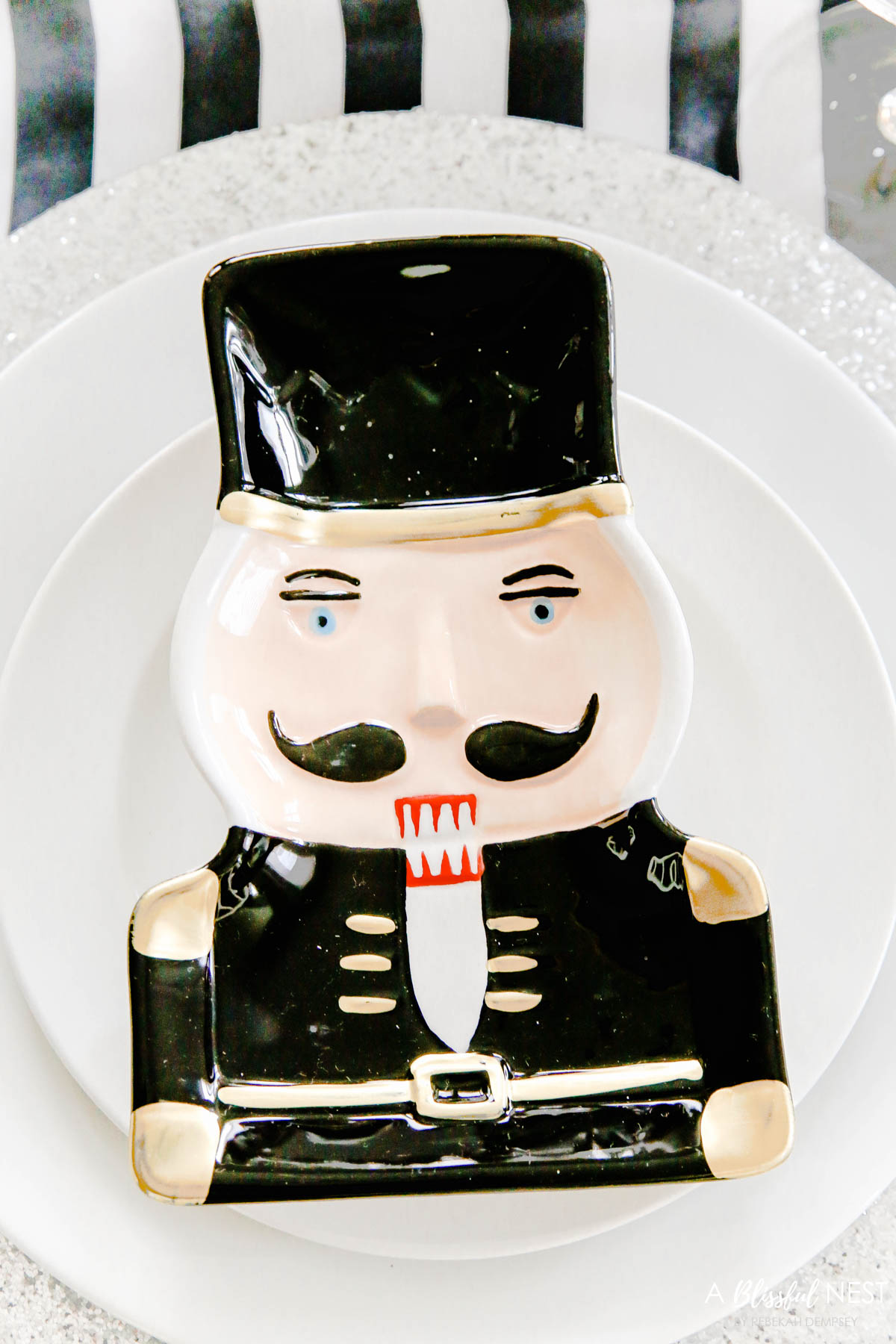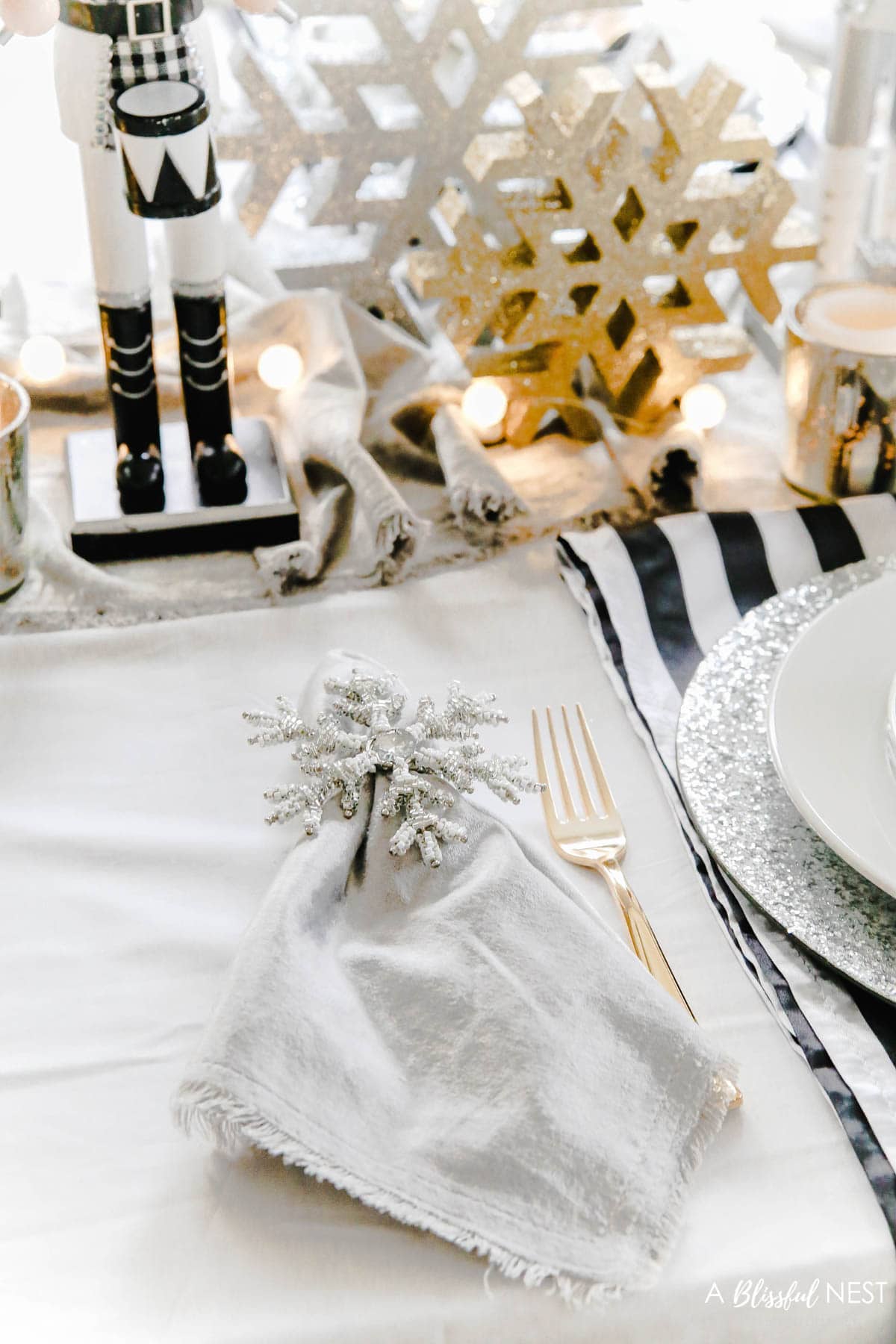 Add flatware, drinkware, and napkins
Add gold flatware to accentuate the gold touches in the other decor pieces as well as some gold-rimmed wine glasses. The smallest touches like these can have the biggest impact.
I used these velvet fabric placemats as oversized napkins and found these beautiful beaded encrusted snowflake napkin rings to add a little glam to the table. I love that the velvet napkin ties in with the velvet runner.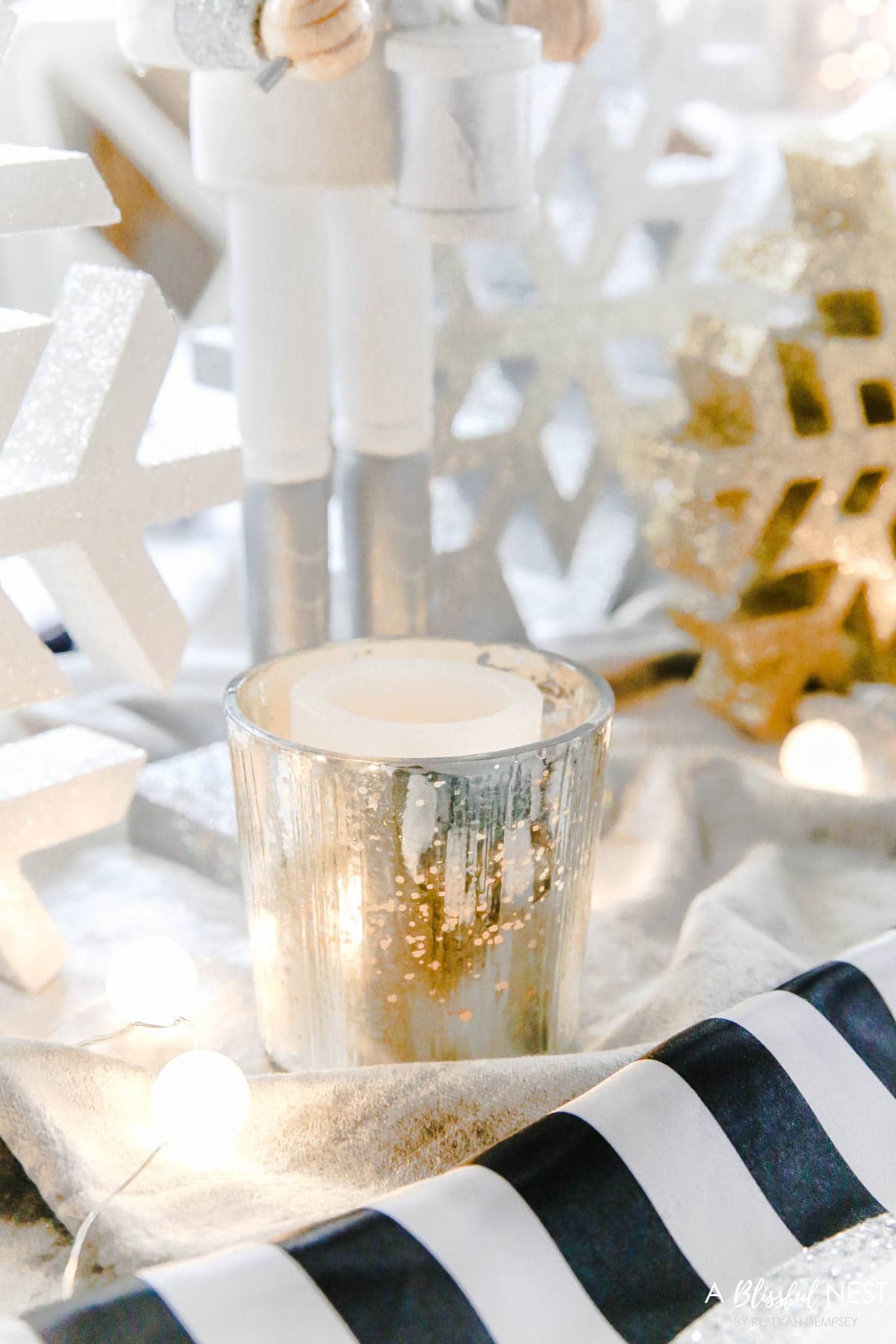 Place votives and candles
Add touches of votives and candles to help illuminate the table and add a final layer to the centerpiece. I like to do this last and place them into any holes and pockets of my Christmas table decorations. Sometimes you can't see those little spots until the very end.
String mini lights throughout the center of the table
For a little extra touch, I added this string of globe lights to the center of the table. I simply weaved them through and tucked the little battery box under the table runner.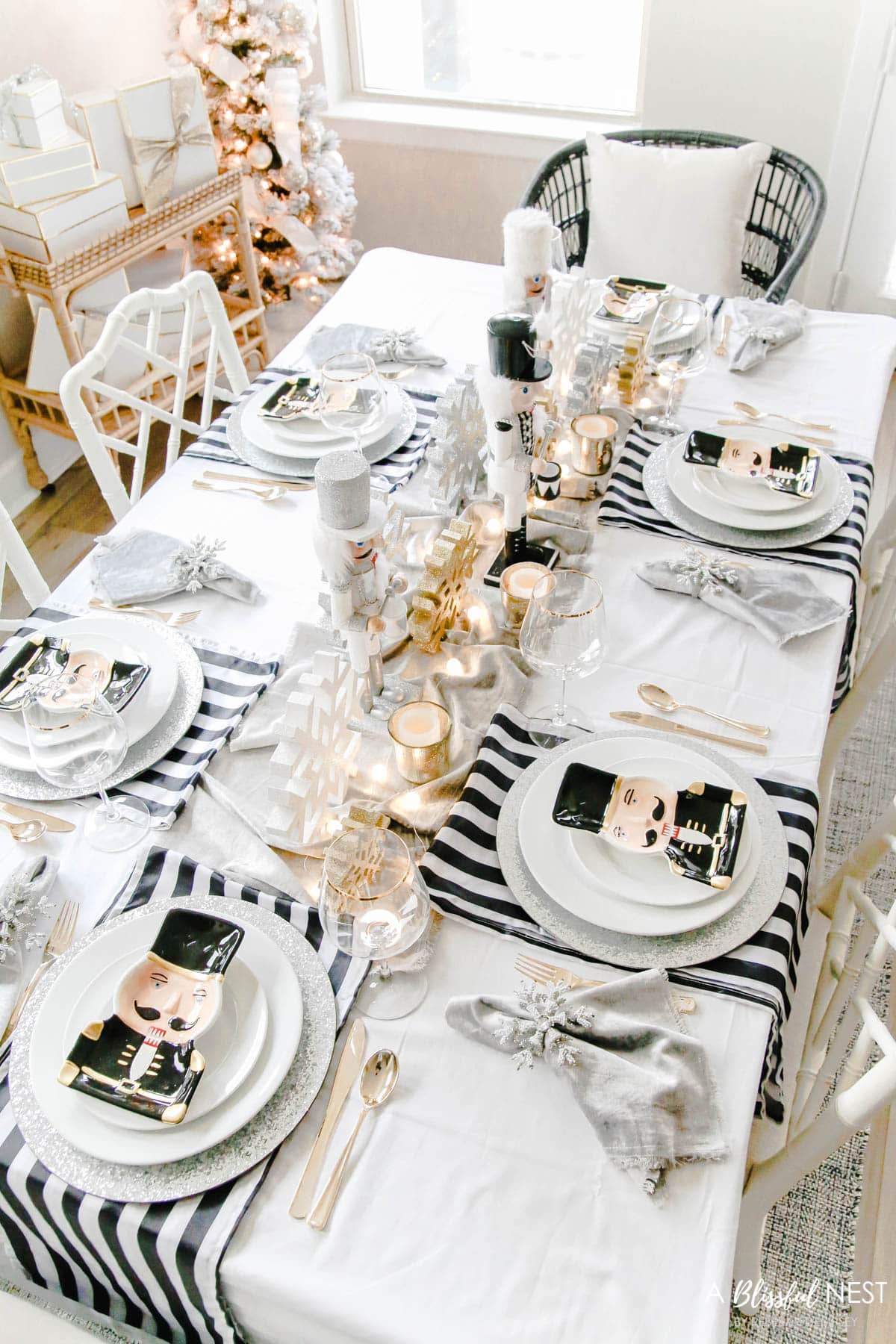 I hope you loved these fun nutcracker Christmas decorations and table-setting ideas for the holidays and make sure to head on over to Hobby Lobby to snag all these great holiday decor pieces!
THIS IS A SPONSORED POST. A BLISSFUL NEST HAS RECEIVED PAYMENT, TRADE, AND/OR PRODUCTS FROM HOBBY LOBBY IN EXCHANGE FOR PROMOTION. HOWEVER, ALL OPINIONS STATED ARE OUR OWN.
Follow along to get more of my tips on home decor, DIY, and lifestyle on the following:
Pinterest | Instagram | Facebook | Twitter