Thanksgiving Table Setting Ideas Using Succulents
Happy Thanksgiving Everyone! Hello there, I'm Janine from Happy Happy Nester, and I love blogging about our home and lifestyle in Northern California. I'm so honored and excited to be a holiday contributor for A Blissful Nest!
Since the holidays are just around the corner, I'm inspired to share with you a table décor that is not the traditional autumn leaves. But, rather a Thanksgiving table that incorporates the ever popular succulents. As some of you might know, California has been in a severe drought for the last couple of years. I guess our stressed out weathermen are saying that we need 60 days of non-stop rain in order to return to our average rainfall levels. Well, it's not surprising that this summer, I found succulents to be the perfect plant for my outdoor table. They need very little water and they seem to thrive in the heat! In the Bay Area, gardens are bursting with succulents. They almost look like they would naturally take over neighborhoods. I thought it would be such a nice change to bring them indoors for our Thanksgiving table décor. As you probably have noticed, succulents have so many subtle beautiful shades of green that they quickly take center stage.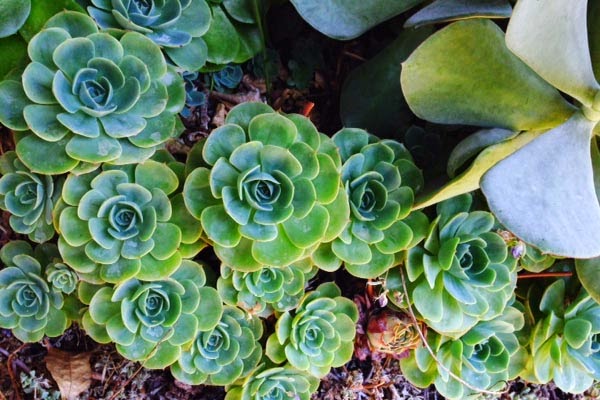 As most of you know, succulents love the dry sunny summer weather. So, to bring them indoors is a little tricky. If you are like me, I have very little experience growing them in my house. So, I asked a few sources for info. First off, my friends on Instagram said that the key to success is to place them in a sunny window. Secondly, I spoke to a gal out at our local garden store, Orchard Nursery and she said that succulents just don't like being indoors, they get too moist due to our home's humidity. But, if you feel you want to flex your green thumb, here is some information that you may find helpful!
This site contains affiliate links. Please read our disclosure policy. As an Amazon Associate, I earn from qualifying purchases.
Care
Light – Here are some interesting facts. Despite being a desert plant, you don't want to burn them with too much sun. So, place them in a spot with bright light, but not full mid-day hot sun. I also found out that yellow leaves means that the plant is receiving too much sunlight. Also, if the succulents lean towards a light source, this means it doesn't have enough light.
Water – So, succulents go through a growing phase in the warm climate and need water like once a week. During the summer, I saw a nursery worker dunk the whole planted pot in a bucket of water and quickly let it drain of water. In the colder times of the year, this is their dormant season, so you don't need to water as much. Make sure the soil is dry and then water every 10 days or so. When choosing your lovely succulent, the green type will survive best indoors. Supposedly the orange and purple varieties do best outdoors!
Humidity– Finally, they like a dry environment so, maybe rethink not placing them in your damp bathroom.
If despite your gallant effort, you don't succeed in growing succulents indoor, you can always resort to fake succulents. I used a few in this post and they look pretty real!
Here in California, this is what the succulents look like in our gardens! It's pretty amazing to have them take over hillsides and flowerbeds!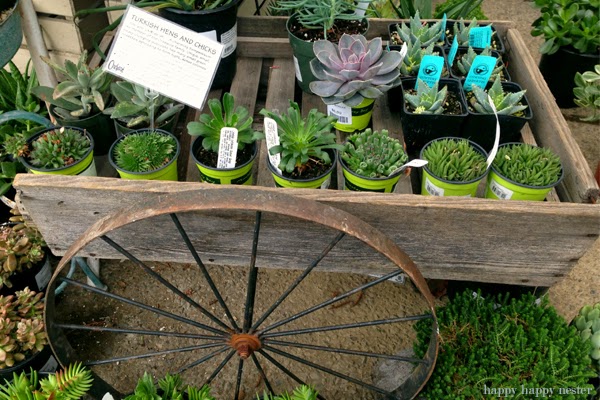 Our local garden store, Orchard Nursery is fabulous. It is located in the quaint town of Lafayette, which is in the East Bay of San Francisco. Isn't this a great display of succulents?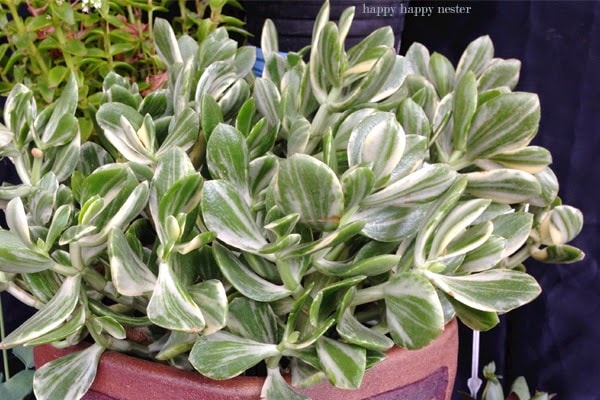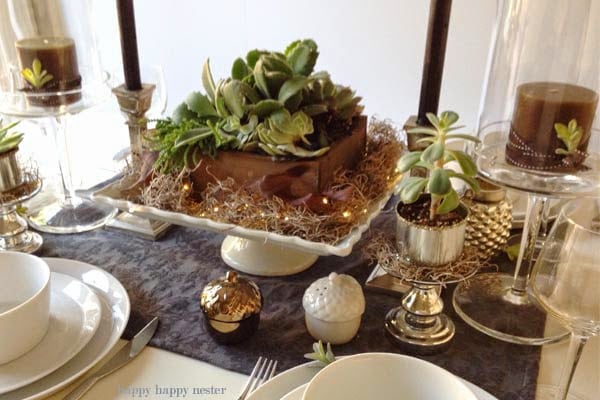 So, from the garden store to the table, here is the Thanksgiving table that I created for you. I originally had planned to design a table with a light and airy style. I find it interesting that the creative process is always changing directions and looks. I guess the style took a different direction when I placed the black Sur La Table dishtowel in the middle of the table. It definitely set the stage for the black and brown candles and what I feel is a Ralph Lauren look. I recently bought the white Crate and Barrel porcelain dishes, and I find they are so versatile for decorating. For the holidays, I may add a few fun dishes to make it festive.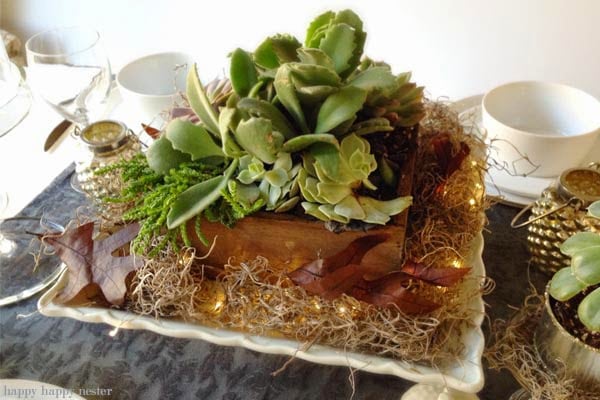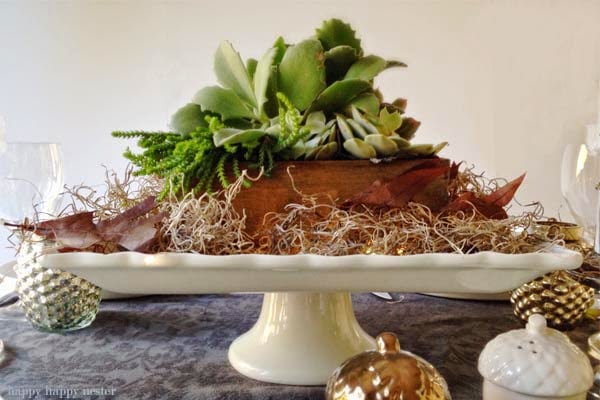 I love using cake stands to elevate the focal point. Having objects at different levels, just makes the composition interesting and full of energy. Have fun and use them in your kitchen, to hold fruit, vegetables, napkins, and most everything! I have one at my coffee and tea station and it holds the sugar and tea bags.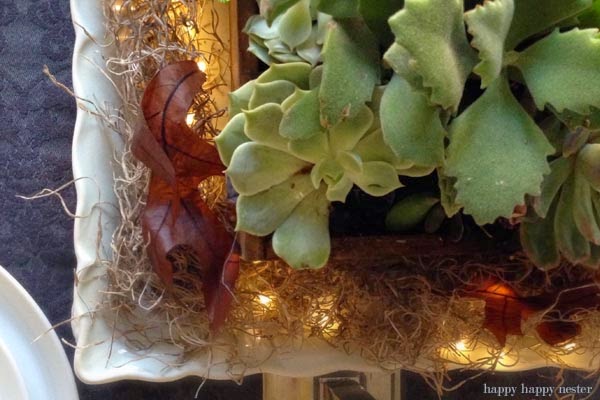 I bought these fun battery operated twinkle lights from Amazon. They just added a nice little sparkle to the Spanish Moss. I'm hoping to add them to my holiday wreath that will hang on my front door!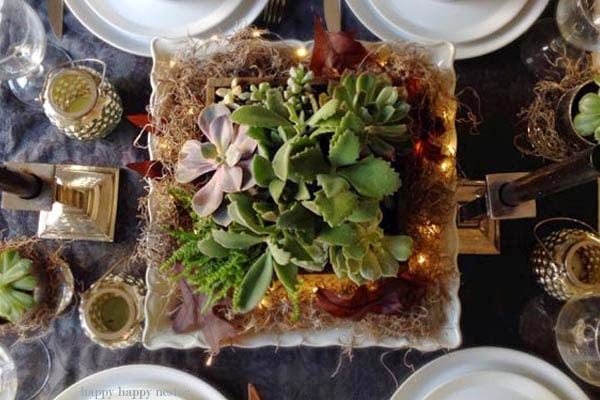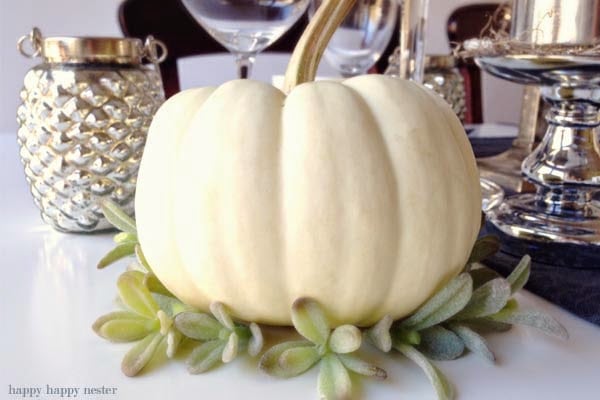 Here is a fun little twist to a white pumpkin. Not sure if you can tell, but these succulent branches are faux! Aren't they convincing! So, don't be too embarrassed to buy these great little imitation succulents!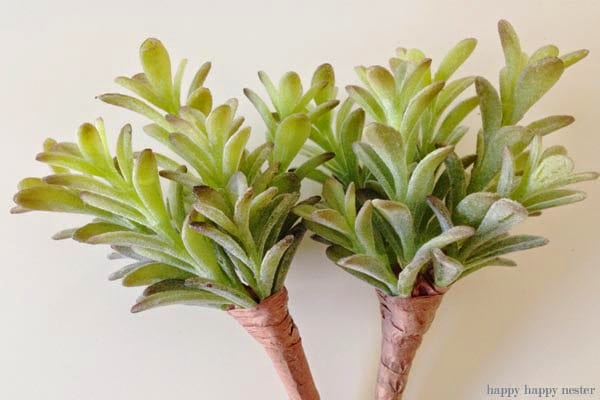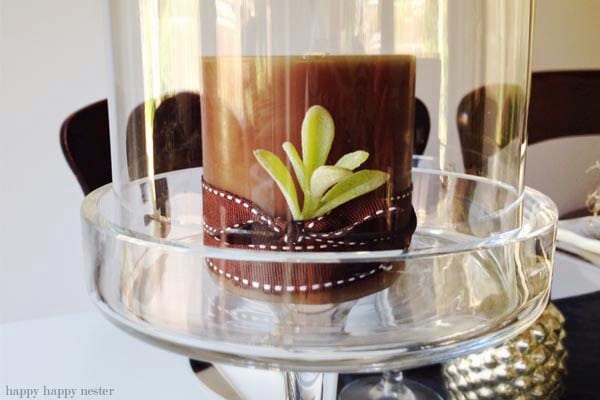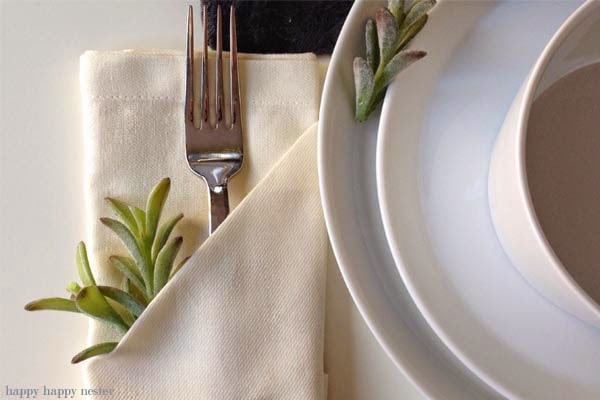 My son is totally into origami, and so he ended up folding these napkins for me. The little pocket is the perfect place to hold the fork and faux succulent. I had no idea that there are so many ways to fold a dinner napkin! Hmm, I think I could devote a whole blog post to this!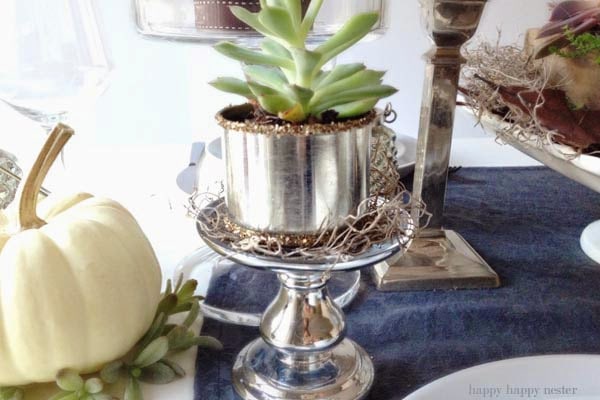 I love to create things from recycled items. Here is a pot that I made from a tin can and some beautiful glass glitter. For more projects like this, here is a link, Happy Happy Nester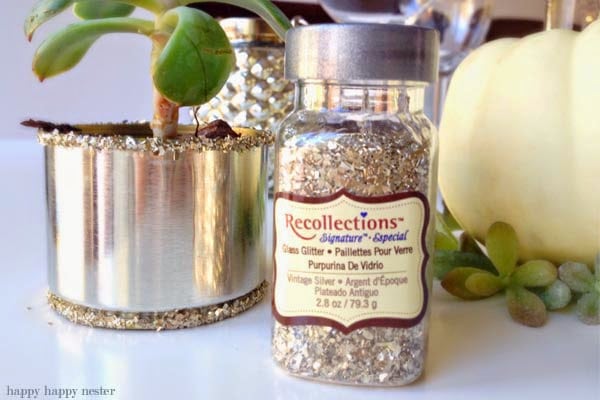 German Glass Glitter is so beautiful and is made out of real glass. I did find some on Amazon, but the price was pretty expensive, so I opted for a trip to our local Michael's Craft store. I found that they had this wonderful glass glitter that was actually perfect for my little project. I love how it is big and chunky and makes a three dimensional glittery ridge around the top and base. I just placed a bead of Elmer's glue around the lid and bottom and then sprinkled the glitter on it. I allowed it to dry and made sure to turn it upside down on an object that didn't touch the glitter. I'm totally in love with this glitter!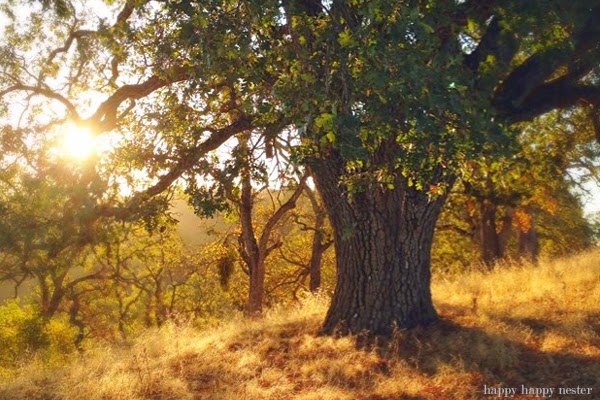 I hope you enjoyed this post and are inspired to decorate with succulents. I'm so happy that I've had this opportunity to share my table décor with you, and if you would like to get to know me a little bit more, hop on over to my blog. I love to close my post with a  photo of the golden hills of Northern California that inspire me daily. Usually these fields are inhabited with wild turkeys who wisely disappear during Thanksgiving. So, from my family here in San Francisco to yours, I wish you a wonderful Thanksgiving holiday!