4th Of July Party Ideas – Vintage Americana Picnic & BBQ
I'm so excited to share with y'all some 4th of July party ideas today and at the bottom of this post is a link to the full party printables (only available for a limited time)! I love the 4th of July! I love what it stands for and I love getting all our friends and family together. I thought this year we would have a Americana picnic in a huge open field that the kids could run around in. Using the classic red, blue and white color scheme, we popped in burlap and natural color elements to give it a classic rustic feel.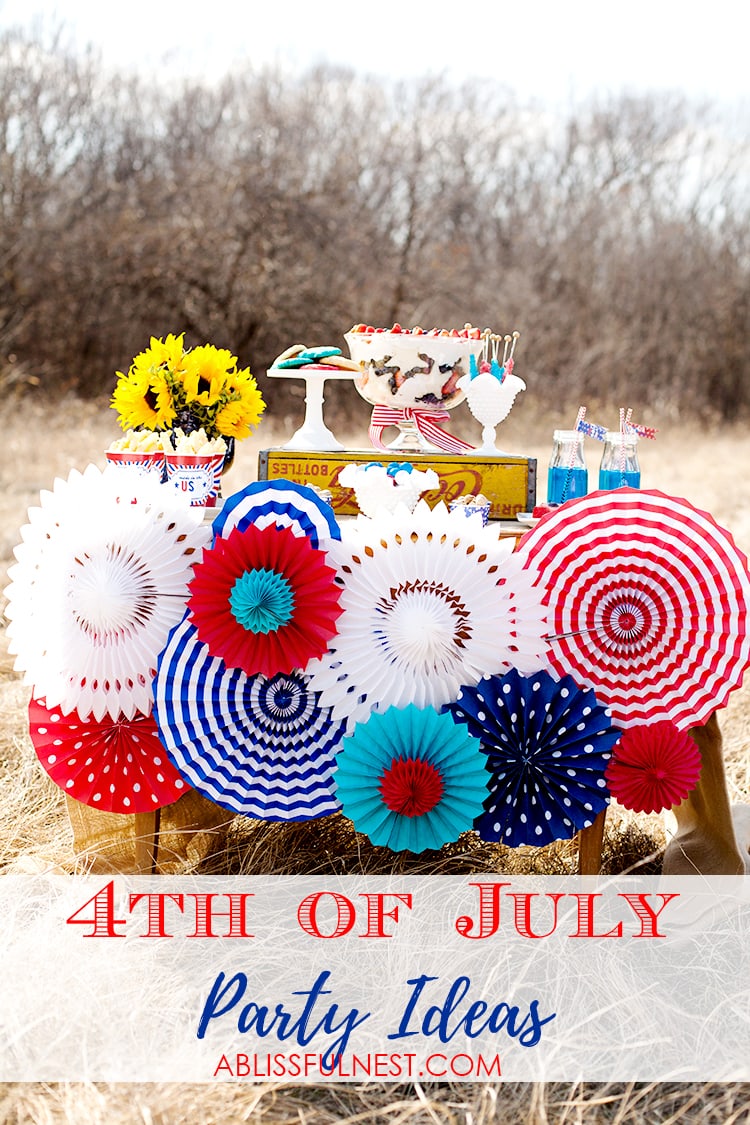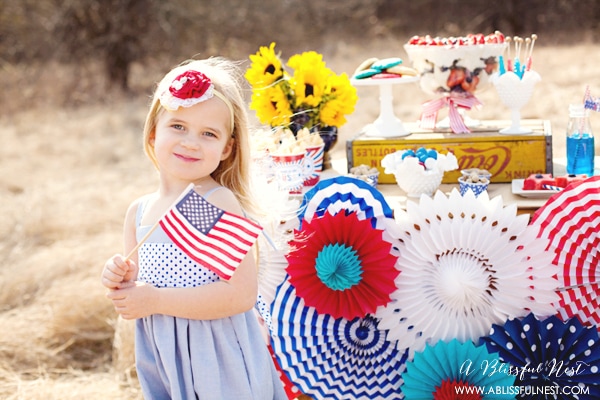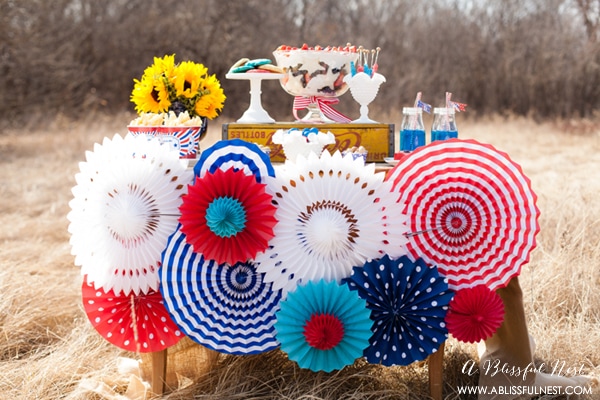 This table is so easy to recreate! Using paper fans from Target and Party City, I just glued them onto foam core and tied the board onto the front of the table apron. Then I laid a piece of burlap over the top of the table for a runner and you're done!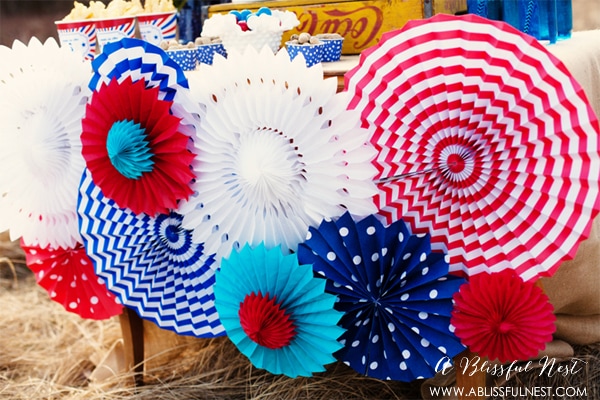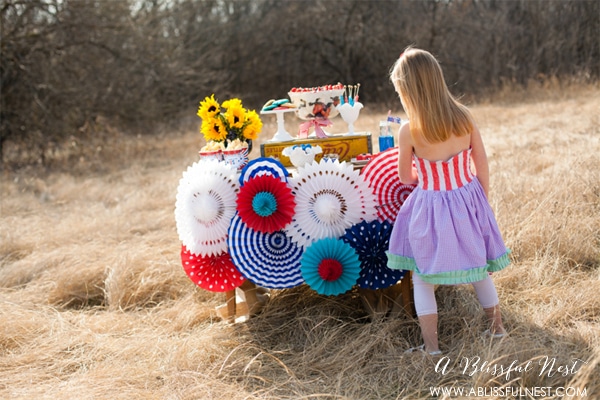 I am a huge fan of keeping my food selections simple. There is so much going on before a party that I don't have a whole lot of time to bake. Here is my menu that will help you keep it simple.
-Hot Dogs
-French Fries
-Peanuts
-Sugar Cookies (we dyed ours to match the party)
-Layered cake dessert (download our recipe HERE)
-Watermelon Stars
-Popcorn
-Misc. festive candy to match your party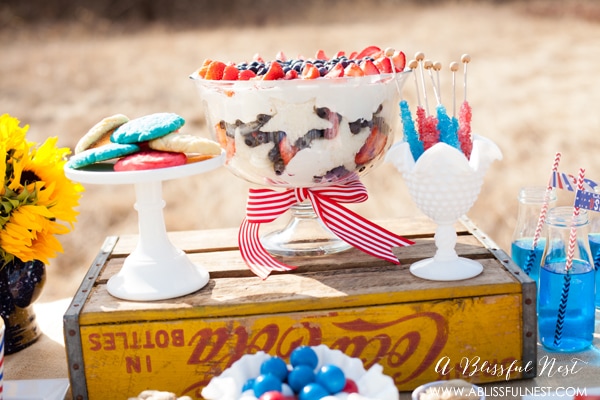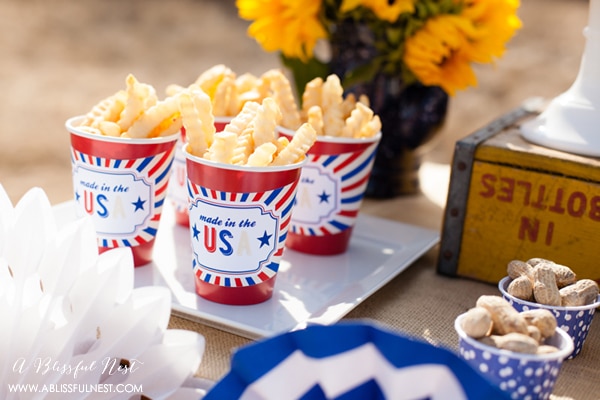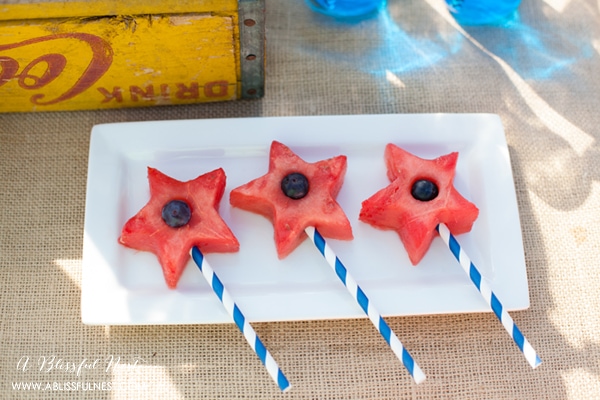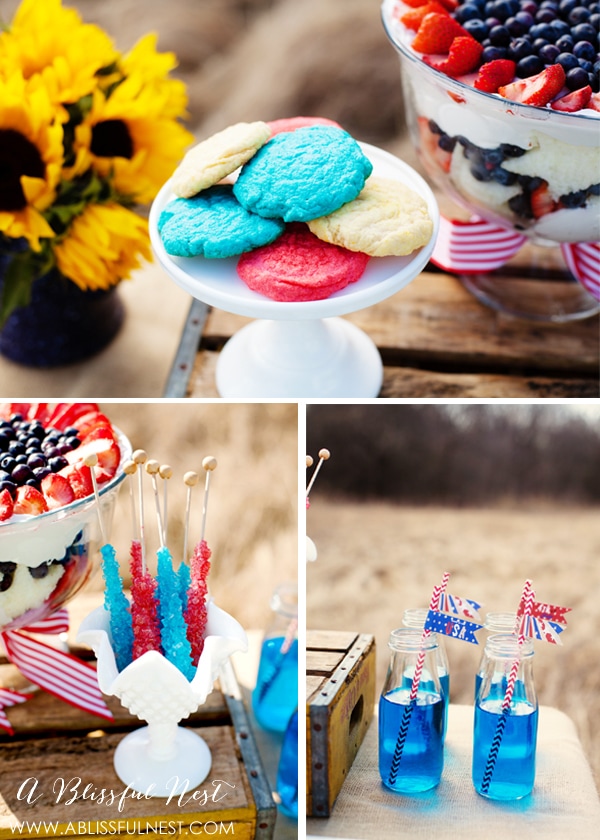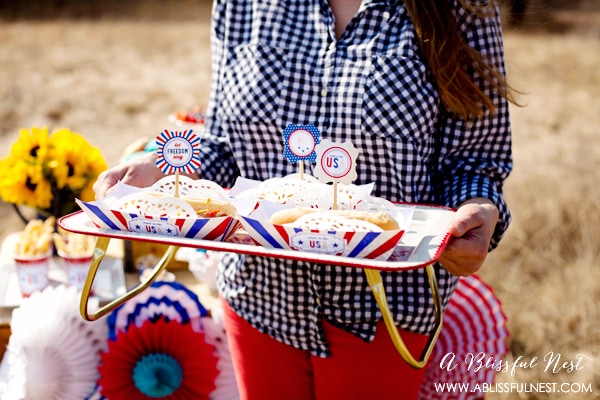 One of my favorite things to do is color my water or milk for a party with food coloring. The kids are so excited to drink the mystery drinks and topped with some cute straws and flags pulls all the decor together.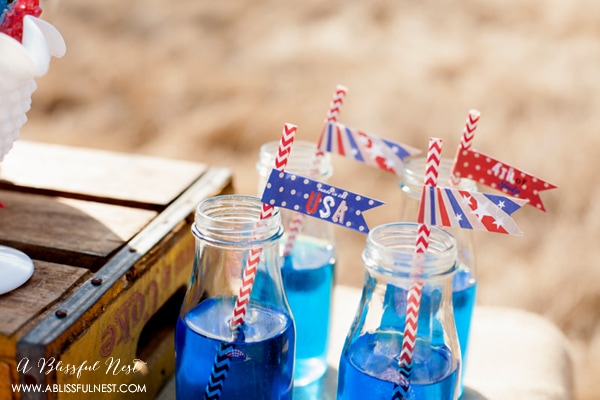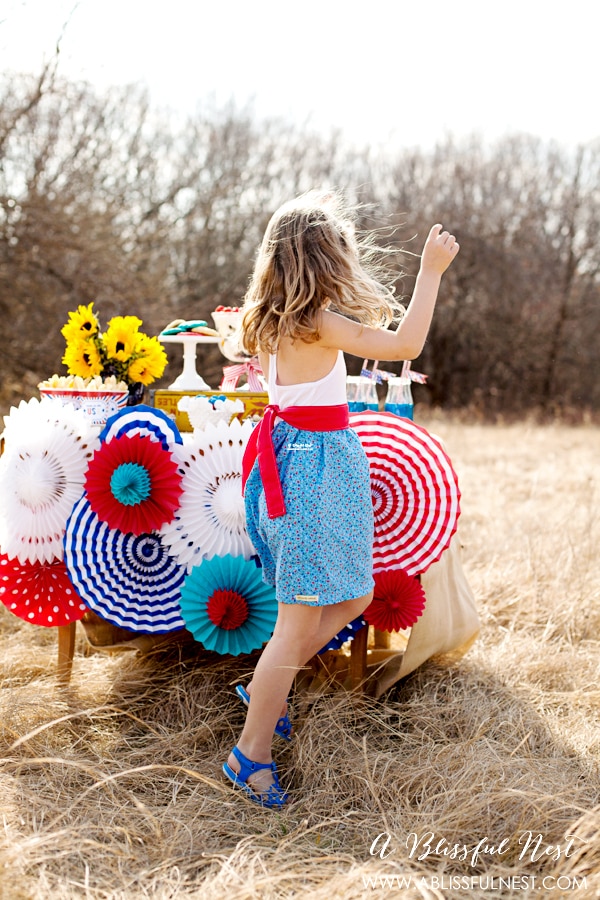 I also created a little area for the kids to rest. These kids get tired from all the running around, so I laid out a blanket and some pillows from the house. They love when they have spots created just for them!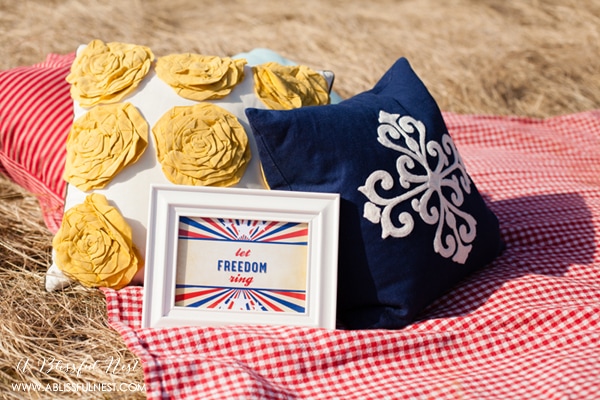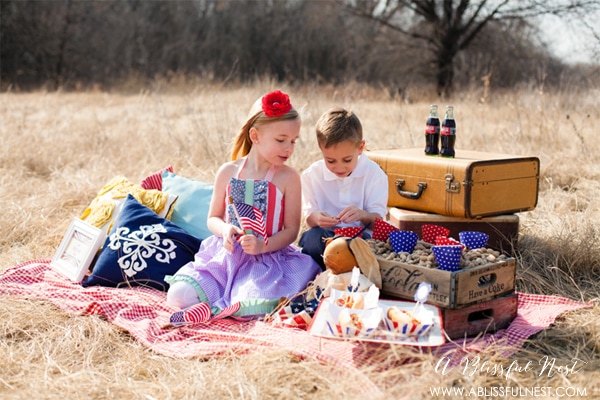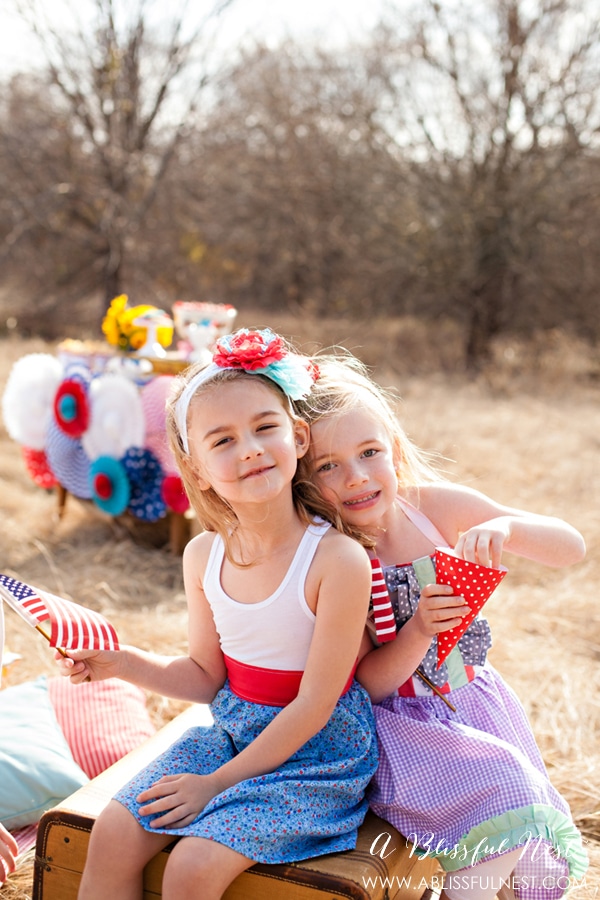 A jar of flags perched on some old suitcases act like mini tables – the perfect height for little hands.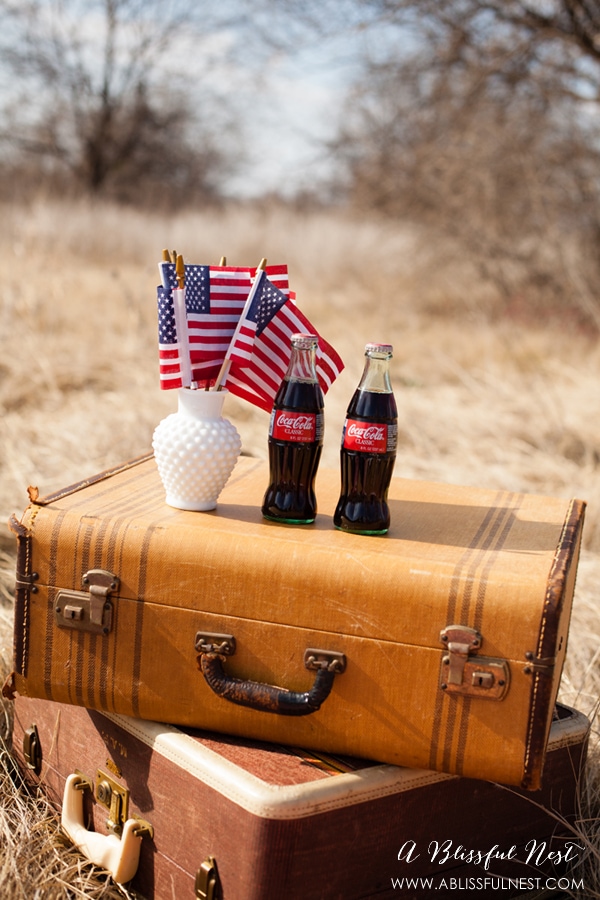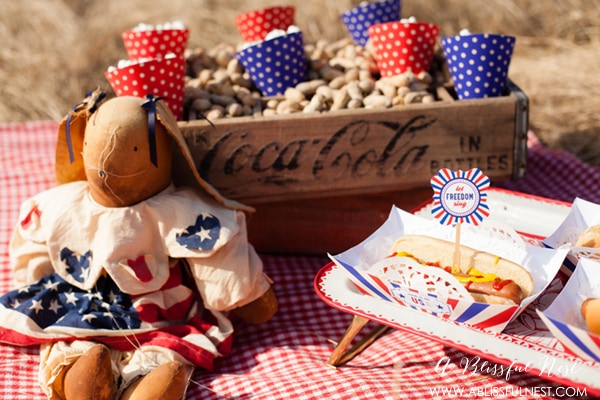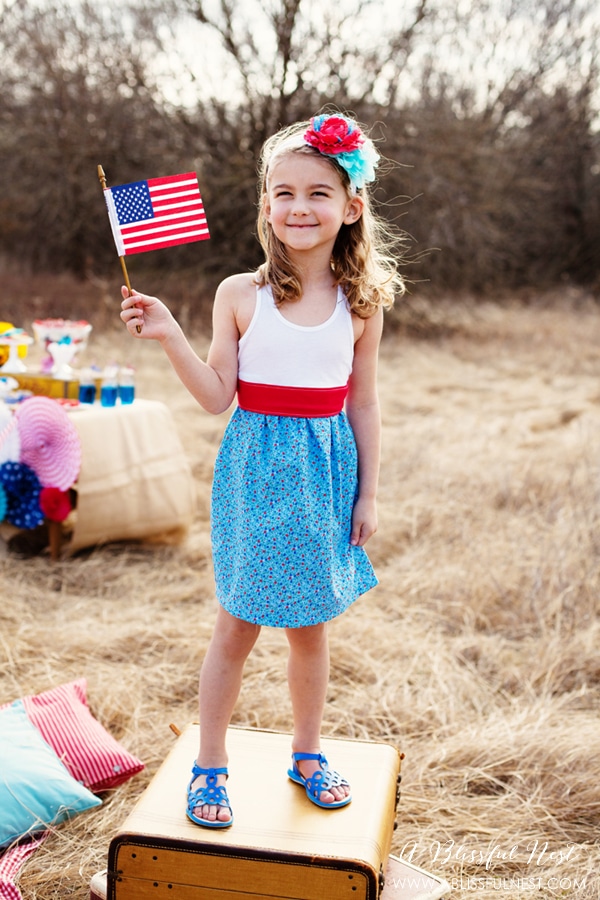 I hope you enjoyed our red, white and blue party ideas!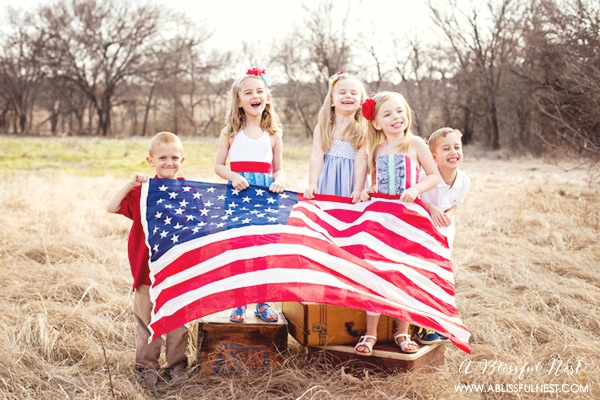 Our sweet vendors in this party: Styling/Decor – A Blissful Nest; Photography – Alyssa Maisano; Candy- Candy Galaxy; Girl's Striped Dress – Ava Rochelle Designs; Herringbone Dress – Sneaky Pea ; Girl's T-Shirt Floral Dress – Willow Bee Apparel; Girl's Headbands – Jameson Monroe
For more 4th of July party ideas please visit our Pinterest board here:
Follow Rebekah Dempsey | A Blissful Nest's board 4TH OF JULY PARTY IDEAS on Pinterest.