Affordable Bathroom Updates Anyone Can Do
This post is sponsored by At Home Stores, but all opinions are my own.
Our master bathroom has been ignored basically since we moved in. When I designed it I made the space pretty basic except for the countertops and the decorative lighting. I have dreams of adding wallpaper but needed to make some quick affordable bathroom updates for now until we can splurge for the wallpaper.
At Home Stores is the best place to go when I am looking for a wide selection of affordable designer looking decor. Their warehouse-style layout makes it easy to find decor in specific departments and by style. I love shopping there when I am on a budget because I am able to get everything I need to complete my designs.
So today I thought I would take you through my process of refreshing our bathroom and how to get an affordable designer look. I always think when I have a specific shopping list before I start looking for pieces then I will save time and money so take my list below and grab everything you need to get a quick budget-friendly update for your bathroom!
This site contains affiliate links. Please read our disclosure policy. As an Amazon Associate, I earn from qualifying purchases.

Affordable Bathroom Updates Anyone Can Do
1. Update with new towels and create layers
This is one of the easiest ways to refresh a bathroom on a budget. Fresh towels and new patterns will instantly change the look of a bathroom.
I love to mix and match my sets and create a layered look. You can do this by selecting a solid colored towel set and then pairing it with a contrasting patterned set. I did this with solid luxe white towels and then got a grey and white patterned towel with tassels. If you want a brighter pop, stick to colors on the color wheel when looking to coordinate colors. They will be in the same color family and be complimentary.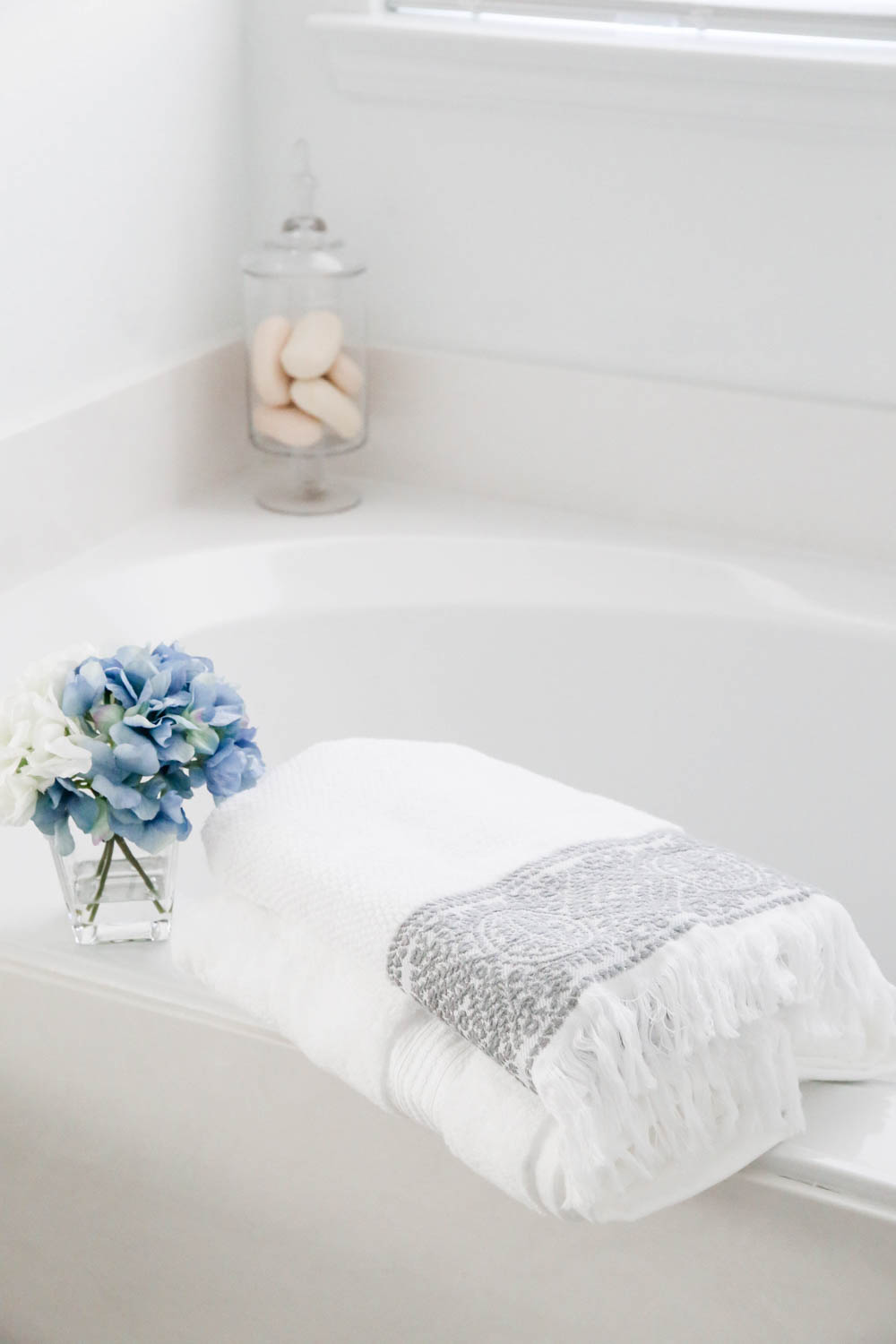 2. Add art to pop personality and color
Adding art is such a simple and beautiful way to pop color and personality to a space. I love how art truly reflects an individual's distinctive character and is so unique. That is why At Home is the perfect place to choose art from. Their selection is so large and they carry every style from Farmhouse to modern abstract pieces.
I choose a piece for above the bathtub that reflected serenity and had calming colors. It is on canvas and looks like it was painted by an artist. I love that I was able to get the look of a high-end piece of art at such an affordable price to complete this space.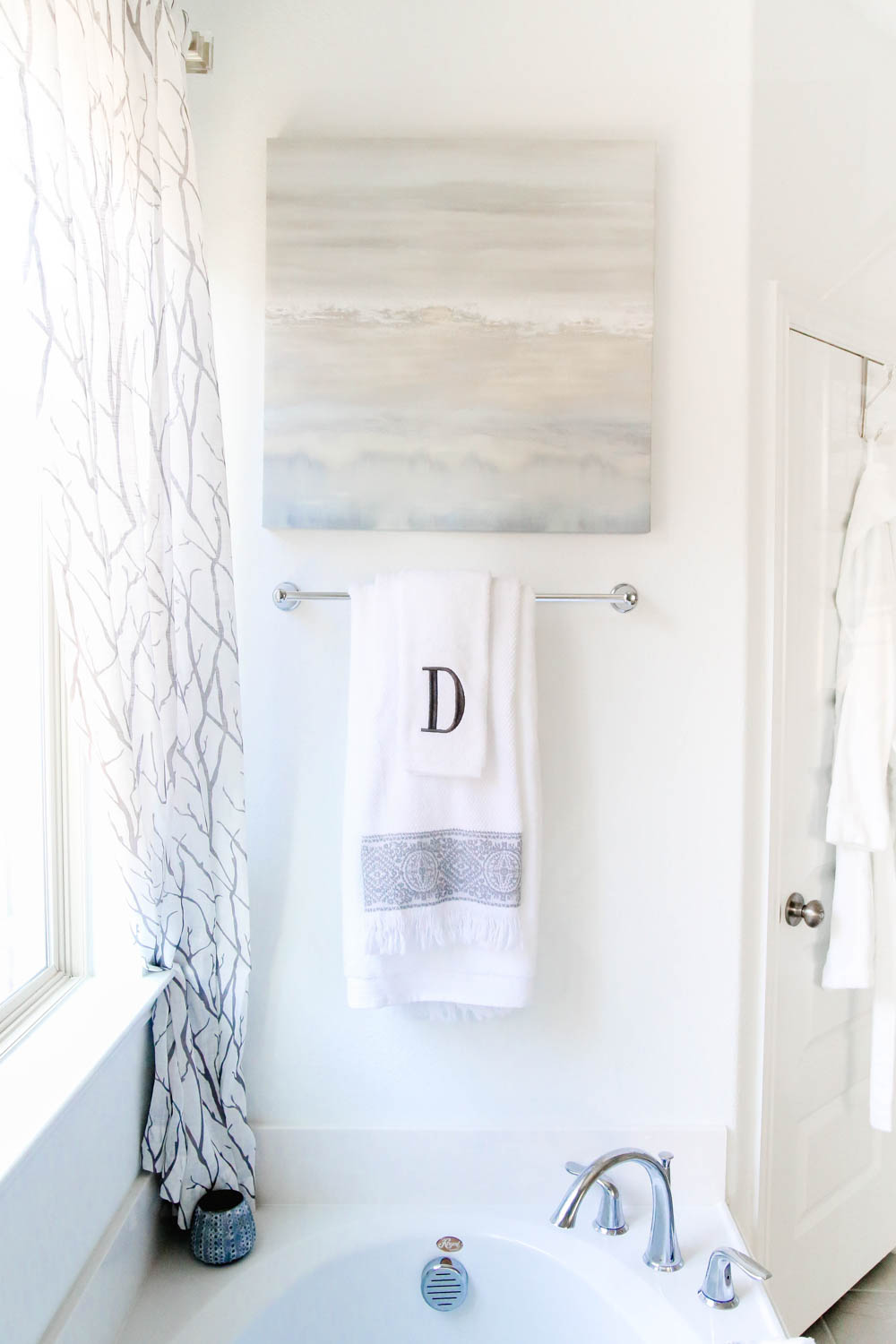 3. Create ambiance with flowers and candles
I absolutely love to use candles and flowers to soften a room and there is no difference in doing this in a bathroom too. My love for faux florals is strong and At Home has the most beautiful selection out there. They have floral stems as well as ones in containers so you can truly create a custom arrangement if you want.
Some of my favorite florals to decorate with are hydrangeas, peonies and roses. They are timeless and can be used any season.
Create a moody ambiance with candles for the perfect bathtub soak. I love to turn all the lights off and just use candles when I am soaking in the tub so I love to stockpile them on the edge of the tub at all times. I love the gorgeous candle holders and candlesticks At Home has so you can choose ones that are budget-friendly and still make the room feel elegant.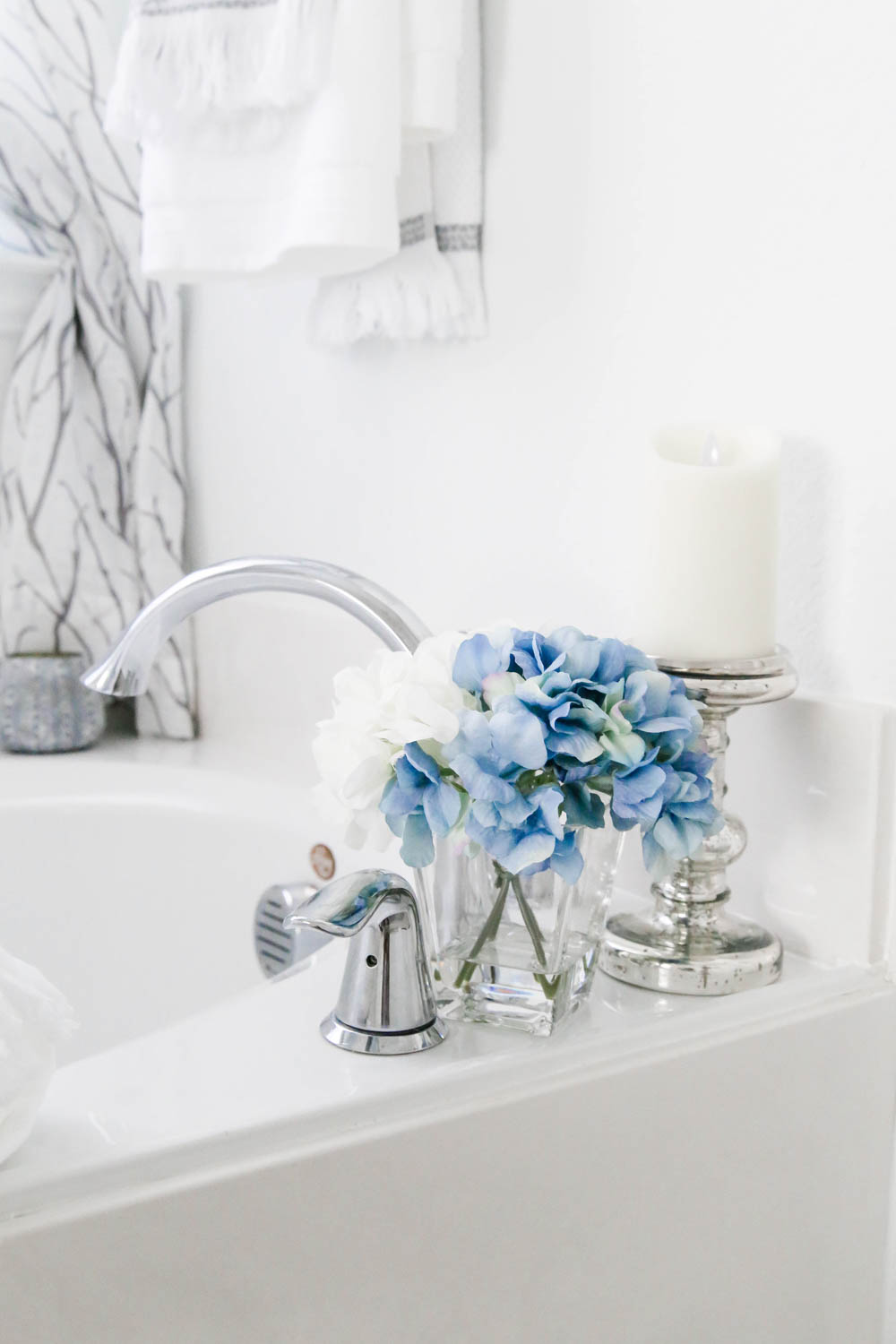 4. Use beautiful trays as a catch-all
I am such a sucker for a gorgeous tray. I use them all over in my house – in the kitchen to house my soap and sponges, in my living room to hold my remotes and in my bathroom to hold jars, perfumes and makeup brushes. I LOVE them and this heavy marble one with gold handles knocked my socks off when I found it recently at At Home. It is so gorgeous.
Trays are perfect to corral everything by the sink or even by the bathtub. There are so many sizes to choose from depending on what you need. If you want to pop some texture into the space then get one that is in jute or straw.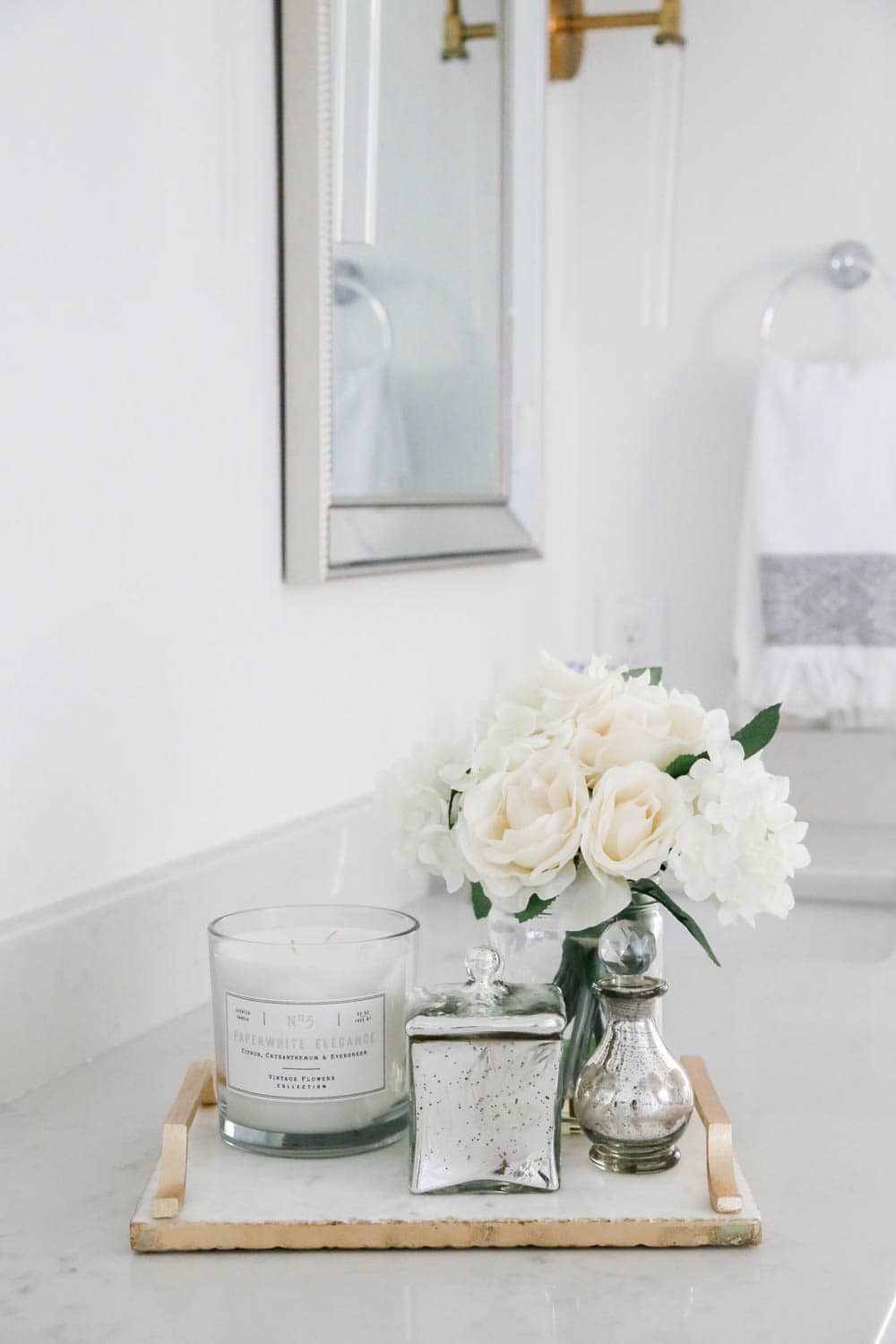 I also love to have smaller trays like this beautiful bird one next to the sink for jewelry. It's great to have something to place it in so it doesn't go down the drain!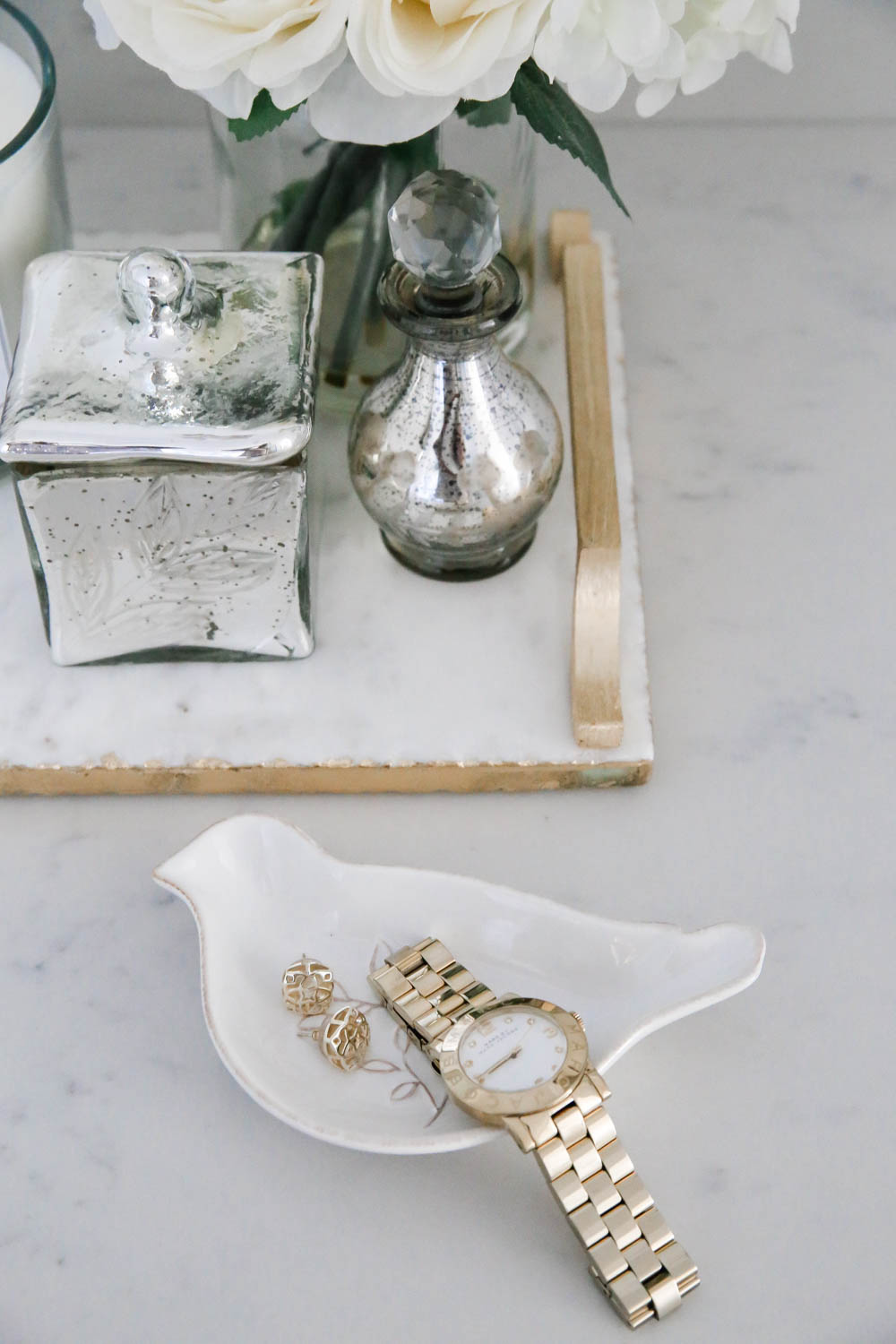 5. Use a runner rather than a bathmat to add warmth and a fun pattern to the space.
So I really do love bathmats and they are perfect for when you are stepping out of the shower or bath but I tend to pick ours up and put it away when we are not using it. I prefer to use a runner instead because it gives a more luxe feel and is such an easy way to coordinate the colors and add pattern to the bathroom to match the other decor.
I love this beautiful one I picked up at At Home that has shades of grey and soft celadon accents in it. It is gorgeous with our tiled floor and coordinates perfectly with the artwork and patterned towels.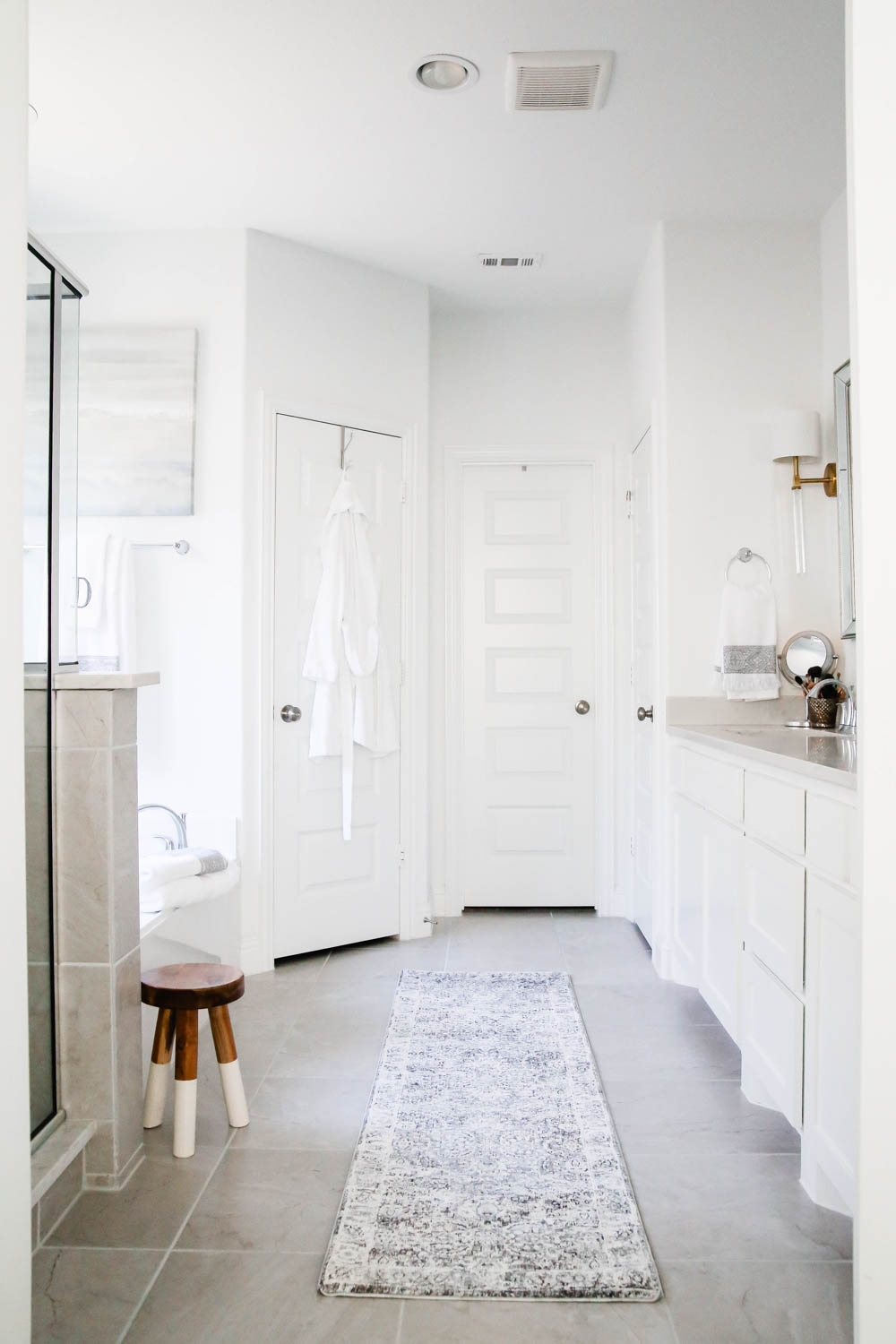 6. Use apothecary jars to house soaps
I love to use apothecary jars to house small things and to cluster them with candles and flowers. There are so many different sized ones that you can really use in any room of the house but I love these smaller scaled ones that I can use for a bathtub and put beautiful soaps in. I also love to use them to house bath sponges and bath bombs.
You can also use them on the counter next to the sink for cotton balls, q-tips, and makeup brushes. These are one of my favorite containers to decorate with so I absolutely love the wide affordable selection At Home has of them.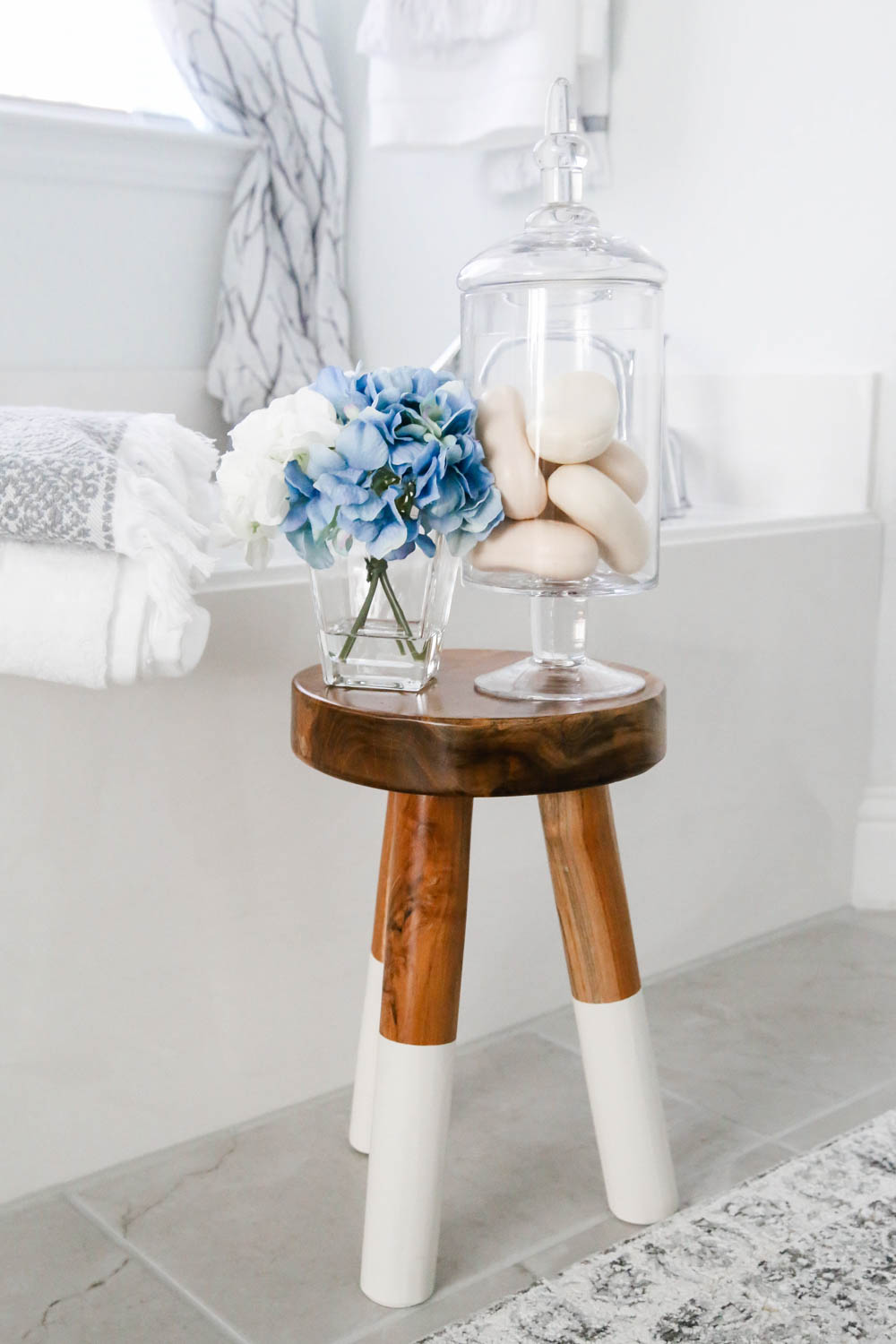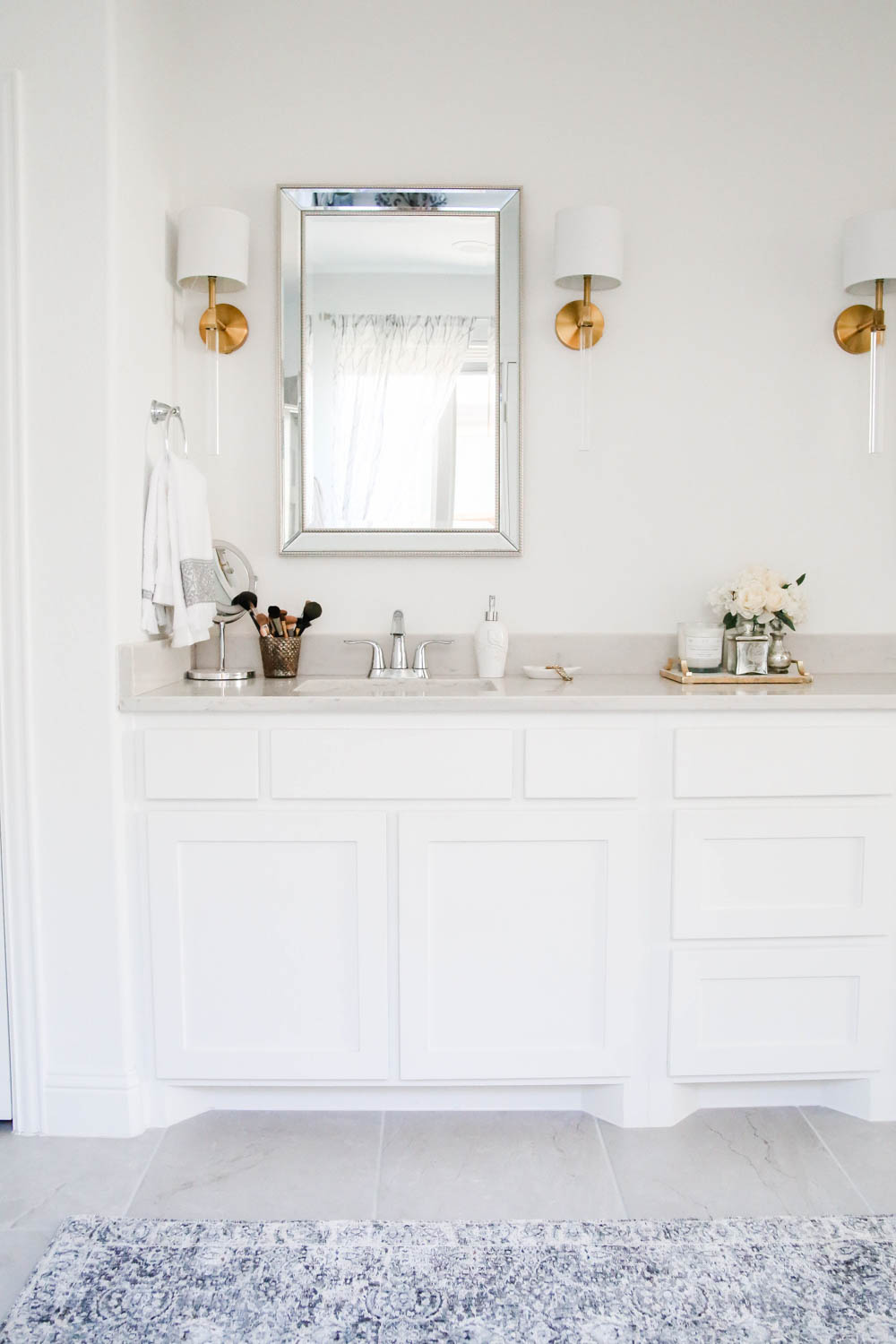 I hope you love these great affordable bathroom updates to do in your own home and make sure to check your local At Home for everything you need!
THIS IS A SPONSORED POST. A BLISSFUL NEST HAS RECEIVED PAYMENT, TRADE, AND/OR PRODUCTS FROM AT HOME STORES IN EXCHANGE FOR PROMOTING. HOWEVER, ALL OPINIONS STATED ARE OUR OWN.