Amazon Prime Day Deals!
This post may contain affiliate links. Please read our disclosure policy.
It's finally Amazon Prime Day!
Day one of two is filled with incredible deals on Amazon – almost anything you could think of is on sale! From beauty to tech, home, fashion and so much more, there are some incredible deals going on on Amazon for the next few days.
I rounded up all of the best deals going on for you to shop – I'll keep you updated with new deals that pop up throughout the sale! Just scroll down to see all of the best Amazon Prime Day deals!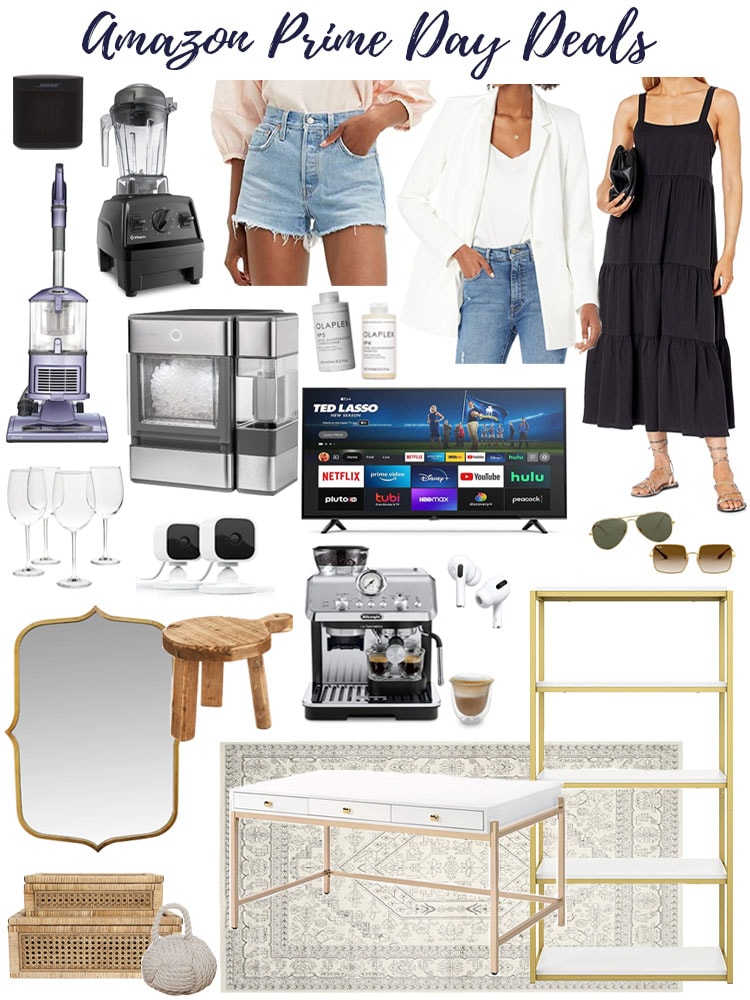 Bose Bluetooth Speaker: I always love gifting this speaker for special holidays and birthdays!
Shark Vacuum: this vacuum has always been super highly rated – it's under $100 today!
Vitamix Blender: if you are going to buy a Vitamix blender, this is the time! These deals are insane!
Levi's Denim Shorts: the best quality denim shorts! These will last you forever and Prime Day is always a good time to buy a new pair.
White Linen Blazer: this is a closet staple – I'm so excited it's on sale!
Black Tiered Maxi Dress: so cute for summer and comes in a bunch of colors!
Nugget Ice Maker: this is probably the most exciting item available on sale for Prime Day! LOL. I think we all love our nugget ice and it's over $100 off! Olaplex
Shampoo & Conditioner: this stuff hardly goes on sale! It's a game-changer for your hair and now is the time to grab it on sale.
Amazon Fire TV: so many killer TV deals today – this is one of the best! RayBan Aviator Sunglasses &
Rectangular Sunglasses: always a good time to take advantage of RayBan being on sale!
Wine Glasses: these are such a good deal and you can never have too many glasses!
Blink Mini Security Cameras: this is Amazon's version of a security system and it has great reviews!
Gold Mirror: this is such a pretty piece to add to your entryway, a bathroom or bedroom!
Wooden Stool: such a fun decorative piece and has that Serena and Lily look to it – but for under $20!
Rattan Decorative Boxes: I always eye these when I come across them, they're sooo pretty!
Knotted Rope Decor: such a fun statement piece to add to a shelving unit or coffee table!
De'Longhi Espresso Machine: one of the best espresso machines out there! This is a great deal!
AirPods: a must have if you don't already own them! Now is the time to buy, this deal is too good!
Printed Area Rug: RUN and get this gorgeous rug… It's OVER 80% OFF!
Gold Desk: this is such a gorgeous desk – I was so excited to find it on sale for over 60% off!
Gold Shelving Unit: perfect for an office or even your living room! I hope you have fun shopping all of the fun Amazon Prime Day deals! Let me know what fun finds you buy on sale!
Follow along to get more of my tips on home decor, DIY and lifestyle on the following: