Bathroom Update + Fall Finds with Walmart
Sharing all of my favorite fall-inspired finds from Walmart to decorate with this season from candles, table lamps, pillows, and affordable furniture. Also sharing an easy bathroom update with Walmart decor under $50.
This post is sponsored by Walmart, but all opinions are my own. This post contains some affiliate links for your convenience. Click here to read my full disclosure policy.
So before I get to all these fabulous fall finds I found recently, I thought I would share my quick bathroom update that I unexpectedly did. That tends to happen with me when I am shopping for something else and I see things that totally shift my attention. Ugh!
Each month one of my favorite things to do is see what is new at Walmart in their home decor department. They have really upped their game over the last year and I have made this a monthly priority now to see what is up and coming. Walmart's on-trend pieces and affordable pricing have made them a go-to source for me on a regular basis. You can check out my finds from last month since many of them are still available.
I have not shared my powder bathroom since this post here. I hadn't made any major changes in 2 years and after seeing some of the recent things hit Walmart from the Gap collection, I knew it was time for a little update.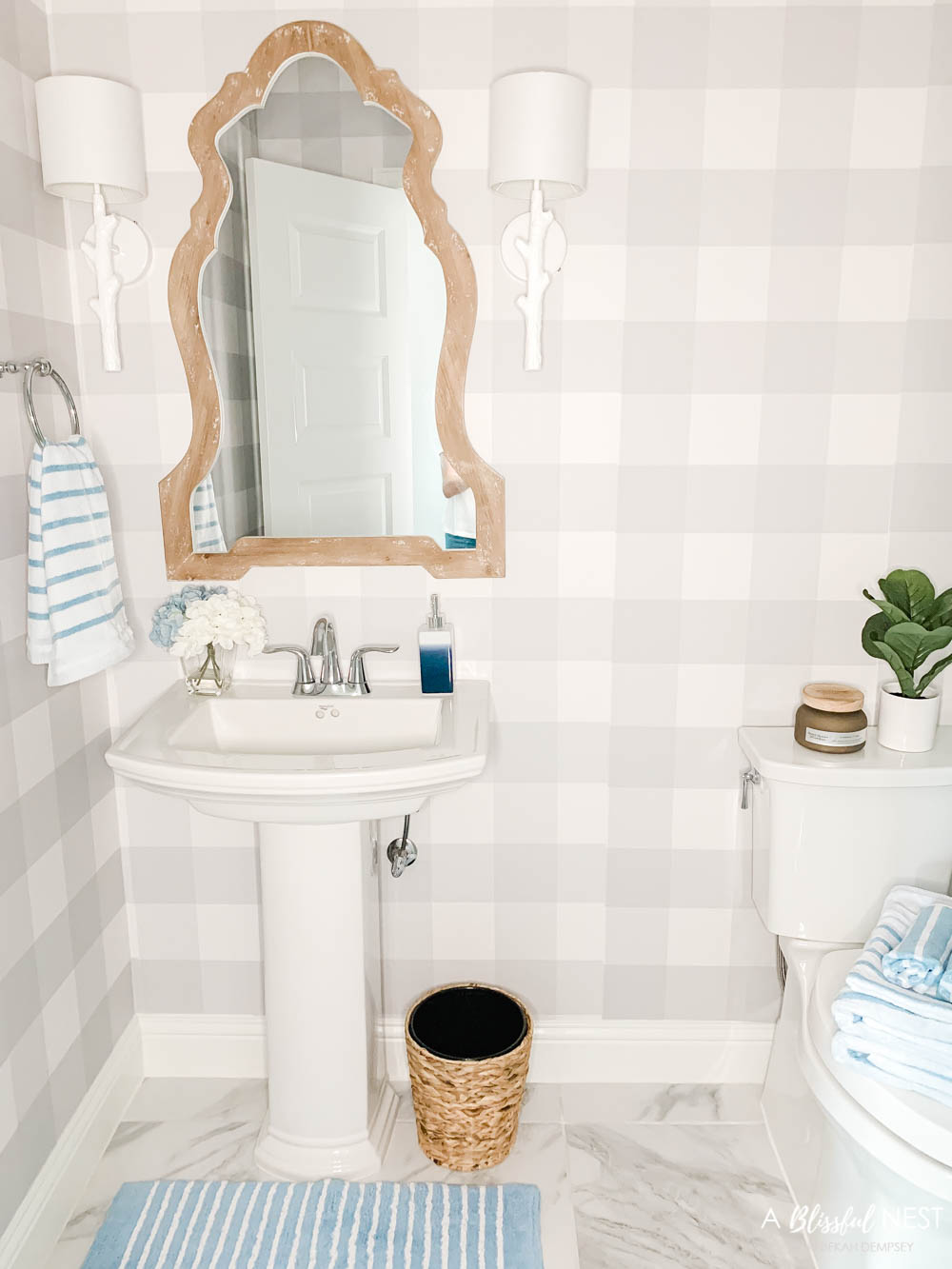 Clearly blue is a favorite color of mine so these preppy stripes mixed with my favorite color is a no-brainer. I love that the towels and bathmat are reversible so you can switch it up and mix in a little contrast when you want.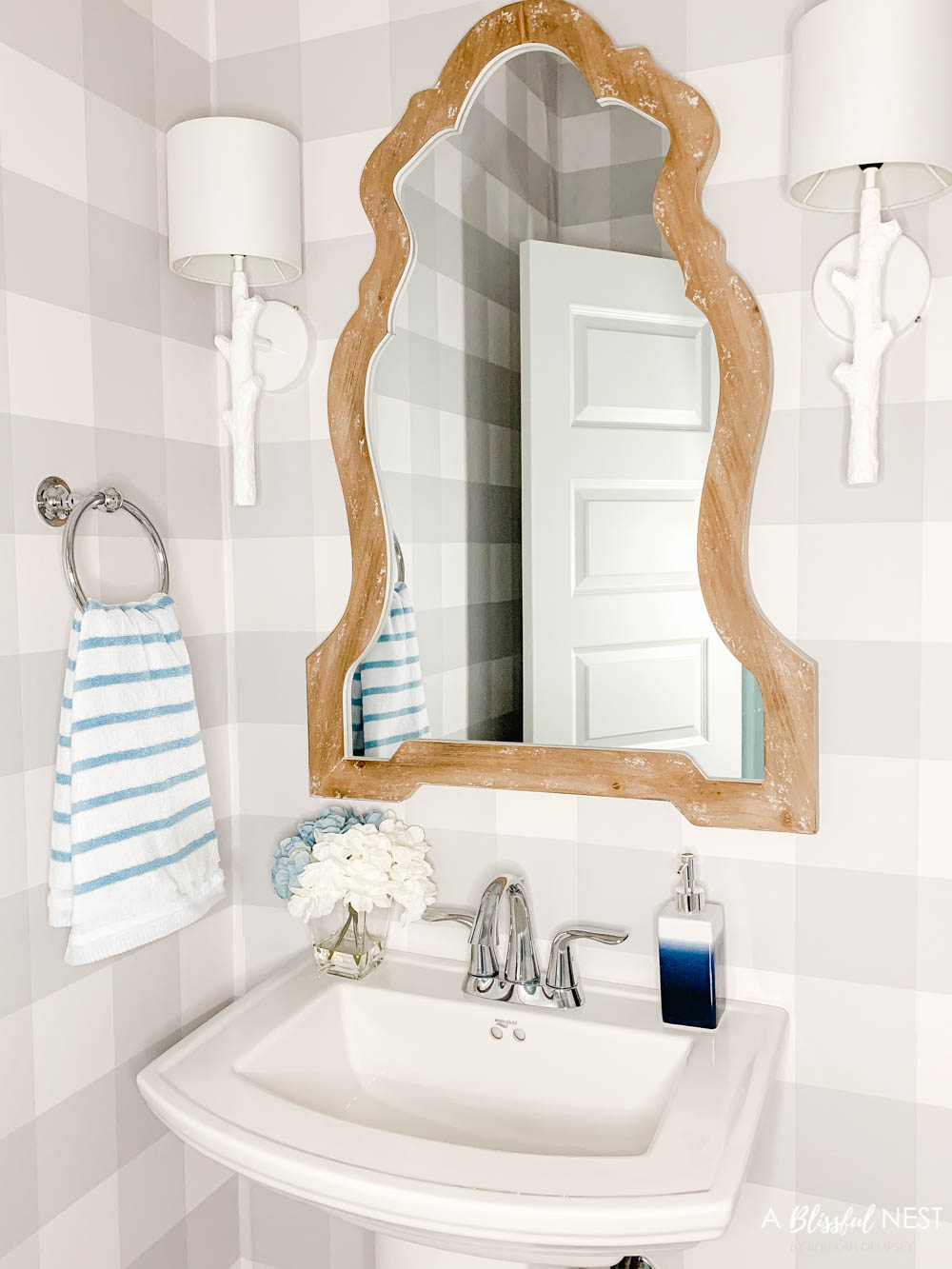 This soap dispenser comes in a set of 3 pieces and I used the other ones in the upstairs guest bath. I love the ombre pattern going from light to dark that adds a little depth to the colors in here. I typically buy my soap in bulk so having pretty dispensers is a must!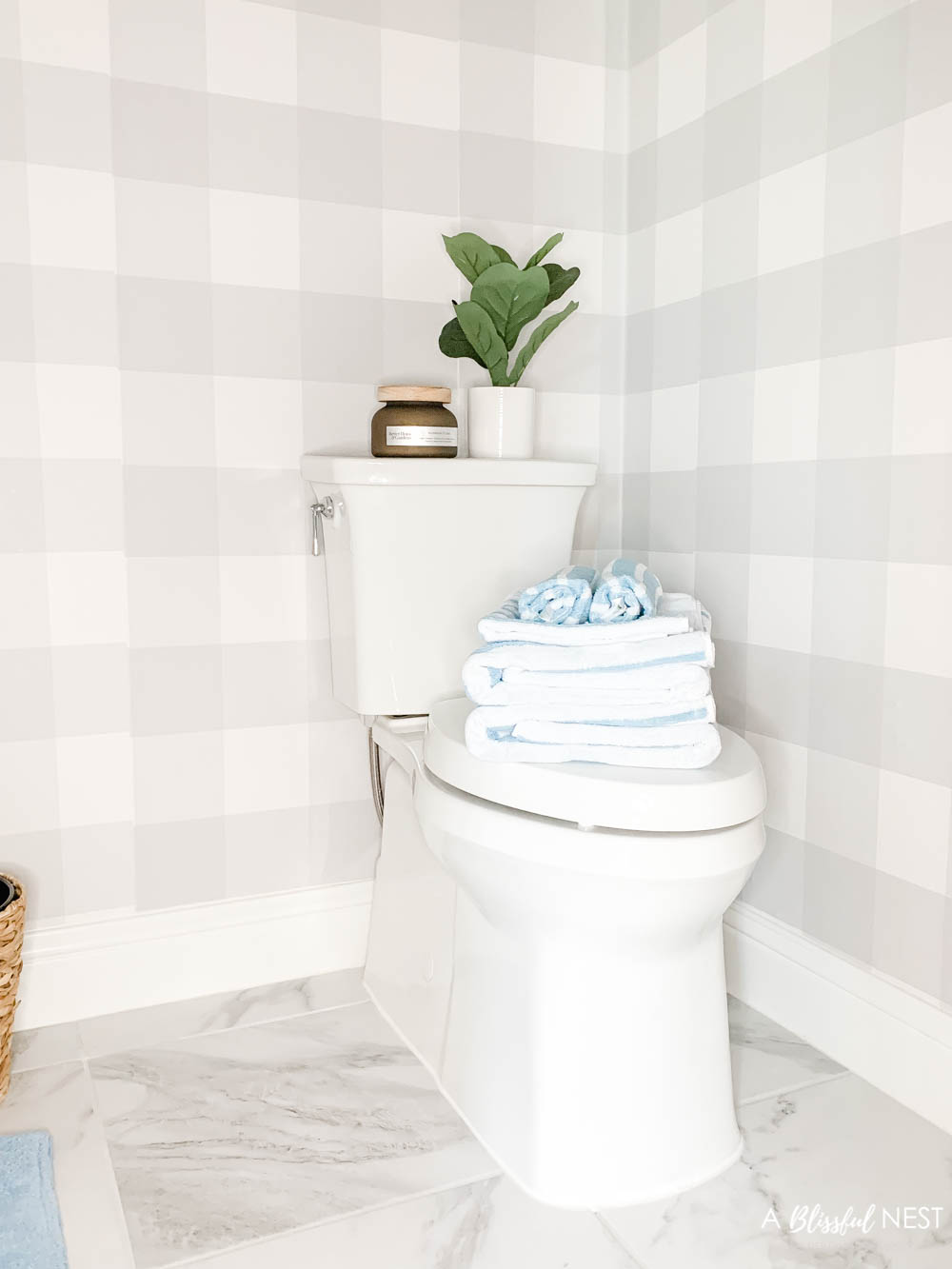 I love that these towels come in a set of 6 pieces. It is such a bang for your buck at $39. I roll them up to save space and place them in a basket or have them hanging on a little ladder. I love the stripes mixed with the plaid on the walls. It is so pretty and a little unexpected to see 2 strong patterns together.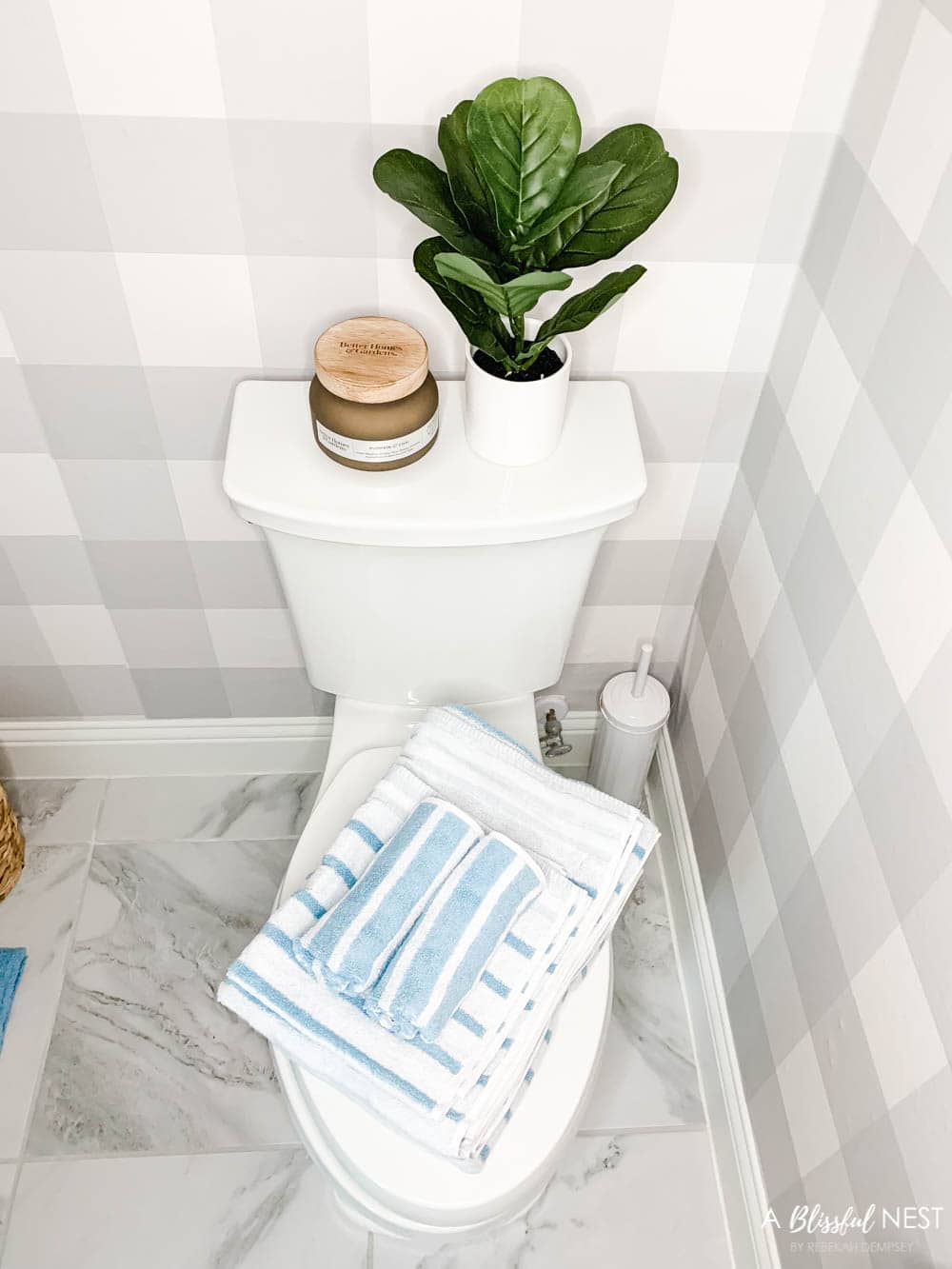 I always have to have candles and plants in my bathrooms. This pumpkin chai candle smells AMAZING. I need to get another one for our entryway. I am such a sucker for a delicious smelling candle and these ones make my whole house smell so good.
So here are all my favorites to update your bathroom with pieces that will go with any seasonal decor and pretty much any bathroom design. You can never go wrong with a soft blue and white look.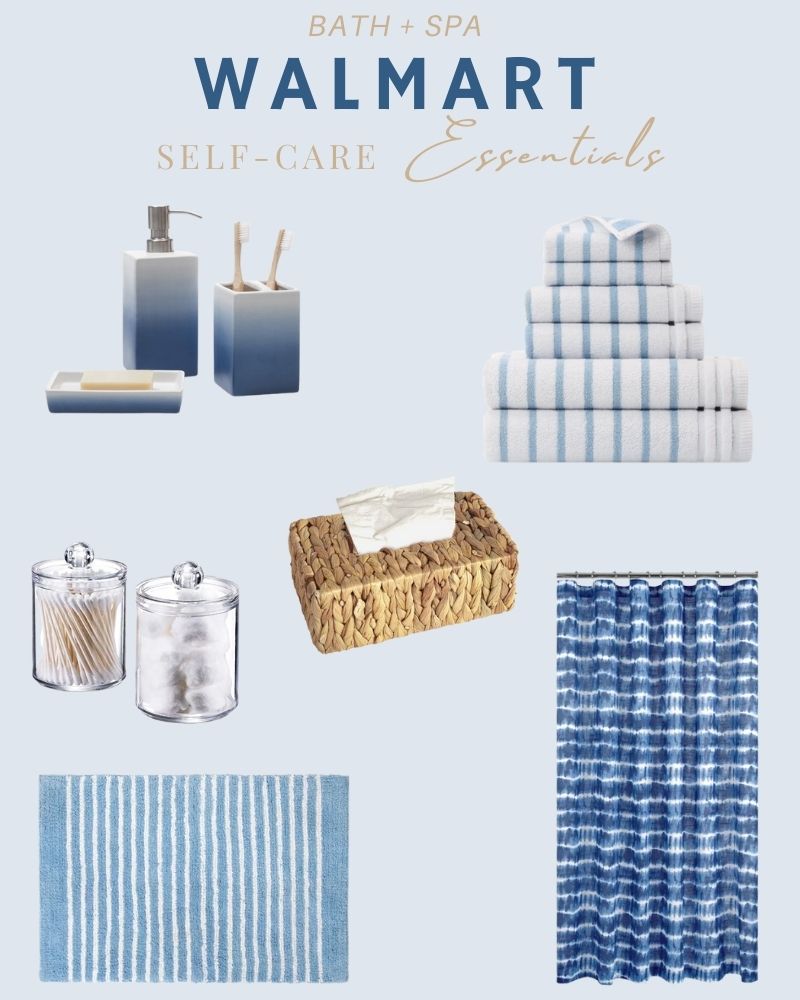 So now on to my fall finds I found this month at Walmart. I am pretty obsessed with these rich warm shades for fall and adding in a few decor pieces or even these larger furniture pieces will instantly give your space a seasonal boost.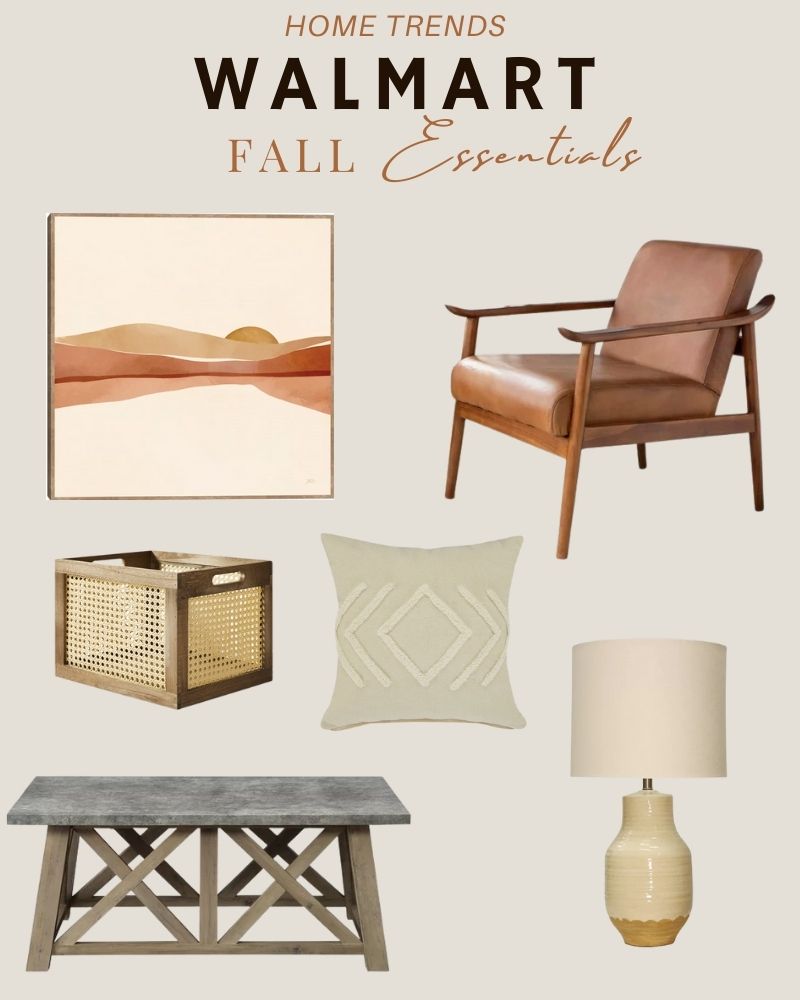 Art is such an easy way to make a statement in a room and this sunset inspired one is just dreamy. I also love this plant one in the same color palette. It is also on canvas and would be beautiful to have this in an adjoining space.
I have been on a leather obsession lately and this mid-century modern chair is amazing! This is such an easy piece to add to a blank corner in a room that needs a little decor. I would throw this diamond knit throw pillow on it and a little reading lamp and create a little reading spot.
Here are a few more of my favorites from the fall trends to not miss:

Hope you loved all these finds from Walmart and found some great pieces to transition your home this season!
THIS IS A SPONSORED POST. A BLISSFUL NEST HAS RECEIVED PAYMENT, TRADE, AND/OR PRODUCTS FROM WALMART IN EXCHANGE FOR PROMOTING. HOWEVER, ALL OPINIONS STATED ARE OUR OWN.
Follow along to get more of my tips on home decor, DIY, and lifestyle on the following: