Beautiful Christmas Table Setting Ideas
Sharing a collection of unique and beautiful Christmas table setting ideas to inspire you for your own holiday table this season.
It's the most wonderful time of the year and what better way to celebrate the holiday season than with a beautifully decorated Christmas table!
The holiday season is all about spreading love, joy, and cheer, and what better way to do that than with a festive table setting?
When it comes to creating the perfect holiday table decor, you have a range of options to choose from, including classic red and green as well as cool winter whites. But there are also some fun and unexpected color schemes I bet you have not thought of!
From twinkling lights to tinsel and baubles, it's all about getting into the holiday spirit.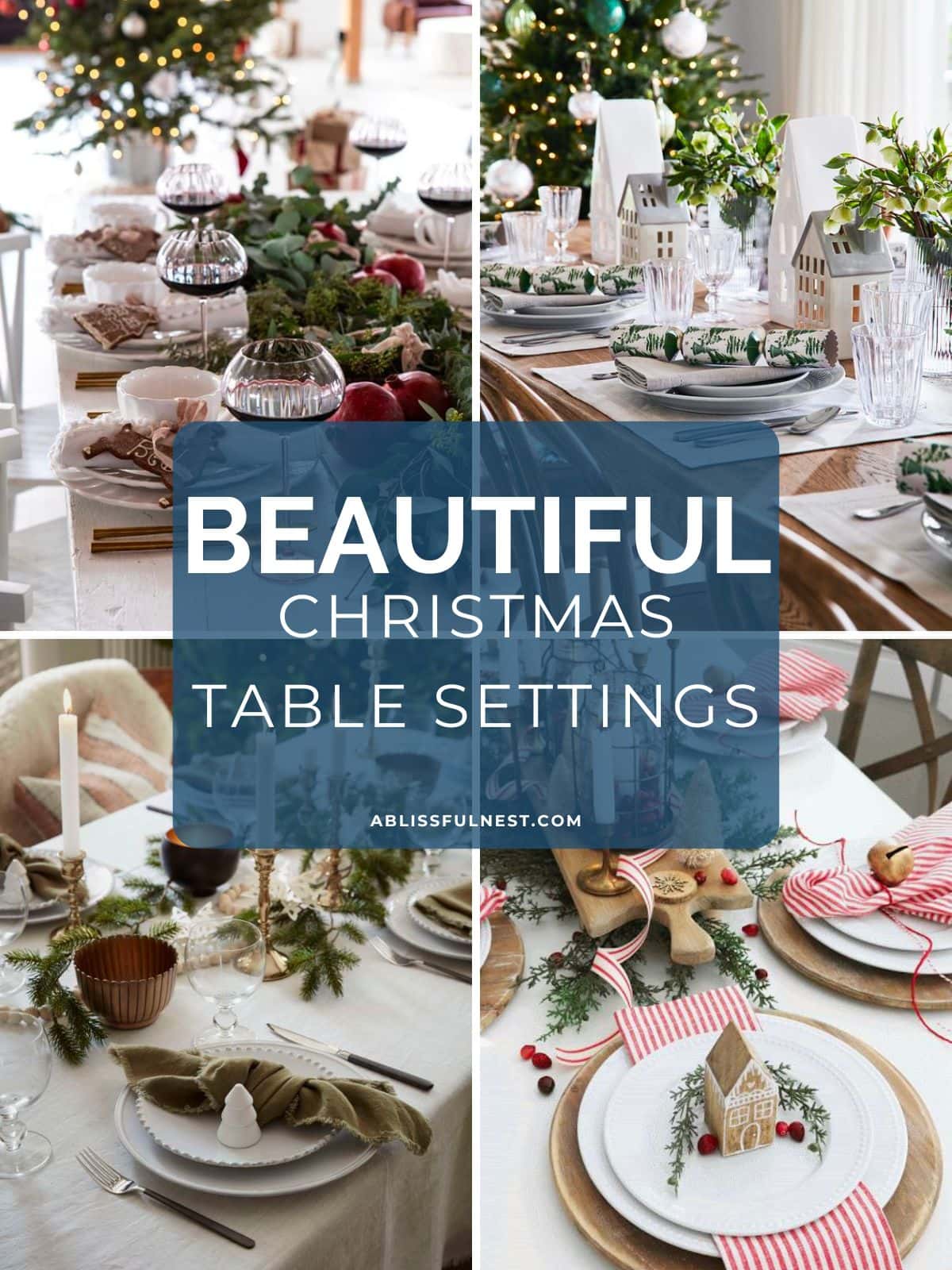 Whether you're hosting a festive feast for the whole family or just kicking back with your nearest and dearest, a well-dressed table is the cherry on top of any festive cake.
Let's dive into some gorgeous Christmas table setting ideas that are sure to impress your family and friends. So, dust off your beautiful china, grab some garland, and let's get started!
This site contains affiliate links. Please read our disclosure policy. As an Amazon Associate, I earn from qualifying purchases.
Best Color Combinations For A Christmas Table
There are so many fun color combinations to choose from to create a fun and festive holiday table and I wanted to share some of my favorites with you.
Of course, there are the more traditional color combinations but there are some fun unexpected ones that I think you would love too!
Remember to mix and match to suit your personal style and preferences. Don't forget to add some twinkling lights, candles, and maybe a few Christmas ornaments to complete the festive look!
What To Use To Decorate A Christmas Table
There are so many fun things to use to decorate a Christmas table. Adding unique pieces creates a stunning holiday tablescape. You may already have some things on hand but here are a few ideas for you!
A stunning centerpiece is the focal point of your table so consider a beautiful Christmas-themed floral arrangement, a bowl of ornaments, a cluster of candles, or even a small Christmas tree.
Candles add warmth and coziness. Use pillar candles, votives, or even tea lights. You can place them in candle holders or scatter them along the table for a magical glow.
Add fresh or faux greenery for a touch of nature. Pine branches, holly leaves, or eucalyptus can be used as a table runner, in a centerpiece, or as individual accents.
Choose napkins in holiday colors or patterns. Add decorative napkin rings to tie in the theme. You can even use ribbons or twine for a DIY touch.
Tap Photos To Shop

Beautiful Christmas Table Setting Ideas
Here are some incredible Christmas table setting ideas that I know will inspire you to create your own table this year.
From patterned holiday napkins to unique centerpiece ideas, there is something for everyone here.
Christmas Tablescape Ideas
Create a stunning Christmas table setting by incorporating personalized touches and coordinating colors.
Experiment with unique centerpiece ideas and mix and match festive dinnerware to make a visually stunning statement for the holidays.
Embrace the holiday spirit by adding twinkling lights, sprigs of greenery, and glittery accents to your table.
Remember, your table is a reflection of your personal style and creativity. So, have fun with it and let your imagination run wild!