I have been asked A LOT about this room and I am finally happy to do a full living room decor reveal! It is by no means done and I am constantly editing but such is life right?? This room is the heart beat of our family life in this house and actually is the center of the house. The layout of this house is kind of weird. As you know we moved to Texas a little over a year ago and we're renting until we find THE place for our family to be. We moved into this house in the fall and I am finally seeing some light at the end of the tunnel in what I not so fondly call our "lemon house".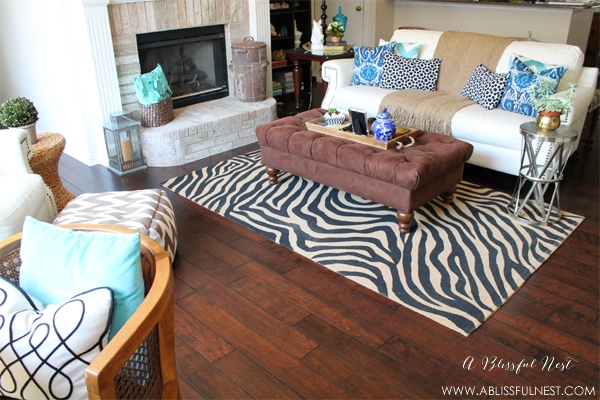 When we first saw this house I had trouble trying to figure out furniture placement. The fireplace is in the middle on one wall with the laundry room and garage on 1 side and the hallway to the bedrooms on the other. Then opposite is a very long wall with a door to our bedroom and a archway to the front half of the house. This room may look wide but in reality it really is not. 1 option was to place the sofa in front of the wall of windows or to float it in the middle of the room to define the room a bit more. I chose the later.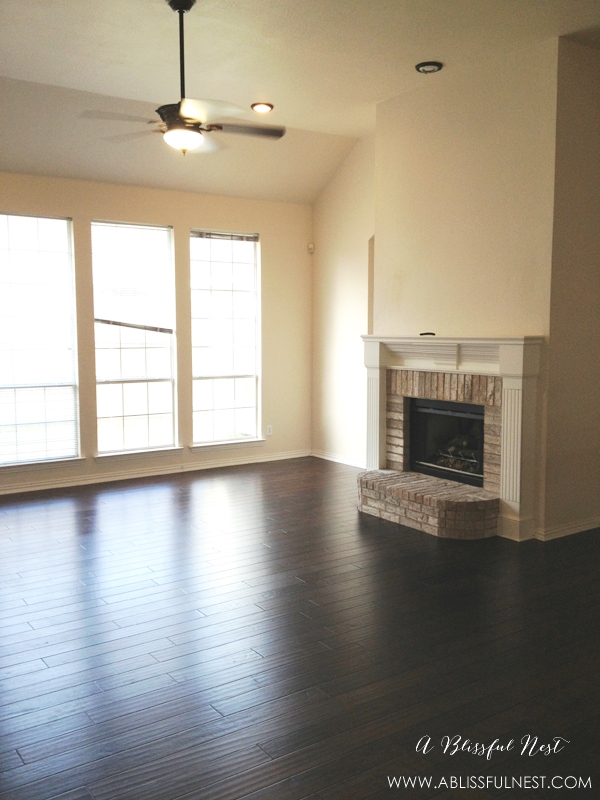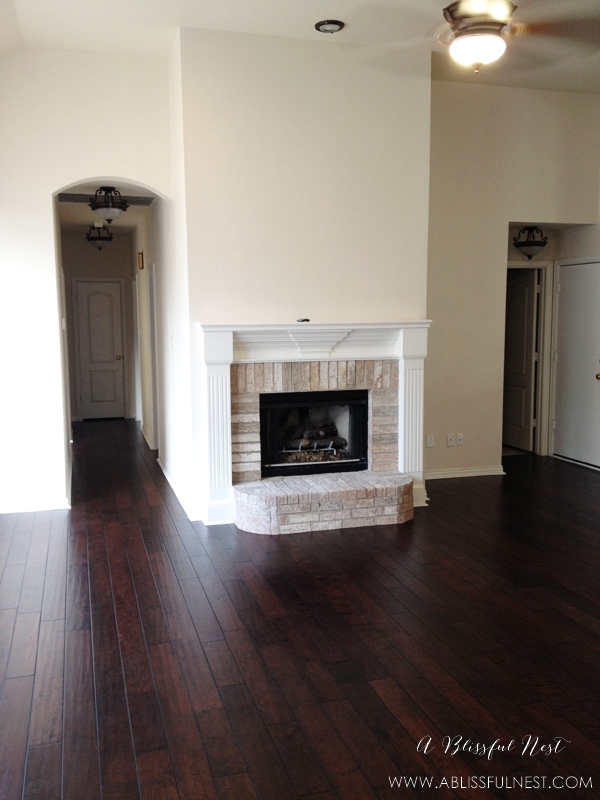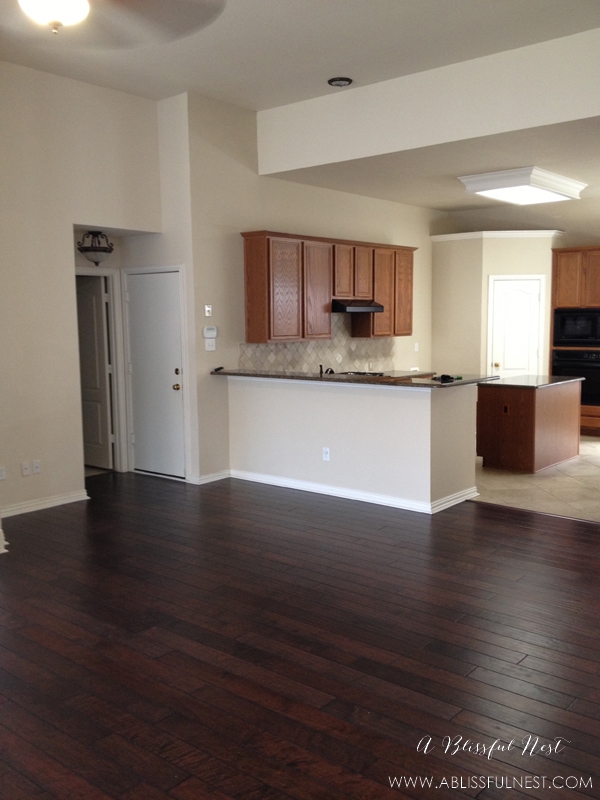 Furniture wise, we had some great pieces from our last house and some of it just did not fit anymore (like the wing chair and the congas – lucky me!). We also did not have room for Lauren's art table so it is now in her playroom probably where it should have been to begin with.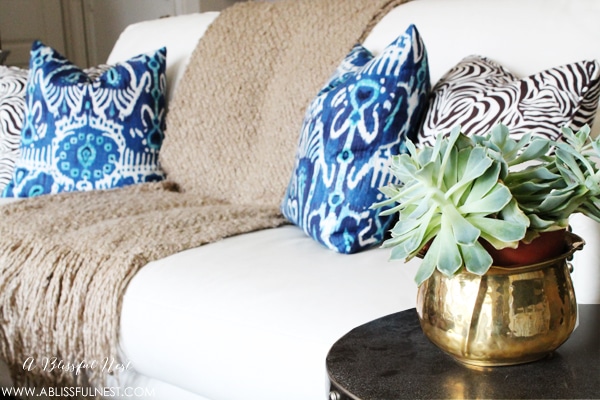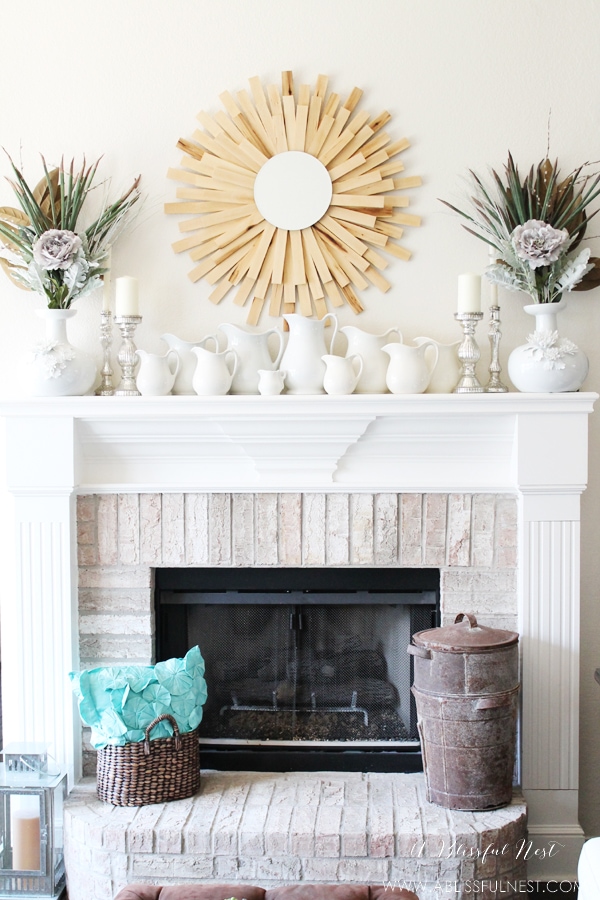 This house however has an amazing fireplace. I can not deny it though I have complained to hell and high water about how much this house aggravates me (too many problems to even begin to name!) With the raised hearth and gorgeous paneling, it makes this truly the focal point of the room. My mother has been collecting these white ironstone pitchers for me for years and a few years back gifted me with about 15 of them. Until now I had nowhere to display them and I think with the DIY sunburst mirror I created they really make a statement.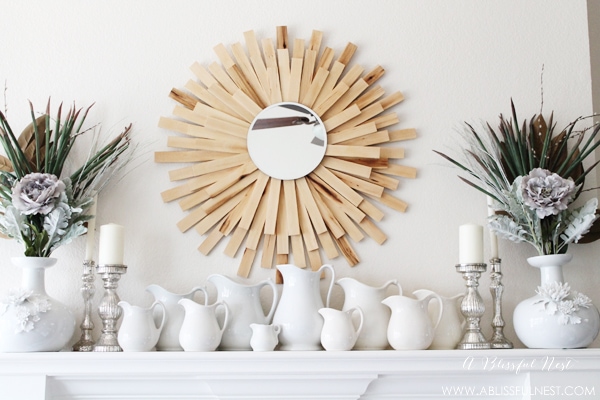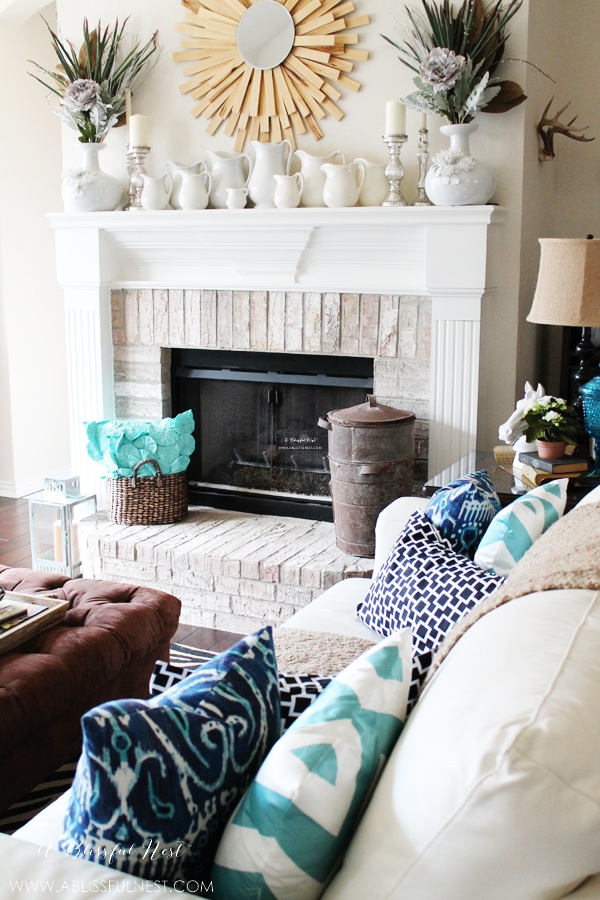 I am such a blue girl . . .in case you did not know! I found these pillows a while back and fell in love. I love ikat prints and think they work in a nice pattern play with this zebra rug.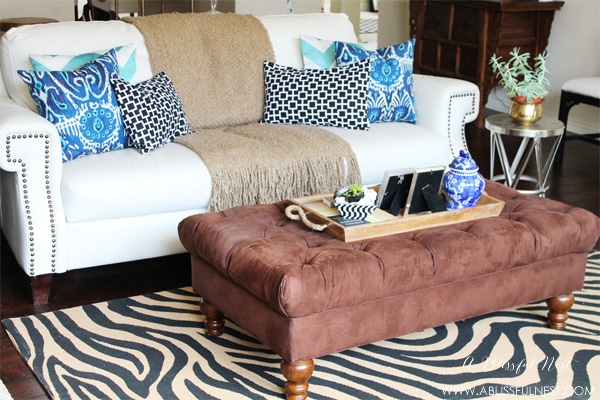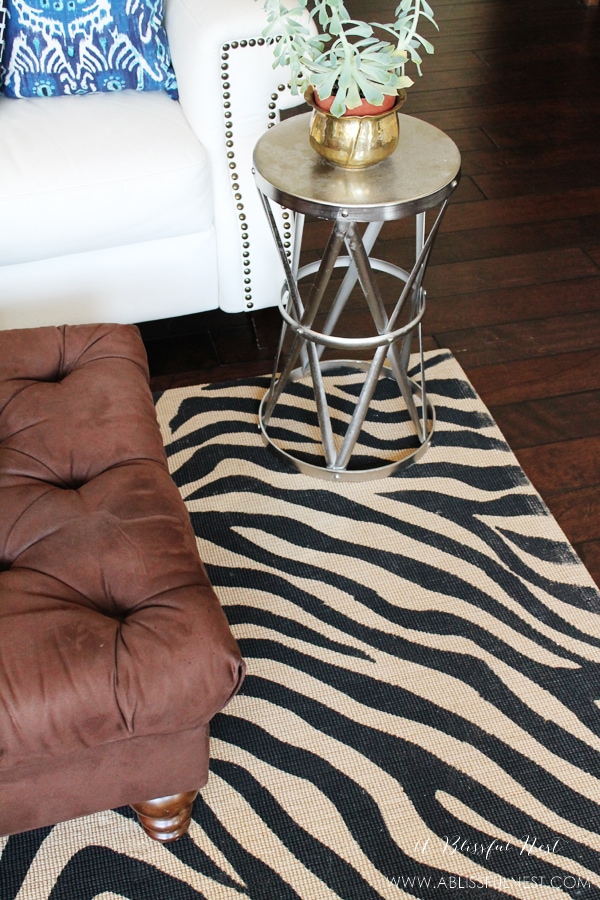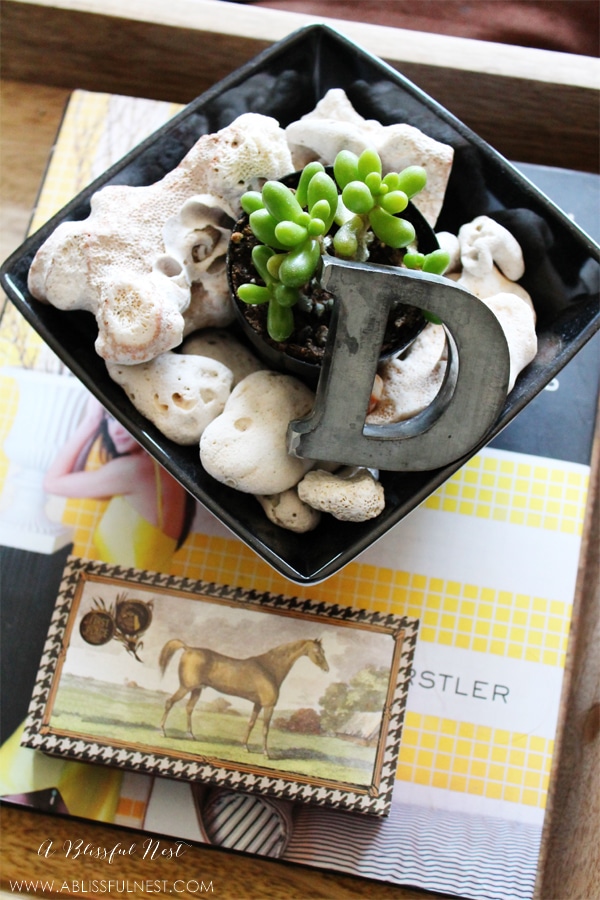 I personally adore monograms. That is why the majority of the items in our shop have them on them. It is a great way to add personality to a space and this zinc letter from one of my favorite local shops Wicker Park Home, adds a little whimsy to my tray.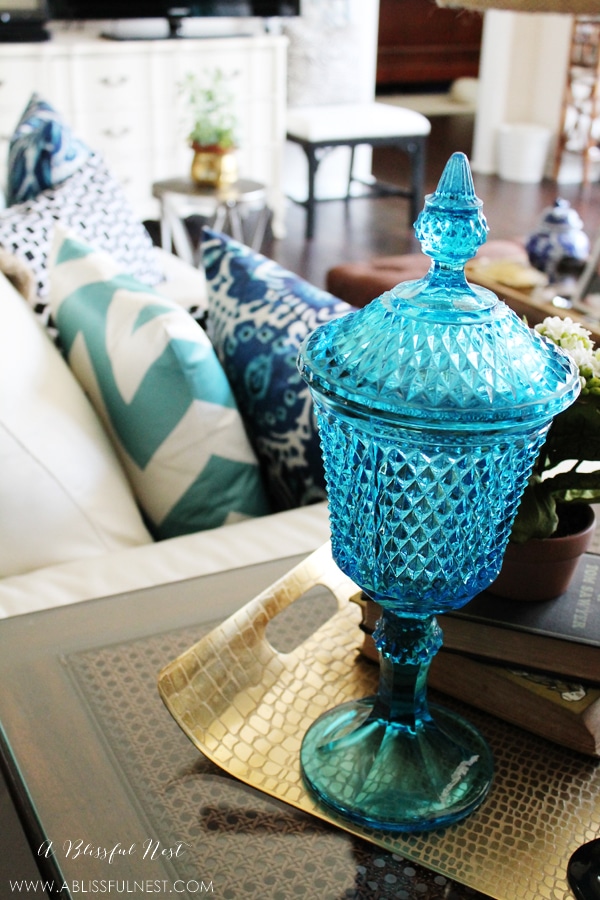 I think popping in your room color scheme in your accessories is key. It is the little details that you think people would never notice but they do.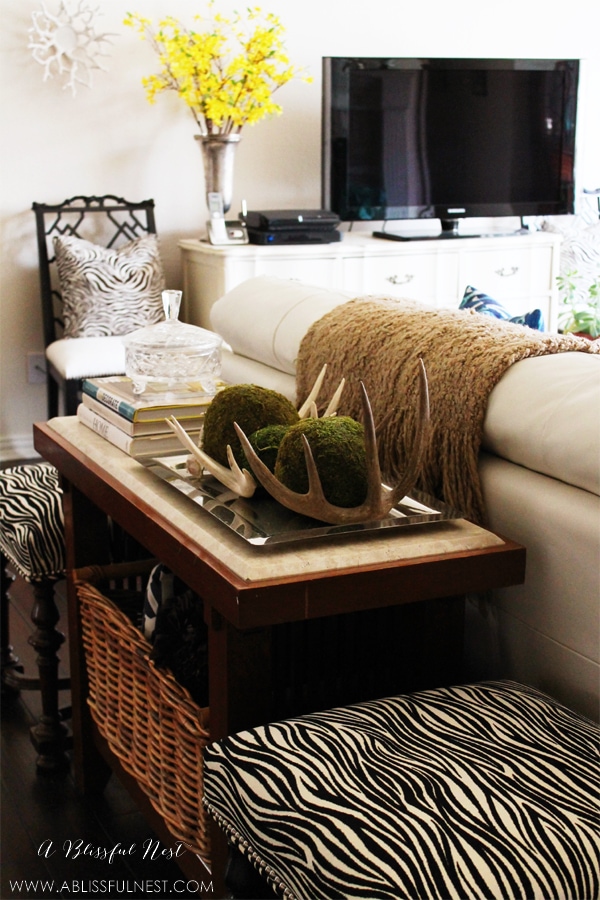 Oh this table. It has lived with me for many moons. So have I ever told you back in the day I used to work for Coach Handbags? Well now you do. This baby came from right before they redesigned every store in the company. They used to have Italian rugs and marble topped tables with crystal chandeliers in their stores. They were throwing these away – just like over the last few years I have tried to do. But for some reason it ends up living with me and I think finally I love where it is. It really needs a good staining though.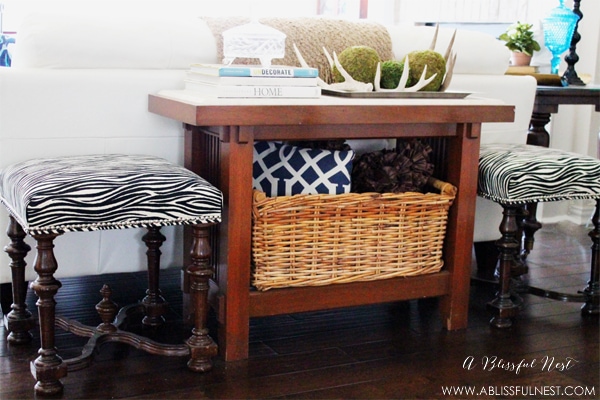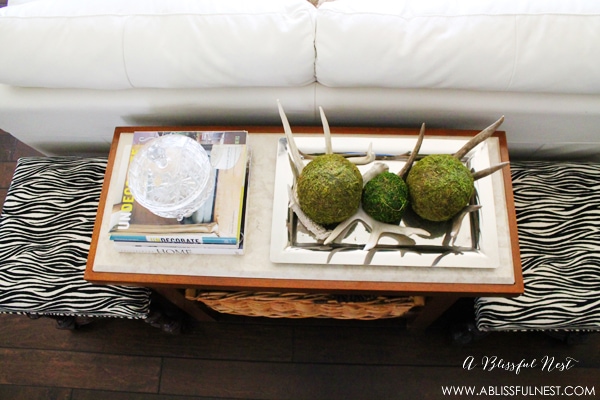 I have become a big antler girl. I wonder why?! It really has grown on me over the last year and I love them on this tray. I would have put them on the ottoman in front of the sofa but we are still a house with a young child and I would hate for her to hurt herself. Even now they are a little low for her and I constantly ask her to walk not run through to the garage.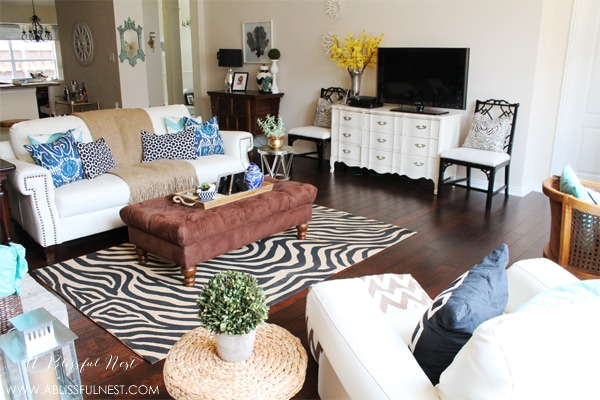 So there you have it! What do you think? If you've missed our other room reveal posts you can go to our new tab under the About page to see our Home Tour.


Source List:
Sofa and Club Chair: Craigslist – here are some similar (1, 2) and (3,4)
Ikat pillows on Sofa: Joss and Main – here is a similar one
Turquoise Chevron Pillows: Target – here is one similar
Black/White Pillows: Etsy – here is one similar
Nubby Throw Blanket: Pottery Barn – here is one similar
Zebra Sisal Rug: Pier One Imports – here is one similar
Ottoman: Custom – here is one similar
Tray on Ottoman: Target
Book: Kelly Wearstler – Modern Glamour: The Art Of Unexpected Style
Horse Matches & Zinc Letter: Wicker Park Home
Blue Ginger Jar: Antique – here is one similar
Black Fretwork Chairs: Greystone Home Collection
Tv Dresser: Garage Sale via Giggles Galore
Brown Carved Chest: Arte de Mexico
Sea Fan Art: Pottery Barn – here is one similar
Mercury Glass Lamp (with black shade): Homegoods
Turquoise Pagoda Mirror: Fleamarket
Round Silver Side Table: Target – here is one similar
Wood Cane End Table: Ralph Lauren
Table Lamp (with burlap shade): Target
White Horse Head: Target
Potted Flowers: Tuesday Morning
Sofa Back Table: Coach Handbags
Zebra Ottomans: Greyston Home Collection with Kravet Fabric – here is one similar
Silver Tray: Target
Moss Balls: Michaels
Antlers: Fleamarket
DIY Sunburst Mirror: Tutorial HERE
Ironstone Pitchers: Antiques – here are some similar (1, 2)
White Vases with Flowers: Beacon Hill
Candlesticks on Fireplace: Target
Large Covered Tin on Hearth: Antique
Lantern: Ikea (white version)
Tan Chevron Pouf: Target
Jute/Bamboo Side Table: Homegoods – here is one similar
Potted Boxwood: Homegoods – here are some similar
Antique Secretary: Antique