The Difference A Rug Makes
This post may contain affiliate links. Please read our disclosure policy.
I have the best design tip for you today! One of the easiest things to do to change the feel of a whole room is to simply change out the rug. I think rugs are one of the most important elements in a room because it grounds the furniture and can add texture into a room. Selecting the right size is important too. You can see below this rug does not even go under the legs of the sofa. Not a good choice but it was what I had on hand and it worked for the time being.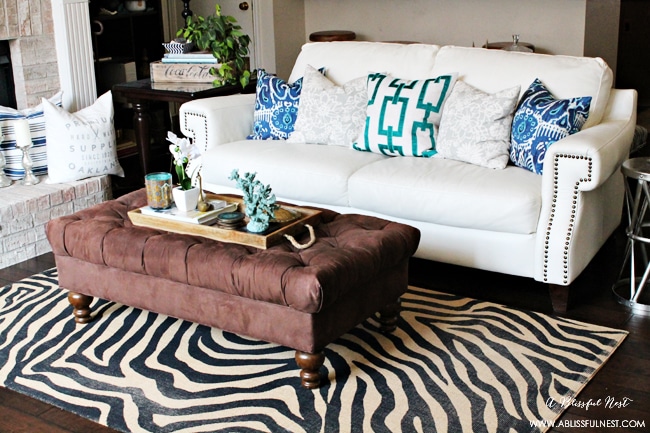 I had been searching for the perfect rug for a long time. I am pretty picky and I love natural fiber rugs. BUT the big thing on natural fiber rugs is they can feel scratchy and not so great on the feet. Also they can be hard to clean. Most stains do not come out of them. Shopping online for these can be hard. You have no idea how they will feel when you step on it and it is a risk if that is important to you. Well friends, I found one. It is perfect and soft and cushy and not a bank breaker.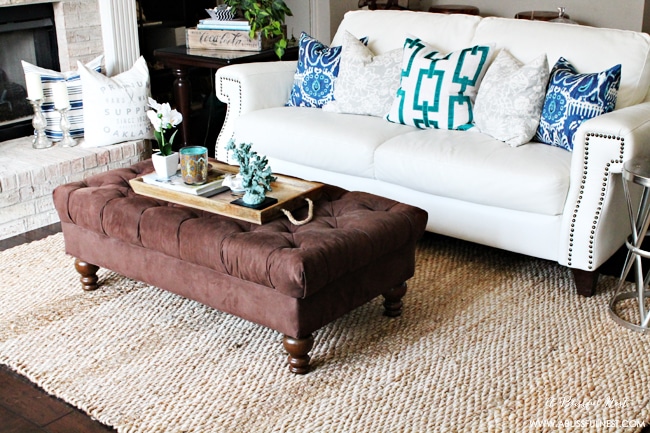 What do you think?? I am telling you my husband was so surprised on the feel of this rug. He said it was like getting a message on your feet. Okay he never makes comments like this. He usually rolls his eyes when something new comes in the house and has learned to say nothing. But not this time.
It is also now the perfect size. So it fits the room and it does not compete with the pillow patterns. I really was looking for a softer look and I think that is just what I got.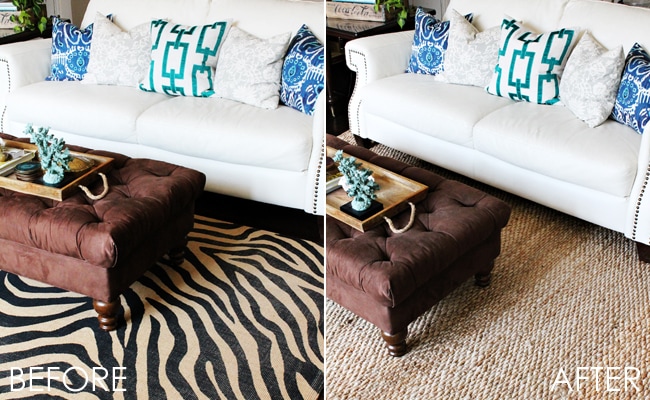 Are you wondering where I found this gem yet?? I know you have heard of Rugs USA but if not, they are one of my go to sources for clients. They have thousands of rugs and I love how easy it is to find the color and size rug you need. I am getting ready to order this one for my office and could not be happier with how quick I got the one for our living room. I am excited that we are also doing a Instagram giveaway with Rugs USA so pop over and enter! It's time to change things up!
THIS IS A SPONSORED POST. A BLISSFUL NEST HAS RECEIVED PAYMENT, TRADE AND/OR PRODUCTS FROM RUGS USA IN EXCHANGE FOR PROMOTING, HOWEVER ALL OPINIONS STATED ARE OUR OWN.