Fall Decorating Ideas – Chic Fall Decor For Your Bar
I'm so excited today to introduce you to Mariella of Splendor in Spanglish – the blog. She is one of our 11 contributors to join us over the holiday season to bring you ideas for blissfully celebrating the holidays with your family. And what better way to kick it off with some fall decorating ideas! Enjoy!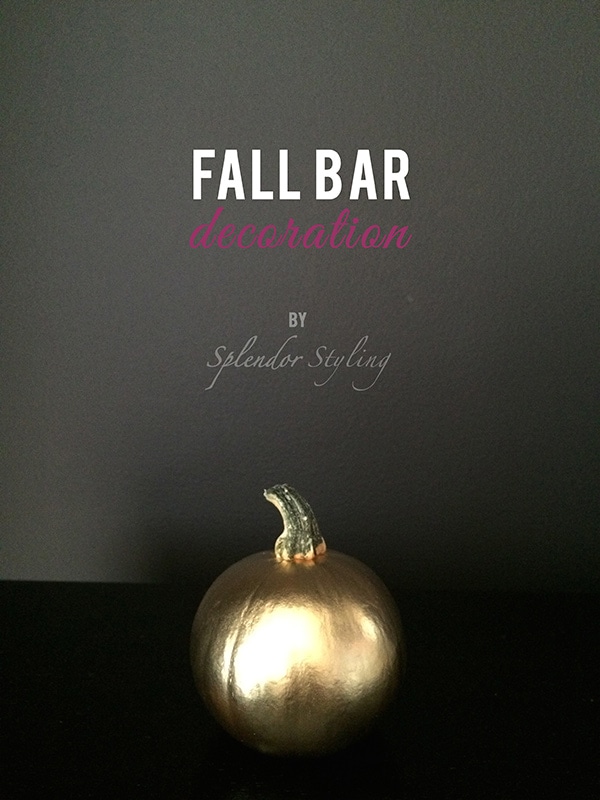 Hello everyone!
I'm Mariella author of Splendor in Spanglish – the blog; and I'm thrilled to be here in A Blissful Nest! Rebekah very kindly invited me to share some of my favorite tips for the holidays with you, so obviously we will be talking festive and fun and gold! 🙂
When it comes to decorating, I always like to work with nature. Flowers, branches, fruit or in this case, pumpkins! I found these guys at the farmers market and couldn't resist bringing them home. They are the cutest! and I immediately knew I was going to make them glam and gold. Oh yes!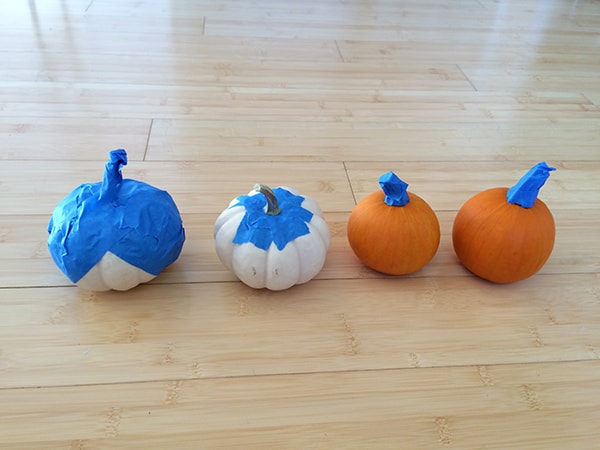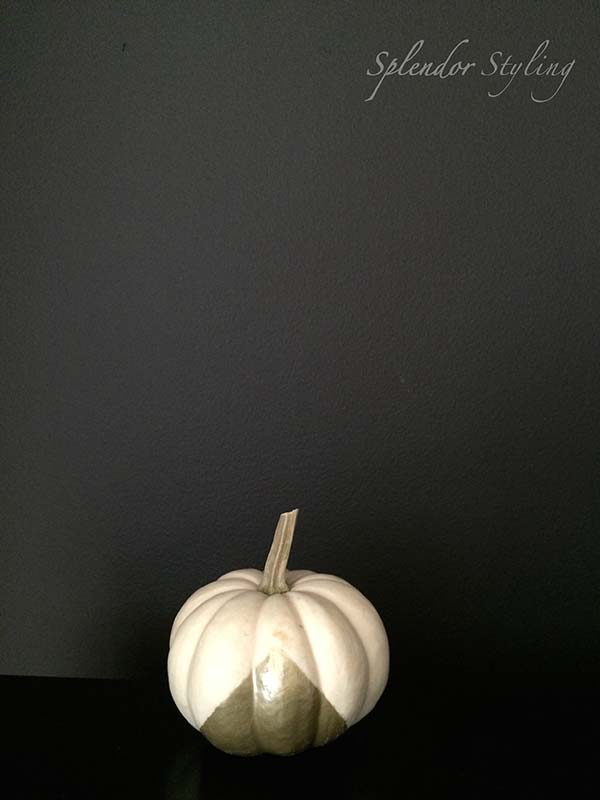 DO IT YOURSELF!
To get the look you will need the basics: a) painters tape, and b) gold spray paint (you can use your favorite kind, but I truly recommend this one) Cover the pumpkins with tape, leaving exposed only the parts you want to be gold. Then spray! Make sure you do this outdoors, you don't want fumes all over your house. And have fun with the designs! Options are endless 🙂
My pumpkins were ready and dry in about 2 hours. And then the styling began!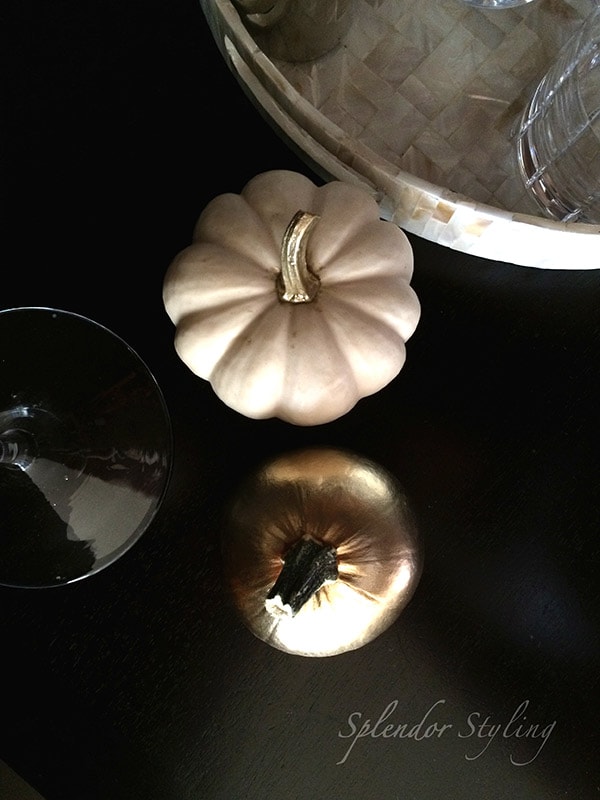 These guys are the perfect decoration piece for a bar or a bar cart – so IN these days. We own a classic wooden bar that needed some love and attention lately.
Using my gold pumpkins I created a useful surface for us to mix our cocktails when we come back from work. Fall cocktails anyone? I thought so! 🙂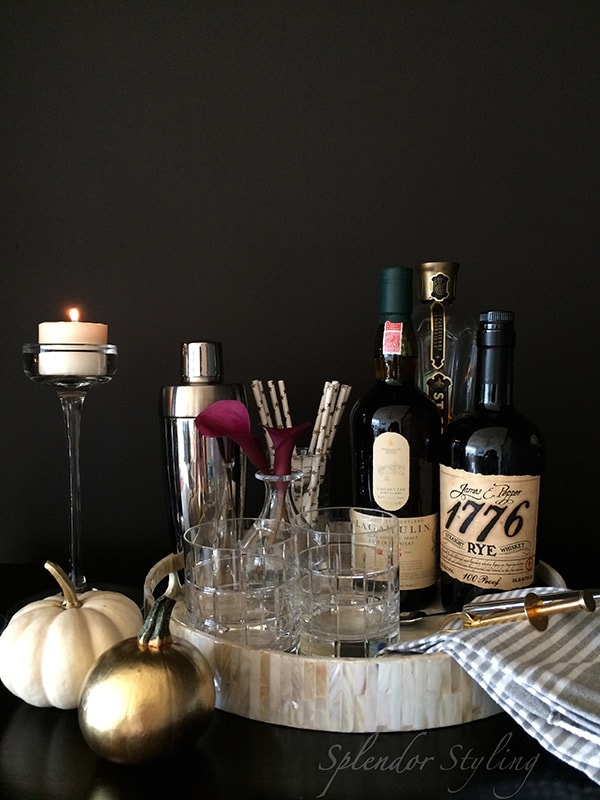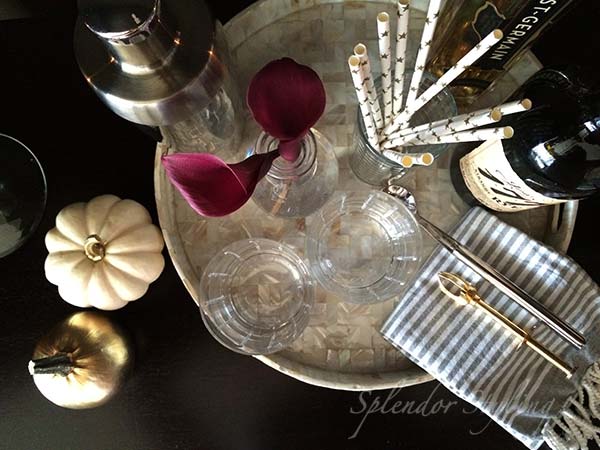 To make the bar look like it's ready to go I placed liquor and glasses on one of my favorite trays and included the basic for cocktail mixing (shaker, stirring spoon, bar towel and fancy straws – obviously)
Then, I placed the pumpkins around using different heights. This will have a nicer visual impact on your decor. I added candles, and seasonal flowers for extra beauty. Don't you love the pop of deep purple on these ones? I found them at my local supermarket. Not bad, huh?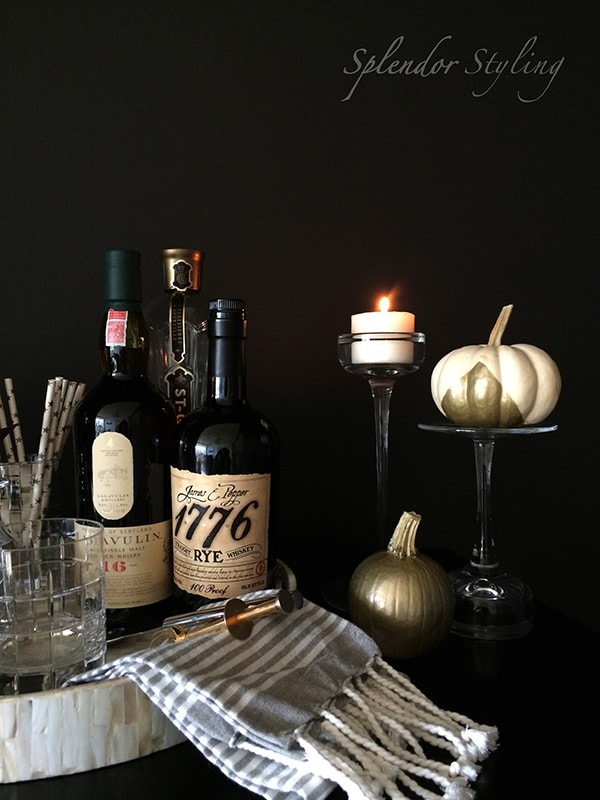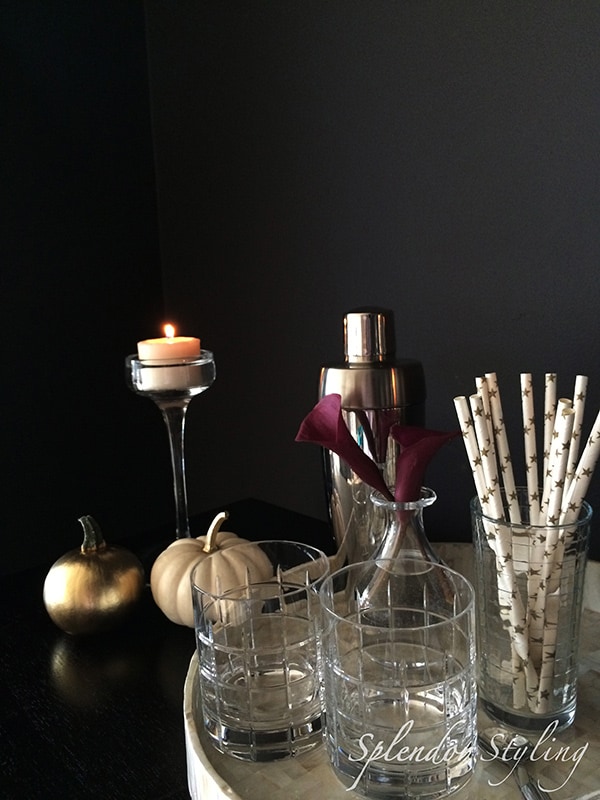 So here you have it! An easy DIY fall decor for your bar! My advice is to always use what you have in hand. Don't hesitate to find inspiration and beauty at the farmers market, your local shops or even your own pantry! Get creative and DIY! The more you try, the better you get at it. Promise!
Hope you guys liked my styling 🙂 I would LOVE to hear your comments and personal experiences with your fall decor! And why not, share a couple of cocktails with you.
Thanks so much to A Blissful Nest for having me over! It's such a pleasure to be part of this fab initiative. Besos! xx.