Farmhouse Bench Makeover with Two-Tone Finish
This post is sponsored by Zar, but all opinions are my own.
Our breakfast room needed a little something. We sit here and play games, do homework and of course, have family dinner each night (when we don't have sports!). But it's been feeling a bit formal and I've been on the hunt for a small change here.
When Zar contacted me and put me up to the challenge to makeover a piece of furniture to give it a two-toned look, I had just the spot for it – right here in my breakfast room! I needed to add a little rustic charm but still match that more sophisticated look.
Zar is a stain company known for their gorgeous, uniform color and superior coverage on furniture, cabinets, flooring and so much more. Their wide selection is incredible and I had a hard time choosing which two colors to use because I wanted to try them all! I love that their finishes make whatever you are finishing, unique and custom to your design aesthetic with so many options to choose from. Their quality is superior to give you a truly beautiful and high-end looking result.
So here is my breakfast room before.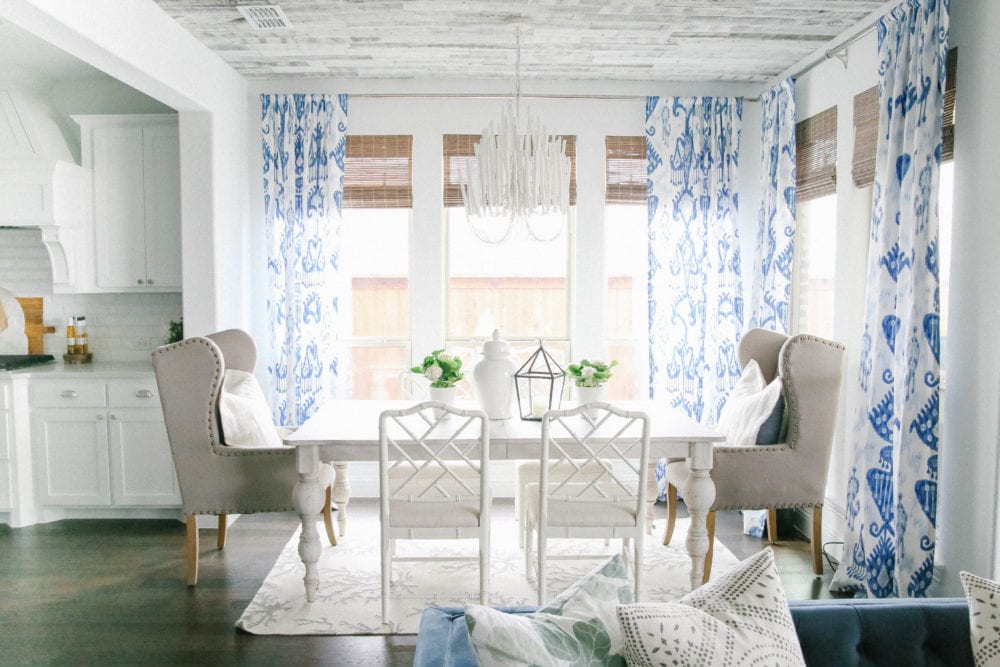 And here it is after with our new gorgeous farmhouse bench. You can see the two-toned look gives it just the pop it needed to the space!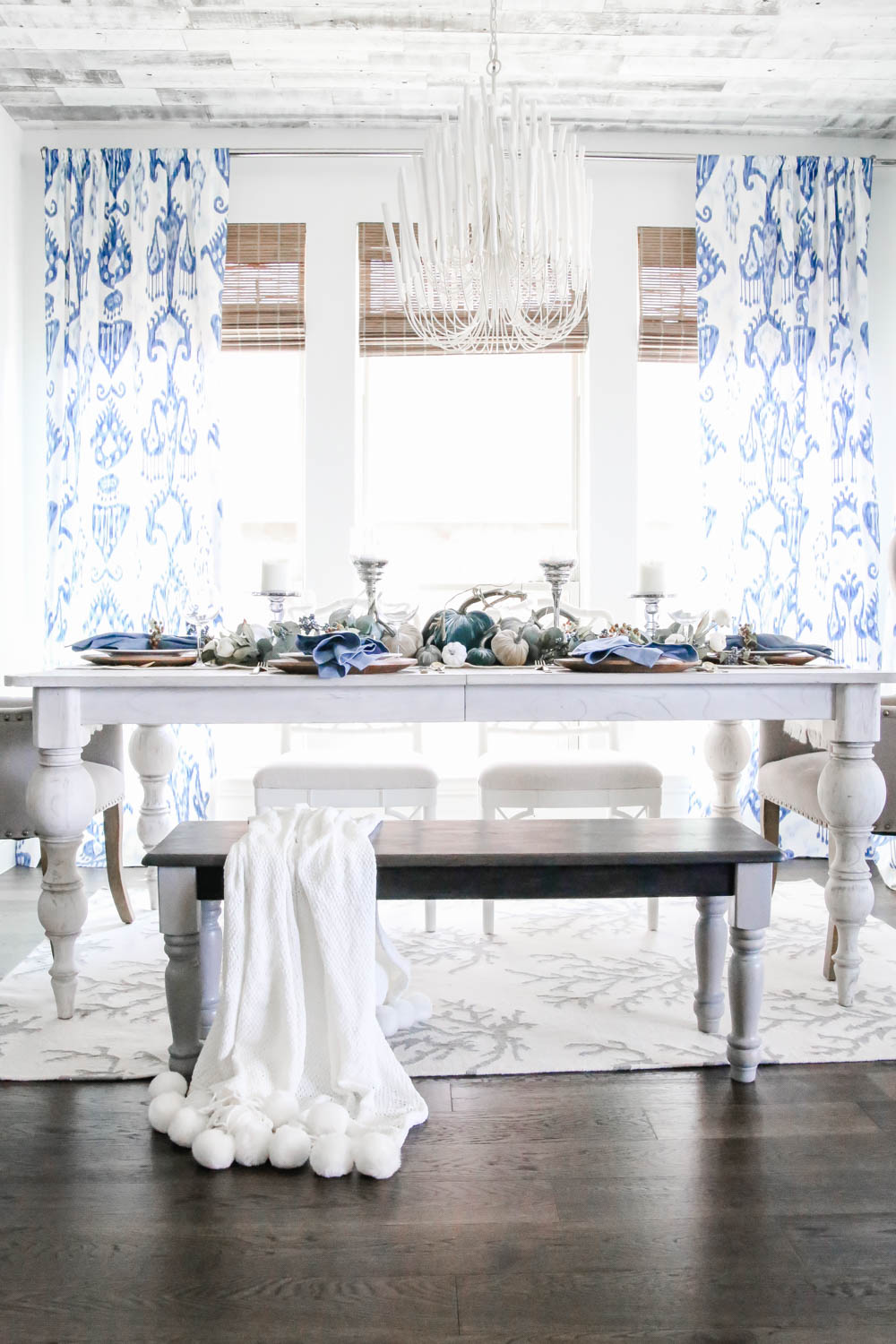 I found this unfinished bench and had purchased other unfinished furniture pieces before from Amazon, so I knew it would be a great quality piece to do my magic on. I love that it is unfinished so it removes a big step from the prep stage of the project. It is a heavy piece too so I know it will withstand all the use it will be getting from those high action game nights at the breakfast table!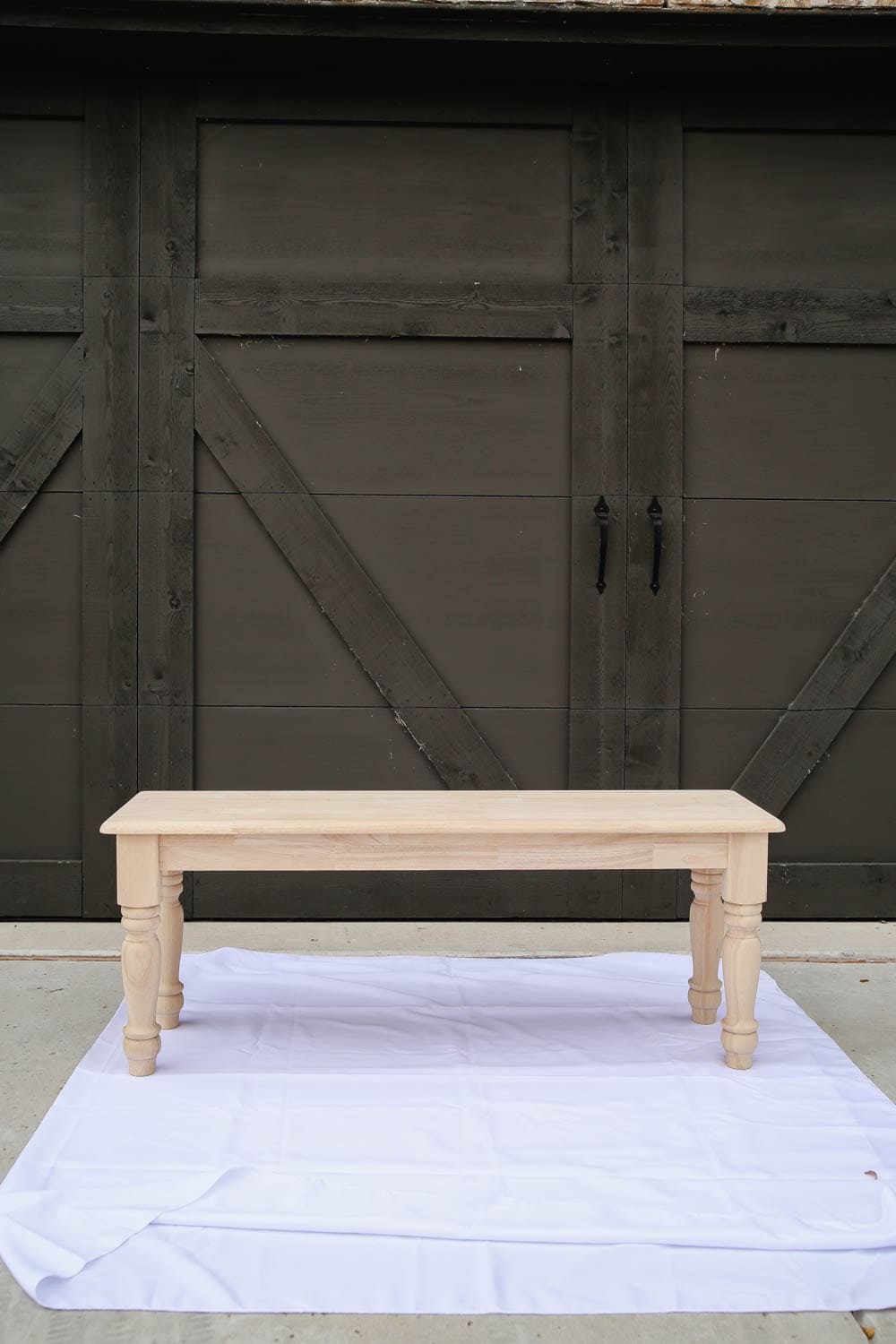 So here are all the materials and directions for you to refinish a piece for your own home.
Farmhouse Bench Makeover with Two-Tone Finish:
Materials:
Furniture you are painting
100 Grit Sandpaper
Paint Brushes (Qty: 3)
Stir Stick
Drop Cloth or old blanket
Old Rags
Zar Stains – I used Silk Gray and Black Caviar
Zar Protective Finish – I used Poly Crystal Clear Hard Protective Finish in Matte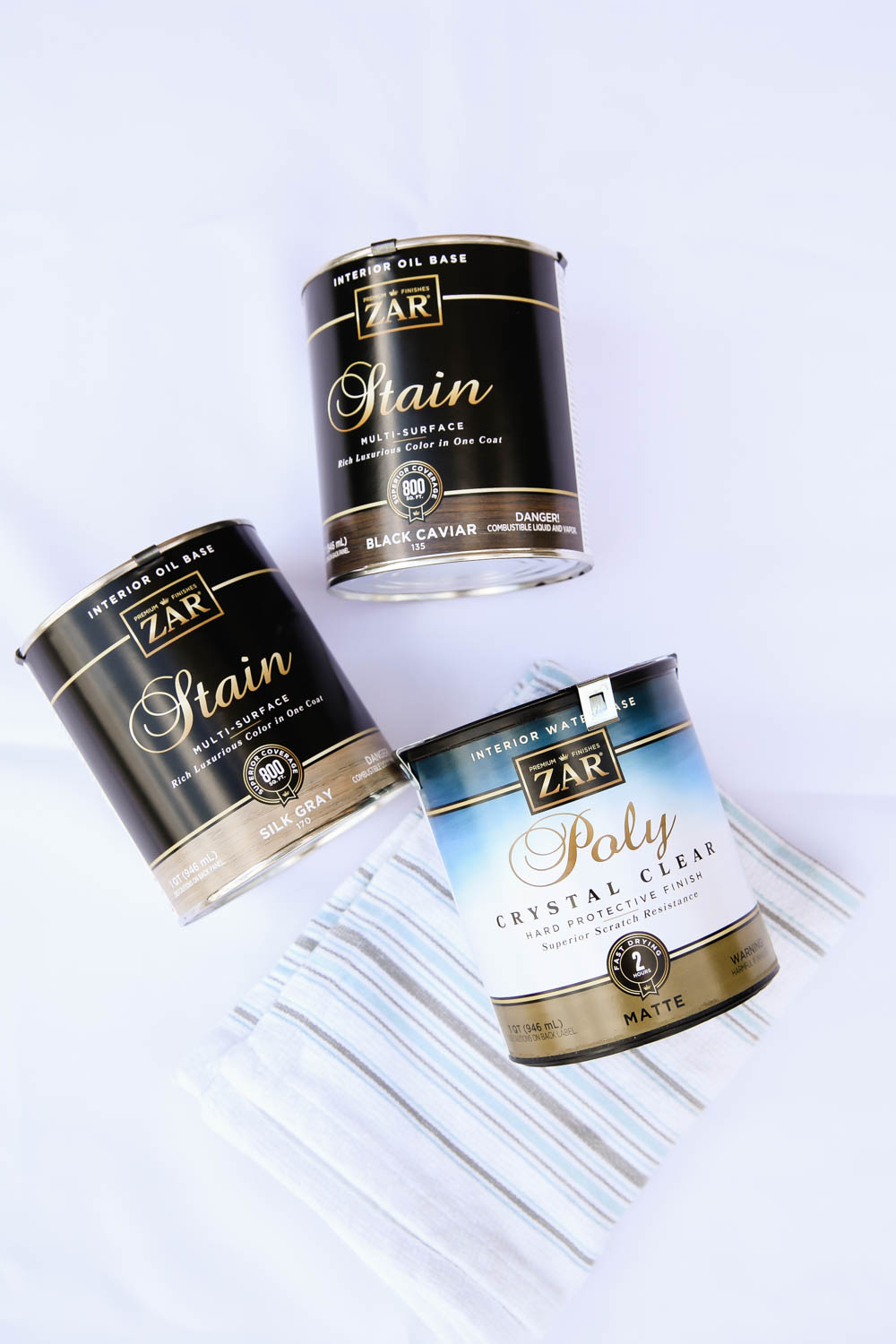 Directions:
Step 1: Lightly sand your furniture piece. Then wipe all the dust off with a dry cloth. You want to make sure you get all the debris off so the stain can go on smoothly and you don't see anything under your finish.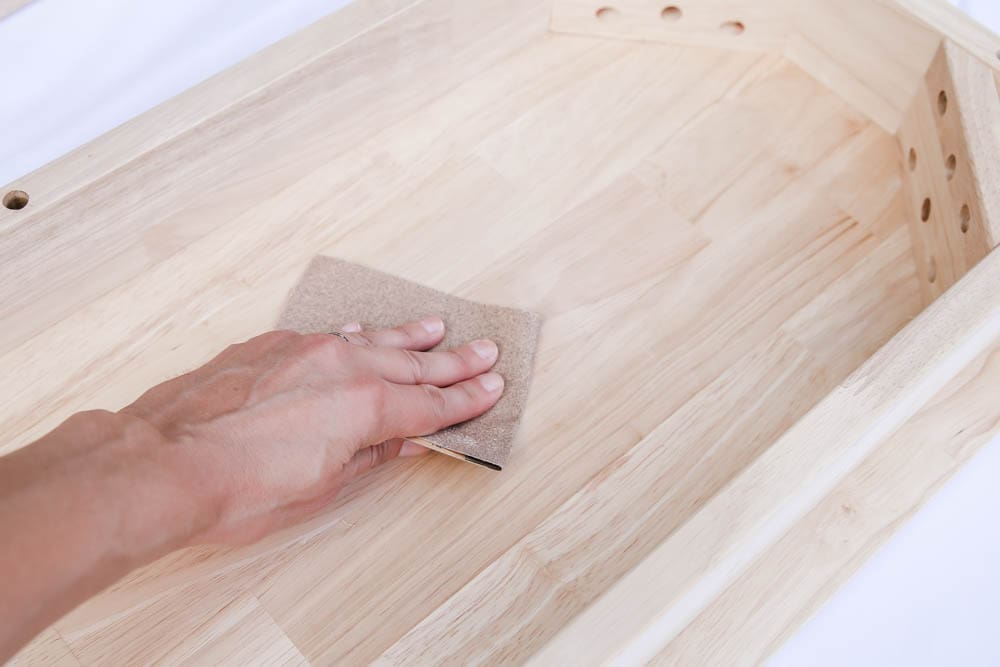 Step 2: Stir finish thoroughly with a stir stick. Using a paint brush or foam brush, apply Zar stain evenly in the direction of the grain. I used the darker color called Black Caviar first for the top of my bench. It is a rich espresso color and is very dark and warm feeling.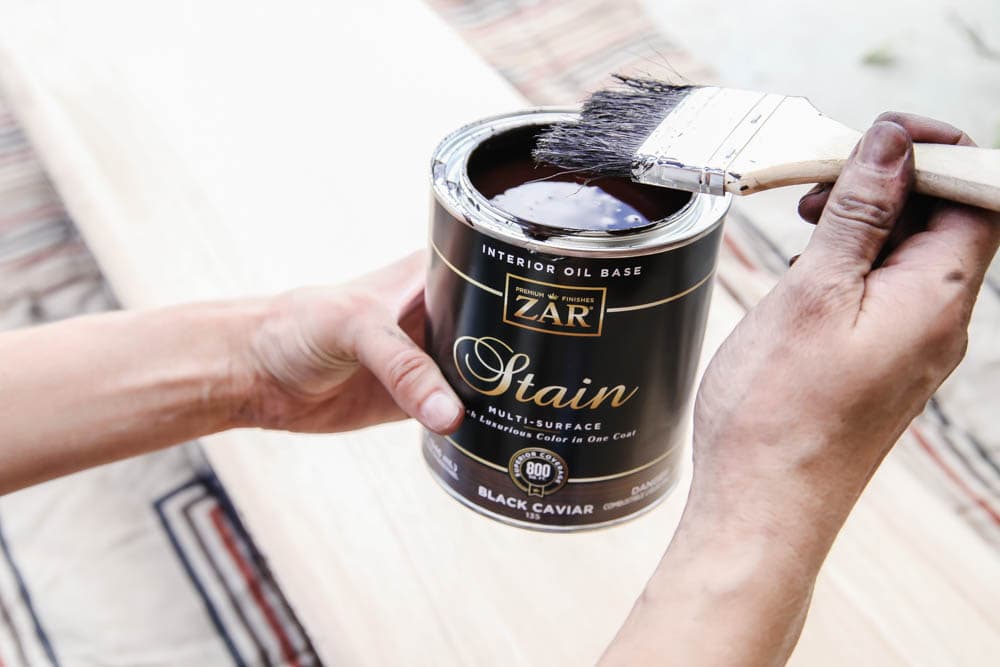 You can see as you brush on the stain how the gorgeous color comes to life.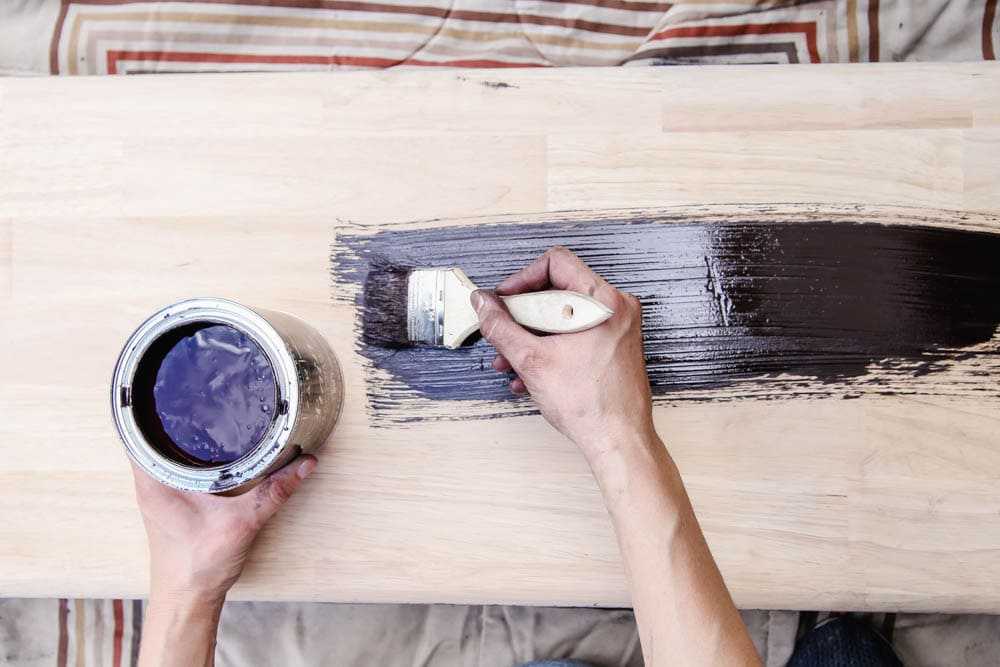 Step 3: Wipe off the excess stain with a clean lint-free cloth in the direction of the grain. If you want a darker color, reapply another coat of the stain and repeat with wiping off the excess stain. I only used 1 coat of the darker color since it is so rich.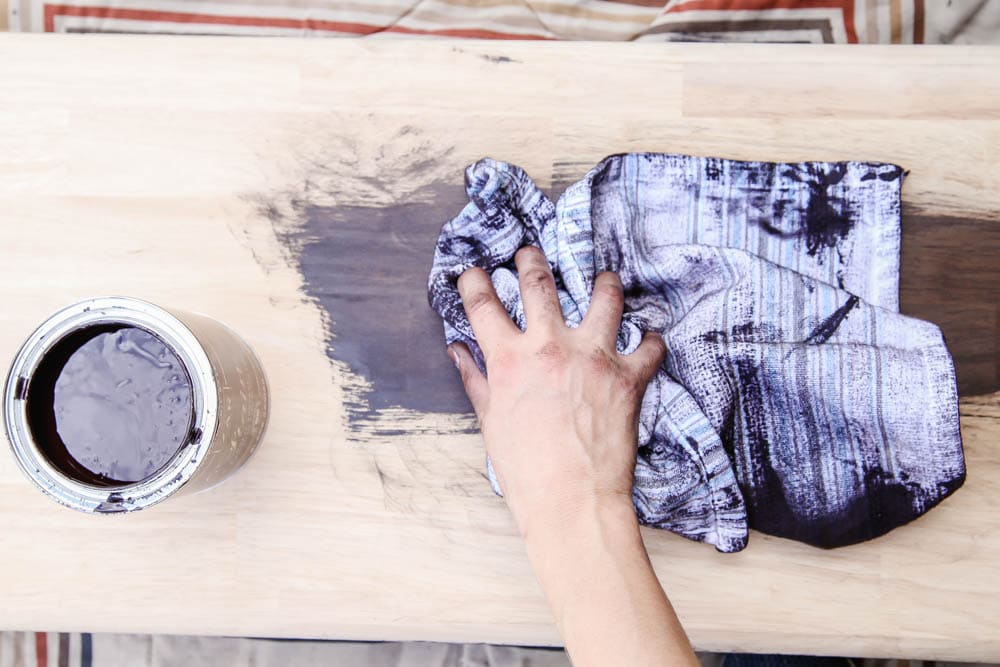 Step 4: Using the second stain color, apply to the legs of the bench. I used the silk gray finish for a lighter effect from the top. Wipe excess off and repeat for a darker color. I used three coats on the legs to get a more grey look.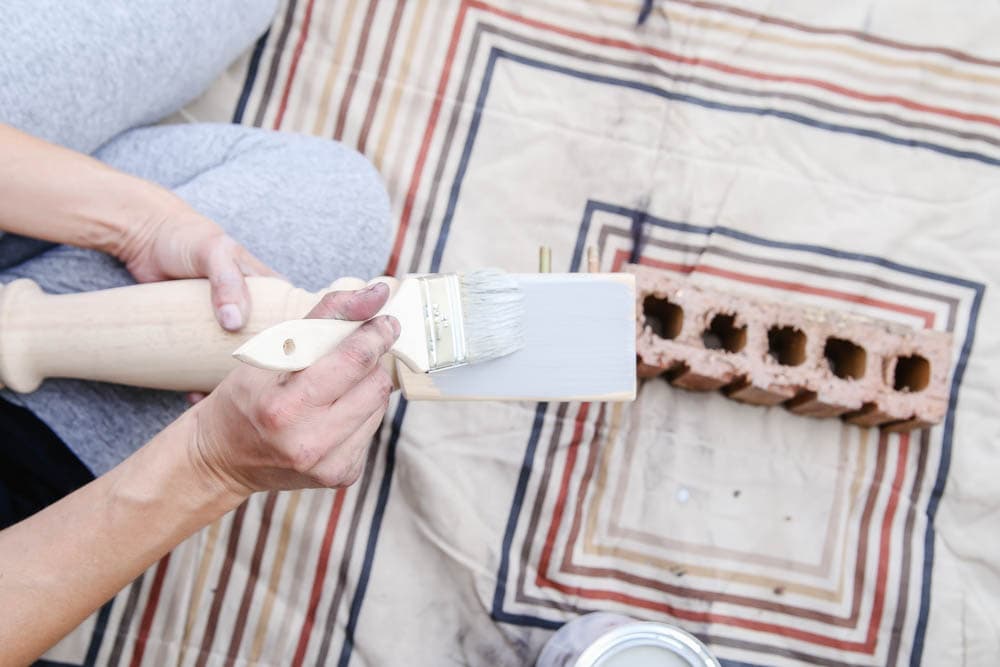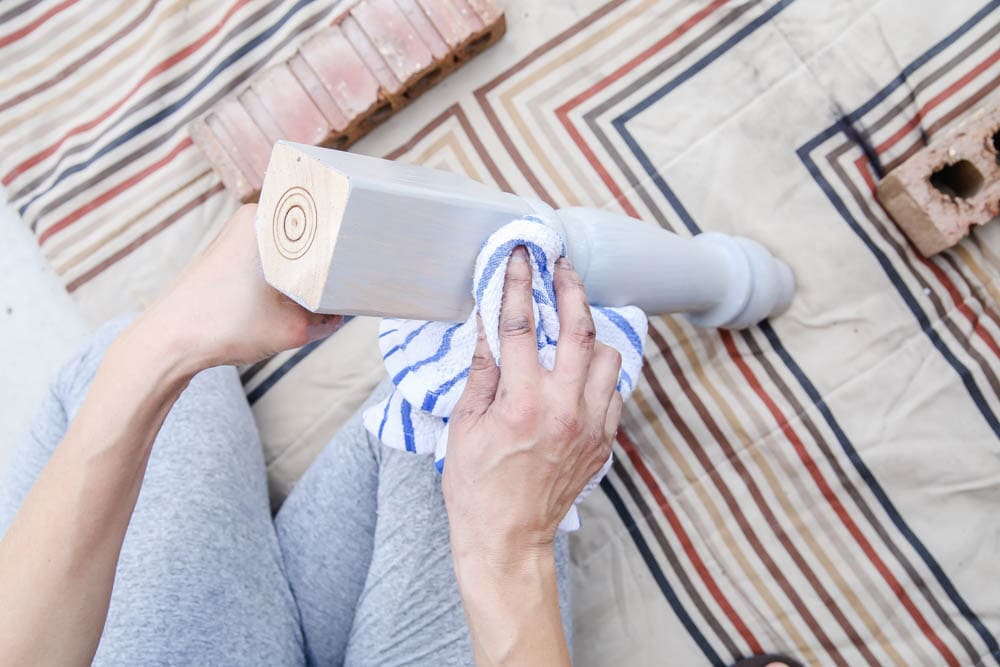 Step 5: Let the finish dry for a minimum of 3-4 hours. I left mine overnight to make sure it was really dry. Then apply the Zar Poly Crystal Clear Protective Finish. Using a paint brush, apply a thin coat in the direction of the grain. The thicker the coat you apply, the milkier the finish will look. Then let the bench dry. I let mine dry overnight.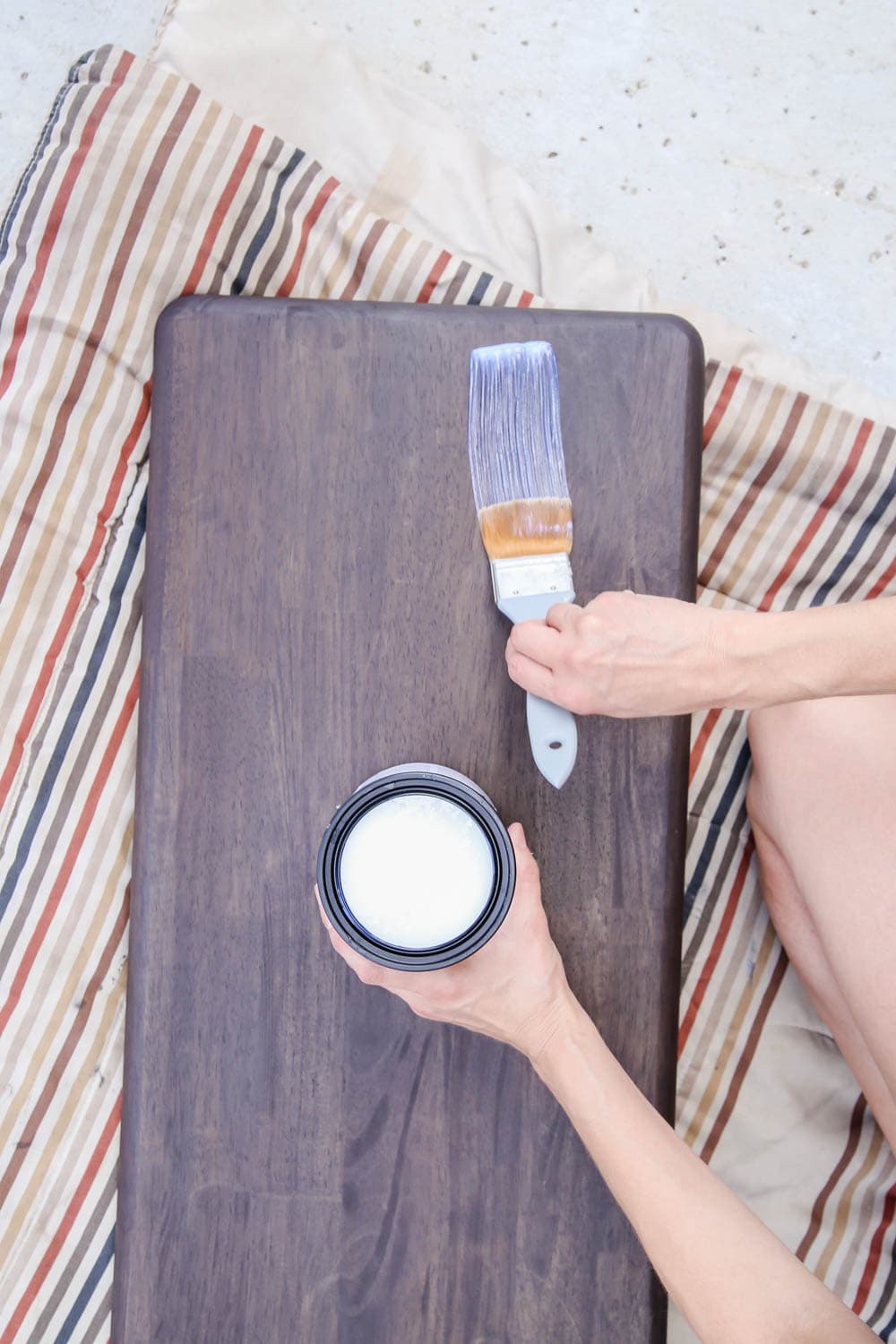 And you are done!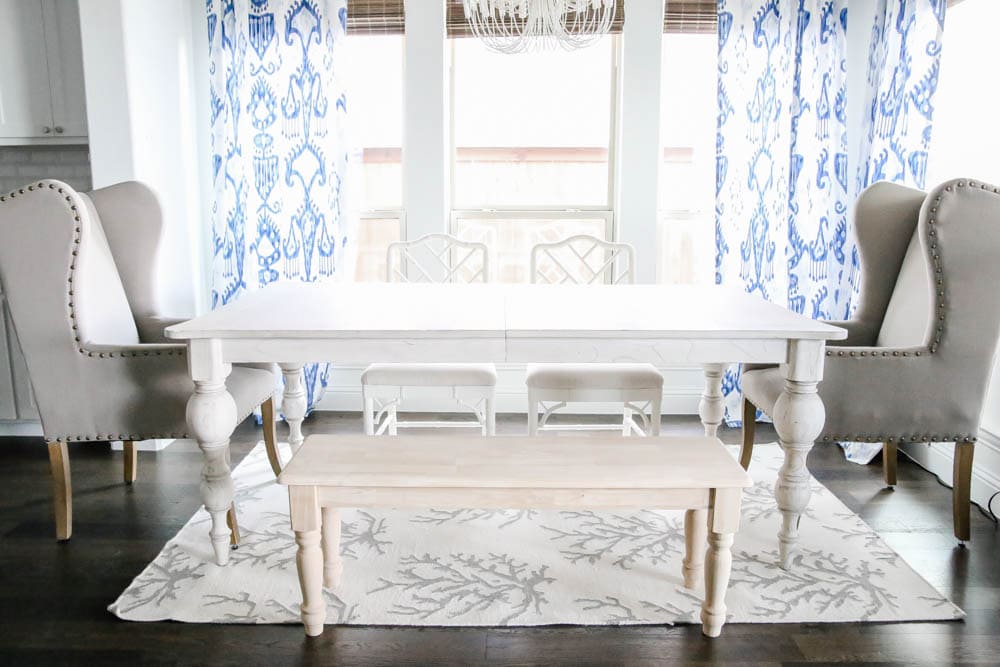 The finish selection on the bench made all the difference as you can see.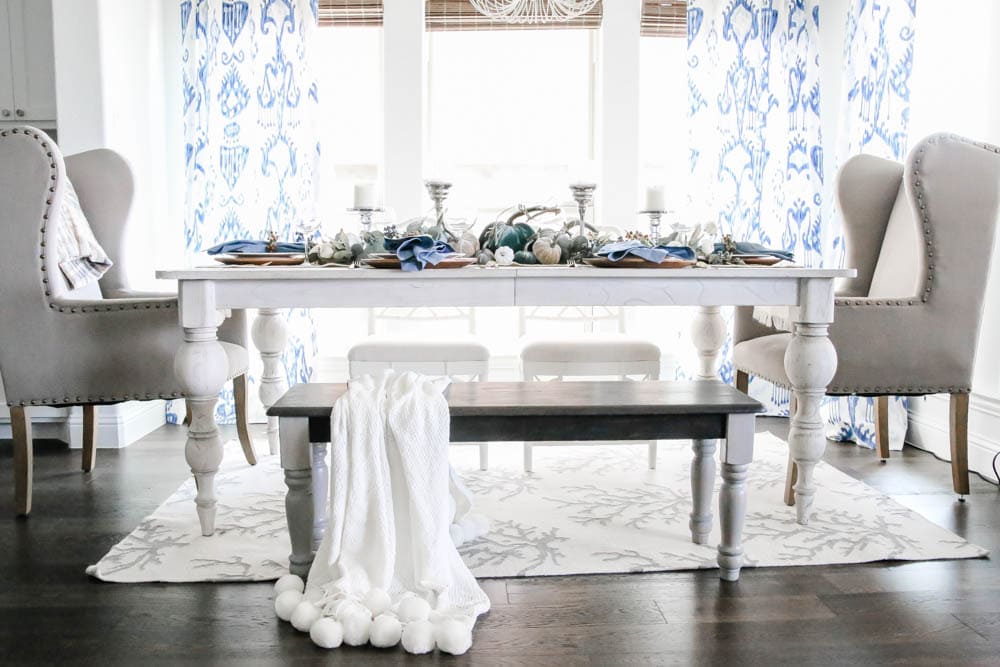 I absolutely love the depth of the wood grain you can see with the Zar finish.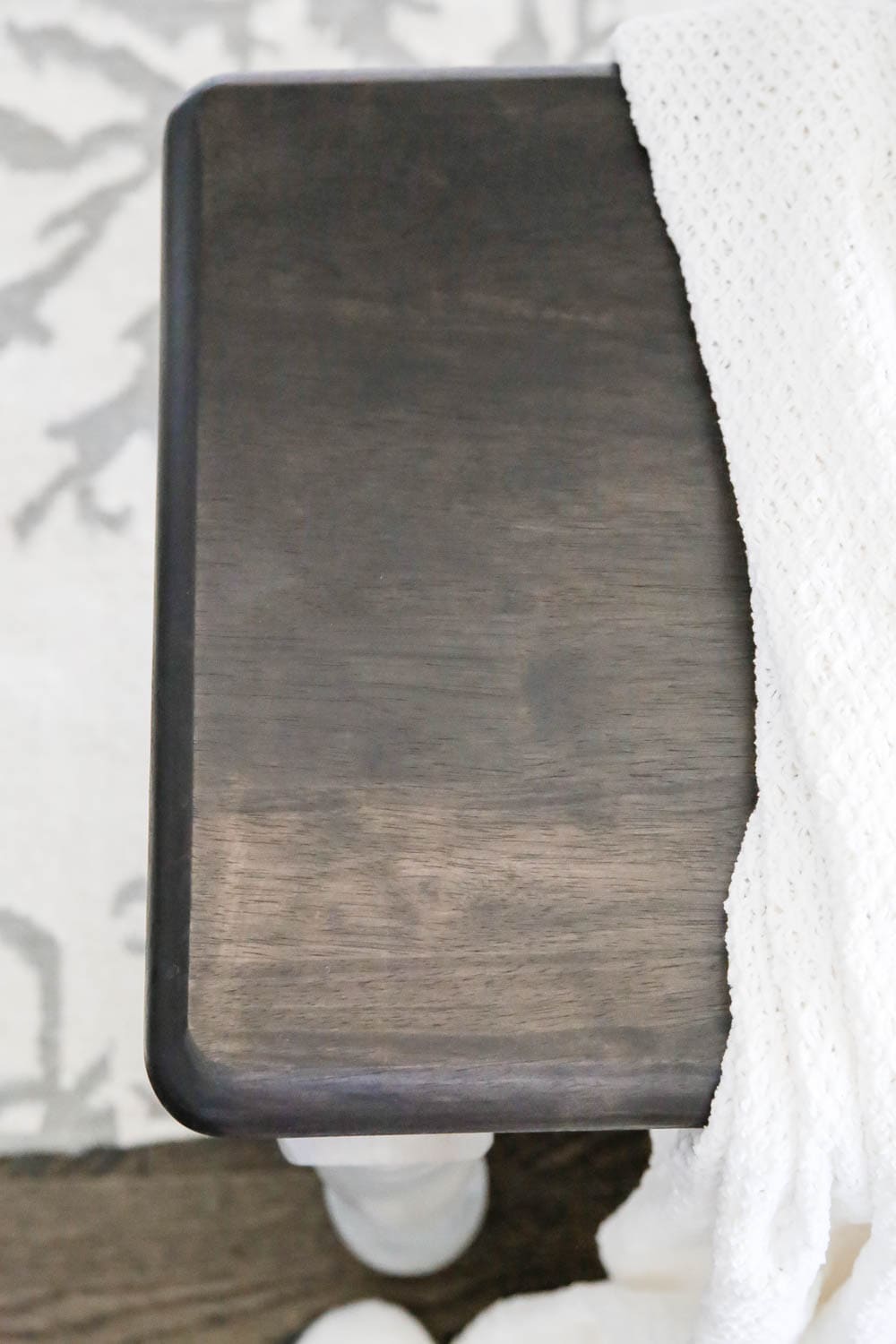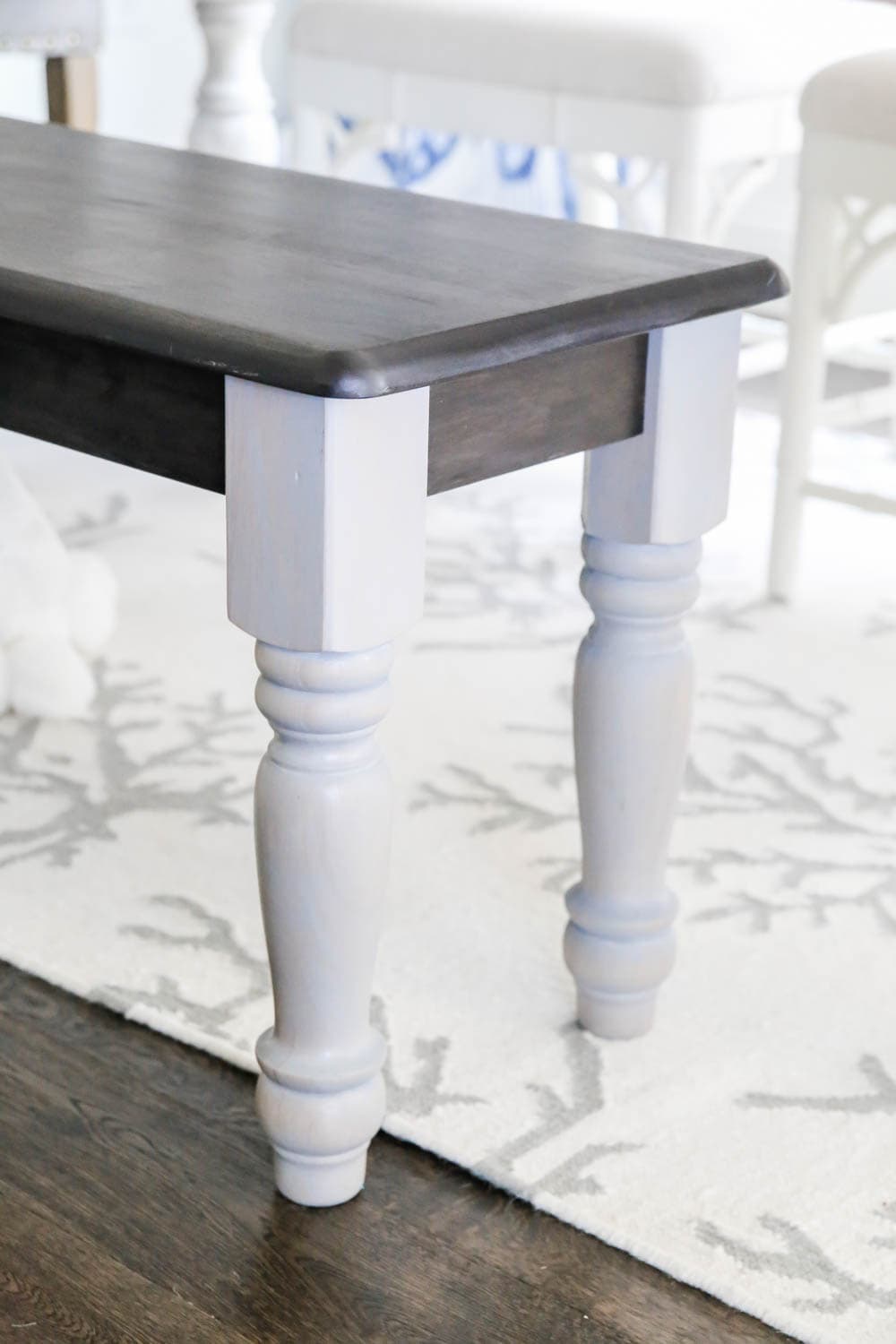 The rich gray color of the legs is the perfect subtle pop of color I was looking for and fits perfectly into my design style in this space.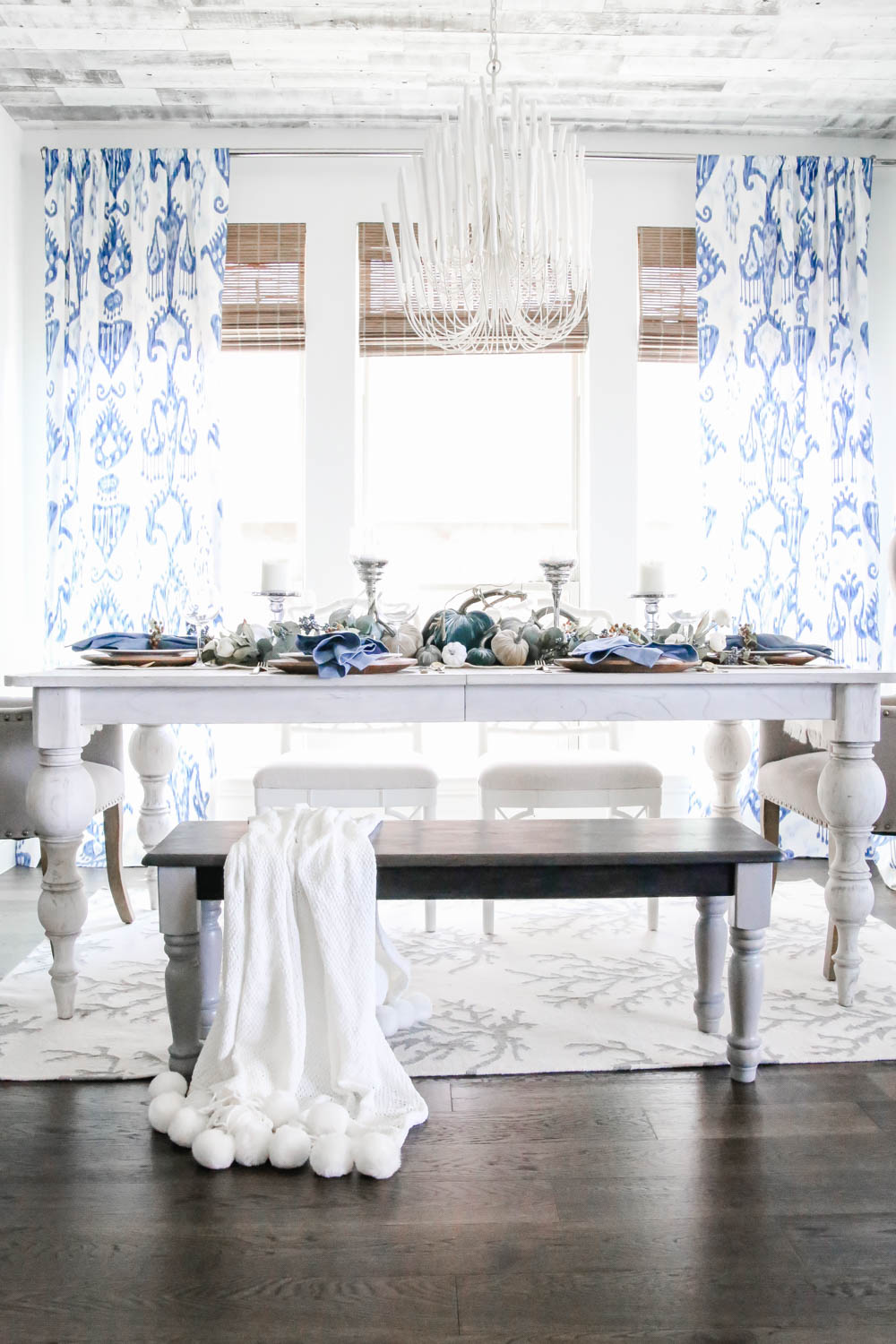 So tell me what project do you have in mind to use Zar finishes for??
Need to bookmark this post for later?
Pin Our Image: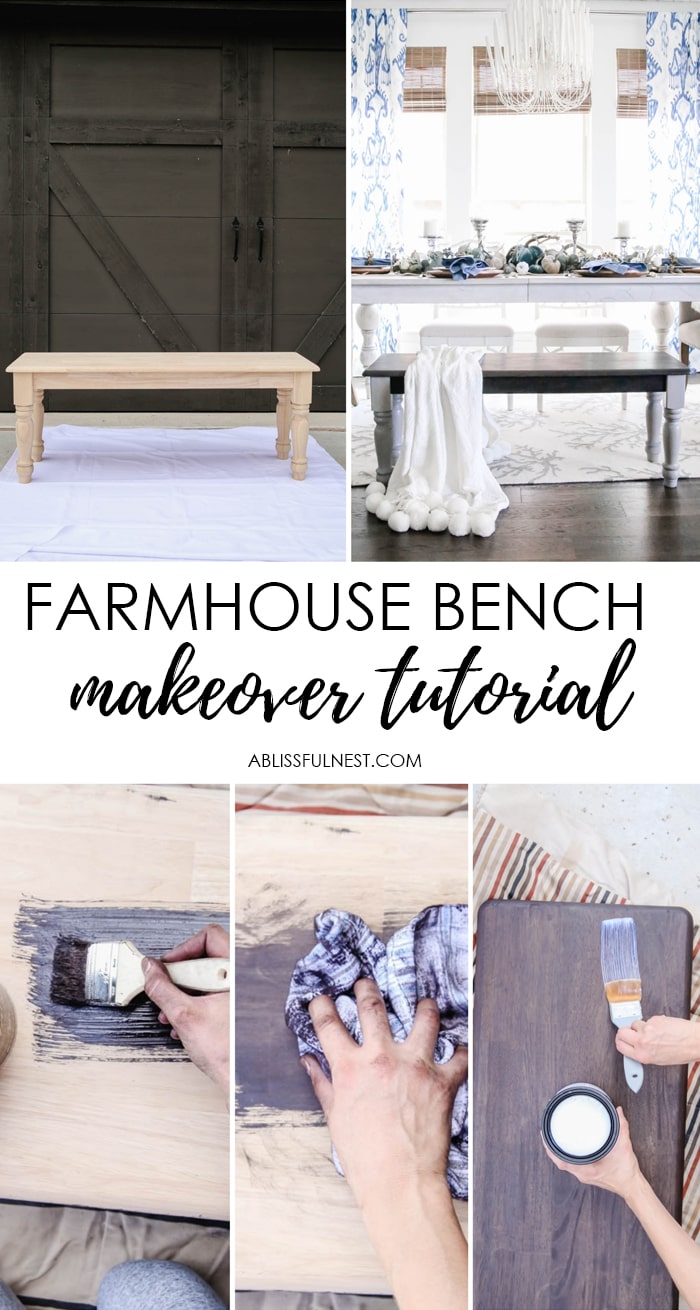 THIS IS A SPONSORED POST. A BLISSFUL NEST HAS RECEIVED PAYMENT, TRADE, AND/OR PRODUCTS FROM ZAR IN EXCHANGE FOR PROMOTING. HOWEVER, ALL OPINIONS STATED ARE OUR OWN.