Powder Bathroom Design Plans + Favorite Removable Wallpapers
Sharing our powder bathroom design plans, including wallpaper, lighting, accessories, and art for the space! Also highlighting my favorite removable wallpaper sources.
This has been a long time coming. I talked about it in my design plans for our home this year and then I did nothing with it all year . . . until now. It felt like there were so many other plans with the house I wanted to get done and then life just got in the way. But with the holiday season coming up, we will be having lots of guests and it was high time to get working on making over this small powder bath.
When we moved in it was just a plain white bathroom. It had nothing to it but a sink and a toilet. I had purposely designed this house to be mostly white so I could take my time once we moved in and really design it the way I wanted it. So it sat for a while.
I temporarily hung a mirror I had had in my daughter's room in the last house and it worked for a while. In the spring we updated the toilet to this one. It is a sleeker look and I love all the little extra features it has.
This post contains some affiliate links for your convenience. Click here to read my full disclosure policy.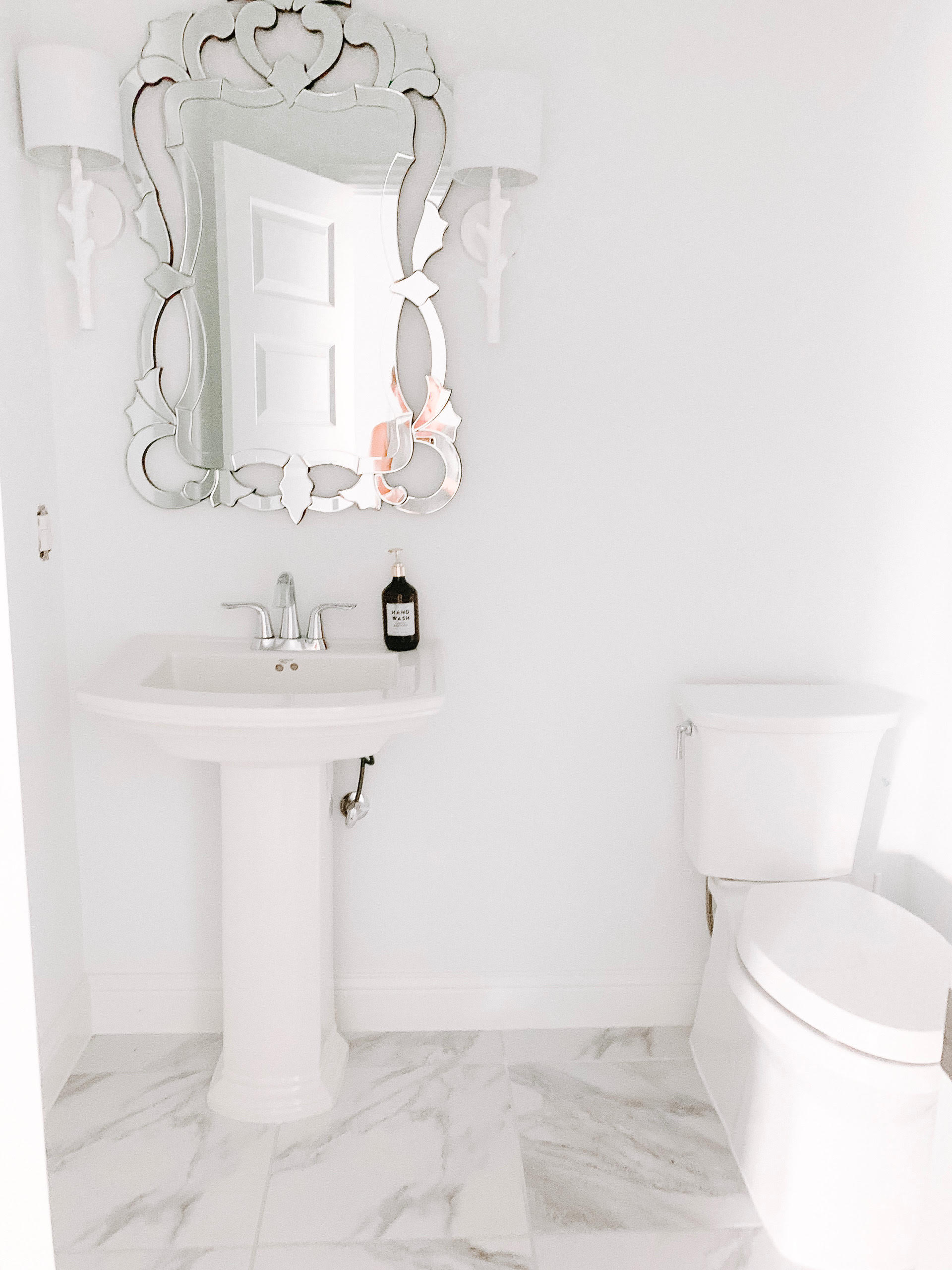 So I got thinking that I would really love to try a wallpaper in here. It would give it a fun pop of pattern and you actually see it in the entry area. Because I can tend to have commitment issues when it comes to paint and patterns, I decided I would like to try removable wallpaper. Have you ever tried it?
I love the idea of a peel and stick option rather than it adhering to the walls and it is beyond time-consuming and damaging to the walls with traditional wallpaper. Plus I was nervous I would have NO idea how to hang it and it would be all wrong. I have to say now that I am almost done hanging my removable wallpaper in the powder bath, that I have learned a few tricks if I decide to ever attempt hanging regular wallpaper.
Through looking for the perfect pattern, I found so many good ones and thought I would share them with you in case you get an ich for a new project like this. They are perfect for an entryway, hallway, laundry room, guest bath, etc.
All of these are the removable kind so no paste required!


So on to our powder bathroom design plans! As you can see I decided to go with the buffalo check. It looks gorgeous with the flooring we had laid in here when we were building. The flooring looks like marble and has a grey veining on a white base.
I kept my faux coral branch sconces, which I love so much. They look like art pieces in person. Since they are all white though I really thought I needed contrast in the mirror so I love the wood finish of this one.
I snagged this wood beaded flush mount light a while back and it is on sale now. I think this would be so pretty in a hallway too.
I am updating the toilet paper holder and towel holder too. The ones the builder put in feel and look cheap in my opinion. I am going to slowly replace them all in the next year or so. I would like to update the faucet too but that may have to wait a bit.
I plan on adding some beach/ocean art and I love the blue and white umbrellas of this photo I found online. I might just frame this one.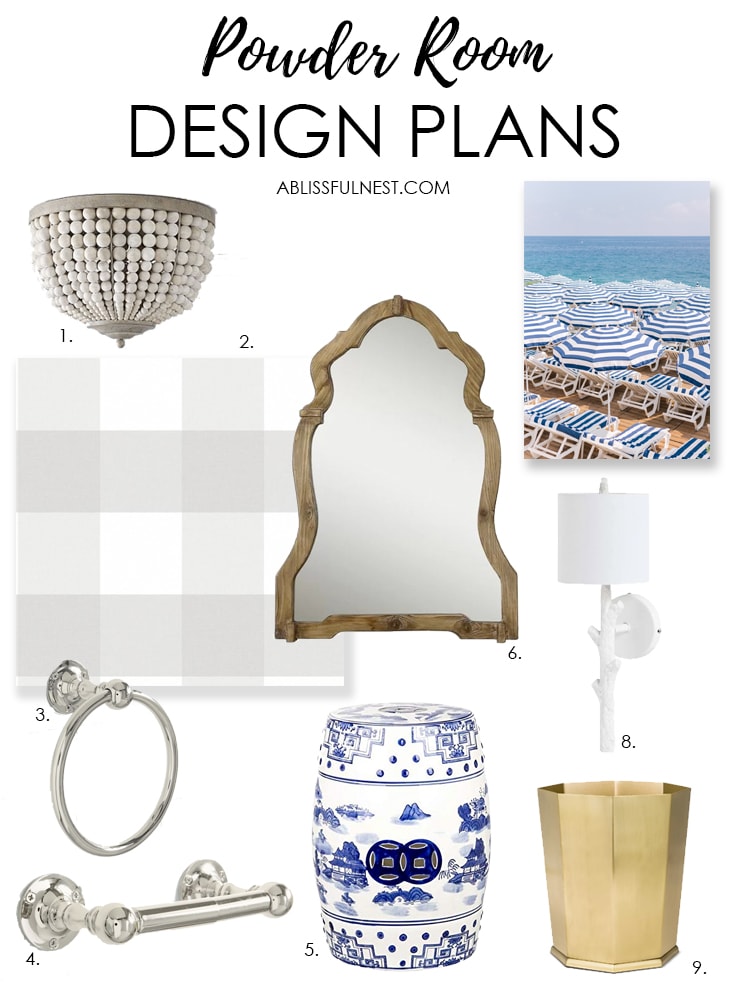 Wood Beaded Flush Mount Light | Buffalo Check Wallpaper | Wood Mirror | Towel Ring | Toilet Paper Holder | Blue and White Garden Stool | Gold Wastebasket | White Coral Sconce
So I should be all done and ready to show you the completed look next week! I can't wait for you to see it!