Favorite Stocked Hot Cocoa Station Essentials
This post may contain affiliate links. Please read our disclosure policy.
Hi there! I'm Tiffany, from Joyfully Rooted where I blog about all things home and heart inspired. I am thrilled to be a contributor for A Blissful Nest's Holiday Dream Team this year. Today I am sharing a holiday staple, my fully stocked hot cocoa station. Using a tiered tray to style all of the supplies, it's easy to keep out on display all winter long. Best of all, a fully stocked hot cocoa station looks festive and takes up very little space!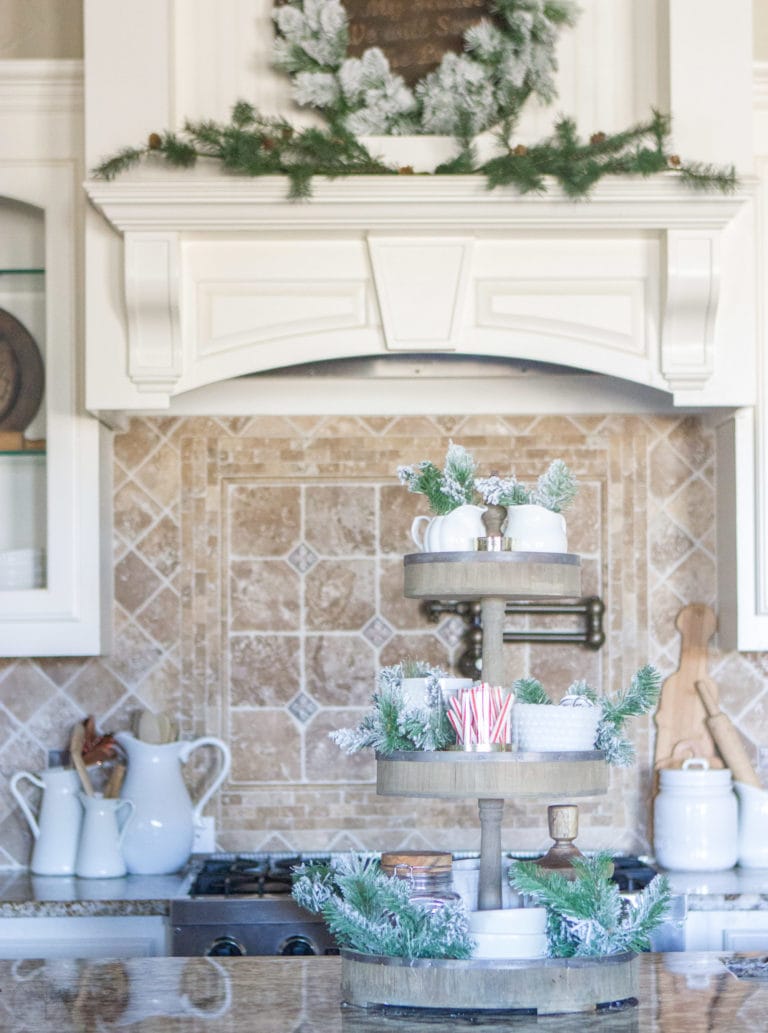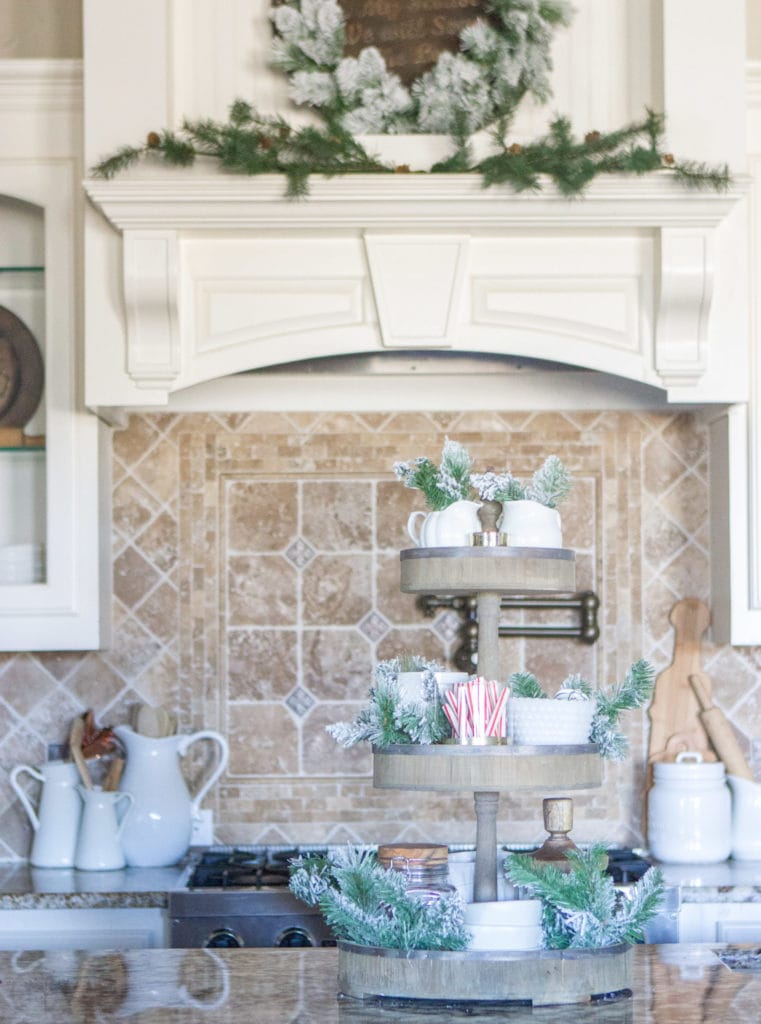 My Favorite Stocked Hot Cocoa Station Essentials:
If you're like me, there is something so nostalgic about enjoying hot cocoa in the winter. We live in Texas so our winters aren't usually that cold compared to some areas, but we do get a few pretty chilly days in December and January. On those days, I love to serve hot cocoa to my 3 little ones, or for the many times we have guests over for special Christmas get-togethers.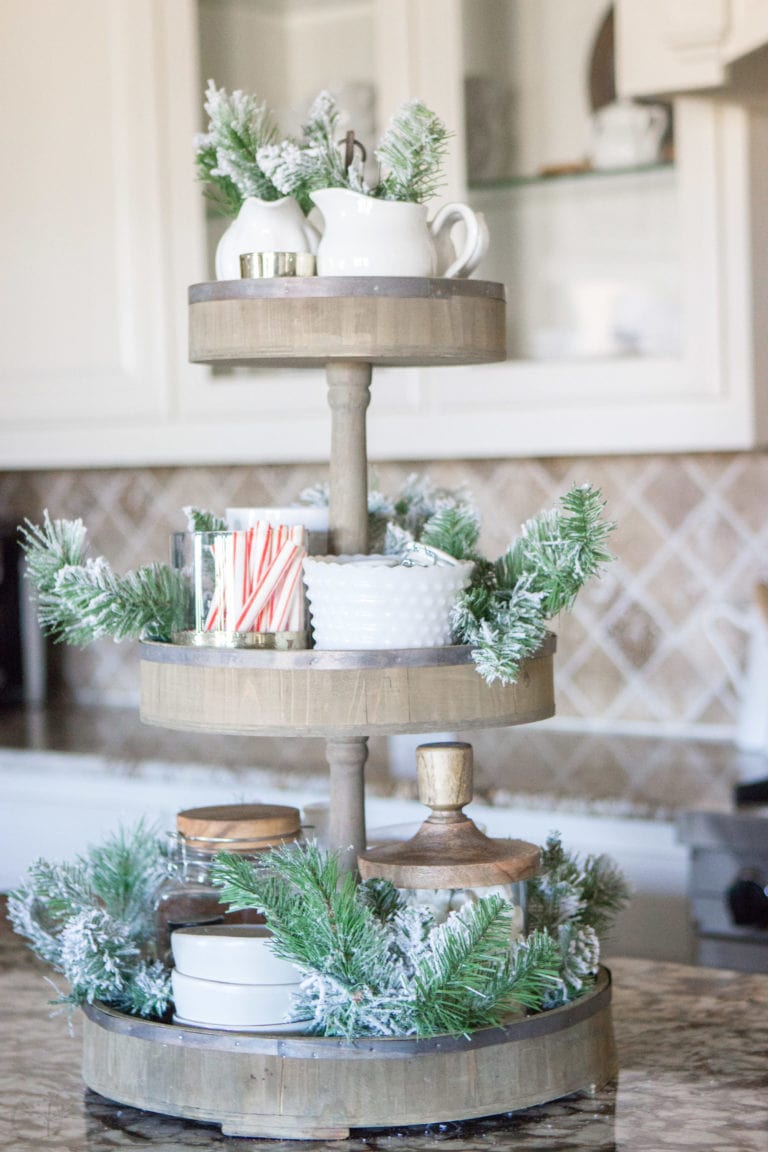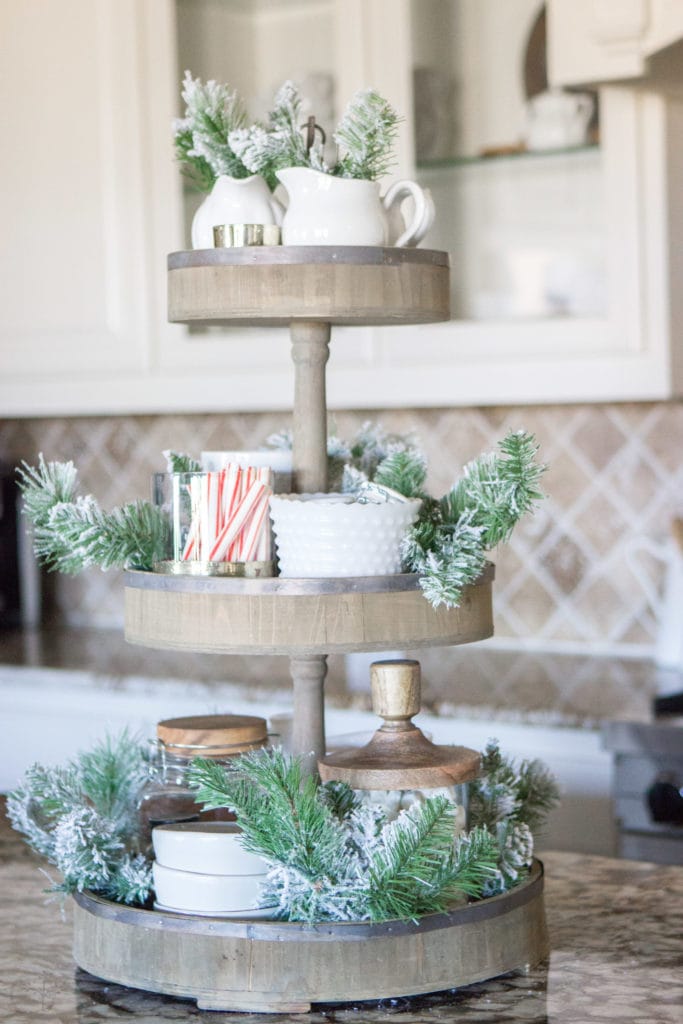 I usually stock up on a few things at the beginning of December and just style everything on this large 3-tier tray we keep on our kitchen island. You can find one HERE.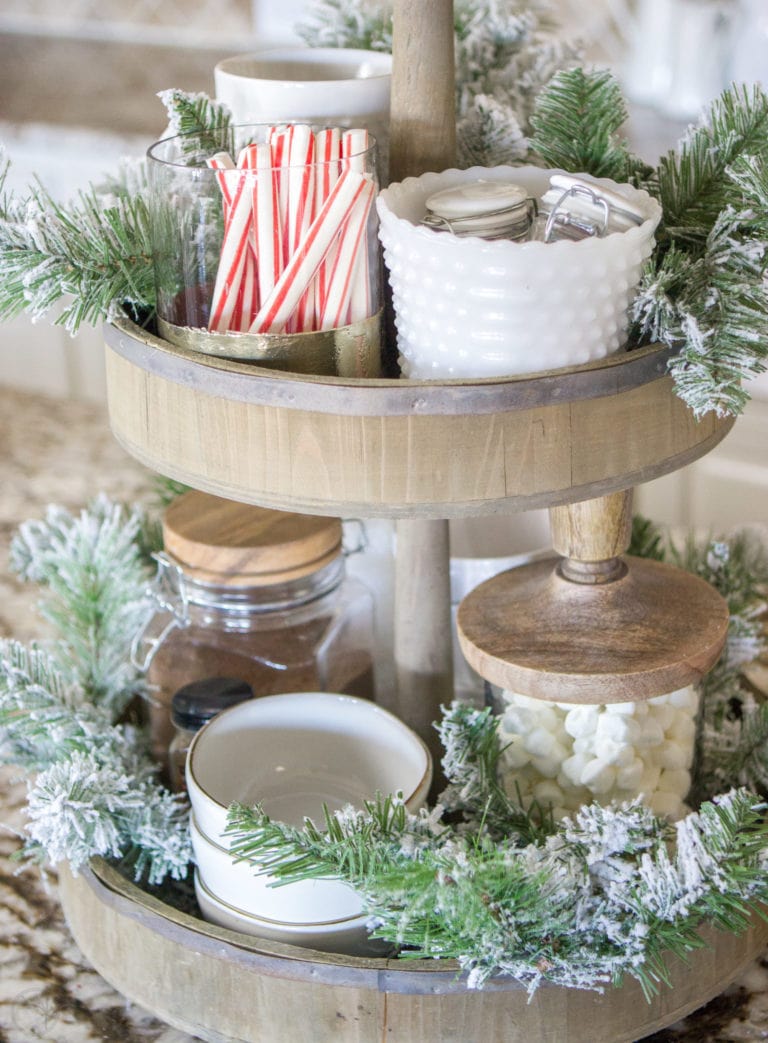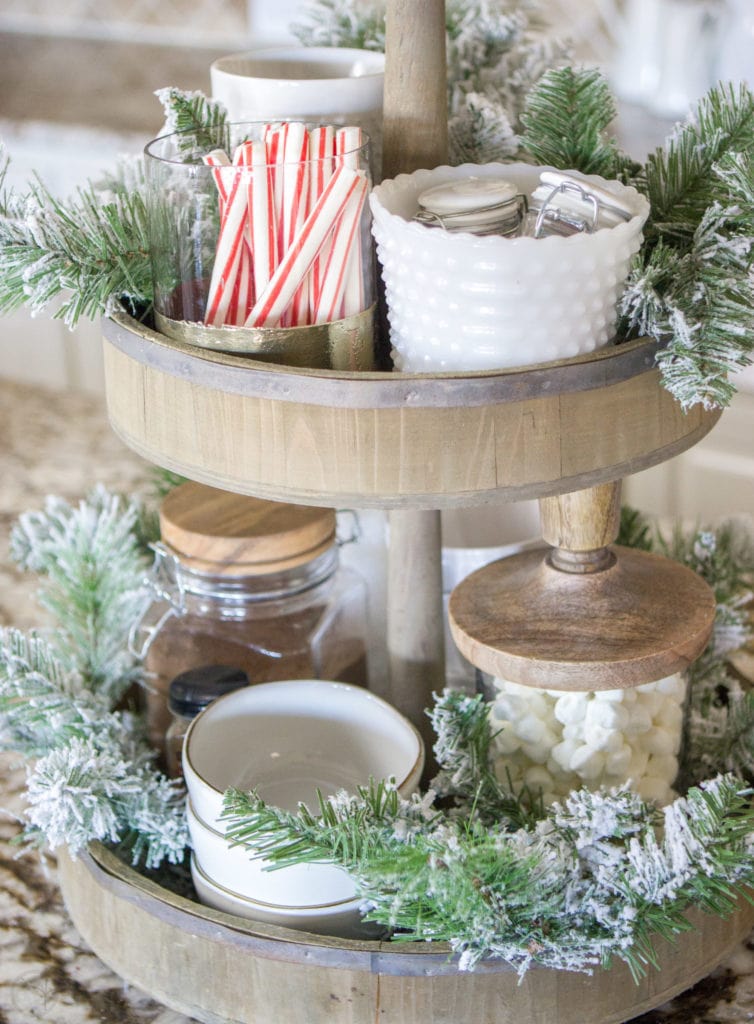 What's great about putting a hot cocoa bar on a tray is that everything is always ready to serve. I use a lot of flocked branches tucked in the bare spots to add texture and help tie everything in to the rest of our Christmas home decor.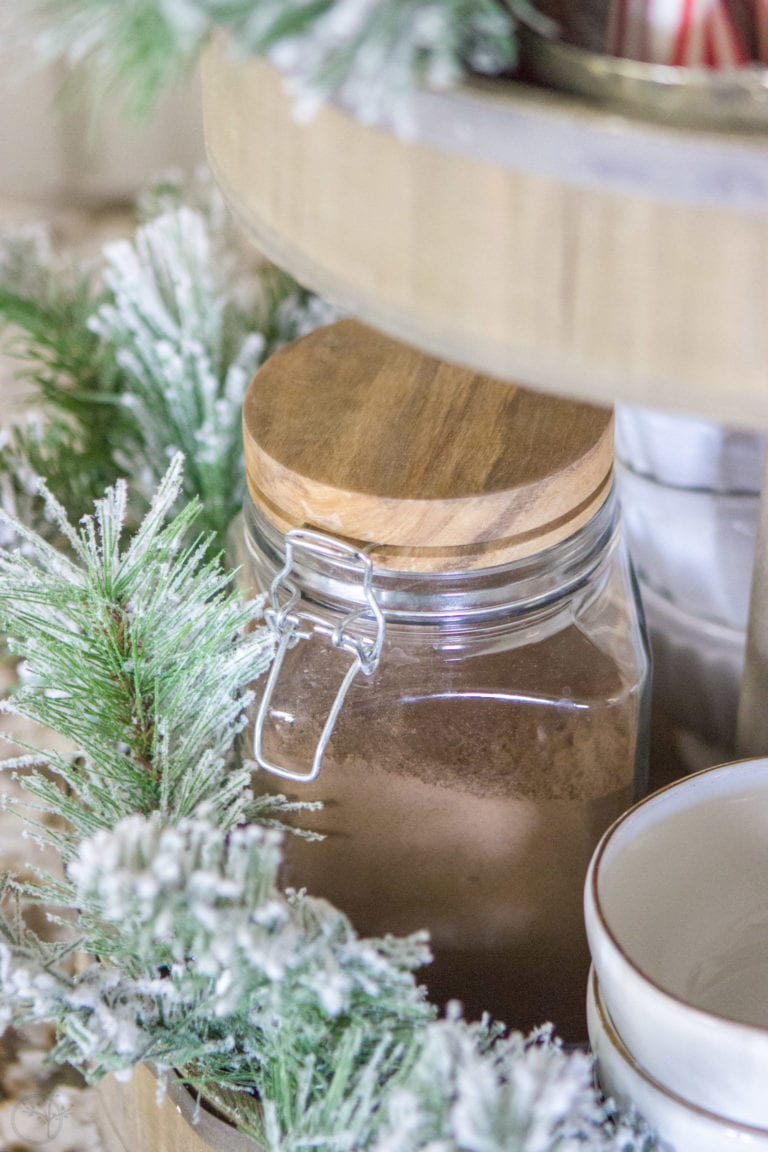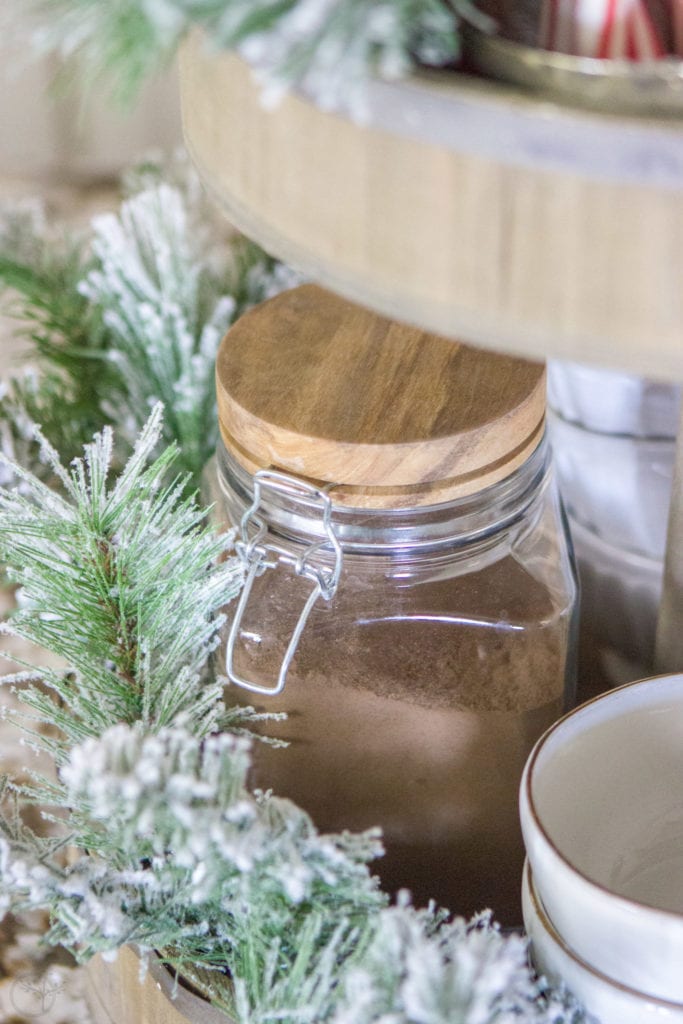 Little canisters with a lid are a great way to keep ingredients fresh, while looking pretty too! I just buy a large bag of hot chocolate from the grocery store and transfer it to the canister.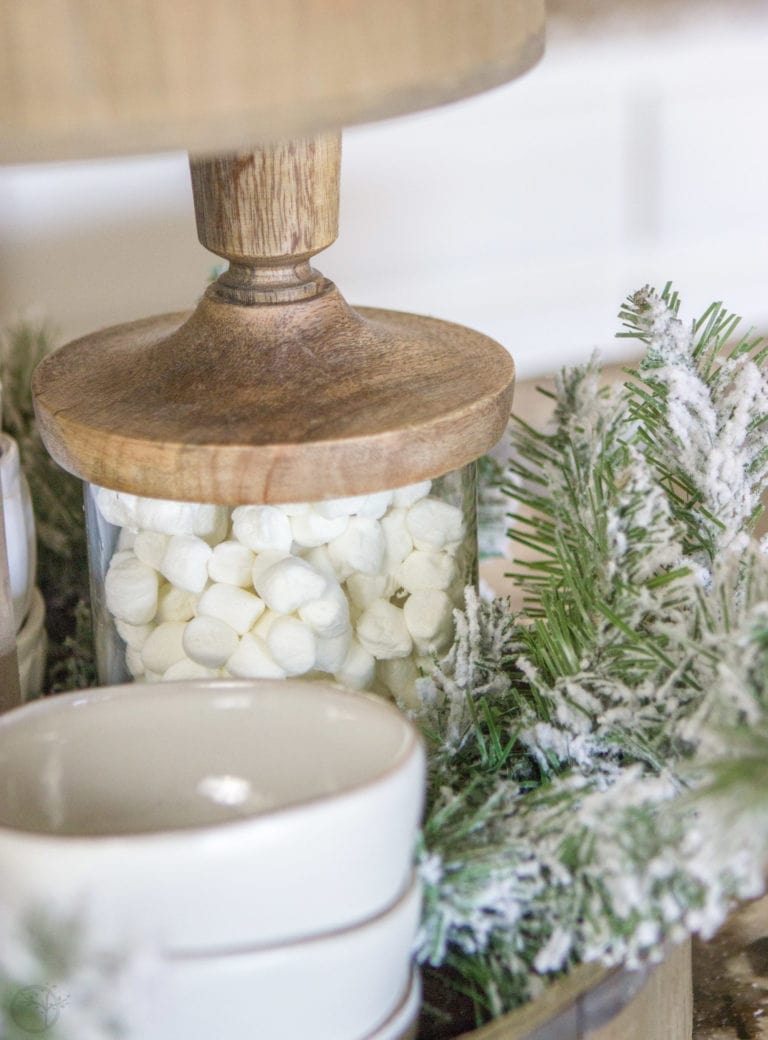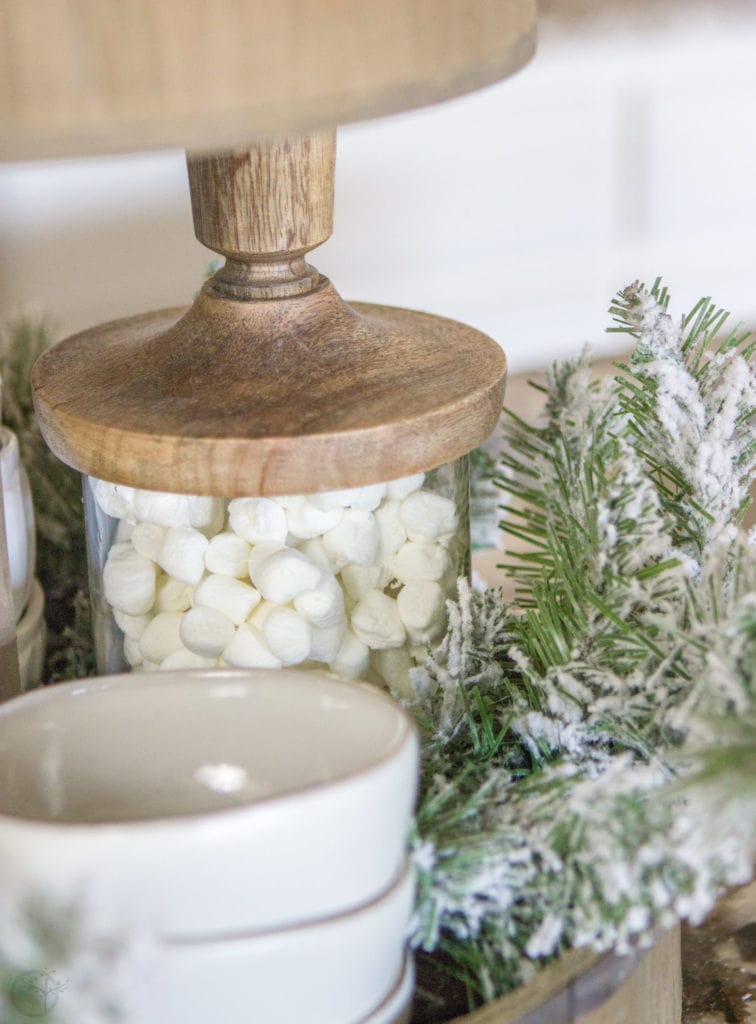 I do the same thing for the mini marshmallows. Any kind of vase or container with a lid will do the trick. The larger jars are then placed on the bottom portion of the tray where there is the most space.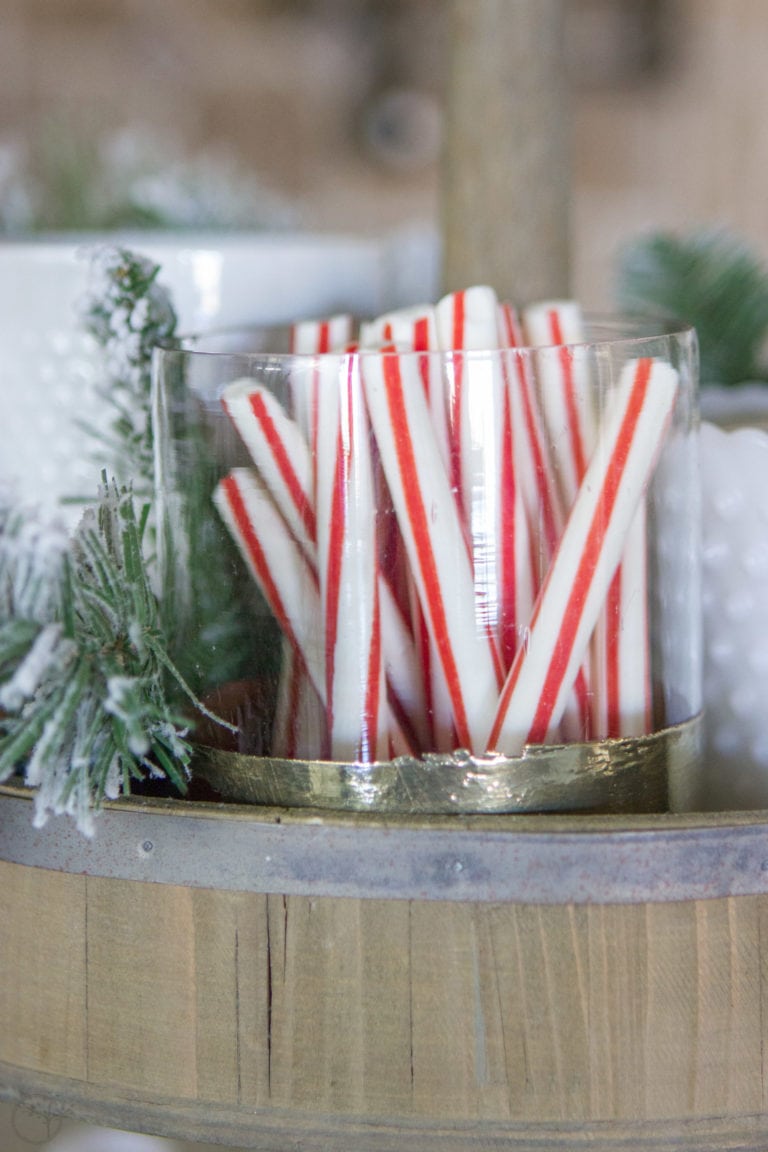 Because hot chocolate needs to be stirred, having a vase filled with candy canes adds a cute pop of color, with a touch of much appreciated function. I like to use these peppermint stir sticks that are also super delicious. You can find them HERE.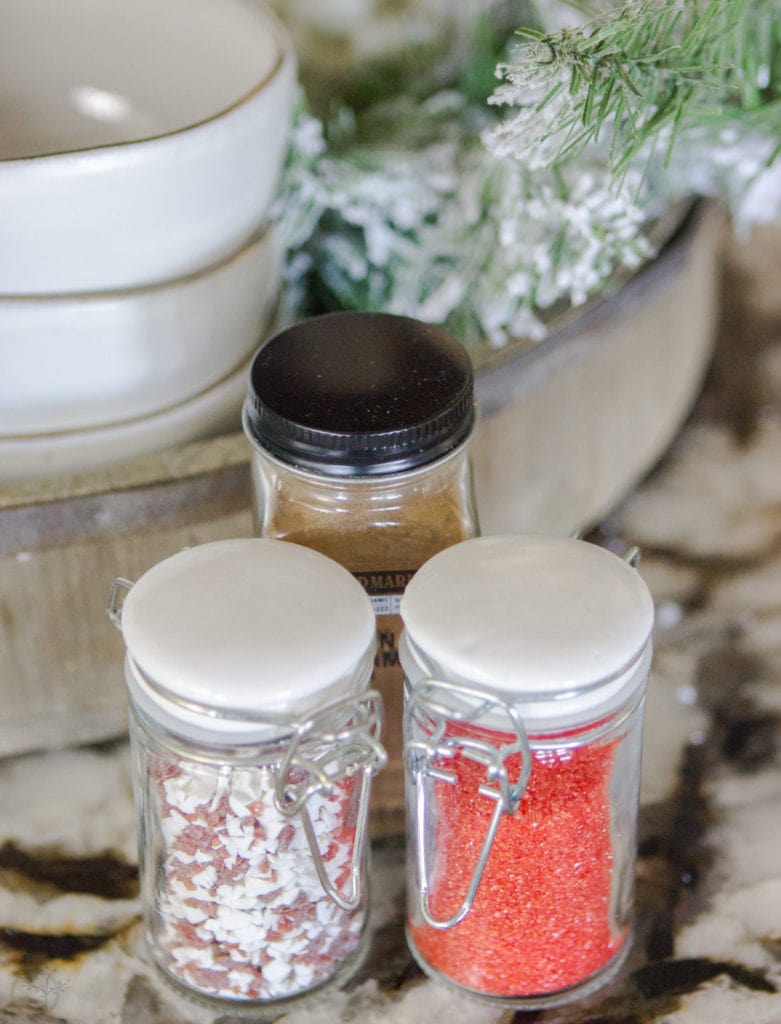 Tuck some of your favorite toppings in the tray anywhere you need to fill a bit of space. I used some chocolate "s'more flavored" candy pieces, red sprinkles, and cinnamon. But truly, the sky's the limit!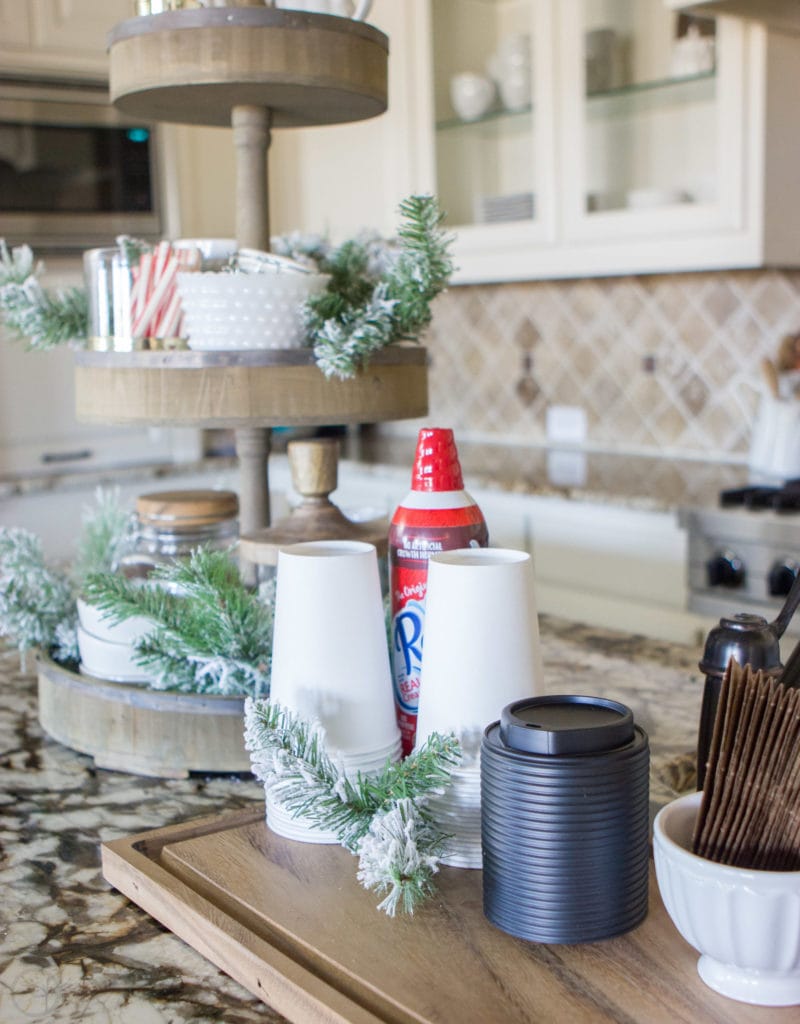 A kettle of boiling water on the stove, a tray set up with whipped cream, disposable cups, and this hot cocoa station easily transforms into a party favorite. We often entertain on our back patio with a fire going, so disposable cups are perfect for guests to enjoy outside all while staying warm and toasty.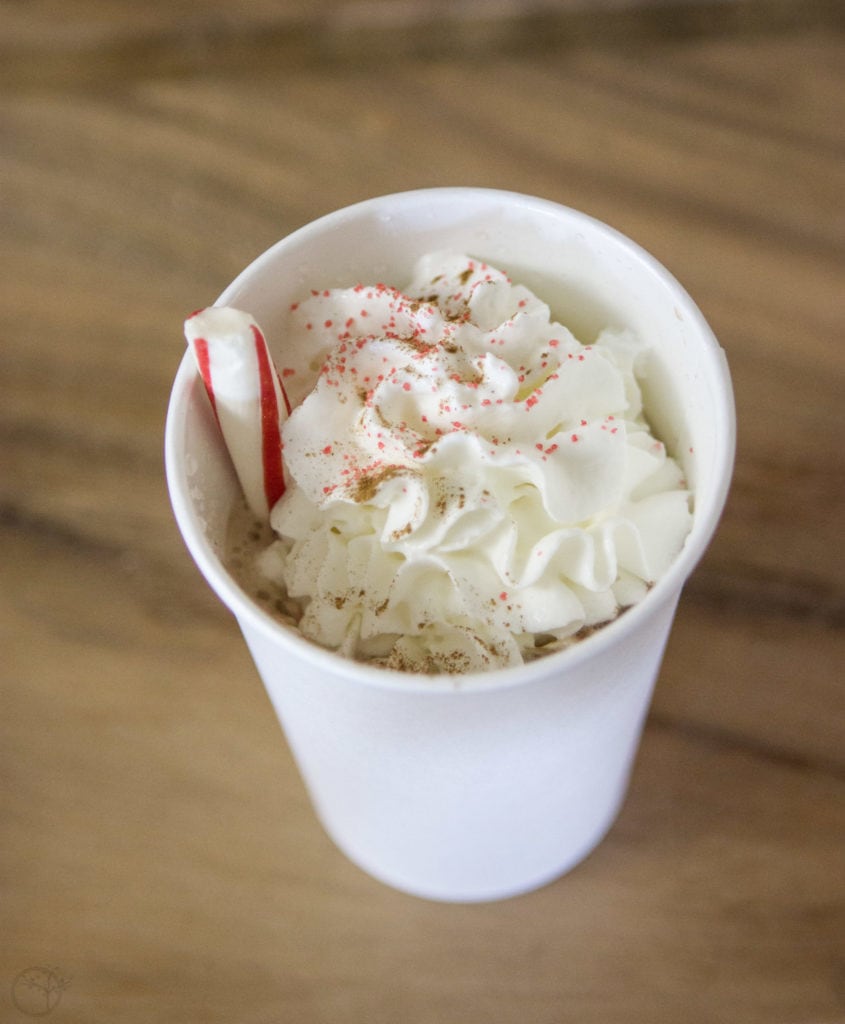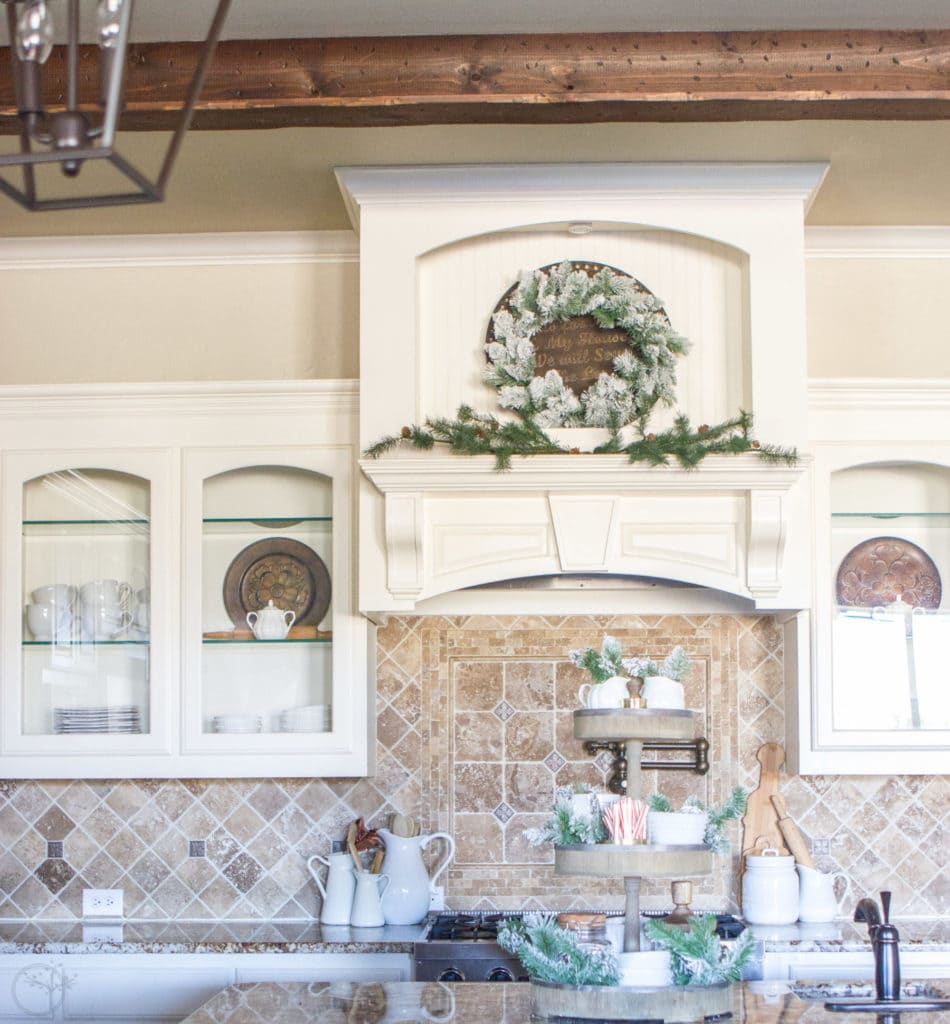 I sure do appreciate you stopping by today, it has been so fun sharing how I like to serve and style hot cocoa with you here. Let me know if you decide to recreate the hot cocoa station! It really is fun to style, and even more fun to enjoy! You can find me anytime over on my blog Joyfully Rooted and I'd love for you to pop over and say hello.