Almond French Macarons with Hot Cocoa Buttercream Filling
This post may contain affiliate links. Please read our disclosure policy.
Hi everyone! Aychel here, from In The House Of David and I have one last surprise for you ABN readers this holiday season! Does anyone else think that "hot cocoa" is the "pumpkin spice" of winter? When the weather outside is frightful, I want "hot cocoa" everything! So today am going to share my Almond French Macarons with Hot Cocoa Buttercream recipe! These macarons are perfect for homemade Christmas gifts, take-home treats for dinner guests, yummies for the kids, or that "cheat-worthy" snack right before all the New Year resolution diets start up again!
Let's get started!

Almond French Macarons with Hot Cocoa Buttercream Filling:
Ingredients:
For Macaron Shells:
2 Large Eggs Whites at Room Temperature
1/4 c Granulated Sugar
3/4 c Blanched Almond Flour
1 c Powdered Sugar
1/2 Tsp pure almond extract
Food coloring (optional)
For Hot Chocolate Buttercream:
1/2 Stick of Unsalted Butter
1 Packet of Hot Cocoa Mix ( I used Swiss Miss)
1/2 c Powdered Sugar

Directions for Macaron Shells:
Step One: In a bowl, whisk the almond flour and powdered sugar until combined. Set aside.
Step Two: Use a large bowl and hand mixer, beat the egg whites at medium speed until soft peaks form (about 2 min). Continue to beat the egg whites on high speed and slowly add the granulated sugar a teaspoon at a time until stiff, shiny peaks form (about another 2-3 minutes). Add almond extract and food coloring, beat for an additional 30 seconds.
Step Three: Pass the almond and powdered sugar dry mixture through a sifter or fine-meshed sieve so that it falls into the egg mixture. Gently fold in the dry ingredients until the mixture is well combined, shiny and with a lava consistency. DO NOT OVERFOLD! (About 45-55 folds usually does it for me!)
Step Four: Transfer the batter into a pastry bag with a 1/2″ round tip. (You can also use a gallon size ziplock bag and cut off a bit of the corner. Take two baking sheets and line with some parchment paper. Pipe the batter into circles, about 3/4″ inch round and 1″ apart.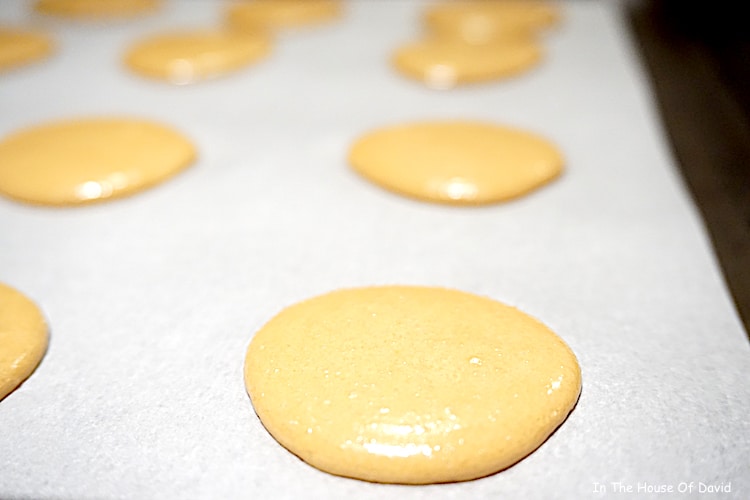 Step Five: Firmly tap the baking sheet on the counter several times to release any air bubbles that can cause your macaron shells to crack! Preheat the oven to 325 degrees F. Set baking sheet aside and let the macarons "rest" for about 15-20 min until a hard-but-tacky "skin" has formed over the macaron shells when lightly pressed on.
Step Six: Bake the macarons for 10- 13 minutes. You'll know when they are done when the macarons lift and effortlessly pop off the baking sheet. Let the macaron shells cool completely.
Directions for Hot Chocolate Butter Cream:
Step One: Cream the butter until smooth with a hand mixer.
Step Two: Add the hot chocolate packet and powdered sugar until light and fluffy. And that's it!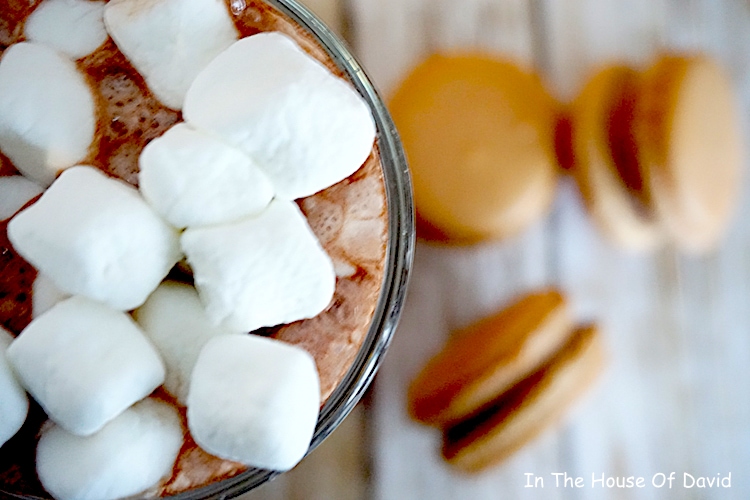 Directions to Assemble the Macarons:
Step One: Transfer the hot chocolate butter cream into a pastry bag with a round tip. (Again, you can also use a gallon size ziplock bag and cut off a bit of the corner.
Step Two: Group similar sized macaron shells together in pairs.
Step Three: Swirl some hot chocolate butter cream on the bottom half of one macaron and "sandwich" the macarons together with the other half!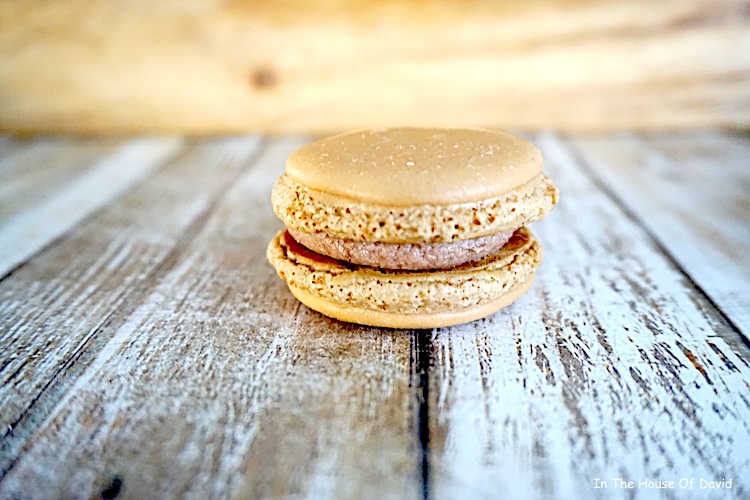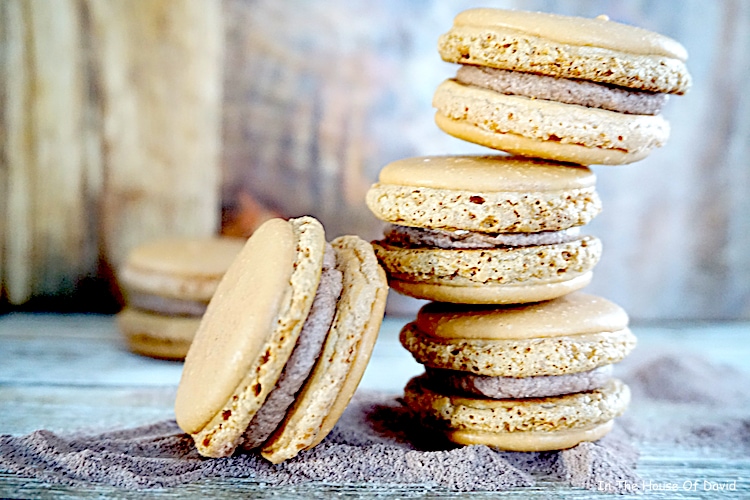 And that's it! Don't they look delicious?!
If french macarons needed more reason to love them, did you know that macarons freeze so unbelievably well?! YES, you can make these way in advance! If there is one dessert that my family always have on hand it's French macarons! I make a large batch, and then straight to the freezer they go. When I'm ready to gift/serve macarons, I simply grab a couple macarons out of the freezer, set them on a pretty plate, and within minutes, they'll thaw leaving you with perfect, fresh macarons on the dime! No one will ever know you made them a week ago! So go ahead! Try this recipe and impress all your friends and family!
Thank you all so much for welcoming me on ABN this holiday season, it's been a blast!