How to Style a Hot Cocoa Bar for the Holidays!
Hi there, I am back! This is Sarah with Dreaming of Homemaking. Today I would like to show you how easy it is to style a hot cocoa bar! If it isn't your thing, you will be able use for coffee or tea! I will be starting with a blank slate and going through how I put it together along with all the sources! I hope this will give you some inspiration into creating a little space for you to be able to gather around to get warm and enjoy the holiday season!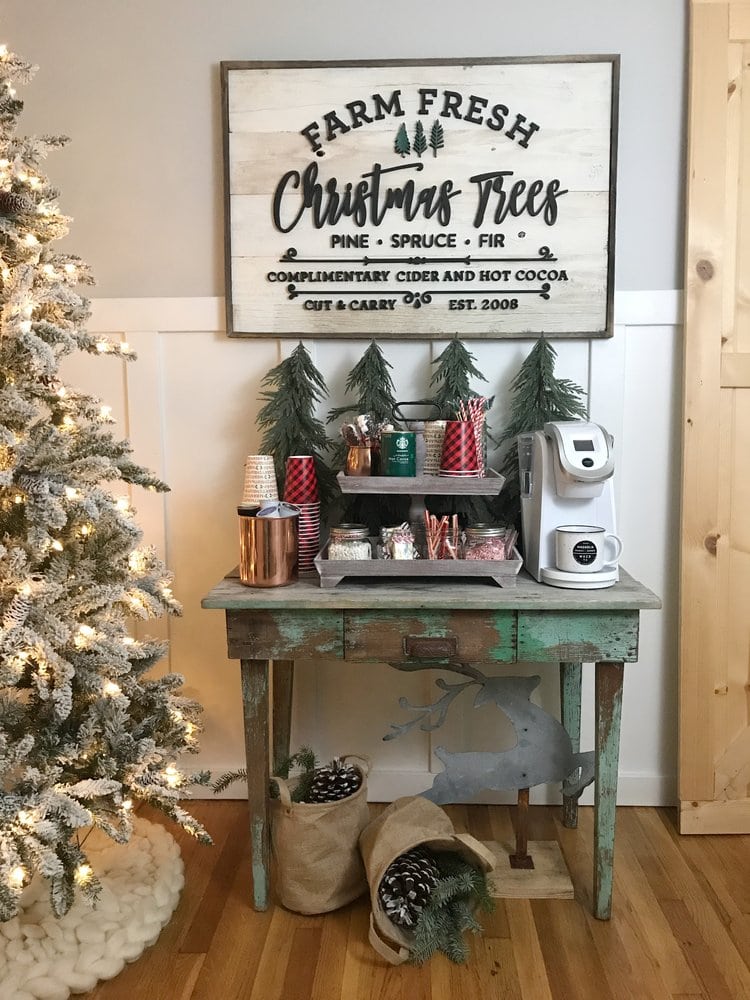 How to Style a Hot Cocoa Bar for the Holidays:
1. Find a spot for it to go
First you want to find a spot that works for you in your home to put the hot cocoa/coffee/tea bar. It can be on a counter, bar cart, table, the options are endless.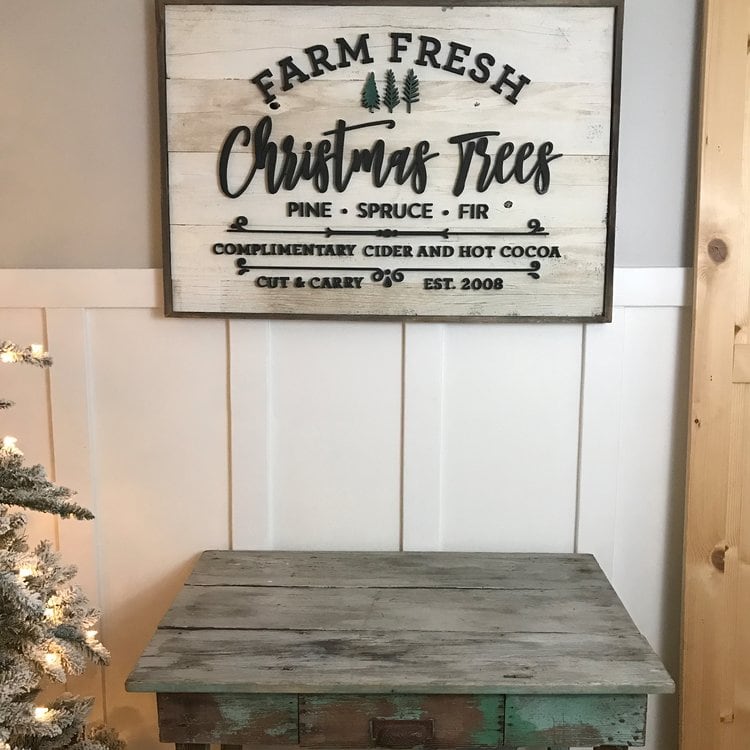 2. Add decor to your space
If decor is not your thing, and it doesn't come to you at first you can save this step for last. For me I like to add it as I go, and these trees from Ikea were a perfect addition! I needed something to fill in the space, if you were putting on a counter or bar cart this still would be a great addition and the ideas are endless! Imagine twinkle lights hanging behind, some garland, ornaments, a sign, the list can go on! This amazing sign is from Harper Grayce Signs and could really stand out on its own!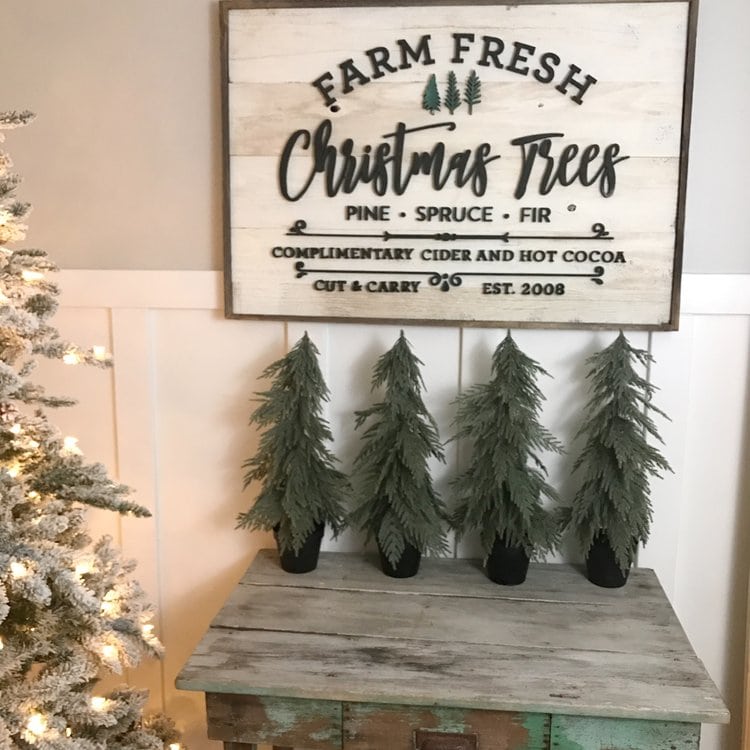 3. Find the perfect tray
There are so many different tray shapes and sizes! I found this tray from Pick Your Plum, and it was just what I needed! There was one problem though. The third tier it was too big for my space and next to my Keurig it didn't work so I took one level off and it was perfect!
BEFORE: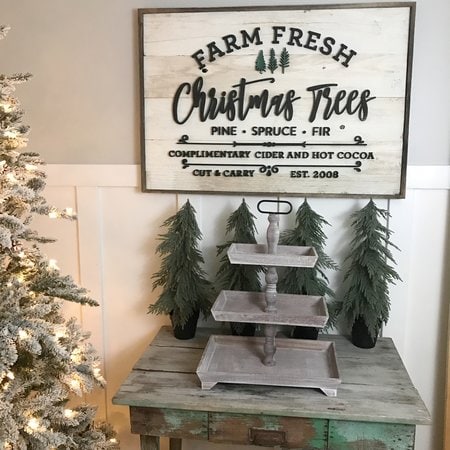 AFTER: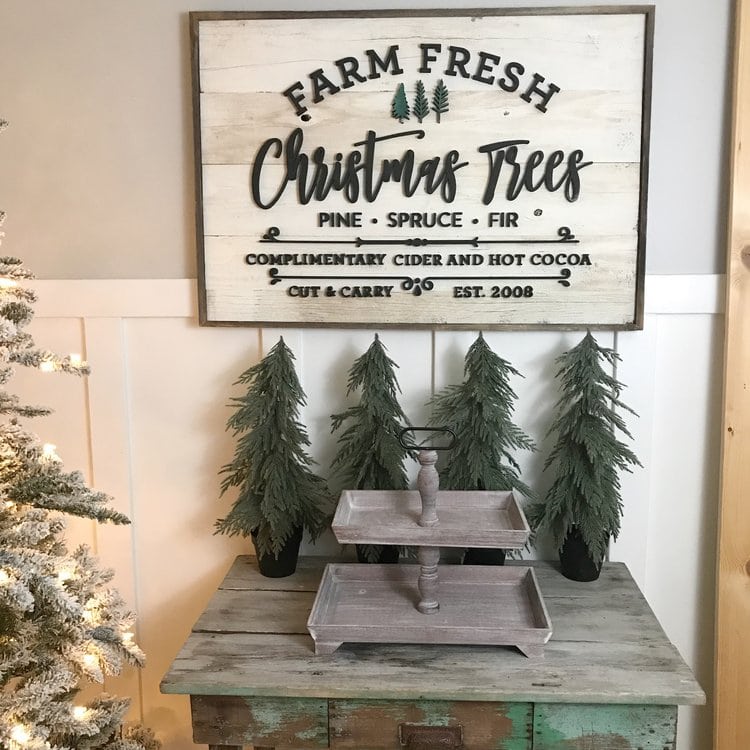 3. Add your hot cocoa maker/Keurig/tea pot
This step all depends on your space and what you are doing with it! For my space, I chose to do a hot cocoa bar and will be using a Keurig to make it! It is so nice being able to use the pods, and the one time use since we don't typically go through so much and we all like different flavors!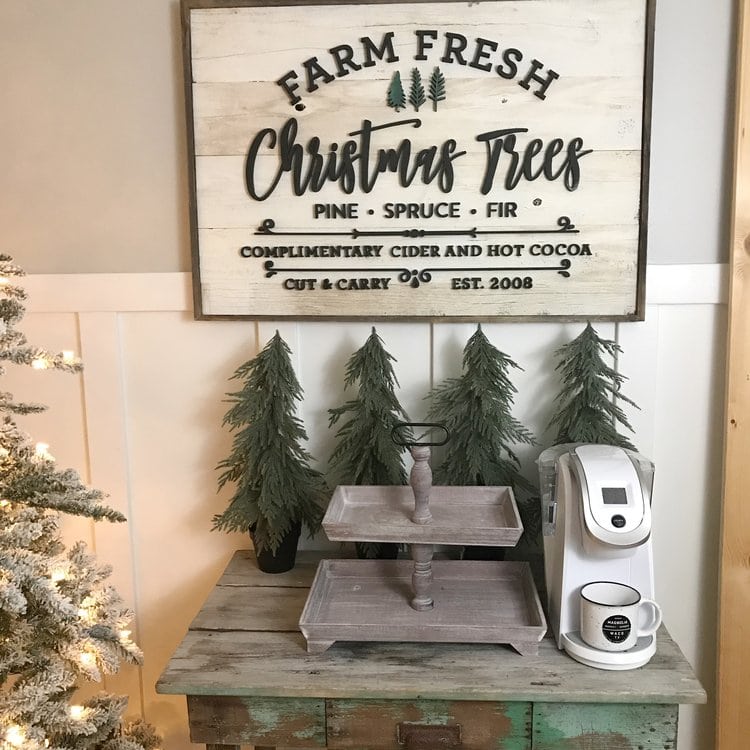 4. Add cups
Everyone needs something to put their drink into at a hot cocoa bar right? This is a fun part, you can add a pop of color like I did with these cups from Target or just go super simple! Its so hard to choose – everyday mugs, disposable? I honestly use these disposable cups for when we have guests over and we use the everyday mugs!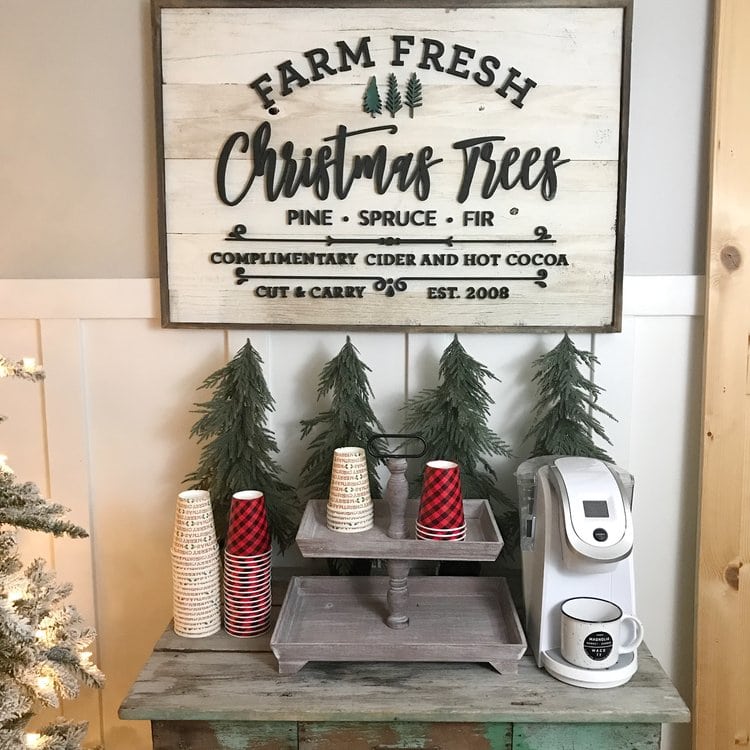 Here are these cute farm fresh Christmas tree mugs that you can reuse from Purple Rose Home and the elves love them too!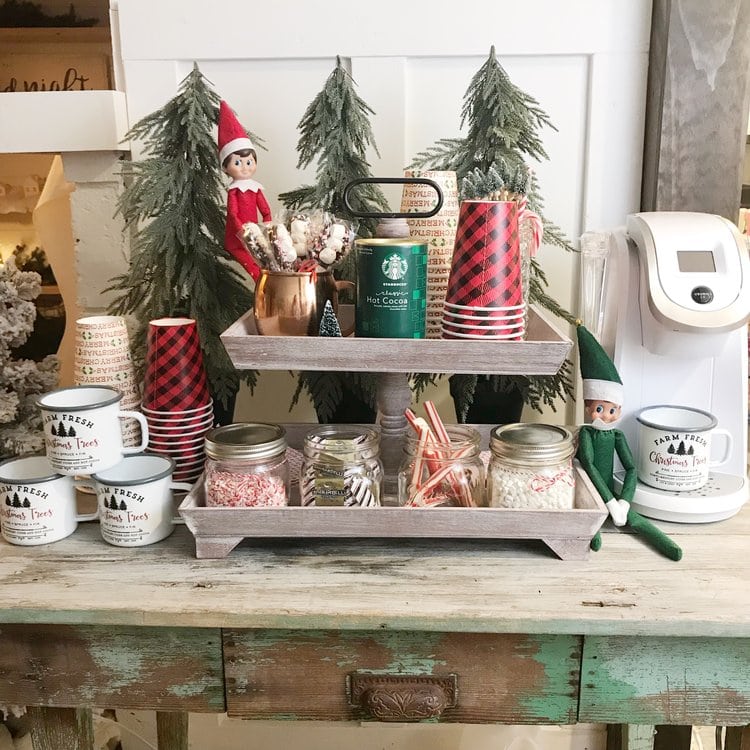 5. Add hot cocoa essential items
The first thing I had to add was hot cocoa, and some of my favorites this holiday season are the Salted Caramel Starbucks Hot Cocoa, Swiss Miss Peppermint Hot Chocolate, and Mauds Loco Hot Cocoa all for the Keurig! I found these chocolate covered marshmallow spoons, peppermint sticks, and crushed candy cane at world market! Have you used the mini marshmallows called mallow bits they are my kids favorite! We also like to add a piece of chocolate and you can't forget a straw/stirrer stick! We don't have the peppermint whip cream pictured that I found at Target, or the Pirouette cookies! Now remember, if you are making another type of "bar" just use what you need for it and what fits in your budget and space!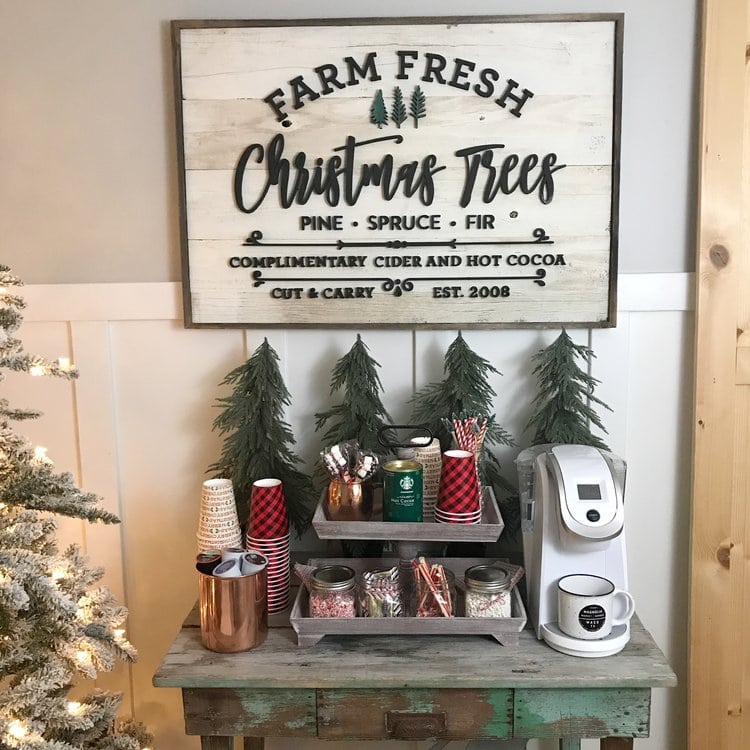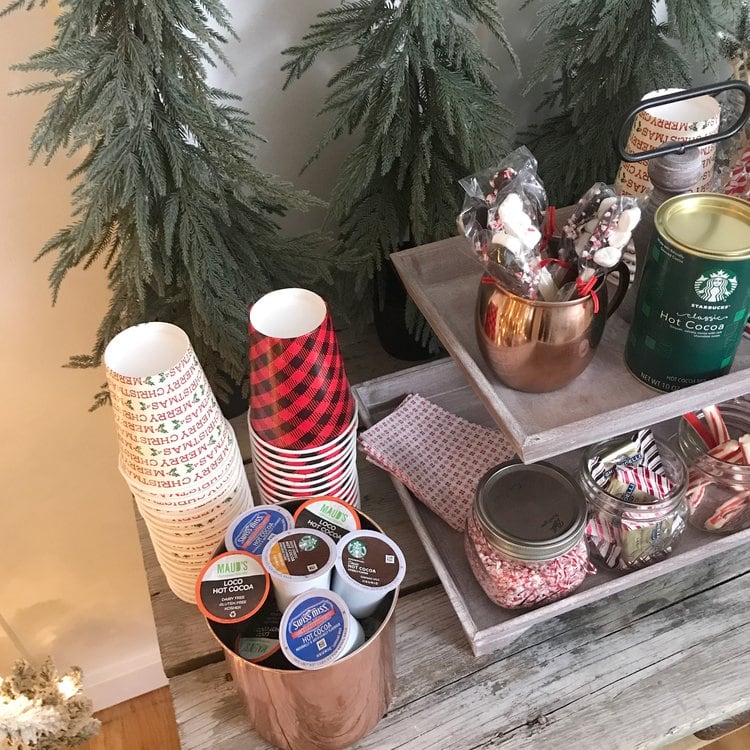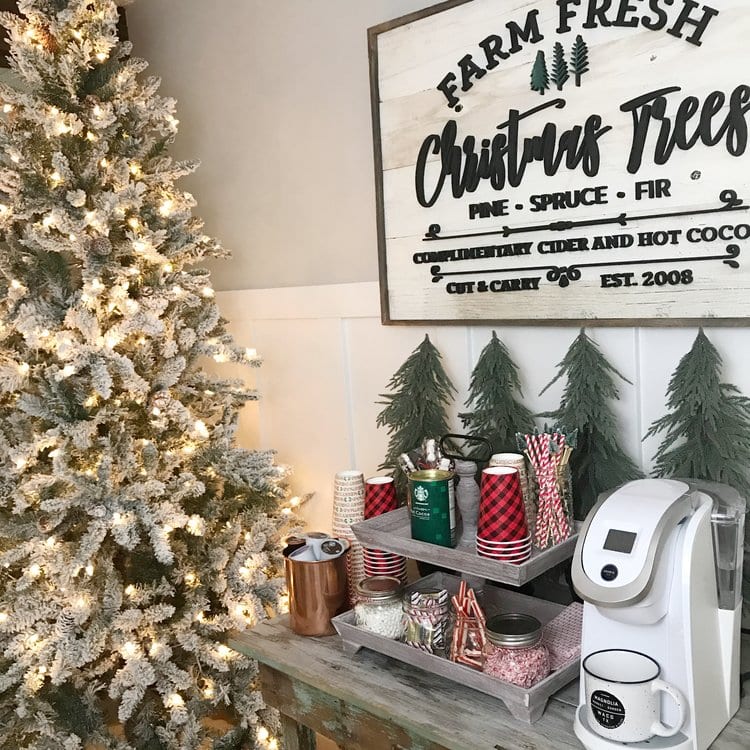 Now here is the final product! Go enjoy some hot cocoa, coffee or whatever makes you happy! I hope you can take this simple step by step tutorial on how to make a hot cocoa bar and make a space that you love that works for your home! Make sure to check out this post on how to make a DIY snowman marshmallow pop, it would be a perfect addition! Until next time, thanks for reading along and for more come visit me at Dreaming of Homemaking!