Vintage Inspired Holiday Decor – Christmas Tablescape and Mantel Ideas
This post may contain affiliate links. Please read our disclosure policy.
Happy Holidays, I am Keki from Home with Keki, and I excited to be back here with you all during the most festive time of year. Today, I thought I share a little about myself and my own holiday style. If you know me, you know that this past year has been a year of self-discovery and appreciation. I know, crazy that in my late 30's I realized how I needed to love it, own it, and live it. Well, in the past I would decorate my home along the holiday trends. One year it was all white with burlap, another year it was bright neon green and chevron, yup, I pulled that off too. But, during this year of self discovery, my home was included in the mix. So, what is my style, I call it transitional natural vintage. I love love vintage pieces. The majority of my home decor comes from estate sales or auction. For that reason, I styled my home this year in vintage inspired holiday decor and wanted to share it with you all.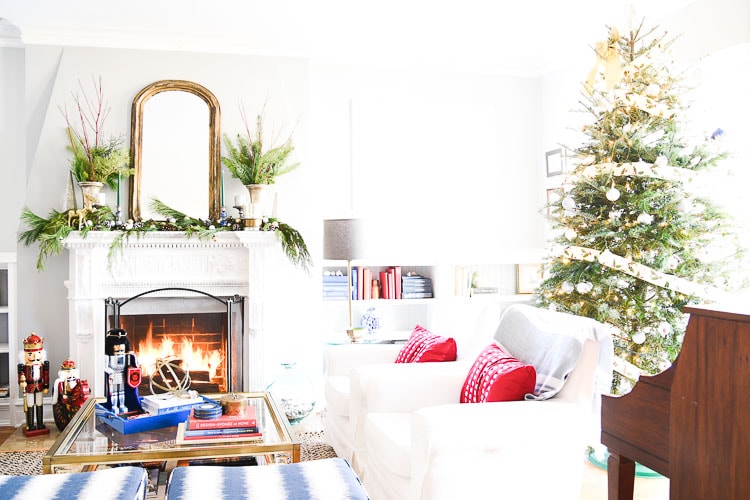 Vintage Inspired Holiday Decor – Christmas Tablescape and Mantel ideas:
This year, I took out all my vintage pieces for our tablescape and mantel. Then I filled in the design with natural elements, from garlands, to stems, and pinecones. Truly, the only item I had to buy new were the actual candles. When starting out a collection of vintage pieces there are a couple of tips to get you started.
1. Brass Candlesticks (and crystal)
It took me a good two years visiting estate sales to finally get a large collection of brass candlesticks. I did not care about matching styles or shades of brass. If I saw one for a couple bucks I grabbed it. Now I have over 25 candlesticks. I use them throughout the year, but I love how it looks spread out on the dining table all together. Finding good quality crystal candlesticks is my next collection, I have three so far, who knows, maybe next year you will see them all on the table too.
2. Vases
Silver is becoming a lost appreciation. In other words, remember grandma's house had silver and it had to be polished. I think because it takes work to maintain them, people don't want them anymore. But, there is nothing like a large silver vase. When it comes to vases, I stay away from crystal, because I drop everything and, I know I will be heartbroken when I drop a beautiful large crystal piece. So, I go for real silver. They last lifetimes and I even like how the look a little unpolished. Oh, and don't worry, MIX YOUR METALS, I put silver with brass all the time.
3. Ornaments
I have NEVER bought ornaments in bulk at a store. Every year, my kids pick out an ornament for them that goes on the tree, but all the other ornaments have been collected over time from estate sales. I have even gotten large garbage bags full of gorgeous silver ornaments for a few dollars and I used those this year on the tree.
4. Frames
See that gold-ish, black mirror on the mantel. Well, at an estate sale it was actually white. But, I could tell it was layers and layers of white paint. I brought it home and started stripping off the white. After taking off the white paint this gold frame with hints of black was discovered. I thought of going down to the wood and then repainting it but I loved how it looked as is. And I love knowing that someone decades ago also enjoyed it in the gold glory.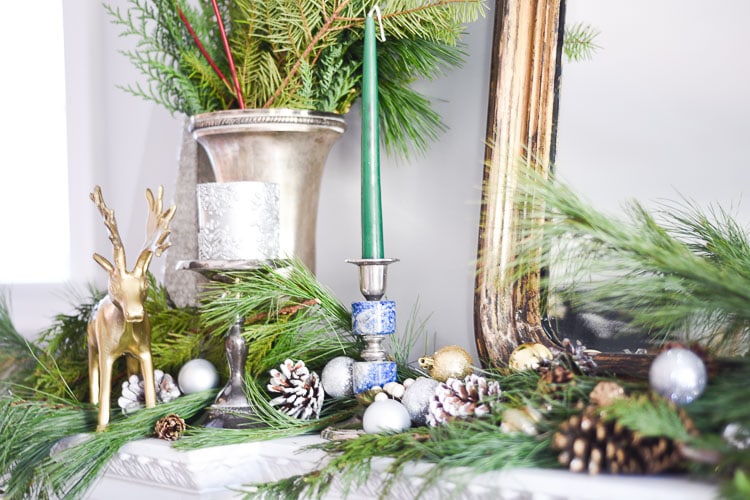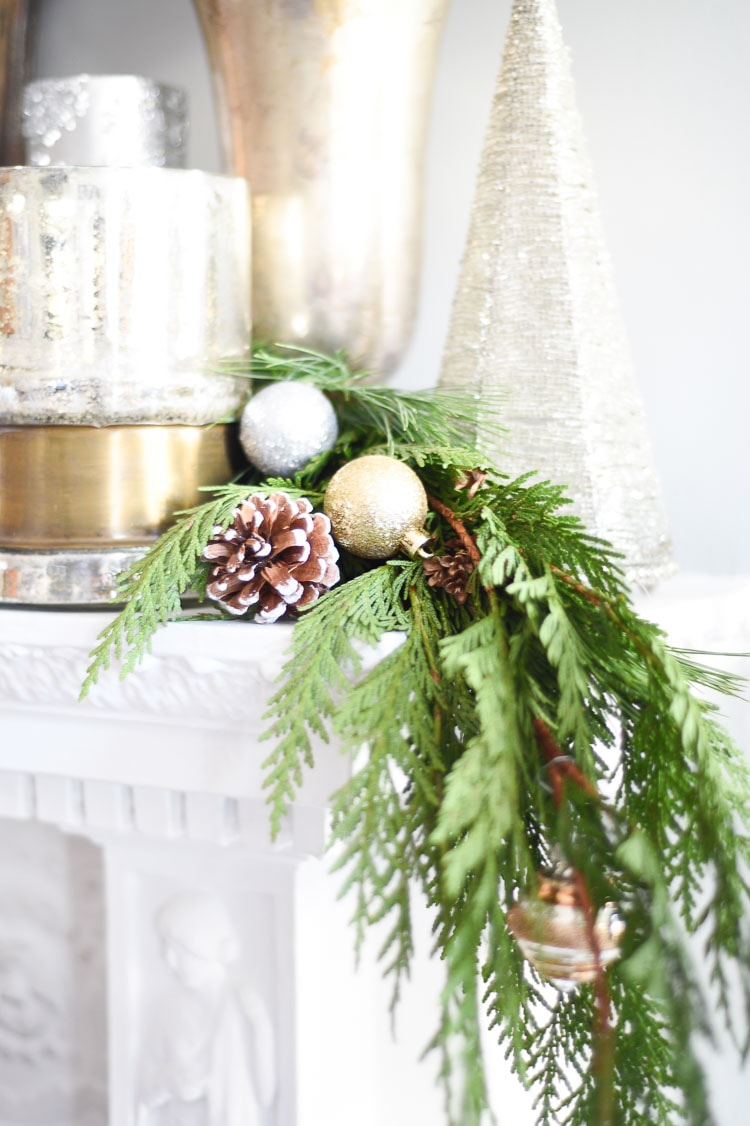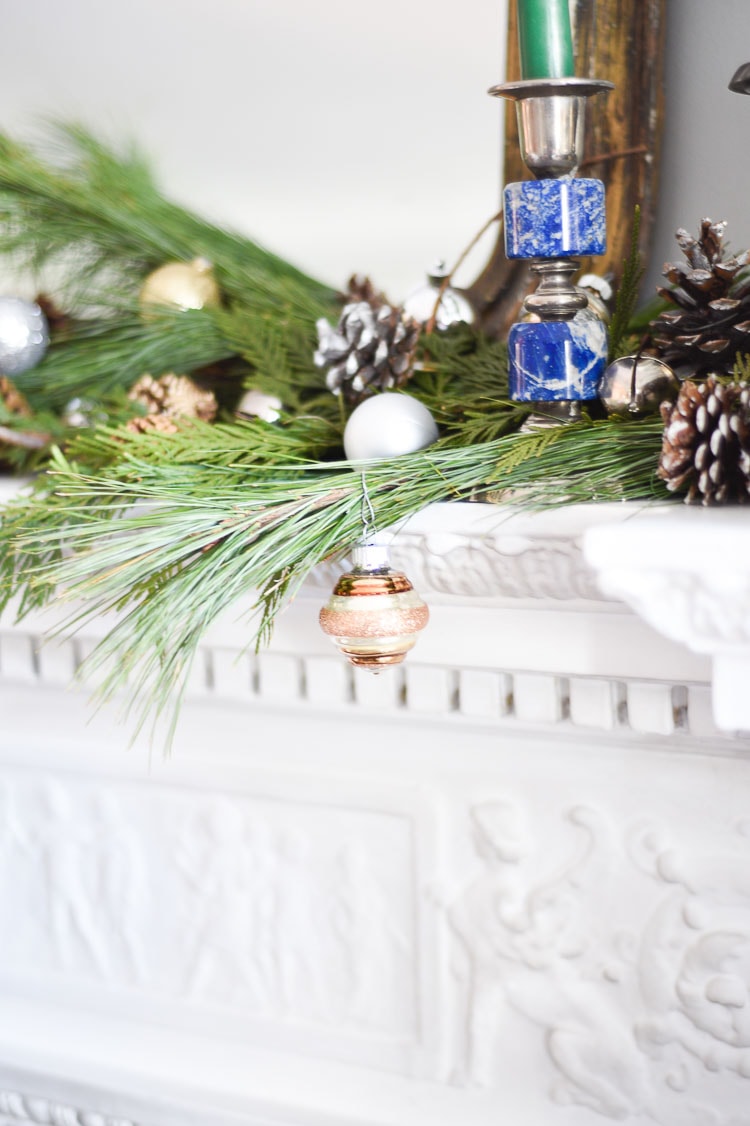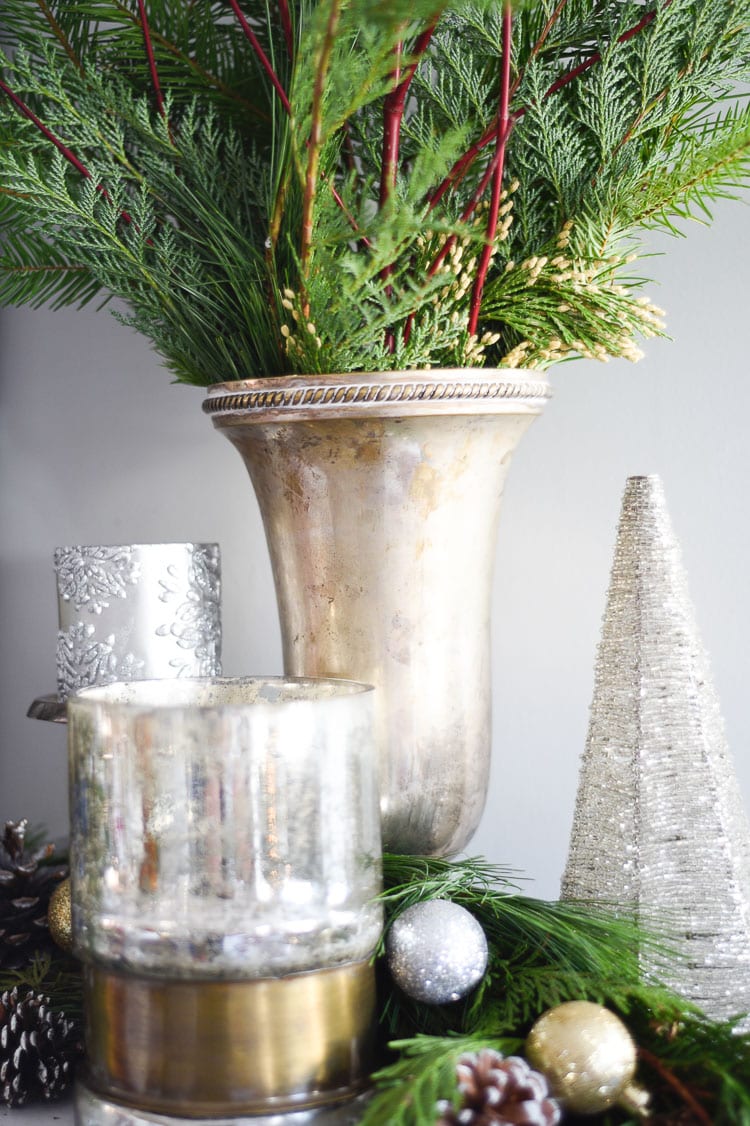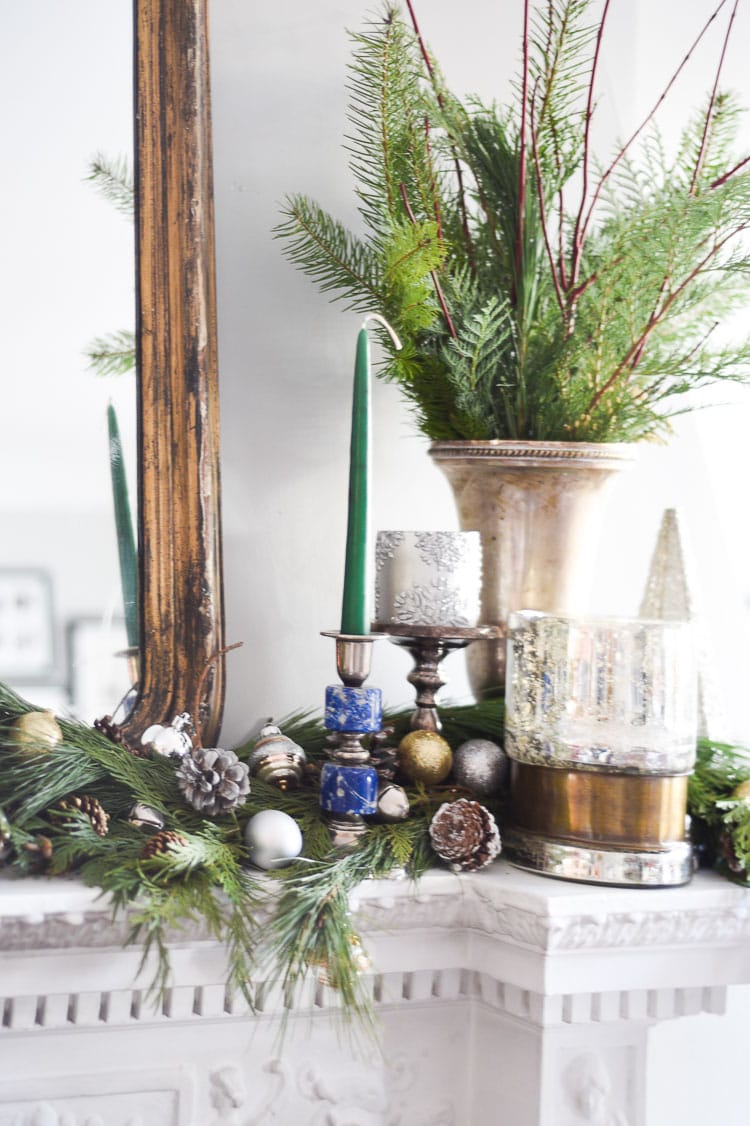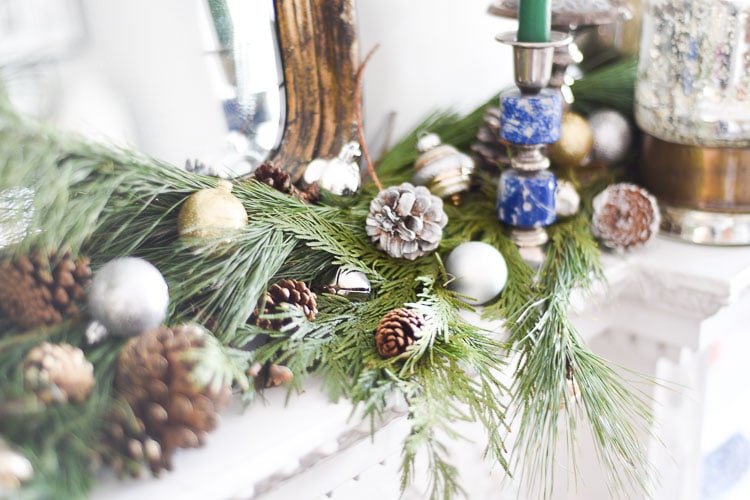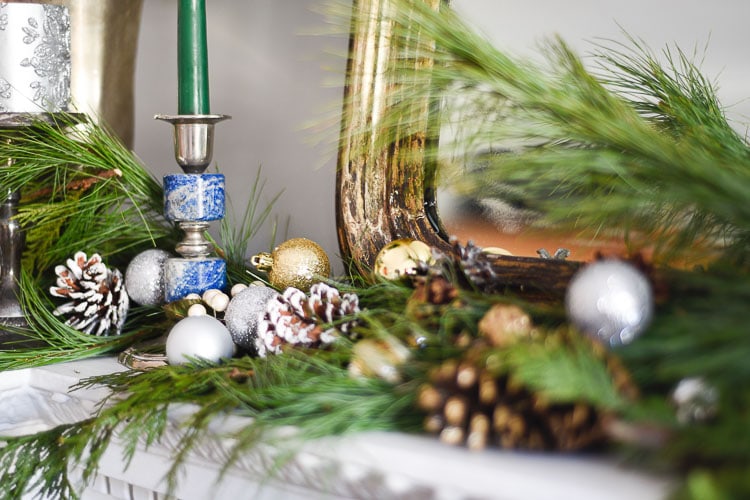 In my dining room, the table centerpiece is always very important to me. I always begin by placing down all candlesticks. Then I weave the garland in and around the sticks and layer in pinecones, ornaments and touches of fresh berries and floral.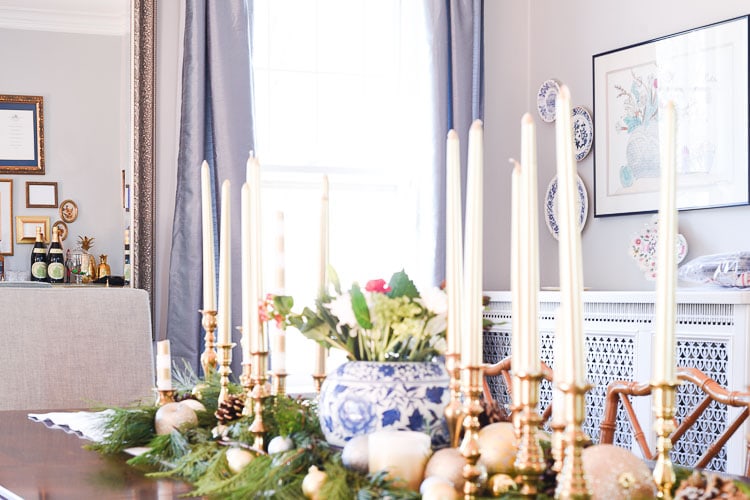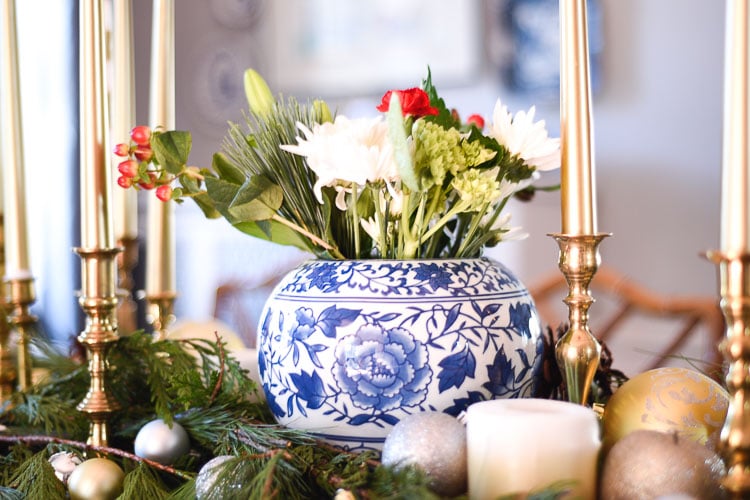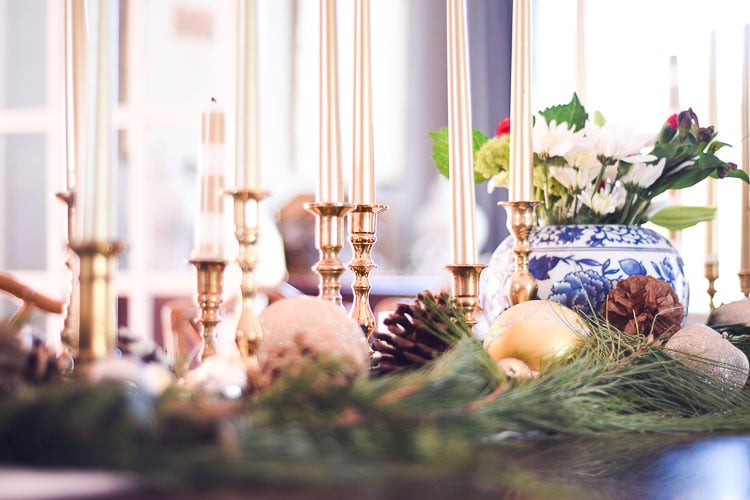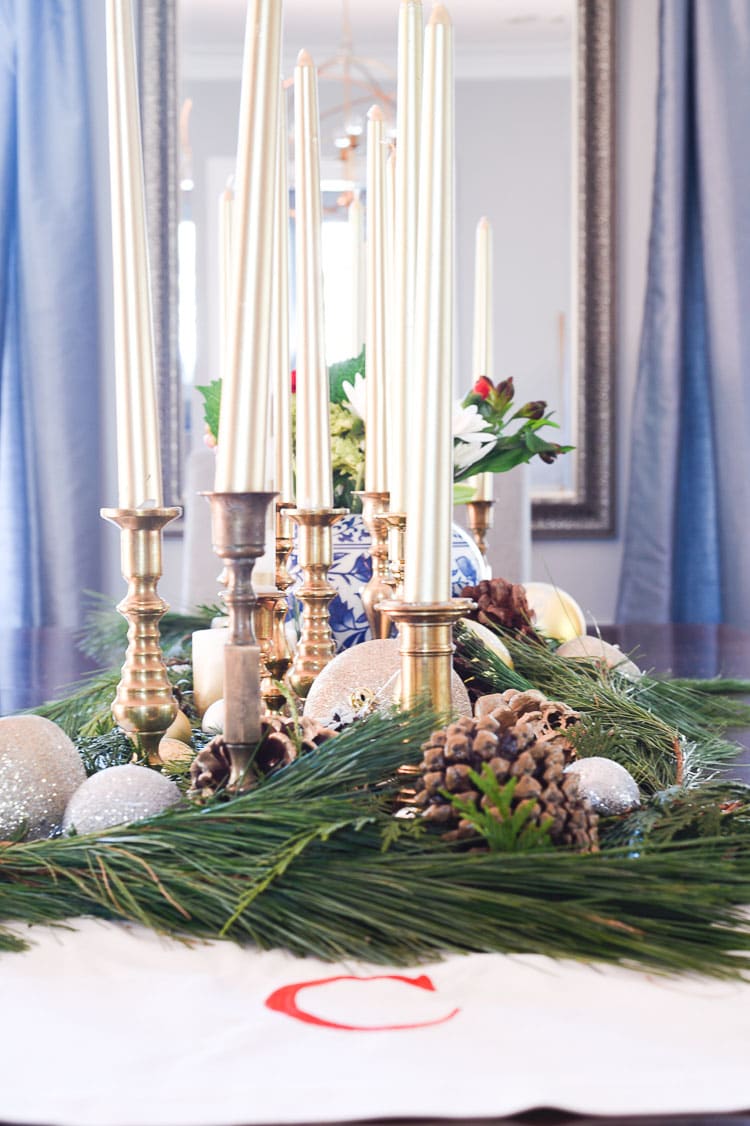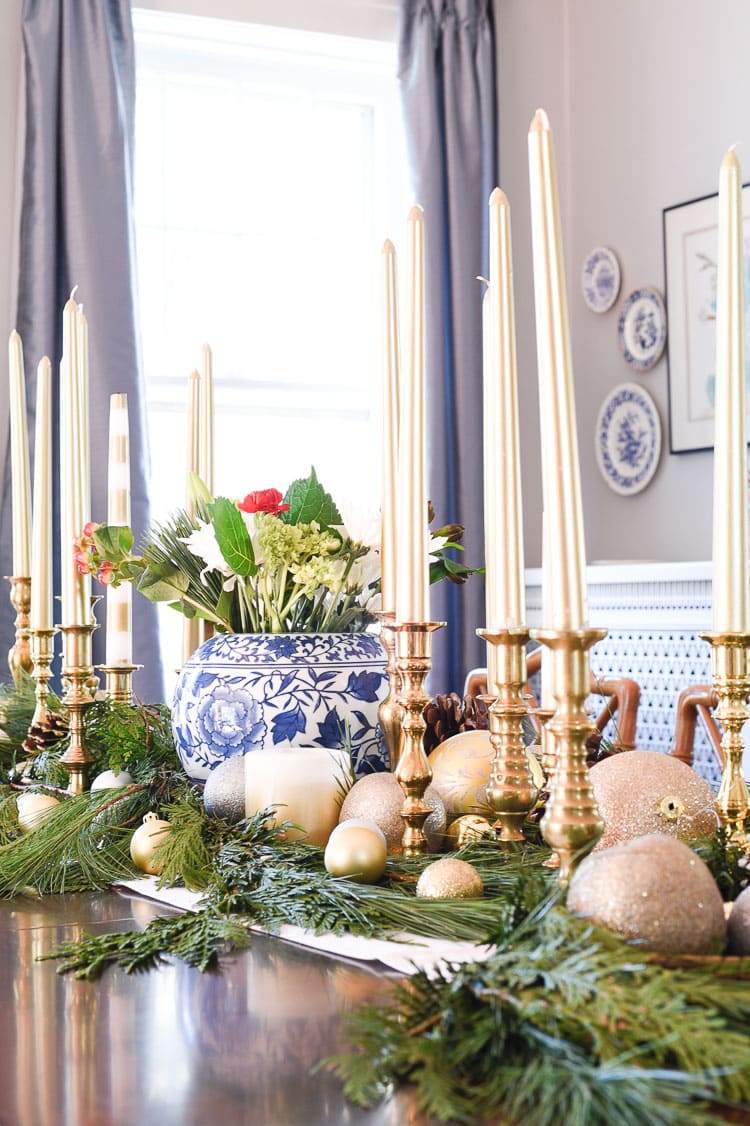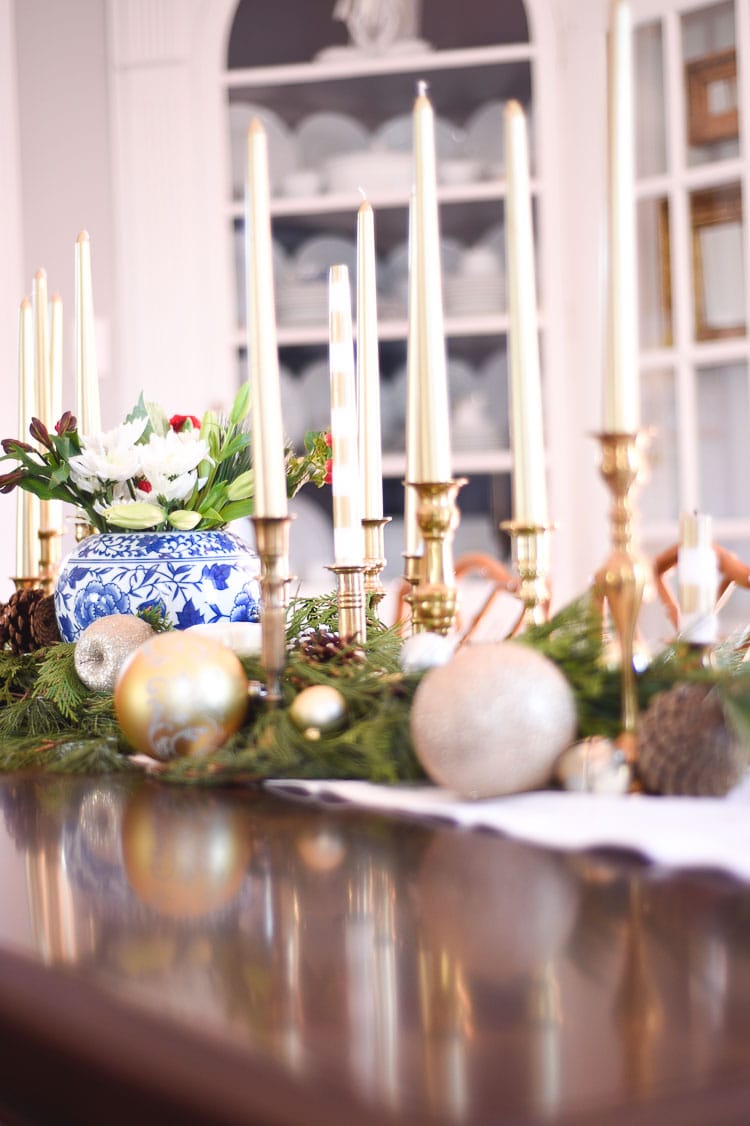 Well, I truly wish you all an amazing holiday with your friends and family and very happy New Year. I also hope that I have and can continue to inspire you to appreciate the vintage pieces of our ancestors (or complete strangers *estate sales*) but that they know their investment is living strong in new homes and have more stories to tell if only they could talk.
H A P P Y H O L I D A Y S A N D N E W Y E A R