Holiday Gift Ideas: Stocking Stuffers for Her, Him and Kids
We've got even more gift guide goodness for you today! We have loved putting together all these gift guides and sure hope it has helped you this year with your holiday shopping and decorating. You can see all of them right HERE.
I cannot believe just how close we are to the holidays! We are in full shopping mode, so we put together some amazing stocking stuffer ideas that are out-of-the-box and finds that everyone will just love.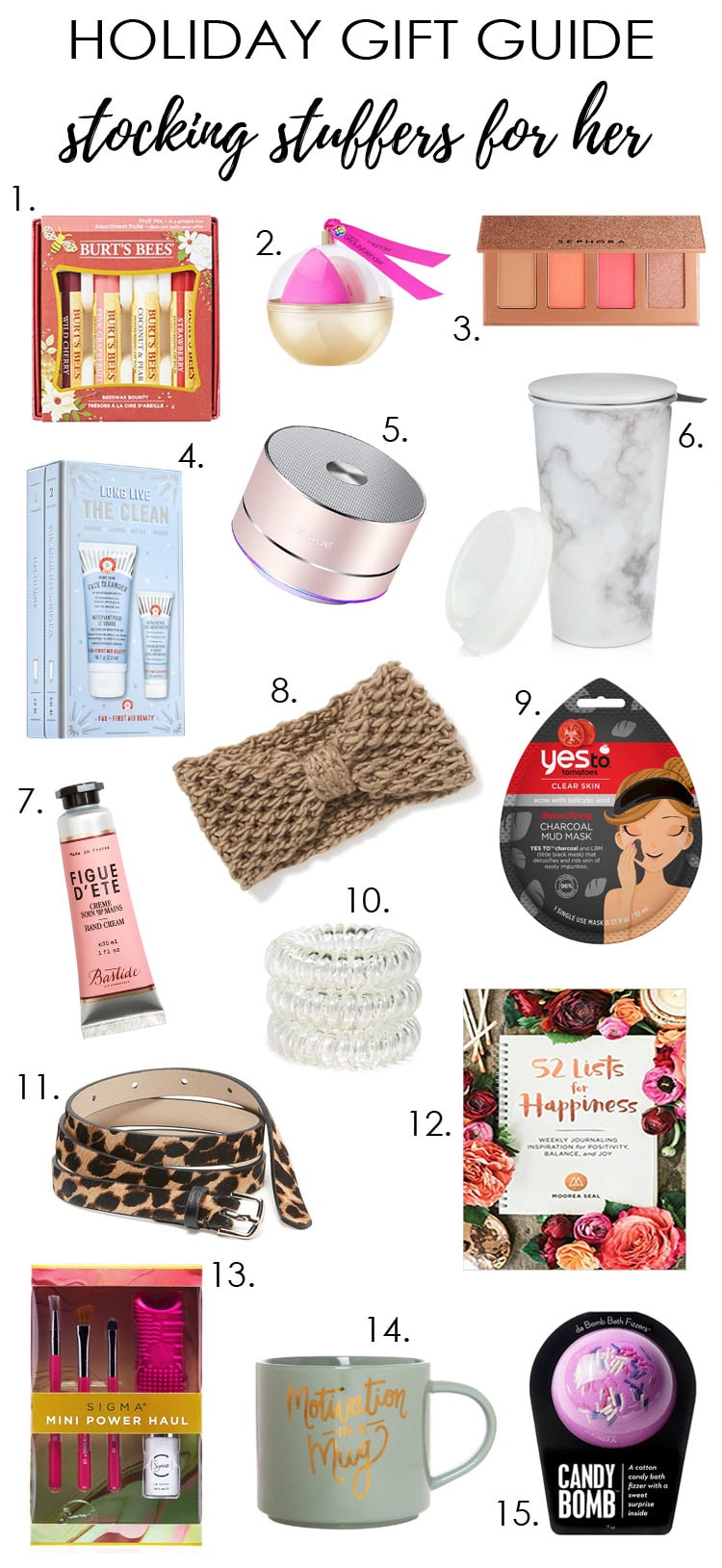 This post contains some affiliate links for your convenience, which means if you make a purchase after clicking a link I will earn a small commission but it won't cost you a penny more! Click here to read my full disclosure policy.
1 | 2 | 3 | 4 | 5 | 6 | 7 | 8 | 9 | 10 | 11 | 12 | 13 | 14 | 15
1. Burt's Bees Lip Set: my very favorite thing about Burt's Bees is the pigmented color in each balm and being extremely hydrating at the same time! This set is a great stocking stuffer find.
2. Beauty Blender Ornament: every girl can always use a new beauty blender – how cute is it in this ornament?!
3. Blush and Bronzing Palette: this beautiful palette is only $10, can you believe it?! It has four shades of blush and shimmering bronze shades to make for the perfect cheek palette to stick in her stocking.
4. Cleansing and Moisturizing Gift Set: First Aid Beauty makes the absolute best cleansers – they work so well and this gift set comes with the moisturizer too!
5. Mini Bluetooth Speaker: for such a small Bluetooth speaker, this can get SO loud! The sound quality is incredible, and it being so small, it's a great addition to a stocking this season.
6. Marbleized Travel Mug: how many times do you run late, and have to take your coffee to go? Think about that, and then realize that you really can never have too many travel mugs! 😉 Marble is such a hot trend right now so this mug is a great buy.
7. Bastide Hand Cream: I'm often skeptical about different hand creams that really work to treat your skin and prevent dryness, but this one really works well and it smells amazing! Usually I lean toward totally fragrance-free lotions but this one is so natural that it still works so well.
8. Knit Bow Ear Warmer: for the cold days that your hair hair STILL looks too good to mess it up with a hat. 😉
9. Charcoal Mud Mask: I always stick these in stockings and have them handy – they are the BEST masks! Each mask is under $3 and I pick them up every time I see them.
10. Invisibobble: this is another favorite of mine – it works as a hair tie without getting stuck in your hair, leaving creases or marks on your wrist! There's nothing worse than throwing your hair up, just to take it back down and have creases down the middle!
11. Leopard Print Belt: I love how skinny this belt is versus a thicker option, and I really love the $14.99 price point! It's a great way to accessorize and dress up any look (year round!) and is a great, unexpected addition to a stocking.
12. 52 Lists for Happiness Journal: this sweet journal will put a smile on anyone's face – it's meant to provide happiness and make you realize the good in every day and it really does just that!
13. Best of Sigma Beauty Gift: this gift set comes with the best of Sigma's beauty line, including their amazing makeup brush cleaning mat! It is game changing when it comes to your brush collection – and it's packaged perfectly to add into her stocking!
14. Motivation in a Mug: for any woman who needs a little motivation as she sips on her coffee each morning, this mug is for her! It's under $10 and a great buy – a cute one, too!
15. Candy Fizz Bath Bomb: you can never have too many bath bombs (among a lot of other things, clearly!) and this candy fizzer will fill the bath with the prettiest unicorn colors!


_________________________________________________________________________________________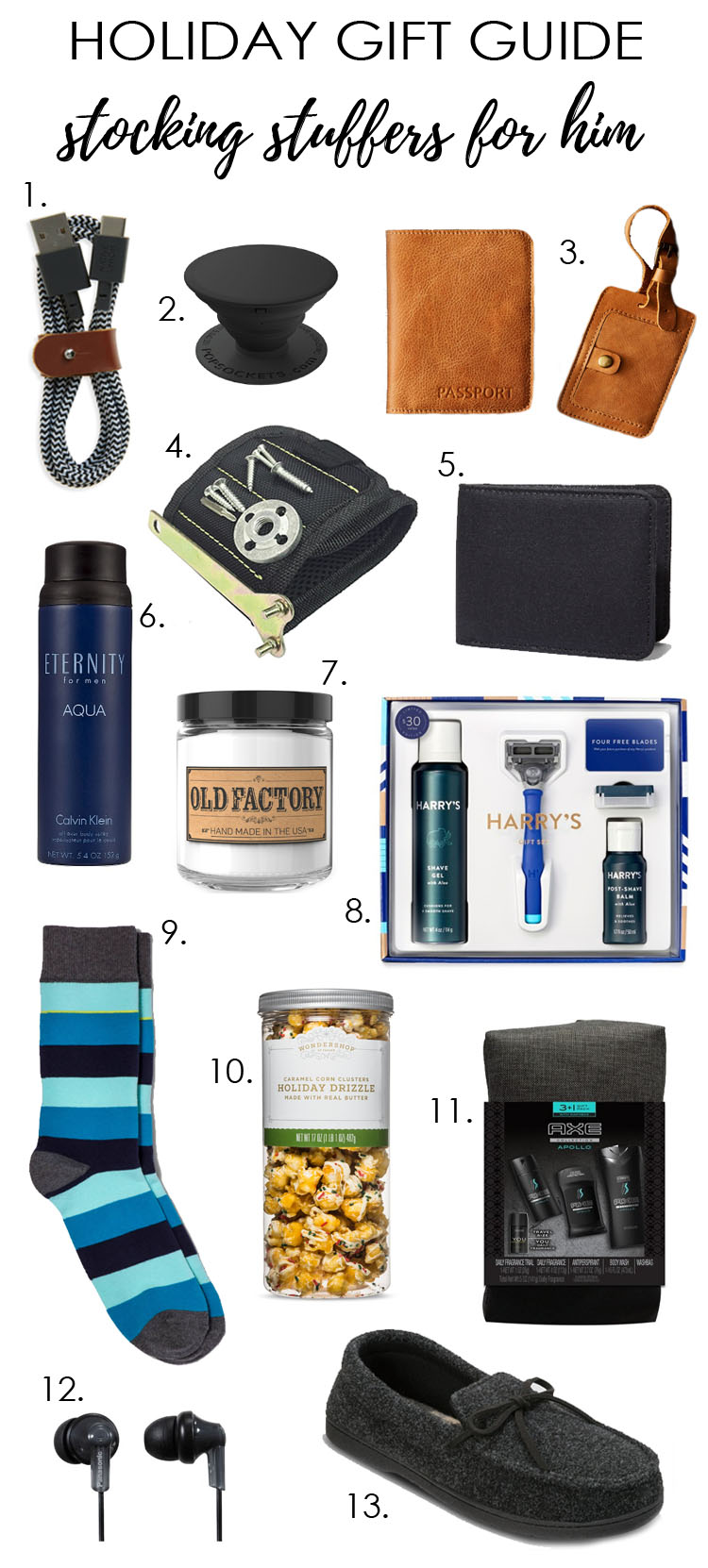 1 | 2 | 3 | 4 | 5 | 6 | 7 | 8 | 9 | 10 | 11 | 12 | 13
1. USB Cable: this is a must for the Android users! It's a dual-sided USB cable to transfer content from – great for the businessman.
2. Cell Phone Grip and Stand: we see more and more of these lately and for good reason – they are such a huge help in holding your phone, especially one-handed! This is great to add to his stocking and almost anyone on your list too.
3. Leather Luggage Tag and Passport Holder: this is one of those things that really comes in handy that you would likely forget to take with you on a trip. The passport holder makes it easier to find and grab from your bag, and the luggage tag makes it simply to identify your baggage – AND it's extremely soft, high quality leather for under $20!
4. Magnetic Working Wristband: how smart is this?! This wristband has magnets in it, so all sorts of nails, screws and tools stick to it making them easy to access and grab as needed while working. Genius gift buy!
5. Black  Canvas Wallet: whether they use this full time or just to travel, it fits a ton of cards and is super compact.
6. Eternity Body Spray: I always love to add a cologne or body spray into his stocking – this spray smells amazing and the best news is if he likes it, there's a whole line by Eternity to get for holidays to come!
7. Old Factory Mahogany and Leather Candle: candles ARE great for men, too! This set of soy candles smell manly while still being fresh and he'll love to have these in his office.
8. Grooming Gift Set: this shave and groom set is only $15 and is such a great quality grooming set! It comes with shave gel, after-shave and extra blades as well.
9. Striped Socks: you can never go wrong with new socks – especially when they're $3!
10. Caramel Cluster Popcorn: gifts that can be enjoyed for more than a few minutes are always ideal, but a little snack never hurt anyone right?! This jar of caramel popcorn is tasty and a perfect treat to add to a stocking!
11. Axe 3-in-1 Gift Set: this comes with the best Axe wash products and even comes in a durable wash-bag that is SO perfect to travel with!
12. Earbuds: these work so well and wait until you see the price! It's always good to have an extra pair around – one for the car, one for inside – that kind of thing.
13. Gray Moccasin Slippers: we all know that guys love wearing cozy slippers indoors as much as we do! These are warm and soft and a great buy for any guy.


_________________________________________________________________________________________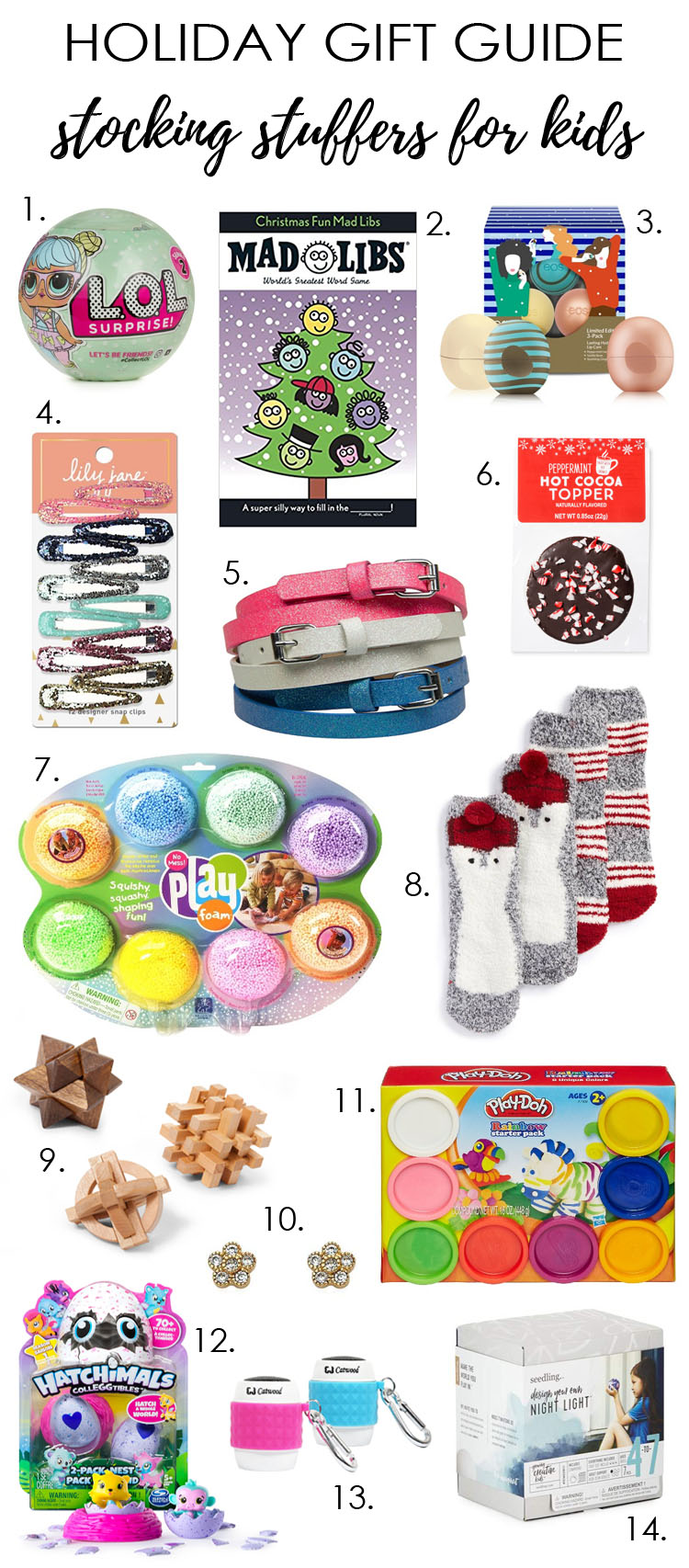 1 | 2 | 3 | 4 | 5 | 6 | 7 | 8 | 9 | 10 | 11 | 12 | 13 | 14
1. LOL Surprise Doll: these have taken the holiday season by storm this year! Inside is a surprise doll and you don't know which you'll get until you open it up. It's such a fun one for the girls!
2. Mad Libs: I love that these are still around – they are so much fun for everyone and a great activity for Christmas day!
3. EOS Lip Balm Set: you can't have too many lip balms, and we all know how much the kids love to have lip balms and glosses!
4. Glitter Snap Hair Clips: a perfect addition to a little girl's stocking! Who doesn't love glittery hair clips? I know I do!
5. Glitter Belt Set: this set comes with 3 glittery, colorful belts and make for a fun accessory for little girls.
6. Hot Cocoa Topper: this is the cutest idea – this hot cocoa topper is totally edible and fits perfectly atop a mug filled with hot cocoa. So fun for the kids!
7. Play-Foam Pack: this foam is just so fun for kids! It's amazing how much they'll enjoy playing with this – so much so it'll keep them entertained for far longer than you'd expect!
8. Cozy Plush Socks: socks are the perfect stocking stuffer for all ages – how fun are these little animals on them too!?
9. Wooden Mind Teaser Puzzle Set: the kids will have fun playing with these puzzles all while getting their creative juices flowing – they make their brains think without even realizing it!
10. Flower Stud Earrings: these beautiful studs are great for little girls, especially if they've just gotten their ears pierced to start their earring collection.
11. Play-Doh Set: what kid doesn't love play-doh? A timeless activity for nearly any age!
12. Hatchimals: yet again, the Hatchimal collection is a huge gift buy this season. Grab them while you can, they sell SO fast!
13. Mini Waterproof Bluetooth Speaker: this is said to be the smallest, most powerful speaker out there! It really is SO mini and is great for the kids to play music from with friends or while they play and dance around.
14. Design Your Own Night Light: and the best for last – this DIY night light kit is just the cutest! Kids can draw their own designs in any color and then light it up at night and see their creation. Just the cutest and a total out-of-the-box gift idea!


Stocking stuffers are so fun to buy, you can personalize them for each person on your list and fill the stocking with tons of little goodies! They are often afterthoughts when it comes to gift giving, but they don't have to be boring!
This site contains affiliate links. Please read our disclosure policy. As an Amazon Associate, I earn from qualifying purchases.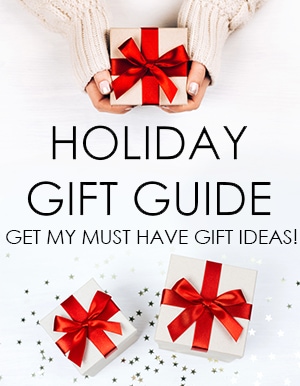 Even more ideas for you!