Holiday Gift Ideas: Gifts for the Hostess
This post may contain affiliate links. Please read our disclosure policy.
We've got more gift guide goodness for you today! We have loved putting together all these gift guides and sure hope it has helped you this year with your holiday shopping and decorating. You can see all of them right HERE.
With Christmas and all of the holidays in full swing, so are the holiday parties! With the craziness that comes with this season, finding the perfect gift is not at all easy – here's some awesome gift ideas any hostess hosting this season will love to receive!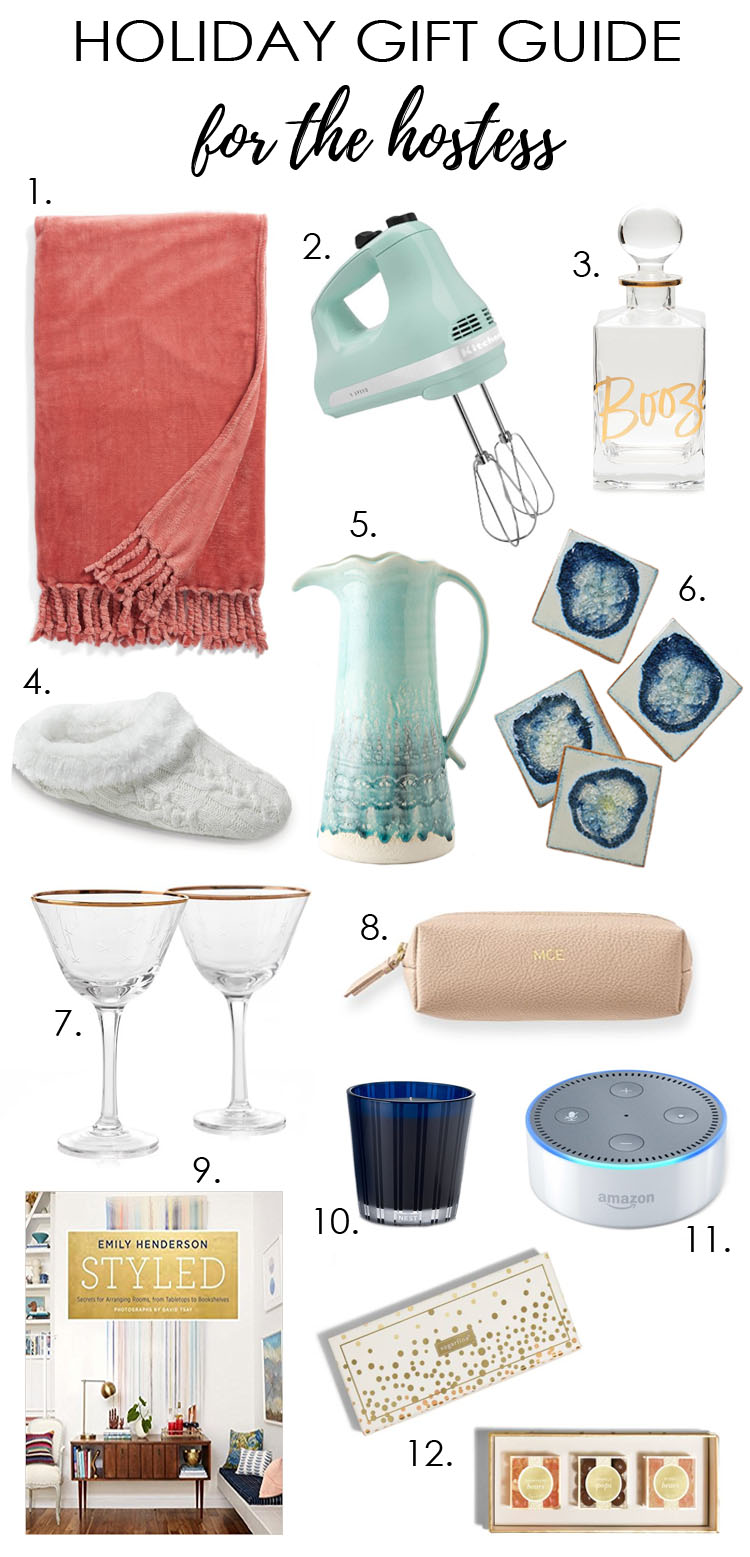 This post contains some affiliate links for your convenience, which means if you make a purchase after clicking a link I will earn a small commission but it won't cost you a penny more! Click here to read my full disclosure policy.
1 | 2 | 3 | 4 | 5 | 6 | 7 | 8 | 9 | 10 | 11 | 12
1. Cozy Plush Throw Blanket: while this throw comes in a ton of colors, I can't resist with how pretty this coral peach shade is! It has pretty tassels and any hostess would love a cozy blanket to cuddle up in or display in the living room or even a guest room.
2. Kitchenaid Hand Mixer: I swear, Kitchenaid makes the most reliable kitchen products that also make for the BEST gifts! Hand mixers are awesome for cookie bakers too!
3. 'Booze' Decanter: this beautiful, glass decanter is one of the cutest I have seen this season. It's perfect to keep on display also.
4. Cable Knit Slippers: who doesn't love a pair of cozy slippers? Now, who doesn't love a pair of cozy slippers that are UNDER $10?! Yep – these are that affordable! You can grab a pair as a hostess gift AND a pair (or two) for yourself. 😉
5. Watercolor Pitcher: I've given this gift already this season, and it is so beautifully made. It's truly a piece of art and a beautiful piece to add to any set of serve ware.
6. Agate Coaster Set: I know we have been seeing a lot of agate stone pieces lately, but these coasters are so different and so beautiful! There's a couple of color choices to choose from too based on the recipient's home palette.
7. Gold Rimmed Champagne Glass Set: one of my favorite gifts to receive are new wine or champagne glasses; you can never have too many and almost every set has some special meaning! These are made for champagne and have the prettiest gold rim detailing to them. A perfect gift!
8. Monogrammed Leather Roll Bag: any gift that is monogrammed is a good one! This 'roll' bag is great for cosmetics, to travel with or anything else you may think of. It's the perfect size, made of the softest leather – and you could even add a few smaller gifts into it to gift; think lip balm, a key chain, set of pens, etc.
9. 'Styled' Book: this is a great coffee table book, but also a seriously great read! It has a ton of tips for arranging tabletops, bookshelves and more.
10. Blue Garden NEST Candle: this blue garden scent is one of the freshest (and prettiest!) from NEST. I love the color, and always give these candles as gifts. They're great to have handy as well in case of a last minute party!
11. Amazon Echo Dot: if you don't have one of these yet, grab one ASAP! They are currently on sale for just under $30 and probably the coolest piece of technology you can get for such a price. You can do just about anything; ask questions, look up recipes, reorder Amazon favorites and so much more.
12. Sugarfina 3-Piece Bento Box: this bento box contains some of the best selling Sugarfina candies and they are GOOD ones! You can't go wrong with candy, and it comes in a beautiful, gift-ready box too!


We hope you love these finds as much as we do! Aren't they great picks to bring to parties? I still can't stand how pretty that watercolor pitcher is! What gifts are you bringing to parties this season?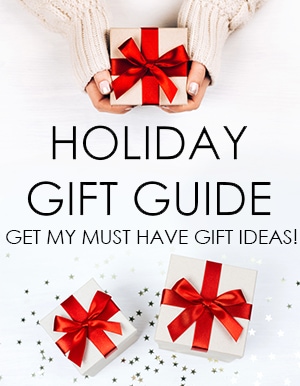 Even more ideas for you!