Christmas Home Tour: Classic Christmas Porch and Dining Room
This post may contain affiliate links. Please read our disclosure policy.
I am so excited today to be joining the 12 Days of Holiday Homes hosted by 11 Magnolia Lane and Evolution of Style and sponsored by Lynch Creek Farm. Welcome everyone! If you are new here, my name is Rebekah and I am interior designer and have been blogging at ABN for a little over 9 years. I live in Dallas, Texas (but I am originally from California) and have a 9 year old daughter . . . . and a few fur balls running around. We are currently building a home and you can read more about that HERE.
I have been very nostalgic decorating these last few seasons and holidays since they will be the last ones in this home before we move. Even though this home is a rental, I have become sentimental over parts of it and 2 of the most important parts I am sharing with you today.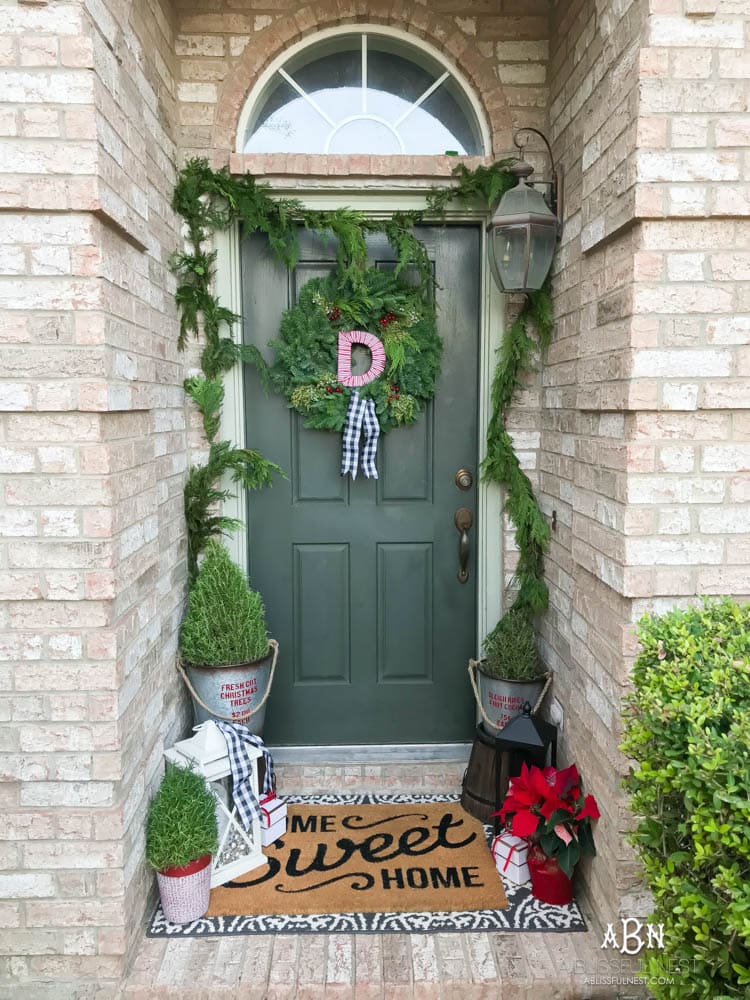 This post contains some affiliate links for your convenience, which means if you make a purchase after clicking a link I will earn a small commission but it won't cost you a penny more! Click here to read my full disclosure policy.
This porch maybe small but it is mighty! I talked a lot about that in our fall home tour this year. With Pinterest it is so easy to get caught up in all these over the top big beautiful homes and that is just not what most people have. This home has a tiny front porch but I still think I get big impact with a few important details.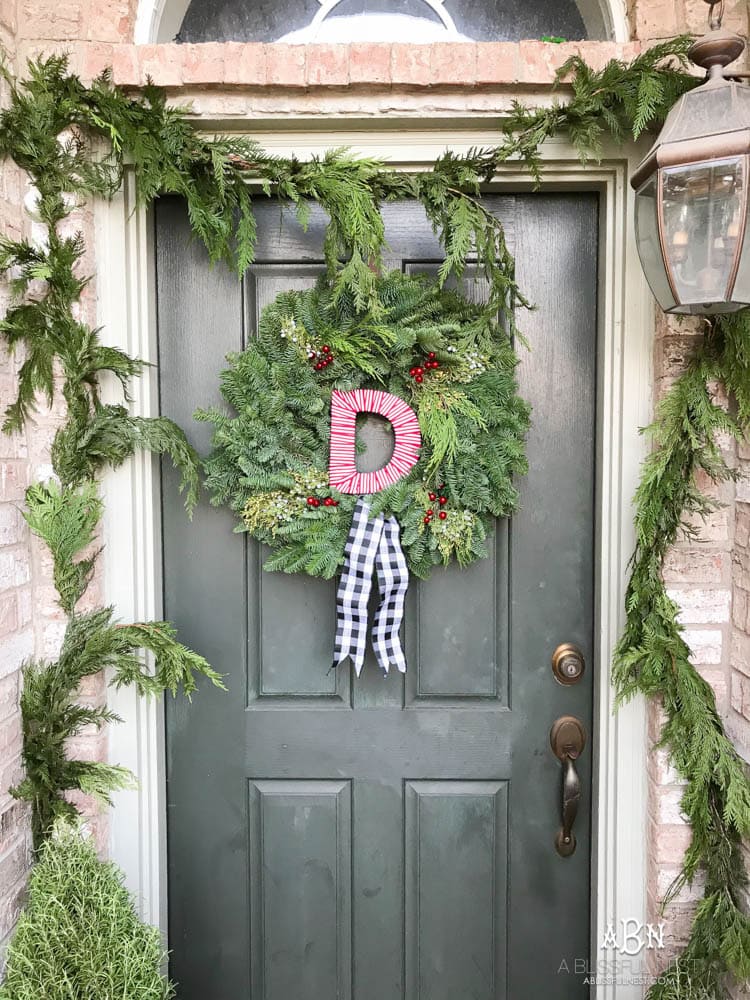 Dressing up the porch a draping it in garland sets the stage and frames the door. It is an inexpensive way to add a little natural holiday decor to your door. So because this house is a rental, it was a challenge to figure out how to mount the garland but I figured out a great solution that just might help some of you that don't want to use nails.
So I discovered these brick clips that are seriously genius except our brick is rather flat and did not have a big enough lip for them to hang on. If you do have bricks and they have at least an 1/8″ lip to them, then this is the way to go. These are amazing!
But if you are like me and have a flat brick then here is your solution. First of all you need this outdoor tape that is weatherproof and bonds onto brick. This stuff is amazing friends! I mean this is what I will be using to hang everything outside going forward.
The second thing you need are these command hooks. Using a 1″x1″ square of the mounting tape, attach it to the back of the hook. Then peel the other side off the tape off and mount your hook. Voila! Hangers for your garland.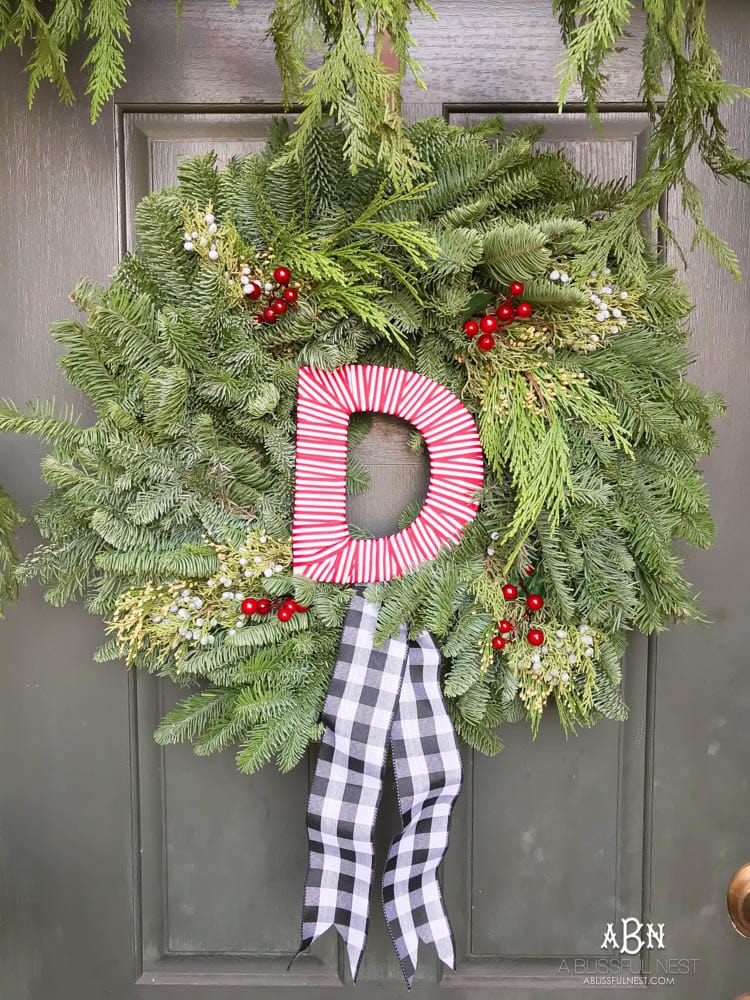 I also think garland around your door shows off your wreath better. I am in love with all the wreaths from Lynch Creek Farm and actually had a hard time selecting one. I ended up choosing this one so I could add my own custom touches to it.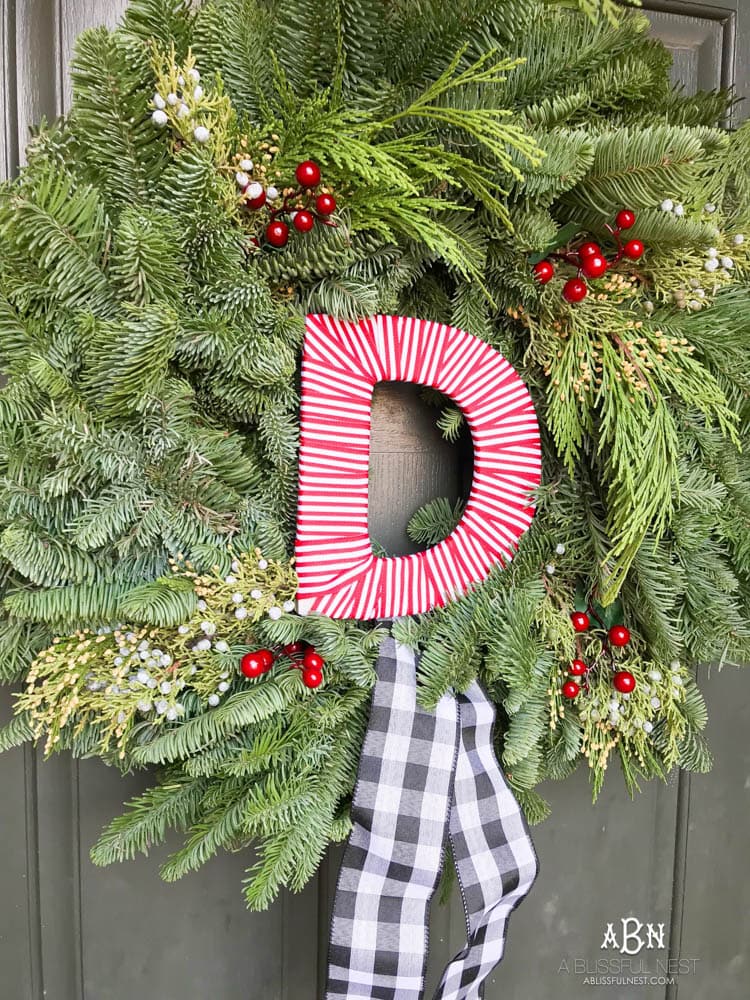 I added a few red berries and buffalo check ribbon for a little extra touch. I had this ribbon wrapped D I made a few years ago and nestled it into the center. Lynch Creek Farm wreaths are so full and smell amazing when you pull them out of the box. These will definitely be staples for me each year now.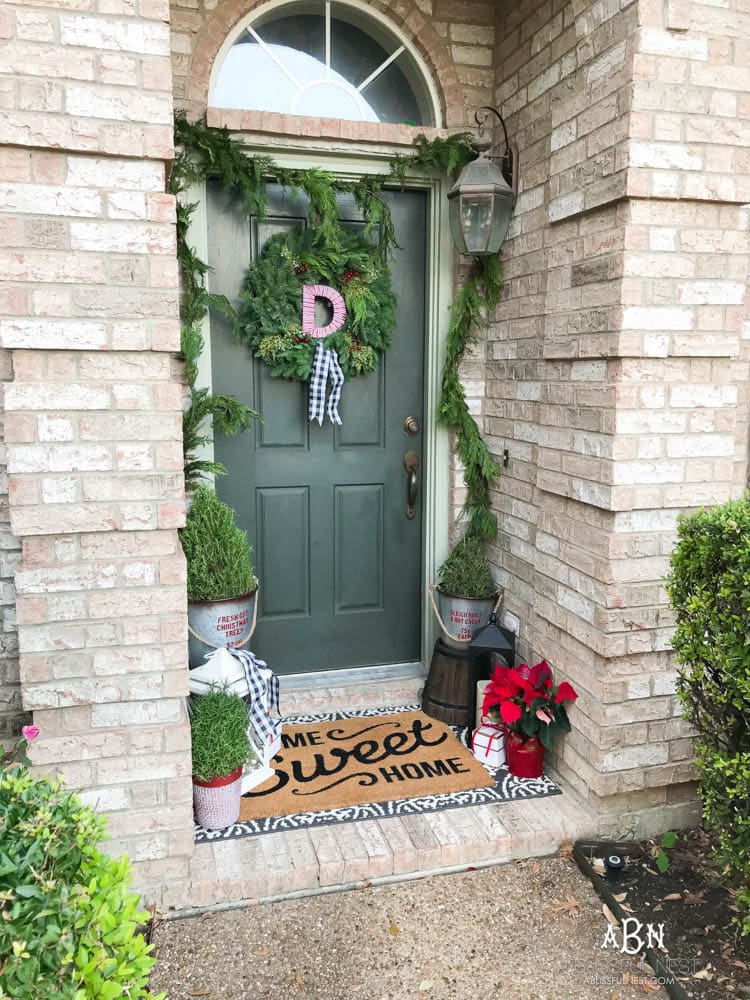 I kept my 2 door mats from my fall porch and got more buckets like the ones I used inside from my Christmas living room reveal. These mini trees also smell so amazing and used my holiday buckets for these.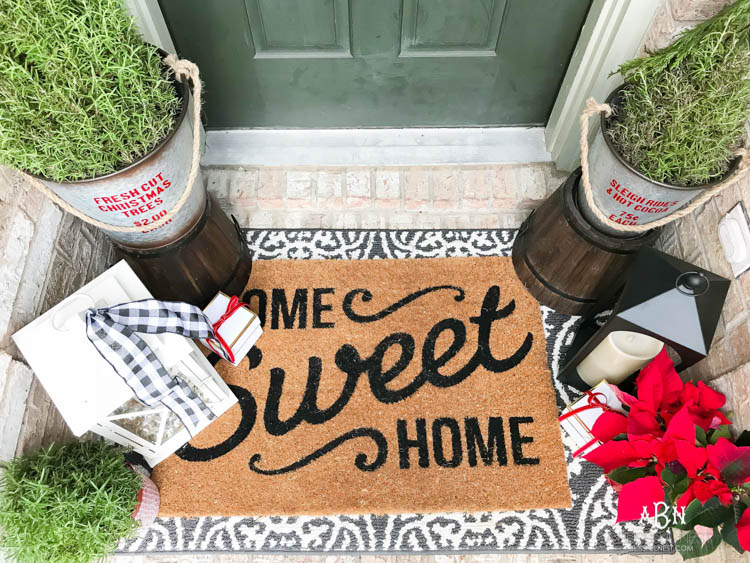 I tied some more of my buffalo check ribbon to my lantern and added in some Christmas balls. It is so pretty lit up at night!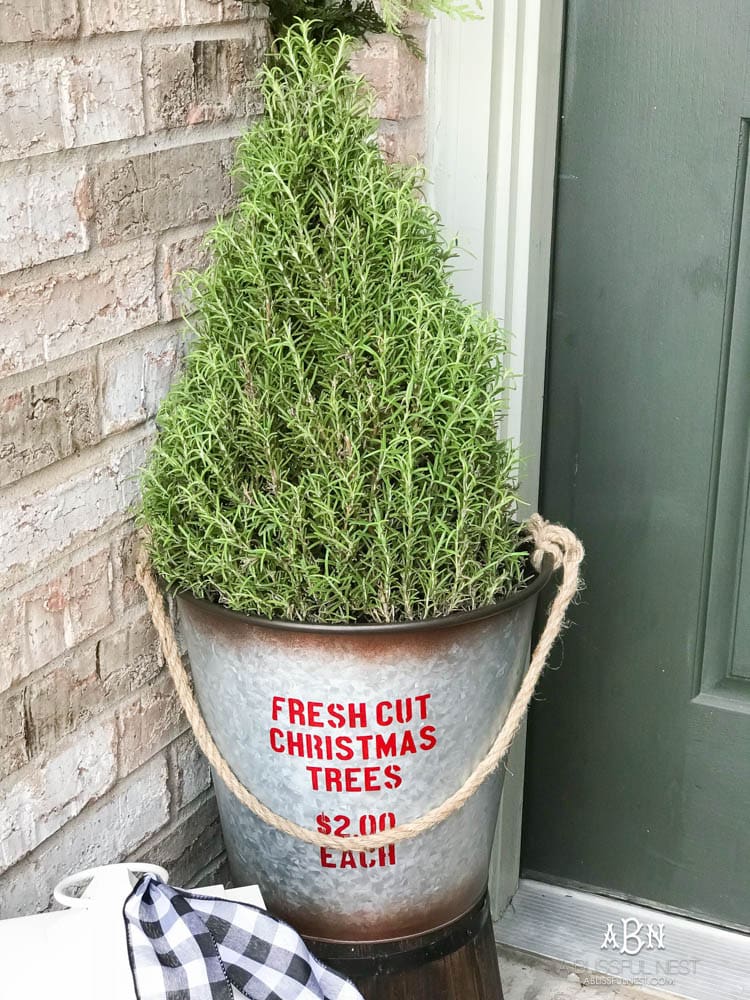 And that's it! Simple with some classic Christmas touches.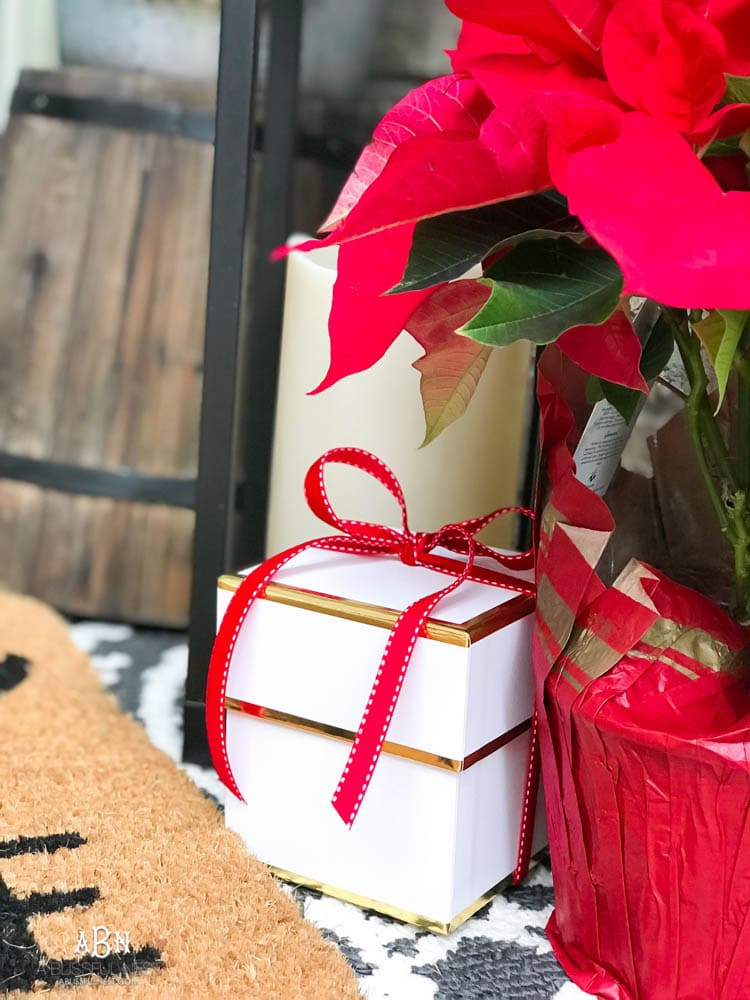 Next up is my neutral Christmas breakfast room. This is another high traffic and very important room in our home. We don't use our dining room all that much but our breakfast room is THE place we eat most of our meals. Eating dinner together is in my book one of the most important things we do as a family so this room needs a little extra attention.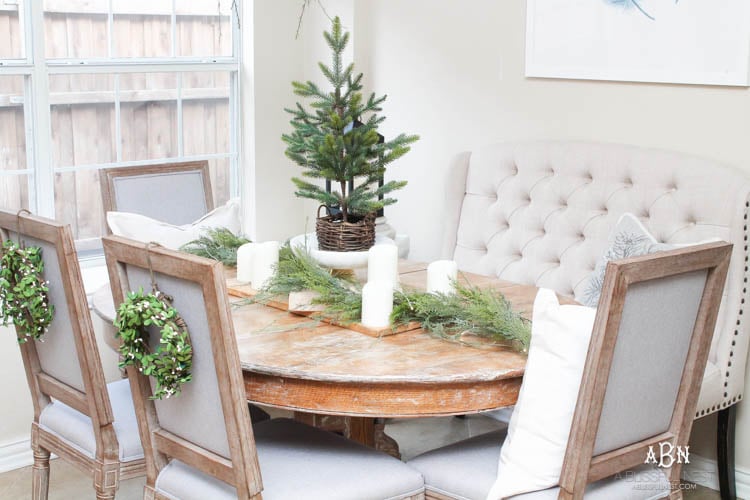 Recently we got new dining chairs and I love how elegant these ones look and they are so comfortable. I added simple garland to this area and a collection of pillar candles for a updated wintery look.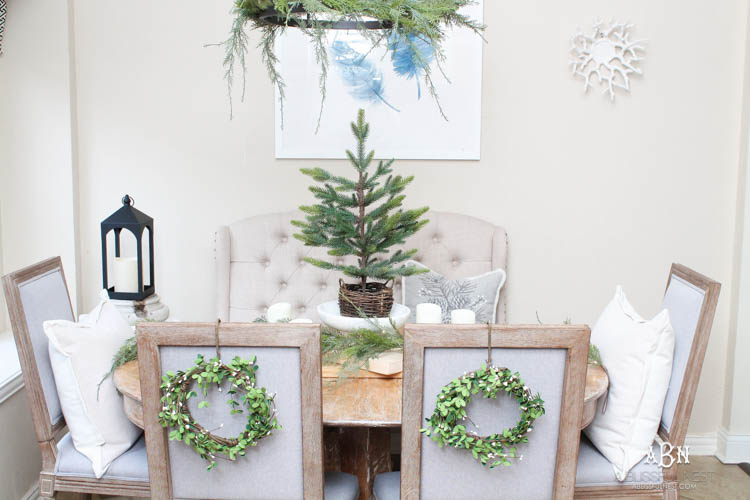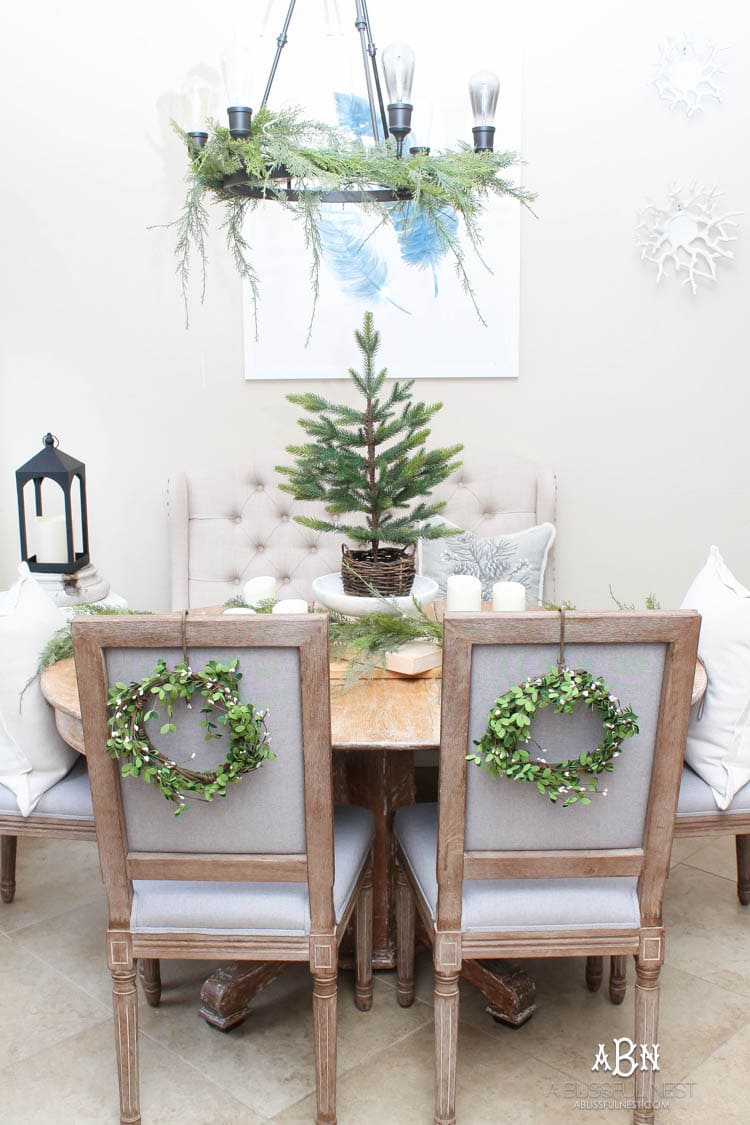 I found these gorgeous chair wreaths (this one is similar) and think I may need a few more. They also come in red and simply just hook over the back of your chair. Now how easy is that?!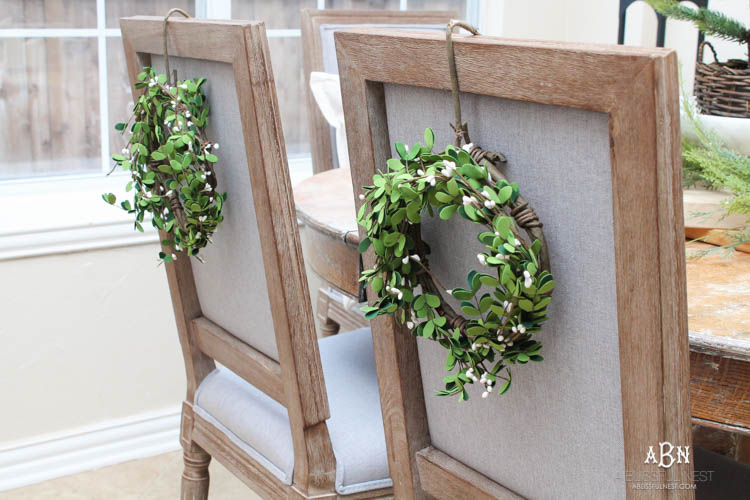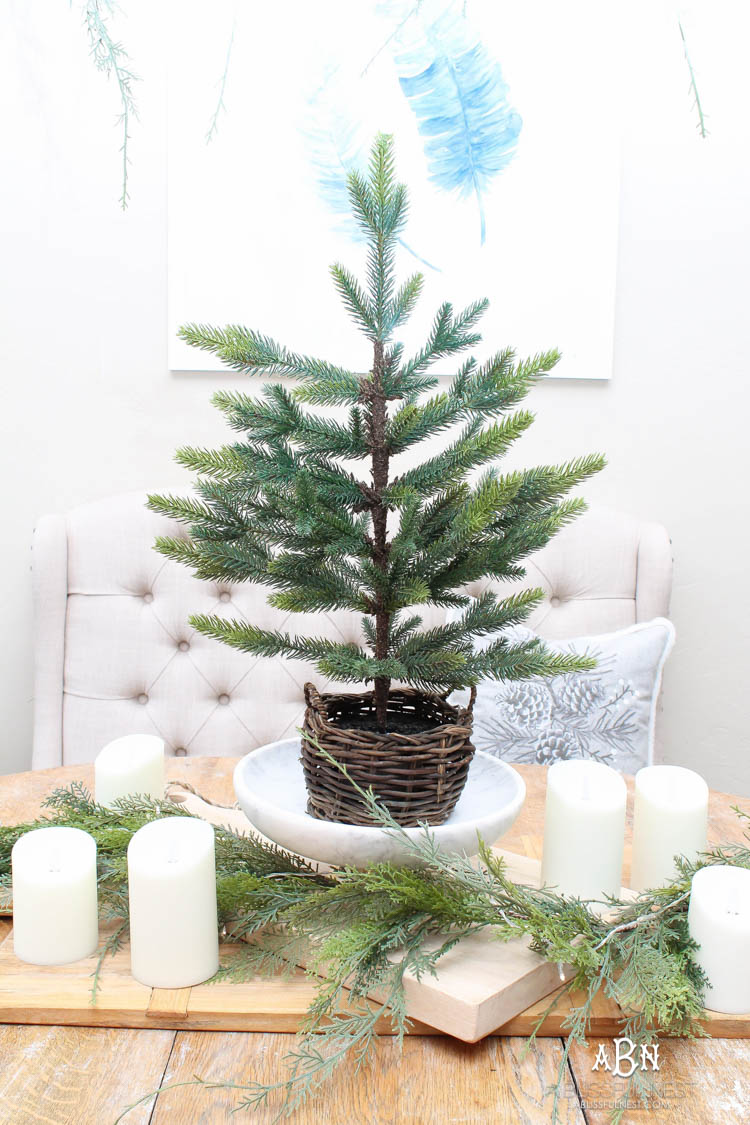 I snagged this little tree in a basket at Target the other day and love how simple it is. I just added it on top of the marble bowl to elevate it.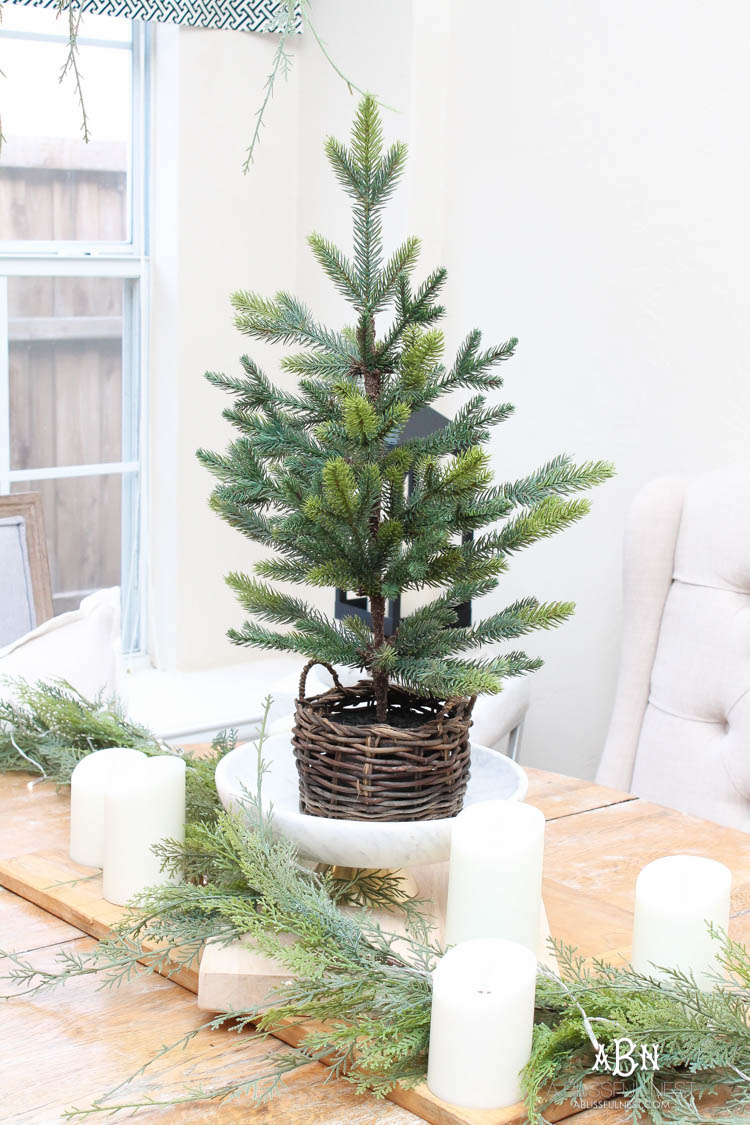 I am such a fan of these flameless candles. I mean talk about saving money. Now don't get me wrong I still love burning my candles but these grouped together make big impact and last forever.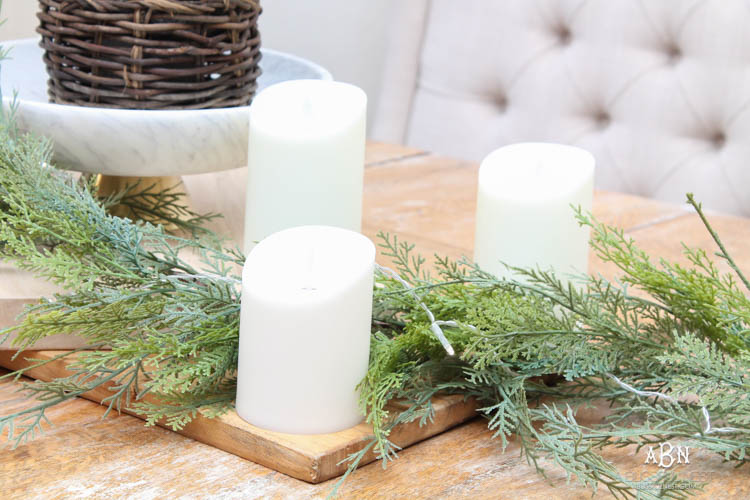 I used this gorgeous faux garland on the table and then wrapped it around my chandelier. I also added a string of these mini lights and it is so pretty at night all lit up!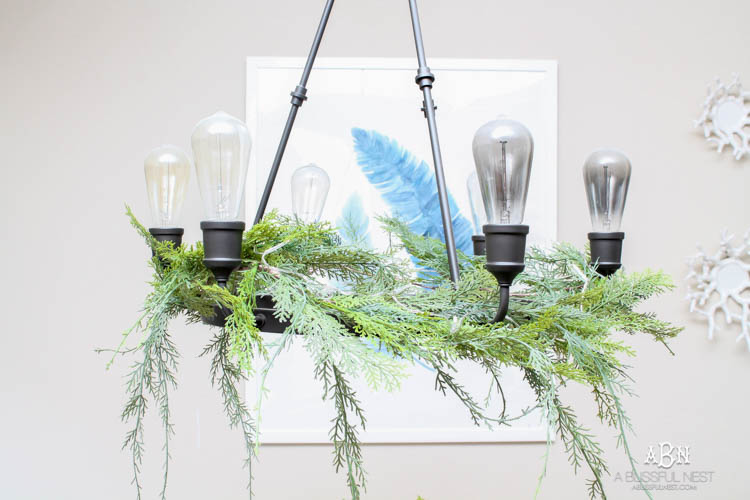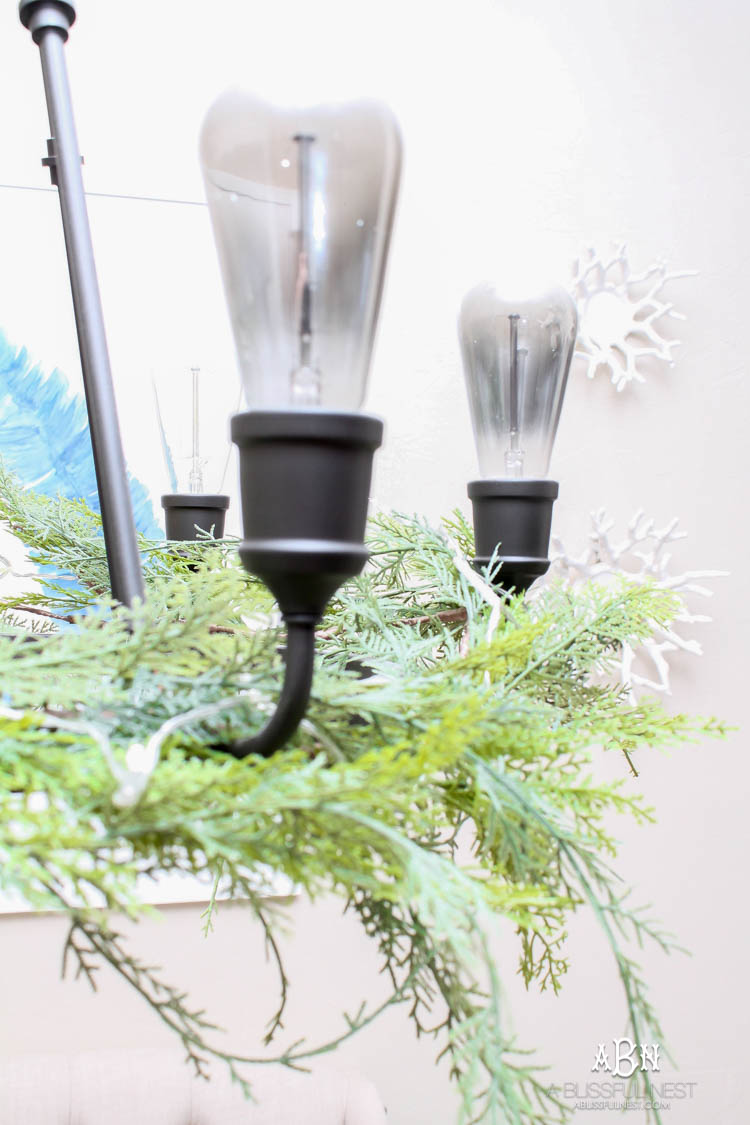 Well, I hope you loved seeing a few areas of my home and you can see the rest of my Christmas home tour HERE. Be sure to catch all the other homes on this tour below!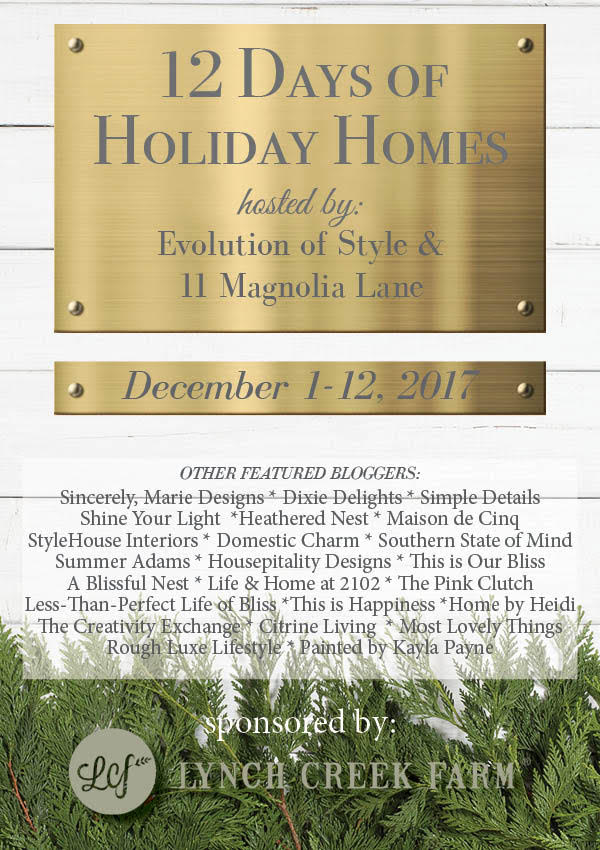 December 1st