Getting Inspired with Delta Faucet
This post may contain affiliate links. Please read our disclosure policy.
 This is a sponsored post by Delta Faucet.
Oh friends, I have something really exciting to share today! If you follow me on any of our social media accounts, then you know I recently got back from a dream trip in Chicago with Delta Faucet. When I say a dream, it's because that is what it felt like! This is a brand I have used for years with clients and Chicago is one of the most architecturally rich cities I have ever visited. I could stare at its gorgeous buildings all day long!
John & Sherry from Young House Love were our hosts and we were there to get inspired for an upcoming remodeling project for either a kitchen or a bathroom. I'll tell you more on that later! On to our dream trip details. . . .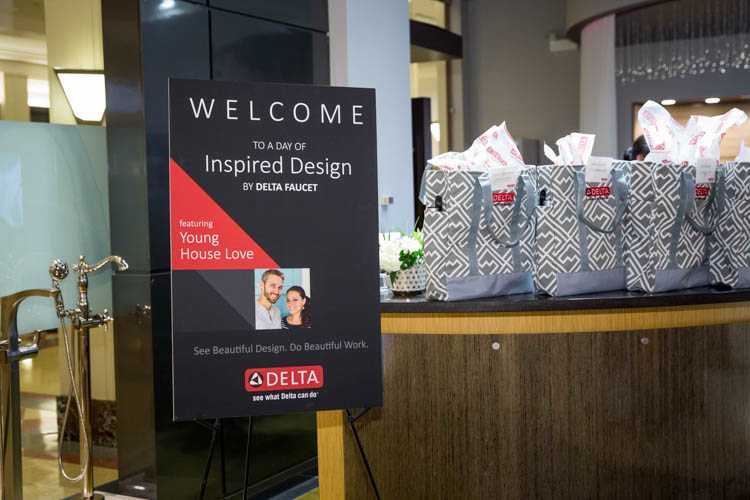 It was so great to get to know more about Delta and the many Delta products. There is a showerhead to die for – the Zura Pendant Raincan Showerhead. It has 3 heads and has a wider spread spray than the average showerhead. It really is amazing.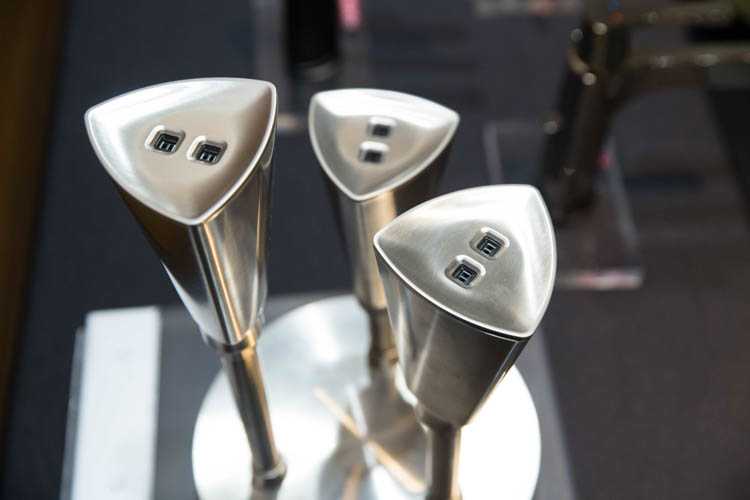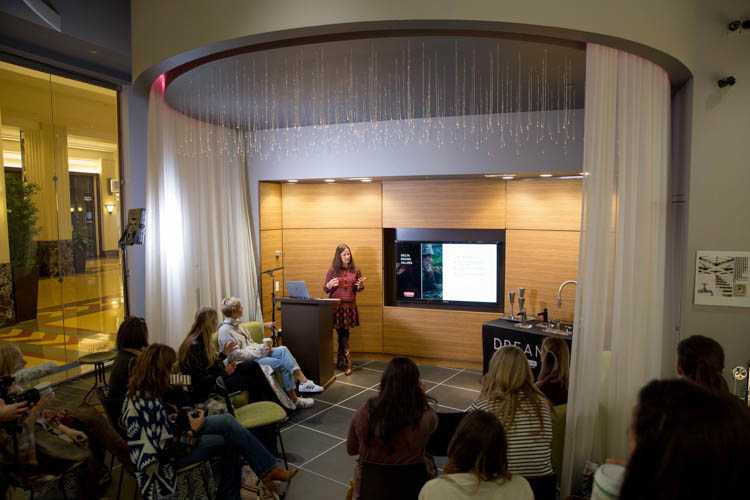 After getting a full brand and product overview from Missi Tate, the Delta marketing manager, we spent time exploring the amazing products in the company's flagship showroom, Dream20 at the Merchandise Mart. It's just gorgeous and I could not get enough of seeing and testing all the products.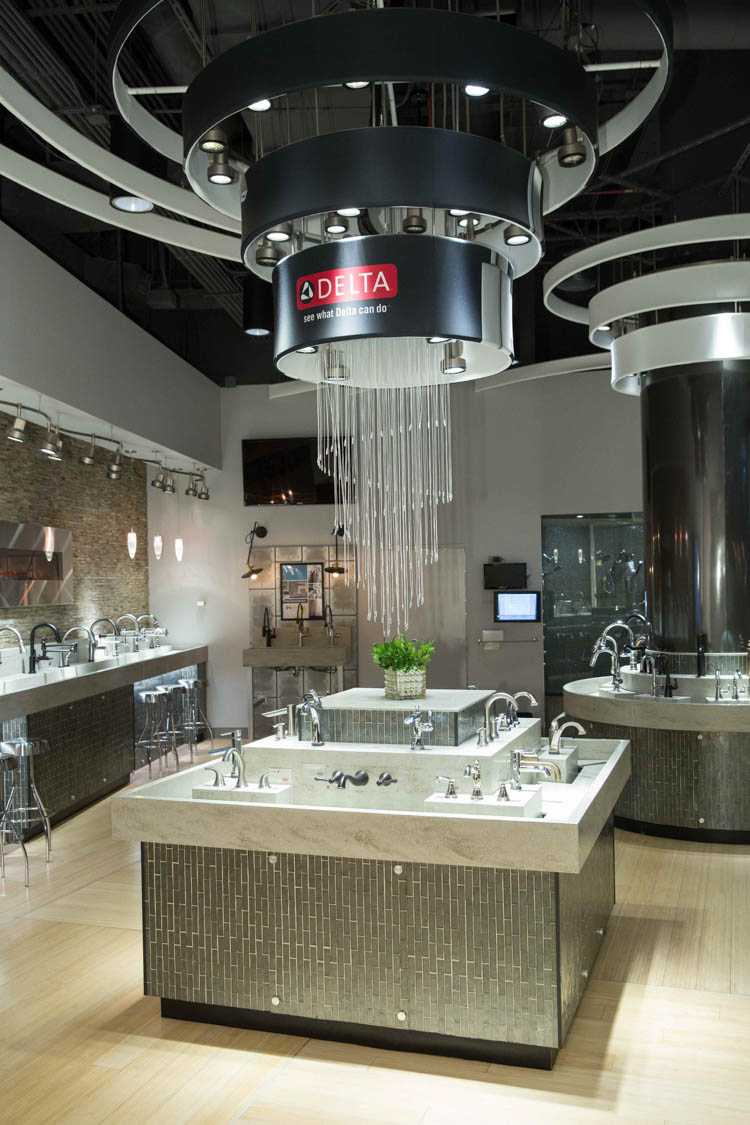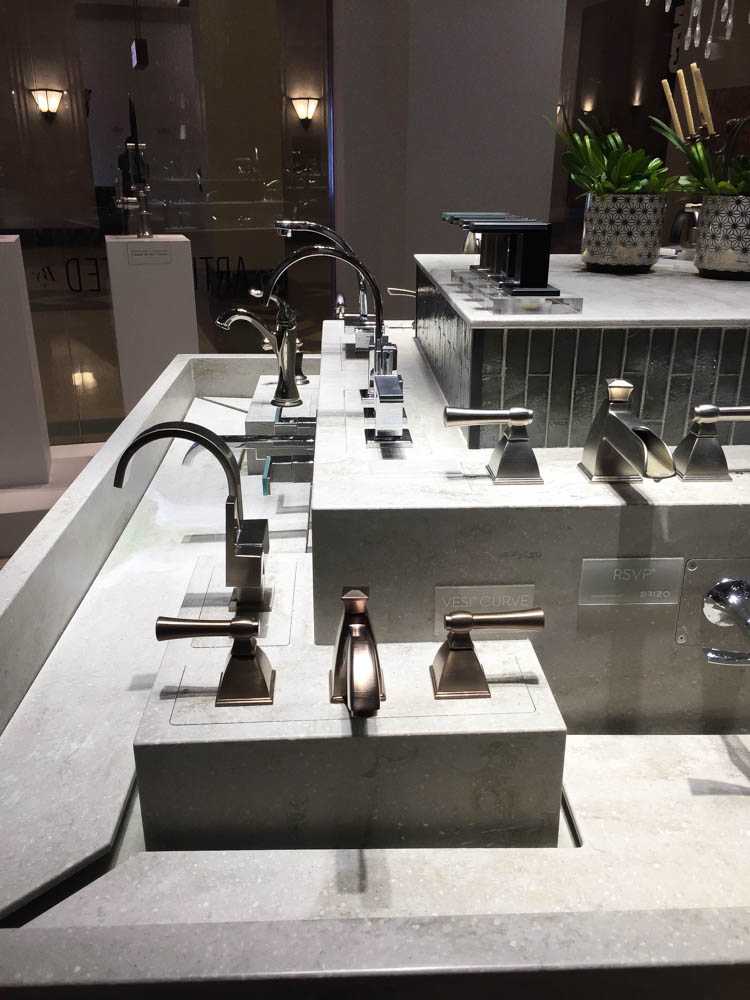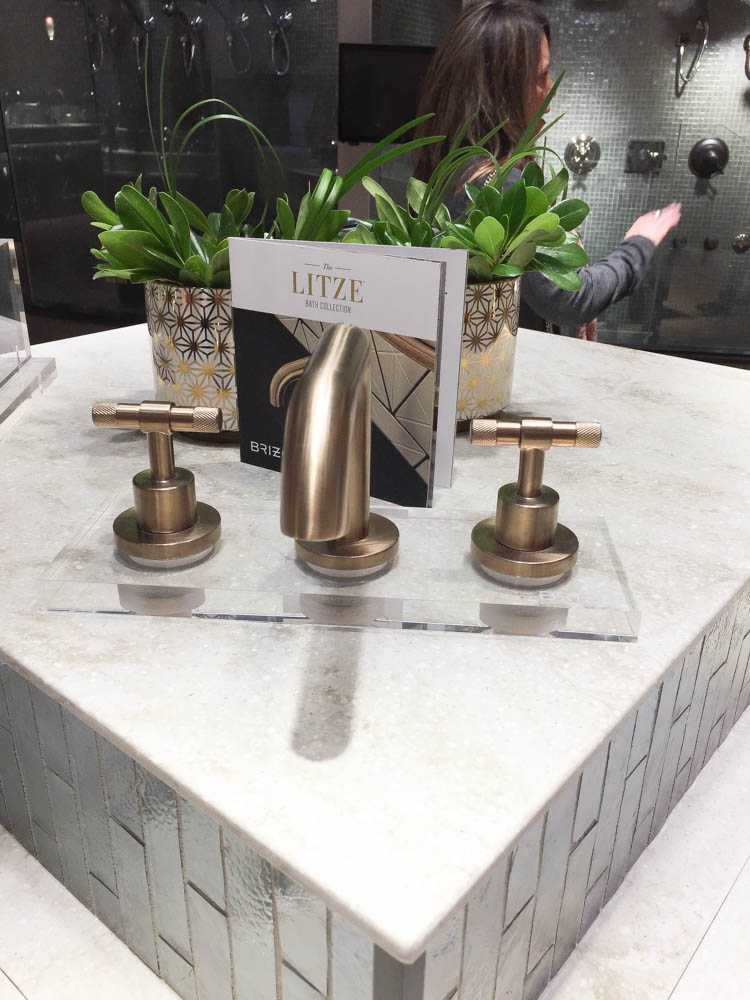 I have to say the champagne bronze finish is absolutely stunning!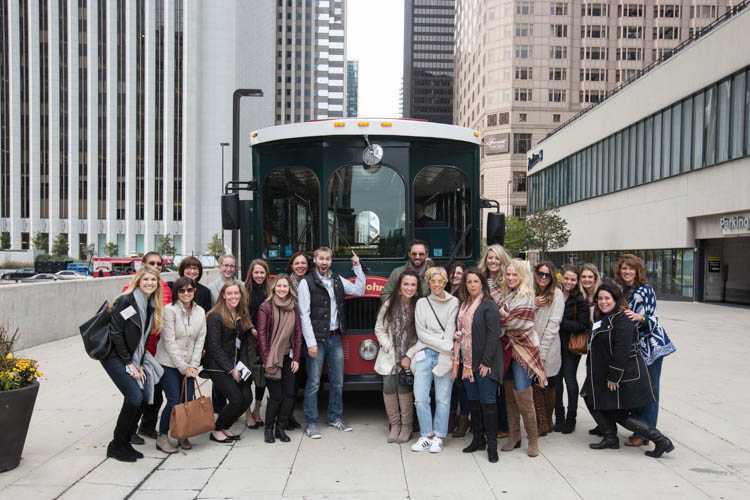 Next, we boarded our own trolley for an architectural tour of Chicago. Our first stop was the Chicago Cultural Center known for its intricate tile/stonework and 38-foot Tiffany stained-glass dome. The colors in this building really inspired me for my upcoming project and you know how I feel about blues!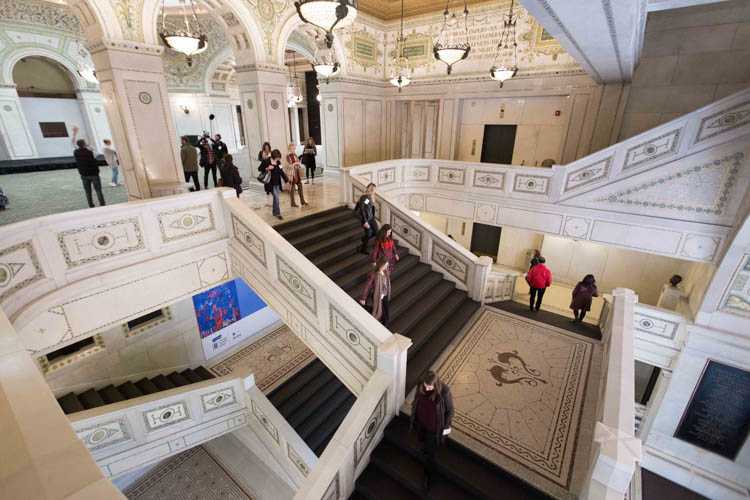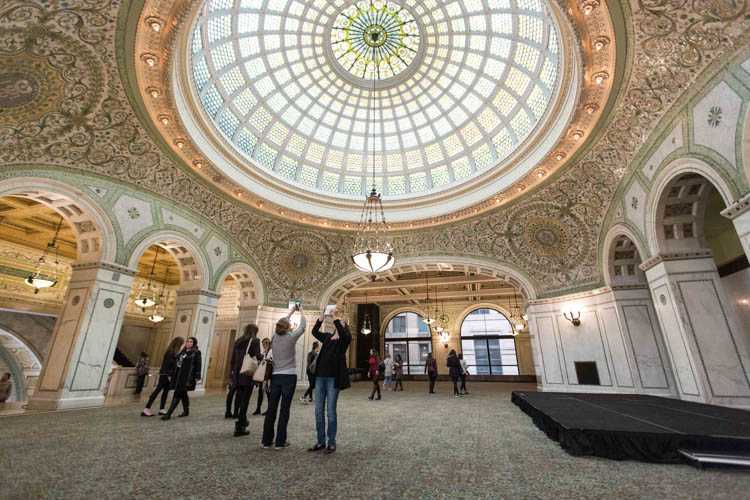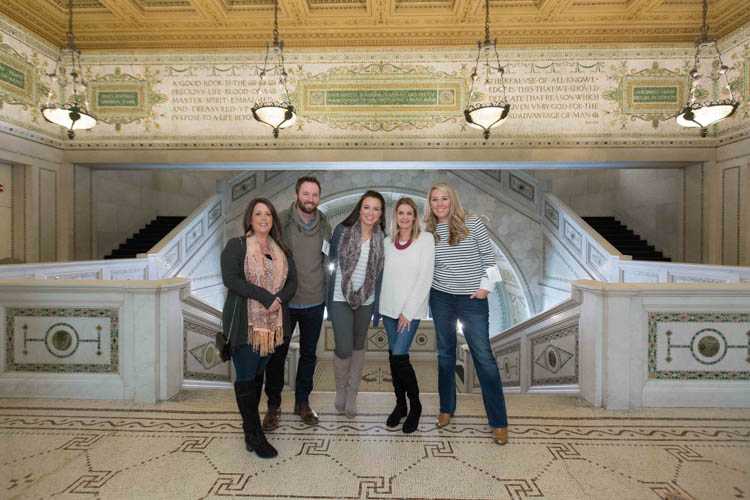 Cyndy | Jeremy & Katie | Sarah
Next, we headed to The Rookery. The first thing I noticed was all the amazing gold detailing in the columns, light fixtures and gold elevator doors! The gold was used to accent the architectural structure of the interior and really made a statement. This really stood out to me and influenced the design I am working on.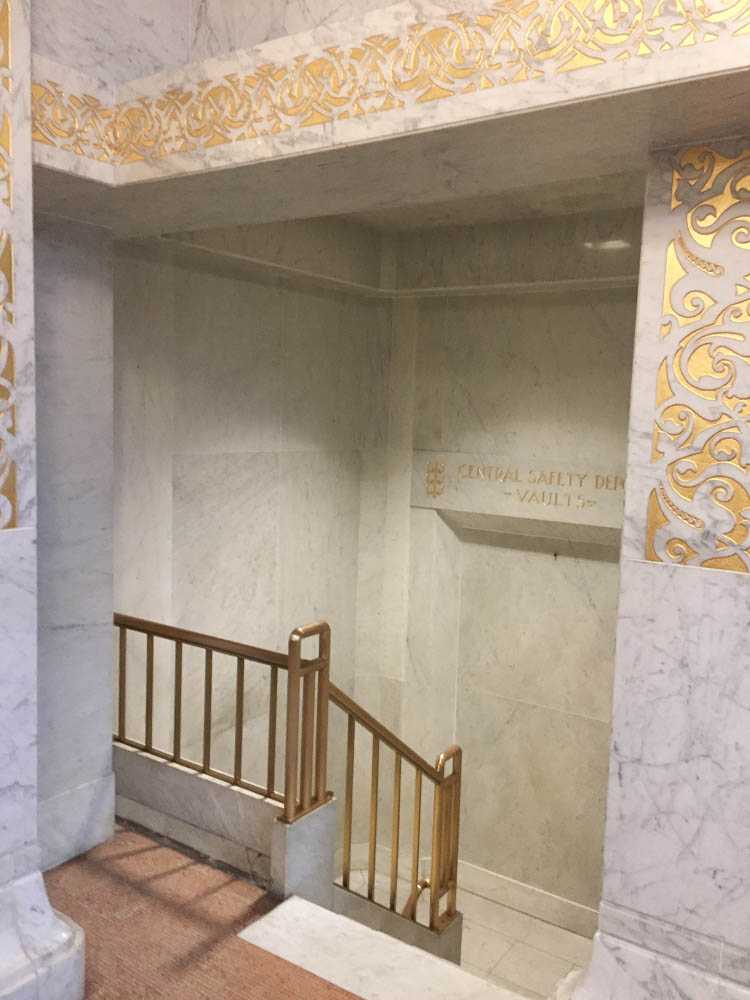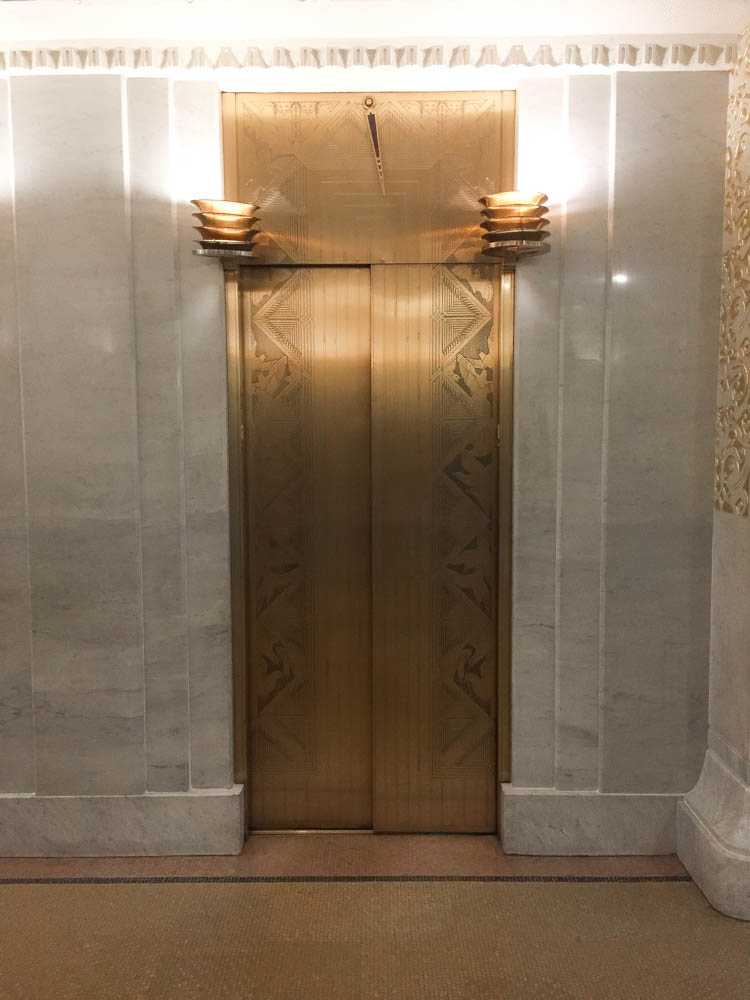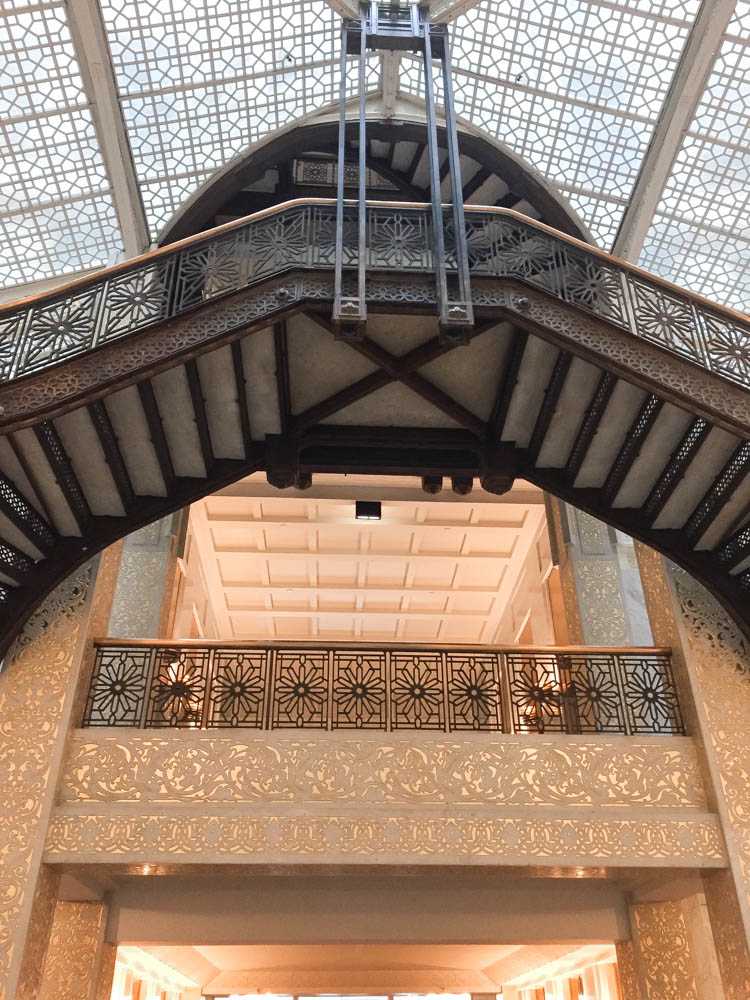 After The Rookery, we headed to Buckingham Fountain. Sadly, it was not on and I can only imagine how much more impressive it would be spouting water. It was inspired by Versailles which you can see in its elaborately carved pieces. It truly is a massive landmark with a gorgeous view of the city and the water.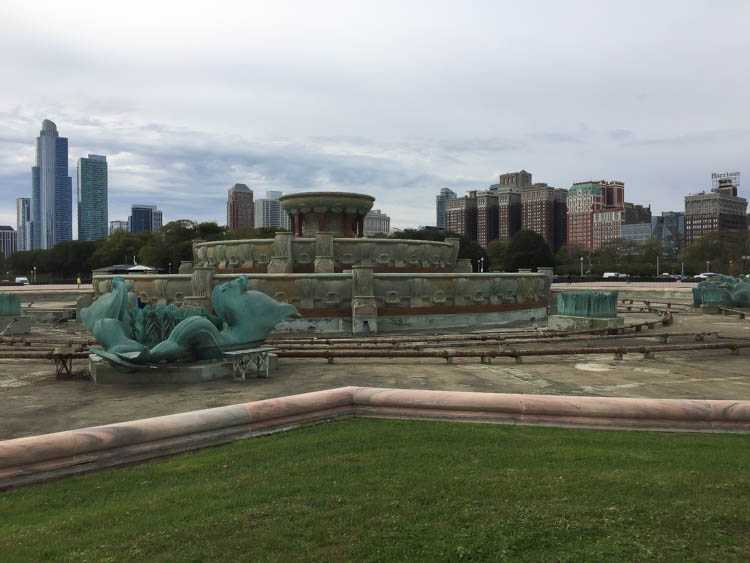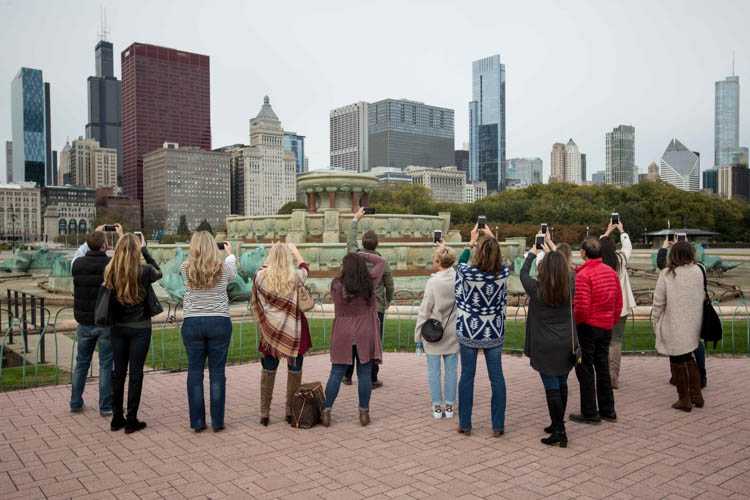 And we had a lot of fun taking pictures in front of this impressive fountain. It truly is the perfect #selfie spot!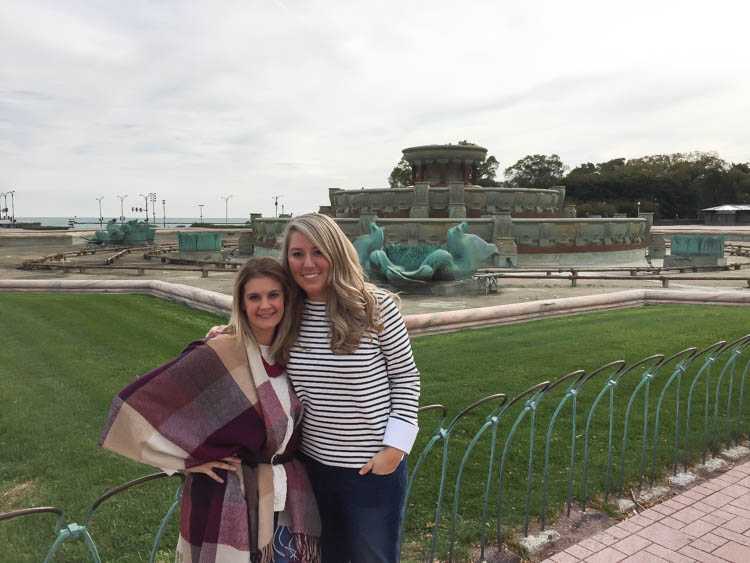 Me & Sarah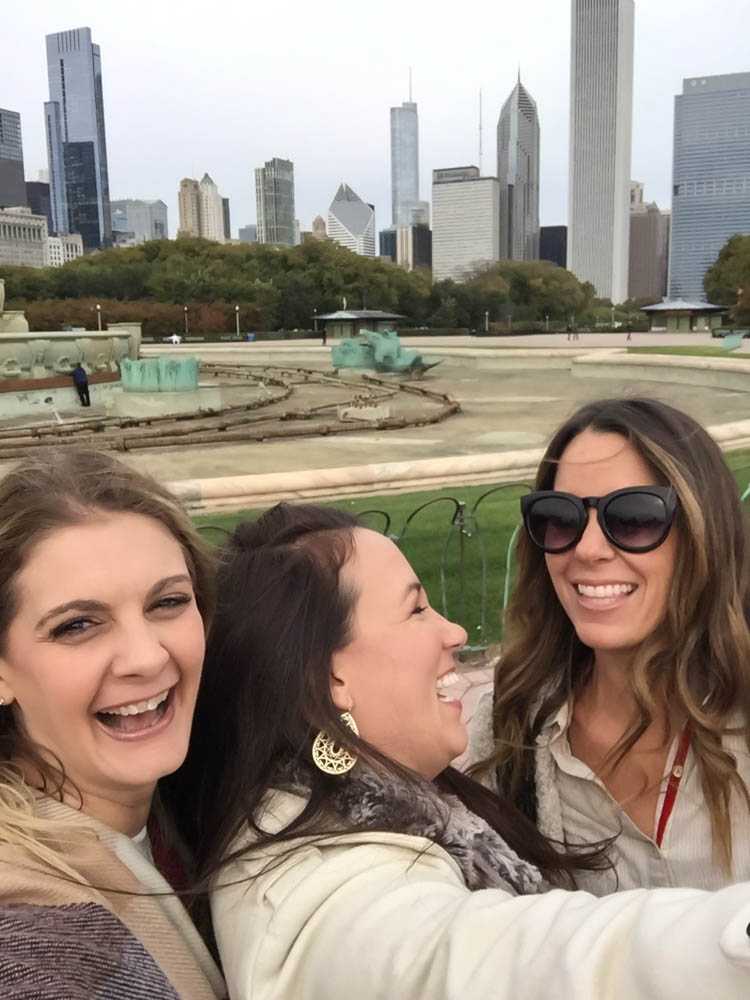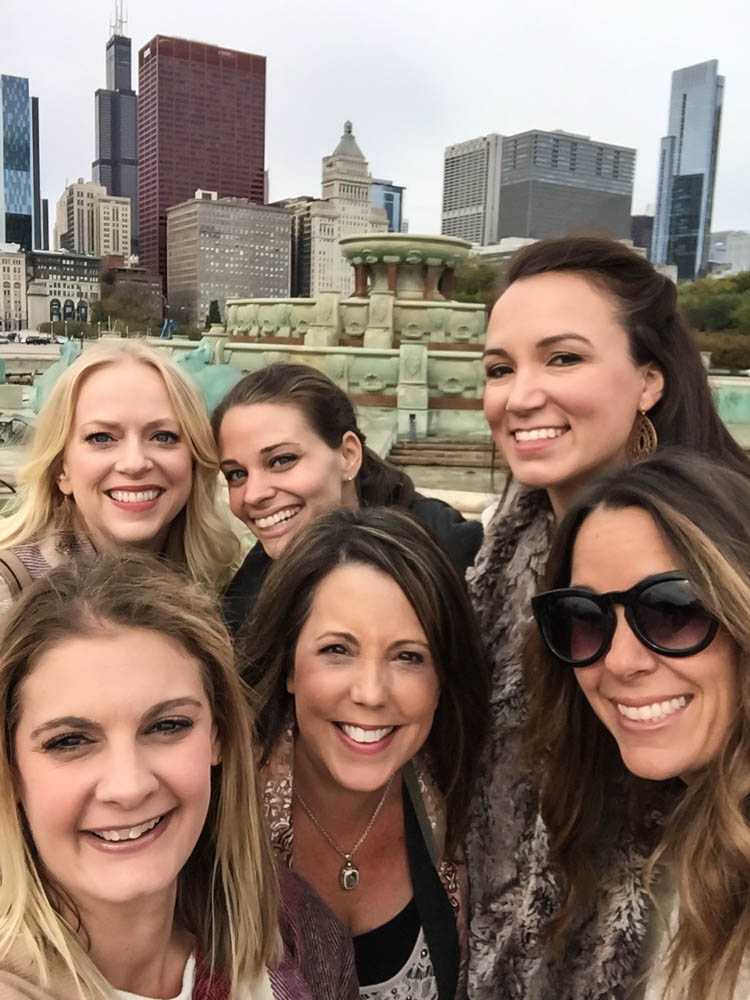 Top Row: Beth | Sherry | Katie
Lastly, we stopped at Aqua Tower. Wow. Just standing at the base of this building is so unusual. Its cantilevered rippling concrete balconies go all the way up the building and is meant to remind you of the way water moves.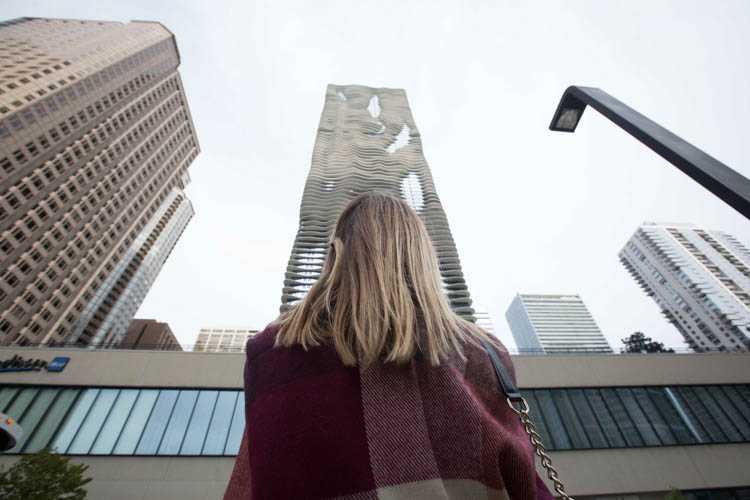 After visiting all these amazing landmarks, we stopped at The Hampton Social for lunch. We all about died over this boxwood wall with Rosé Every Day in pink neon. I mean seriously fabulous!! We filled up on delicious seafood and rosé.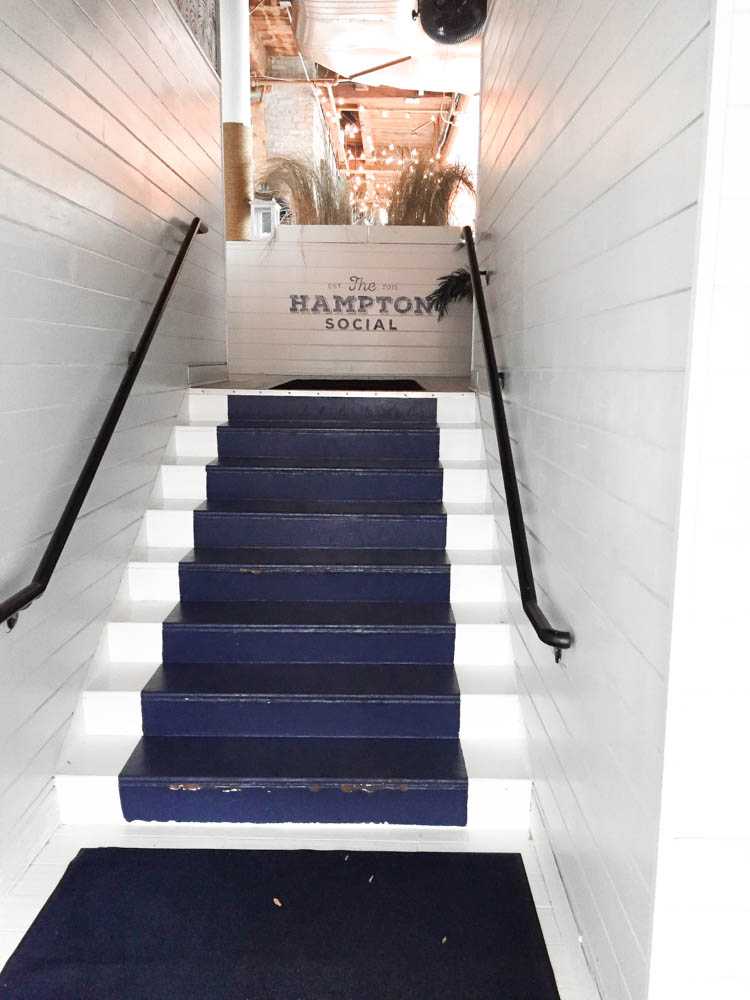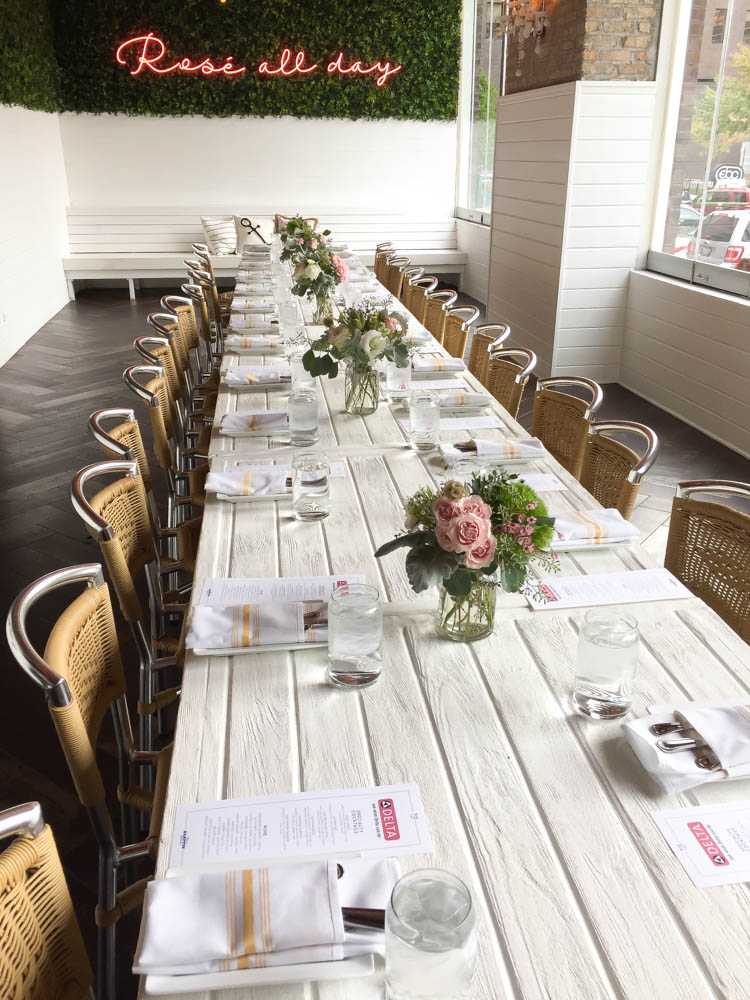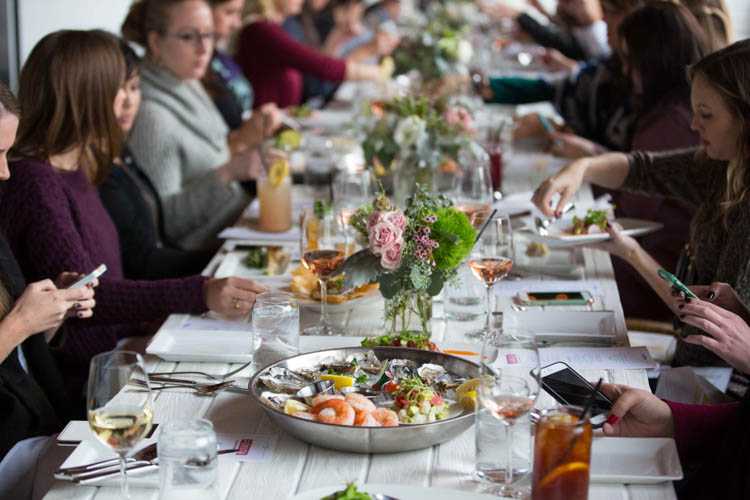 Before leaving I found this restaurant with Sarah, and I just loved all the green with the black and white awnings. Honestly everywhere I turned around there was something that just inspired me!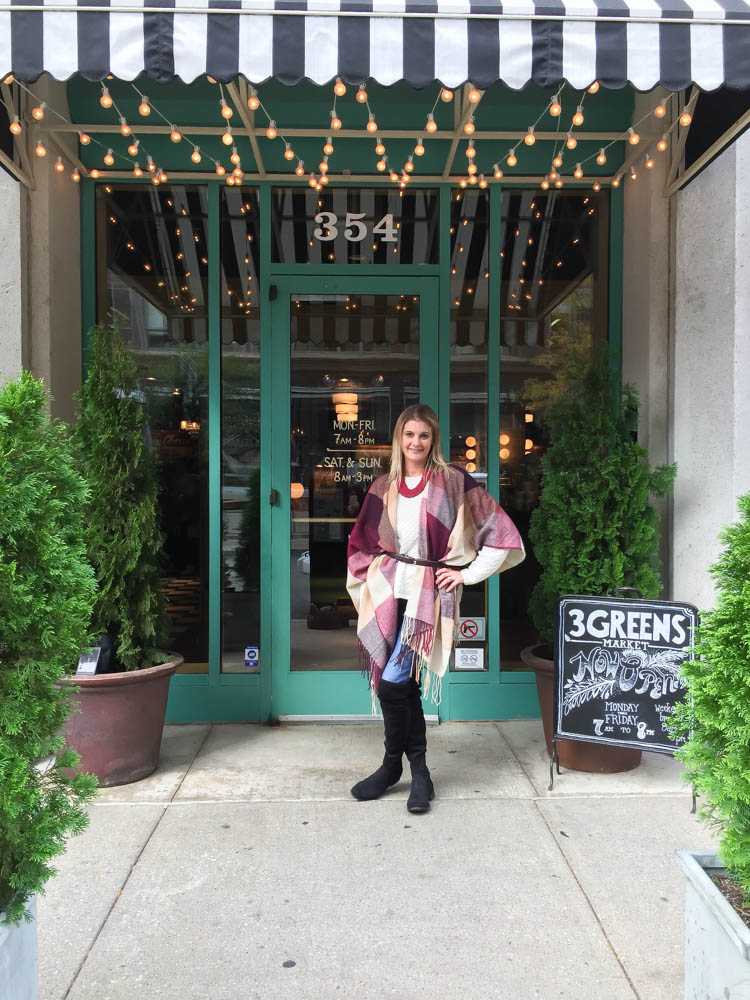 Next, we headed back to our hotel and met in a conference room to work our magic. We each had our own designated space to create an inspirational design board depicting the project we plan to implement. This is my blank slate.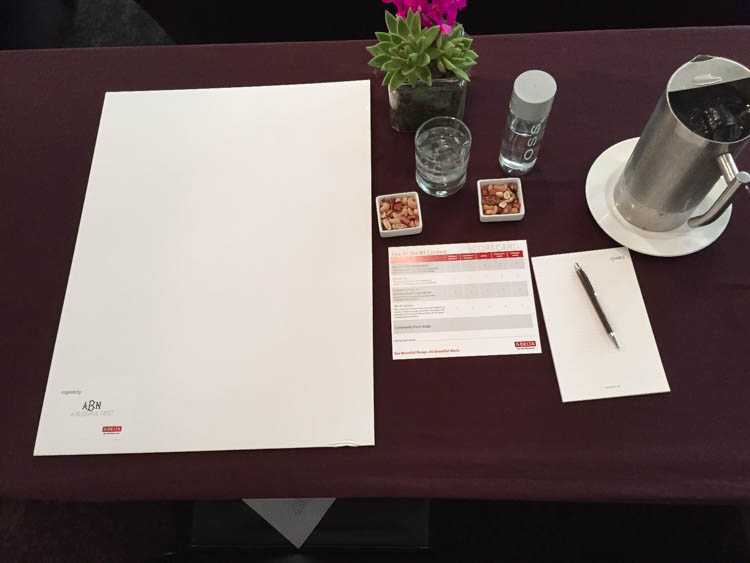 And here is the finished board! I am doing a powder bathroom with rich navy and white with a pop of gold and lilac.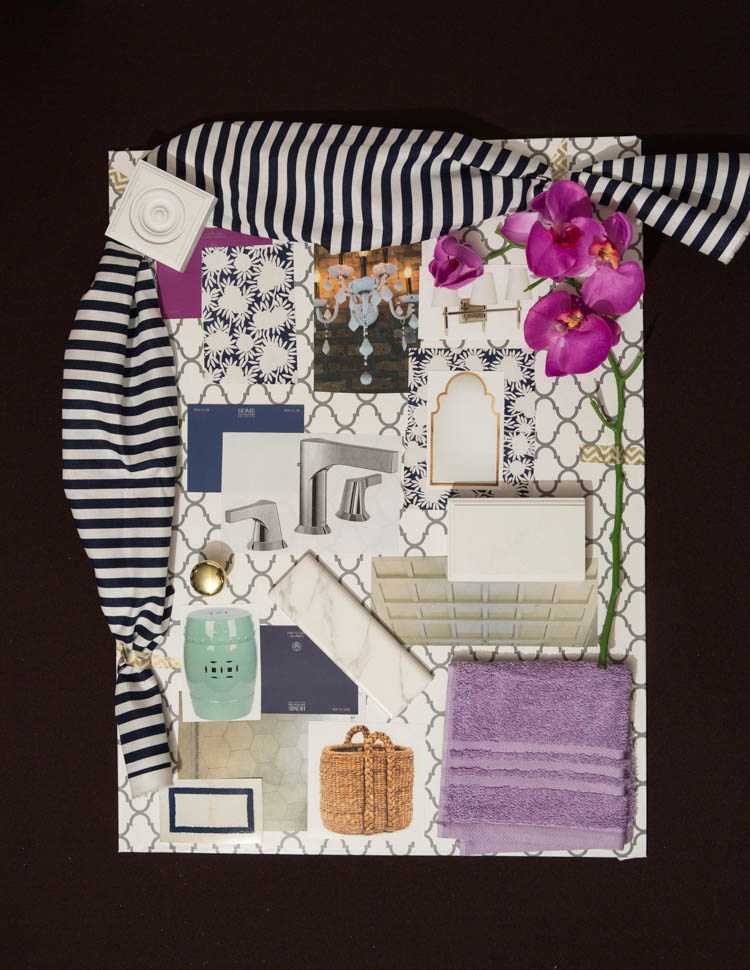 Before coming to Chicago, I had planned most of my remodel space. I brought pieces that I felt represented the materials I would use and then I was inspired in my final design by the different elements from our morning trip and the amazing fixtures from the Delta Dream20 showroom. My final design board truly reflects my overall aesthetic for the space and I cannot wait for you to see the big reveal when I am done! After we were done, it was left to the judges to see who would win the BIG makeover project. We went up to get ready for the cocktail party and waited anxiously to hear who would win!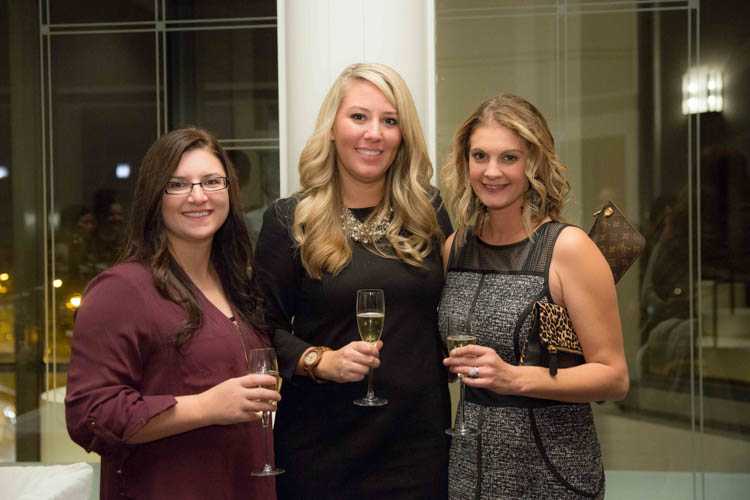 The winner was announced before dinner and I could not be more excited for my friend Beth who won. I cannot WAIT to see what she designs. In the meantime, I am going to leave you hanging for just a bit while a hurry to get my remodel done and promise to share the transformation real soon! I could not be more excited to be on this mini adventure with Delta!
This is a sponsored conversation written by me on behalf of Delta Faucet . The opinions and text are all mine.