A Tour with MacKenzie-Childs at #CampCourtlyCheck
This post may contain affiliate links. Please read our disclosure policy.
This post is sponsored by MacKenzie-Childs.
Two weeks ago, I headed to Aurora, New York right outside of Ithaca to attend #CampCourtlyCheck with MacKenzie-Childs. It was one of the most amazing trips I have ever been on and I can not wait to go back. Aurora is a really small town of about 500 people and about 300 of them work at MacKenzie Childs. Every inch of this town has been touched by the MacKenzie-Childs lifestyle and it is so evident that it's residents have embraced and fallen more and more in love with this brand over the years.
Back in my design days in Los Angeles, I was the senior designer for a amazing design firm that had a MacKenzie-Childs obsessed client. I had never heard of it before at that time but I will never forget how my client sat me down in her kitchen and lovingly pulled out pieces in her extensive collection to show me. She would tell me how this one pattern was her favorite, and how her husband gave her this one piece for Mother's Day and how she was dying to get the vase to match this bowl she had. We decided to design her whole kitchen around her collection so it would stand out like artwork. It really was an amazing project to work on. I feel so blessed that 10 years later I got the opportunity to get to know the people behind this brand that makes it what it is today.
MacKenzie-Childs is so much more than just some dinner plates in a quirky fun pattern. It is a lifestyle that is so evident in the town of Aurora. Just take a look at how the interiors of some historic places in town take nod to the MacKenzie-Childs brand.
The Inns of Aurora:
I was absolutely taken by the inns in Aurora, restored and decorated by Pleasant Rowland (who created the American Girl brand). Her amazing vision and touch not only brought life into the MacKenzie-Childs brand but to the historical homes in Aurora that are now used as quaint bed and breakfasts.
The home below is E.B. Morgan House which is where we stayed. Just take a look at that view! It is so picturesque!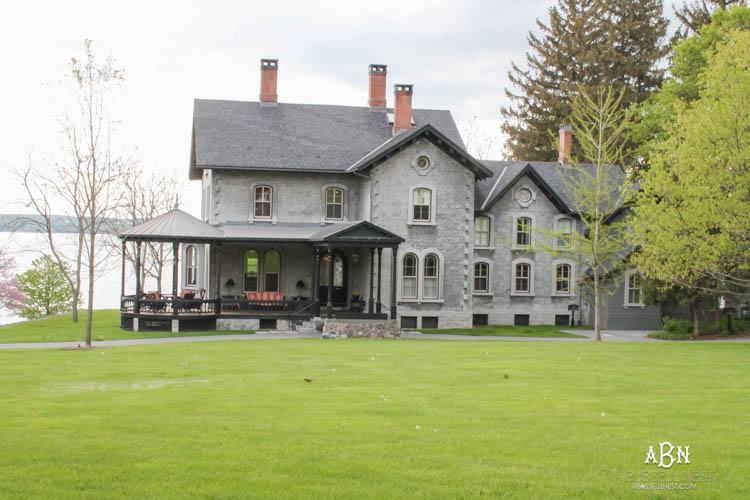 I feel in love with this moody dining room with dark walls. That fireplace became one of my favorite spots to enjoy a cup of coffee in the afternoon. Each of the properties is known for the artwork and the interiors play off them beautifully.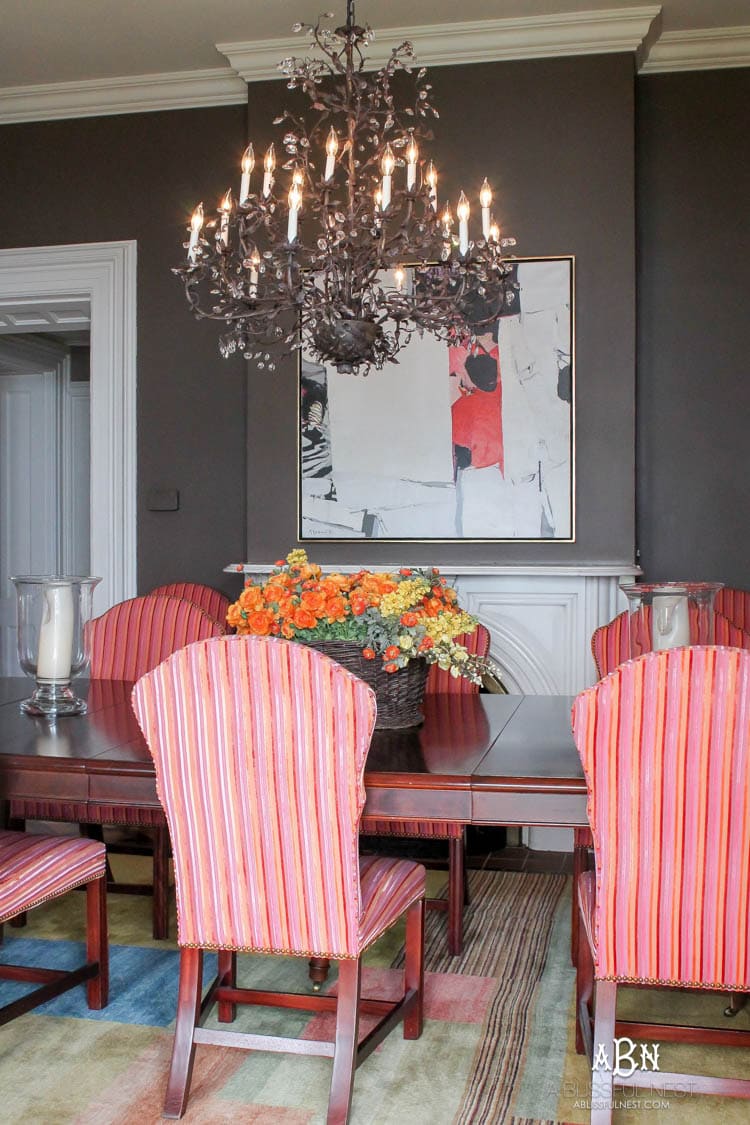 The next gorgeous inn we visited was Rowland House. This house stole my heart for all it's blue and white decor and coastal flare.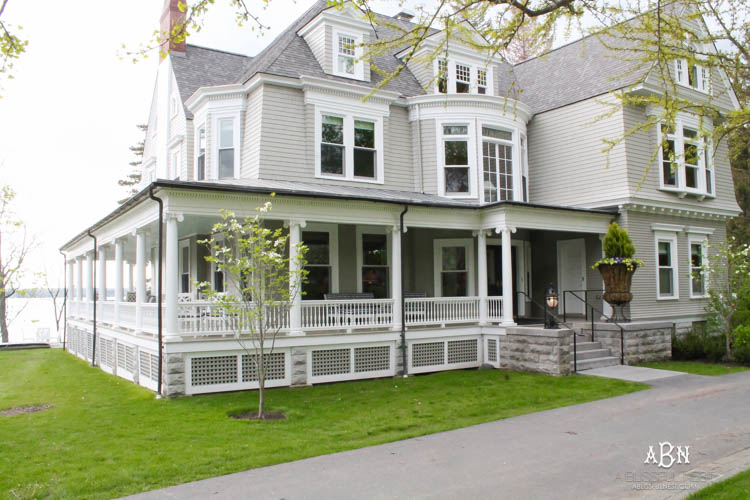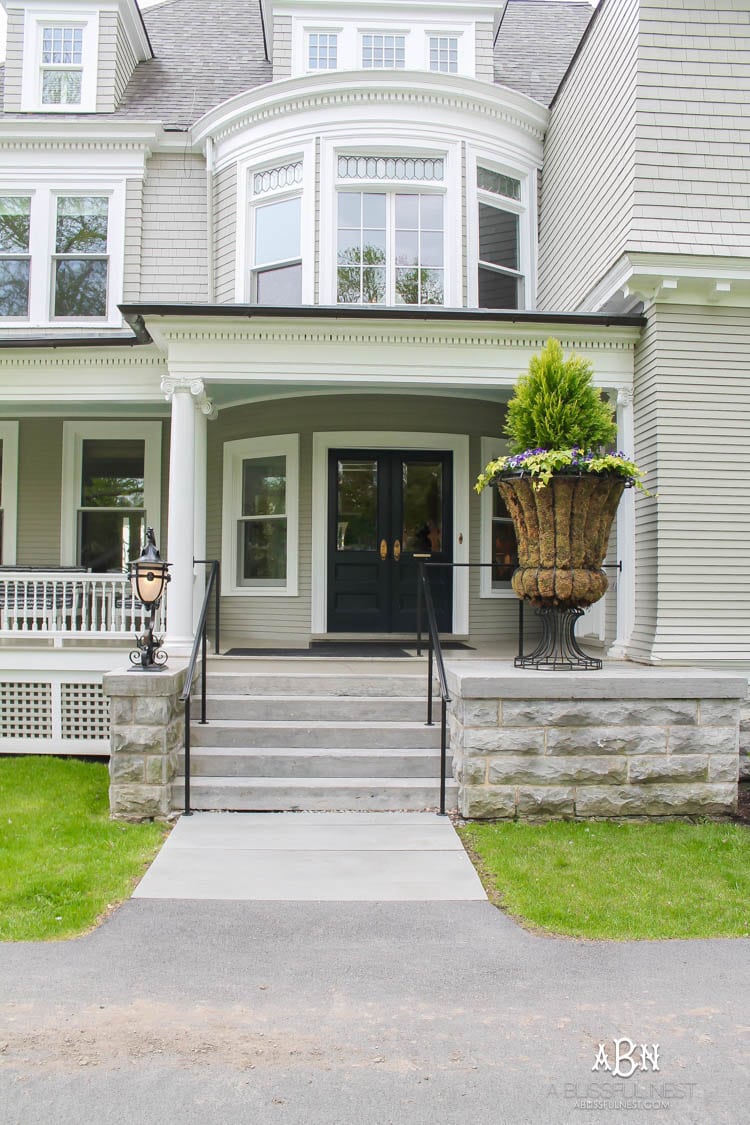 It's hard to tell in my photo but those are the most gorgeous navy doors ever! And take a look at that view!!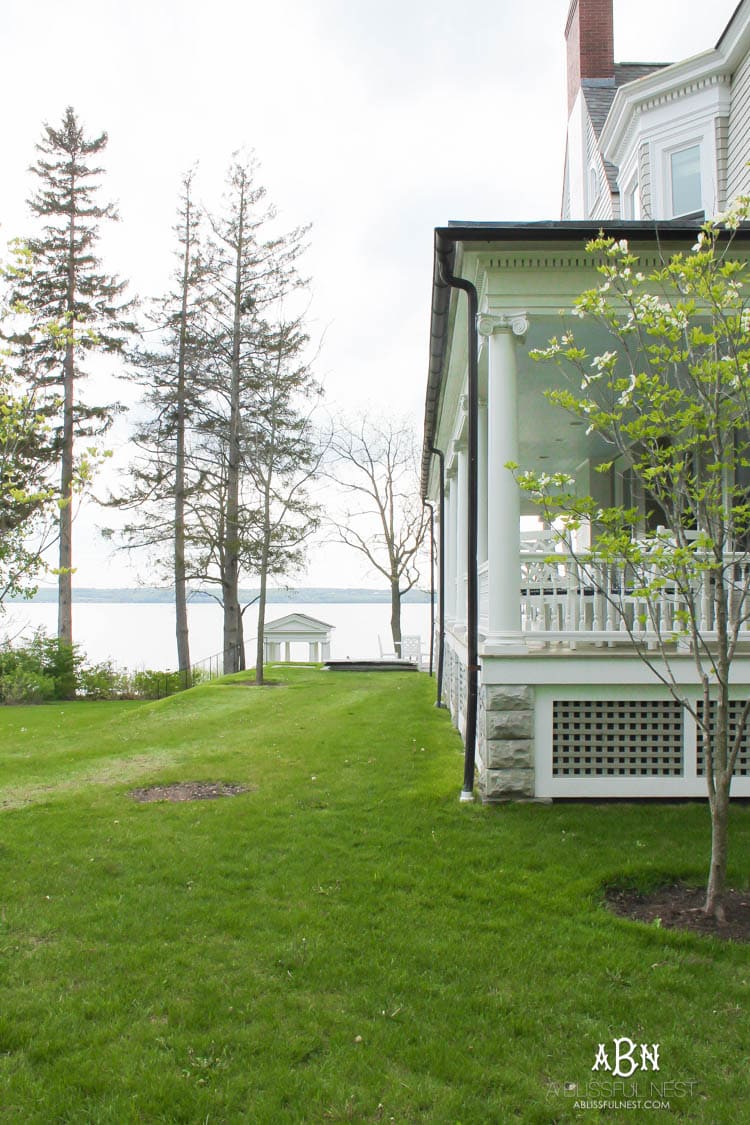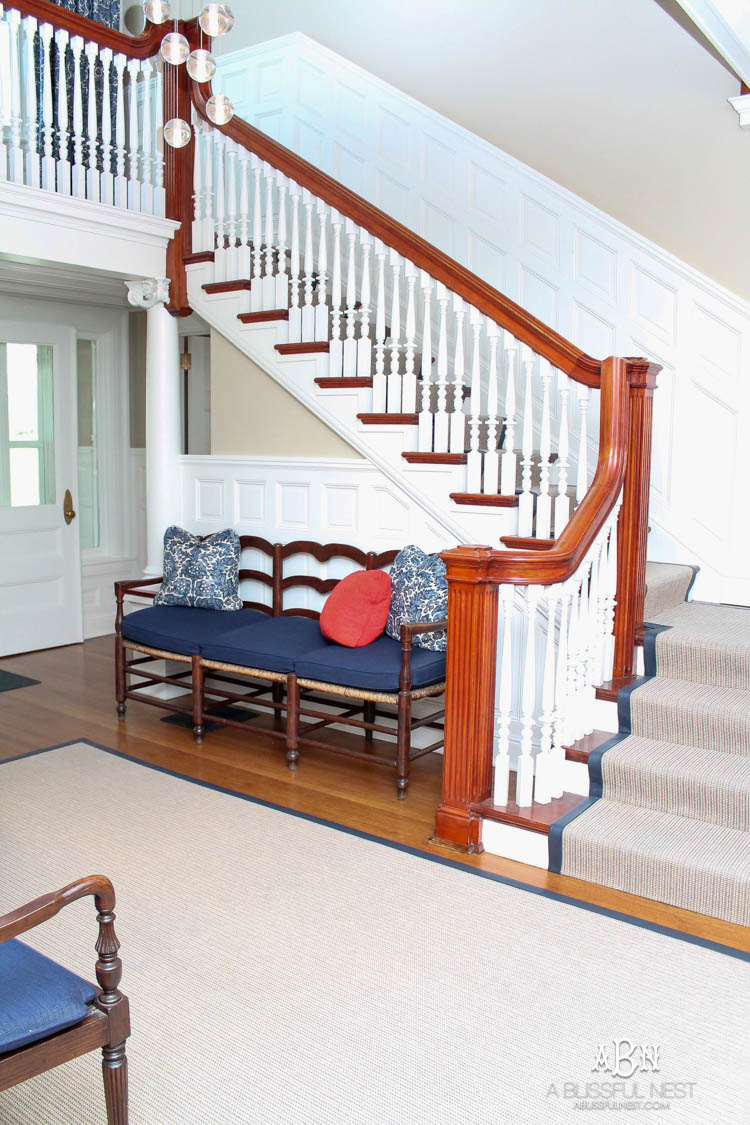 The blue and white furnishings with pop of red/orange are so gorgeous. Again a lot of the furnishings play off the artwork and views of the lake. I was dying over this light fixture in the stairway. It looked like bubbles on the water.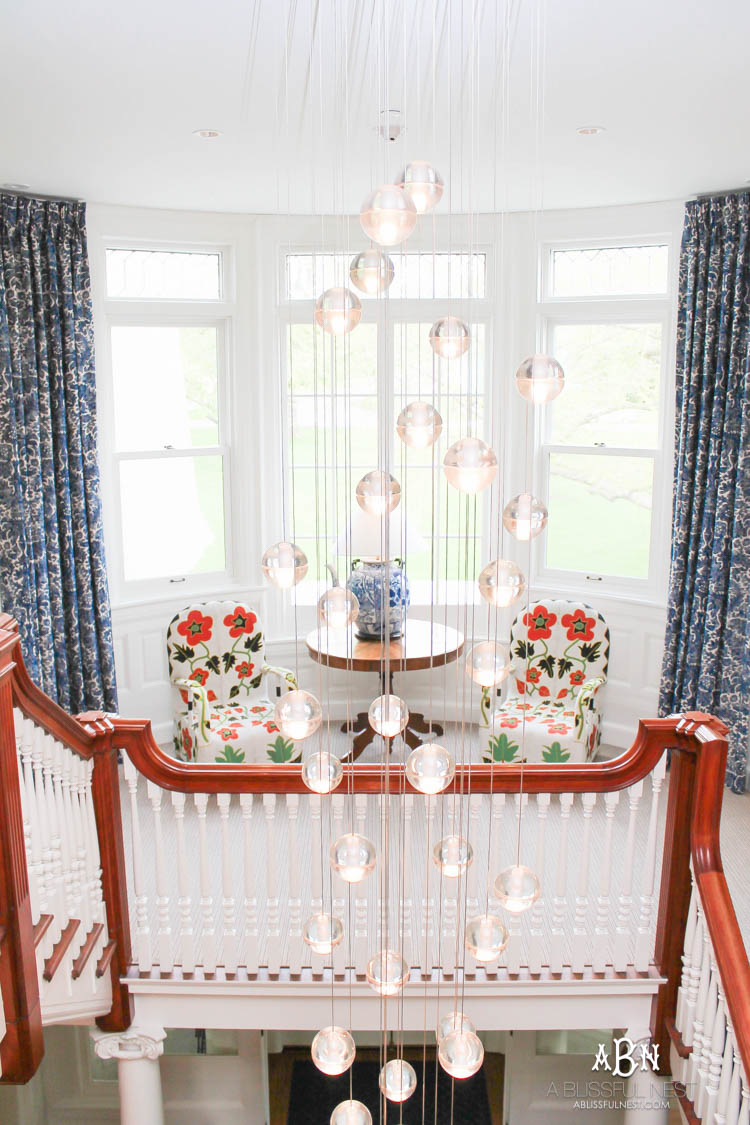 These chairs were all hand beaded and really gave this landing a whimsical touch, which is very reminiscent of the MacKenzie-Childs brand itself.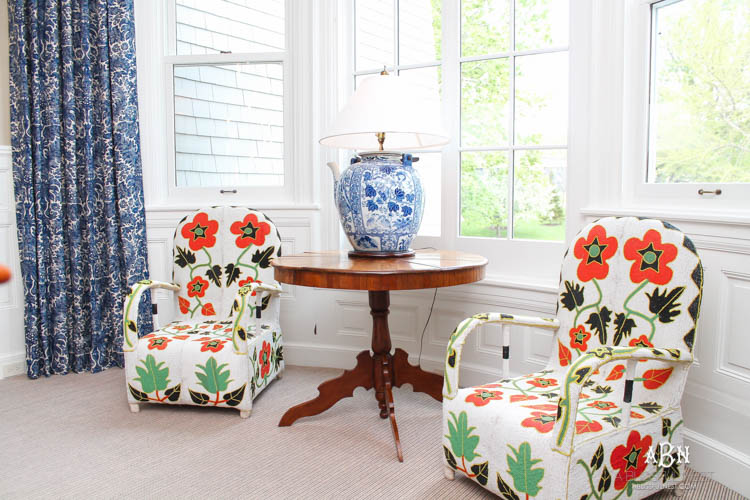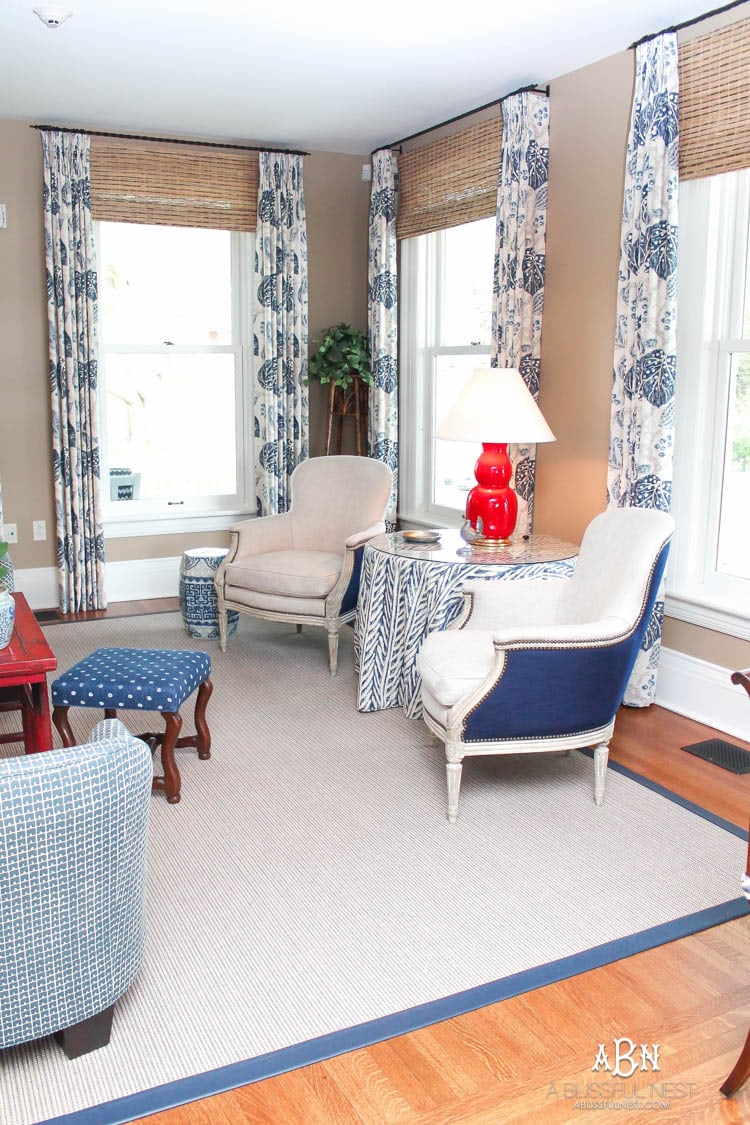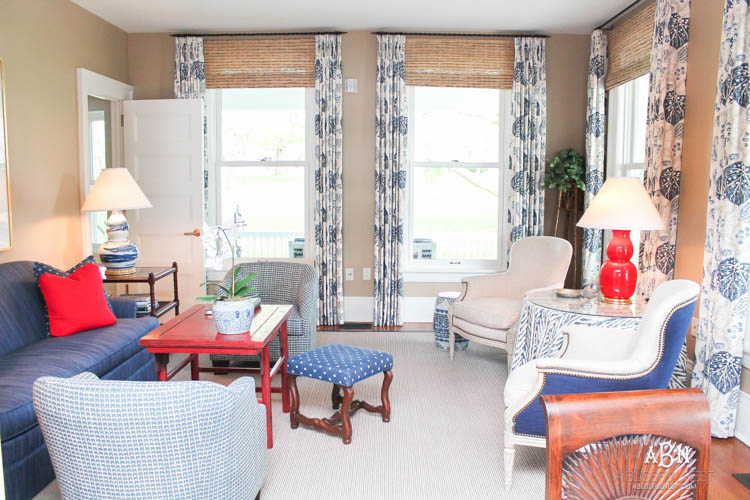 This next space is from Wallcourt Hall. The main color scheme in this inn is the bright red/orange color carried throughout with black accents.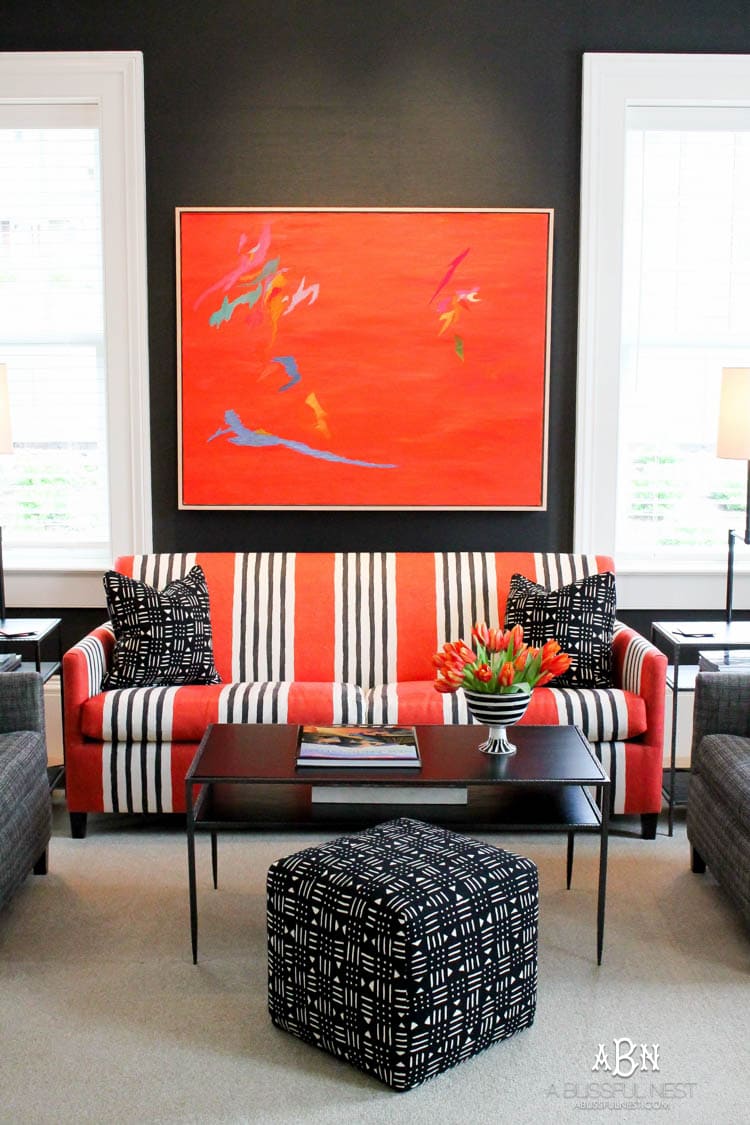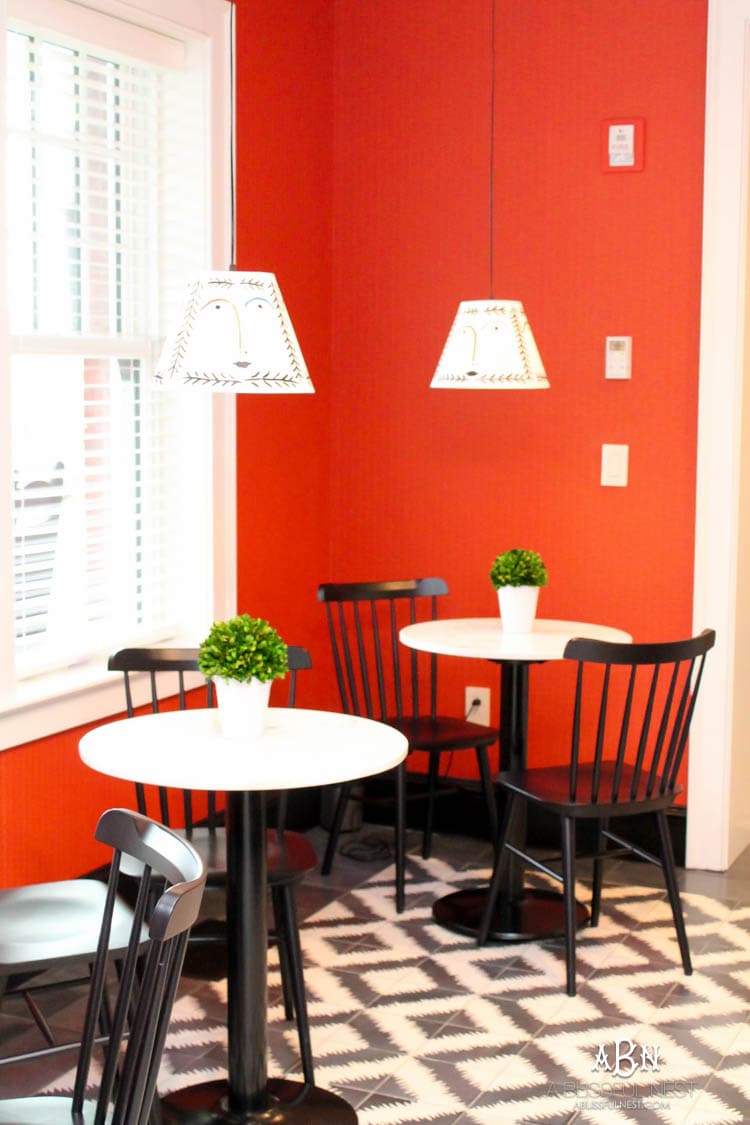 I think we all just fell in love with this bathroom. How fun is that pattern on the wall?!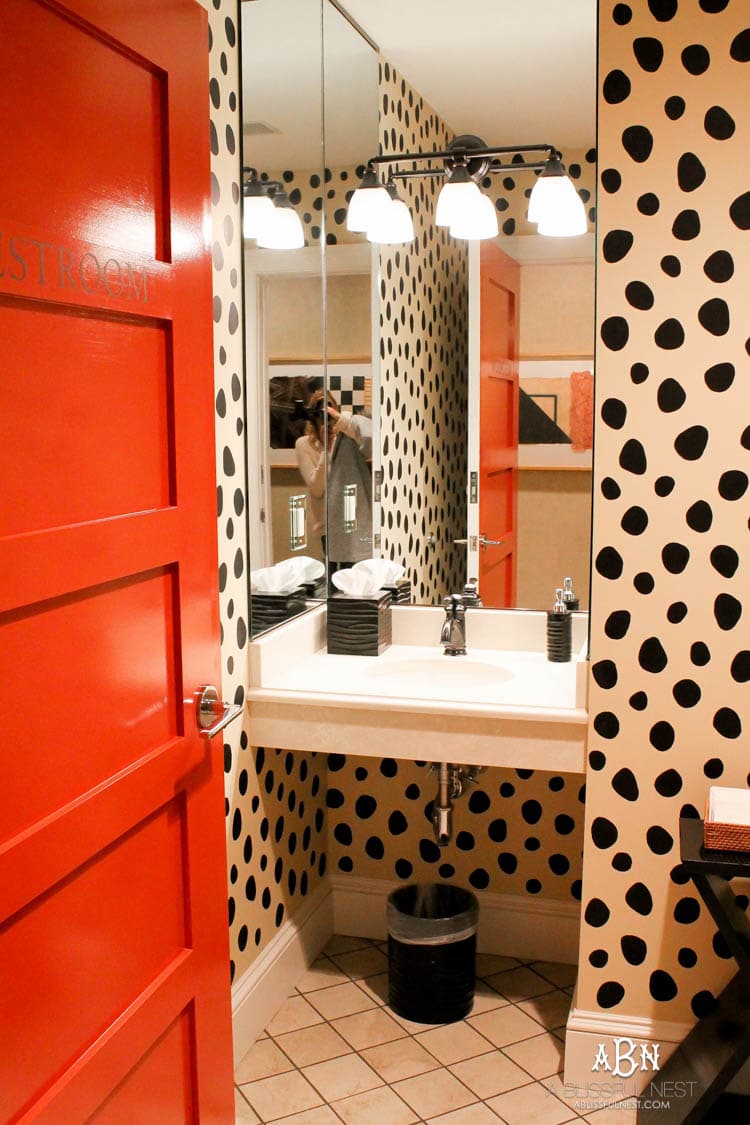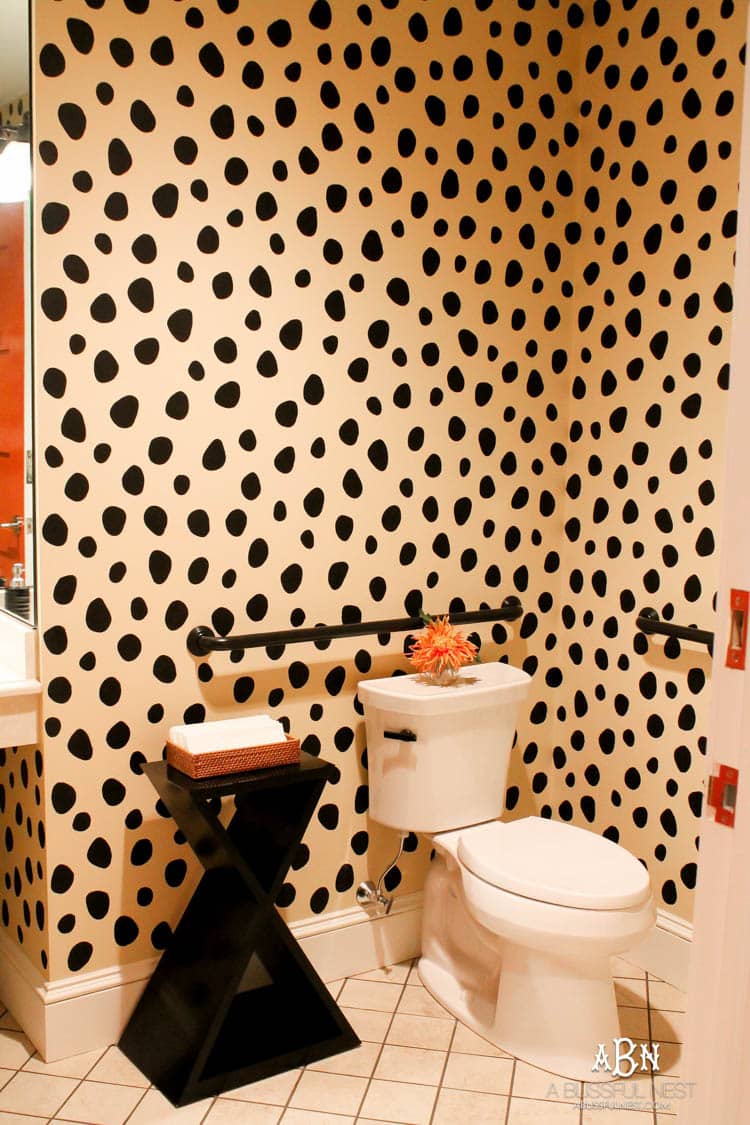 The MacKenzie-Childs Farmhouse:
Next we visited the MacKenzie-Childs property. Their farmhouse is such a special place. You can just feel the history of the brand oozing from every corner.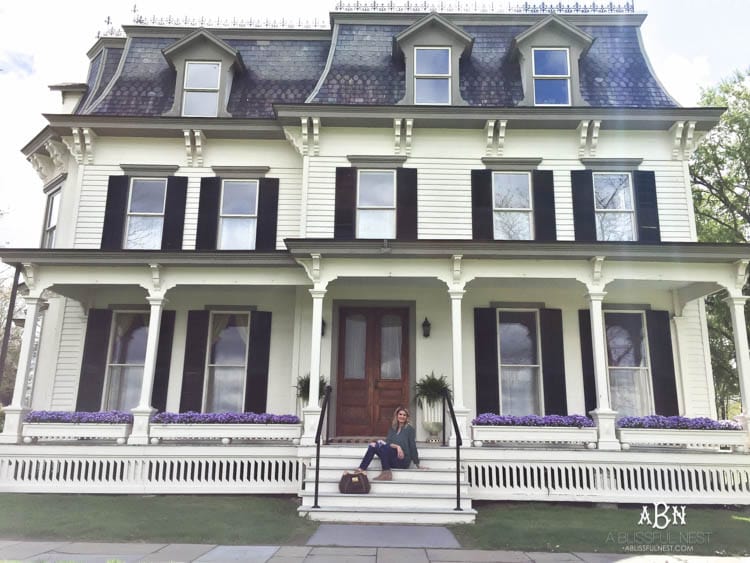 I really fell in love with these planters full of these purple flowers. It is such an amazing pop of color in contrast to the black and white exterior.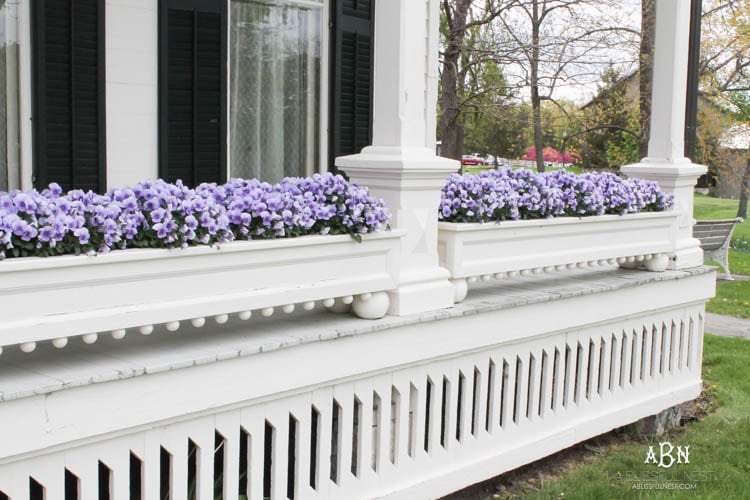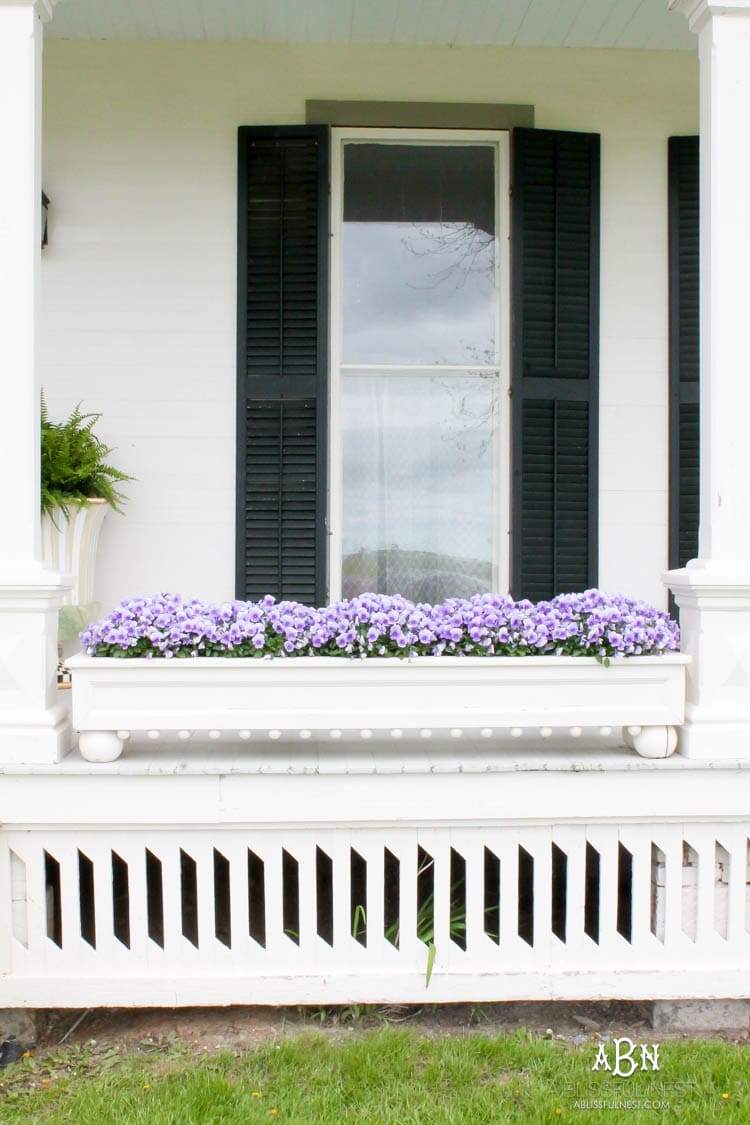 And these MacKenzie-Child's planters on either side of the front door are to die for! I think I need some for my next house.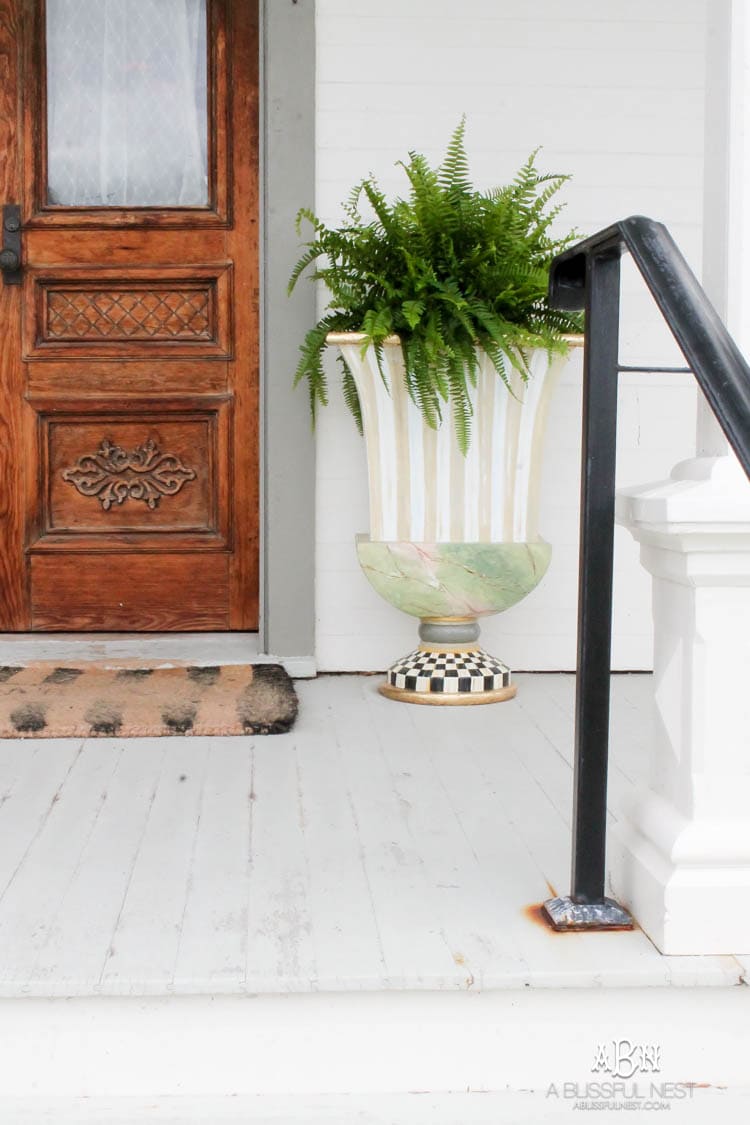 So not only did we get to tour this amazing piece of property, but we had lunch here every day in the dining room.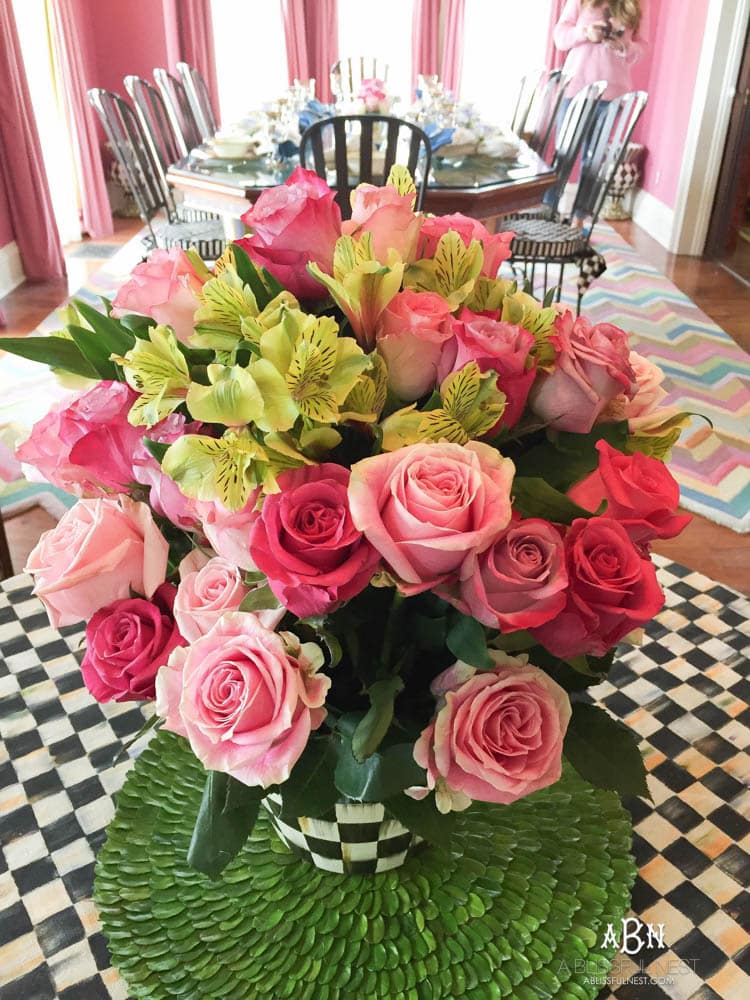 This room stirred up a bit of nostalgia for me because it reminded me of how my grandmother had designed her home. She had the most gorgeous fabric upholstered walls that perfectly matched her drapes just like this room. You don't see those little details as much in interiors anymore but I absolutely love it!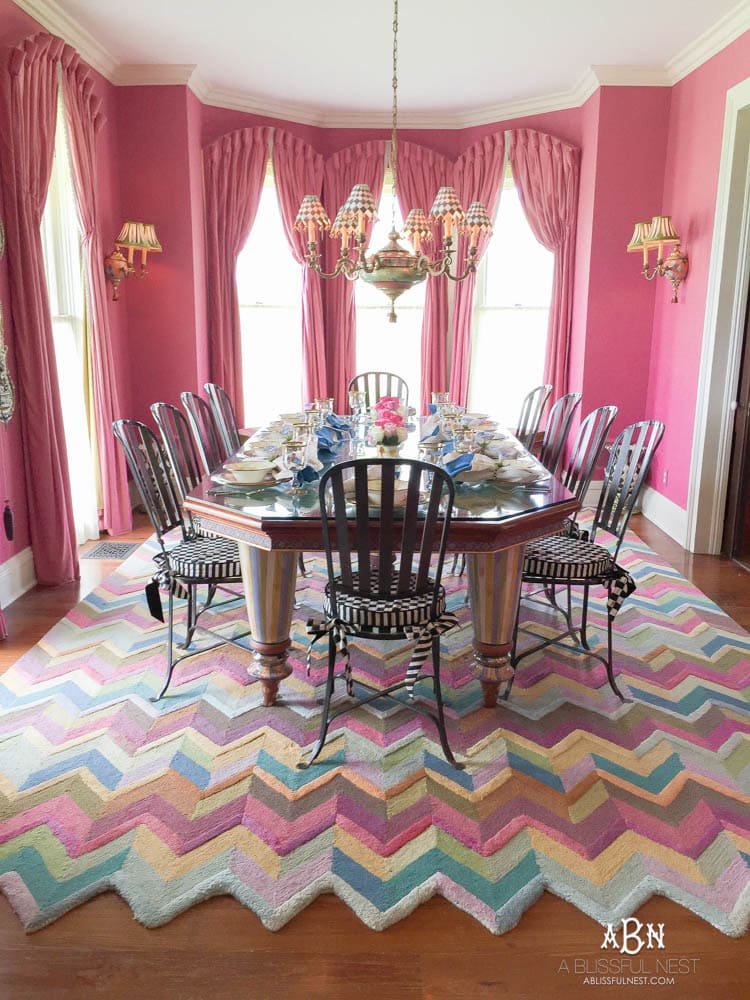 Everything from the lighting to the furniture and fabrics is all MacKenzie-Childs.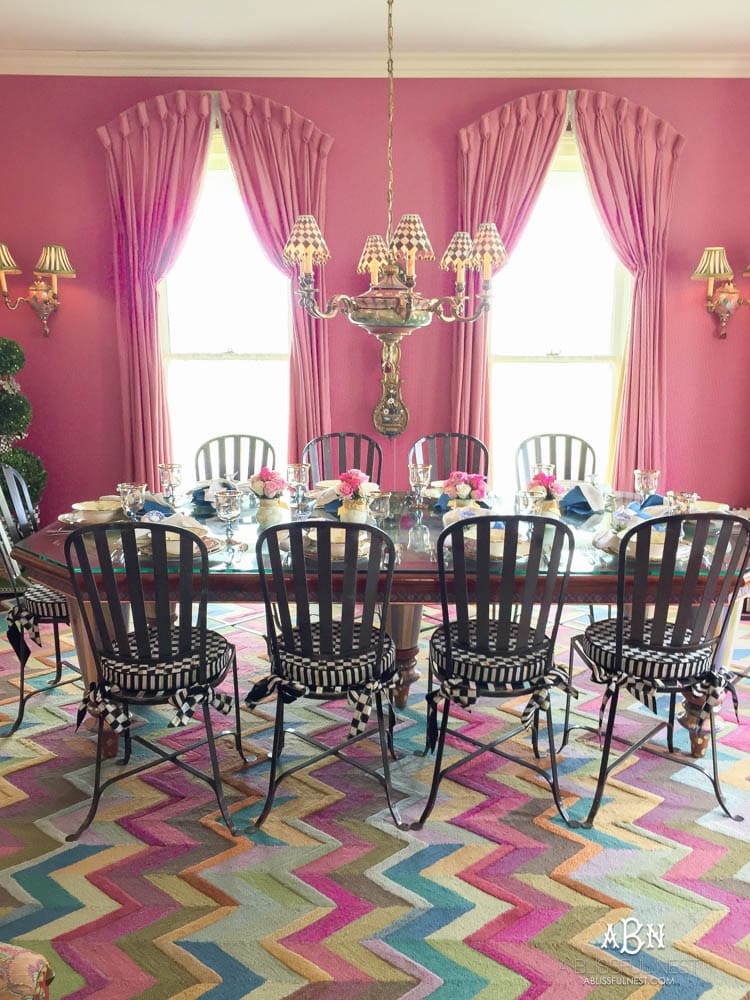 The kitchen blew me away too. The gorgeous pink and white checkered tile mixed with coordinating handpainted knobs on the cabinets is stunning.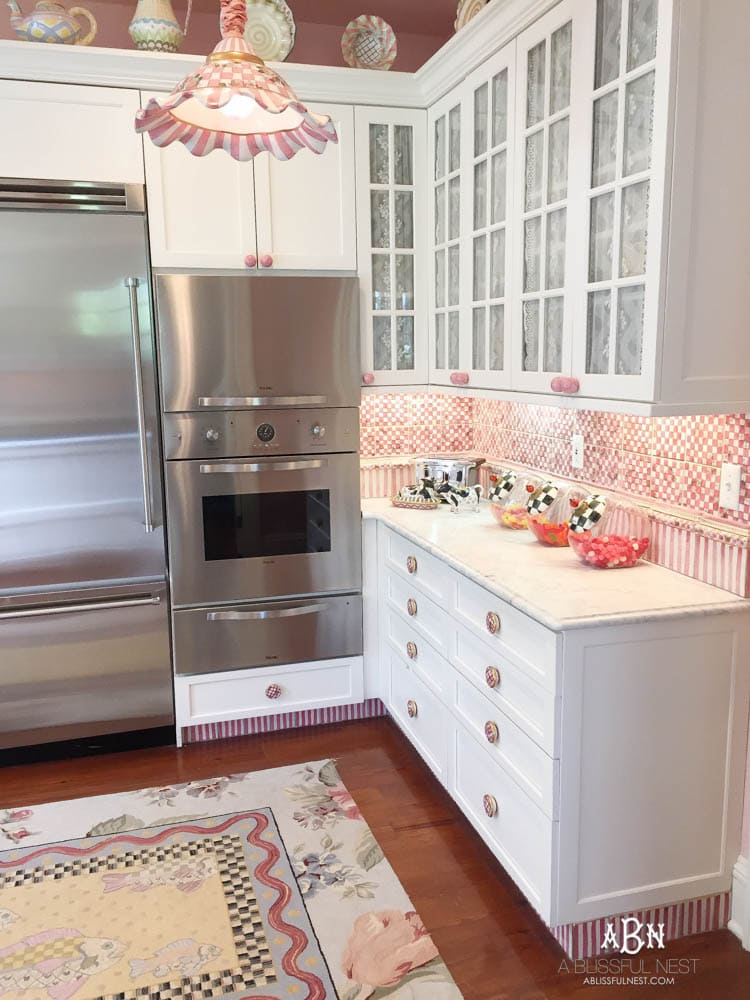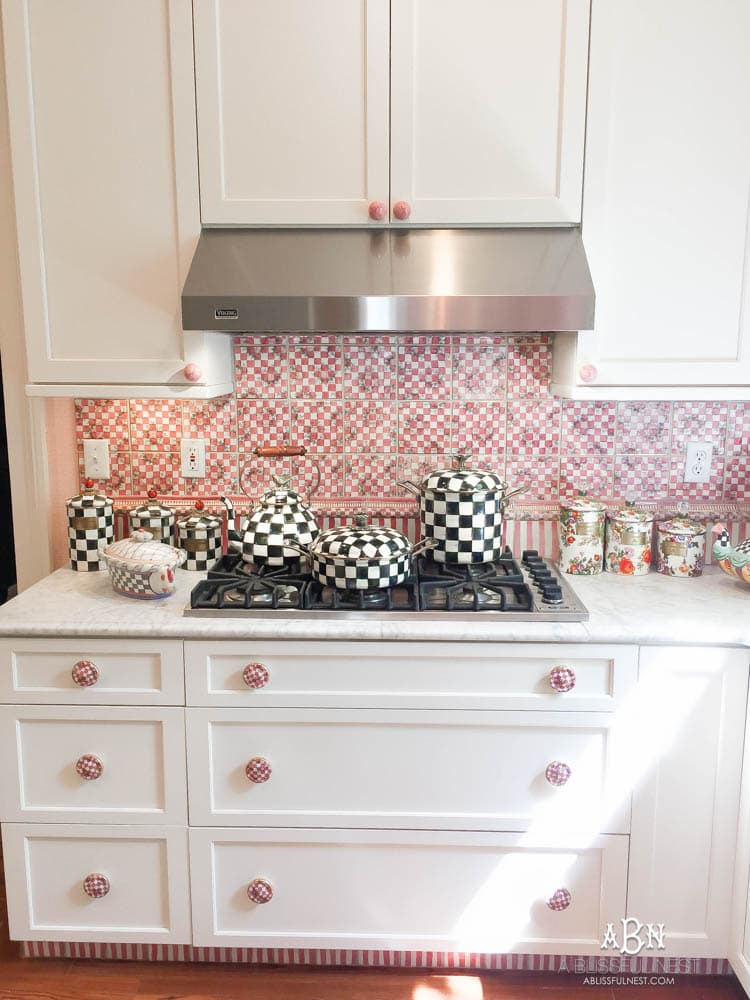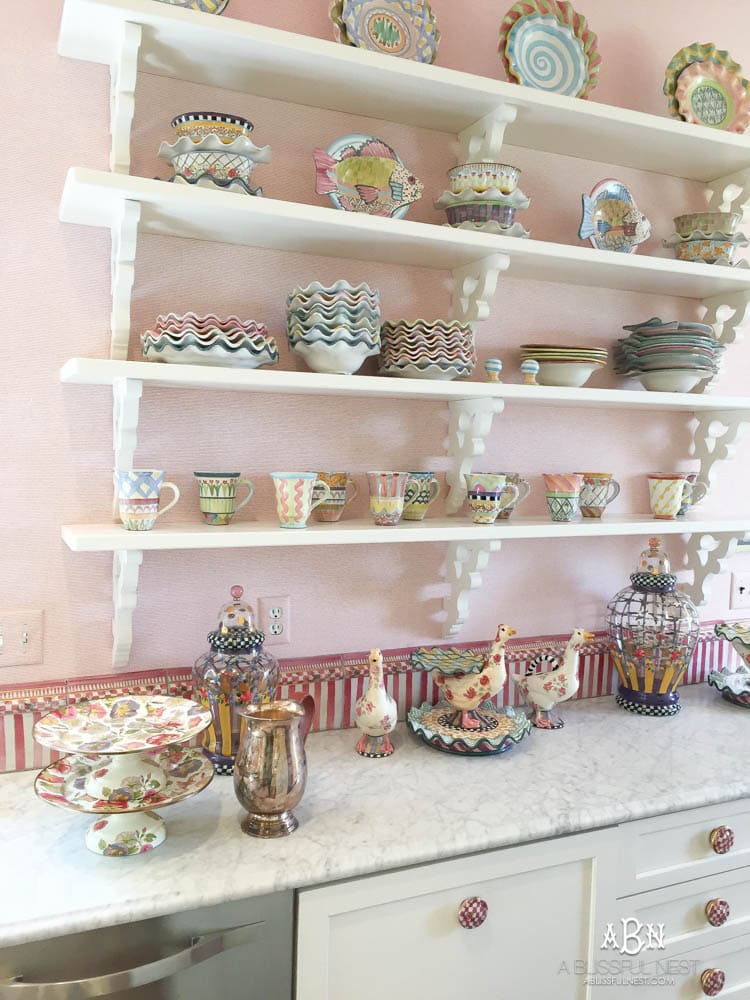 I also loved this little mudroom area too! So cute!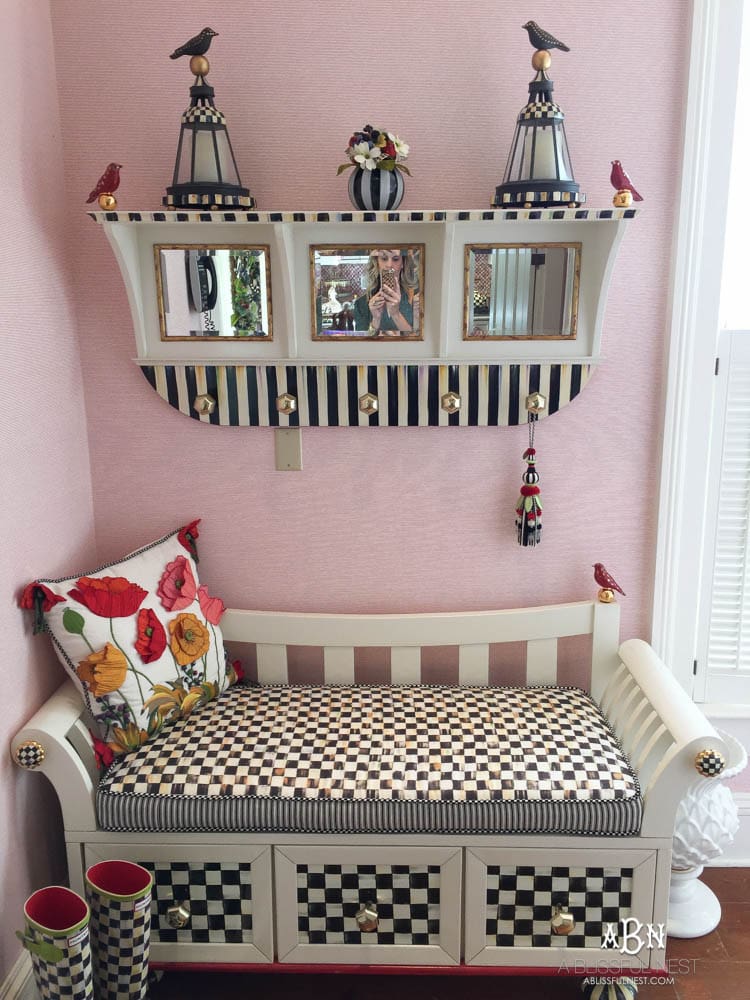 The bedrooms upstairs were each so different from each other but this one was my favorite with it's pink and white bathroom.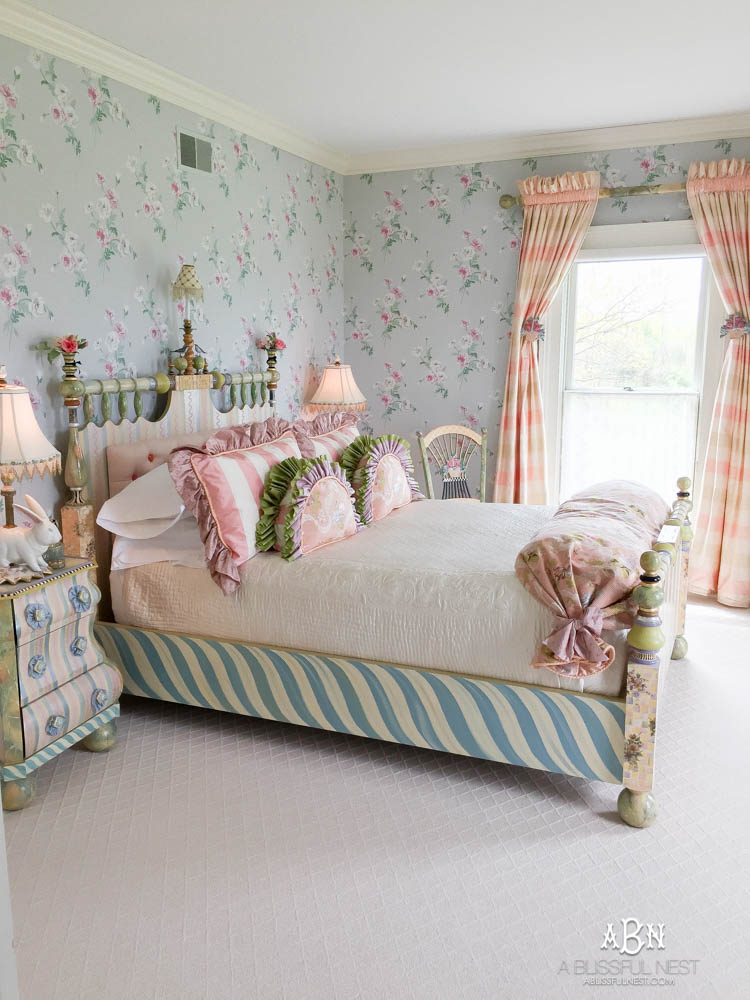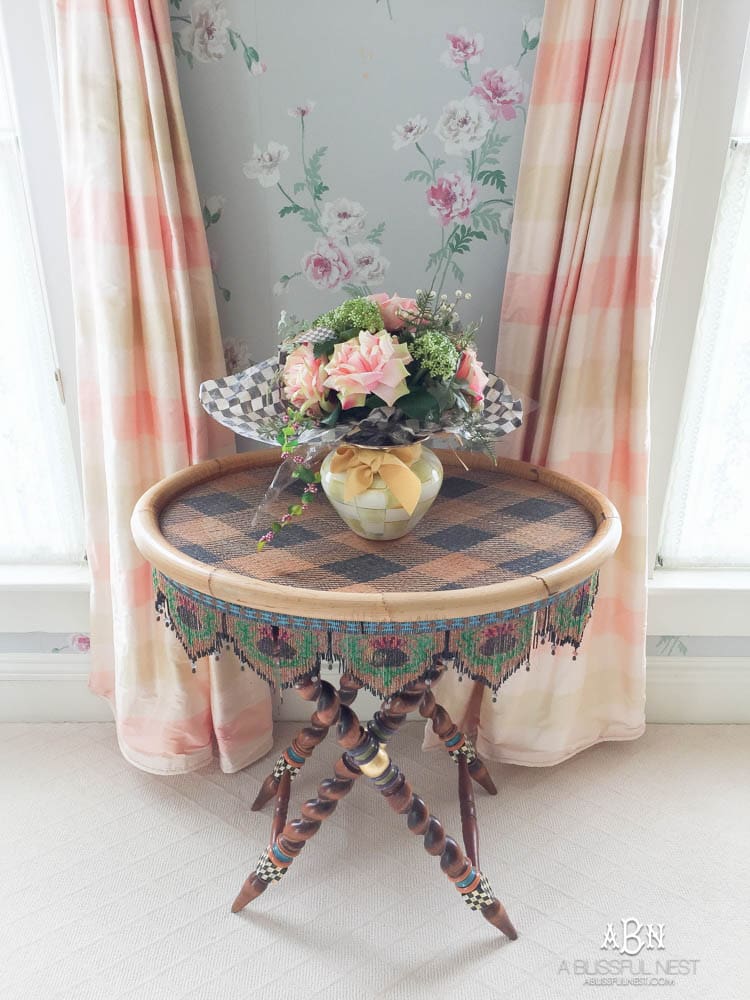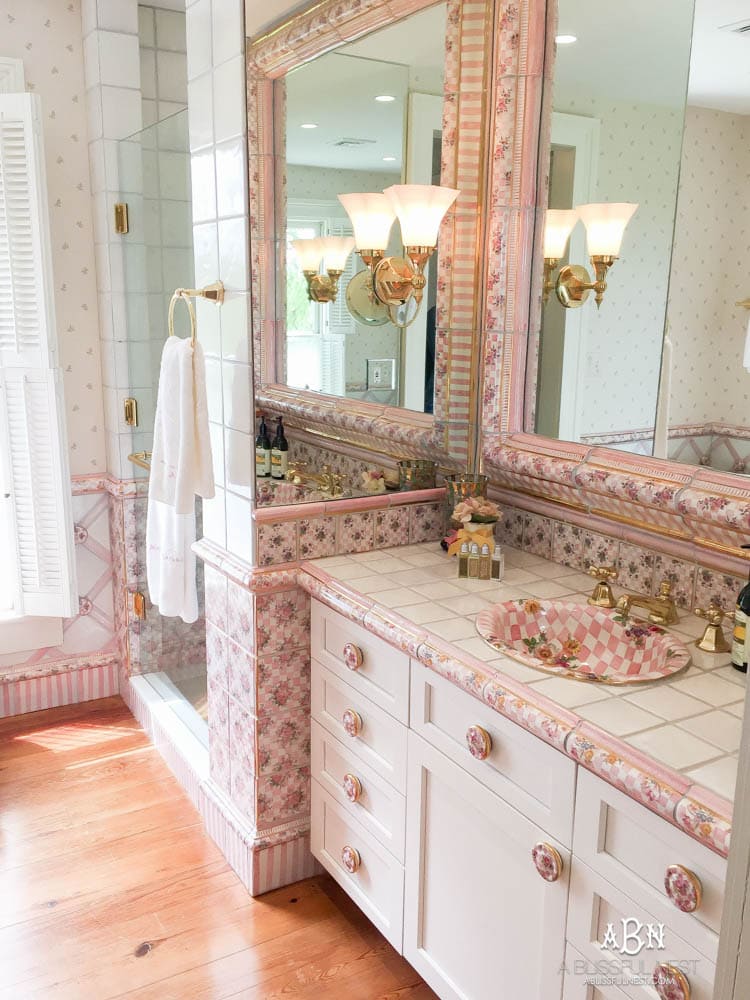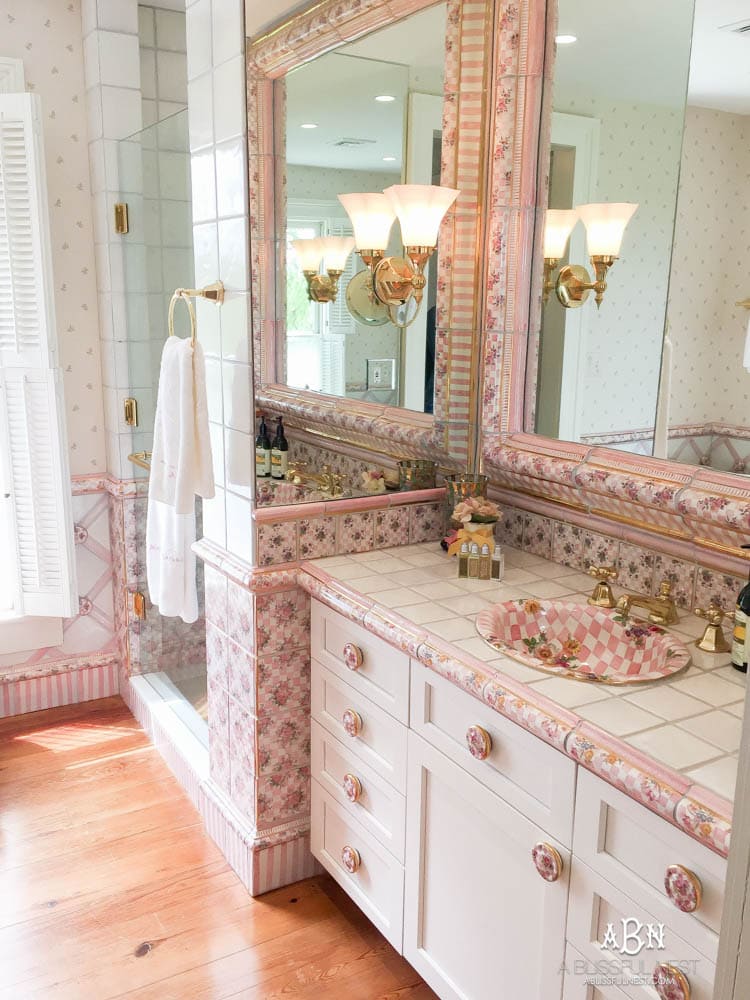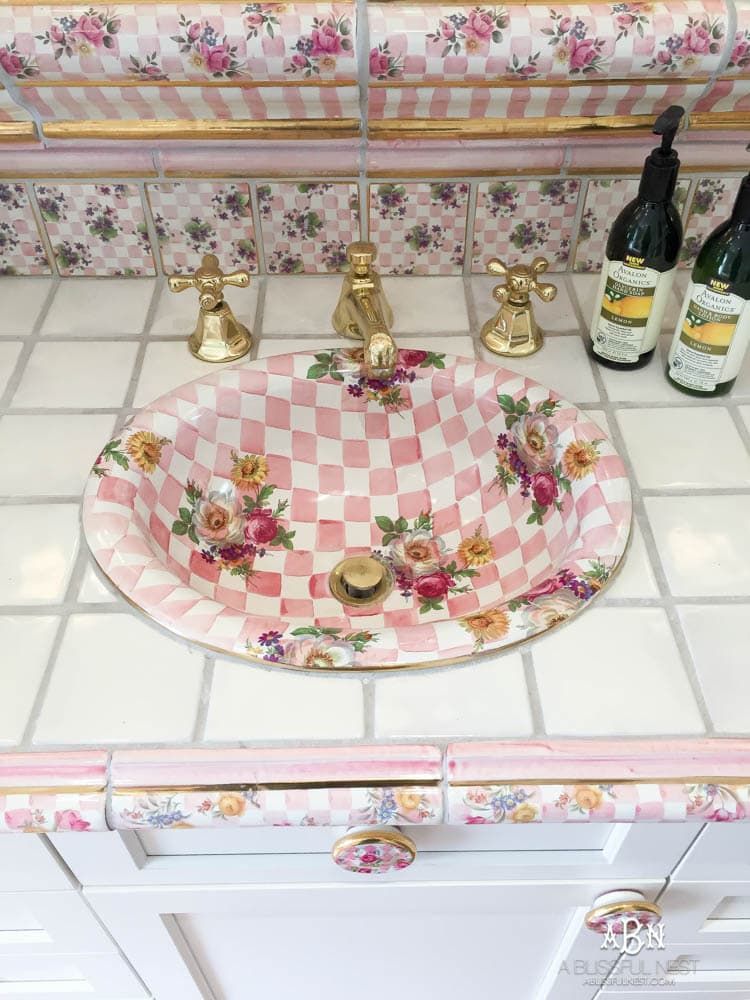 The MacKenzie-Childs Factory & Design Headquarters:
Right next to the farmhouse is the MacKenzie-Childs factory and headquarters. The property is manicured with the most amazing flowers grown in their own greenhouse on the property. At this time of year they had tulips and I don't think I have ever seen so many before. They were breathtaking.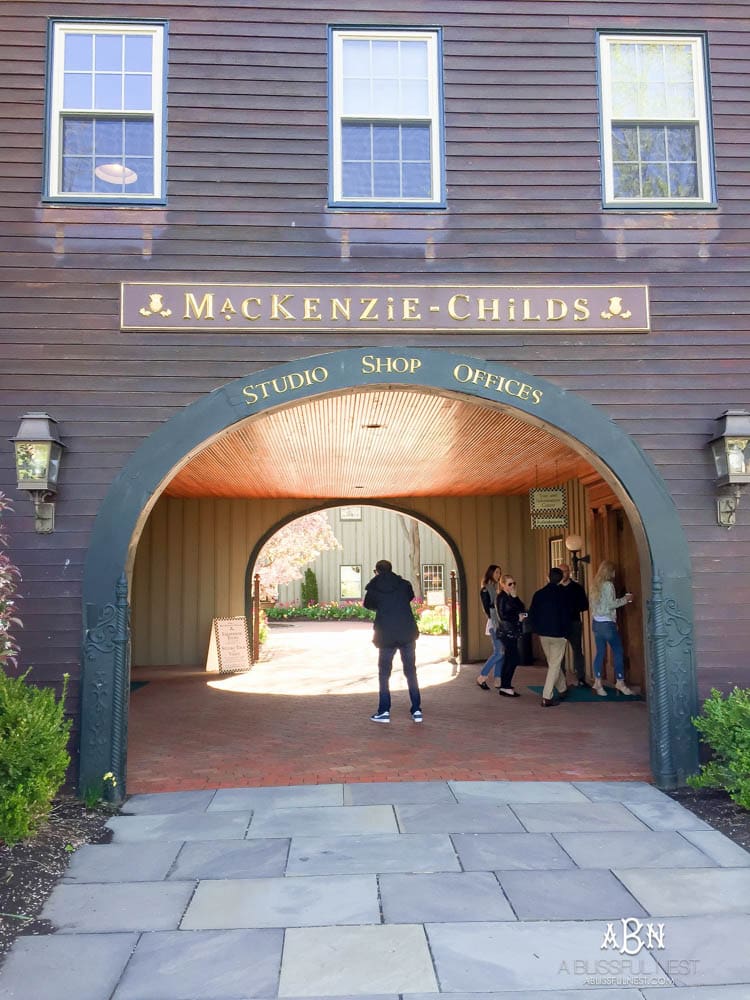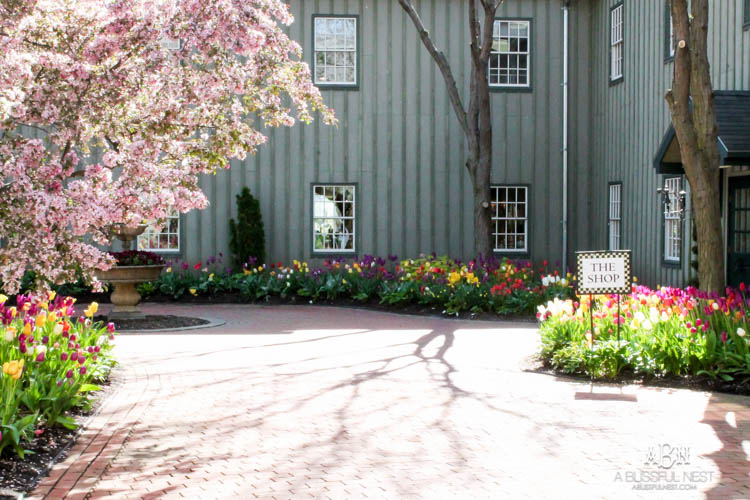 This little entry into their gift shop was one of my favorite spots. Just look at the lighting, planters and corbels!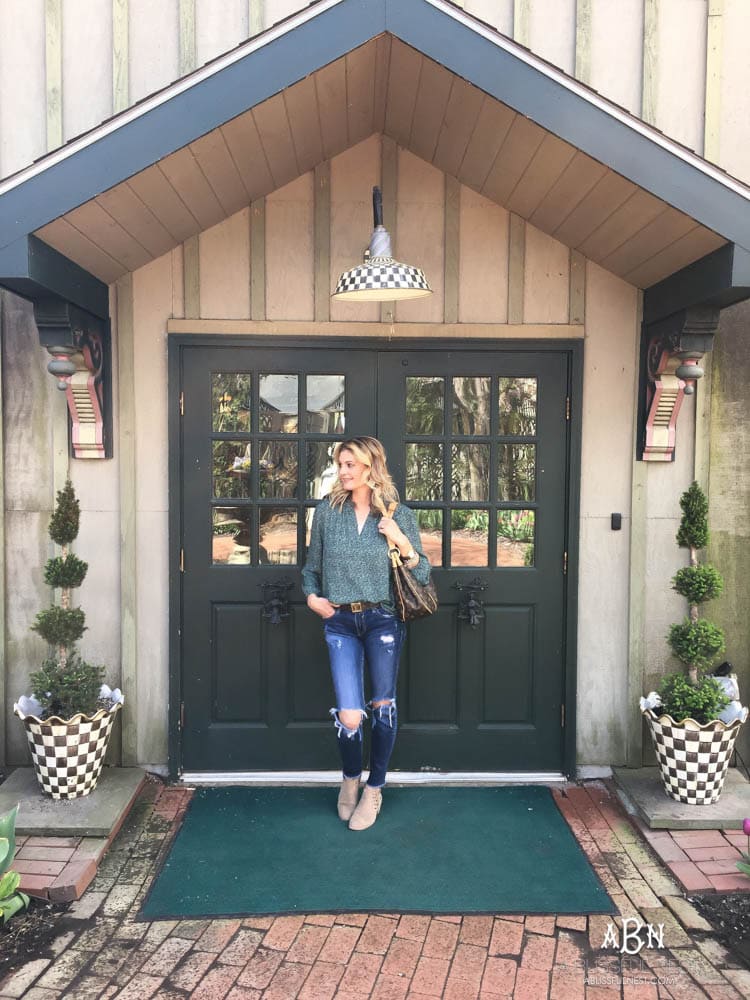 Touring the factory and seeing the attention to detail and craftsmanship that goes into every piece was amazing.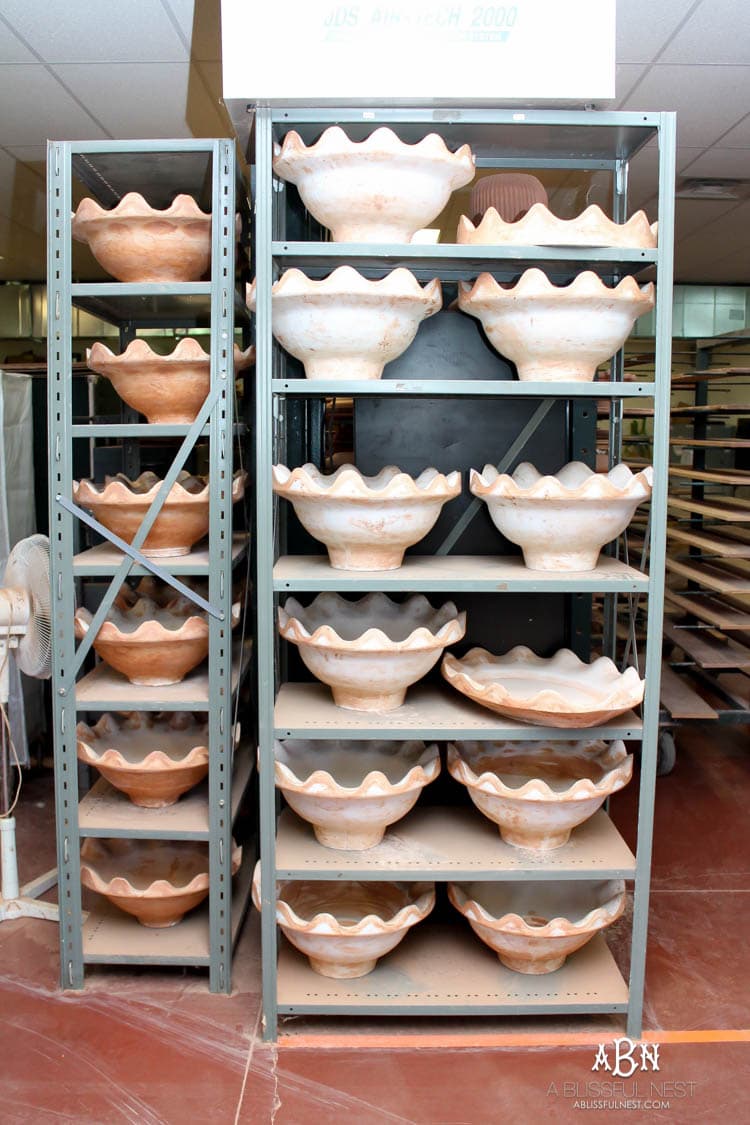 Each piece is handpainted and sculpted to perfection by the artisans. There is so much time and artistry that truly goes into every piece.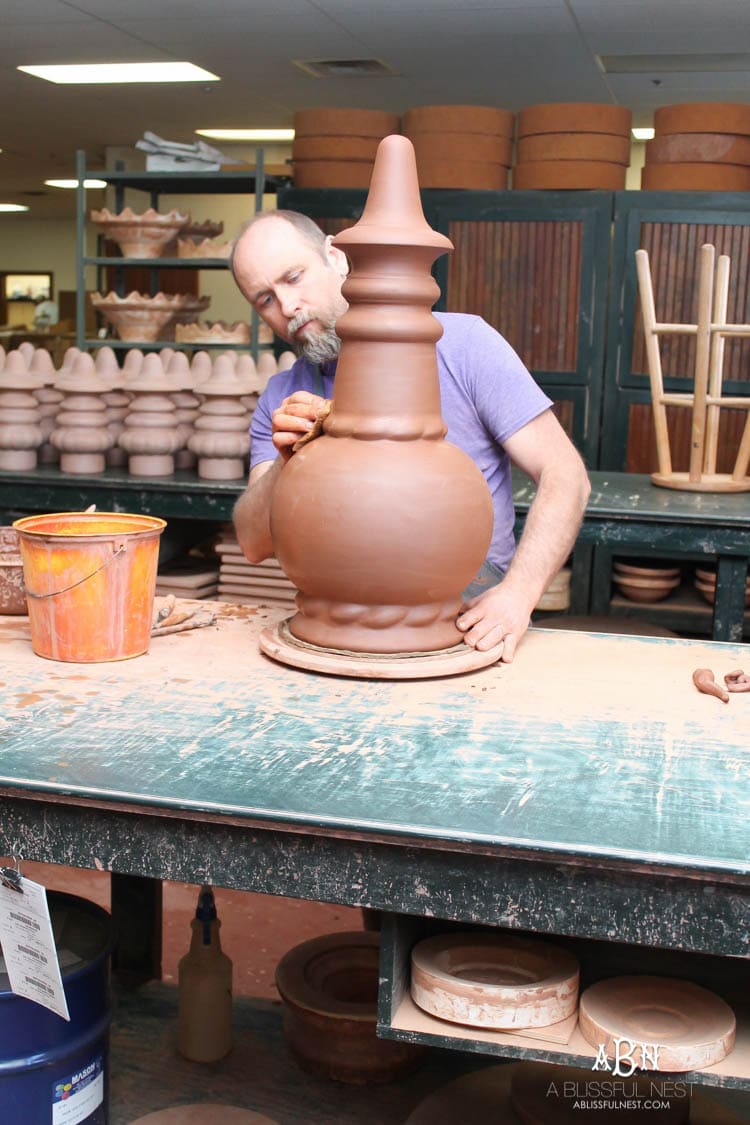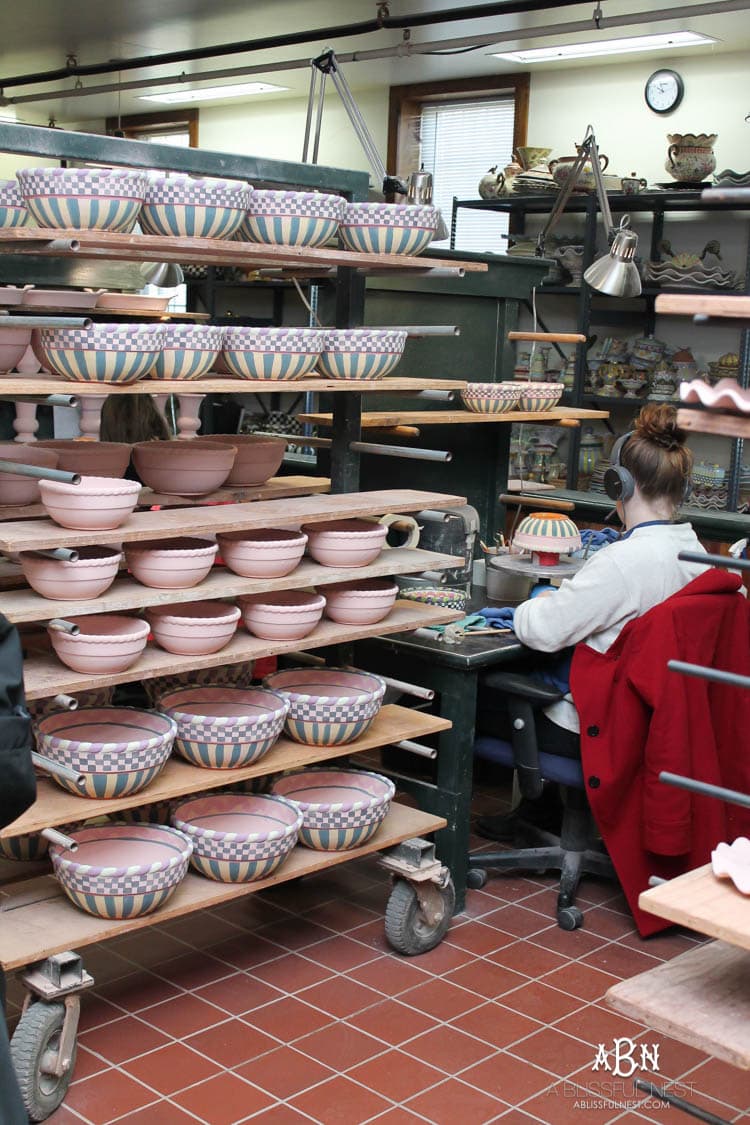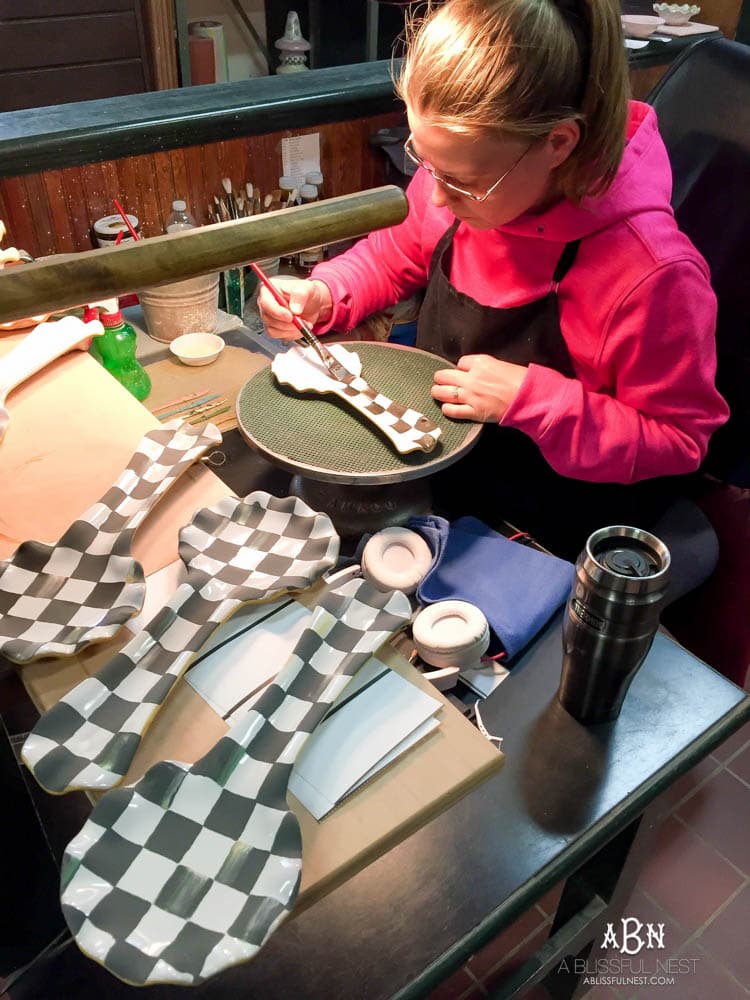 The MacKenzie-Childs property also has a farm with animals, a garden (that the employees can take vegetables home from), beehives and a greenhouse.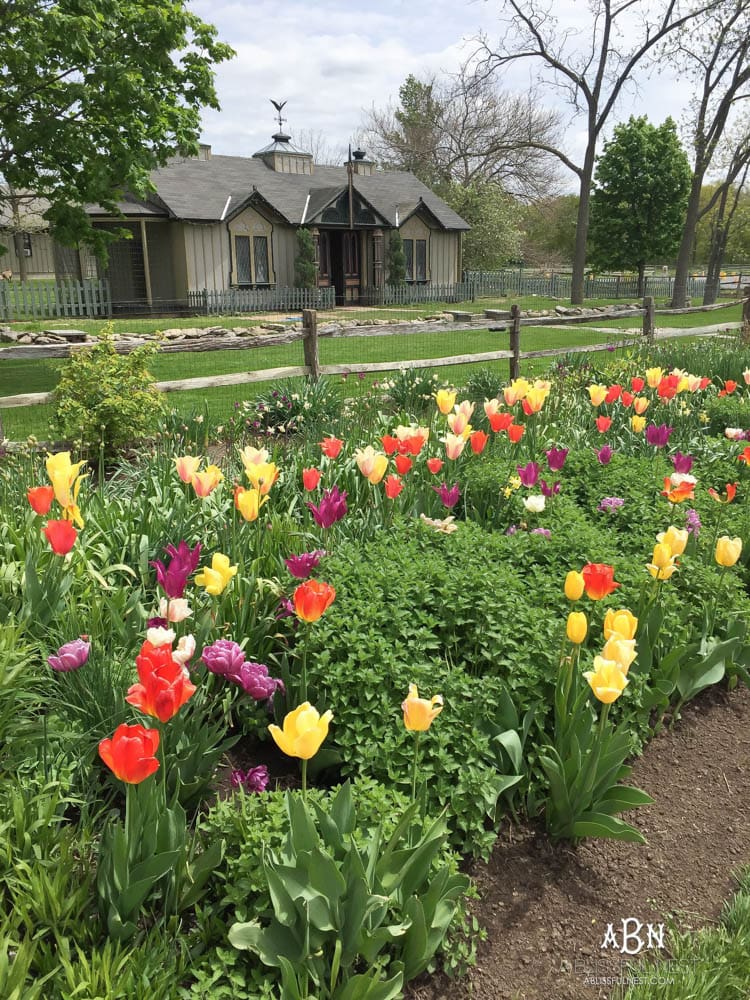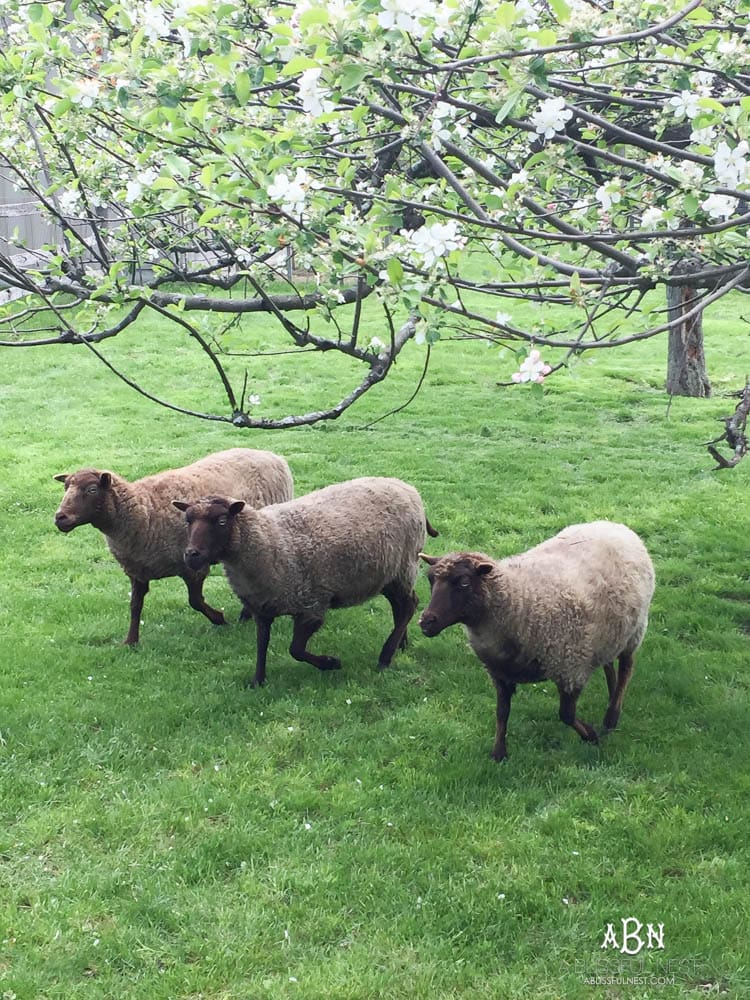 Of course this little gazebo was one of my favorite spots!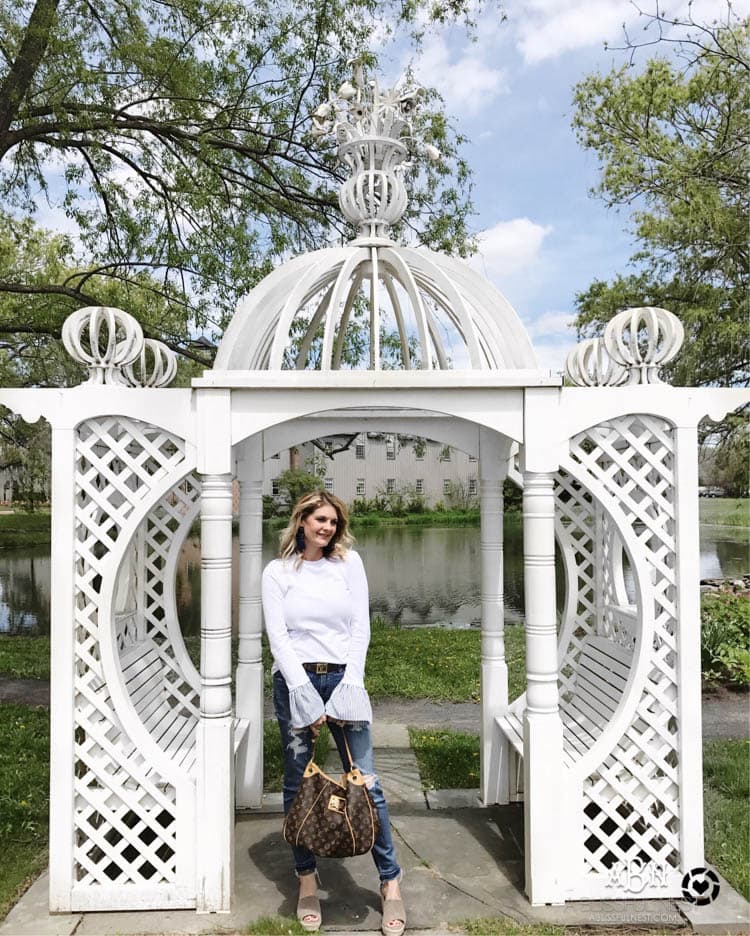 My Favorite Moments at #CampCourtlyCheck:
My trip was a packed 4 days but was some of the most inspiring, motivating and relaxing time I have spent in the last few months, that I had to share my favorites.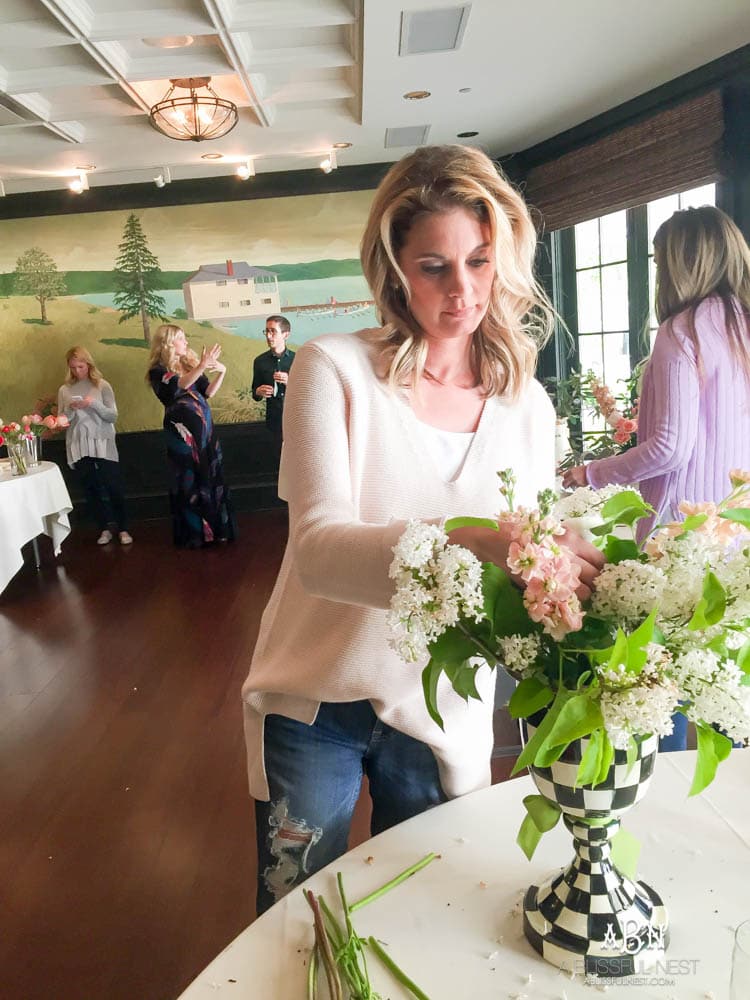 The first day we were there we had a flower arranging class. I loved picking my vessel and choosing from sourced locally grown flowers to create my arrangement.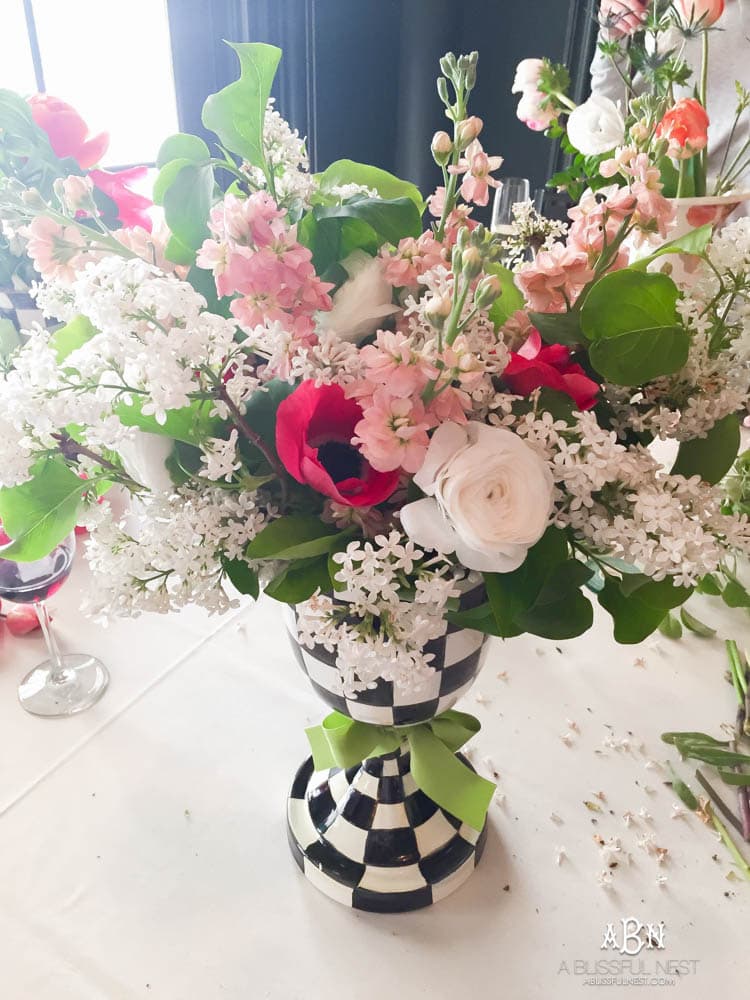 I have always loved arranging flowers and loved kicking off my time in Aurora with this relaxing and creative activity.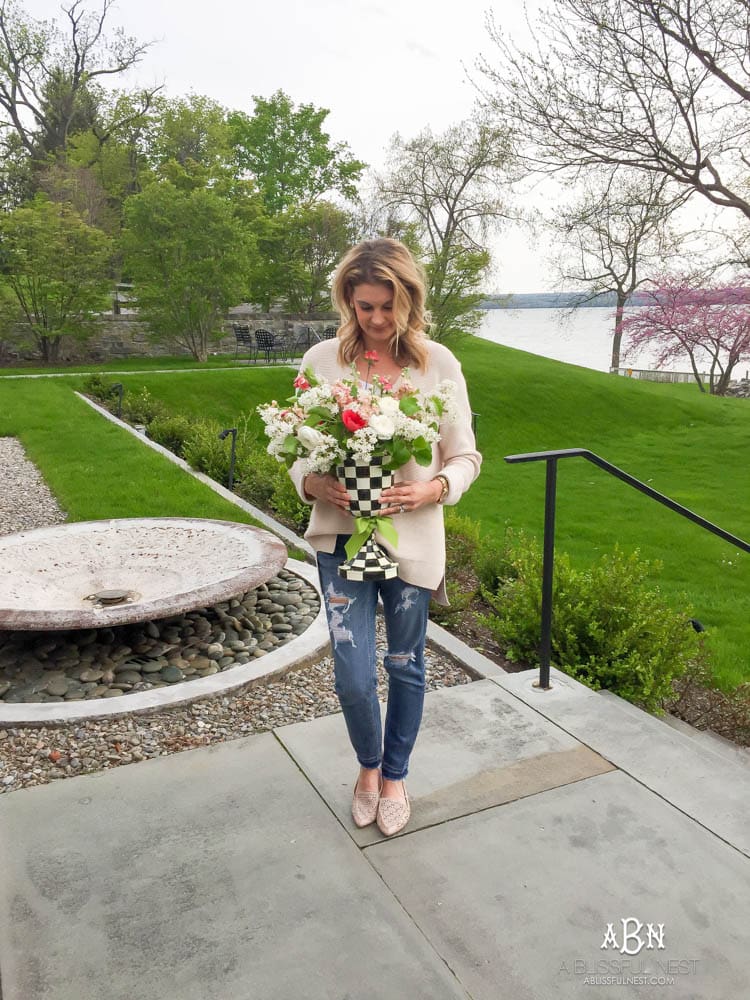 Spending quality time with these people in this room was definitely on the top of my list. We had lunch with John Ling the CEO of MacKenzie-Childs. I loved hearing about his background and his hopes and aspirations for the direction of this company. It was so inspiring and I loved hearing about each of the other influencers backgrounds too. I really loved experiencing all this with some truly creative minds.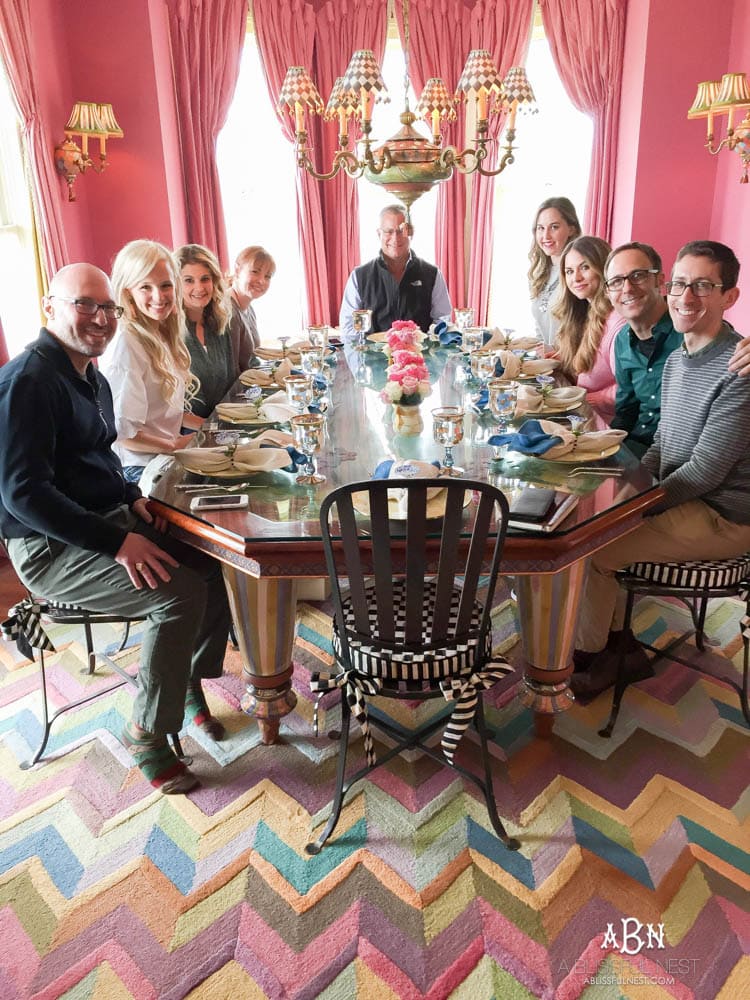 Sculpting pottery was high on my list too. I actually broke my first mug and it just showed me how hard it is to work on each piece.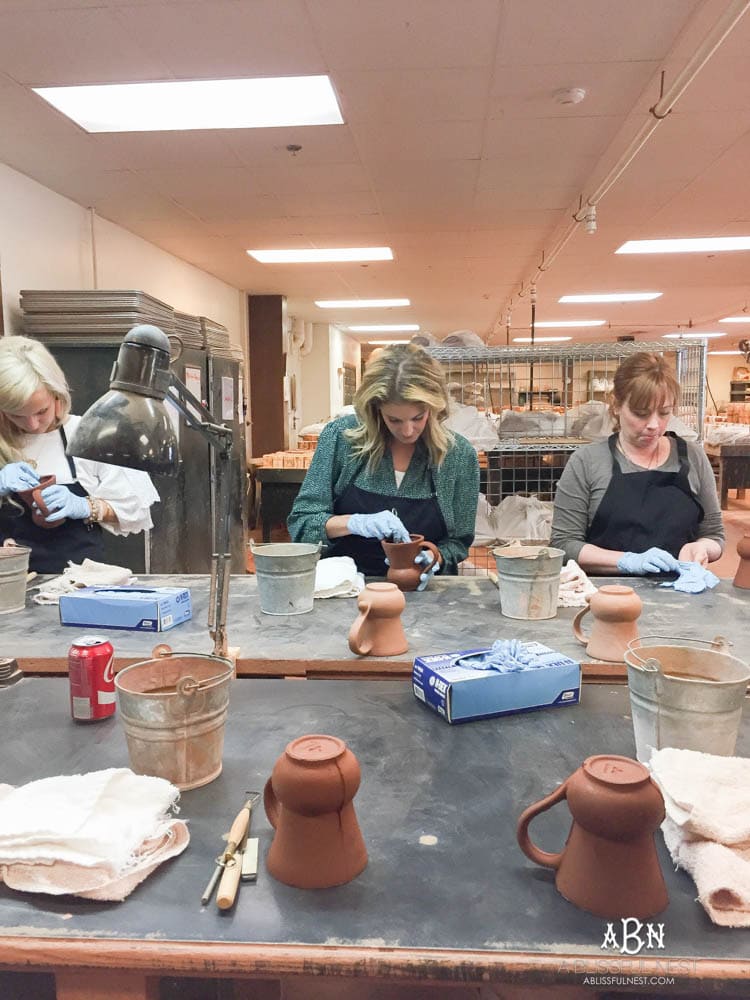 The next day I came back and handpainted my mug too. I love having this memento from my trip!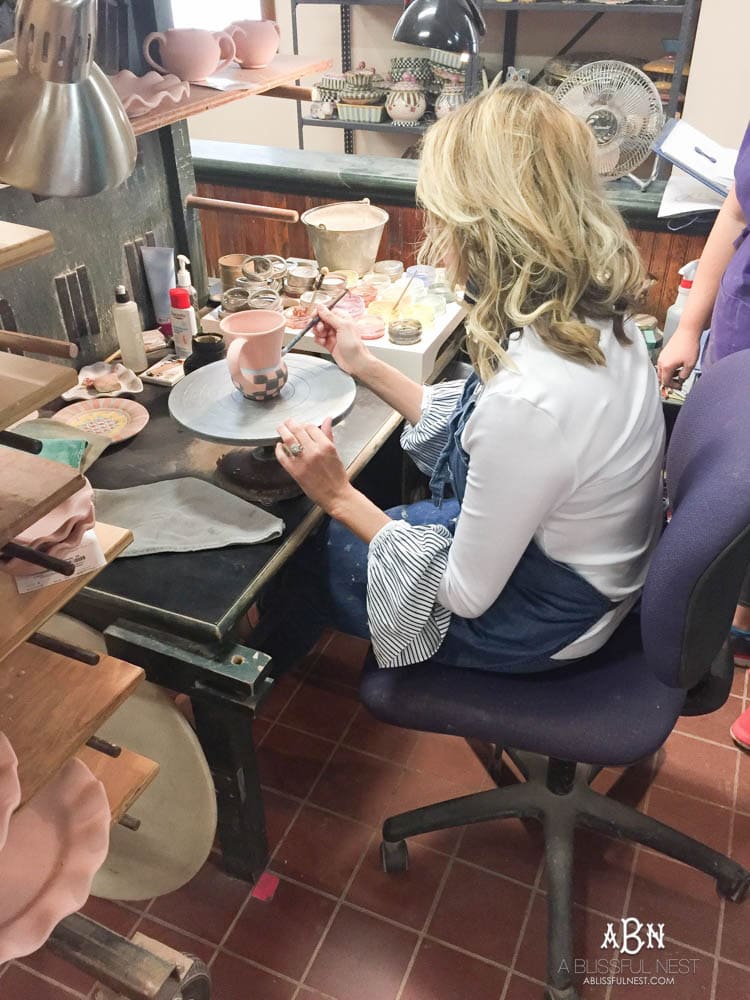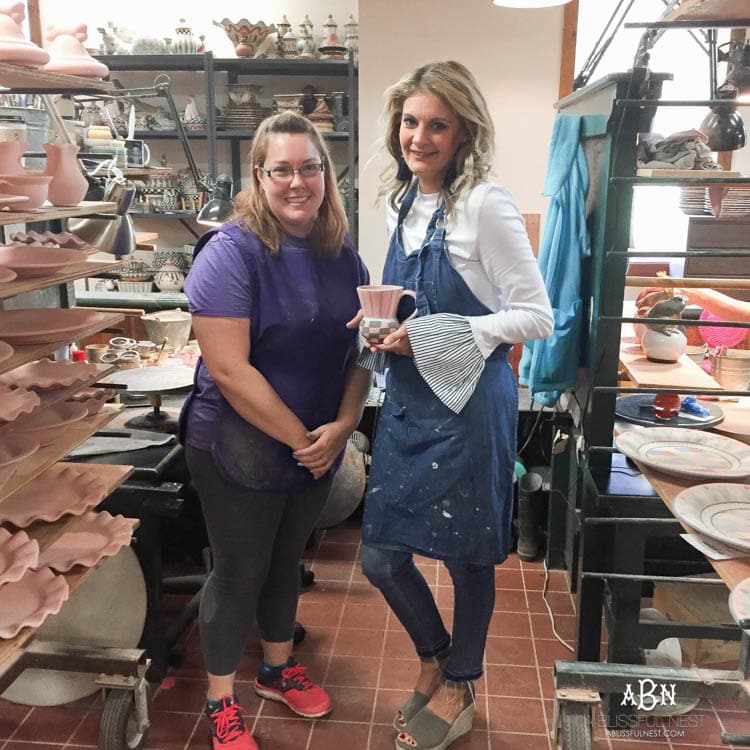 This really was one of the most amazing trips I've ever been on. I adored all the people on the trip with me and really can not wait to show you how I will be incorporating some of my favorite MacKenzie-Childs pieces into my home.
THIS IS A SPONSORED POST. A BLISSFUL NEST HAS RECEIVED PAYMENT, TRADE, AND/OR PRODUCTS FROM MACKENZIE-CHILDS IN EXCHANGE FOR PROMOTING. HOWEVER, ALL OPINIONS STATED ARE OUR OWN.