Our Entryway Design Plans
Who is ready for our entryway design plans?! I've missed you all and took a much needed break to get moved into our new home (you can read more about our new home build HERE). It was a crazy long move day and it has not been as easy as I would have liked to get settled in. BUT, I finally have internet again (the joys of moving more towards the country – you don't get service set up as fast) and though we are still living in tons of boxes, I see the light! One of the first spaces I've been able to get finished is out entryway. This is such an important space in a home and I had so much fun designing it. So you all are going to see my style and things I've picked for this home are slightly different than our last house. I wanted a fresh clean and modern vibe to my coastal style. But before we get into all that good stuff, I wanted to take you on the journey of watching this space be built from the beginning to where we are now. I know for me it makes me appreciate the finished look even more and it is so fun to watch something transform into a new space.
This post contains some affiliate links for your convenience, which means if you make a purchase after clicking a link I will earn a small commission but it won't cost you a penny more! Click here to read my full disclosure policy.
Our Entryway Design Plans:
The design build process on our entry.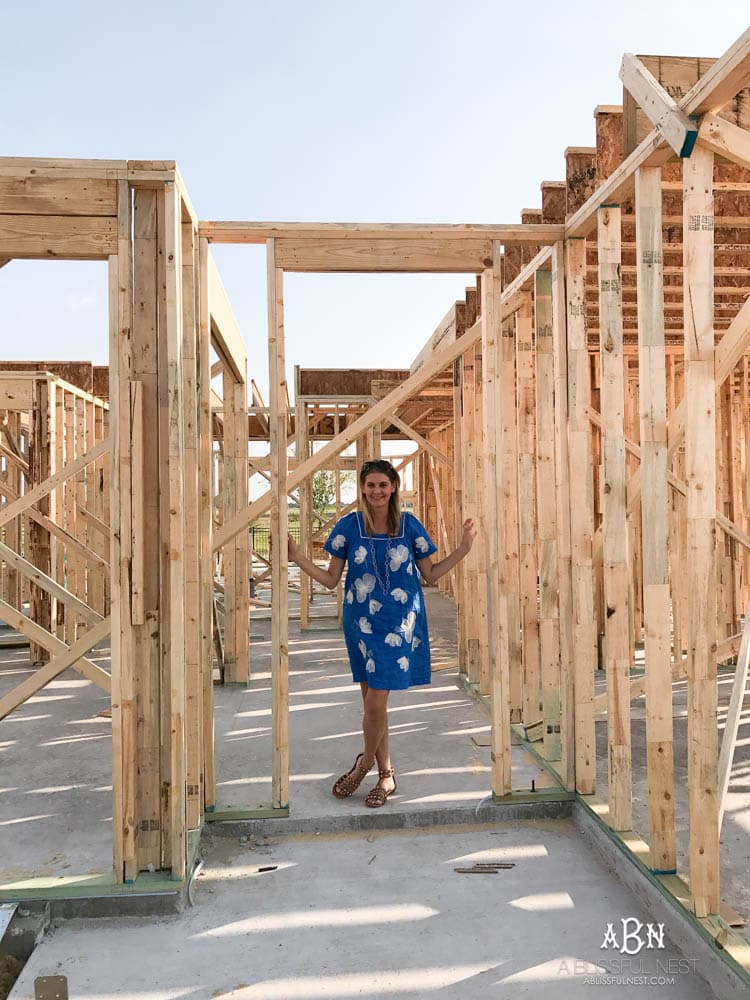 This day back in September was such a special one. This was the day we drove up and we had WALLS. If you have ever built a home, then you know this is something monumental. To see this stage after months and months of planning is so crazy surreal. This is me standing in our entryway where our front door now is.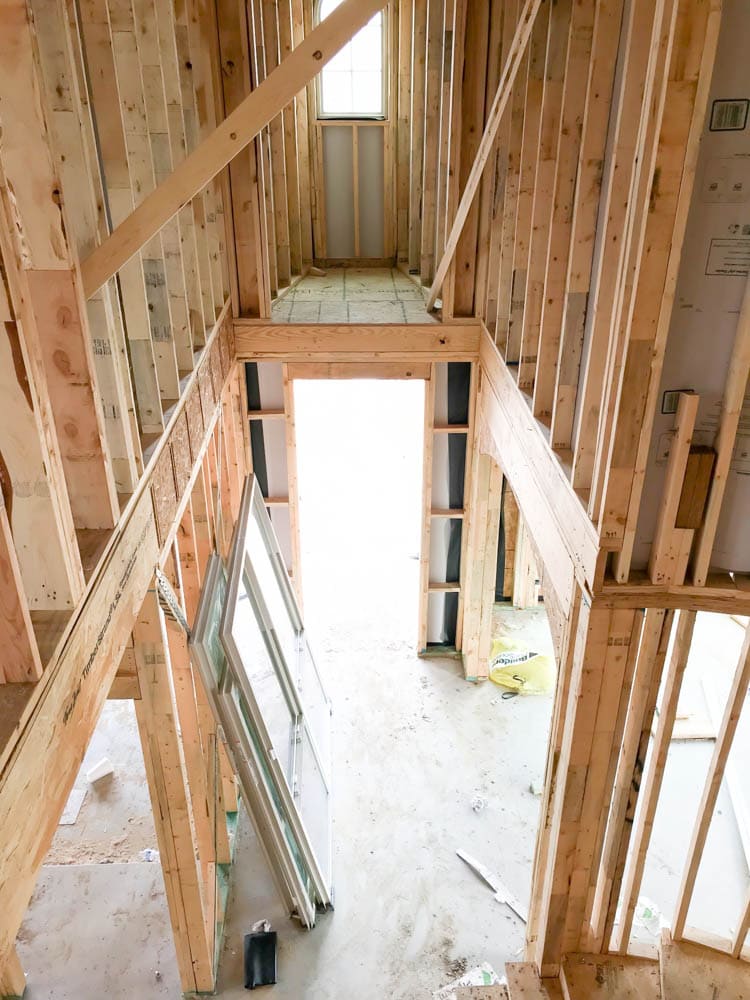 Creating a focal point.
Fast forward a few weeks, and this is the interior of the entry after exterior drywall went in. One of my favorite details is that little niche with a window high above the entry space. It lets in light and is so pretty to look at when you come down the staircase. I still have not decided what will go there and I just may not put anything there. I would love to know your thoughts so put them in the comments if you think I should leave it bare or put something there.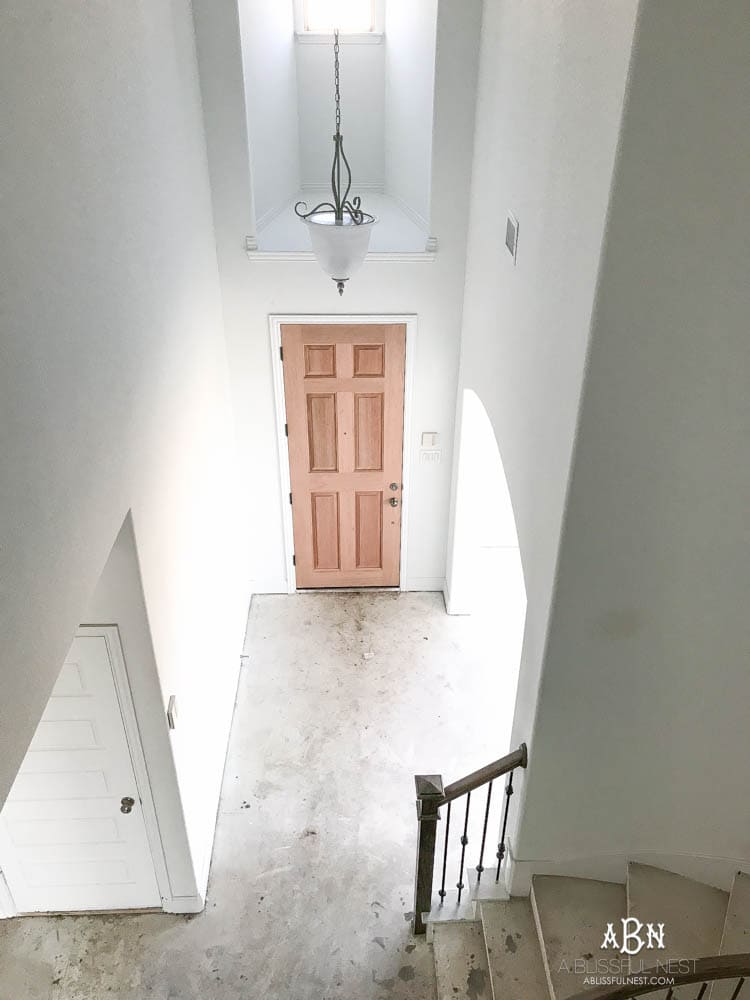 Move into December and all the interior drywall went up and our doors were installed. I wanted a simple paneled door to go with the rest of the clean lines of the house. Our entryway actually has 2 little spaces that flow right into each other. There is this space right as you walk in that faces the dining room and then the niche tucked into the curve of the staircase.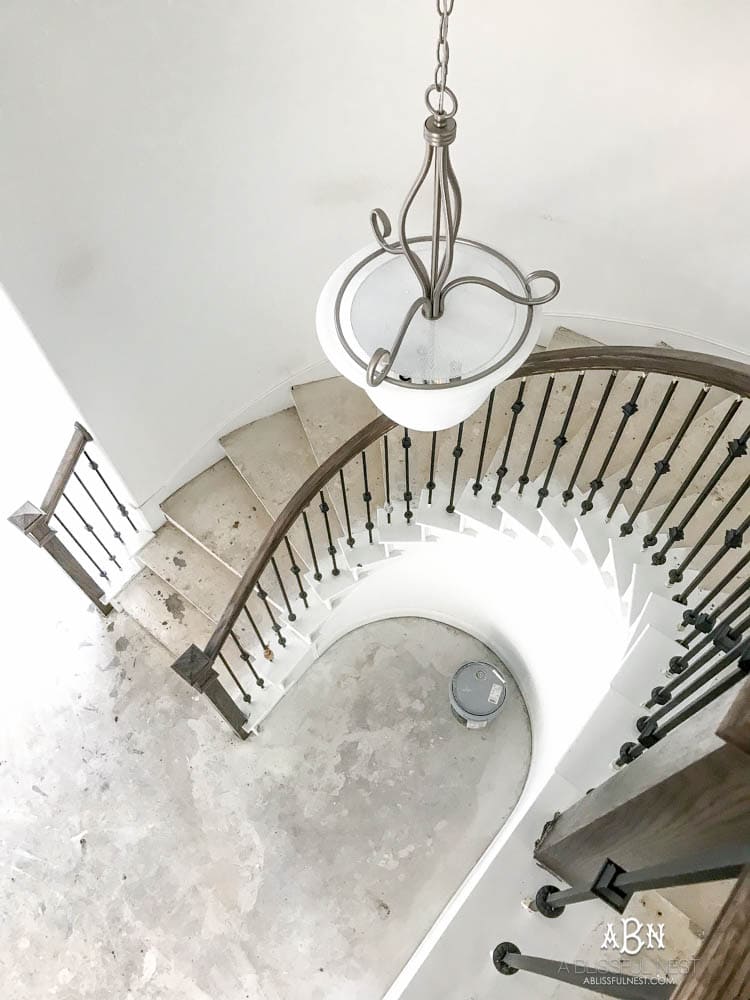 Completing the space.
Then this is the completed space right before we moved in. I went with a dark stain for the front door, white walls and a slightly lighter color on the floors. I love the stark contrast of it all and it has been the perfect blank space for me to decorate.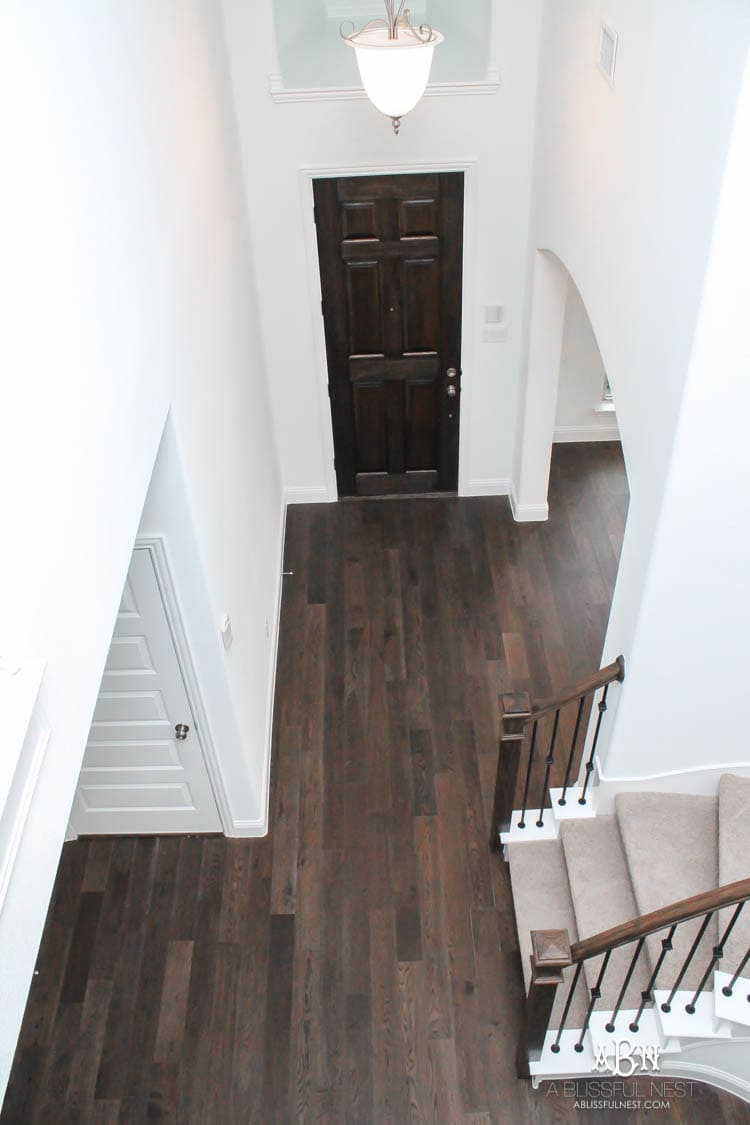 As you can see there is all the builder grade lighting in and it is being replaced today. I seriously can't WAIT to see my lighting go in. It is the jewelry to a room. We were not allowed to have it installed during construction (the downside to building a semi custom home) so really it will be a big transformation when they go in.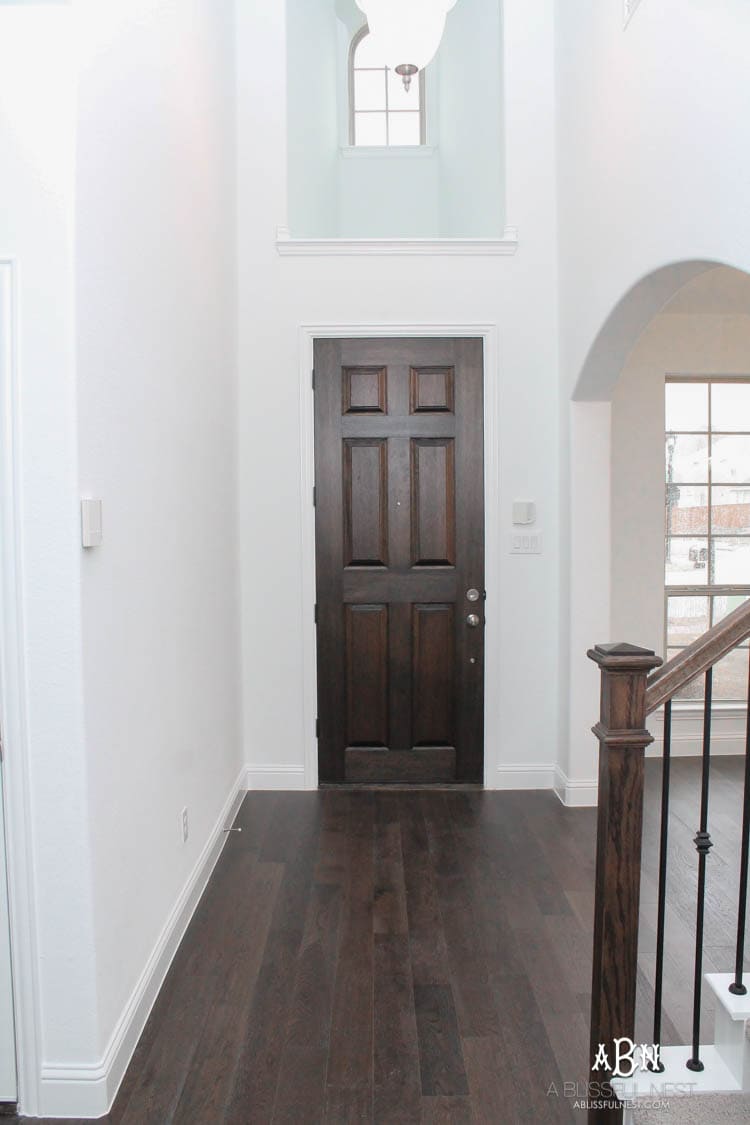 This is the wall you look at from the dining room that is right inside the entryway.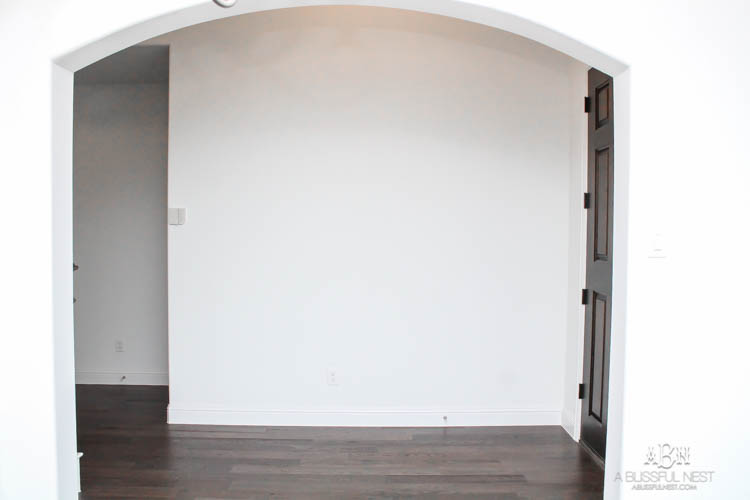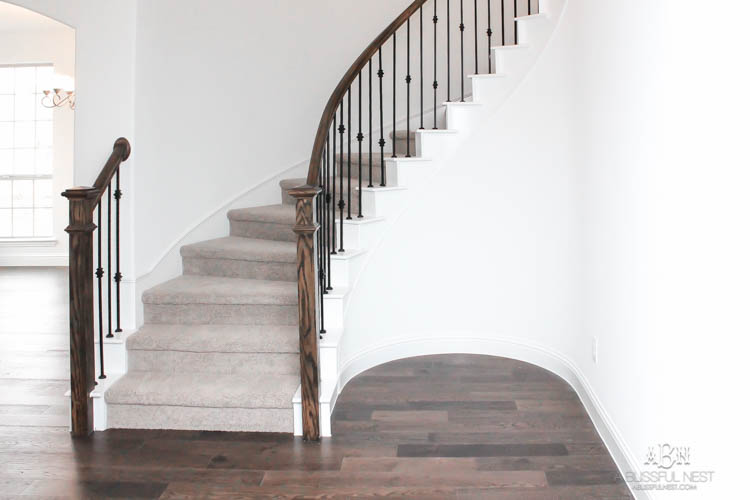 And this is the incredible curved niche at the base of the stairs.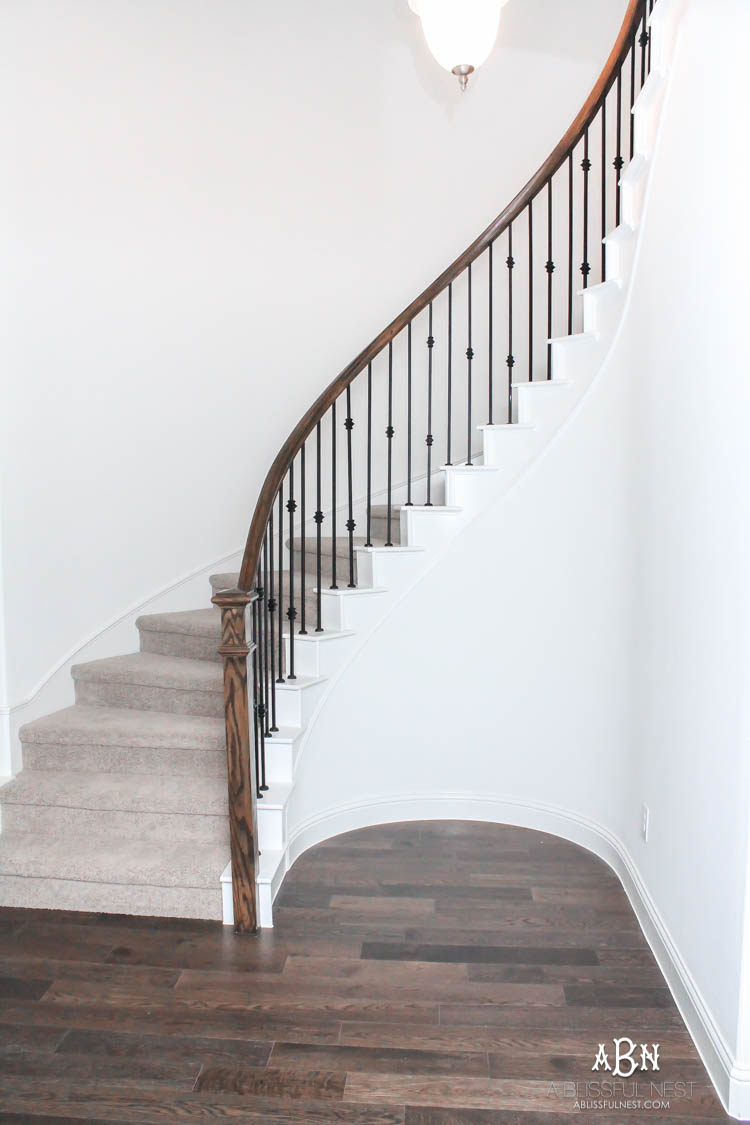 So who is ready to see what I have planned?!! I chose a lot of black accents for our home and only small touches of gold which you will see in the kitchen area. I am not a super glitzy girl and the gold trend is a bit much for me (at least everywhere in my home). Since the entry area right inside the front door is narrow, I chose this lucite console and you guys it looks AMAZING. I mean even my husband loved it and he never really comments on what I put where. The tall arched mirror will be perfect since the ceiling height is 2 stories and the lantern fixture will compliment it perfectly. Of course I had to add in some blue and this MacKenzie-Childs rug is so soft on your feet. This wood beaded chandelier will be going in the stairway and will be so beautiful above this simple table with flowers in the stairway niche. My custom watercolor ocean art print from my dear friend Kori Clark will be hung here front and center so you see it as you walk in.
1 | 2 | 3 | 4 | 5 | 6 | 7 | 8 | 9
So what do you think?! I will be sharing the official full reveal next week so stay tuned! In the meantime you can shop all the items I selected by clicking on the pictures below.