I have had this post in drafts for awhile now and I think I've just taken for granted how easy it is to share house updates on IG Stories that I ignored any of you that don't follow me over there. It has been a super long time since my past post and you can catch up and read that HERE. I am so so sorry friends. I promise over the next few months as they are finishing up our home to share more here on the design plans and updates of the process. That was always the plan and I got lazy! Geesh.
So I thought today was a good day to talk about our exterior plans for the house since they delivered our stone and brick at the end of this last week and will be putting it up this week. I do have to say, out of everything I have selected so far this was by far my hardest decision. Honestly I am more of a stucco girl coming from California than a brick person. And looking at 3×3 samples and trying to envision a whole house in it is SO stinkin' hard, even for someone like me who does a lot of design work. So with that said, I'm crossing my fingers and praying that I love it when it is installed. But through this process, I've learned some good rules to follow for anyone selecting exterior finishes.
Selecting Exterior Finishes For Your Home:
So let's start here with a rendering of the front of our home. There are 3 windows above the garage where the media room is and then the windows on the left bottom are into the dining room. It is a lot of house in the front so we needed it to not look to heavy.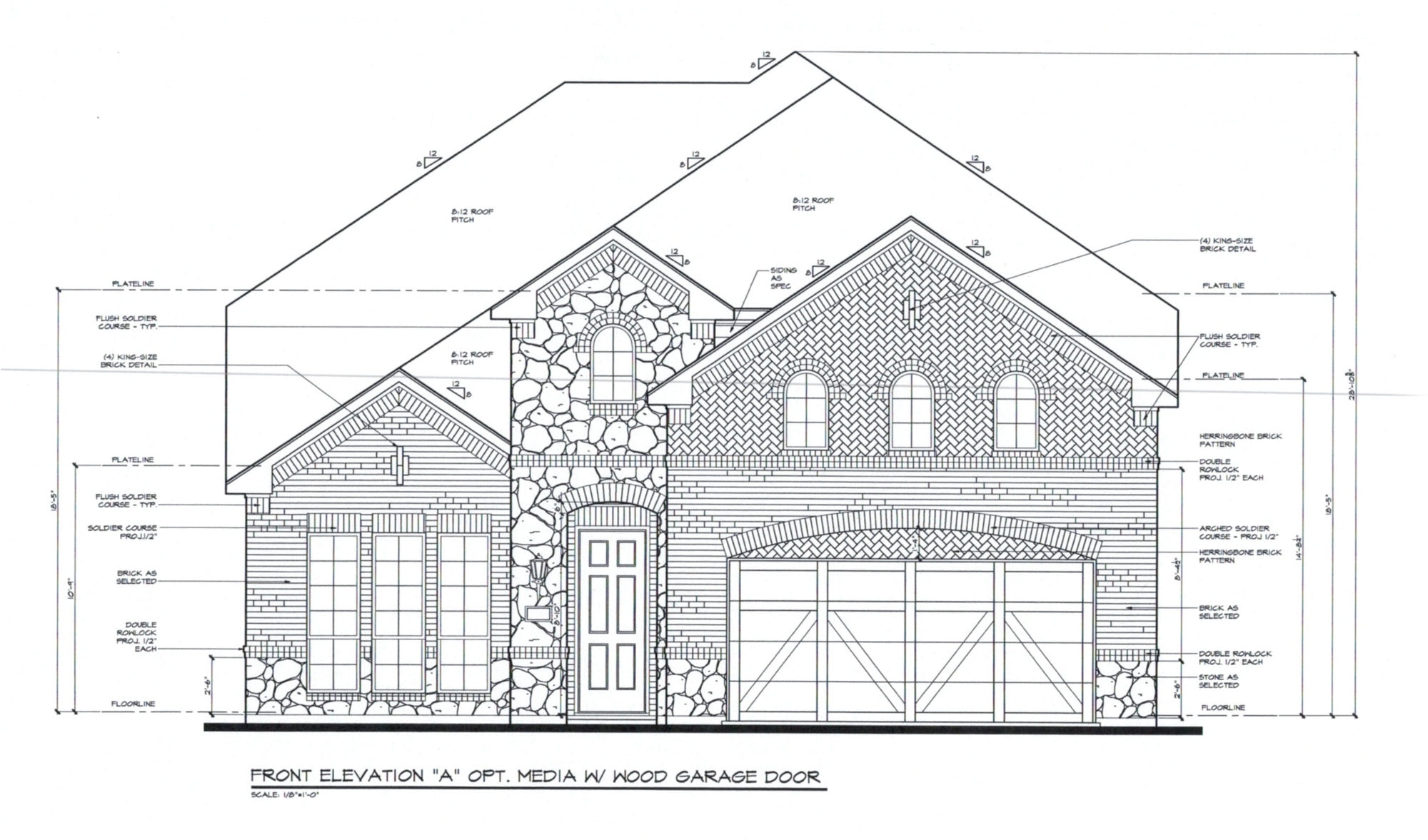 1. Brick Exterior Inspiration:
The first thing I did was drive around our neighborhood and get some good inspiration for the look I wanted to achieve. In a semi-custom home, the options can be somewhat limited. I had no idea that 3-4 houses in a row can not have any of the same brick selections. Since we were one of the first to build on our block, I was lucky and had a lot more options. Always check this with your builder and keep it in mind when selecting your property in a housing development like this.
Here are examples of homes that I loved their brick layout and/or color from around our neighborhood. The overall look I wanted was a washed out brick look with not a lot of red in it. I also didn't want the brick to look to dark and heavy. Little did I know how hard it is (unless you majorly upgrade!) to figure out how to achieve this look. At first, my husband and I chose a plan that was all brick. I thought it would be just fine and I would just get a German smear looking brick with lots of mortar. Well, I guess that is not a very popular look where we are building and I ultimately did not like the look of all brick.
After looking at this one below that had more of that German smear look, I decided the brick just looked too dark for me.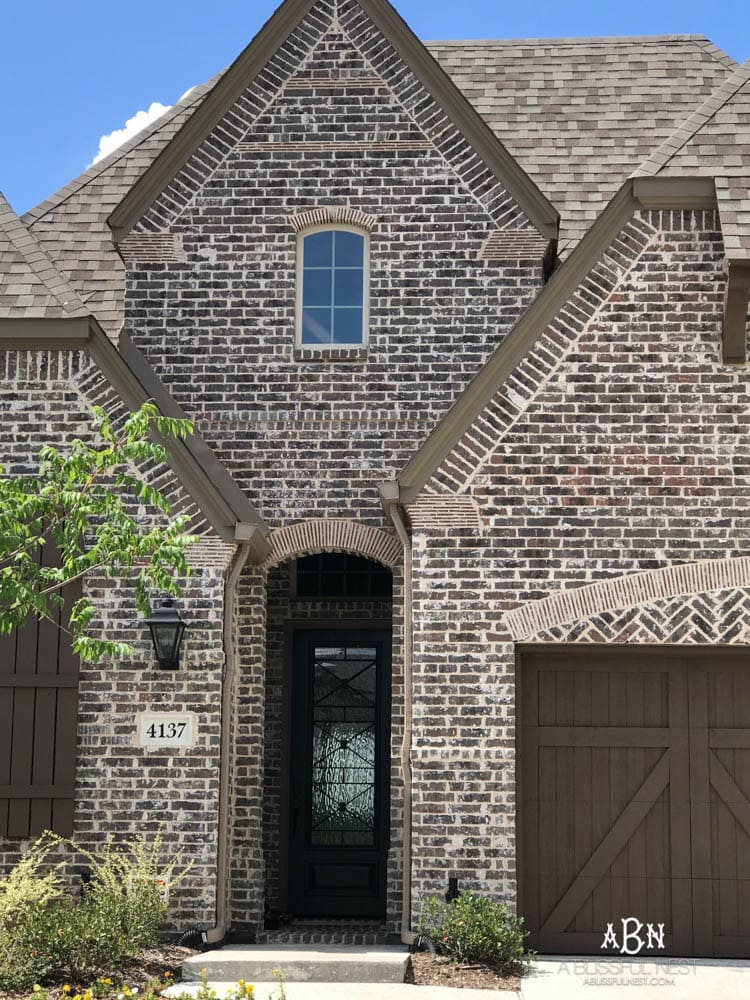 The brick on this house below looked too washed out to me.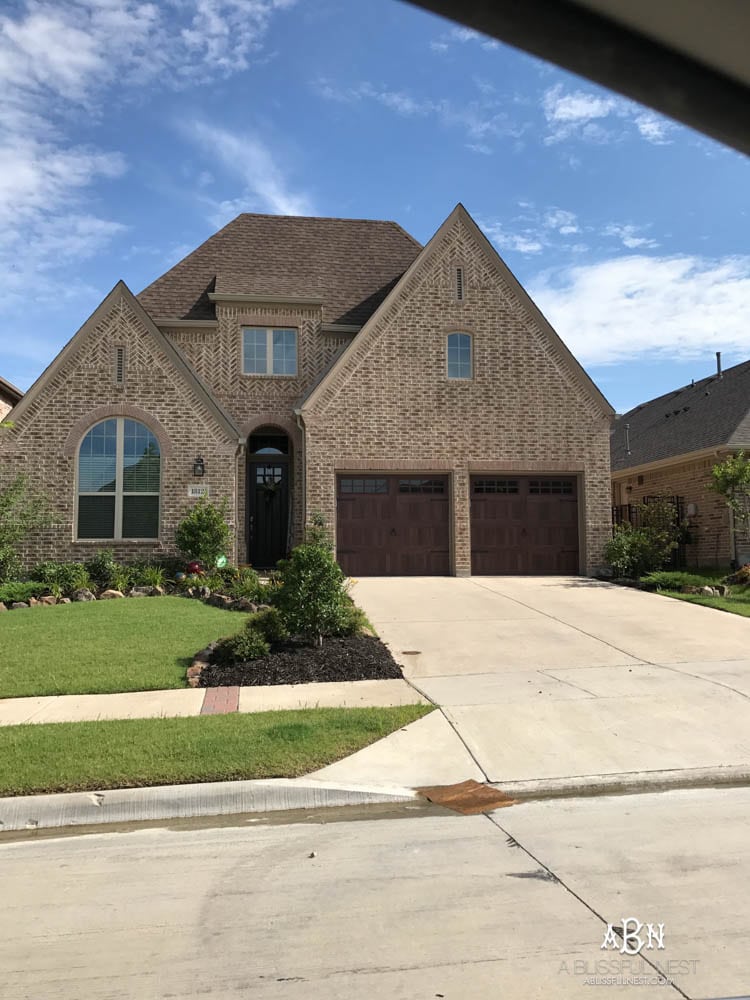 And of course I loved the brick on this one below, but it was going to cost us an arm and a leg.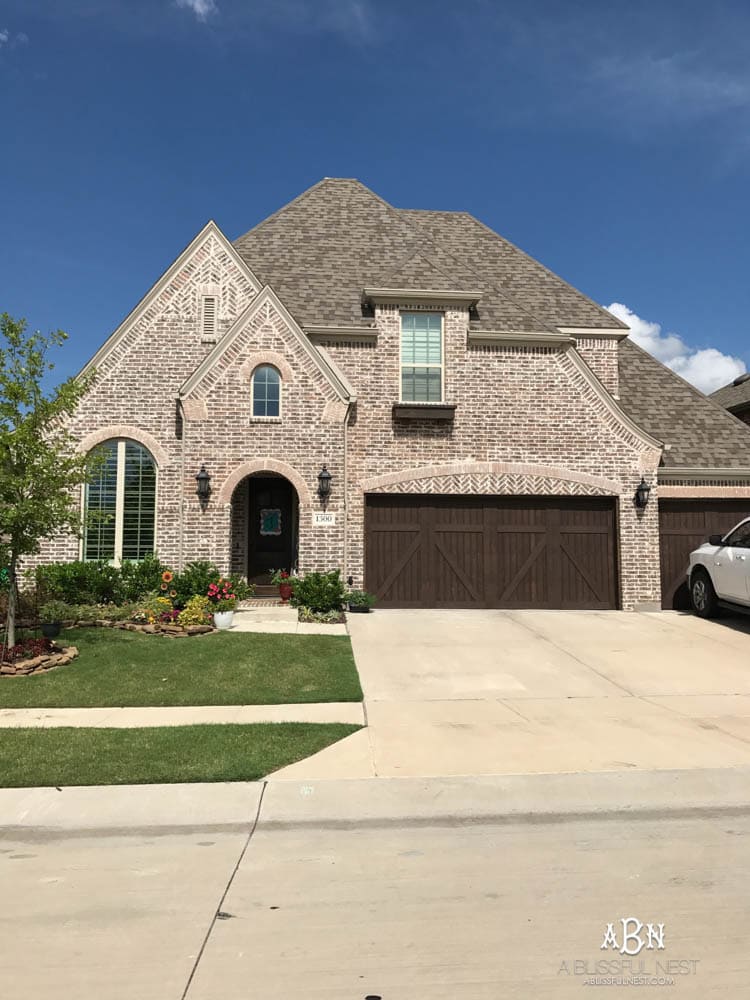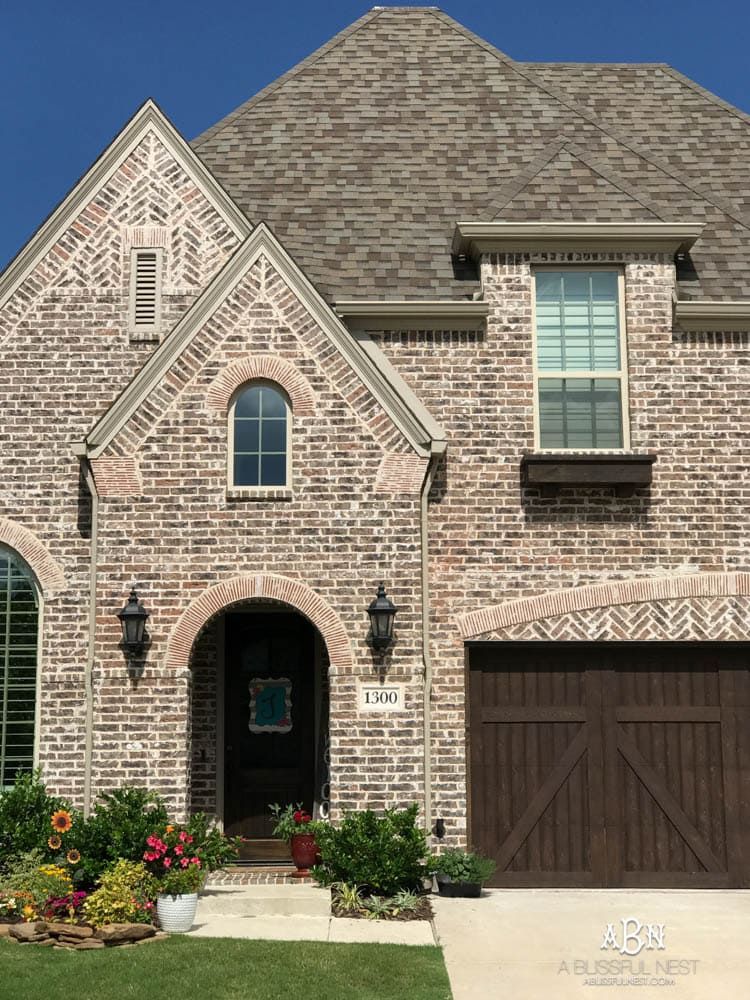 Ultimately this is the look and direction I wanted our exterior to go in like in this home below. It is actually just down the street from us. I loved that the brick was slightly darker than the washed out ones, had lots of brown tones in it and had lots of variations in the way the brick was laid. We changed the layout of the brick above the garage to a herringbone pattern just to break the brick up on that super tall wall.
I also thought the mix of stone on this house lightened it up and didn't make it feel as heavy. BUT of course this brick was out of stock and from another builder . . . . so began the search for the perfect brick/stone mix.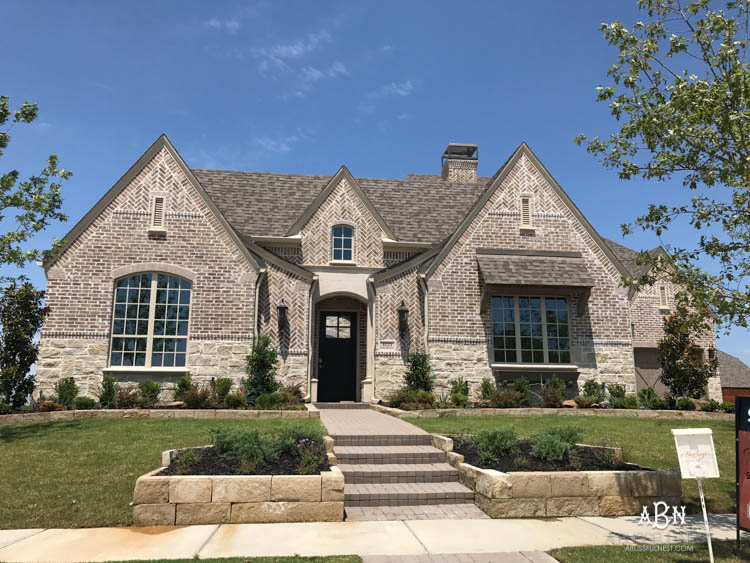 2. Picking Brick – The Do's & Don'ts:
The first step is to know what color direction you want to go in. I knew I wanted primarily brown tones and little to no red.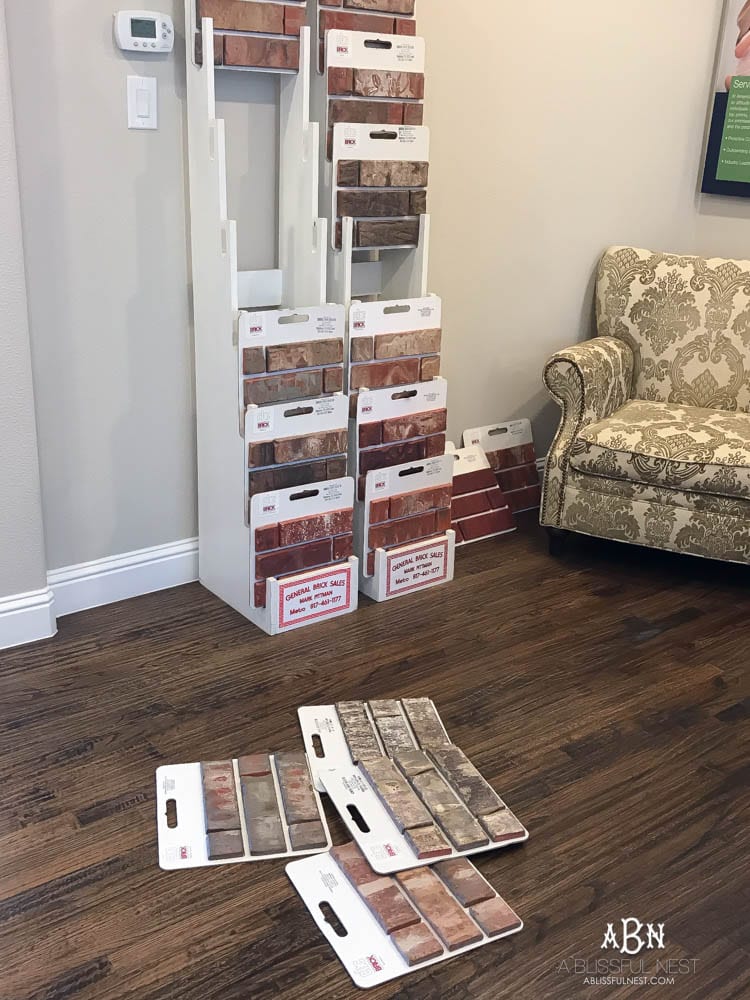 Next decide if you would like it to have a distressed look. I love a more old world look so that was the direction I went in.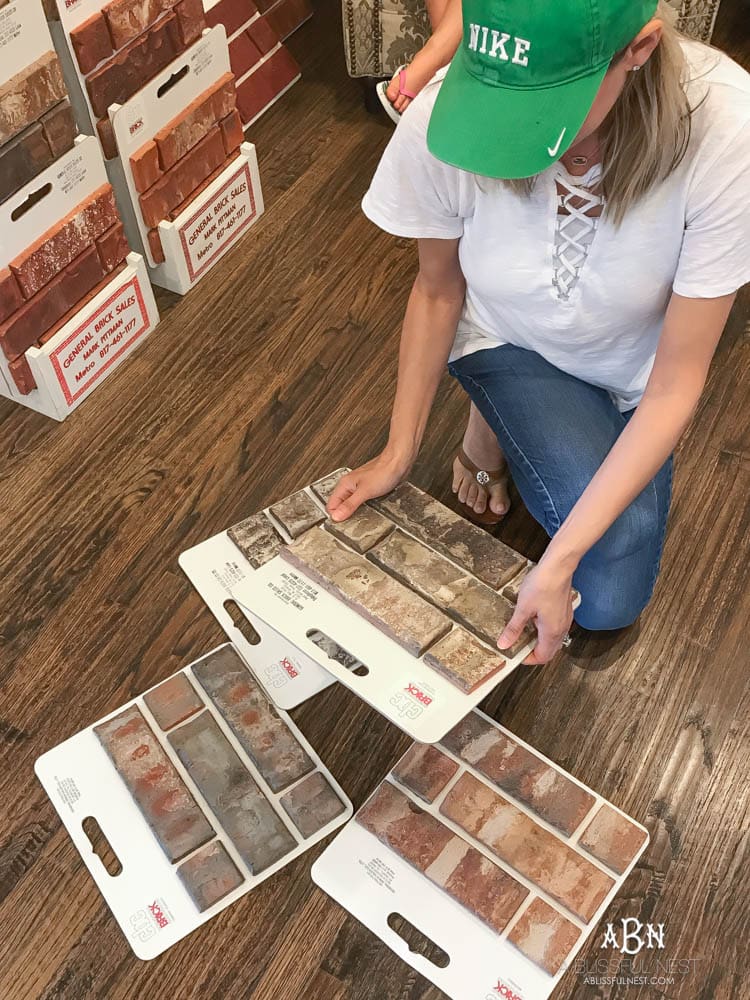 Lastly, decide how you would like the mortar to look; messy, thin, thick, smeared, etc.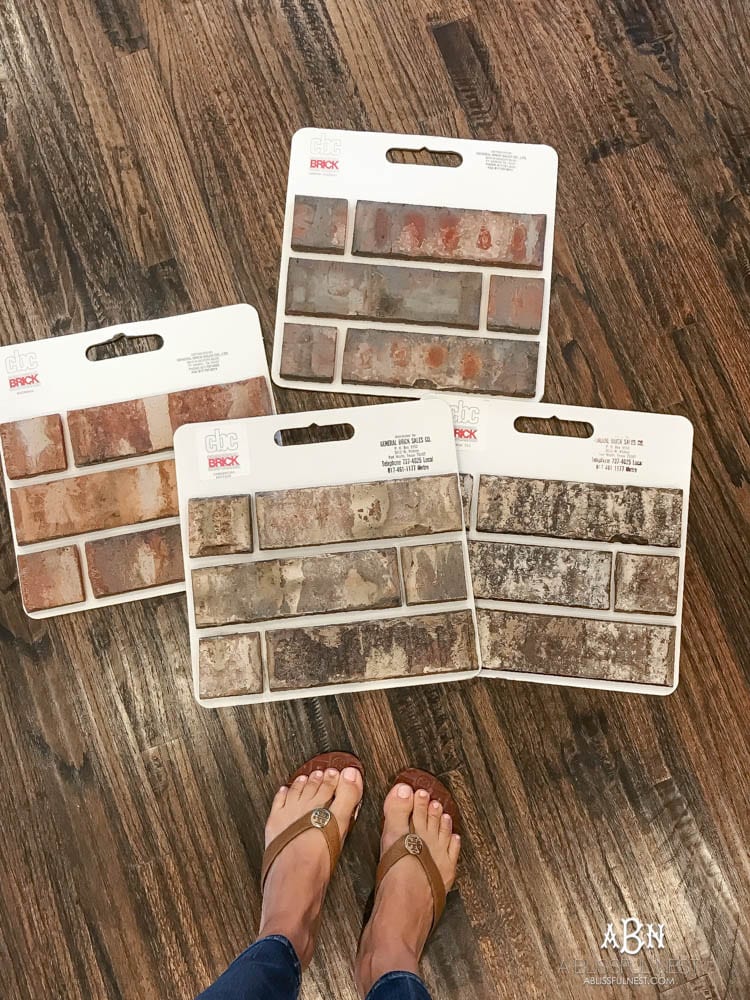 The brick I decided on is called Commercial Antique and has a brown undertone with a lightly distressed look.
3. Selecting The Right Stone:
The stone is definitely where it can get pricey. We actually eliminated a lot from the design because honestly it just felt heavy. As you can see in the rendering above we have it on the base apron of the house and up the entry column. That felt like more than enough for us and helped since I chose an expensive stone. I wanted a stone that had NO yellow in it. I was actually pretty emphatic about that. I wanted it white and grey.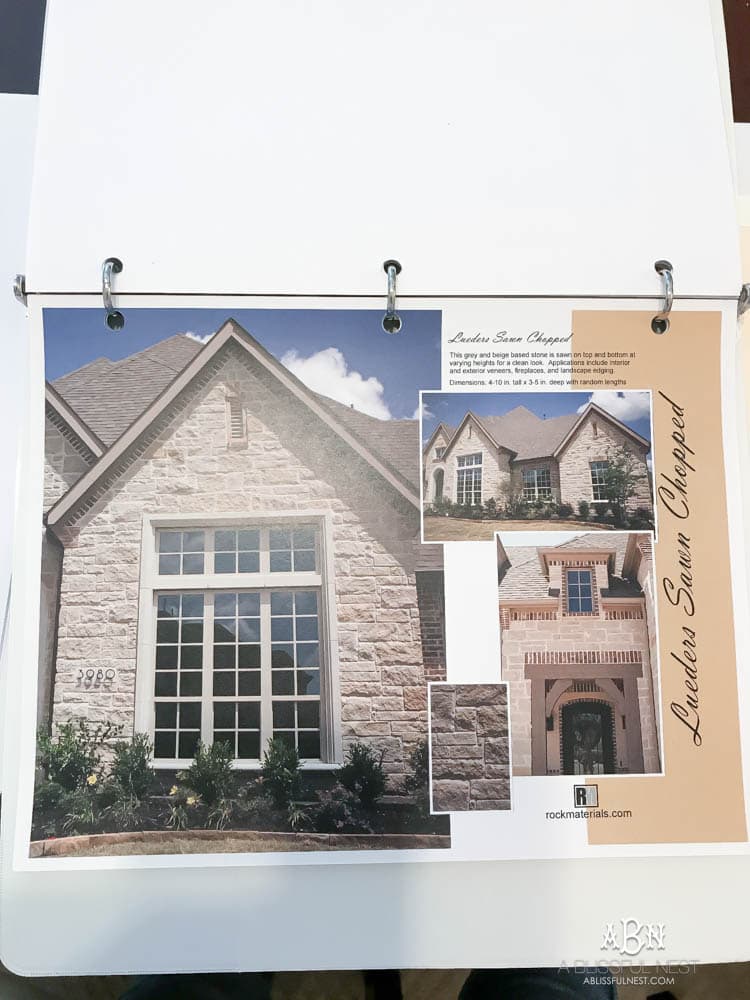 So here is what we ended up with. I loved that it had a rough uneven texture about it. It also has the same cream color that is in my brick selection. So make sure when you pick your stone it highlights the part of your brick you want to pop.
4. How To Pull It All Together:
The last thing we selected was the trim paint color and the wood color for the garage. The first thing I did was select the garage style I wanted. You can see it in the picture below. It is option T. It also has large iron hardware on it. I thought I might want a unique color like the one on the right but then went with the darkest color I could get for a more modern look. It is a super dark espresso color that almost looks black.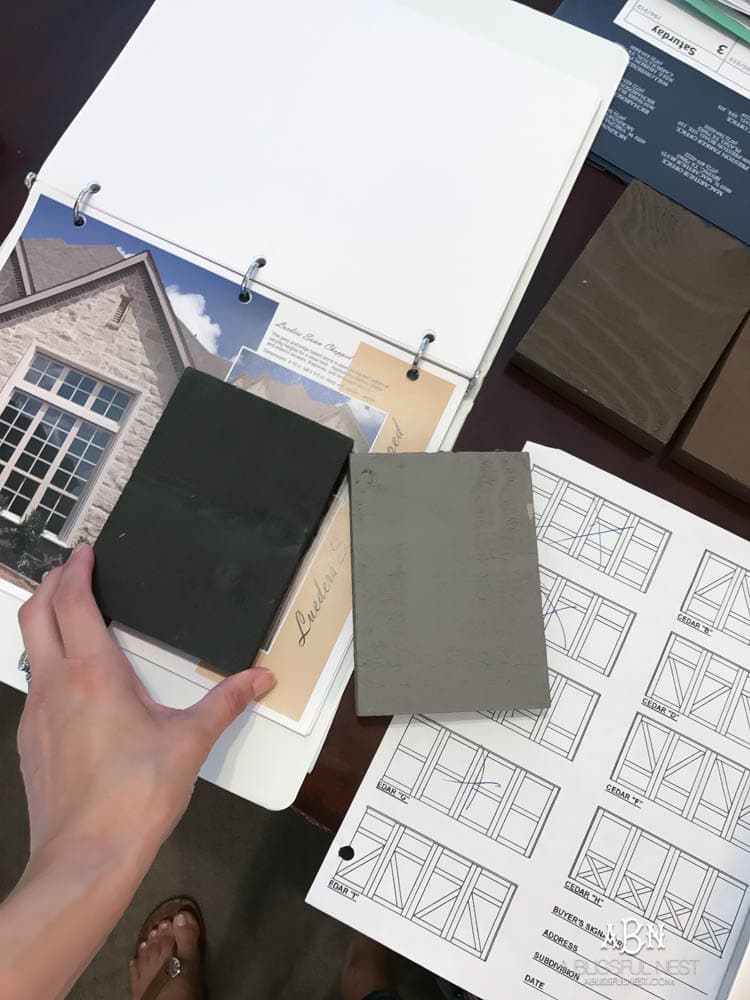 After that then I was ready to select the trim color. I wanted something that would blend and not look yellow (can you tell I just could not have any of that color in my house?!). I went with this soft creamy taupe color. Again I went with a color that was in both my brick and stone so they would be highlighted.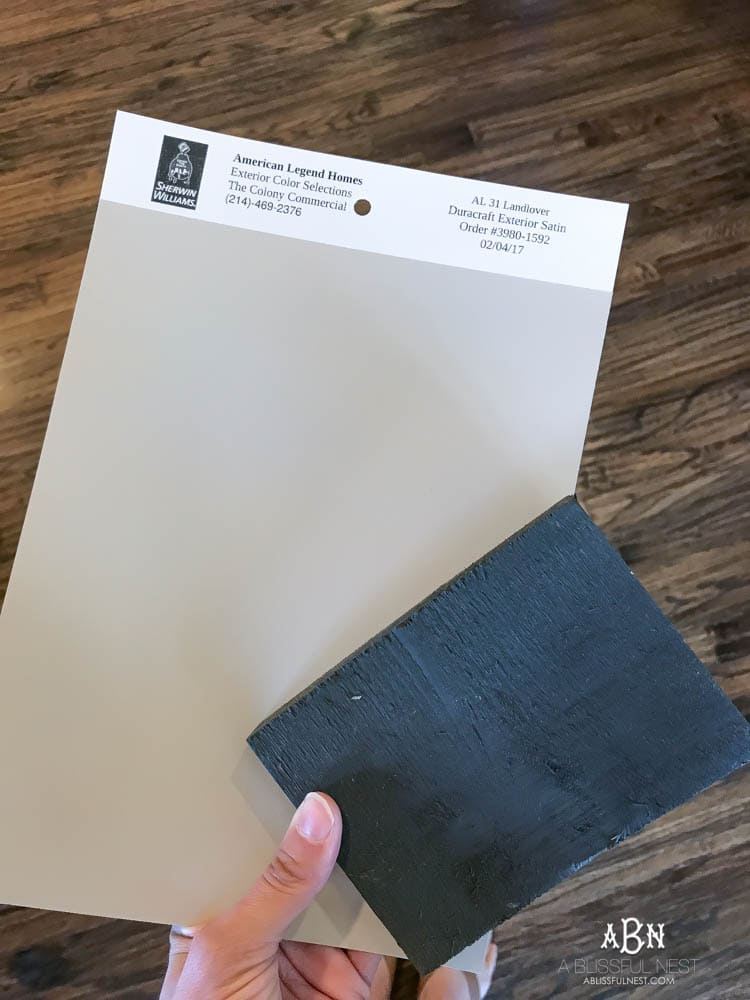 5. The Final Result:
I laid everything out for a final look to make sure they complimented each other and pulled colors from each piece. I am crossing my fingers that I did a good job as they begin to install all this this week.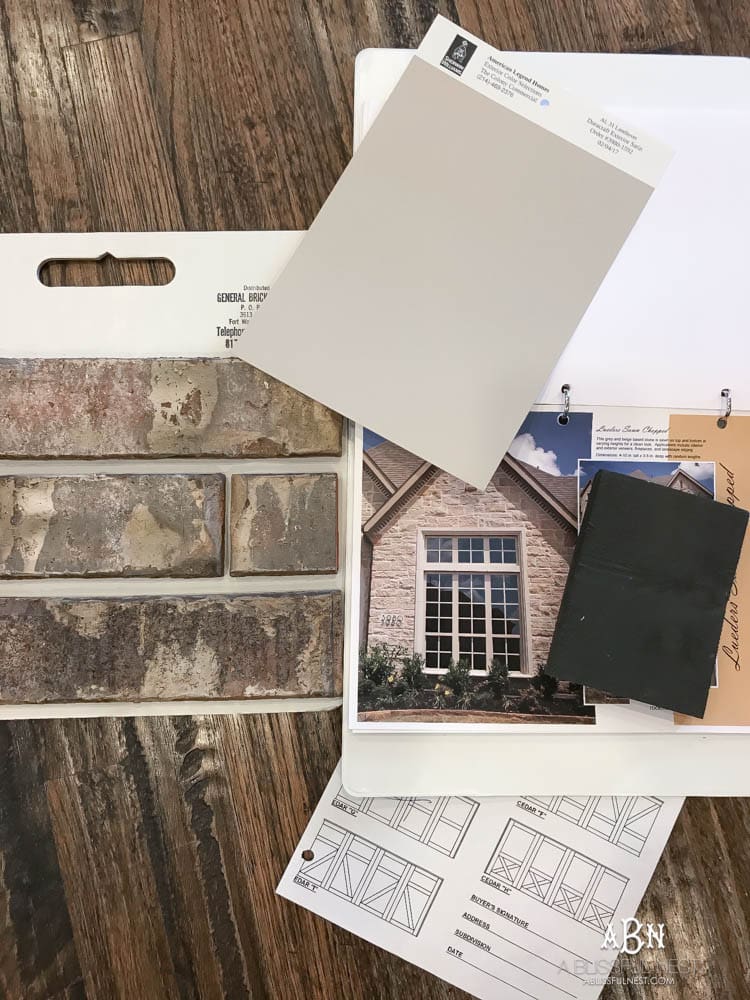 As you can see the backyard and front yard are stock piled with all the materials. Here are a few photos from this last weekend.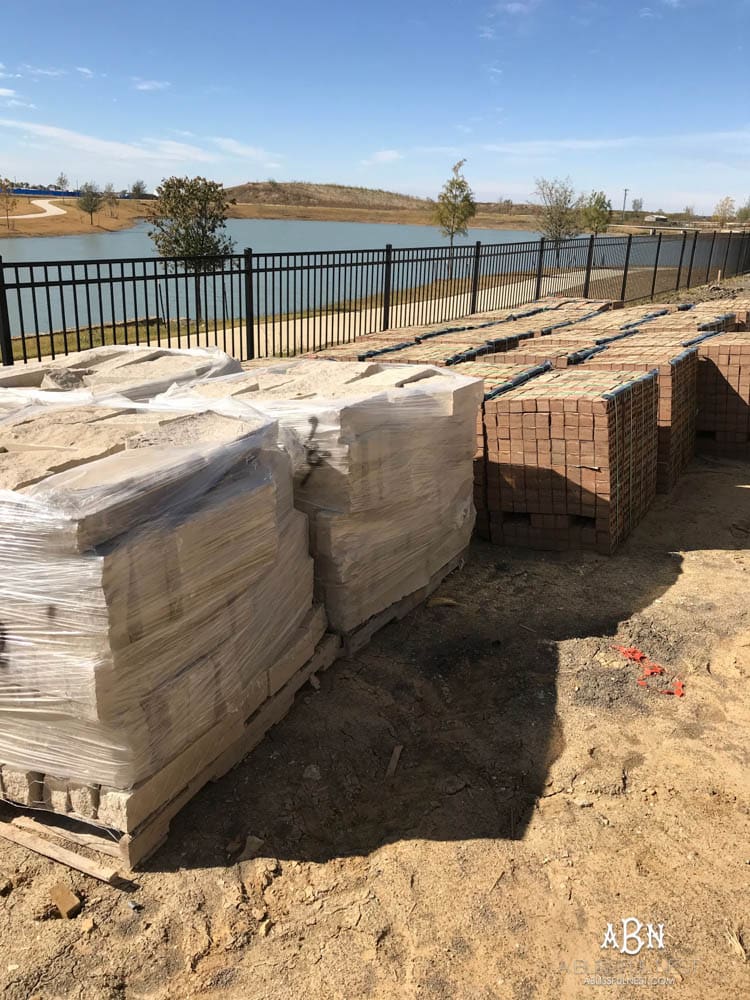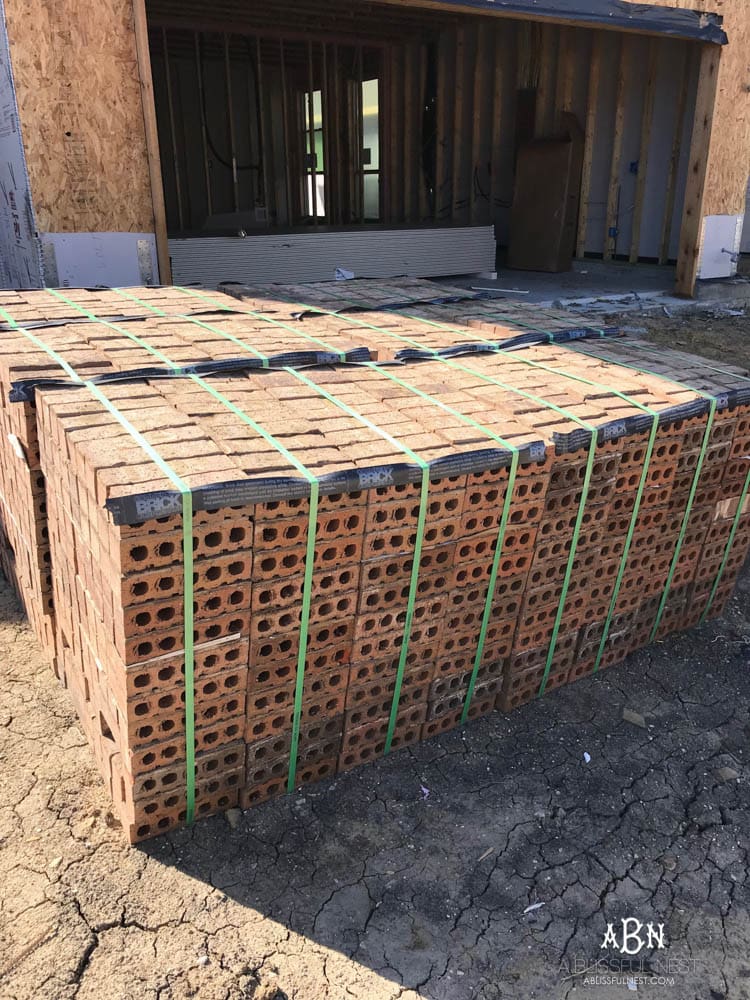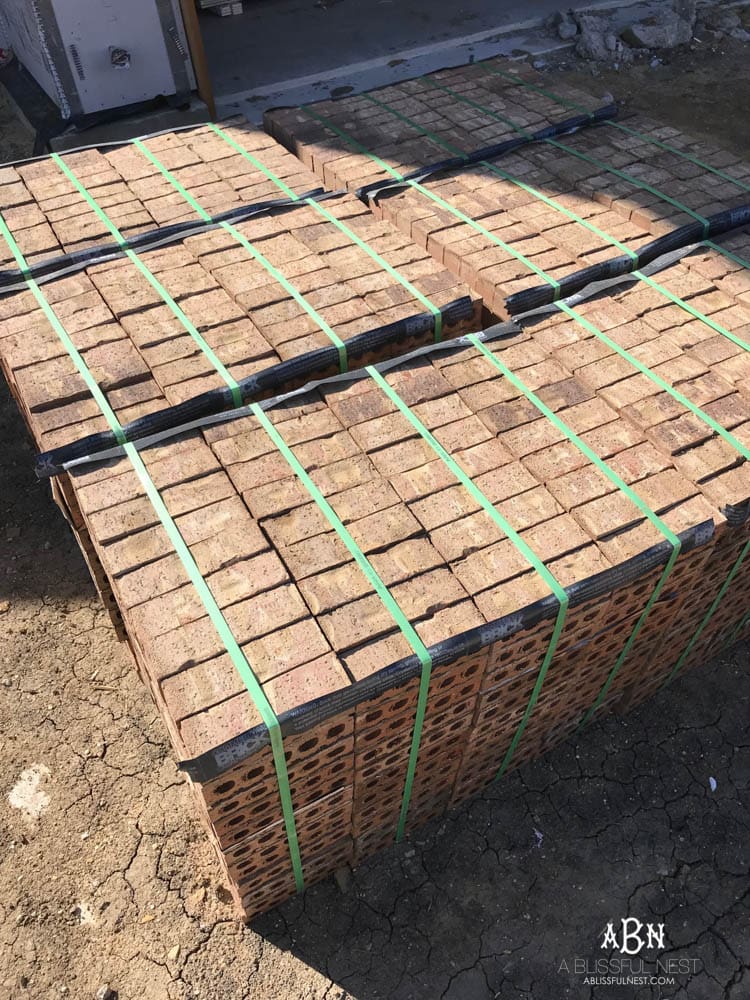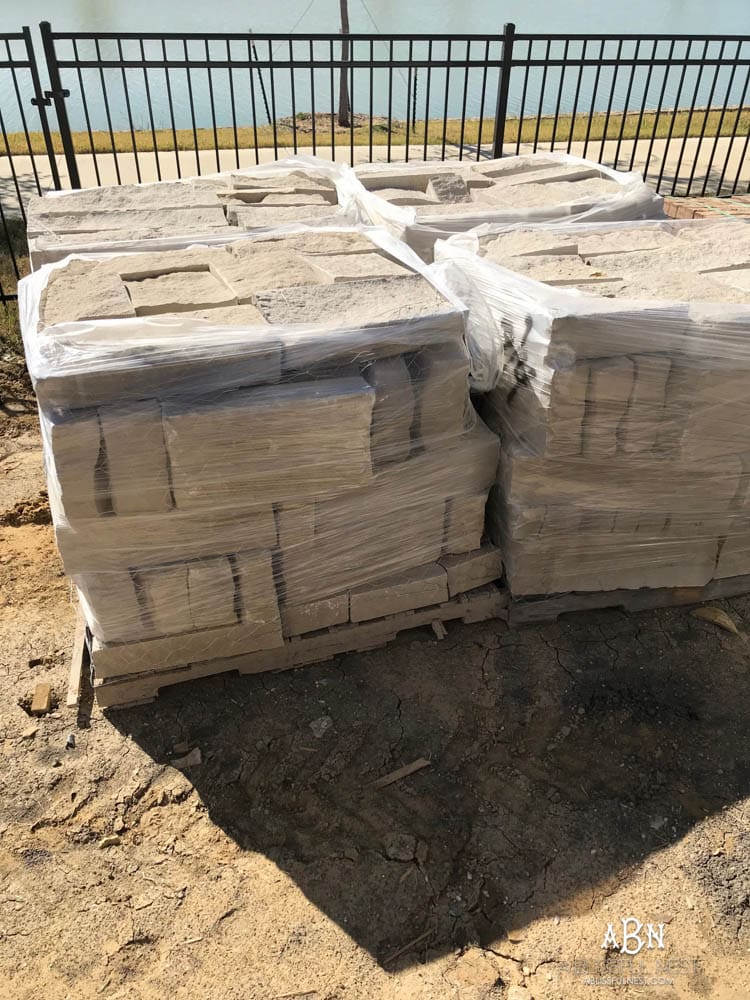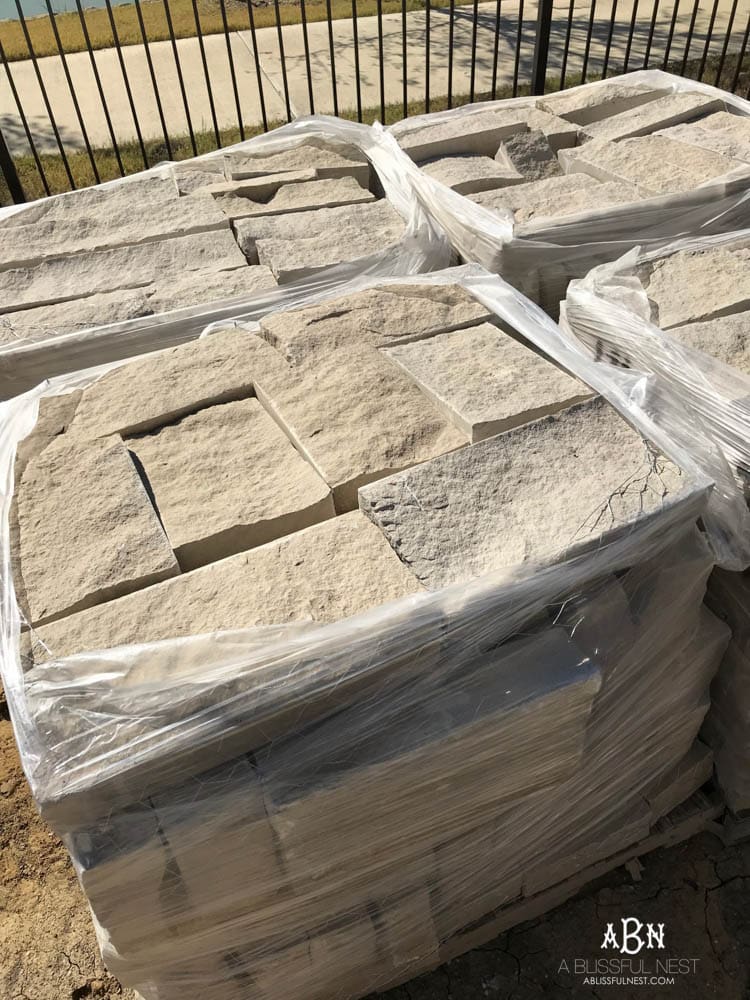 So tell me. What questions do you have on selecting exterior finishes? It is not as daunting as you may think.
You can follow along on our journey right HERE and you can search it with the hashtag #ourwaterviewhome on social media.