Outdoor S'mores Bar Cart
This post may contain affiliate links. Please read our disclosure policy.
Hi there! I'm Tiffany, from Joyfully Rooted where I blog about all things home and heart-inspired. I am thrilled to be a contributor to A Blissful Nest's Holiday Dream Team this year. Today I am sharing all the details for a fun Fall Gathering: Outdoor S'mores Bar Cart. I don't know about you, but I love this time of year. Fall is a wonderful time to host casual outdoor parties on the back patio.  An outdoor s'mores bar cart not only adds warmth and style to a fall gathering but provides a yummy dessert for guests as well.

Outdoor S'mores Bar Cart:
Bar carts can be used indoors or out and have the unique capability of serving many purposes. Something I like to do when we host events is create stations throughout our home. An outdoor s'mores bar cart is just one example. A dessert table in the study, a game table on the patio, a beverage area in the wet bar, an appetizer set-up in the dining room. This breaks up the usual cluster of people gathering in the kitchen and gives guests an opportunity to move around and chat with different groups. Bar carts are a great tool for creating a variety of different stations.
1. Use a Bar Cart
We have a bar cart that I style up for different occasions. It's especially savvy to use as an outdoor s'mores bar cart station. This cart is so versatile and even has wheels. It can be folded up and stowed away when not in use. There are many different styles of bar carts and you can find one that fits any particular style. You can find one HERE.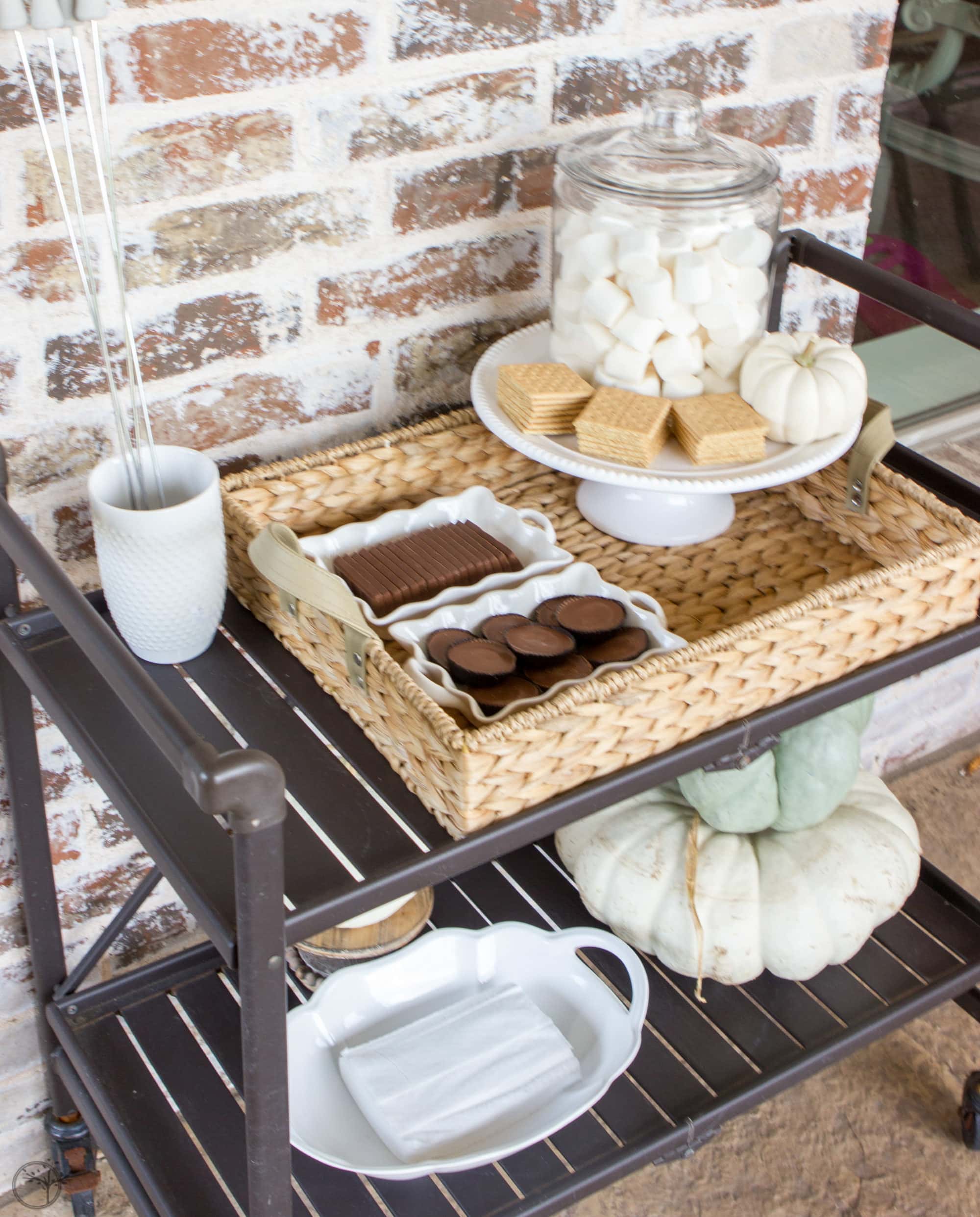 2. Gather Ingredients
An outdoor s'mores bar is the perfect way to get your guests involved in an activity. It's also a great way to satisfy their sweet tooth! S'mores are fun for all ages, but are an especially great fit with kids.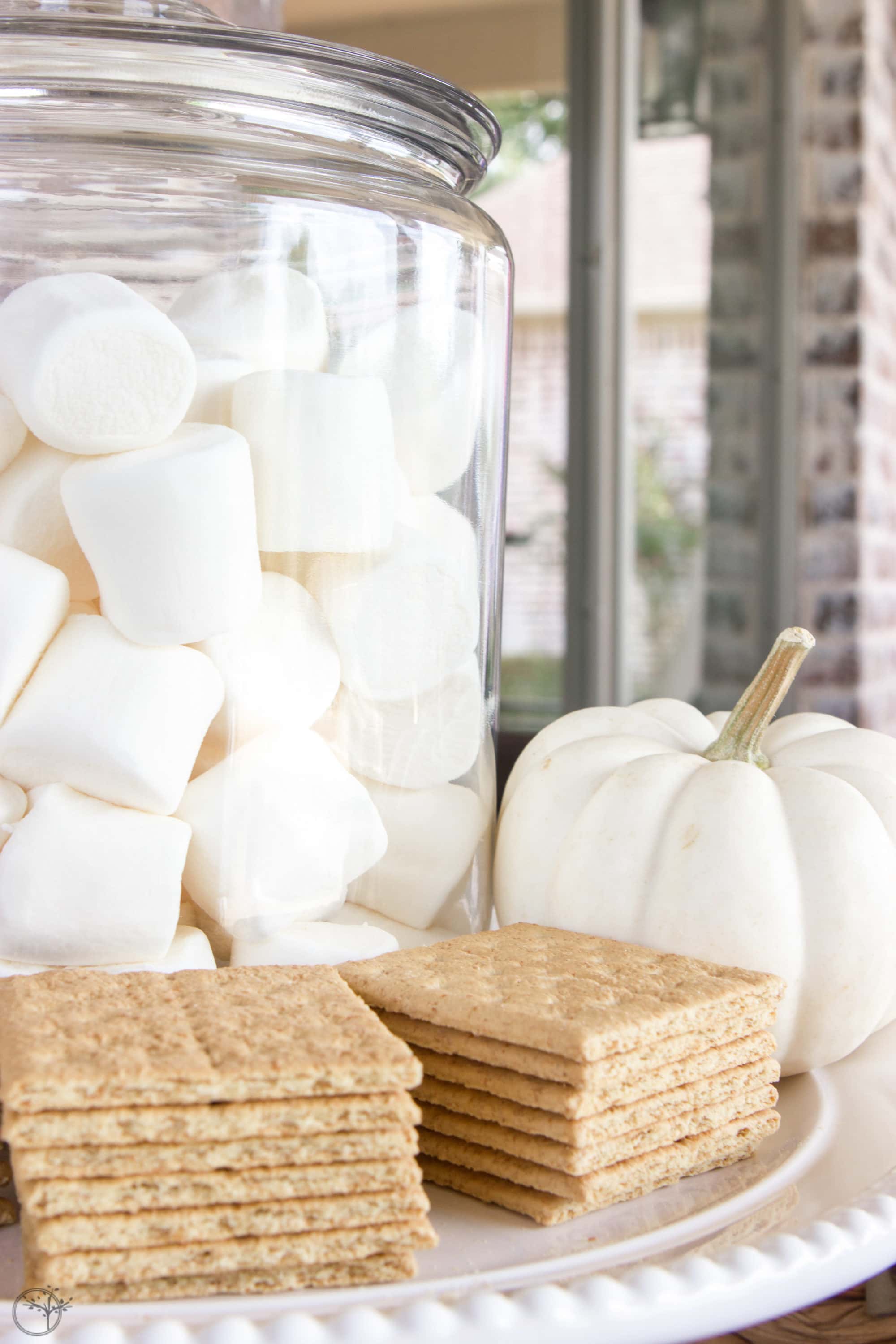 It's pretty easy to let the details get out of hand and attempt to create a s'mores bar that is overly complicated. If you have a lot of components, you might find that you are left with too many wasted ingredients when the party's over. After attempting fancy schmancy s'mores in the past, I find that guests really tend to enjoy a basic s'more. Start with graham crackers and large marshmallows.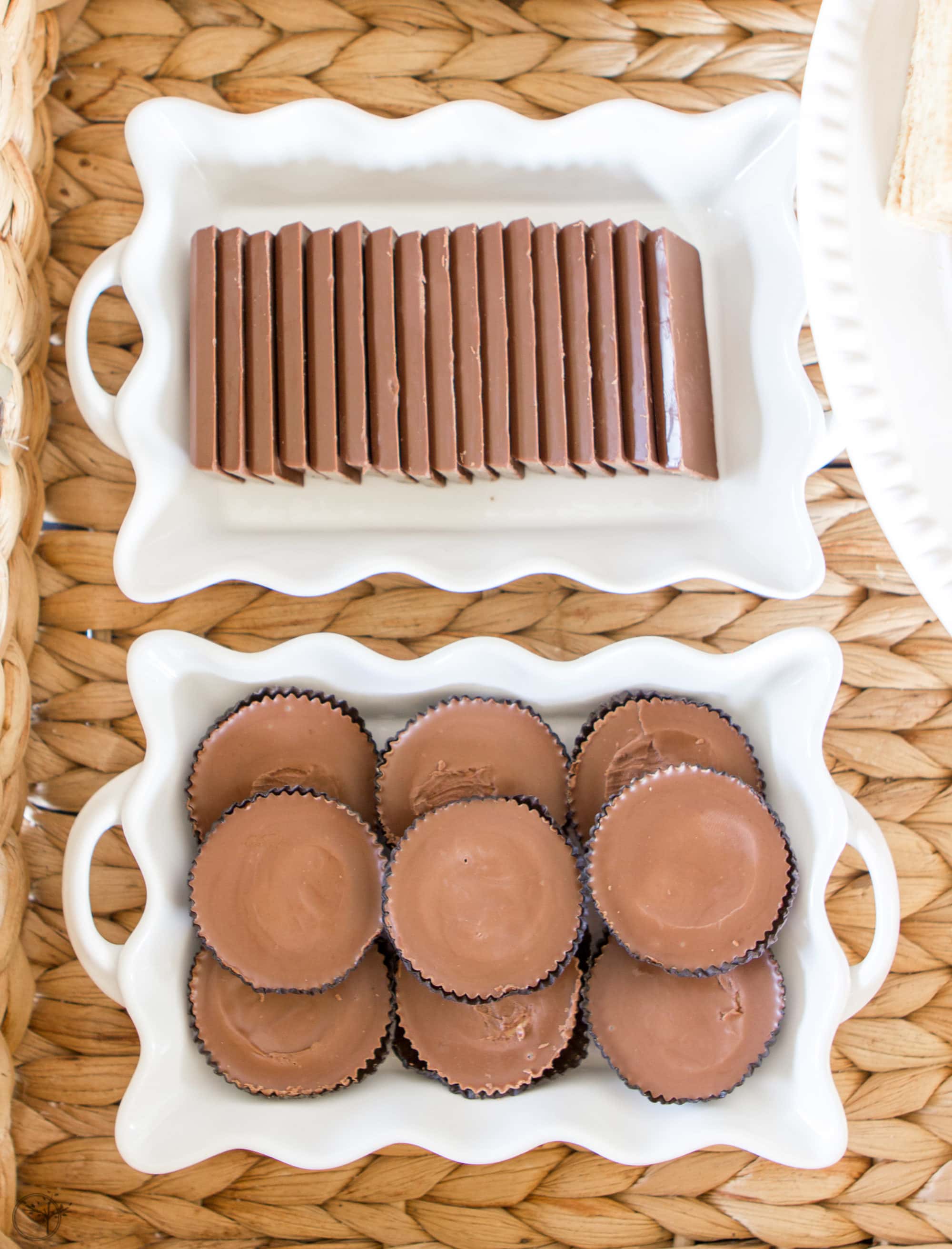 It's nice to think ahead and make it easy for guests. If you serve the s'mores ingredients with wrappers on, it can be fairly tricky for guests to maneuver the art of s'more making. As long as the outdoor temps are cool, taking the wrappers off the chocolates eliminates all the spare trash, and makes it a bit easier for guests to grab what they need during the whole process. I chose a few favorite bite sized candy bars like Hershey's milk chocolate and Reese's.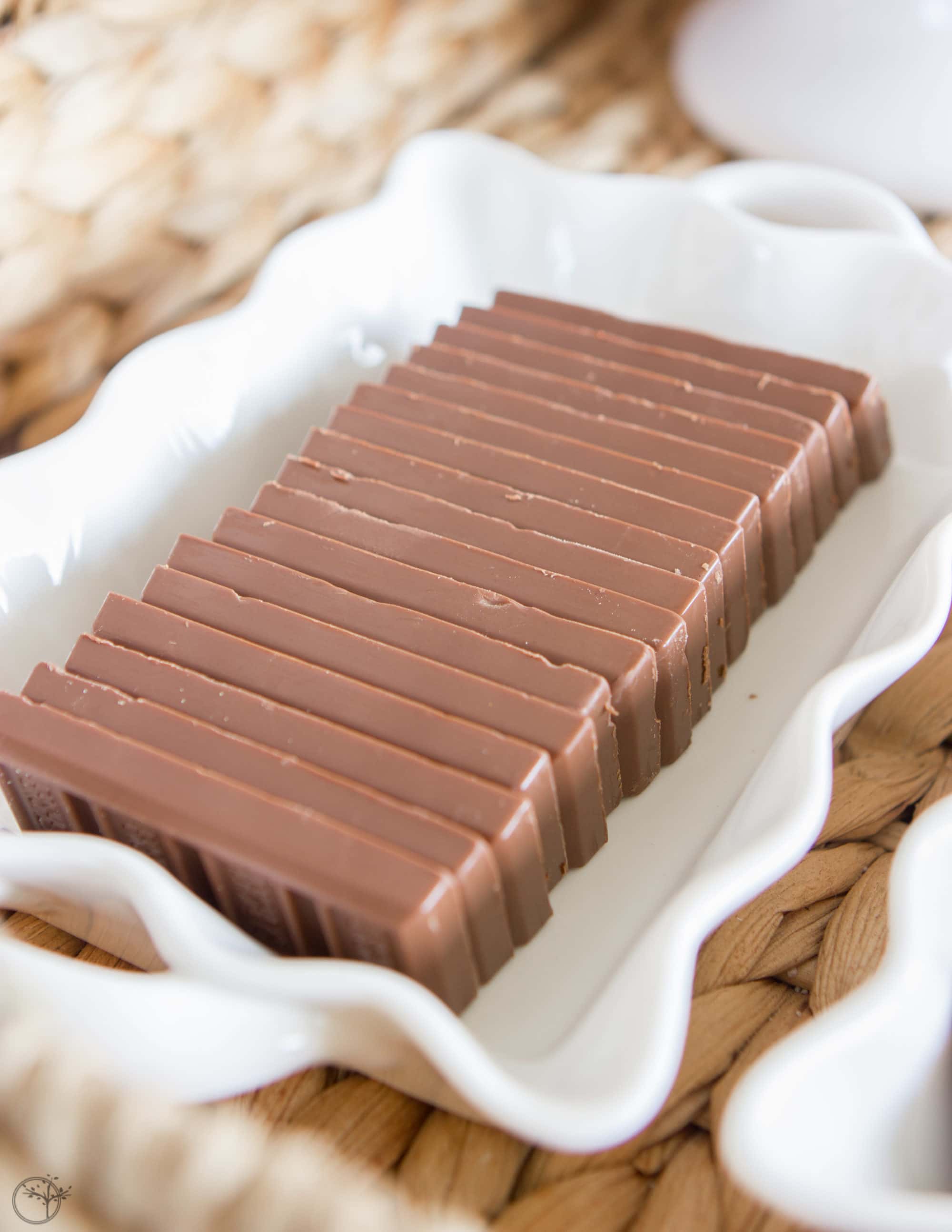 Compile all the ingredients on a tray or bowl, or let your creativity run wild and arrange them in small dishes and canisters.
3. S'more Making Materials
Skewers are helpful for marshmallow roasting, but bent wire hangers will do the trick as well. I found our skewers HERE. I chalk-painted the handles a neutral gray to fit in a little better with our home decor.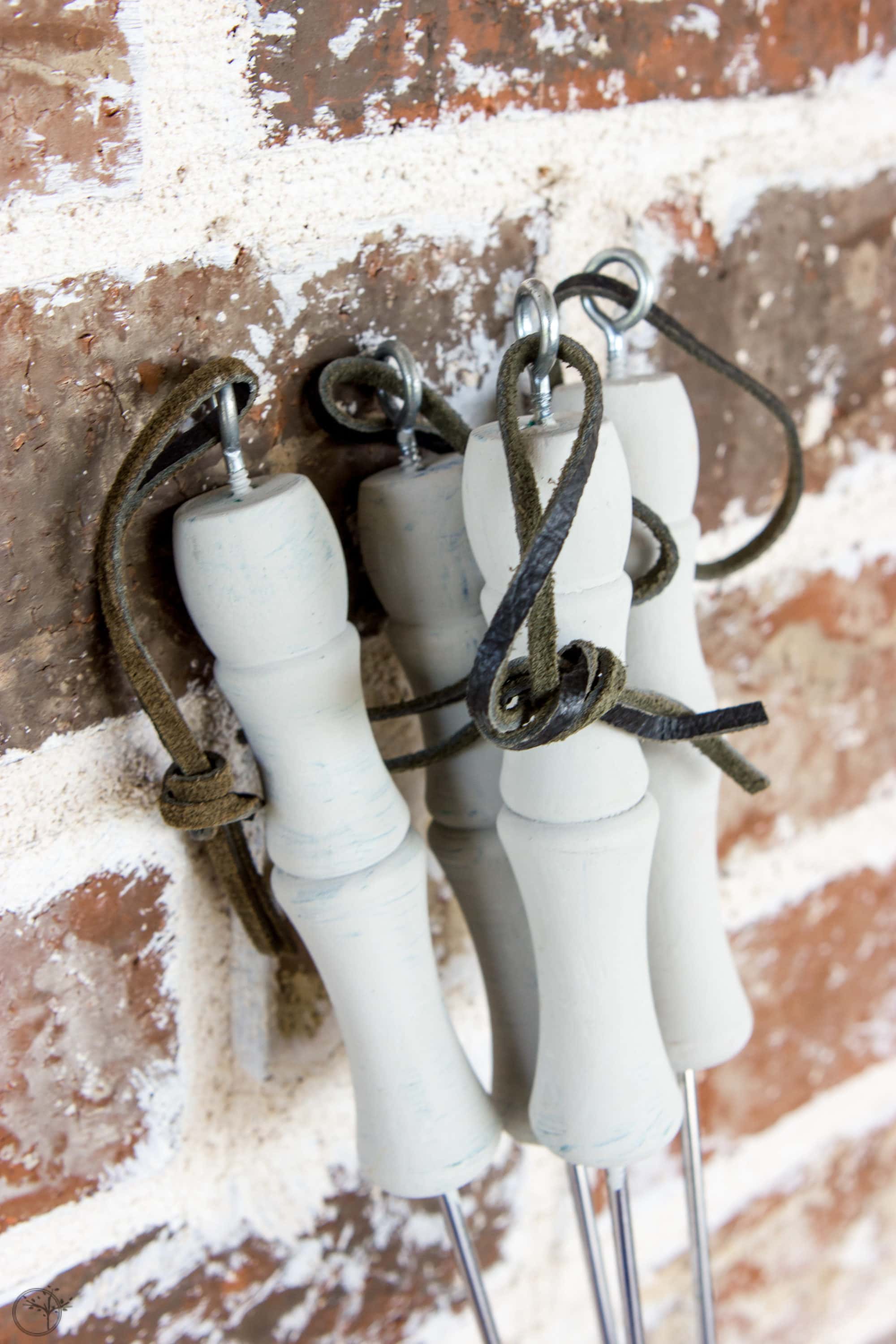 Have you ever roasted a marshmallow or made a delicious s'more and then had nothing but a dry napkin to get the sticky off? There is something about a melted marshmallow that creates the stickiest of messes. Providing guests with a stack of baby wipes is a really nice touch. A stack of wipes in a pretty dish can easily be stored underneath the cart. This simple gesture shows your guests that you are trying to anticipate their needs before they know it's necessary. Small details go over in a big way. Guests can tell you have put a lot of thought into their comfort while visiting your home.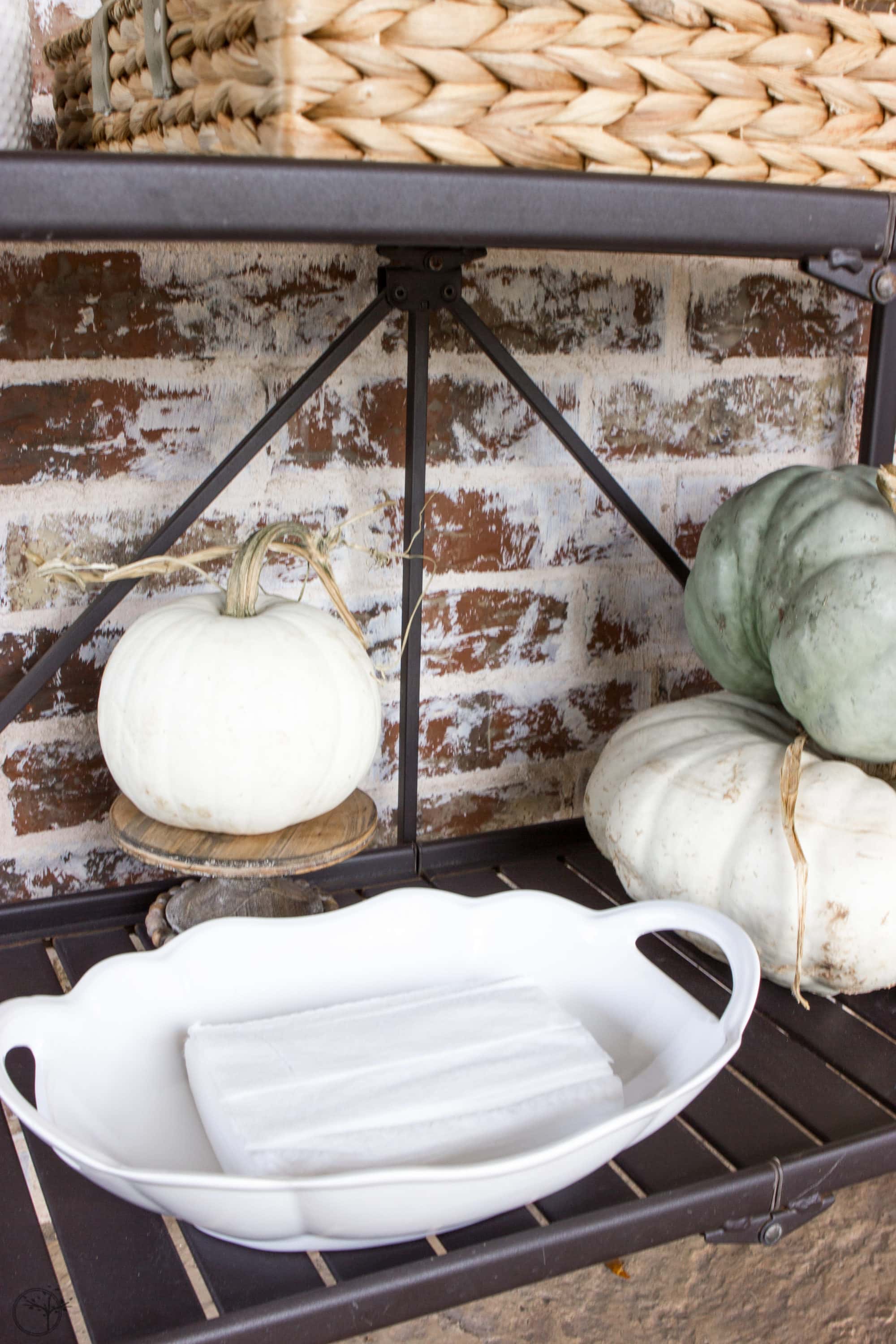 4. Add Seasonal Decor
Adding a few heirloom pumpkins or any appropriate decor is also a quick way to bring the season into your s'mores bar.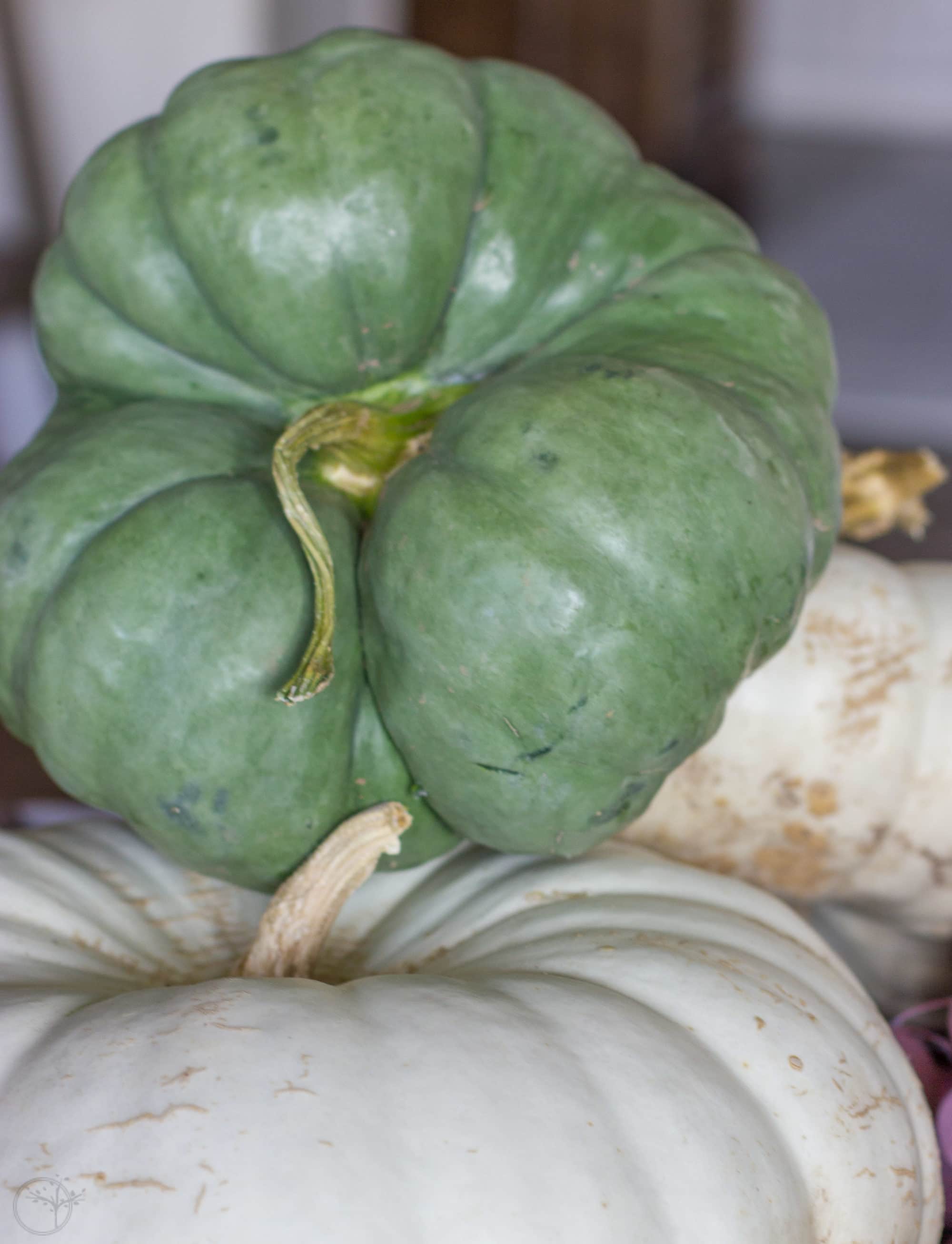 5. Place S'mores Bar Cart Near a Fire Source
We have an outdoor fireplace but a fire pit, sterno can or any source of flame will work well for marshmallow roasting. It's a great idea to place the s'mores bar cart near the fireplace.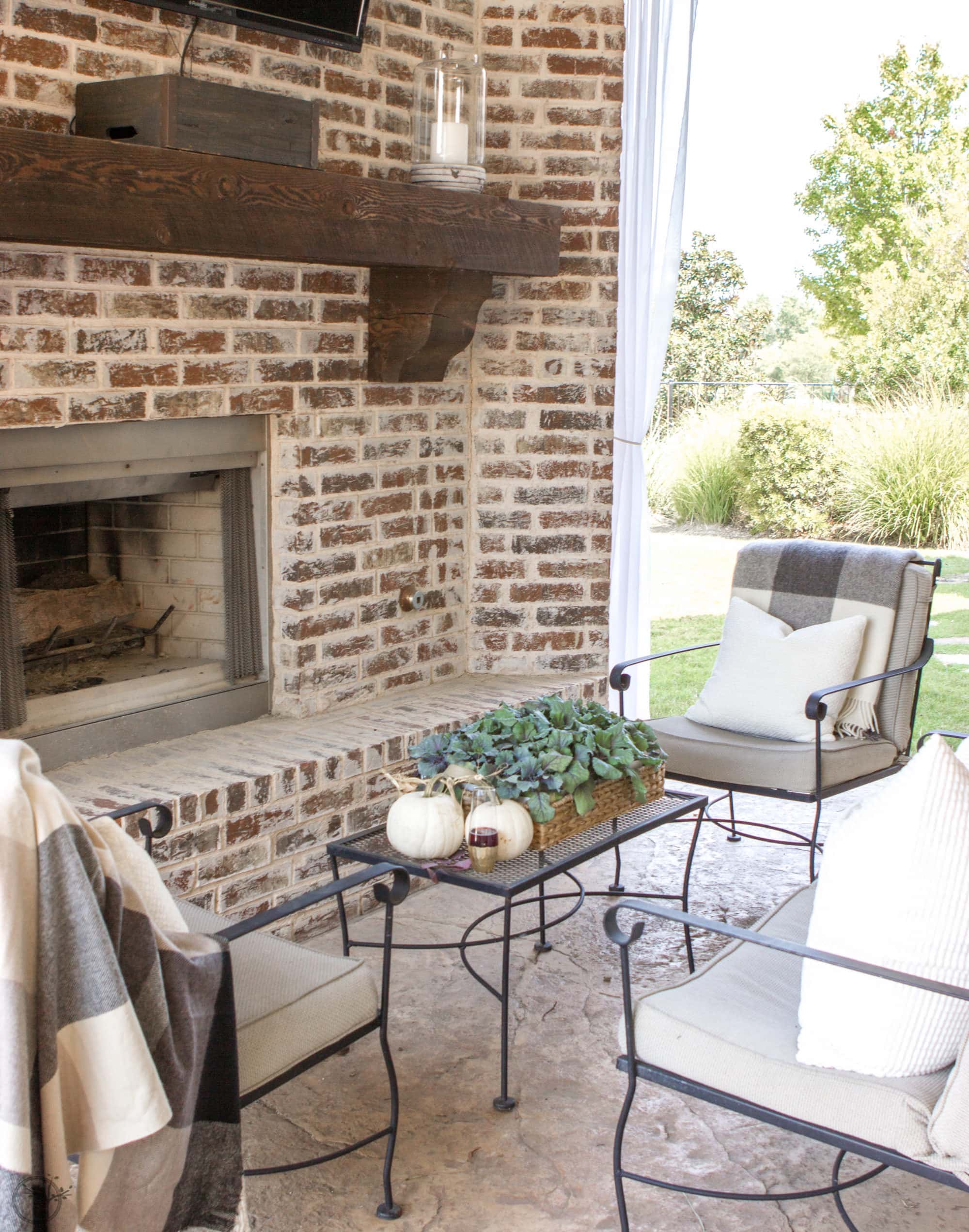 6. Enjoy
Overall, the best part about a s'mores bar, is that you get to enjoy them with friends and loved ones. For more great tips about s'more making you might want to check out this other helpful post here on A Blissful Nest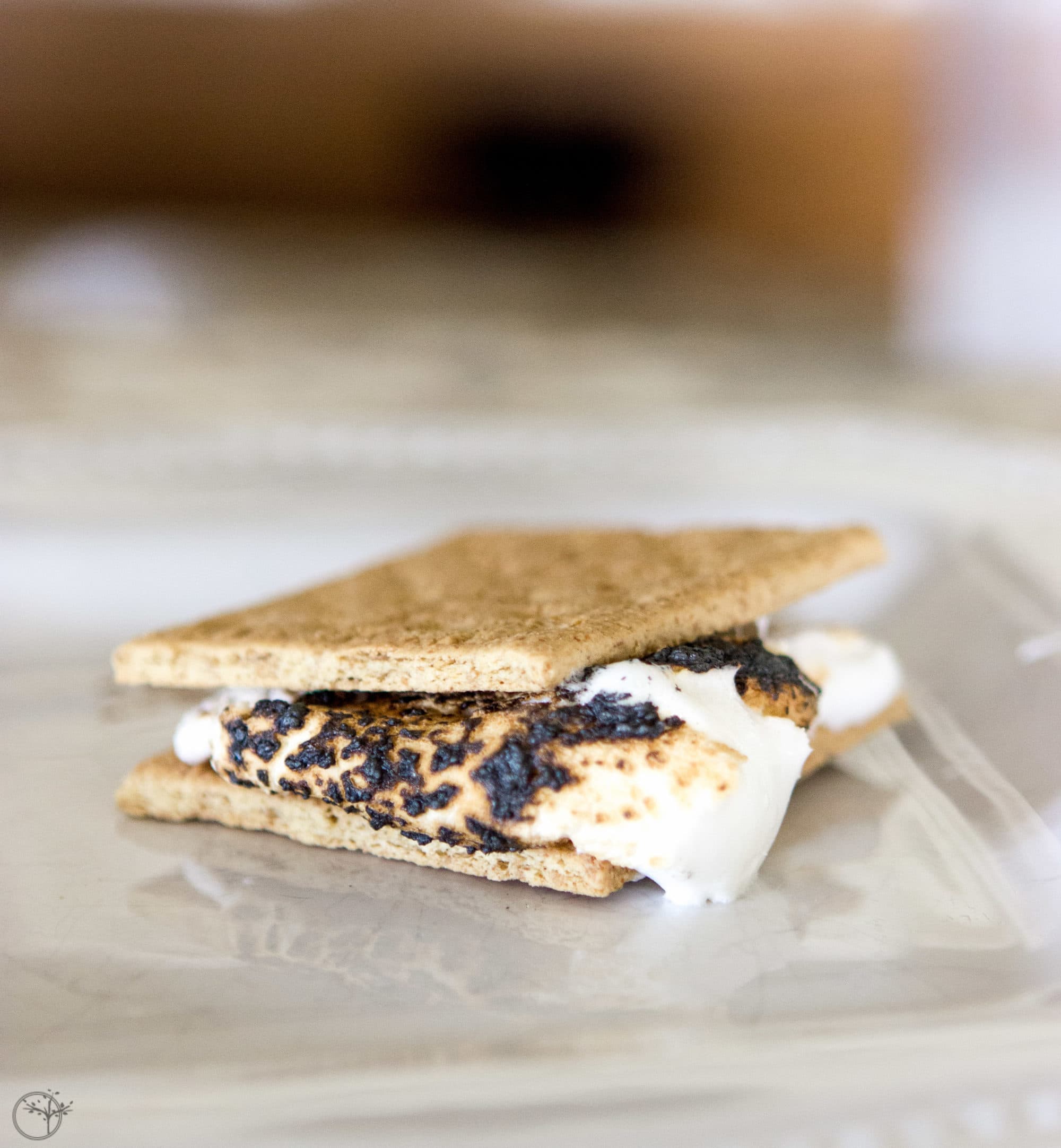 I sure do appreciate you stopping by today, it has been so fun sharing easy tips for an outdoor s'mores bar cart here on A Blissful Nest. I'd love to hear if you've ever done anything like this in the comments below.