Red, White and Blue Summer Outfit Ideas
This post may contain affiliate links. Please read our disclosure policy.
With Memorial Day this weekend and the 4th of July right around the corner, I've been eying some red, white, and blue summer outfit ideas.
Besides these being the color of the holiday, these are such great colors to wear all throughout the summer so I like to get a few pieces in each color and mix and match them.
So today I'm sharing some pieces I've already purchased so far and ones that will be heading into my cart soon!
This post contains some affiliate links for your convenience. Click here to read my full disclosure policy.
Red, White, and Blue Summer Outfit Ideas: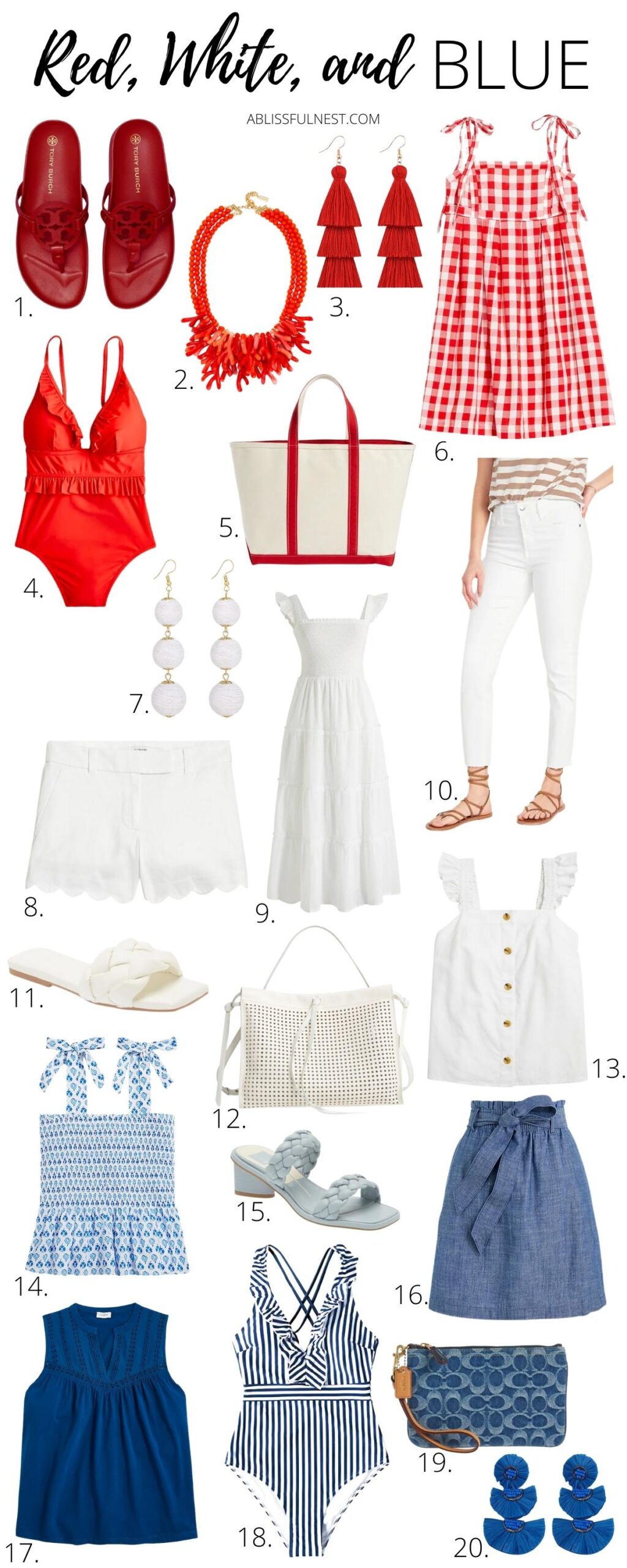 1 | 2 | 3 | 4 | 5 | 6 | 7 | 8 | 9 | 10 | 11 | 12 | 13 | 14 | 15 | 16 | 17 | 18 | 19 | 20
ONE – Tory Burch sandals are one of my favorites and I love this gorgeous red color! These are so perfect to go with jeans and a tee or even this denim dress.
TWO – I love a good statement necklace and this one is so pretty for summer nights!
THREE – If you have not heard fringe earrings are the hot thing right now and I love this tiered one. I would wear this with jeans and a tee or a summer dress.
FOUR – Every year I search for THE perfect swimsuit. We all have problem areas and trust me when this is the hardest purchase of the year for me. I love this ruffle top style and flattering details for just this reason.
FIVE – During the summer I carry a much bigger bag with Lauren home. I seem to always have so much more to carry when she is with me all the time. I love that this canvas one has lots of room and can double as a pool bag.
SIX – I love a cute dress to wear during the summer and give me all the gingham details! This one is perfect for the holiday weekends but you can also dress it up or down with sandals or sneakers.
SEVEN – These are the cutest bauble earrings and the white goes with everything! I love these ones too for a bit more color.
EIGHT – I love a good pair of shorts and these are not too short and not too long. I live in my white shorts for summer and the ruffle detail is so good.
NINE – Isn't this the cutest dress?! I love the ruffle and you can pop any color with this dress for a different look.
TEN – Besides my white shorts in the summer, I also love my white jeans. These are super comfortable, are a little cropped on the leg, and skinny fit to make your legs look longer.
ELEVEN – I have this wedge in the nude color and they are so comfy that I think I need the white now! I love the weave detail on them. Aren't they so pretty and perfect with a sundress?!
TWELVE – The perforated detail is so fabulous on this bag and makes it so unique looking. It is such a great silhouette too that you can carry over your shoulder or use it as a tote.
THIRTEEN – A good white top is an essential and I love the ruffle sleeves. I think this is such a classic and timeless look.
FOURTEEN – Okay so you know how much I love blue and this top is so easy to pair with just about anything. I personally would throw a denim jacket over it for cooler nights.
FIFTEEN – These sandals are in the prettiest shade of pastel blue and has that weave detail that I am obsessed with right now. These would be great with a summer dress or paired with shorts and a cute top.
SIXTEEN – Everyone needs a great denim skirt and this one would look great on anyone! I love the tie detail at the waist. So flattering!
SEVENTEEN – I love an easy breezy top for summer and this is it. It comes in 3 other colors and is currently on sale.
EIGHTEEN – More ruffles! I love the blue and white stripe on this one and the strap detail.
NINETEEN – My denim obsession continues with this COACH wristlet bag. The perfect size to carry your essentials and to pop into your pool bag.
TWENTY – I own these in 3 colors! They are super lightweight and elevate any look.
I hope you have a wonderful, safe weekend, happy shopping!
Follow along to get more of my tips on home decor, DIY, and lifestyle on the following: