Shades of Blue Harvest Fall Table Idea
Beautiful shades of blue pumpkins and decor to create a stunning harvest fall table idea perfect for Thanksgiving or a seasonal get together with friends.
With Halloween just about here, I tend to focus my decorating on a more harvest look for Thanksgiving. I love to work with rich shades of colors and create layered looks. We tend to start having more dinner parties at this time of the year too so I love to create a new tablescape each time. It gets my creative juices going and I just love it!
This time I created a shades of blue harvest fall table idea and I've put together how you can pull off this same look effortlessly!
This post contains some affiliate links for your convenience. LoveFeast Shop partnered with me on this post and provided some of the products. Click here to read my full disclosure policy.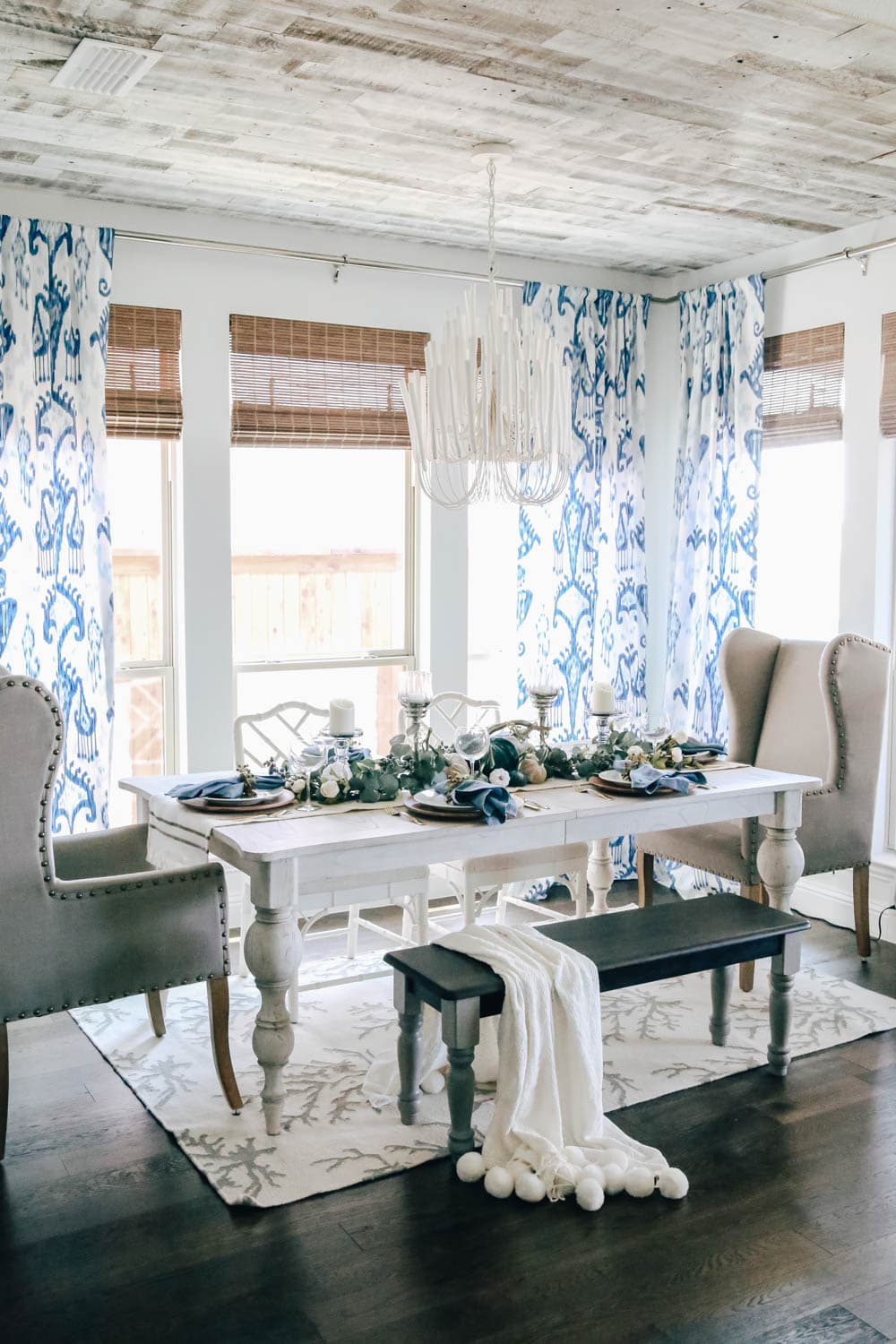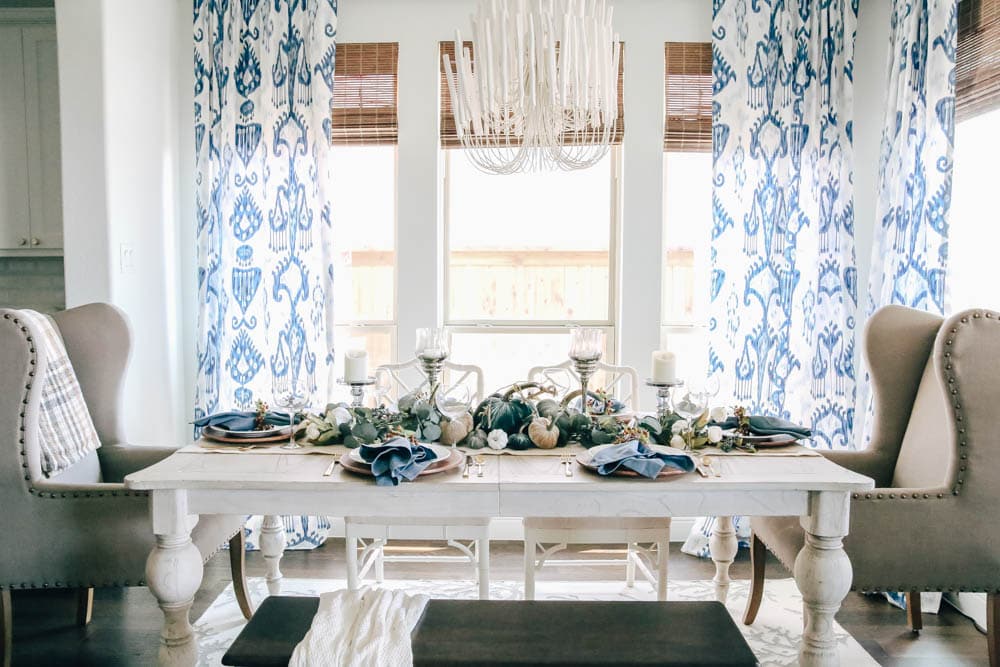 This site contains affiliate links. Please read our disclosure policy. As an Amazon Associate, I earn from qualifying purchases.
Shades of Blue Harvest Fall Table Idea
Start with the center design.
One of the first things I do is decide on the design for the center of the table. I was so inspired by these incredible velvet pumpkins from LoveFeast in this rich color palette of blues. This is actually called the coastal set so of course, they are so perfect for me! There are 5 pumpkins varying in size and 3 different colors creating a gorgeous display. The stems are made from real pumpkins and are such a beautiful touch.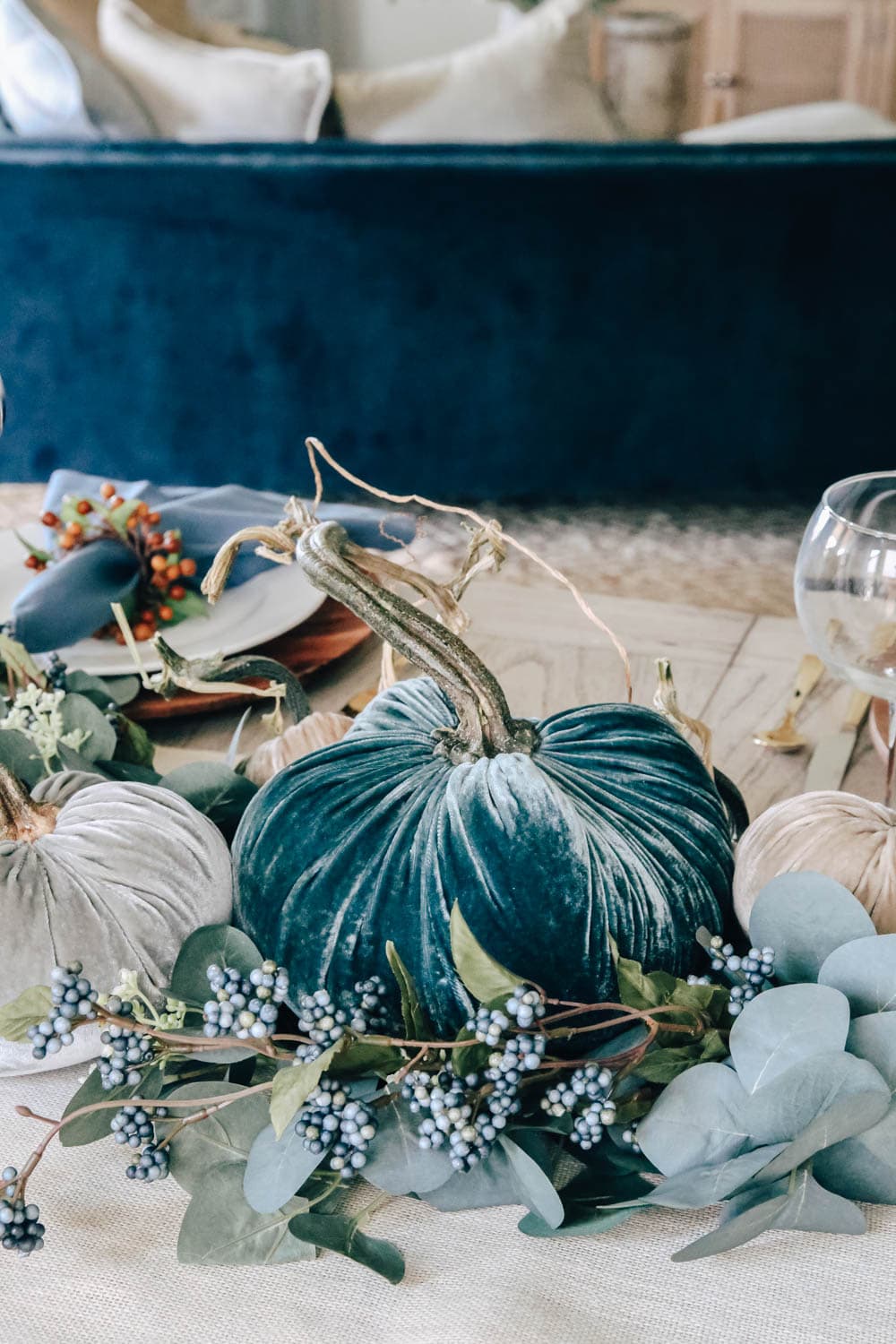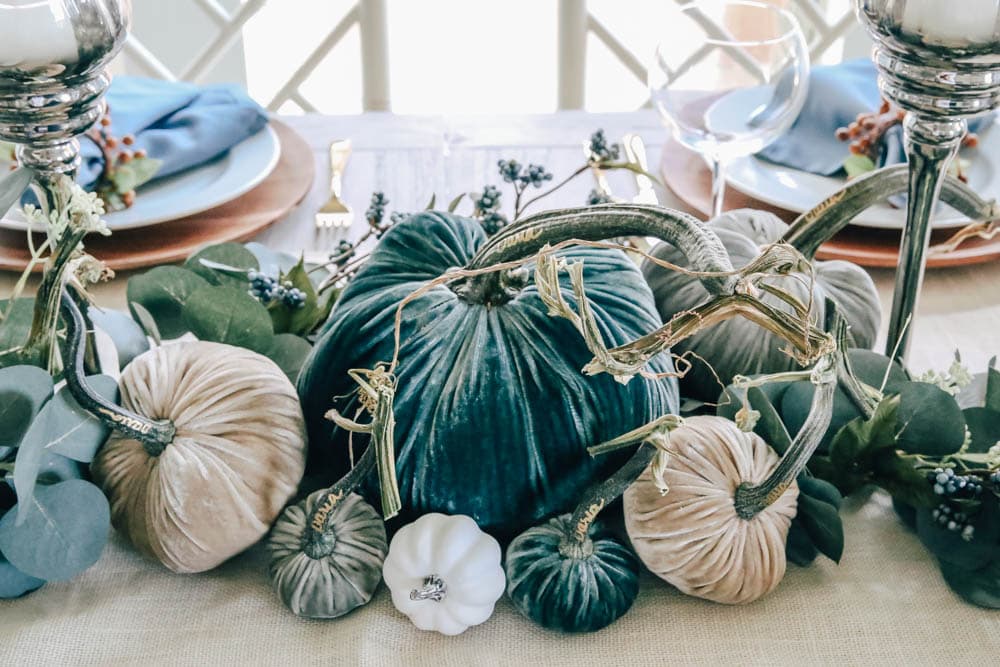 I clustered them in the center with the largest in the middle and staggered the colors. Then I tucked in these little white pumpkins to fill in. I have shared these before and they are a screaming deal for 12 pumpkins.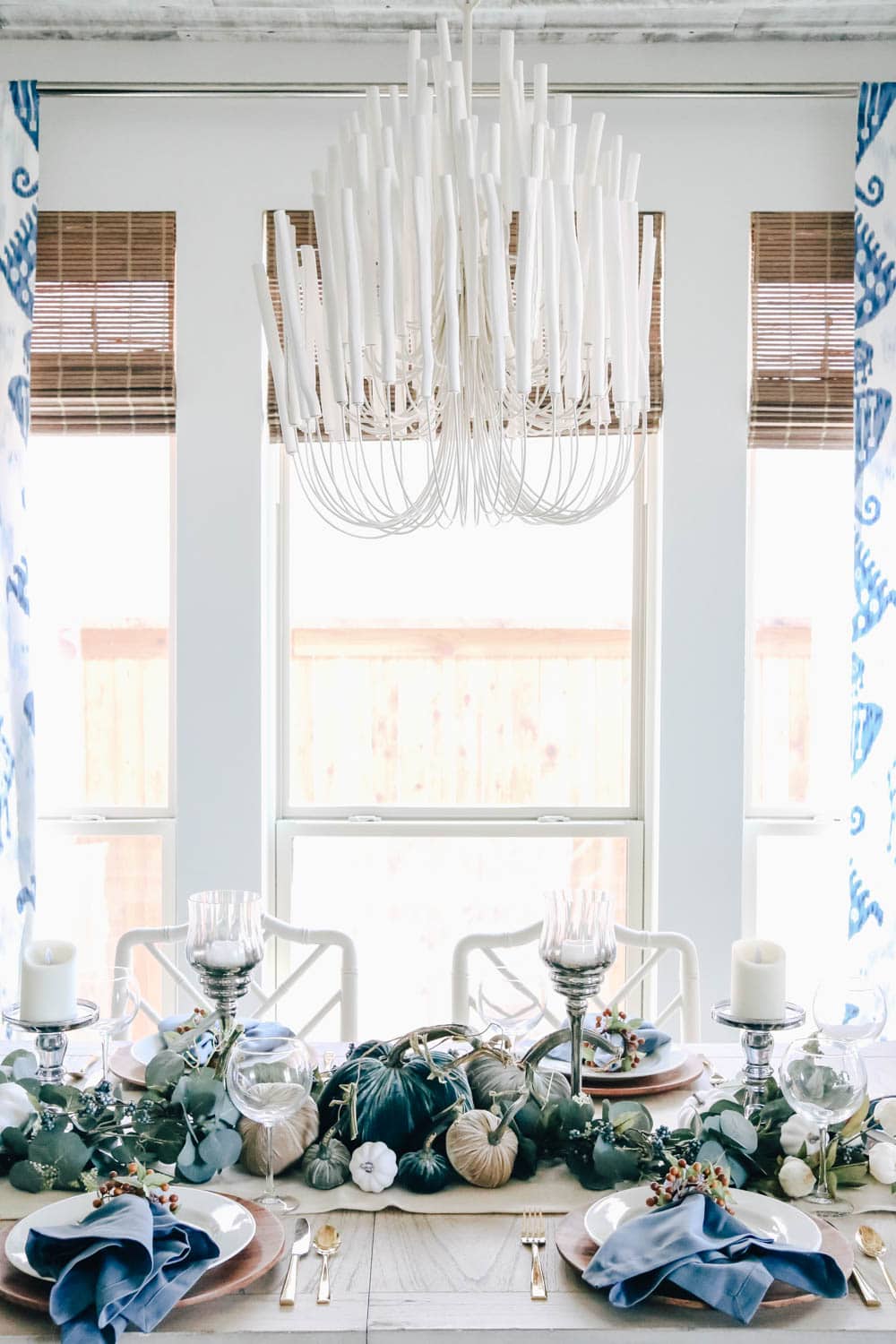 Create ambient lighting.
I found these beautiful candle holders at Homegoods and love the smokey grey glass on them. I love to stagger my candles by height and have the highest point towards the center of the table. They are not that tall to make it difficult to talk across the table but yet provide gorgeous ambient lighting.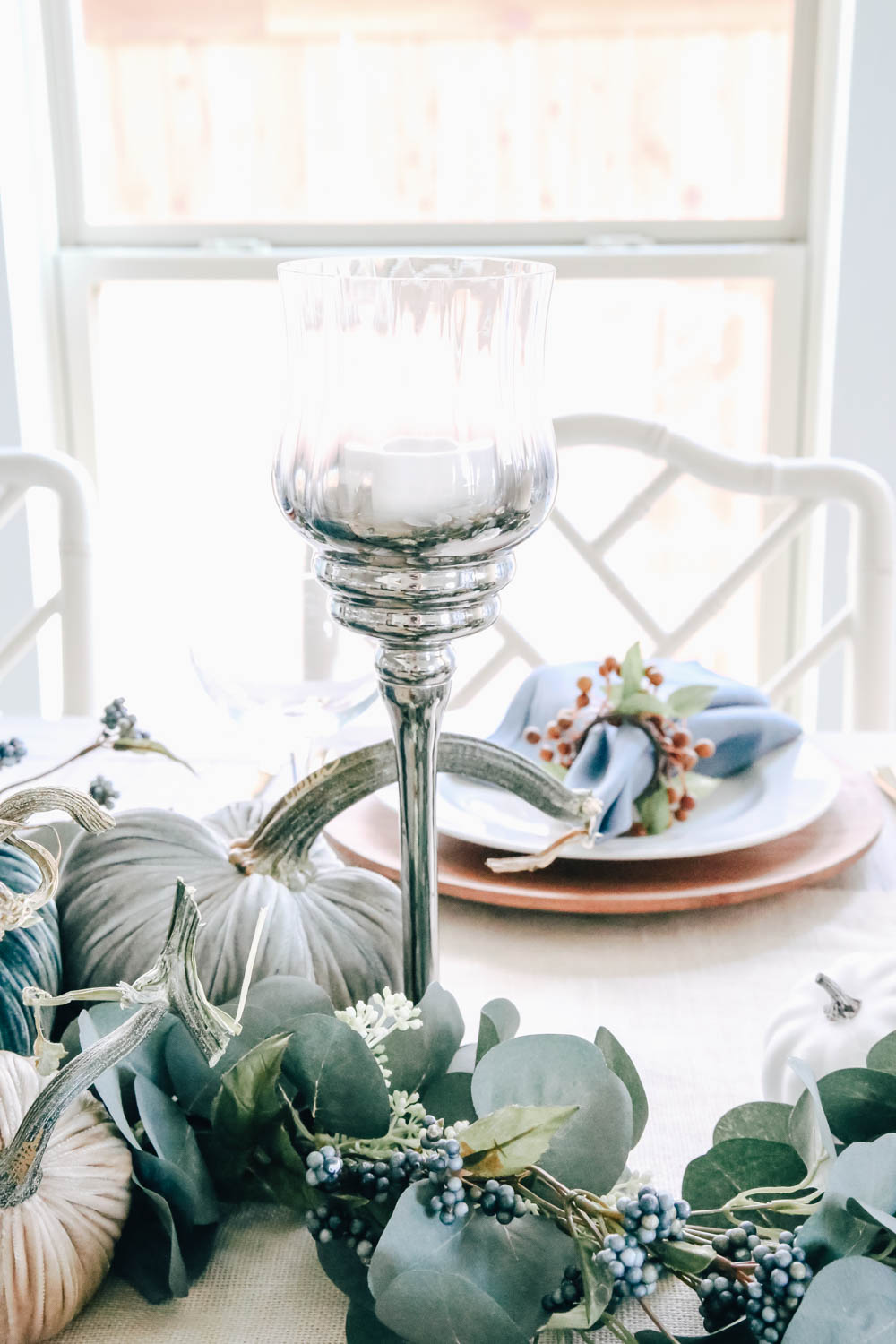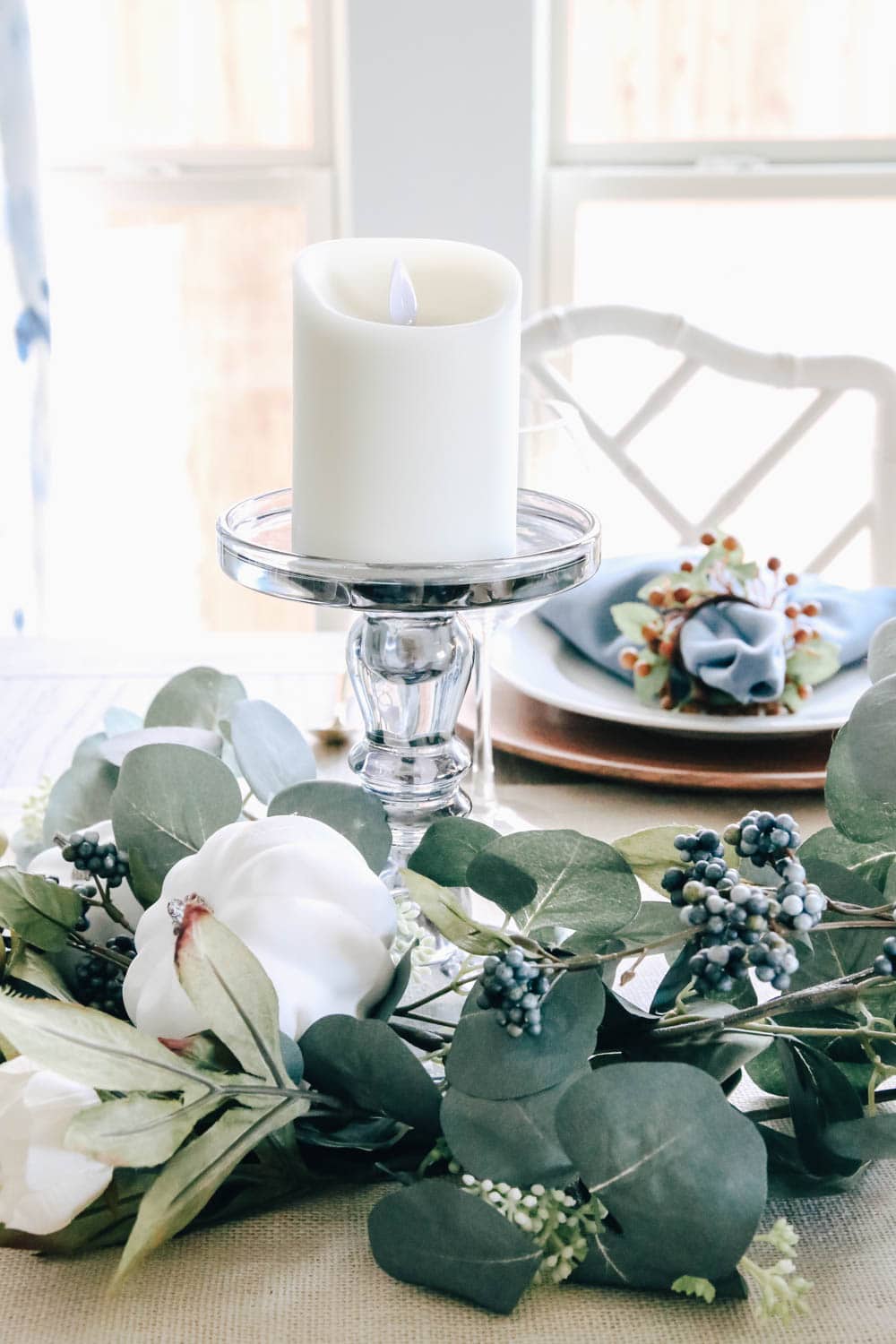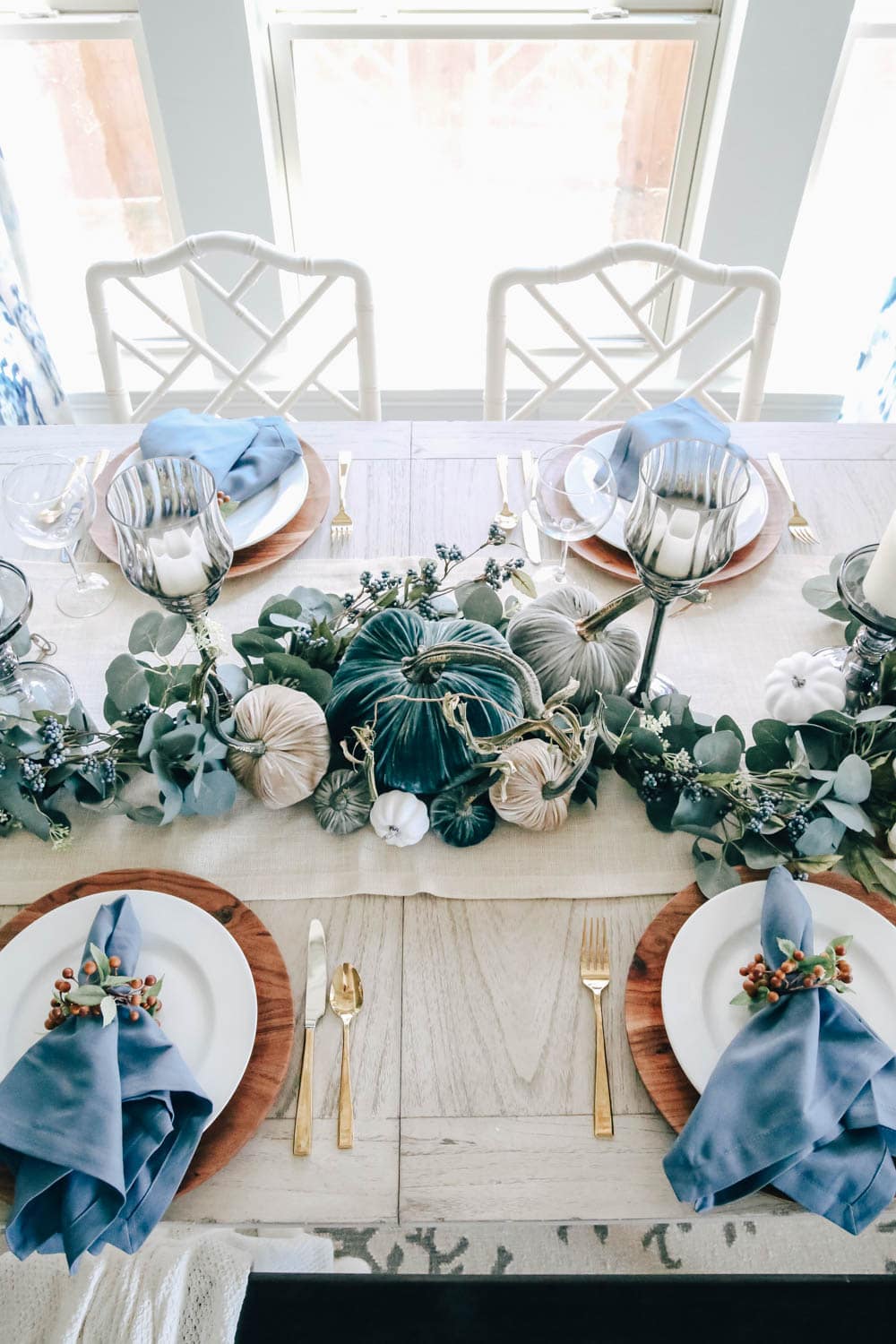 I used this affordable eucalyptus garland to weave in and out of the pumpkins and candles and then tucked in some blue berry picks and white peony bud picks. My garland is sold out but I found a similar one for less HERE. I love to make my garlands look more full by adding in additional floral and greenery picks. You can pick these up at Hobby Lobby, Michaels, etc.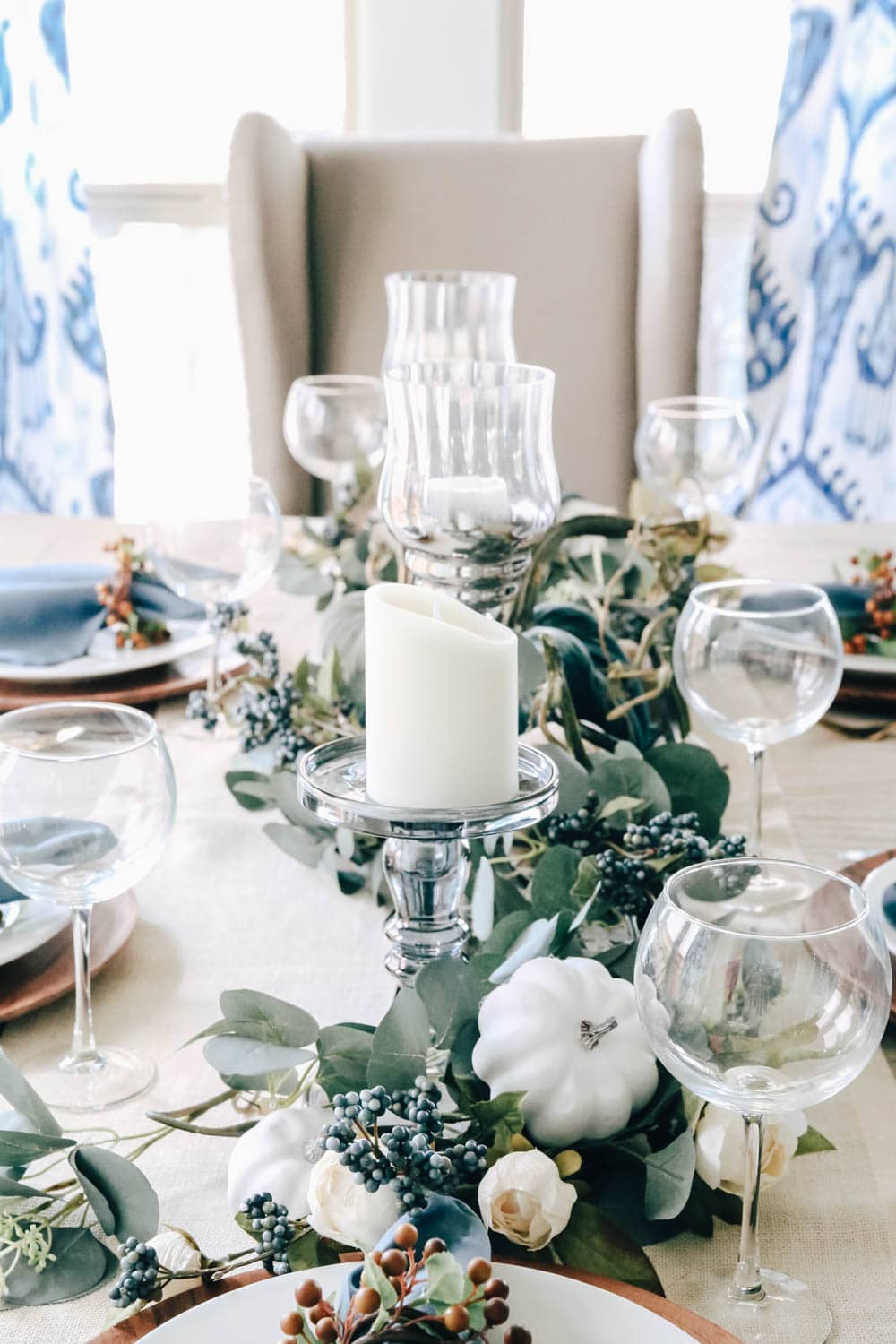 Create layers with the place setting.
I love these beautiful wood chargers and the rustic accent it brings to the table. I see even using these in other seasons. They are heavy and really well made. I have a thing for chargers and use them in just about every table design I do. I am all about creating layers and this is by far the easiest way to do this with a place setting.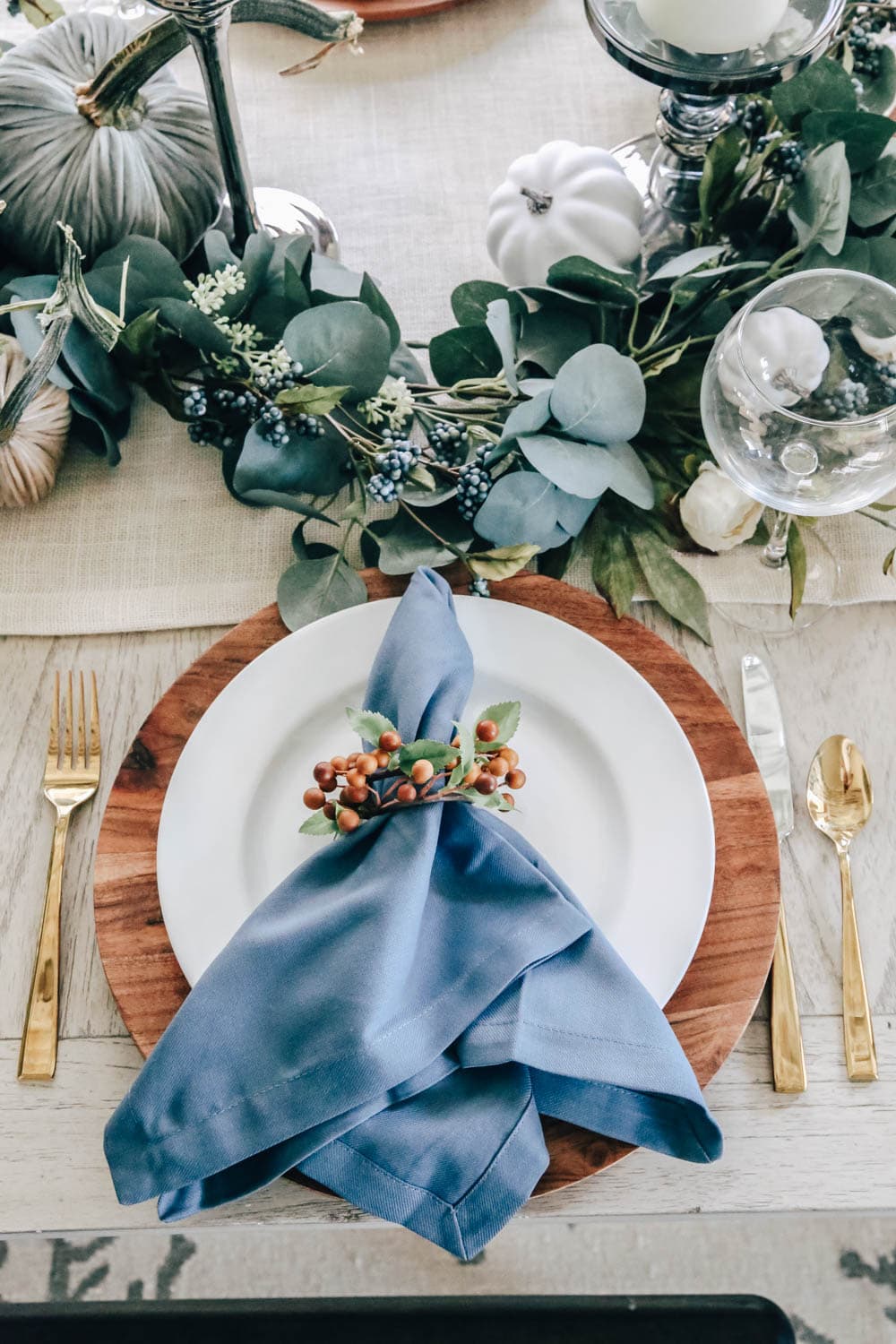 Pop feature color in the napkins.
I found these napkins in this gorgeous blue color. It is almost in a periwinkle color and such a rich shade. I am such a fan of the color-blocked napkins at World Market. I think they are so affordable and they have just about every color you could want. I have slowly been stocking up on the shades I use most.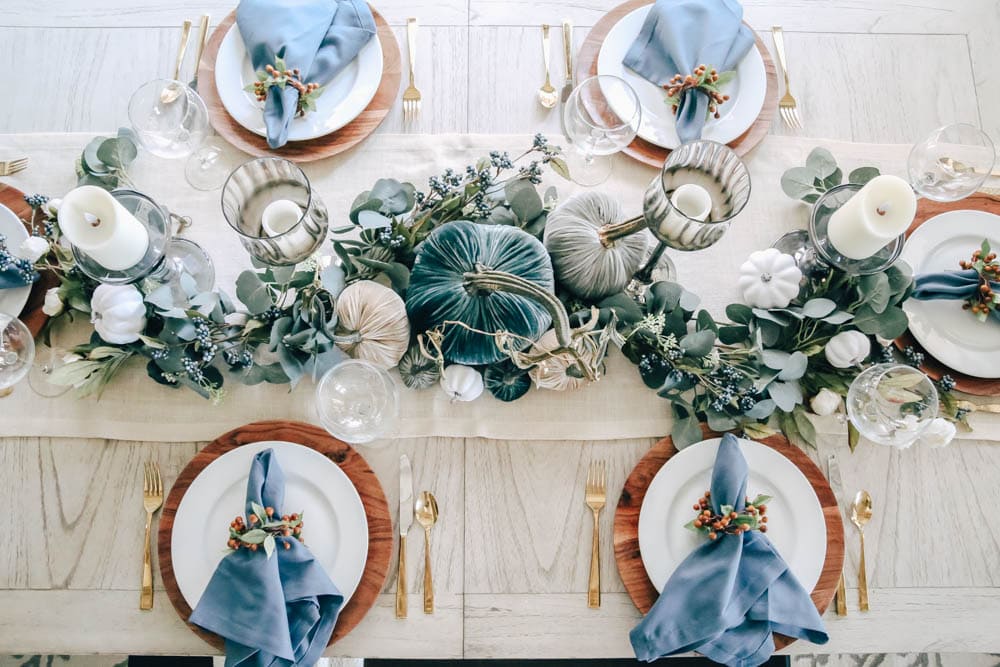 These mustard berry napkin holders are a current favorite of mine. I have been using them a lot and currently, they are on clearance so snag them now! I actually doubled them up on each napkin so they would look fuller.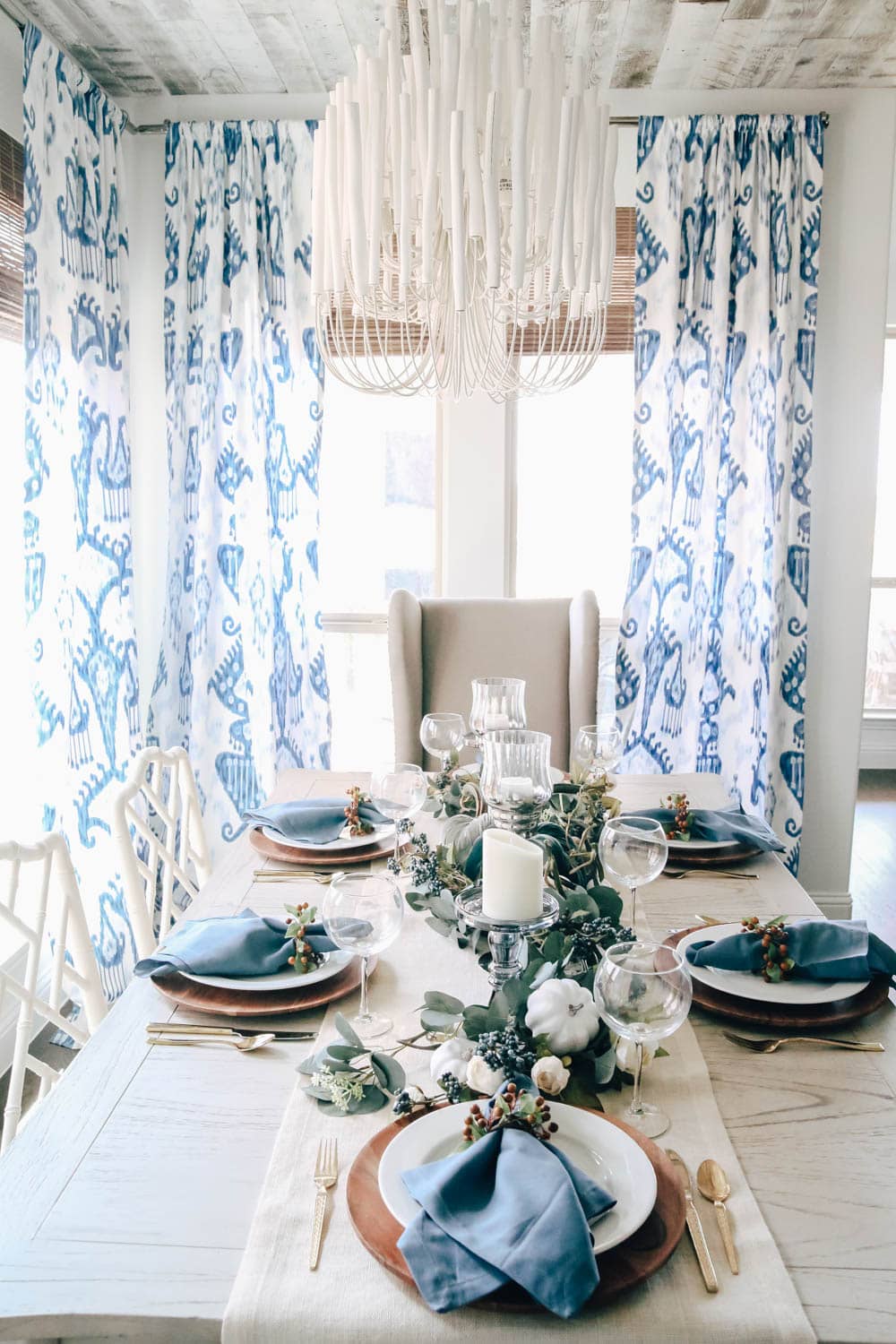 I hope you got some great ideas on a more farmhouse Thanksgiving table decor idea and you can shop all the sources I used below!



All sources for my home are available HERE and all furniture and accessories sources are available HERE.
Need to bookmark this post for later?
Pin Our Image: