First Day Of School Photo Ideas + Free Printable Signs
This post may contain affiliate links. Please read our disclosure policy.
Sharing fun and unique first day of school photo ideas and free printable signs to use. A simple and fun tradition to start for 1st day of school photos for kindergarten through high school.
Can you believe the first day of school is right around the corner?? I love creating new traditions to do and this one is so much fun! The first day of school is full of nervous jitters, lots of anxiousness, and excitement. I bet you are thinking of unique teacher gift ideas and how you can create a memorable beginning of the year school photos with your kids.
Well, I've got you covered with the cutest photo booth idea I know you and the kids will love! This is so simple that you and the kids will have lots of fun putting together.
My little cutie pie cracked me up when we were doing ours!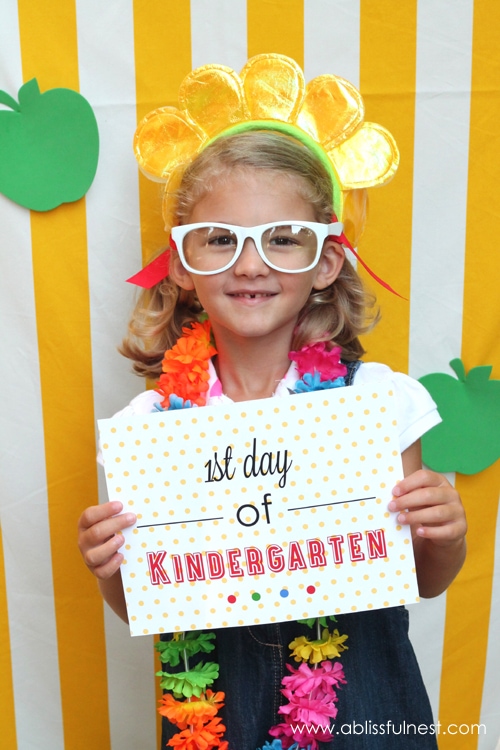 First Day Of School Photo Ideas + Free Printable Signs
How do you make a first day of school sign.
Making a first day of sign for school is super easy. You just need a printer and some paper. I have designed some printable signs that you can simply save to your computer and print each year.
Here is how to download and print your files:
Step 1: Make sure you have the most up to date Adobe Acrobat Reader downloaded to your computer.
Step 2: Click HERE to download your files.
Step 3: Save files to your computer.
Step 4: Open your file on your computer and follow your printer prompts to print the file.
And that's it!

What should you wear for picture day.
When planning outfits for picture day there are a few rules of thumb I like to follow. Typically staying in solid colors in either light or dark will stand out if you have a colorful background. Try to stay away from busy patterns like stripes, plaids, and polka dots. I love to mix in denim when I can for a more casual relaxed look.

What do you do with school pictures.
There are so many things you can do with your first day of school pictures. Use them to create a gallery wall so you can see how your kiddos faces change each year. Display them in your favorite picture frame on a console table, create a photo album of your favorite images, or create a slideshow for the family to enjoy.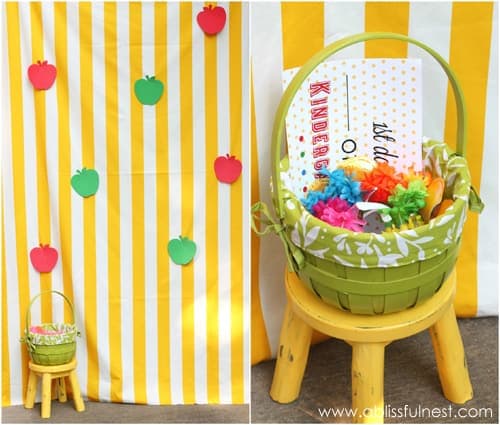 Supplies needed to make photobooth:
fun fabric
bucket
props like sunglasses, boas, crazy hats, wigs, etc
stool or a small bench
printable first day of school sign (download HERE)
Tips for first day of school picture taking:
Tip 1: take photos in a well lit place but not in direct sunlight.
If you are taking photos outside, either do them in the early morning or late afternoon/early evening hours. You do not want the sun directly up above you. This will create lots of shadows. You want a soft light.
If you are taking photos inside then you want your light source like a window in front of you and not behind you. This will fully light your subject and not create harsh shadows on the face of the subject. Turn off your overhead lights because they will cause a yellow glow.
Take pictures in the most natural lighting you can.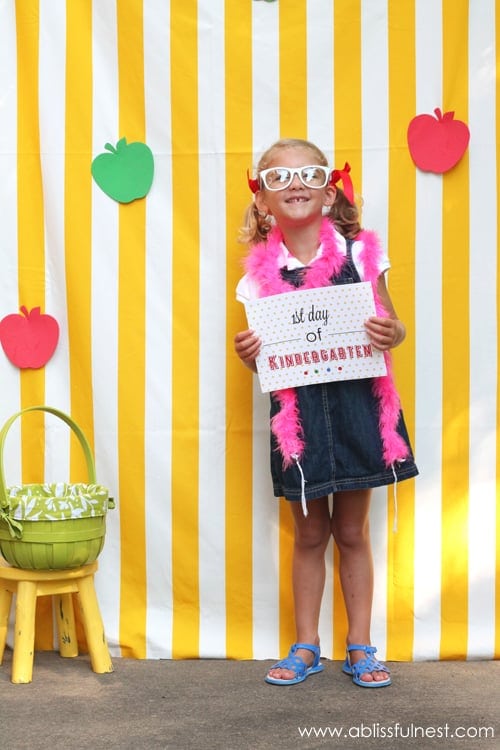 Tip 2: Use a tripod and timer
When you use a tripod, it reduces the amount of shake when the photo is snapped. This will create a more crisp and sharp image.
Using a timer will help you take sharper photos as well. The more you touch your camera while you take a picture, the more "shake" it will create. A timer will also let you hop in the pictures with your kids!
Tip 3: Use a bright colorful backdrop
Use colorful and saturated colors like red, yellow and blue for a backdrop. They will stand out and make your photos pop. Try to stay away from small patterns as they will look busy.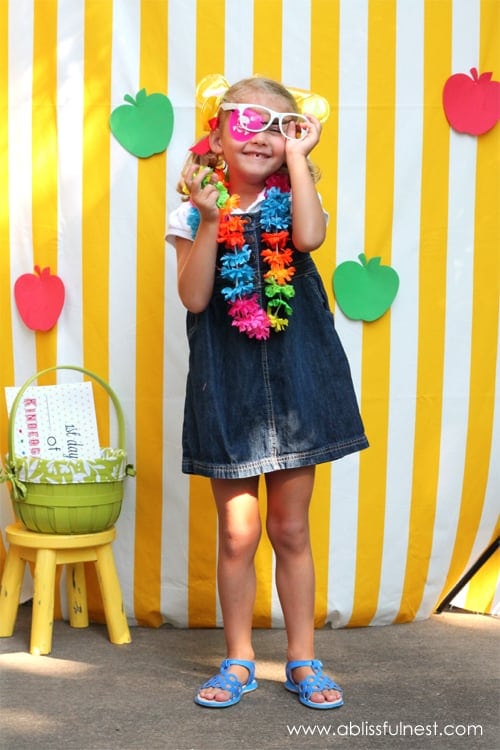 I hope you found some great ideas on how to create the first day of school photo booth and some ideas to make it memorable for you and the kids!
More back to school ideas you will love to get you and your kids ready for the school year:
Just in case you want more ideas on back to school inspiration, here are some amazing and inspiring ideas to get you started!
Follow along to get more of my tips on home decor, DIY and lifestyle on the following: