Stylish + Affordable Flush Mount Light Fixtures
This post may contain affiliate links. Please read our disclosure policy.
Sharing the BEST affordable flush mount light fixtures for every design style! Whether for your hallways, bathrooms or laundry rooms, these ceiling light fixture styles are perfect for farmhouse style, coastal chic, boho eclectic, and so many more design styles!
Choosing lighting for your home is bound to be a challenge but it doesn't have to be.
I've got many examples on how to use flush mount fixtures in your home to make the process affordable and relatively simple.
Whether you're just giving a space in your home a refresh or are renovating, flush mount fixtures are something you should consider for a variety of rooms.
From laundry rooms to bathrooms, entryways, hallways and more, flush mounts are a stylish option and the best part is, there are tons of styles out there for just about every budget.
Flush Mount Light Fixtures in Hallways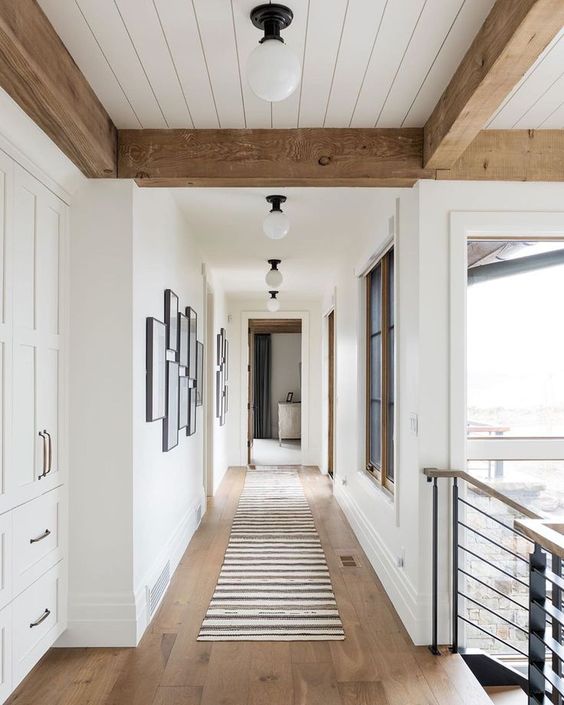 The most common place to put flush mount lighting is in a hallway.
It is an easy way to dress up an otherwise functional space that not a lot of time is spent in.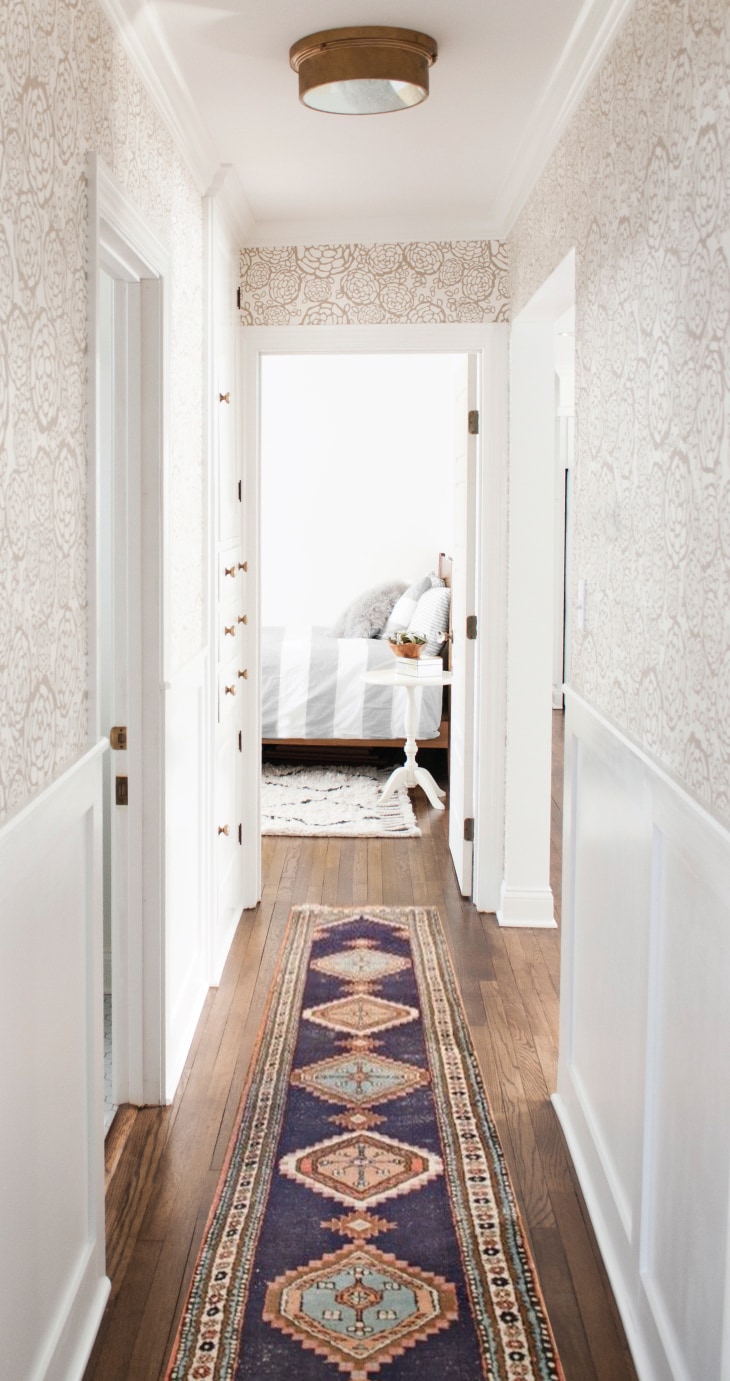 Flush Mount Ceiling Lighting in Bathrooms
Flush mount ceiling lighting can be really beautiful in bathrooms that are not large.
It adds a beautiful decorative element rather than just having can lighting.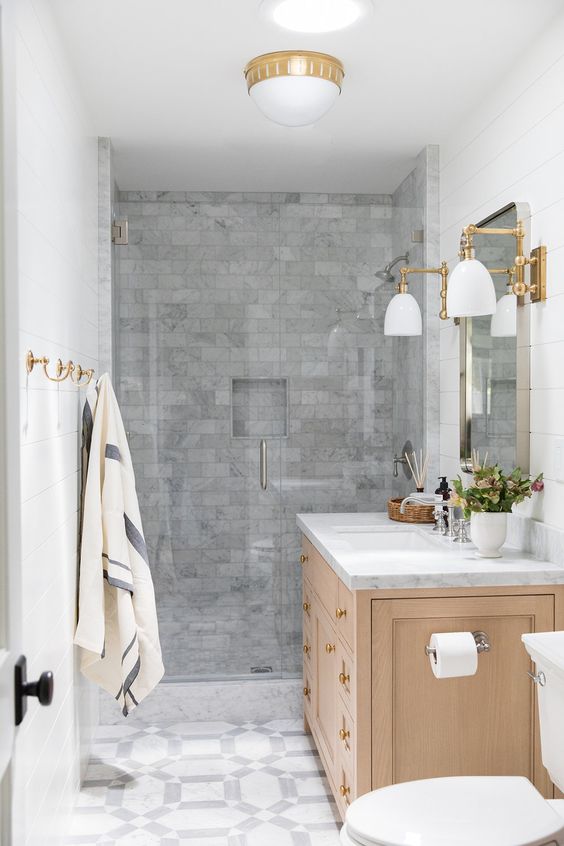 I rounded up a bunch of the top affordable flush mount light fixtures out there and they are all under $200!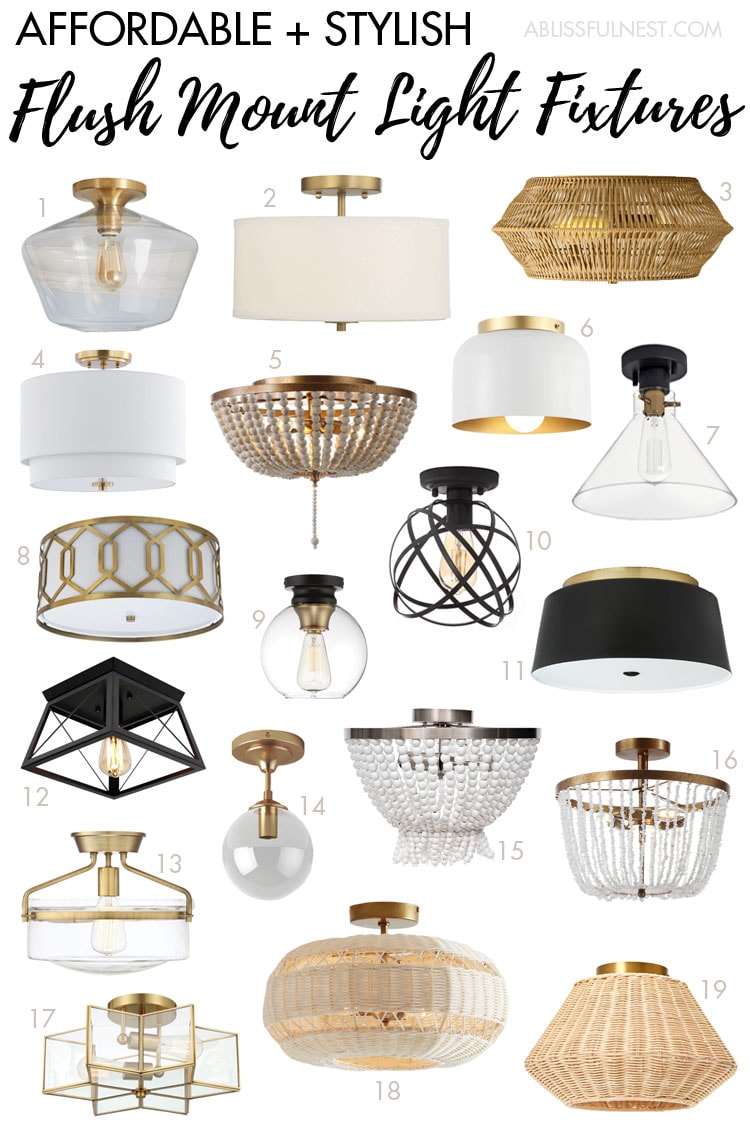 1 | 2 | 3 | 4 | 5 | 6 | 7 | 8 | 9 | 10 | 11 | 12 | 13 | 14 | 15 | 16 | 17 | 18 | 19
This post contains some affiliate links for your convenience. Click here to read my full disclosure policy.
Stylish + Affordable Flush Mount Light Fixtures:
1. Glass Geo Flush Mount: when I first saw this flush mount, I instantly thought of how perfect it would be for a laundry room or powder bath. I love the glass and gold together, but it also comes in a couple of other finishes to choose from.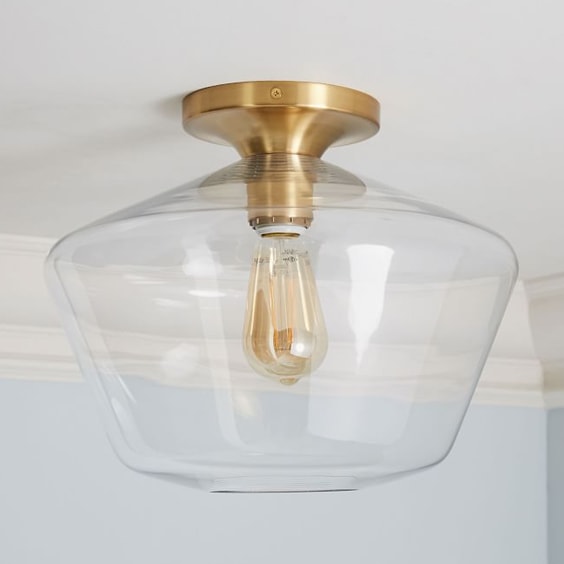 2. Fabric and Natural Brass Flush Mount: if you're looking for a super classic flush mount, this one is perfect! And it's just under $100.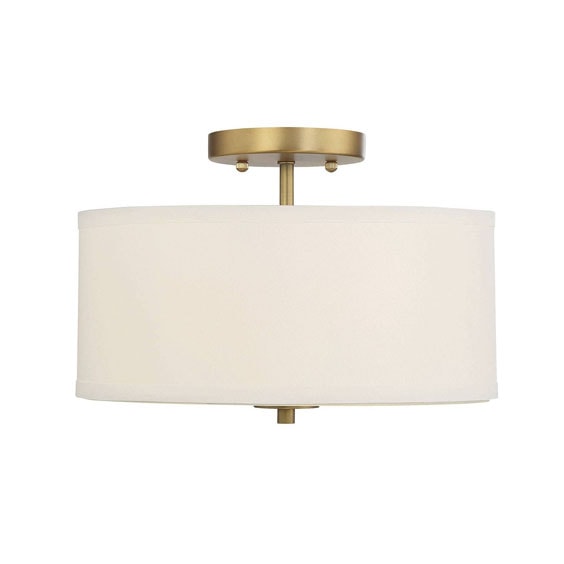 FABRIC AND NATURAL BRASS FLUSH MOUNT
3. Woven Rattan Caged Drum Flush Mount: I love, love, love the beachy look that this flush mount has! It's still subtle in size but makes a fun statement in your home. It's way more affordable than it looks too!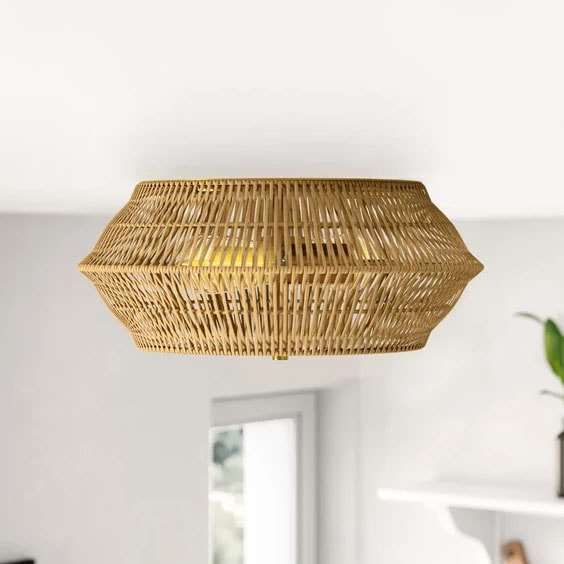 WOVEN RATTAN CAGED DRUM FLUSH MOUNT
4. Tiered Shaded Drum Flush Mount: the tiered look this flush mount light has is different than your typical shaded flush mount but I love how simplistic it still looks!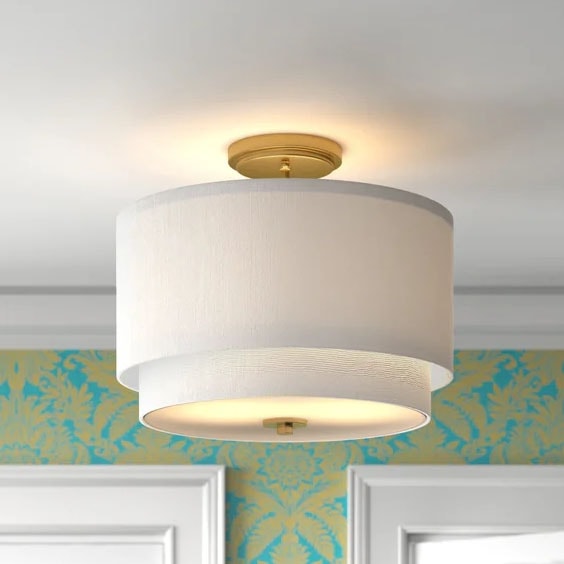 TIERED SHADED DRUM FLUSH MOUNT
5. Glam Gold & Wooden Beaded Flush Mount: this beaded flush mount has a gorgeous vintage look to it with a touch of modern-glam as well. It's another one here that looks very expensive but isn't and is a beautiful piece to add to your home.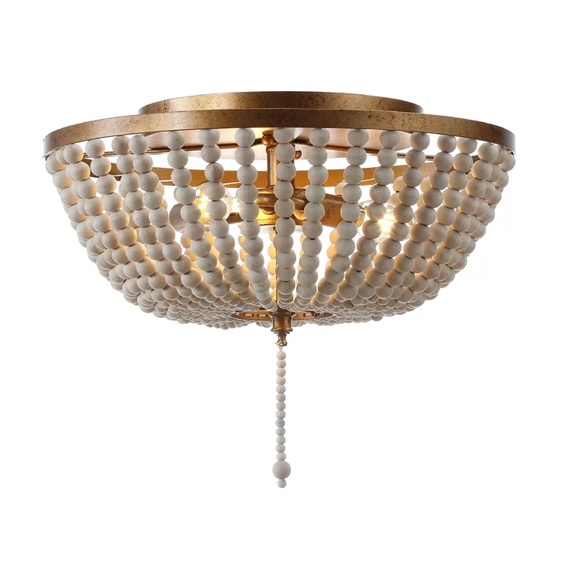 GLAM GOLD & WOODEN BEADED FLUSH MOUNT
6. White Shaded Dome Flush Mount: here's a super fun, modern flush mount to consider for your home! It's super simple which I love and it'd be perfect if you need one or multiple of.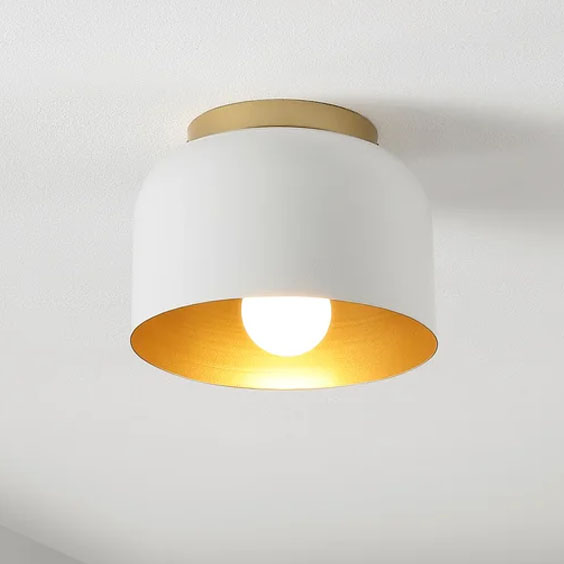 7. Metal Cone-Shaped Semi-Flush Mount: isn't this just so different and fun?! I love the industrial look the sleek glass cone and hardware gives it and how simple it still is.
METAL CONE-SHAPED SEMI-FLUSH MOUNT
8. Gold 3-Light Flush Mount: such a classic light that would be beautiful in an entryway – look at that gold design! It's under $200 and is perfect if you're looking for something a bit understated.
9. Simple Globe Flush Mount: for $60, you can't go wrong with a super simplistic round, glass flush mount like this one! It's something small, but I really like how the base is black but inner hardware is gold. It's a fun touch!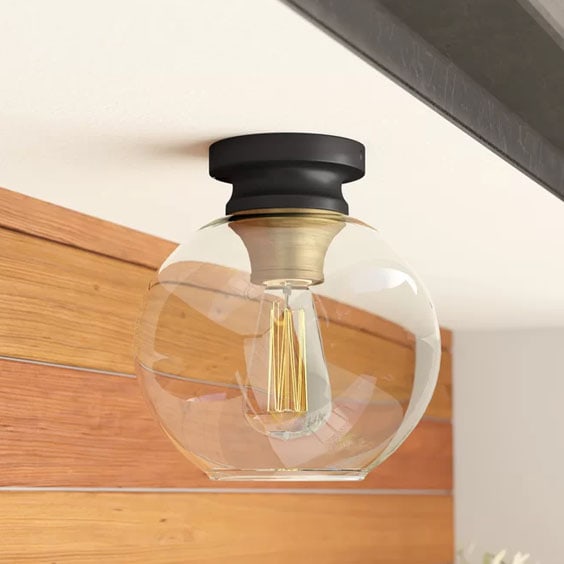 10. Bronze Orb Metal Flush Mount: would you believe me if I told you that this super sleek, bronze flush mount was under $50?! It'd be perfect for a breakfast nook, entryway or guest bathroom!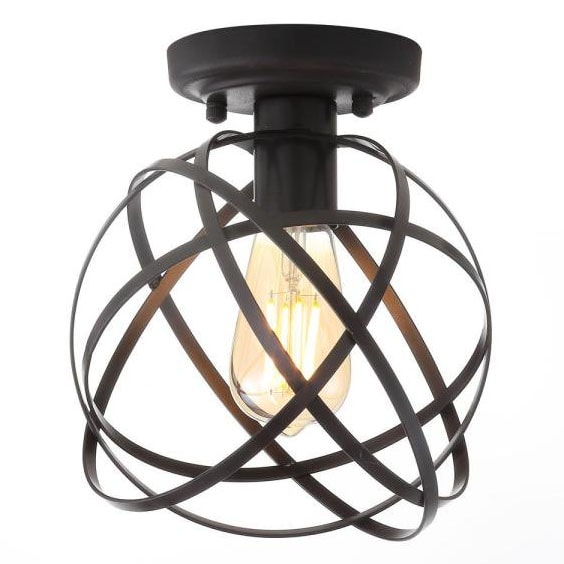 11. Black and Gold Semi-Flush Mount: if you're looking for something super different and to make a statement in a room in your home, this black and gold flush mount is perfect! It's modern but still classic and will look great in so many spaces.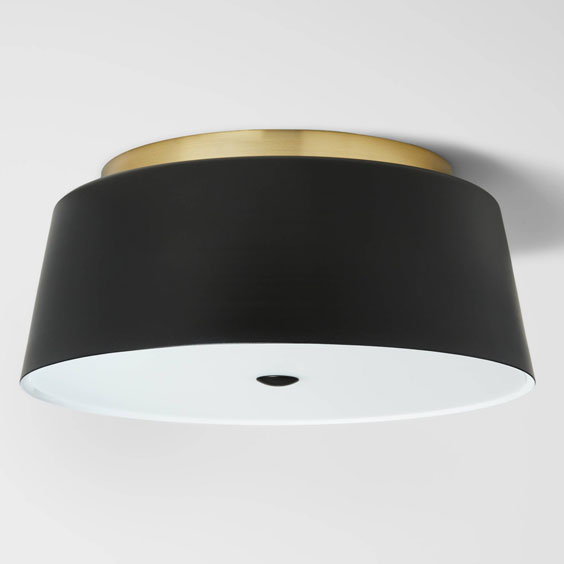 BLACK AND GOLD SEMI-FLUSH MOUNT
12. Black Metal Square Flush Mount: a little farmhouse, a little classic, a lot of gorgeous! Perfect for a staircase, hallway, guest bathroom or just about anywhere else in your home. This is a flush mount that's super simple so you could pair a couple of them together or have it mounted on its own – you can't go wrong and it's under $80!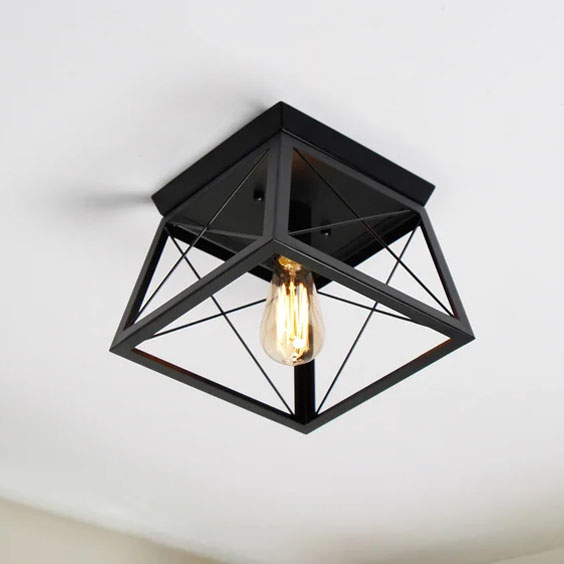 BLACK METAL SQUARE FLUSH MOUNT
13. Natural Brass and Glass Semi Flush Mount: this somewhat glam, somewhat modern flush mount is a perfect look if you need something bright and bold but not too overstated in your home. It's minimalistic yet elegant and will look so beautiful no matter where you use it!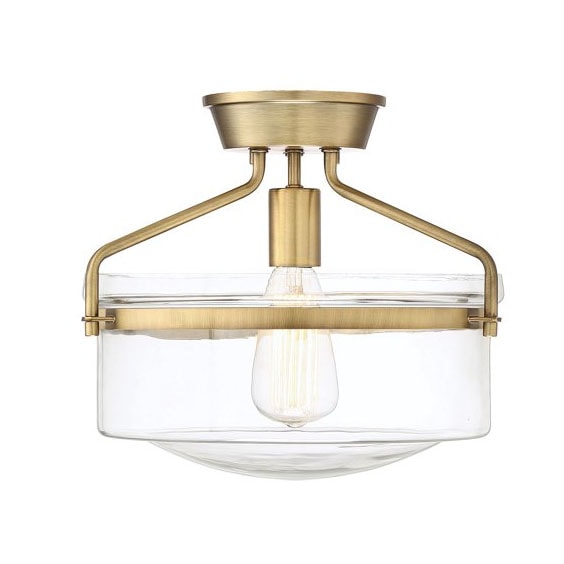 NATURAL BRASS AND GLASS SEMI FLUSH MOUNT
14. Gold and Glass Globe Semi Flush Mount: I really, really love the look of this semi flush mount! It's soo simple but beautiful and it's UNDER $50!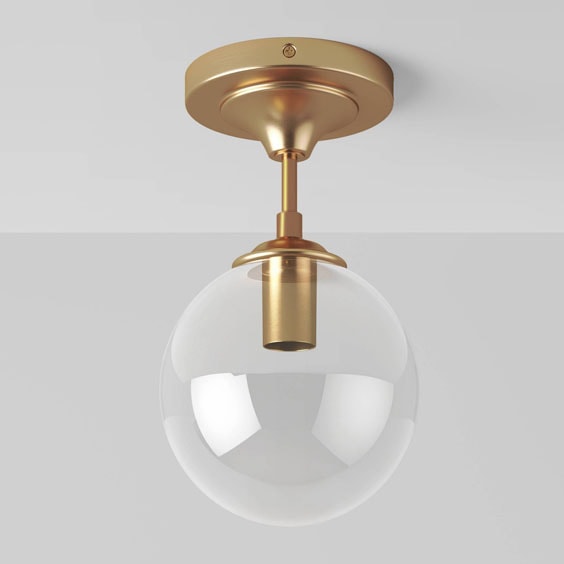 GOLD AND GLASS GLOBE SEMI FLUSH MOUNT
15. White Beaded Flush Mount: this white beaded flush mount light will make a statement in any room – I think it'd be perfect for a bedroom or bathroom! The white beading is so different and it's a fun statement piece under $100.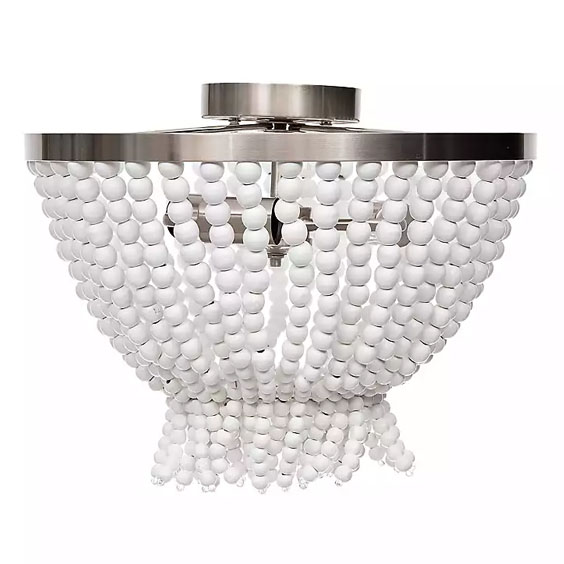 16. Quartz Beaded and Gold Flush Mount Light: here's another fun beaded flush mount but this one is made with quartz stones – isn't that so beautiful?! Think how pretty it'll look when it's turned on! It looks like an expensive piece but it's under $200 and a must-have statement maker in your home.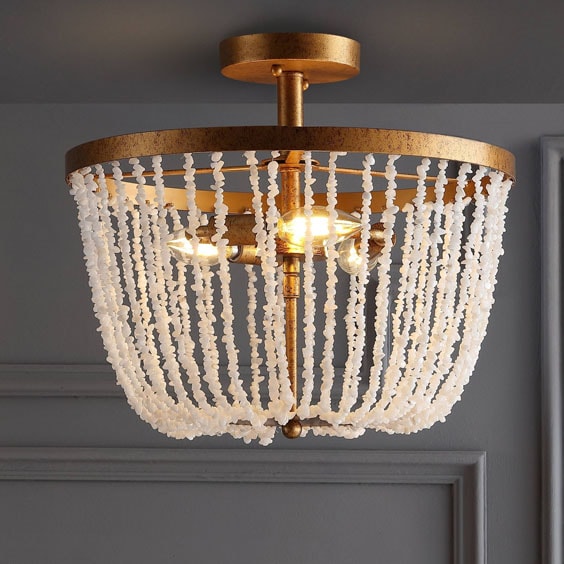 QUARTZ BEADED AND GOLD FLUSH MOUNT LIGHT
17. Gold & Glass Star Shaped Flush Mount: the star shaped design of this light drew me to it instantly! How fun is this?? It's so different and the clear glass will help to let through lots of light. Whoever said that lighting couldn't make a statement surely never saw this beautiful fixture! This is another option that looks like it cost a fortune but isn't – wait until you see how affordable it is.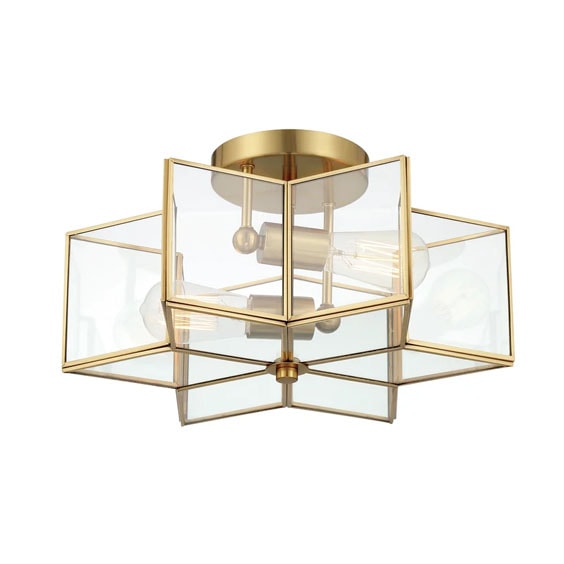 GOLD AND GLASS STAR SHAPED FLUSH MOUNT
18. Woven Flush Mount: this is the only flush mount that's a little pricier, but I had to include it because for the piece you're getting it's still a good deal and for the statement it'll make in your home, it's money well spent! I love the way the light seems to shine through the woven, rattan wicker finish. There's also a matching pendant light so you could mix and match these to keep a theme going throughout your home!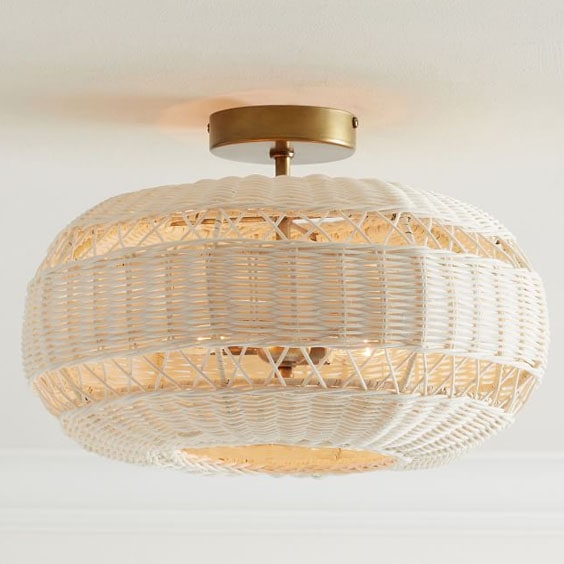 19. Gold and Rattan Flush Mount Light: I love the coastal look to this flush mount and how chic it is! It comes in two shades of rattan and it would be perfect for a kitchen island, above your kitchen sink, an entryway… thinking of all of the places a really beautiful flush mount like this would stand out!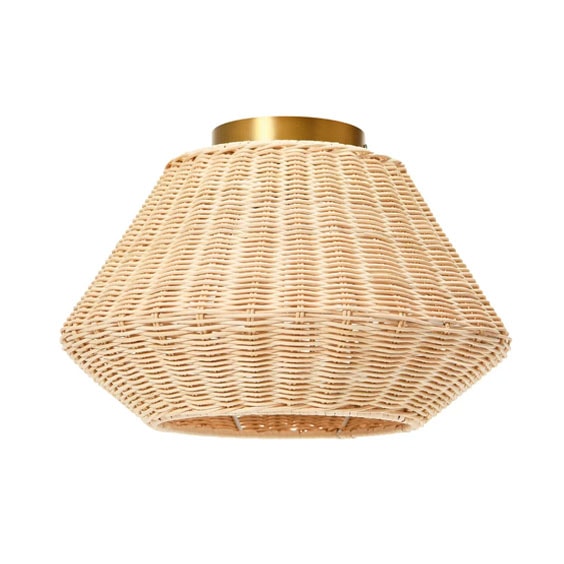 GOLD AND RATTAN FLUSH MOUNT LIGHT
If you're looking for new flush mount lighting for your home, I hope these stylish picks help you finish up your project!
Follow along to get more of my tips on home decor, DIY, and lifestyle on the following: