Blue and White Christmas Porch Reveal
Sharing a classic blue and white Christmas porch with simple details you can easily recreate. Full source list and how to layer elements included.
Welcome to this year's Annual Blogger's Holiday Home Tour!
Each year an amazing group of bloggers shares special rooms in their homes throughout the whole week. Thank you to Jenny from Evolution of Style and Amy & Christy from 11 Magnolia Lane for hosting!
If you are new and/or coming over from Rhoda from Southern Hospitality then welcome! I am so glad you are here and I hope you love my Christmas porch reveal today.
My name is Rebekah Dempsey and I have been blogging for almost 13 years now. I know. It's A LONG time! I am an interior designer and started this blog to be a great resource for friends and clients on the latest design trends and things I was loving.
Recently I wrote a design book and opened a new online home decor shop, full of beautiful and affordable pieces for your home.
And if you want to check out my Christmas porch from the last few years then you can see it here and here.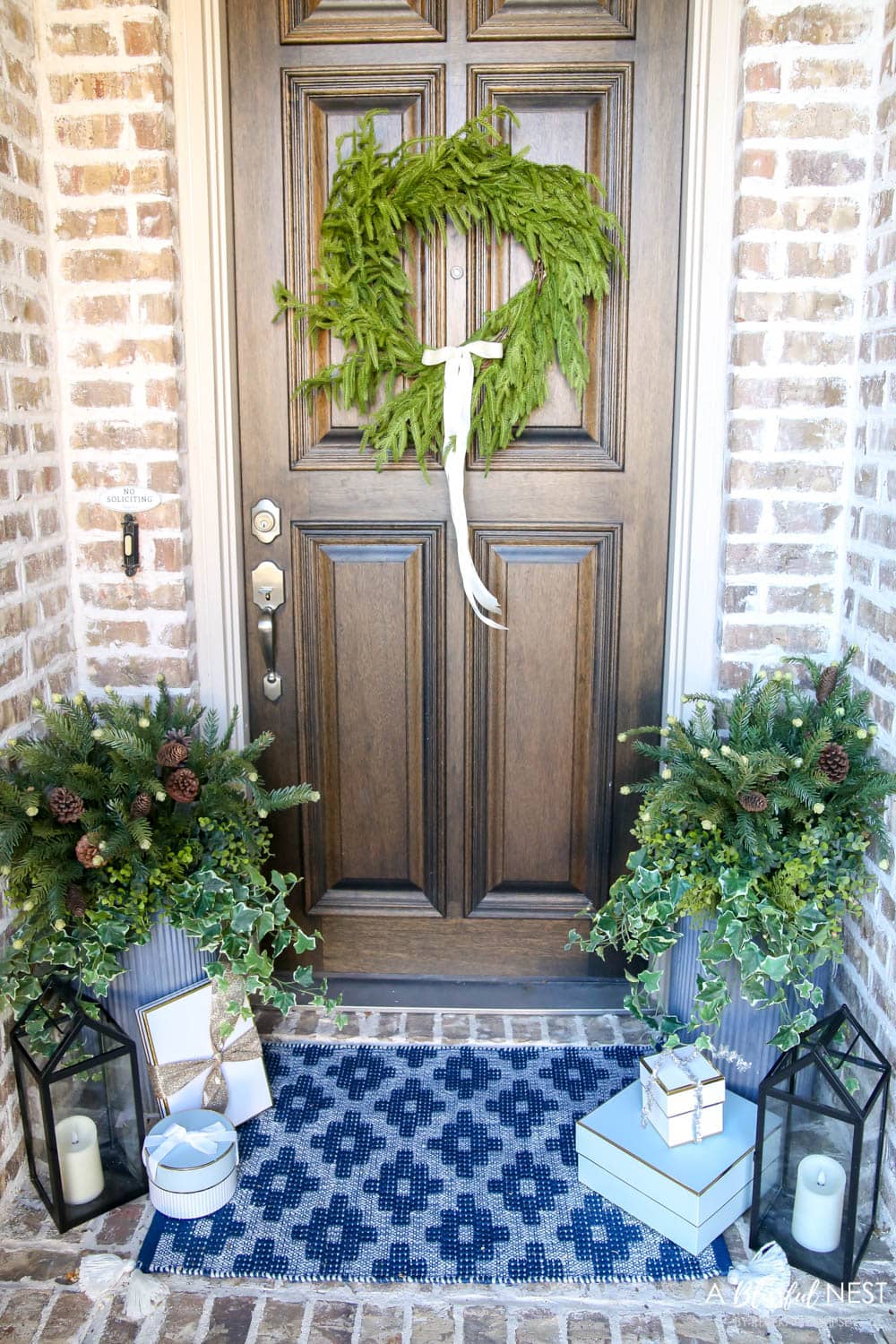 So let's move onto this year's porch! I finally broke the red color scheme I have been doing the last couple of years and picked this new doormat from our new shop as the highlight. More on that below!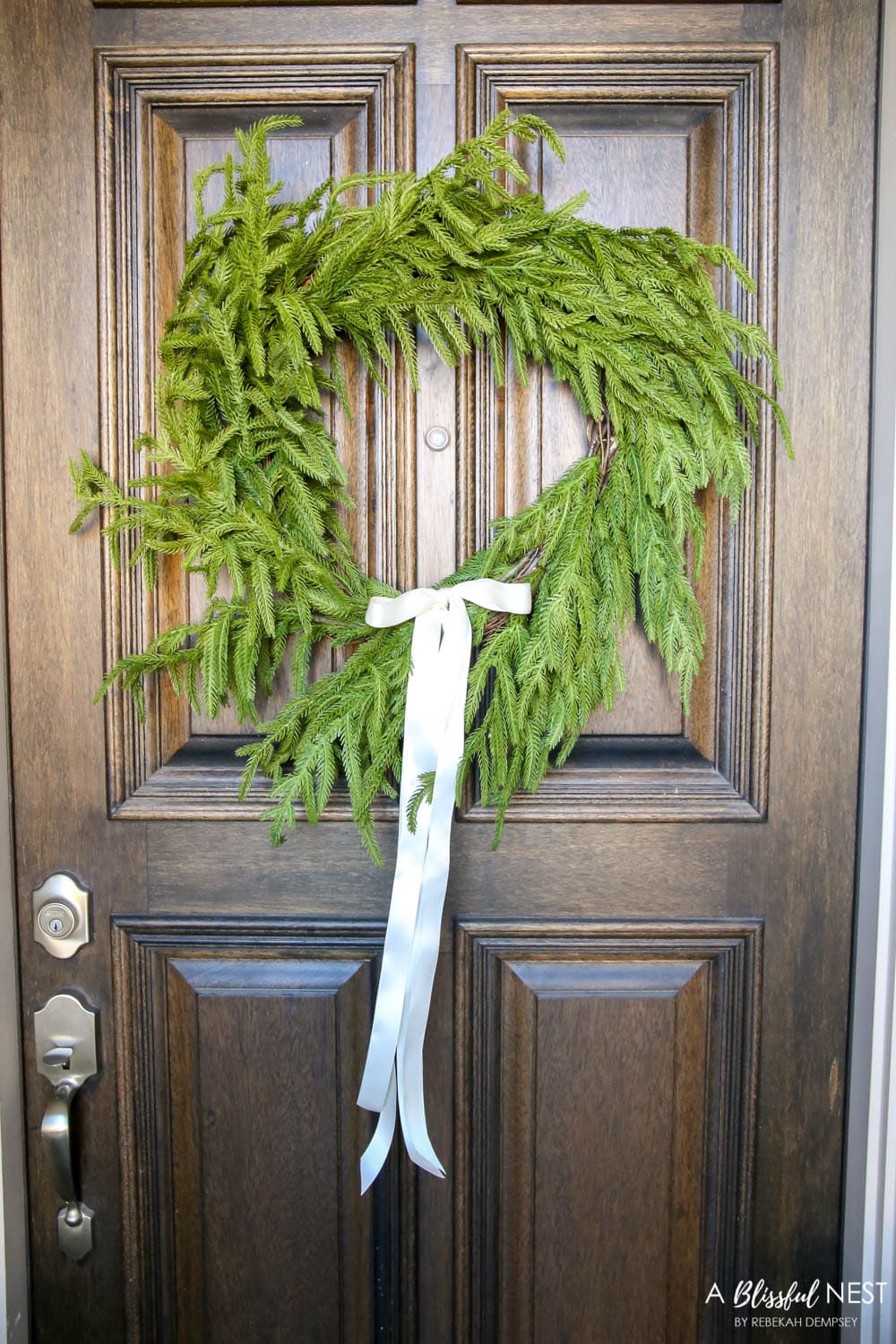 But first this is my all-time favorite wreath and I am hoping next year I can get a few more. It literally sells out so quick every year but is a stunner if you can grab one.
What I love most is it looks almost exactly like a real one. The branches drape the same and have a soft feel to them making it look just dreamy.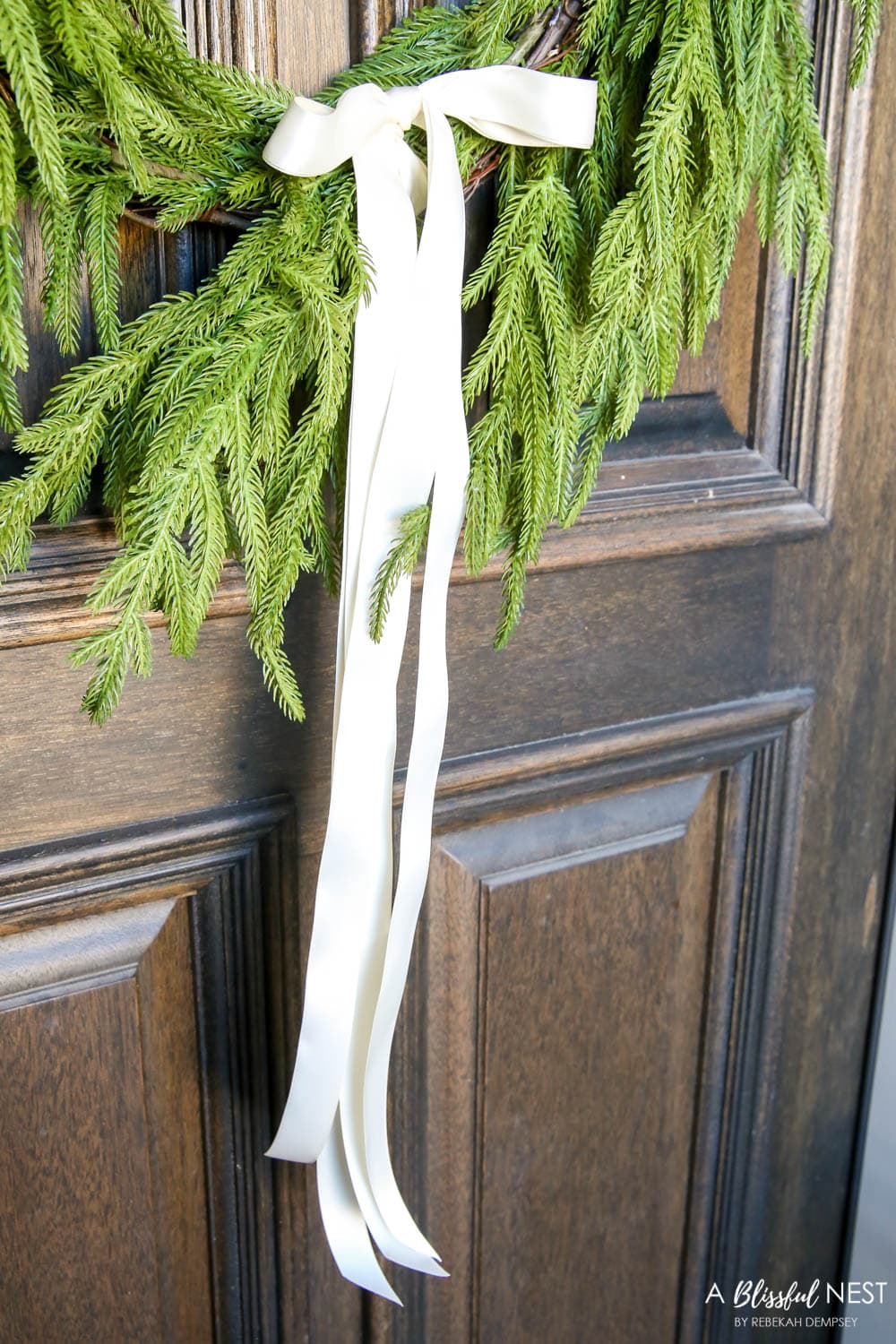 Typically I would not put this wreath outside but we have a deep covered porch so it should be no issue.
I added a simple cream satin ribbon that I layered 2 strands to make it more full and have extra strands hanging down. This is the easiest and most affordable way to change the look of a wreath from year to year.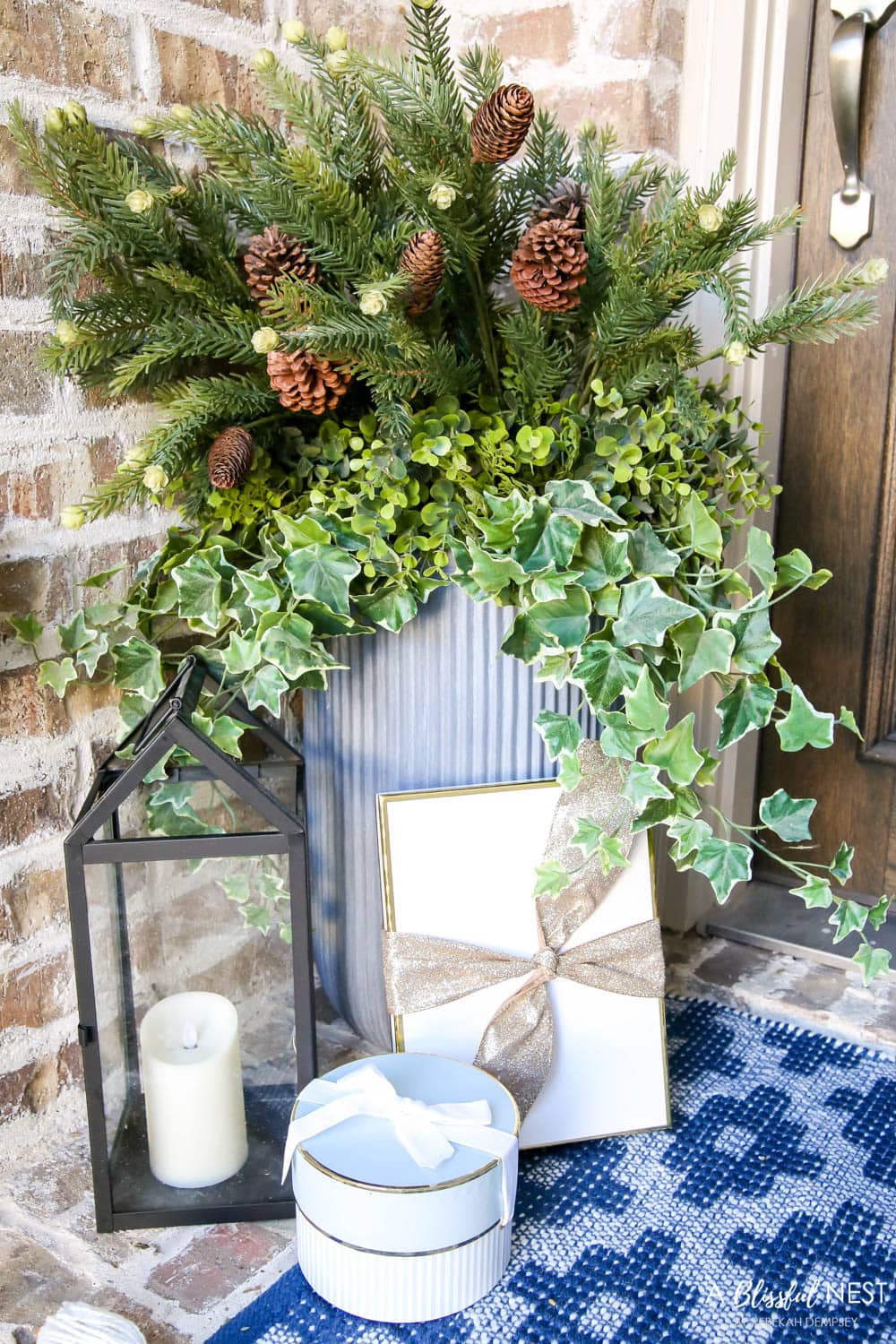 I also updated my planters that I have here year-round. Last year I added UV-protected faux plants to my planters (tutorial and sources HERE) and each season just pop in some season faux plants to spruce them up.
The base plants stay the same and the colorful/seasonal ones get changed out every couple of months.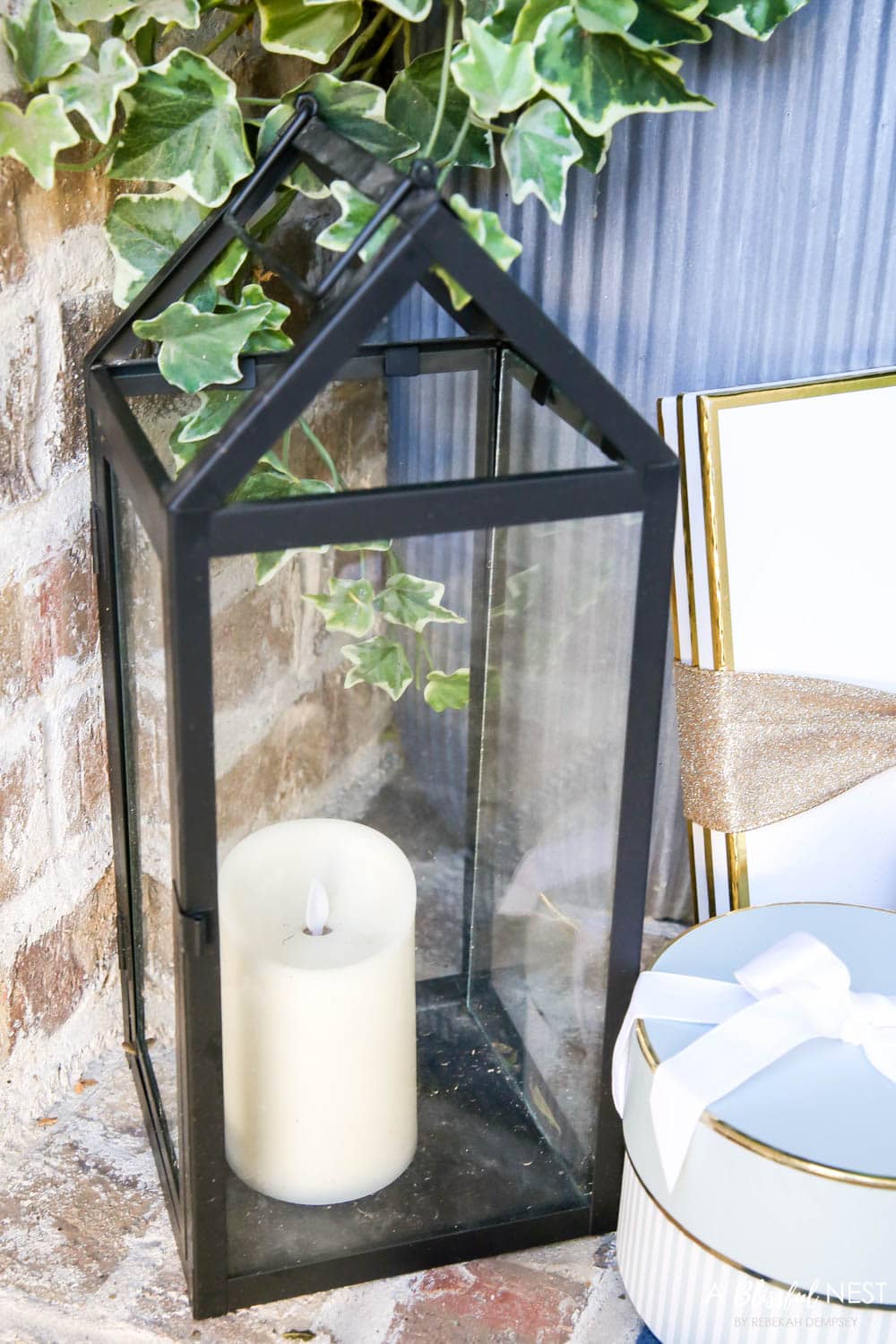 I love adding lanterns (similar) to my porch for just about any season. I have little remotes for the candles so it is easy to turn them on in the evenings to give the porch a beautiful glow.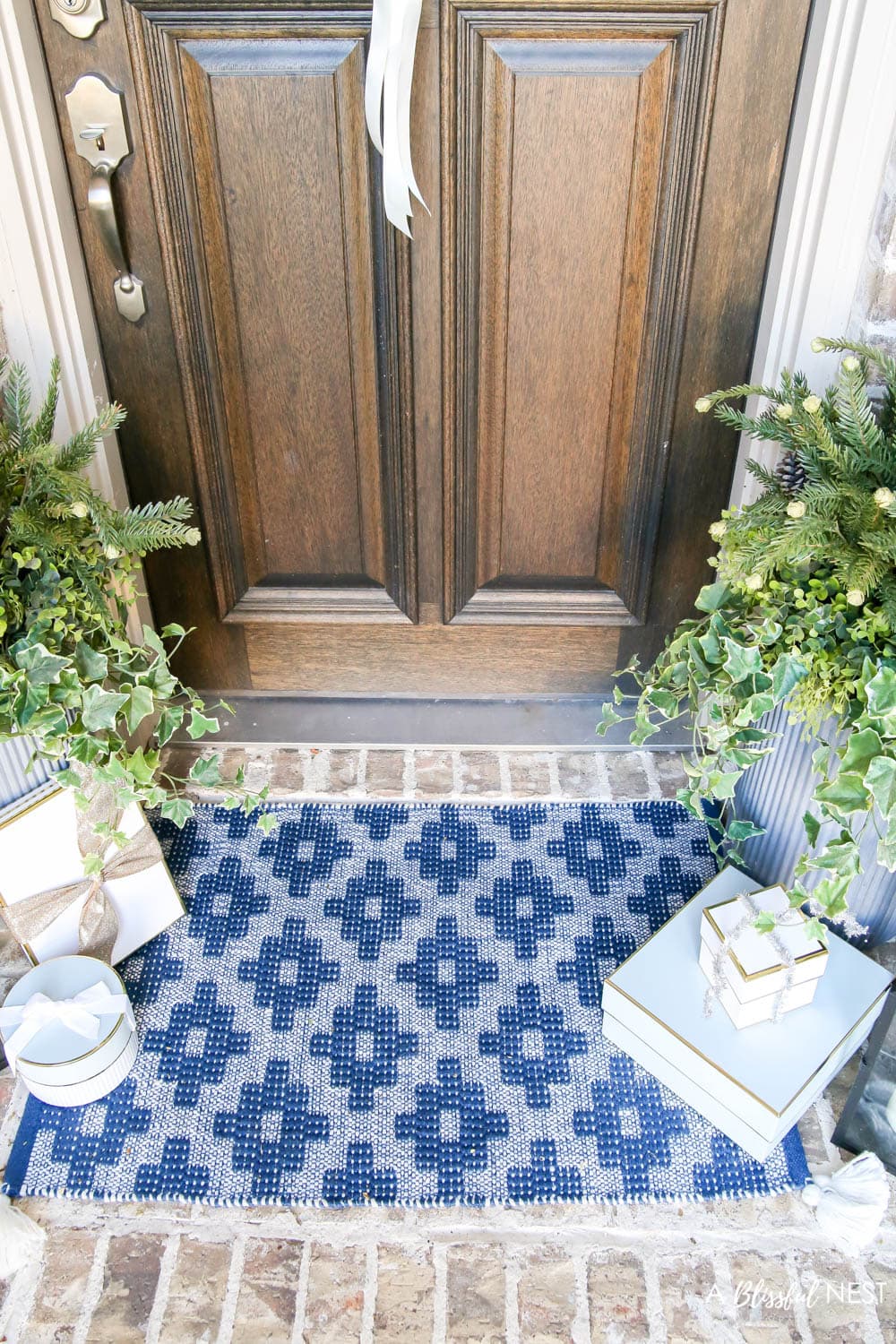 This beautiful blue and white doormat is from our new online shop. It is super affordable and easily can transition from season to season.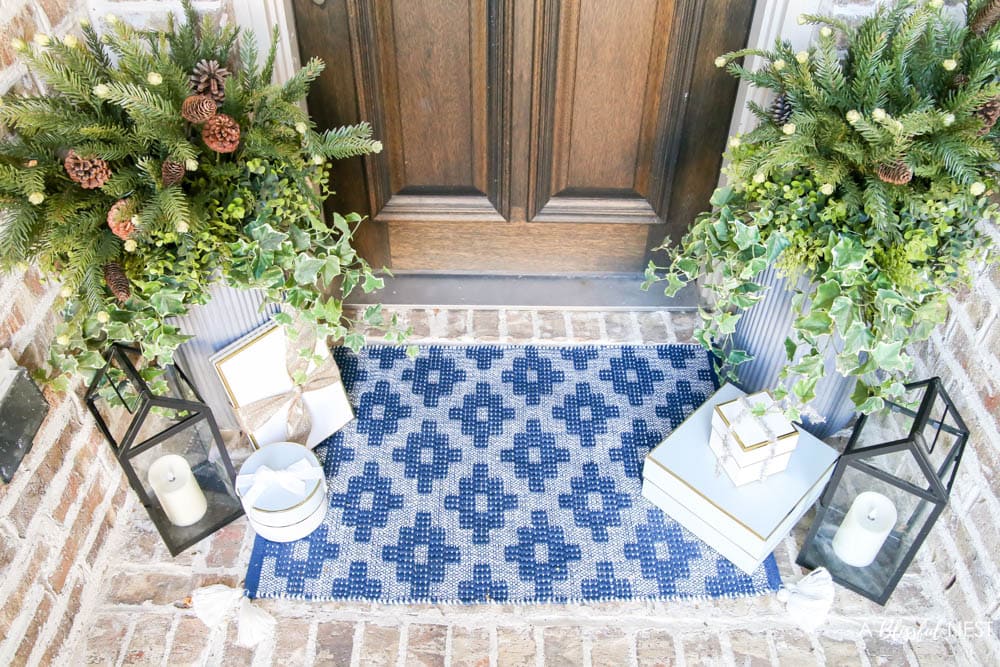 It has a gorgeous geometric pattern making it a great modern addition to your front porch.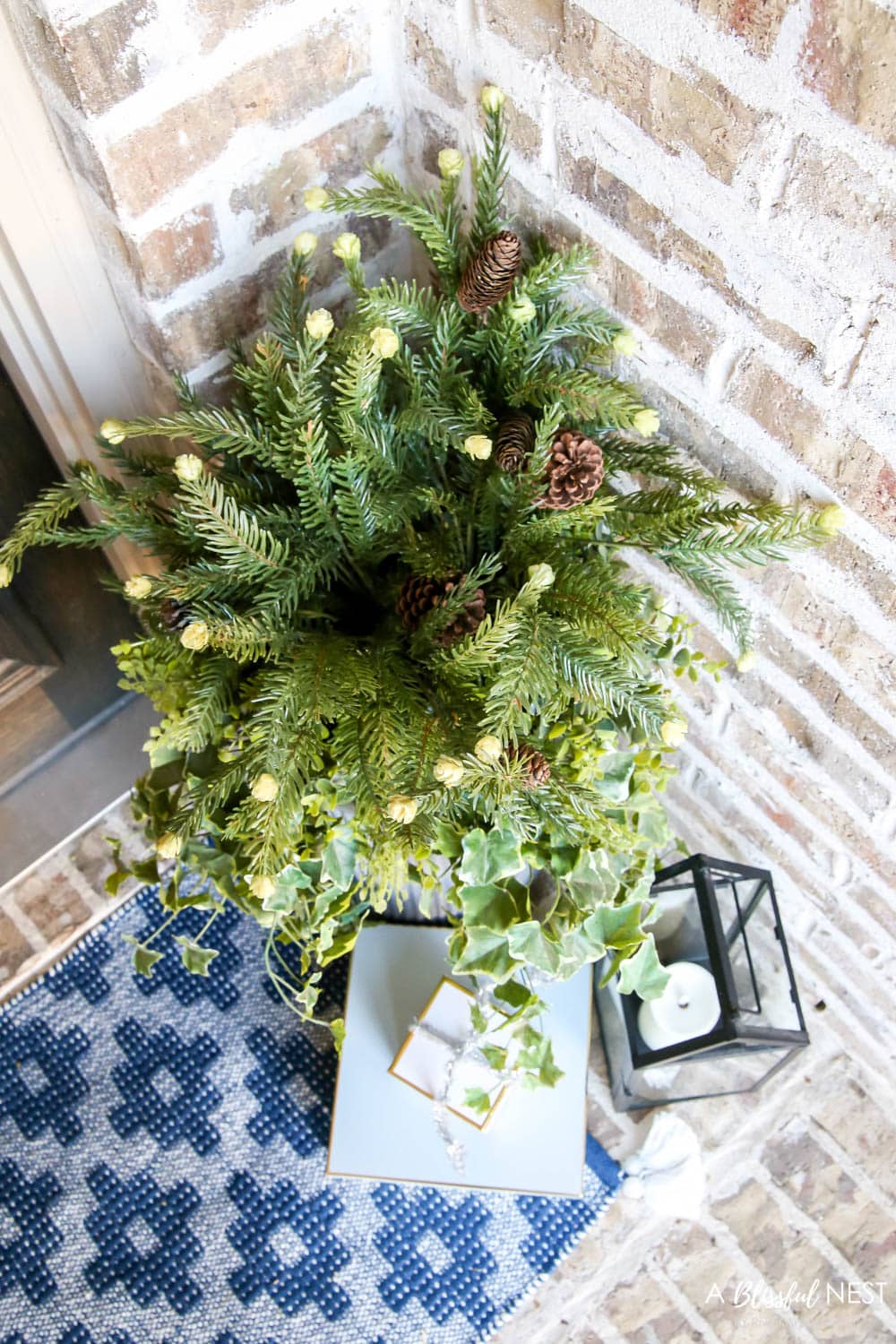 I love adding layers to any design to make it warm and fuller looking. That is no different for your front porch.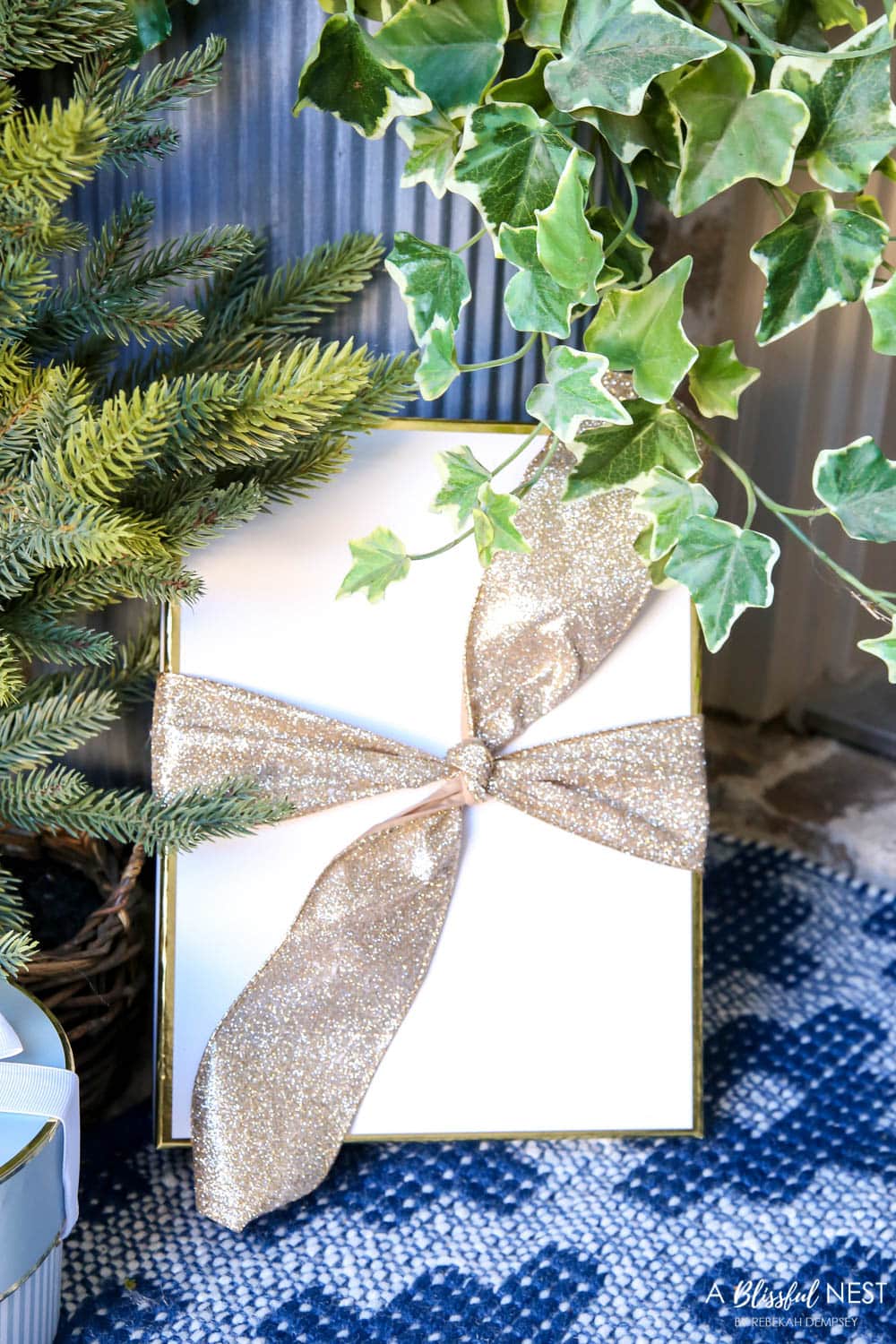 I have had these gold and white gift boxes for a couple of years now and have added to my collection each year. I use these before "santa's" presents arrive to make the base of my Christmas tree look full but also added them to my front porch this year.
As I said above, our front porch is deep and covered so they generally don't get touched by the weather.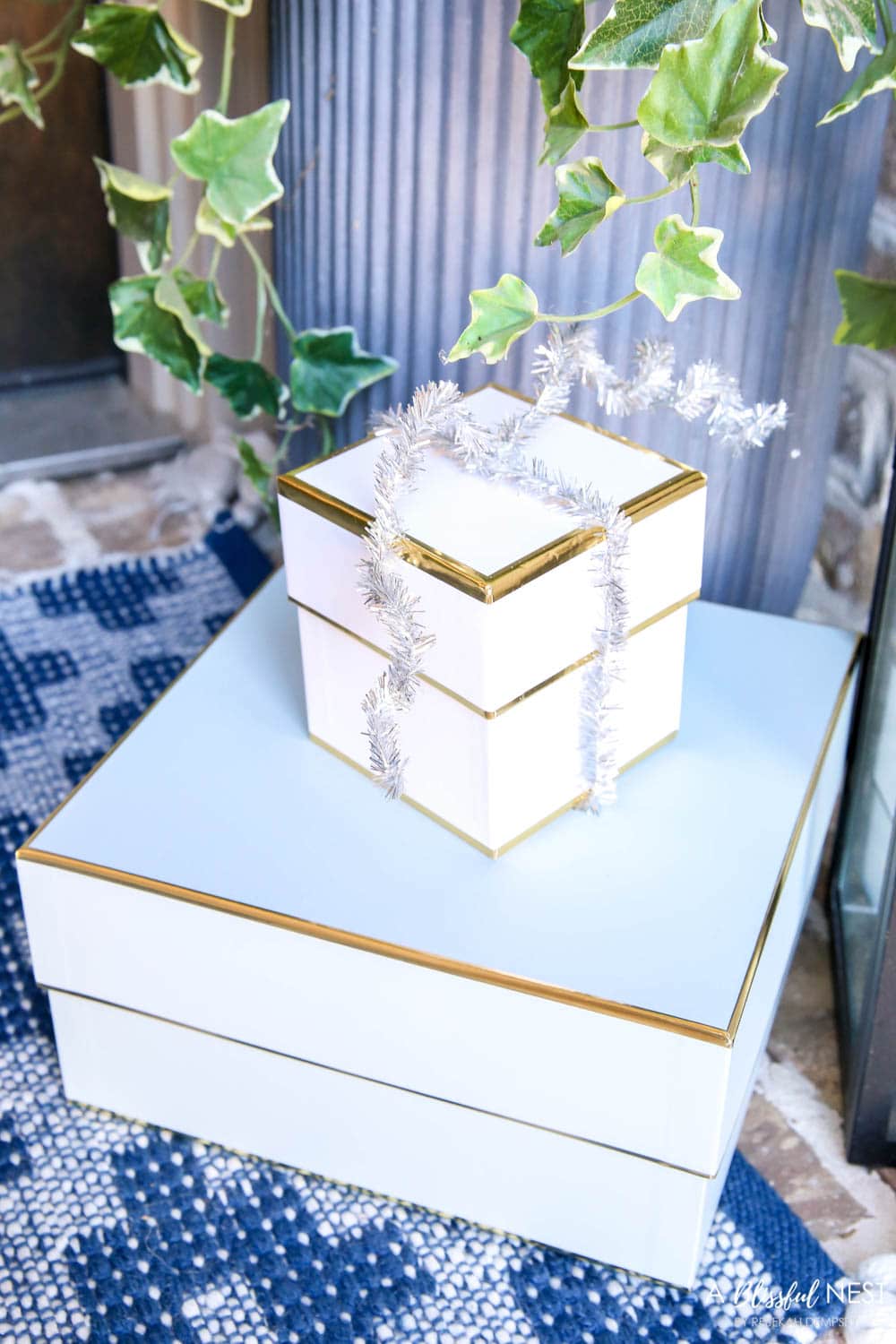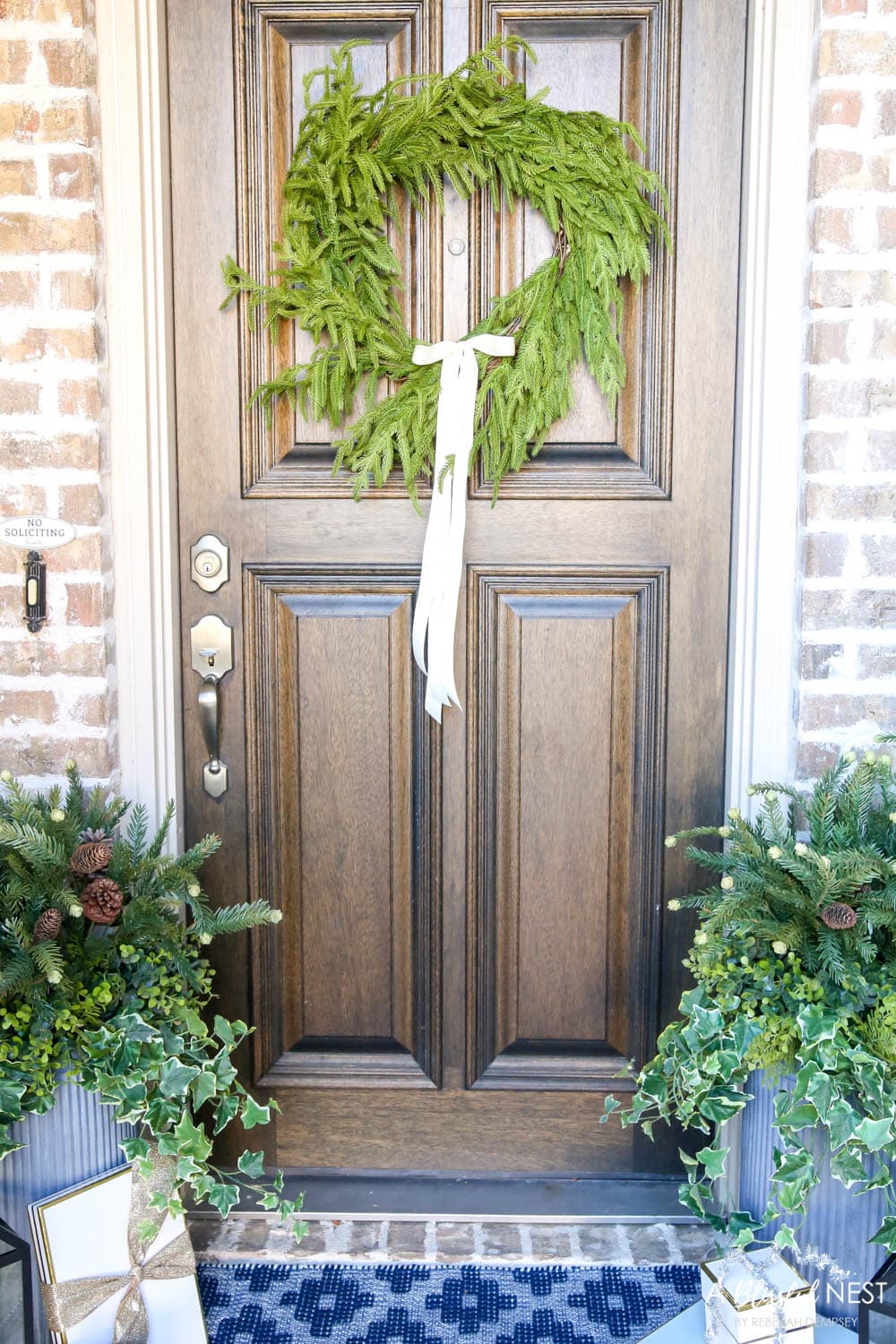 And that's it my friends! Just a little decor can go a long way. I love how it pops from the street and our house Christmas lights just went up the other week so we are all set outside. Now onto the Christmas decor inside!
Grab all the items I have on my porch right here by clicking on the photos!



Next, make sure to visit Annie from Most Lovely Things to check out her Christmas front porch. It is a stunner!
Also don't miss all the other tours this week that launch each day. There are so many beautiful homes to get inspired by this year for your holiday decor.
Monday, November 29th (Front Porch/Outdoor Spaces)
Southern Hospitality | A Blissful Nest | Most Lovely Things | Cindy Hattersley Design | Shine Your Light
Tuesday, November 30th (Entries/Dining Rooms)
11 Magnolia Lane | Sincerely Marie Designs | The Pink Clutch Blog | Summer Adams | Home by Heidi | Classic Casual Home
Wednesday, December 1st (Living Rooms/Dens)
Sincerely Marie Designs | 11 Magnolia Lane | Sincerely Sara D | This is Our Bliss | Thrifty Decor Chick | Dimples and Tangles
Thursday, December 2nd (Kitchens/Laundry Rooms/Misc.)
Evolution of Style | Sincerely Marie Designs | A Stroll Thru Life | Pink Peppermint Design | Setting for Four | Citrine Living
Friday, December 3rd (Master Bedroom/Kid's Rooms)
Quarters One | Just a Girl | Postcards from the Ridge | Decor Adventures | A Stroll Thru Life | Country Road 407
This site contains affiliate links. Please read our disclosure policy. As an Amazon Associate, I earn from qualifying purchases.
Follow along to get more of my tips on home decor, DIY and lifestyle on the following: