Easter Table Decor With Soft Spring Touches
Today I can't wait to show you this beautiful Easter table decor I put together!
Spring is almost here and I for one can not wait. Last week was our spring break and it rained just about the whole time but now the sun is shining here in Dallas and we are getting 80 degree weather! Everything seems to be in bloom and the grass is finally green. Can you tell I am over the winter blues??!
AND right around the corner is Easter . . . already. I know right? It feels just like yesterday that it was New Years. With all this sunshine and hopes of a beautiful spring, I went out a few days ago and found the most gorgeous things at one of my favorite shops to pull together our Easter table decor. This year I am going for a soft feel with lots of white and I can't wait to hear what you think!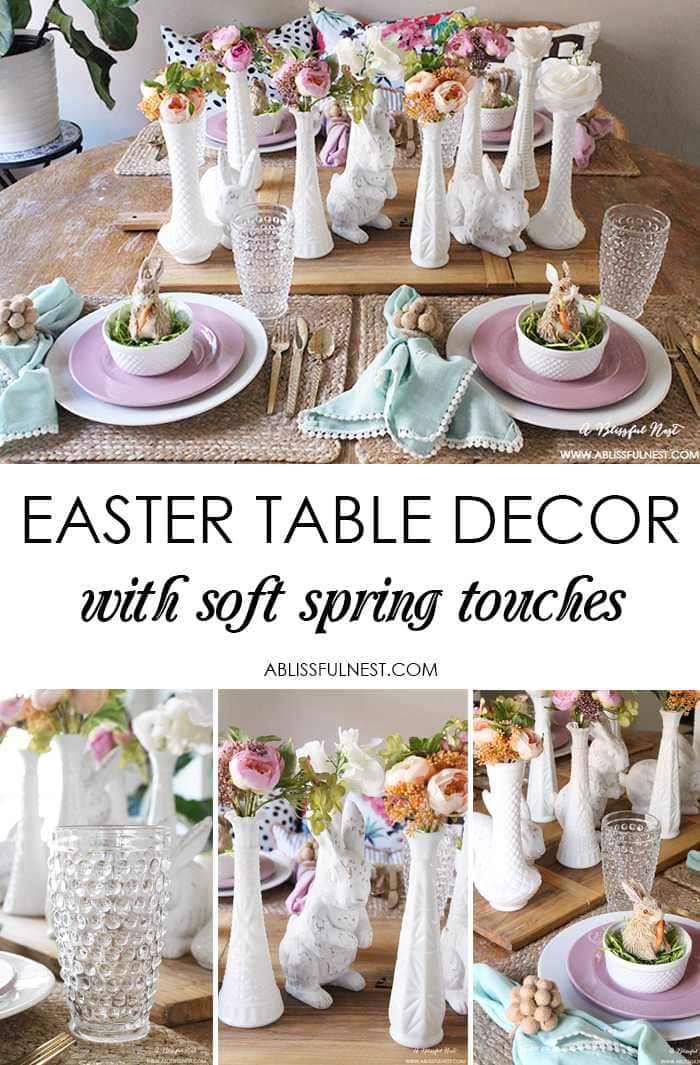 THIS POST CONTAINS SOME AFFILIATE LINKS
This site contains affiliate links. Please read our disclosure policy. As an Amazon Associate, I earn from qualifying purchases.
Easter Table Decor with Soft Spring Touches:
A few months back I found this collection of milk glass vases for a steal ($0.50 each at the Salvation Army) and I just did not have a place for them until now. I love them sitting on my breadboard with flowers in them and honestly this could be a great centerpiece for the rest of spring and not just Easter.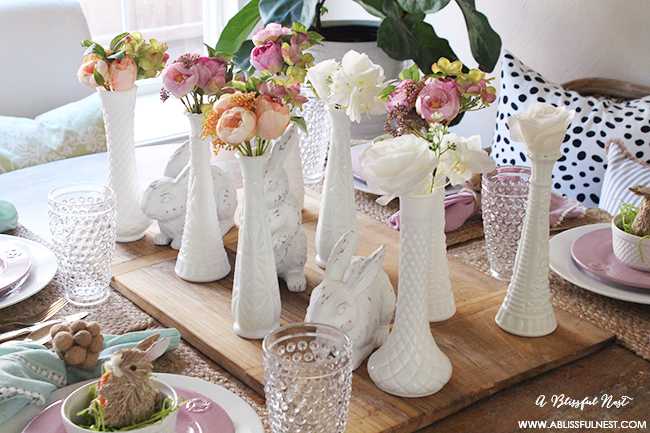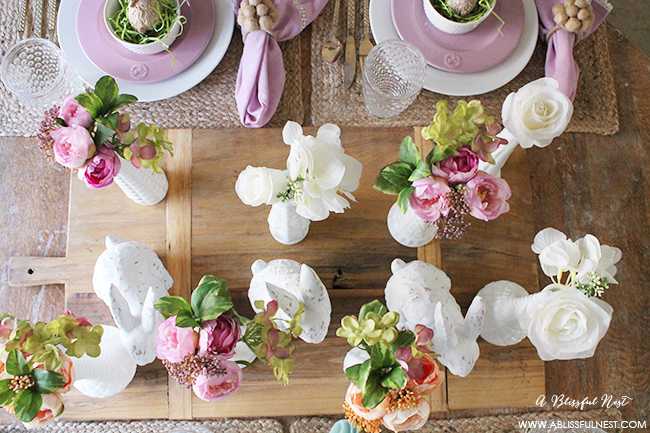 I pulled my white bunnies out from last years table and have them hiding amongst the vases like in a mini forest. I love that they have that chippy white washed look to them.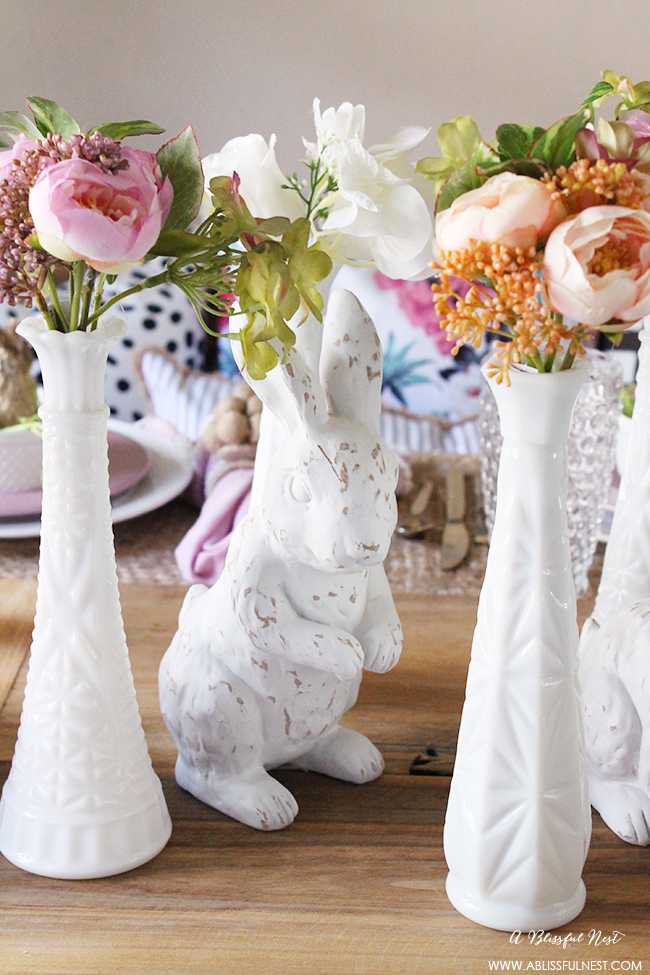 I pulled out my seagrass mats from Homegoods and my white plates to layer everything on.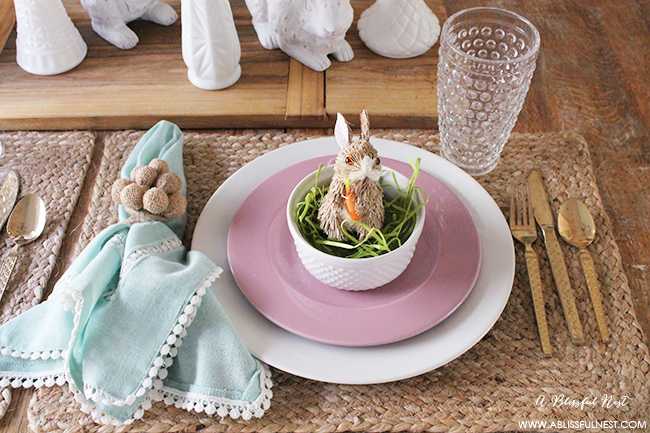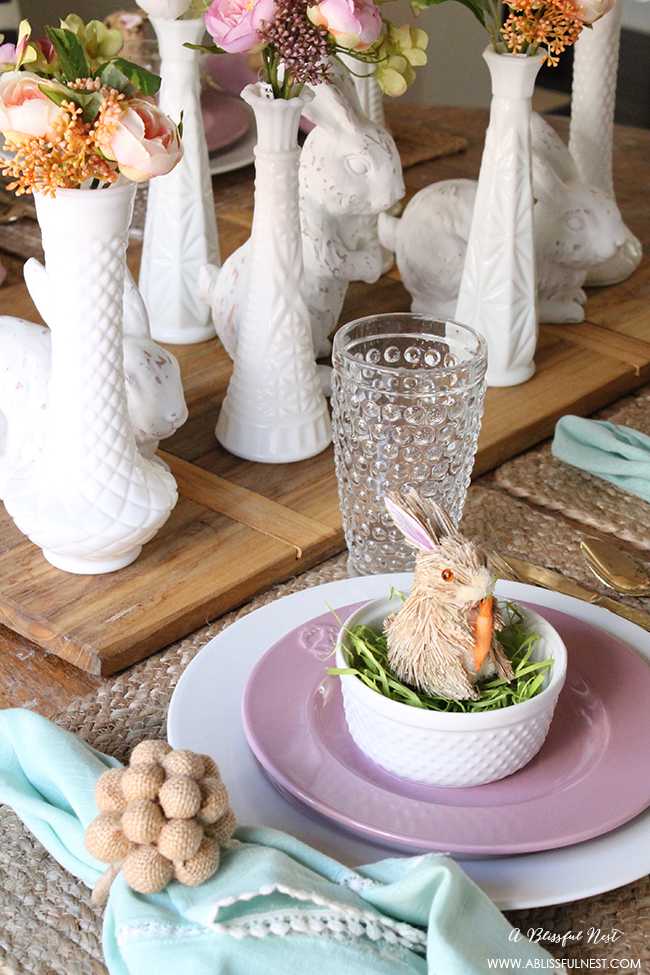 Oh World Market you did me in in your seasonal aisle. I mean really how cute are these lilac plates and little bunnies??!! I put some grass inside these ramekin bowls and placed them on top. I am thinking of switching out the grass in Lauren's for some edible grass. I think that will be fun for her to eat while we are serving everyone. Gotta keep the kids busy!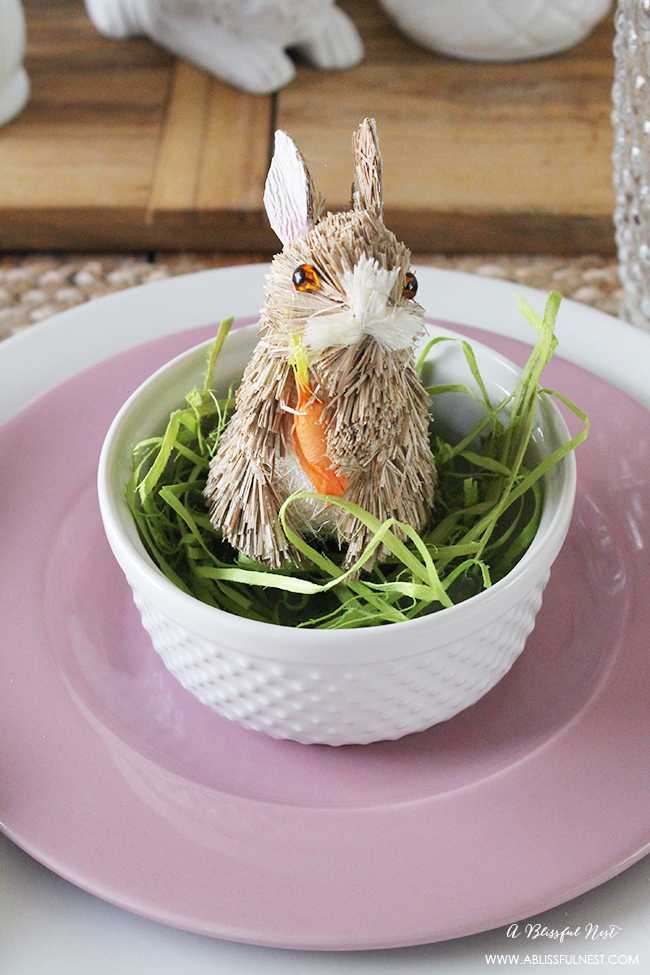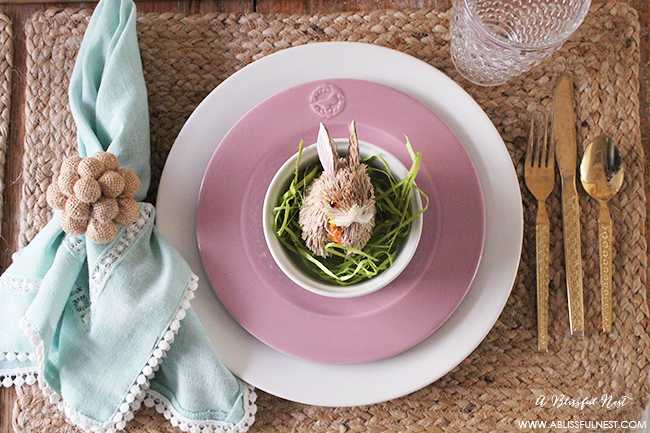 I added a little touch of gold this year for a little glam look. There is something about popping gold in once in awhile. I love the look!
These napkins are just gorgeous with their lace detail and they actually come in 4 colors. I got the aqua and lilac ones and mix and matched them. I loved these burlap ball napkin rings from Tuesday Morning. If you live near me I am pretty sure they have some more right now but if not I found a few for you below that are similar.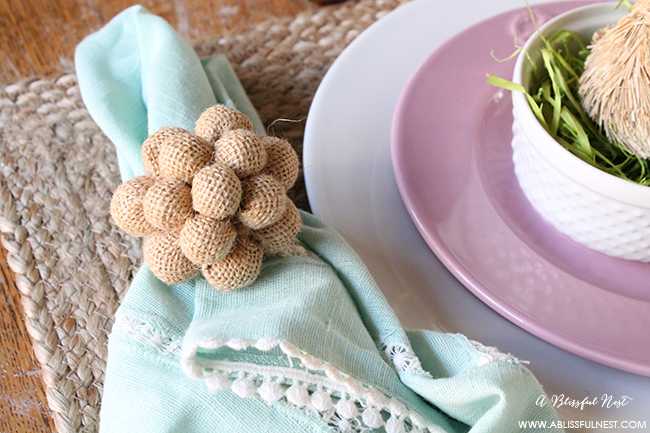 And I love these glass hobnail drinking glasses I found just a few weeks ago at Homegoods. They are heavy and I've been looking for a set forever in the clear glass.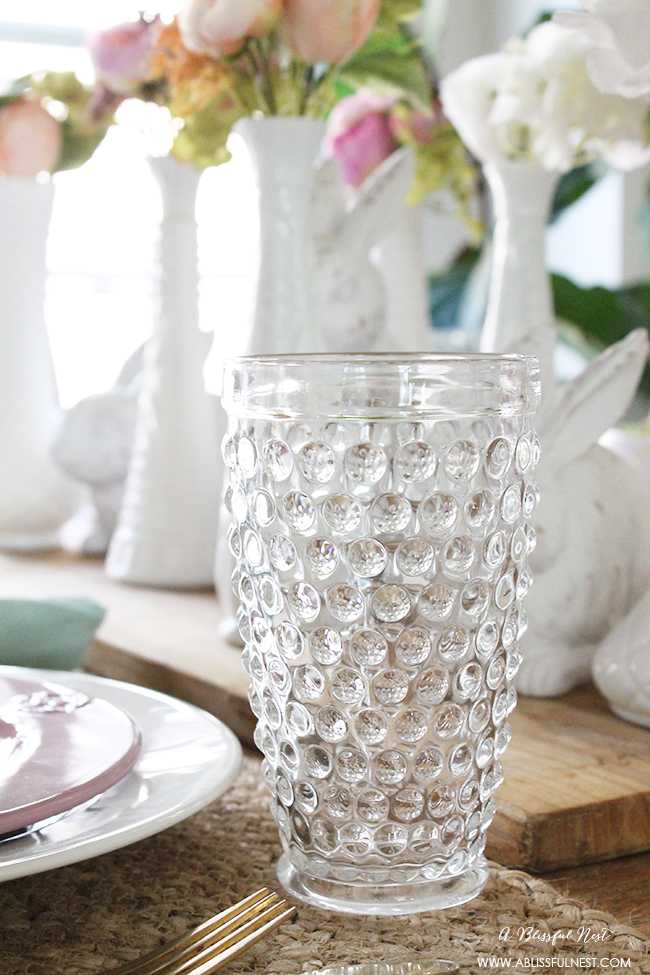 So what do you think of our Easter table decor? Are you having a big get together this year or is it small and intimate (like us!)?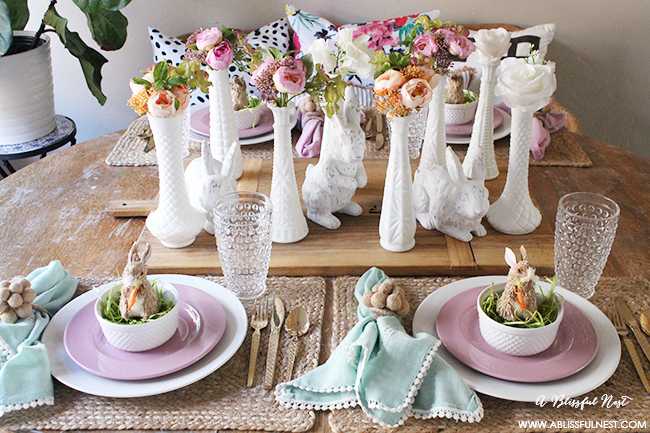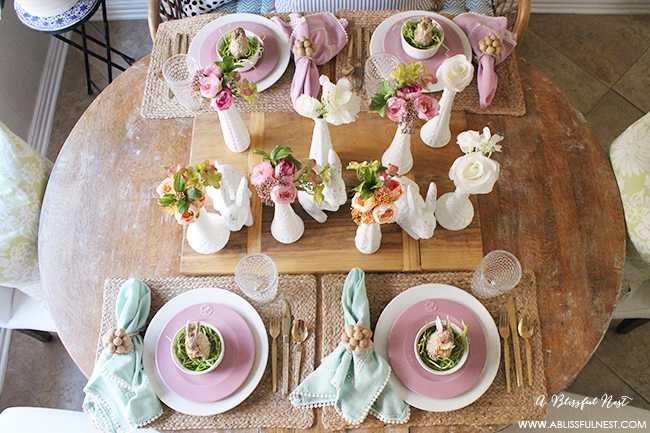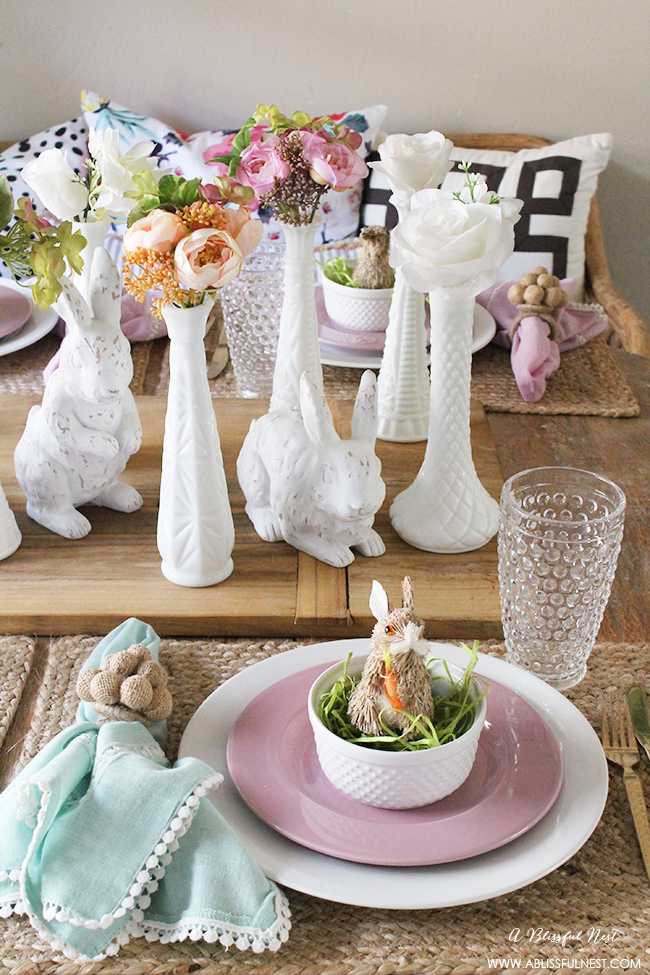 I've got some great menu ideas too for you that you can check out HERE.
And of course what you all have been waiting for! You can shop the items in my table decor right here by clicking on the pictures. So easy right?! Enjoy!