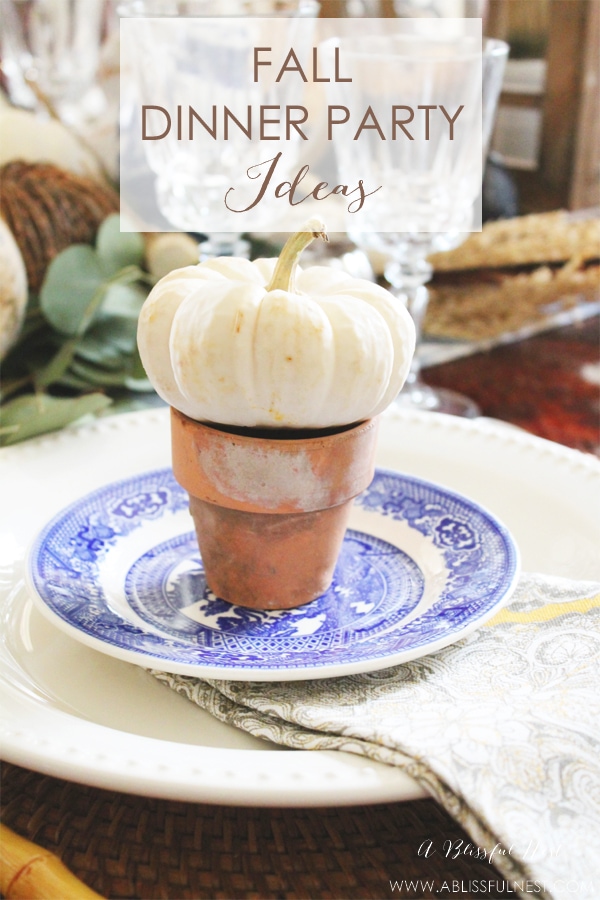 It is getting cooler outside thank heavens and I am so excited about having some friends over at the house for some quiet dinners. So today I've teamed up with Electrolux Stainless Steel Dishwasher with IQ-Touch™ Controls (EI24ID50QS) to share with you my fall dinner party ideas and how to make your life a little more blissfully easier while hosting your own.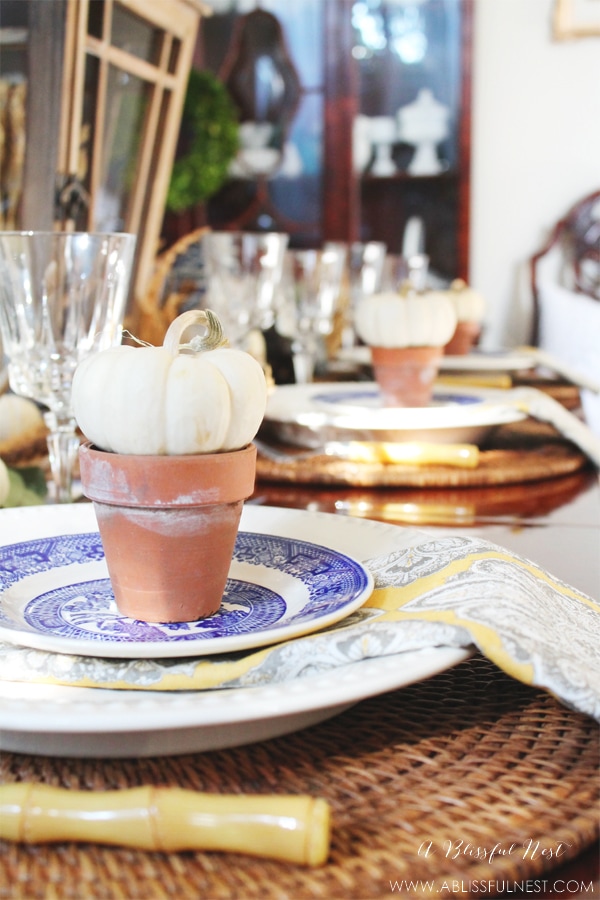 This year the majority of my decor is neutral but for the dinning room I decided to pop in some of my blue and white china. I think continuing your theme from room to room is important with subtle changes to make the room just slightly different. I am still using the mini terracotta pots from our fireplace and mini white pumpkins. But with the added blue and white touches and yellow tones it makes it a little more bold.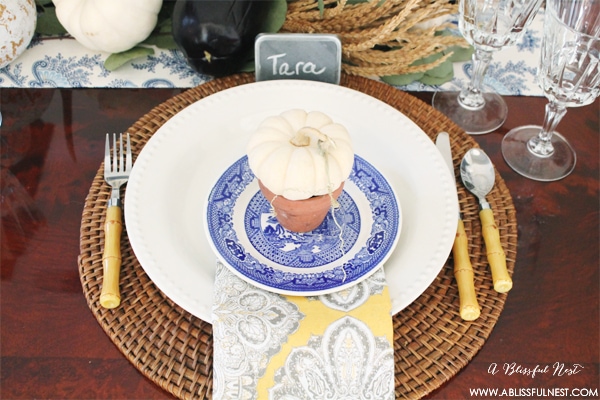 I love to make things feel like they have a lot of texture. Our rattan placemats that we typically use on a daily basis from our breakfast room and our bamboo flatware add just the right depth to the plain white accessories. These grey and yellow napkins tie in nicely with the flatware too. I think repeating your color in more than one place that you are using it in is key.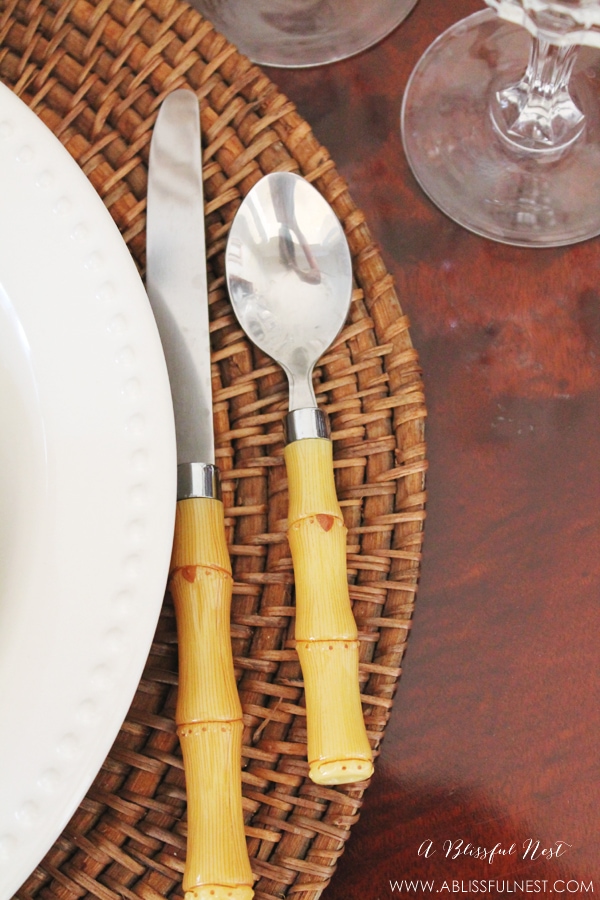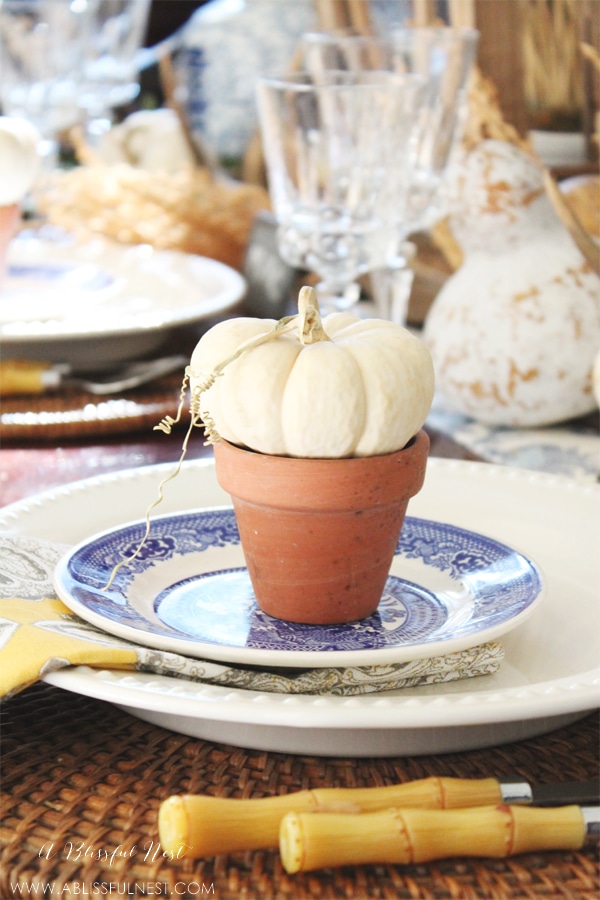 So use the following tips when planning your party:
– Carry the theme of the season throughout the house.
– Add a pop of color in a room to set it off from the rest of the decor used around the house.
– Layer your neutrals with that pop of color (we used our blue and white china with yellow napkins)
– Repeat that color in another accessory
– Keep things simple
So on that note, I want to talk to you about blissfully making your entertaining more simple so you are actually enjoying your party. Because that is key – to enjoy yourself! I am a fan of functionality and the more functional a design is the better I think it is. So I generally make sure function comes first over form. But when you have both then it is a slam dunk. I love the sleek shape of the stainless steal front of this Electrolux Stainless Steel Dishwasher with IQ-Touch™ Controls (EI24ID50QS).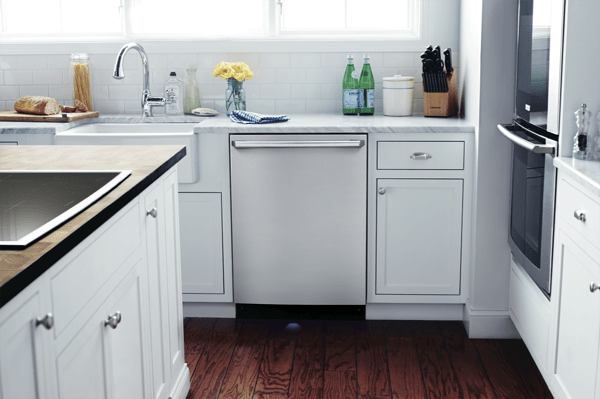 I truly think it is just beautiful. We have recommended this to many of our clients before because not only of it's gorgeous look but it is soooo purposeful.  It has so much room in it for all those dishes (from your dinner party of course!) AND not only has a glassware rack but a third level rack for flatware. I really like this because lets face it, the basket makes them touch each other and hence not get your utensils as clean. I hate that! But look at how slim and great this little pull out is.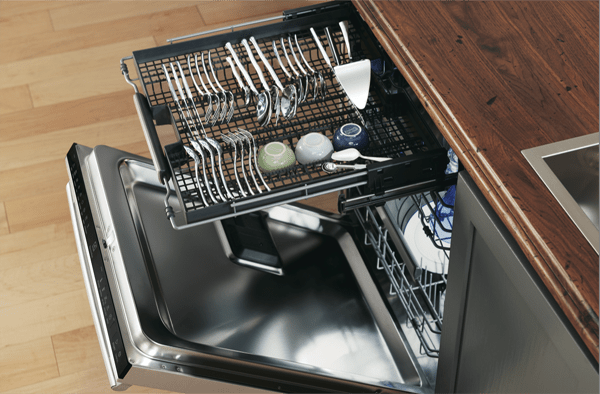 So guys if you are in the market for a dishwasher go check them out. I think you will not be disappointed! Tomorrow I will be back with tips on decorating the center of your fall table!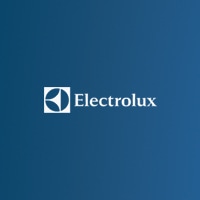 The new Electrolux dishwasher provides a professional level clean with it's 30-minute wash and dry cycle. As the highest rated dishwasher on Reviewed.com (http://dishwashers.reviewed.com/content/electrolux-ei24id50qs-dishwasher-review), it also features SatelliteSpray Arm technology which provides 400% more water coverage than a traditional dishwasher. Visit ElectroluxAppliances.com for more information on this and other stylish and functional options available from Electrolux.
Disclosure: Compensation was provised by Electrolux via Mode Media. The opinions expressed herein are those of the author and are not indicative of the opinions or positions of Electrolux.