Lauren's Horse Party – The Dessert Table
This post may contain affiliate links. Please read our disclosure policy.
I am so excited to kick this week off with full details from this amazing horse party for Lauren's birthday this last fall. With the holidays it got a little crazy to share this any earlier (and it will be in a national publication very soon!) but this party was AMAZING and we were so blessed to share this day with so many friends. I know you all know all the crazy health issues Lauren has had over this last year that culminated in surgery in the fall. So this little girl really deserved a fabulous party and she is absolutely obsessed with horses so this was the perfect theme for her. Weather be have it but it was soooo stinkin' hot and muggy then all of a sudden POURED. I mean we had Lauren blow her candles out on the cake and then everyone ran for their cars. Mariah and her husband along with a few close friends helped us throw everything in our car (and theirs) to try to save it all. Best picture ever is this one of Mariah and I huddled under the trunk of my car trying to shield the cake. I love you Mariah! You are a truly amazing lady inside and out.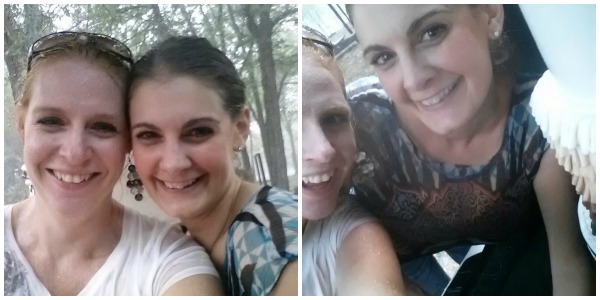 So I hope you enjoy these pictures and I will be back tomorrow with details on Lauren's outfit and where to shop it.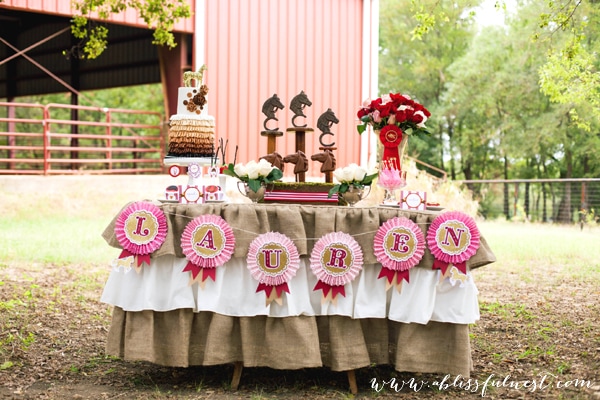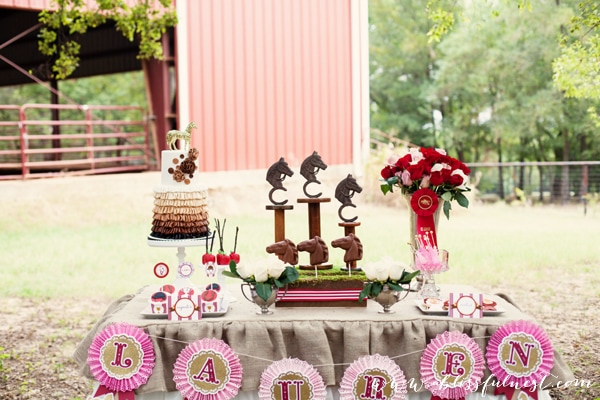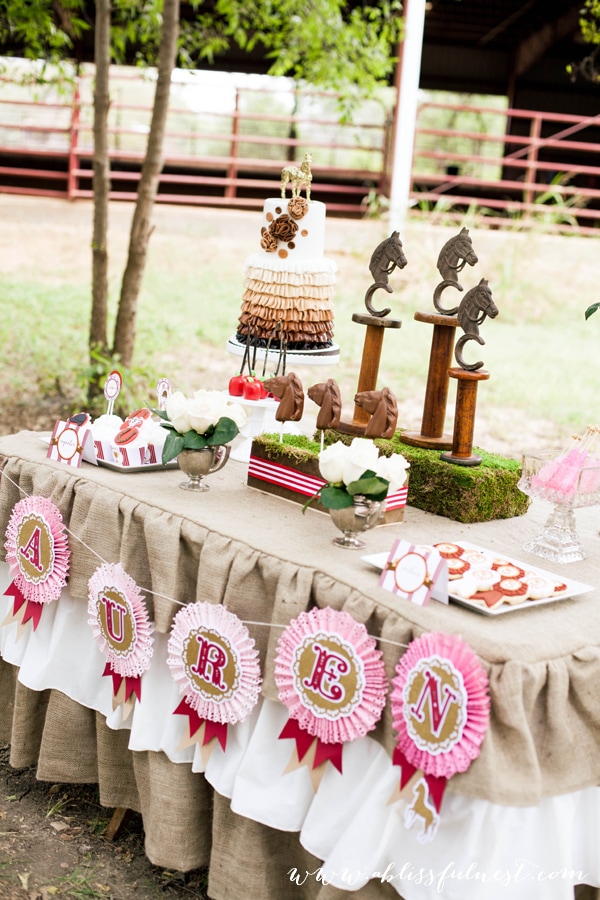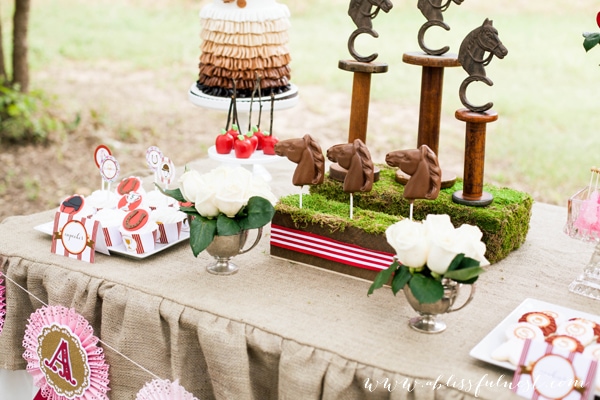 By the way yes those are oversized chocolate horses on the bottom! Samantha is amazing right?!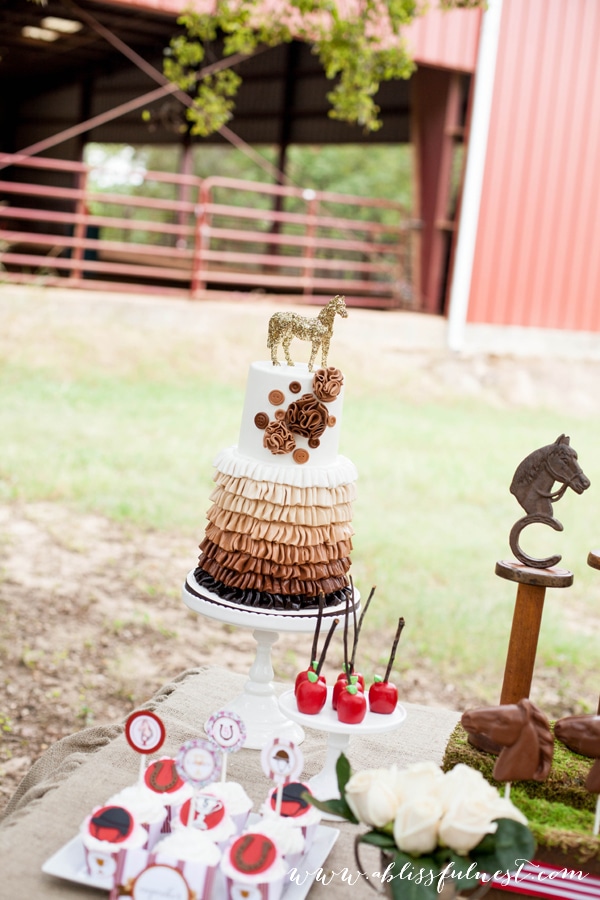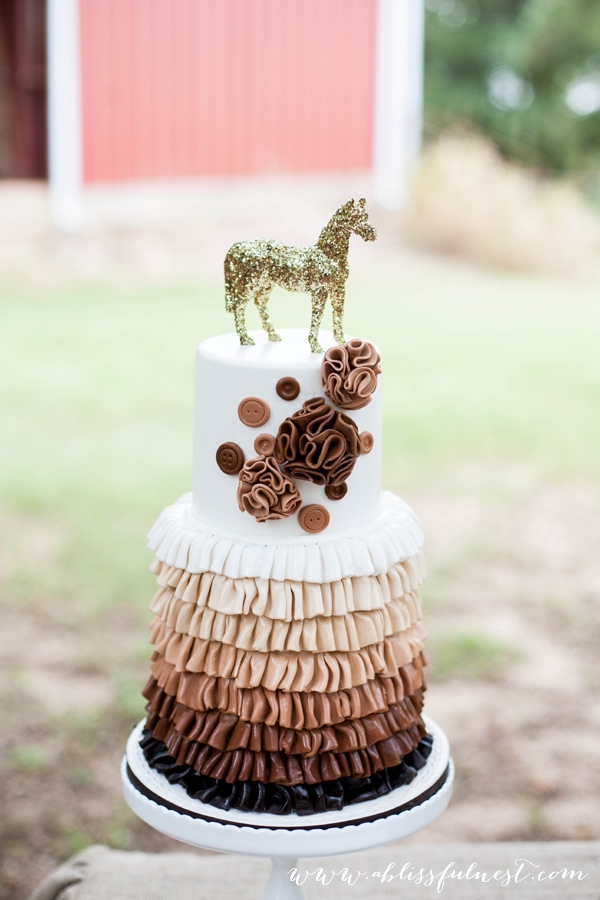 This cake. No words. So stunning and gorgeous from Caroline's Cakery. I stalked her before moving to Texas on facebook and think she is one of the most talented bakers. Lauren wanted lots of ruffles and I sent Caroline a picture of this cake.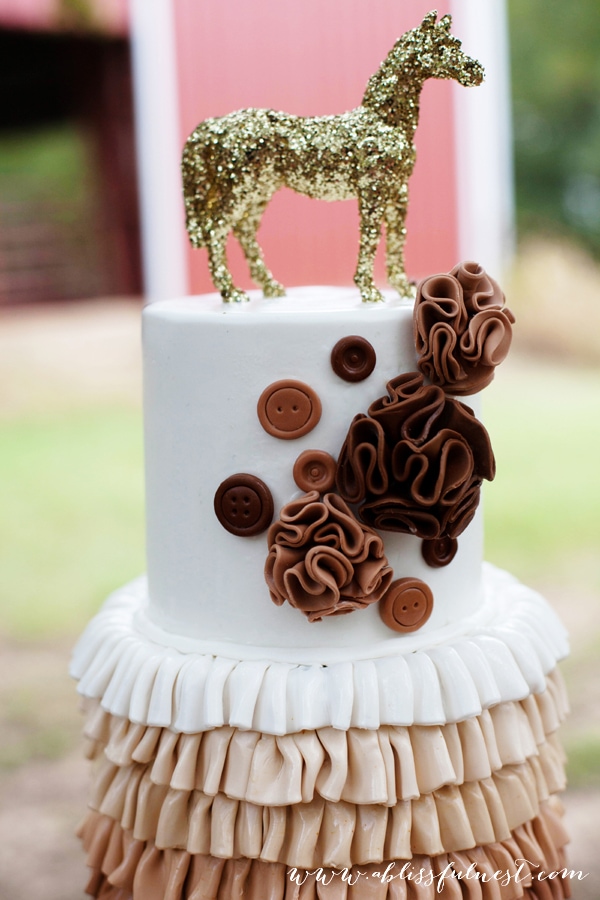 I glittered a toy horse with modge podge and tons of gold glitter for the perfect cake topper!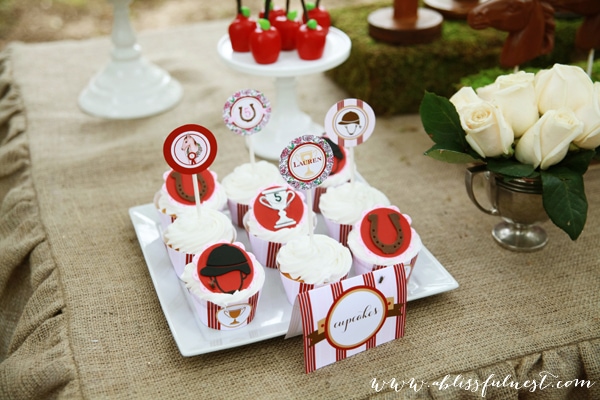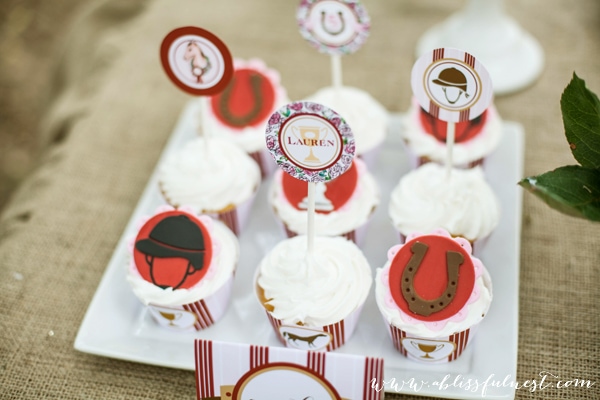 Brittney from Edible Details is one of the major talents in the fondant world. Her detail on every piece she makes blows me away. These fondant cake toppers were a piece of cake for this lady! Check out this cake topper she made for me in the past. Amazing right?!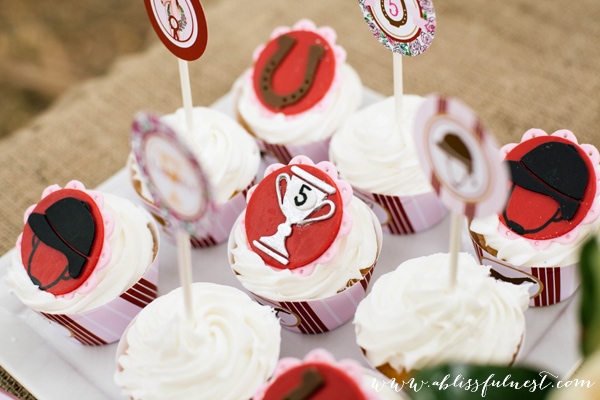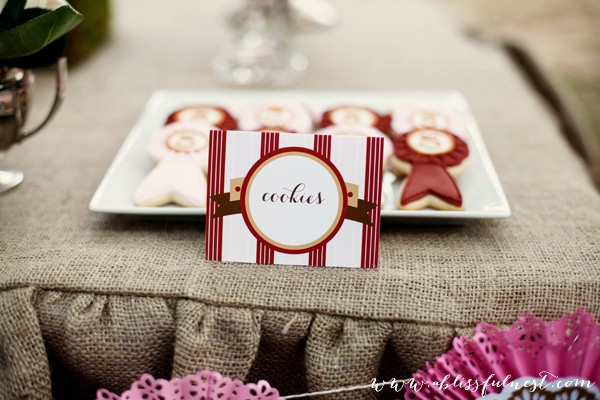 Sandy has such a big heart and has sent me her fabulous confections to me during my move this last fall to add a little sweetness to my day. She made these yummy ribbon cookies for Lauren's party that were so light and fluffy. She made them in a soft pink and red with the number 5 to match our printable decorations to a T.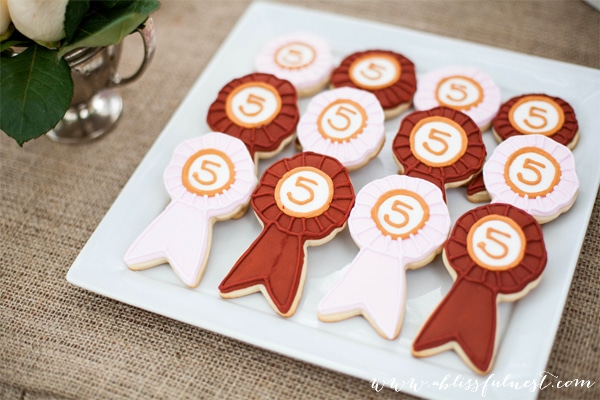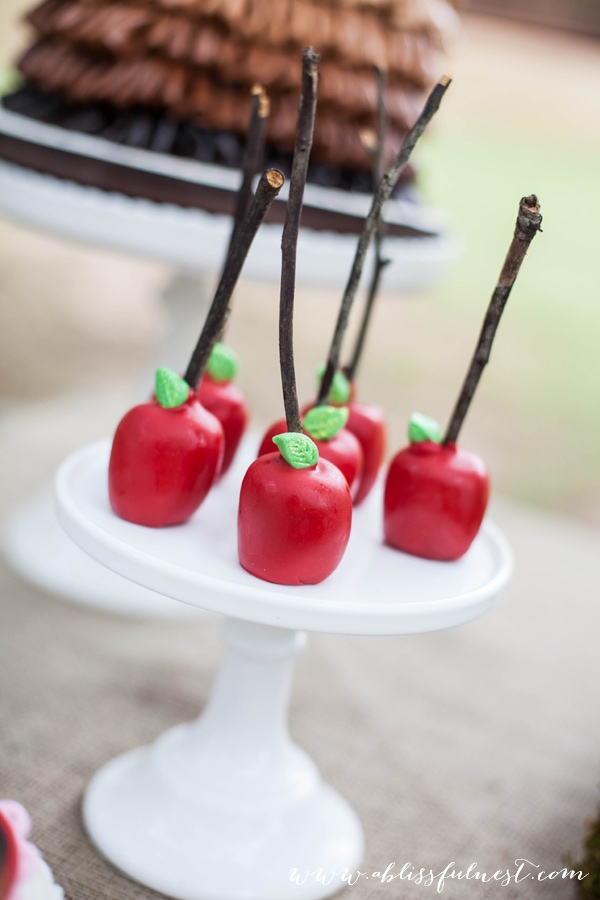 Yes I think poor Samantha thought I was crazy when I requested real twigs for the sticks of the apple cake pops! She even said "You mean go out in my yard and get sticks from the trees?". My response "Exactly!". She boiled them and I think they turned out to perfection.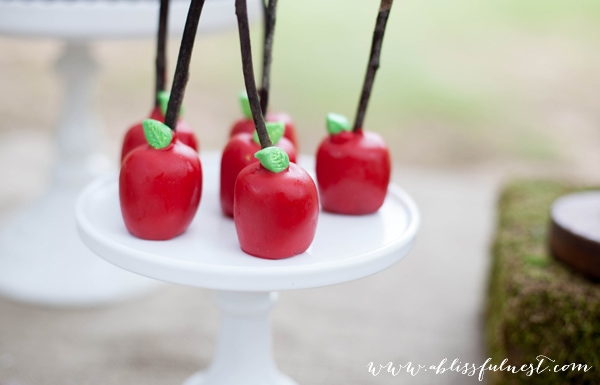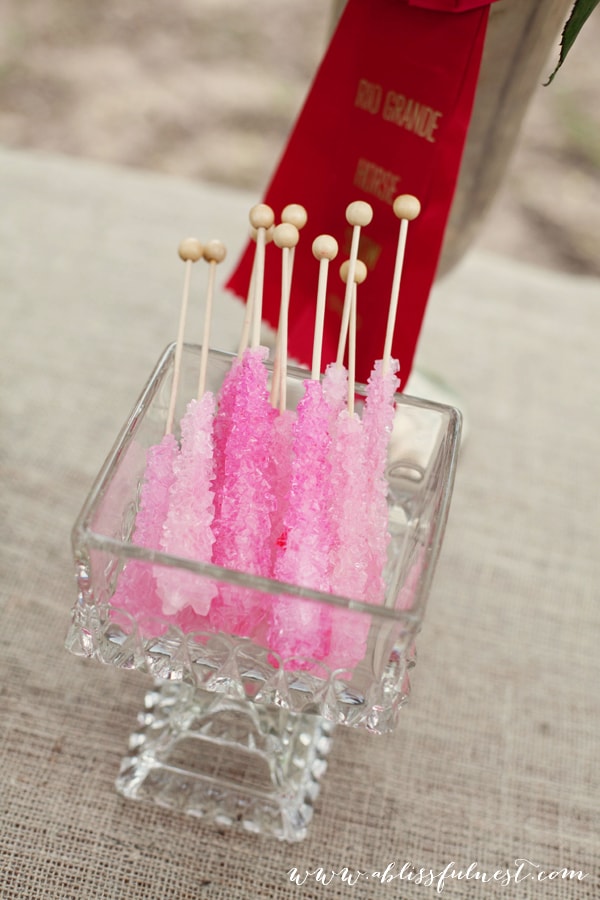 I'm very big on using vintage pieces from flea markets and antique shops in my displays. I think it adds character and I love the richness I feel it adds to a table. This glass candy dish I picked up for $10. Such a steal!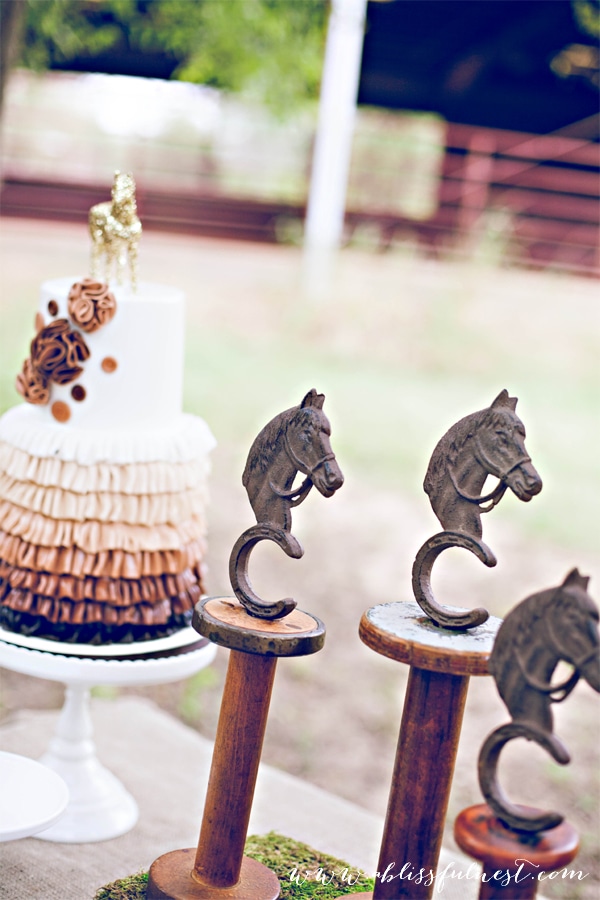 These are old yarn spools that I stuck horse garden stakes into. It was a challenge to find spools that had a hole at the top to fit the width of the stakes. At the last minute when I decided to use them this way I had 1 that would not fit. I was scouring antique stores for just one more and thankfully I found one. I am such a fan of using flowers at parties and yes even kids parties. It think they are so pretty and can be relatively inexpensive when you purchase them at Costco. I think I purchased about 3 bouquets from there for the whole party.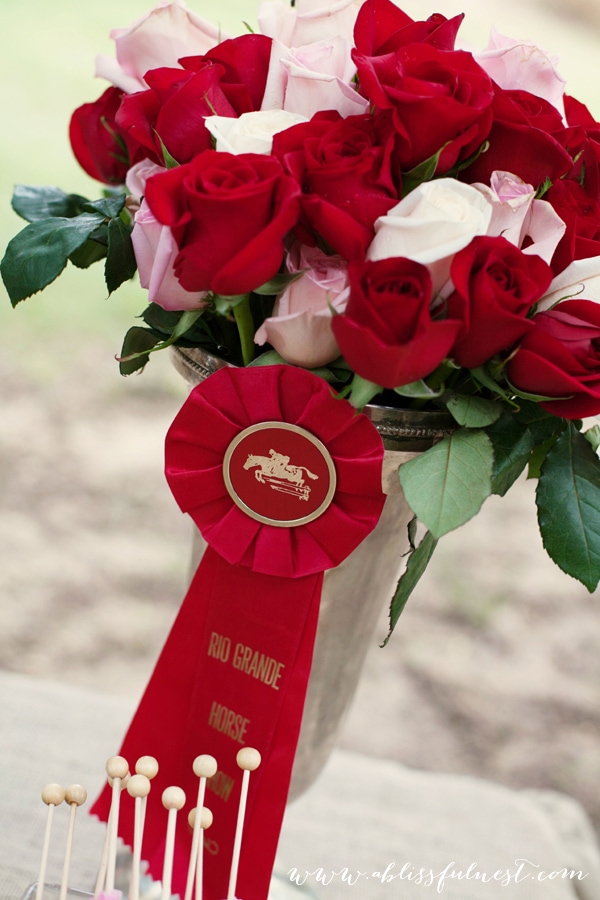 I searched ebay and found someone selling old horse ribbons. I bought a box of 20 for about $15. The ones that we did not use at the party I have hanging in Lauren's playroom next to her art we have framed. I love these!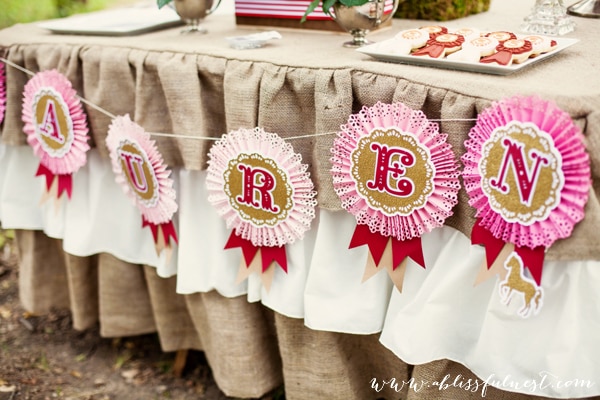 This incredible name garland was made by Dina. I had met her last year when I lunched with the girls in town for a conference. She is perfection and darling. Her paper creations are unbelievable and her style is flawless. Tryst me when I say she is one to watch.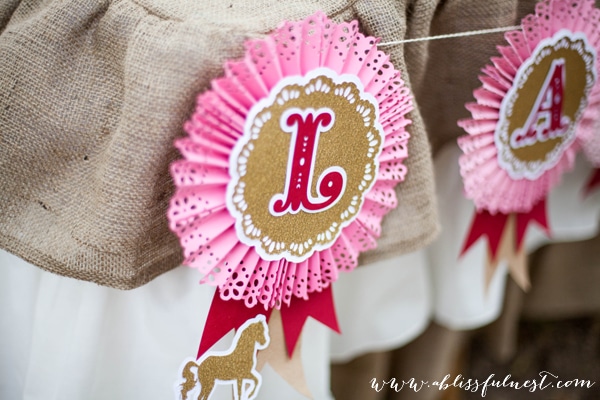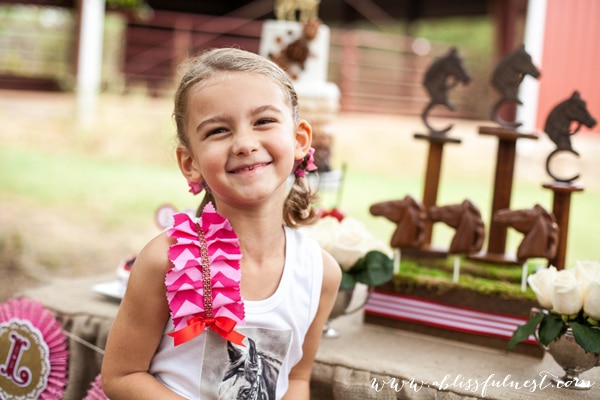 Lauren had such a blast and had huge smiles on her face. Priceless. You know what I mean moms. Seeing that look is worth it all isn't it?? Tomorrow I will be sharing her outfit details and then the activities (with more amazing vendors), a full vendor recap (so you don't miss any of these talented ladies) and a easy DIY tutorial all in the next few days. Stay tuned!!
Amazing Vendors from this party:
Styling/Printable Party Decorations: A Blissful Nest
Photography: Alyssa Maisano Photography
Cake: Caroline's Cakery
Cake Pops & Chocolate Lollipops: Evie & Mallow
Cupcake Fondant Toppers: Edible Details
Cookies: Firefly Confections
Banner on Dessert Table: Deliciously Darling
Burlap Table Cloth: Candy Crush Shop
Location: Woodhaven Stable
Horse Watercolor Illustrations: Paper & Pigtails